DIARY FROM August 20th 2017 till ?????
Sunday, December 24th 2017

Unfortunately my Christmas Greetings will be short and no pictures.
Trouble with Internet.


Saturday, December 23rd 2017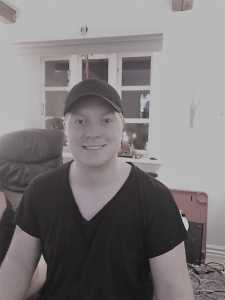 We had a nice visit today. A rare one.
Grandson Kristian is home from Copenhagen and chose to spend a couple of hours visiting we two old ones. We were very pleased. We enjoy talking to nice, young people like him. It's nice keeping up with their development and I must say that Kristian has developed. He is soon finishing his A-levels in our capital and has several plans for his future.
In spite of that one still remembers the little, very nice boy with the great curiosity fx when he in a supermarket crawled around under the shelves with all the dirt and dust and suddenly shouts, "Grandma, there is a mouse here." It certainly made other customers look up.
He's a good boy.
Friday, December 22nd 2017
I woke up terrified this morning. I dreamed that I met Brian Holm and Bjarne Riis (two cycling icons) in Silkeborg. I invited them on a beer at a pub. They said thank you and followed. Now, we should talk cycling I did notice a group of young cyclists following us but did not think about it. Like we elderly gentlemen the young people had beers and drinks.
I had to leave the company for a moment to meet with a friend outside. I had not yet paid and went in to do so. Holm, Riis and the young people had gone. The waitress recognized me and brought the bill. 4,700 kroners. I had to pay for the whole company. I thought it would be difficult to explain to Matron. I was horrified, completely broken downt when I woke up. And we did not even talk about cycling.
Thursday, December 21st 2017
We were at a local supermarket today to pick up a parcel, a Christmas present.
In the past, it was brought by a happy postman to our address or in the worst case we had to pick up the parcel at the post office.
Times have changed. Post offices are closed down - postmen more or less the same. Supermarkets are "post offices".
The trouble is when picking up you need to press codes on strange parcel cupboards or contact a staff member who - if you have remembered your parcel number - will give you the parcel.
Today, we only were to give my name. Problem: Our package was in a huge stack the young man told and nobody knew where. He began to move parcels until I with my hawk eyes spotted my parcel lying beside the stack. It will be Christmas after all.
Wednesday, December 20th 2017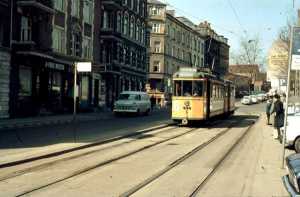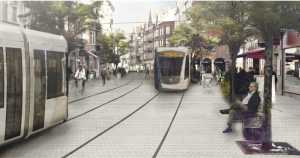 In Aarhus we are never behind. Latest invention: Light rail.
According to recent rumors, the line will start tomorrow after countless delays. Any Aaronian with respect for themselves will say, "Well, well. Just relax. The start is usually delayed". The answer will come tomorrow.
Now you should not think that light rail is something new Aarhus. Until 1971 trams run around in the city. They were part of its pulse. They were accused of slowing down traffic and making it difficult. But that is now all forgotten and we shall try with a smarter design. But the idea and the speed are the same.
Congratulations, Aarhus. 3 accidents in 3 weeks. We're always on the beat.
Tuesday, December 19th 2017
Nice dinner with Anette, Peter and Frederik in Hammel today. The menu was homemade rib burger (pork) with a lot of accessories. I loved it.
For I do not know what time I ate too much and that despite of my delicate stomach. I hope I will not be punished for it tonight. I do not deserve it even though I know a few who would say something like, "You asked for it, mate."
These people do not wish me the best. May their socks shrink in wash.
Monday, December 18th 2017
As always on a Monday morning, my sweet wife and I were training in Hornslet. It's always a good experience - albeit strenuous. We are 7 in the team, 6 middle aged ladies and yours truly.
Today the efforts were limited and there was a pleasant extra because of Christmas.
One of the sweet ladies had baked the most beautiful buns and chocolate cookies. Of course also coffee and tea.
When we had worked ourselves through the lovely bakery - thick butter on the buns - I was forced to take a good, long walk on the treadmill at high speed.
Is there anything better than masochism? The others had gone home.
Sunday, December 17th 2017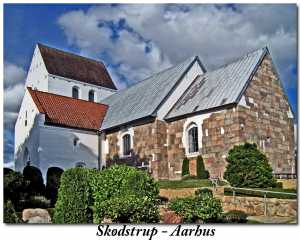 I too rarely go to church. Not that I'm ashamed of it.
But the experience I had today told me it IS too rare. Together with grandchild Cecilie I was in Skoedstrup Church.
We heard a sermon of incredible quality and exciting content. I think we did not miss a single word.
The theme was "You are what you see". If you only see the dark and gloomy sides your life becomes dark and gloomy.
But if you prepare yourself to looking more at the bright and happy sides your life will become bright and happy. It was really good for a pessimist like me to hear it. An unforgettable experience.
Saturday, December 16th 2017
It was bad. I got up at a quarter to ten for a drink. In the living room, Matron sat with her morning coffee. When she heard me she exclaimed, "
Now it's up!
" That made my world breake down. I became quite dizzy at the thought and had to lean against the wall.
I went over to her, kneeled down in front of her, kissed her hand and said, "Dear wife! If I promise to be sweet, smiling and helpful for the rest of the day could I have another half an hour in bed and play Word Feud?
"No," was the abrupt answer.
That did it. I felt completely finished and broke down. I turned round in the door and repeated my prayer.
"OK. Take ten more minutes - and no more". I rushed into my bed and was pulled out of it ten minutes later. It's a tough world.
Friday, December 15th2017
This morning I spent 1-1½ hours on the most futile job I have long imposed on myself.
I decided to scroll down my Facebook page to see what was there and delete anything irrelevant or outdated.
My goodness. What a load of rubbish. I deleted very, very much.
There were sad stories, bad jokes, intolerable videos, stupid ads, foolish animal pictures and ditto human images, obscene features, old news, stupid contests and much more miserable stuff.
As I said, it took almost 1½ hours and I only managed to go one week back.
Fortunately, there were bright spots, with good, relevant and funny features. They cheered me up why I shall continue on FB. But I shall use the delete key a lot more.
Thursday, December 14th 2017

We were driving home from Æbeltoft this evening. And except that I went wrong twice on roads that I know as my own pocket all went well.
However, it struck me that several cars have only one headlight. What do those criminals think of? Are not they aware that it looks stupid?
I think the municipality should intervene.
Here in Århus, the municipality has plenty of time because all the people who should now drive around with the Light Rail have nothing serious to do and not a lot of resources are used for cleaning schools, nursing homes, etc. So just get started , friends. Maybe light will dawn to you.
Wednesday December 13th 2017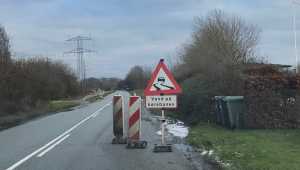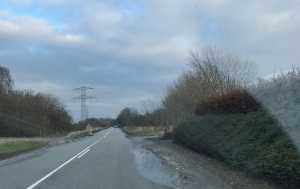 Here in Studstrup and around Studstrup we are looking well after each other. Even traffic authorities save no trouble in making us feel safe on our roads.
For 3 weeks we have been looking at a sign on the road just outside our village. During those 3 weeks we have all with great care passed the sign and discovered that the waterpit is of minor size. At no time it was any bigger. This does not give general respect for road signs.
Wonder what authorities will do when one day the water is all over the road.
Tuesday, December 12th 2017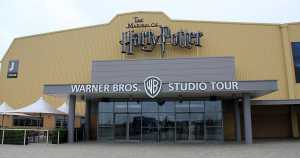 Right now, daughter and eldest grandchild are in London, like so often before.
Of course Christmas exhibitions and Christmas shopping are on the agenda. But today they visited the Harry Potter Studio, a strenuous trip I'm told. But since they are both Harry Potter fans it obviously did not matter.
I am so naive to believe that they would like to have Matron and I with them. But that would be hopeless. We would never come down and up from the underground - or up and down double-deckers. We would be good at the pubs in the evening, though - if we could get there - and if we could keep ourselves awake.
Therefore, London is "no go" for us. Unfortunately.
Monday, December 11th 2017
I don't often complain at a store, and normally not at all at a pharmacy. Usually one will get it all via a prescription from the doctor.
Today I had to complain, however. Attentive readers may have noticed I've had stomach problems for a couple of weeks. At the pharmacy, I was given none prescriptive medicine that proved to have the opposite effect than desired. My stomach got worse and worse, until son and daughter yesterday recommended another medicine that turned out to be effective right from the very start. Today my doctor recommended the same medicine. See picture.
That's why I complained at the pharmacy and surprisingly the chemistry acknowledged I had been given a wrong medicine.
Thus, with peace in my mind, I can continue my life after 18 days of tough stomach problems. It was no fun at all. I didn't laugh even once.
Sunday, December 10th 2017
Right now I should be sitting at a well laid table in Silkeborg. It's my sister in law's birthday.
Unfortunately, I am not there. I'm sitting here in my isolated loneliness. Everyone else is at the birthday party.
My disturbed stomach prevents me from moving more than 10 meters from the toilet. And that distance I must respect. Nothing has helped poor poor me who must suffer. It's fortunate that I'm so good at suffering in silence.
But maybe there is a glimpse of hope ahead. Our sweet daughter asked me to switch to another medicine this morning. Later in the day our nice son recommende excactly the same cure.
Apparently it works. In addition, I shall see my doctor next week.
Otherwise, all is well. This is not an easy matter.
Saturday, December 9th 2017
When I was a child I often begged my mother to bake some Danish Donuts. Even though she was the cutest mother you could think of I was not in luck every time.
Now I have to ask my sweet wife to make them. She is also very sweet and is more open to my queries.
So I was very happy when this morning she suggested that we ought to go to Roende and buy an electric Danish Donut Cooker/Baker. That is just me. We shall sit around the table making our own donuts. It's more fun than playing cards.
Now it's bought and I hope to see it in function very soon. According to the sweet, young lady in the store it cookes only good donuts. No doubt that is right. All Danish Donuts are good, I think.
Friday, December 8th 2017
I have stomach problems. I shall not go into details, simply call it " an upset stomach".
It brought back some unpleasant memories from my childhood. Porridge.
I often got it for breakfast and I could not stand it, not the slightest.
Now my stomach is upset Matron has put porridge on the table. It should help. Dutifully, I have eaten it in the hope of recovery and it might help if I could hold on a little longer. But I can't. I can not get the unpleasant stuff to pass through my throat unless I close my eyes and think of God, Queen and Motherland. Exactly like when I was a child. I get an unpleasant feeling in my throat and I want to throw up for up to several hours after eating it. I'd rather have an upset stomach.
Thursday, December 7th 2017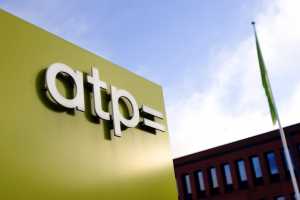 Throughout the latest few days, I have seen and read that the state pension fund, ATP, has earned very large amounts of money on various investments, and all pensioners could expect an increase of about 1000 kroners per year, 83 kroners a month. That's what I call a raise. My goodness.
Just to be sure I went to ATP's website, found my own account and could annoyedly find out that I would get 240 kroners more a year, ie 20 kroners a month.
I am deeply impressed. Morale: Never believe in promises when it comes to pensions.
Wednesday, December 6th 2017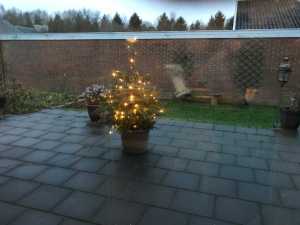 Sitting in my comfortable sofa I have a nice, wiew to our garden Christmas tree. I quite enjoy looking at it.
It's working on a timer that should switch on at 3 pm. and switch off at midnight.
However, this timer lives its own life and switches on and off at times that obviously suit the wretched thing.
In our front yard we have a similar light, only battery driven. That one is totally out of order and lights up for for example 6 hours. Switches off for 2 hours. Lights up for 8 hours and off again. This time for perhaps 6 hours. It's far beyond educational reach.
Well, it's probably made in China.
Tuesday, December 5th 2017
There is some some handball on TV at the moment, World Cup for Women in Germany. Matron watches a lot of it which I naturally respect although I feel very bored.
At least 3 matches a day. I could not dream of complaining about it because I know that as early as January the cycling season begins. And then I know who will seize the remote control - me, maybe. I would like to try at least and watch all the races. However, I will have a difficult period at the time when the Danish gentlemen will play EC in handball in January. Then I'm not so sure about the ownership of the remote control and I shall need all my diplomacy, maybe even bribery attempts in the form of promises of textiles. I have a little experience with bribery from 4th of November this year. It was quite expensive. Read it yourself.
Monday, December 4th 2014
Daughter and son-in-law have got a new TV, a large one, 55 inches. I picked it up for them in Grenå. It's huge.
In other words, it easily fills out an end wall. The picture should be completely sharp.
Now it's not for me to be envious. Far from it. But. It would be quite nice to have an end wall filled out here in our house. I shall certainly find space for it. Perhaps our living room would have to be enlargen, but what wouldn't one do for 55 inches?
Well, I shall be dreaming on. I've heard dreams can come true.
Sunday, December 3rd 2017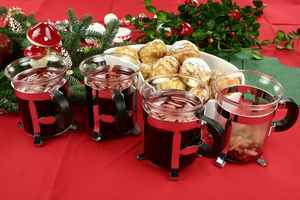 Some kind residents, newcomers here in our street, this afternoon invited everyone for eggnog and buns made on pancake batter.
Such an initiative is just me. But also others were interested. Everybody minus three were there.
Of course we all know each other quite well, but after an enjoyable afternoon it seems to me that we now know each other even better. I wish it was I who had come up with that idea. However I shall have the opportuniy next year - if we still live here.
Saturday, December 2nd 2017
A dark and cold Saturday afternoon can be spent in several ways - as long as it is indoors.
In my younger days I watched English football in black and white on terribly muddy and rough grounds. Nevertheless it was nice and with tea and cakes.
Today the recipe was roughly the same. Only football was replaced with a good, old war movie, "The Longest Day" and tea and cakes with tomato juice and curdled milk. I enjoyed it a lot, even though I have seen the film several times. It was nice to see the old stars again, John Wayne, Henry Fonda, Richard Burton, Curd Jürgens, Robert Mitchum, Sean Connery and many others.
Maybe I'll have it on again next Saturday.
Friday, December 1st 2017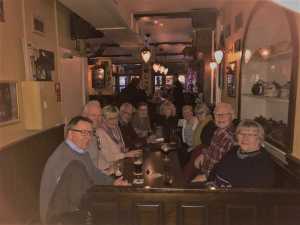 It was an afternoon of a very special kind. Else and I were together with my very first class for a highly enjoyable afternoon at a pub in the city center. I met them when they were in the 8th grade in November 1964, 53 years ago.
We meet a couple of times a year, every time with equal success.
Unfortunately, not everyone can be there. 5 died, some were sick, and a few had other things planne. We were a total of 10.
It's been a long time since I enjoyed myself so much while one tale after the other flew over the table with the good beer. It's amazing how much one can remember when others support your memory.
I love those kids - who are now retired one and all.
Thursday, November 30th 2017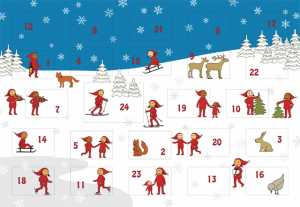 Tomorrow thousands of excited children will open the first door in their Christmas calendar.
I know a little man who lives in Hammel very well and I'm sure his parents will not sleep long tomorrow.
I do not have a Christmas calendar but clearly remember my childhood's many calendars and excitement when I opened a door every day. The content was vehemently discussed among friends and acquaintances.
Sometimes I made a calendar myself. With my familiar dexterity, I know that it was not nice - and looked very clumsy. But it went on the wall anyway and I dutily opened a door every day - if it could be opened that is. I did not save on glue - it was smeared all over the place where it should not be. Never mind I knew what was hidden behind each door.
Wednesday, November 29th 2017
I hope it will not be too annoying that once again I shall mention toilets. I felt I had to.
This morning we visited a large supermarket. As so often before I needed a toilet and zig-zagged my way there. It was not a good experience. It was ice cold in there. I started pushing two Antarctic seals off the toilet seat. Then I scraped ice off the same and off the radiator using my iPhone.
I afterwards contacted the information desk and asked what I should do with the seals and if they might consider placing an ice scraper in the toilet. I obviously confused the lady. She then found out what I meant and promised having the toilet warmed op. She sent me a warm smile.
Tuesday, November 28th 2017
Today, my sweet wife and I drove deep into the common market to fill up our meagre stocks of Pepsi Diet, Coke, beer, Christmas sweets, and a sea of groceries.
That's why we had to go down and up the Jutland motorway, a bit of an ordeal with long queues.
But now to an existential question.
Along the way we stopped at a couple of rest areas for the necessary errands. Then I found that disable toilets for understandable reasons are always right inside the door of the restaurant building while the regular restrooms are always down steep stairs and often along long corridors. And that's no good for my old legs.
Here is the question: Are non-disabled persons allowed to use toilets for disabled? I say yes. A toilet for disabled is a toilet with special facilities. This should not prevent non-disabled people from using it.
I shall, from now, allow myself to use toilets for disabled - with a good conscience.
Monday, November 27th 2017
Of all the "machines" in my training center I most of all love the "treadmill". It's also meant for running but which I couldn't dream of. For me it is "treading" so it's a tread "treadmill".
I started with 4 minutes at a time, now it is 15. If it will be more I do not know because there are many other "machines". Today it was 15 minutes.
I love it all even though it's 9 o'clock in the morning, really an uncomfortable time.
Sunday, November 26th 2017
Today I was lucky enough to overhear our lovely daughter Annette mentioning that she was going to make fennel soup.
Things like that do not go past my otherwise rather deaf ears so I immediately asked about the possibility for a little extra for me. Fortunately, there was a good chance why I picked up a nice portion just before dinner.
And then home and eat.
My goodness how well it tasted. I love fennel soup. Fortunately, there was enough for two days. Not anymore. I ate all of it.
It is worth noting that fennel soup is fat burning and in my case there is enough fat to burn. Considering the big portion I ate I must definitely have lost weight.
Saturday, November 25th 2017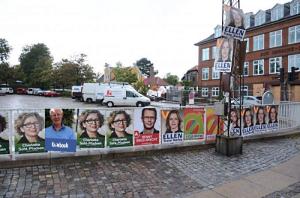 This morning I drove through Skoedstrup, Loegten and Hornslet and was reminded of the election campaign we went through weeks ago. It was not possible to see that it is now 5 days since the election was held. In short, election posters all over the place. Frankly. I get so tired when I see them.
I found that all parties were represented, minus the radicals, though. But the question is if there ever were any.
I do not know the rules for how long they are allowd to hang, probably 8 days but I think the time limit has to be over. Take them down. It is bad enough to look at them during the election campaign - but afterwards. Whew.
Maybe someone recognizes one of the persons on the posters.
Friday, November 24th 2017
I love looking at old pictures.
Today I found one from the old Aarhus, from 1957.
The picture speaks for itself, but I can not help living in the picture.
Who thought of piling all these boxes in the sidecar? It looks uncertain.
Where are they going to? Is it a delivery service company? "Aabo Motor".
What does the officer think? Has he noted all the necessary fact? Is it lawful? He does not look completely satisfied.
I think the officer will have to wait a long time for the motor bike driver.
Thursday, November 23rd 2017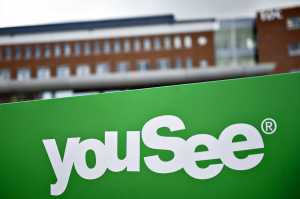 Once again I have to praise my TV provider, "youSee". The company's service is outstanding.
In the past month, we've had trouble playing videos from the "Archive". Regular stops. Annoying. I just did not take the time to contact the company to get it fixed. Only today.
Eventually, I felt ready to phone the company and as always I met a very obliging person who quickly corrected the error and promised me that just to be sure, a technician would contact me tomorrow.
I find it very pleasant that the person you are talking to is always on top and ready to help. And I've never experienced anything else.
I know some are dissatisfied with "youSee". Not me.
And now I can watch my favourite programs without interruptions.
(PS: I'm not paid by "youSee" to write this).
Wednesday, November 22nd 2017
Today I've done absolutely nothing, apart from eating and sitting in my good couch. I haven't even watched TV. Has it been nice? Not really. Not that I've been bored - at least not a lot. I just haven't felt like doing anything. Had a very nice cake for tea, though.
The dark and miserable weather has kept me inside. Haven't been outside at all.
Hope that weather and interest in doing something will be better tomorrow.
Sleep well.
Tuesday, November 21st 2017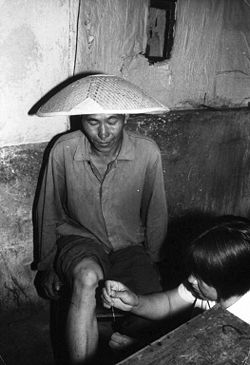 I must highly apologize for today's short notice. I'm not quite on top, a little tired and lethargic. Fortunately, it's rare I feel like that. It's inevitable in between - even for me, I think.
Perhaps my medical short story will continue tomorrow. Maybe I need a socalled barefoot doctor. He is from China. So perhaps it will not be tomorrow after all.
Monday, November 20th 2017
It is time to put up Christmas trees in all Danish towns. Usually it's a matter of great interest and citizens are excited about the outcome which is often keenly discussed.
Also in a town by the name of Aars the Christmas tree of 2017 now is there.
When the tree was raised not many satisfied comments were made. However many had a good laugh. Comments on the selection of the tree were many, for example: A missery, badly curved, Christmas tree scarecrow, deformed and miserable.
Several claimed that those who chose it must have been seriously drunk.
It's not nice to look at, in fact ugly. Even I would have chosen another tree.
Sunday, November 19th 2017
To my delight and surprise and to Matron's annoyance Aarhus yesterday beat Silkeborg 3-1.
She stille supports her old club even if it's 53 years since we left the town. I cannot help admiring her for it But we shall never agree on which club to support when the two stand face to face.
It was the first win for Aarhus in 5 games since our new coach started. He really needed it - and so did the whole town.
If all goes to plan they will lose the next one. They never win two games back to back.
It's a nuisance.
Saturday, November 18th 2017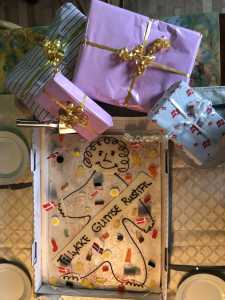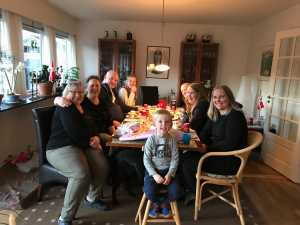 It's actually my birthday today, 77 years.
It was my intent that it was going to be completely quiet without celebration of any kind. It went as planned - until 3 o'clock p.m. Suddenly there was life in the house. Family rushed in (minus Amalie and Kristian, though). They sang the birthday song for me. In addition, a huge birthday cake and several gifts were brought along. It was a complete surprise. I was very happy about it. What a family.
Friday, November 17th 2017
Yesterday Matron expressed a wish for a new coat. It will soon be winter.
I do not overhear a wish like that. She deserves it very much which I told her in the shop in Roende. The sweet lady behind the counter almost gave me a big hug when she heard it but she didn't for as she said, "I've got a terrible cold." That was the disappointment of the day.
When we got out of the shop I suggested a small excursion. I would like to enjoy the view at Kaloe Castle Ruin. It was nice in the good weather to sit completely quiet looking at the beautiful view. We enjoyed it. Then on the road again, we took a tour around The Moellerup Estate which is quite near to visit the many places I know so well. That was a good day.
Thursday, November 16th 2017
I have realized that reality that nobody wants to hear me singing. Nobody wants to hear me playing my horn anymore. No one wants to hear me playing the violin even if I was pretty good at it in my days at college - without becoming a virtuoso at all.
Every time I try one of the three options Matron runs away.
I think that on a scale from 0 to 10 I will get 1 for my song, I will get 3 for my horn and minus 2 for my violin. That's self-recognition for you.
Actually, I want to improve myself in all 3 areas but it will take so long that it will be too late anyway.
Wednesday, November 15th 2017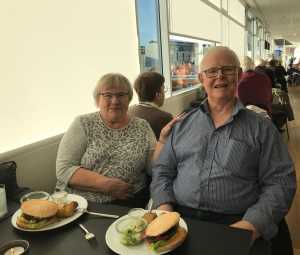 Strongly induced by daughter Annette Matron and I dared into the middle of town this morning, The Salling Store, to be precise.
The visit had two purposes.
We were going to have lunch on the rooftop restaurant and after that enjoy the view from the newly opened roof platform.
Either of them were very successful.
Lunch was a burger, which I have never tasted better, wonderfully freed of ketchup and french fries and a good Danish meatball (steak) in the middle.
The view was outstanding. We could look out over almost all of Aarhus and at least the whole pedestrian street - we could even see home. The weather was ideal.
All in all a good experience on a beautiful afternoon. Thanks for the idea, Annette.
Tuesday, November 14th 2017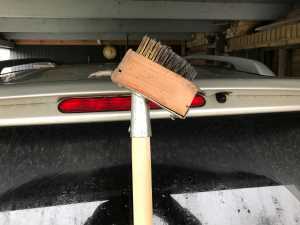 First picture does not look much - just another driveway.
But if you compare with picture two maybe you'll understand what difficulty I have been through to achieve it. All joints cleaned. It was hard work that caused sweat and my back to shout bad words after me.
Stage 1: Cleaning the joints with the tool on picture three. Every single bit of joint had to be cleaned. Phew.
Then sweepimg and collecting soil and weeds, ending with spreading white sand and sweeping again to push the sand down. Breaks were an integrated part of the process that was so long that I took a lot of them. It all took four days. Phew again, I did go to bed every night, though.
Monday, November 12th 2017
Nostalgia is an attempt to hold onto a world that is disappearing or has disappearied. Once upon a time, nostalgia was also the name of a disease.
It is no longer - fortunately.
Today - after a small lunch - I had the oppotunity of "cultivating" nostalgia with a good, old dog friend, And we really went far back.
Matron and my dog friend's wife left to buy flowers and see Christmas decorations why we two old boys had a couple of hours to tell each other how we got through life up till now. We were of course way back to our childhood and that's a long time ago. We took turns in telling and asking questions. Not only was it interesting - sometimes wih a good laugh - but also exciting to hear about an old friend's past. It gives a better understanding for background etc and you get to know your friend much better even though we already have known each other for 42 years.
It was a good day.
Sunday, November 12th 2017
Eldest son Peter is a very keen angler who does not let many opportinities of fishing go amiss. Unfortunately, autumn has not given great results, in fact none.
But then a few days ago it all turned upside down. First he caught a male salmon and the following day two beautiful females (see picture). They were all between 70 and 90 centimeters and weighed between 5 and 7 kilograms. He is rightly proud.
I think it's an extra bonus that the fish are caught on a fly. In my view, the catch is worth a little more.
Unfortunately, I never learned the art. On the other hand, I was never good at shooting either. The "stupid" boy is good at both angling and shooting.
But then again I'm good at polishing shoes.
Saturday, November 11th 2017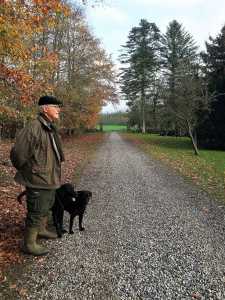 It's sad. I'm a "softy".
The image to the left is the hunting picture I love the most. My dogs and I hoping to get started looking over the landscape waiting to retrieve a pheasant or whatever fallis down. The year is 2014.
The two and I have spent hundreds of hours in this way and we have enjoyed them - and the retrieves.
It is strange that I will not experience this anymore. My old "worn out body" can not manage it and I no longer have a dog that can handle it.
And there is a shooting today. I should have been there.
Could it be more sad? I miss it.
Friday, November 10th 2017
I have heard that Christmas lights are already turned on in the city. That's early I think.
But we do not intend to be late here in Studstrup. So we rolled out all available cables and turned the power on.
In addition, we lit with two oil lamps. They can not beat that in central Aarhus.
Now I have to closely follow the power consumption because such an amount of light does not come free. Fortunately, we've saved up for it.
Thursday, November 9th 2017
We were at lunch with old friends today. As usual nice and with good food.
I have experienced a change regarding what I drink for lunch. Not many years ago I did not like snaps and rather took an extra beer - or two - instead.
Not so anymore. Now I'd like to have a few snapses and just one beer, maybe followed by some glasses of Pepsi Diet. That suits me very well.
It is, however, the food that I enjoy the most and today there was good reason for that too. A table with plenty of fish courses is great. I love lunches with good friends.
Wednesday, November 8th 2017
At certain intervals we buy 15 kilos of dog food and put it into a large barrel.
With great difficulty, two days ago I dragged the bag into the utility room placed it on the floor at a table. Yesterday I wanted to pour it into the barrel but unfortunately Matron had cut a hole in the bag and taken a bit because the barrel was empty. The bag was slightly sloping so that you could not see the hole. You could see it when I lifted the bag up. In the picture you can see how much 15 kilos food fills, or there about. I had already shifted a few pounds into the barrel.
It took just half an hour to get it all up. Fortunately, little Frederik was here and he helped all the way through.
I considered letting it all lie so the dog could go out and eat when she became hungry but with the little appetite she currently has it would take 1-2 months.
Tuesday, November 7th 2017
We have a nice. old labrador bitch named Buffy. She is 13 years old but can not really find herself. She lost her uterus 3-4 years ago which confused her a bit. At that time she was often fakely pregnant, ate very little and dug holes in our garden intended for a puppet bed. She was very persistent, dug countless holes of great size - but never gave birh, for good reasons.
With the disappearance of her uterus the many fake pregnancies also disappeared and we could enjoy a garden without holes. Lovely.
But now she is "pregnant" again and I have to cover holes again. In return, she is cheap on food.
Old bitches are weird.
Monday, November 6th 2017
I have to comment on my former club AGF, the city's team.
For 4 matches ago (after a 5-1 victory), the club chose to fire their then coach, Glen Riddersholm, and instead employ Lyngby's coach David Nielsen.
It is sad to note that since then, Lyngby has won almost all their games while the AGF has lost all of theirs with a negative goal score of 1-11.
The management should think a bit about it. I do.
As if that was not enough, the price of the AGF shares have fallen almost to zero.
And what should the club do now? Change coach? It does not help a bit.
Change players? That is a 5-year project.
Change management?
YES YES YES YES.
Sunday, November 5th 2017
I sometimes think of how young people's appearance has changed over the years.
Therefore, I was looking for a picture that could substantiate my claim.
I found one of a confirmation group from Silkeborg in 1936. The young people are 14 years old.
Fashion has of course changed. I think the girls look like mature, settled women of 30-35 years.
The boys look a bit more "childish" although some of them look older than they are.
However, I notice that a lot of them have big and protruding ears. This may be due to hair fashion. One should be short cut. On the other hand, their mouths are very small. That fits well with the basic attitude to children of that time, "Children should listen and speak as little as possible".
Saturday, October 4th 2017
I have a somewhat greedy wife.
Two nights ago - when we sat watching TV - I would very much like, one with cheese and ham made in our good toaster.
I cautiously asked if the sweet lady might like to make one for me.
A sharp look told me that it was a NO.
I therefore offered her fifty kroners for her inconvenience. Same result. She wanted 100 kroners. I accepted reluctantly - and 3 minutes later I could enjoy my toast, an expensive one, albeit.
Last night I got the same desire and tried once more. I did not want to pay another one hundred, though. So I offered 50 again. I might as well have saved the trouble, "100 kroners or no toast", was the answer. But you don't play like that with me. I made it myself. Who wants to be robbed completely? And that by one's own wife. Wonder how much she will ask for dinner tonight.
Friday, November 3rd 2017
Daughter Annette had ordered and paid a dryer in a shop not far from here. I promised to pick it up in the afternoon which I did with great pleasure, escorted by tMatron.
In advance, I had ensured that one from the store would help taking the machine out to the car. Then I would help lifting it in.
Everything went as it should be. The dryer was run out behind my car and I was ready to lift. I did not need that. The kind man lifted it into the car quite on his own. My back and I sent many grateful thoughts to him.
Thursday, November 2nd 2017
Today I read in a tabloid newspaper that Christmas carols make you mad.
I totally agree. It is unfortunate that from November 1st we must listen to Christmas songs in stores and soon also in radio and television. "Last Christmas", "Rudolf, the Rednosed Reindeer" and a whole lot more. I am fed up with them before we reach mid December - not to say Christmas Eve.
I must have the greatest compassion with shop staff who are forced to listen to them from morning till evening. They must spend a lot of effort avoid listening.
I would like to ask our elected representatives in parliament whether it was not possible for Christmas songs to be played from December 15th until Boxing Day. Nevertheless, I'm looking forward to Christmas Eve because the whole family will come and celebrate with us.
Wednesday, November 1st 2017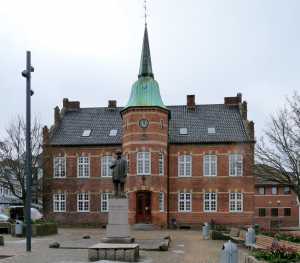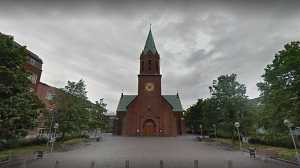 Matron was way down "Memory Lane" today. Nostalgia hung like a thick cloud over her while we visited Silkeborg's center. Not that we walked far, just up and down one of the pedestrian streets.
Here she could remember all the shops that once were there but are now closed and others are in their place. She remembered all of them. However, there was also room to remember the old town hall which is now a restaurant. It's a sacred crime. Now we just need the church to become a pub like I once saw it in Nottingham. Exciting church - the one in Nottingham. Silkeborg Church is honestly somewhat boring.
Tuesday, October 31st 2017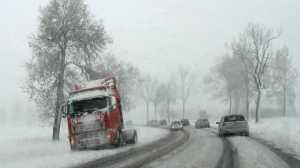 One of the year's milestones was passed today. Summer tyres were changed to winter tyres - for a bit of money. Too much I thought.
It was fast, though. Arrival, registration, car iinto workshop, 10 minutes later, someone cried, "That was the Toyota". Departure. Took about 15 minutes.
I've heard that we're getting snow soon. But since it's meteorologists who have said it I would allow a lot of doubt. In any case, I am now well prepared for the snow. I do not mind it being later, for example in April. It may be too much to hope for.
Unlike grandchild Frederik, I do not like snow.
Monday, October 30th 2017
During the weekend we were visited by granddaugter Cecilie. We love having her with us.
We talk and laugh a lot and quite often go out for drives to see something historical. She's very keen on that - and so am I. It might be a museum, a church, or some old building. She loves hearing about everything from the old timess and I love telling about it.
This time we went nowhere, though. Weather wasn't too inviting.
Still it was great. Cecilie cooked dinner for us Friday and Saturday. Fantastic meals. We hope she will soon come back to see us. Grandchildren are a blessing.
Sunday, October 29th 2017

The best memories will know that I have stopped retrieving on hunts. Partly I have become too old and tired and partly my faithful dog Sydney has died.
But that does not mean that the rest of my family stopped. Fortunately.
Son Peter has been with me on shoots since he was 8-10 years old. First as a beater, later as a horn blower and now it's horn blowing and retrieving. In addition, unlike his father, he is a good shot.
I gave up shooting 10 years ago. Not even the pheasants became happy because they knew I never hit anything anyway. However, sometimes I succeeded in scaring one of them, not much, though.
That's why I stopped carrying a heavy shot gun around and now I've also stopped retrieving.
Peter has not stopped - not at all - as you can see it in the picture from the latest hunt.
Saturday, October 28th 2017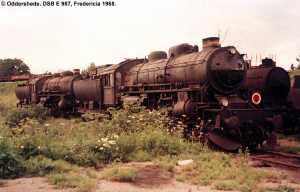 Quite accidentally, I saw a picture of the good old locomotive E 987, a Danish-produced machine, at Frichs' in Aarhus.




That set off some good memories from my childhood.

I was very interested in locomotives but in Silkeborg I had to make do with some smaller ones.

A bit

exciting nevertheless.




In 1950 I went to Copenhagen to play football (yes, you read correctly) and I had the great pleasure to ride with an E 987 in front, the biggest of the time.

It meant much more to me than the football which never interested me.

My parents were surprised that after the trip I talked a lot about the locomotive but not a word about the games.




The pictures show the locomotive as it looked when I first saw it in 1950 - and as it looks today.
Friday, October 27th 2017
I was very close to being run down today - and that i a back yard in Aarhus.
I stepped out a door into a pedestrian area in a parking lot. Around the corner came a big van with a good speed. I had not seen it and if it was not for a kind gentleman who shouted STOP behind me I had ended up under the car in an undoubtedly miserable state.
I warmly thanked my rescuer after which I shouted some foul words to the driver in the van. I know quite a few of them. He did not even look at me and there was no doubt he heard me.
I have plenty of bad experiences myself of reversing into something, trees, signs, fences and cars. It has cost me a lesser fortune in insurance. But I have never reversed into someone.
Thursday, October 26th 2017
It was a good day for both my sweet wife and I.
She was in Aarhus with some friends for shopping, having lunch, and drinking coffee. As I have understood it they all enjoyed the tour - and bought various textiles. At least my ood wife came home with two beautiful jackets. I think they both were very nice.
I for my party have fixed a new oven for the conservatory, done the beds vacuumed and mowed the lawn. The latter was a wet job but it could not be postponed. I enjoyed all four activities. That scares me a bit but I do not think it's anything dangerous.
Wednesday, October 25th 2017
We have a travel happy family. Members travel irreversibly.
A few days ago, Cecilie returned from Shanghai after a week of study.
Today, Anette, Peter and Frederik arrived home after nearly a week's stay at a holiday center up north.
Also today, Annette and husband Kent returned from Italy.
Matron and I came home from a small afternoon trip to Hammel, 35 kilometers away.
The only ones I had some hold of were Kristian who lives in Copenhagen and Katrine who was a dog babysitter in Hornslet.
But this summer we two old ones will surpass all their exotic travels. We are going to Lemvig. They cannot beat that - or can they?
Tuesday, October 24th 2017
When I went to school in Silkeborg many years ago October 24th was a special day. It was the UN's birthday. That day in 1945, the internationally prepared agreements were signed as a final start of the world organization.
There was a special event for us pupils in the big hall, called Sønderport, the city's largest hall. We went to thehall to celebrate the birthday. It did not take long to walk to it.
There was constructive lectures and if we were lucky also a movie. We did not see many of them.
Of course, all of this was prepared during lessons before.
Even though it was not the most exciting subject we were always pleased. It was a change in our boring, daily work. That's why I always remember the UN day.
I shall not fail to notice that, on the same date in 1952, sugar rationing was abolished.
Yes, October 24 is a special day. I also remember that sugar now became a part of life.
Monday, October 23rd 2017
I was training early this morning. I did not spare myself and worked out very hard. The sweat ran, the joints hurt and the pain was noticeable. And it was completely voluntary.
As if that were not enough, I also volunteered for a trip to BILKA with my sweet wife. The reason was cheap offers on some groceries. We saved a lot of money and that's one of my many favorite pastimes - saving money.
But the very best thing was that I did not have to walk around in the store. We have a non-signed agreement that I sit in the cafeteria while my better half goes shopping. It's a great deal which saves both of us some trouble. Honestly, I think it's a huge relief for her that we do it that way.
In fact I'm afraid I'm unwanted in the store. Not bad.
Sunday, October 22nd 2017
We weeded and swept in our driveway. It was needed. So much did I focus on the task that I did not notice two beautiful, young ladies coming up our way. Matron stopped them and asked if the two had been swimming. I thought that now she had lost her mind for no one swims on October 22nd. To my surprise, they both answered yes. I asked if there was a lot of insanity in their families but they did not not think there was. They swam all year long. I was about to ask the same question again but didn't. Instead, they told you how nice winter swimming was - not least after the swim. Then I remembered a little story about a boy who was pinching his little brother's fingers with a pinch. Little brother shouted and cried. Mom came running and asked big brother why he did it. Big brother replied that it was to make little brother happy because he became so happy when it was over.
Saturday, October 21st 2017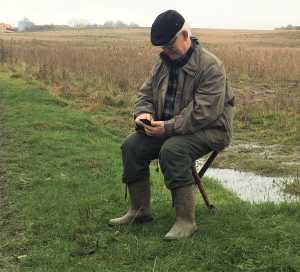 Today - for the first time in my life - I was on a hunt without being an active part of it. Completely passive - only a spectator. It was a strange feeling after 41 years of retrieving - always with my dog by my side. Now there was nothing. I missed him. I could do nothing when a pheasant or a duck fell down near me. I could just look and trust that another dog retrieved it. It happened every time. I just sat there looking - but fortunately I could do my Facebook and Wordfeud. It's shameful but now and then time felt a bit long. I was dispensable - surprisingly enough. Everything went as it should without me.
Friday, October 20 207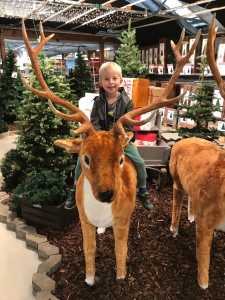 I am surprised (and a bit offended) when I every year early and mid-October see the first Christmas decorations in shops and stores. I've seen them today.
Not strange that you are fed up with Christmas when we reach December 25th. Is it really necessary to start so early? The leaves have barely fallen from trees. We've still got more than two months till Christmas.
Now you have to test your endurance and maintain your good Christmas mood for 2½ months. That is a necessity. I'm mad with the early start.
As it appears from the pictures I know someone, grandson Frederik, who does not share my view. As fas as he is concerned we ought to start in July.
Thursday, October 19th 2017
I would like to pass on some advice I got about a week ago. And it works. Now Matron can also witness the effect. It is an advice against having a hard time falling asleep. I happened to read it in a newspaper, do not remember which one. Here it comes:
You count backwards from 300 - BUT with jumps of three, ie 300-297-294-291 etc. It will be the boring math that makes you fall asleep. Do not deviate from counting. I guarantee the effect. The longest I managed to count down before I fell asleep is to about 220. I use it when I go to bed and when Ive been up for a P in the night. In the past I could lay sleepless a very long time - but no longer.
The method is boring - but it works - precisely because it is boring.
Wednesday, October 18th 2017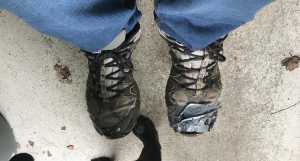 We, Matron and I, were at the dump site today. With a little more than a filled up car. It is incredible how much waste two people can produce in a short period of time.
I loaded the car. It was hard. There were heavy things in between. Therefore, I had to take breaks at appropriate intervals, sitting on my old hunting chair in the workshop.
Suddenly Matron stood in front of me. She had brought Buffy. I knew something was wrong. It is felt quickly even if you do not know what it is. "You do not go anywhere in those shoes, not ieven to the dump. Gaffa tape does not decorate", was the message. I tried a protest, but no use. Actually, the tapeork is not for decoration. It holds the sole to the upper part.
I unloaded the garbage wearing my fine Skechers shoes. Good order was back to the great reassurance for the sweet lady.
Tuesday, October 17th 2017
Sad, sad, sad. Our garden furniture is now under cover. We shall not see it till in about six months. It was much more fun to uncover them in April.
Admittedly, we have only been sitting in them a couple of times this year because of the miserable summer but it is much nicer looking at them uncovered - whatever the weather.
I'm looking forward to April even though I shall be 77 years old by then.
Monday, October 16th2107
I'm apparently unstoppable. Can not get enough.
The job is exterior painting. As the weather today became better after lunch I could not sit still even if I last week I packed all the painting gear away and did not expect to use it until spring. I found it and started. It was nice to go out with the brush in 18 degree heat - and in addition with a can of paint and a brush. My workshop and garage were to be painted and I completed more than half. With a bit of luck, I will be completely finished this week.
I am still wondering that an "anti-painter" like me that I can keep painting - and enjoy it. However, I hope to get better.
Sunday, October 15th 2017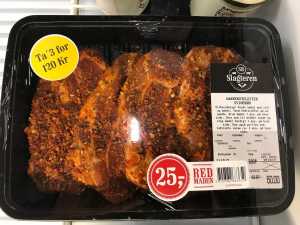 Matron has a good habit. She always checks the receipt in a supermarket. Always. She finds some peculiarities.
We have not yet experienced paying too little, but sometimes too much. So the sweet lady goes behind the queue - regardless of its length, and has the money paid back. The amounts are from 1 crown to 75.
Upon return, they are placed in a piggy bank. Last year it gave around 750 kroner. They were spent for Christmas. It is still too early to comment on the results of this year. But it's I who impatiently must stand waiting when she steps back in a long queue. And she's sharp. Nothing avoids her eyes.
But would she notice the little mistake on the sign in the picture? I think so. I had to have a second look.
Saturday, October 14th 2017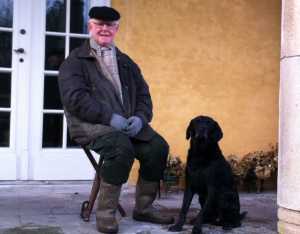 You may be pleased to know that both of us now are getting used to the thought that we no longer have our trusted dog Sydney with us any longer.
It has taken time to get there because he was such a good dog, kind and mild and always well humoured.
He was one of the best retrievers I've had, clever, concentrated. He loved all hunts and couldn't get enough of them.
Besides he was easy to have at home and he was always kind to all other dogs, never started any aggression to other dogs not to mention people.
Of course we shall still think of him. He deserves that. Good dog, Sydney.
Friday, October 13th 2017
Again today another nice visit by daughter Annette.

She takes good care of her old mom and dad.


S

he helped getting Matron's new phone, iPhone 8, launched.

So now the good lady is in front as far as iPhones are concerned.




To me it seemed a difficult operation.

But fortunately, I could just look over her shoulder and not take part in any of it.

I had never found out of all the wires to be connected and all the keys that were to be pressed.




I heard something about sending a copy of the old phone's content into Cyber Space.

Then she turned on the new one on and asked it to download all the files from the old one.

It worked.

I did not understand the slightest.

Never mind

, it works.


Annette

brought her guard dog, Tapsie, who waited patiently - in my sofa place.

Bau wau

.
Thursday, October 12th 2017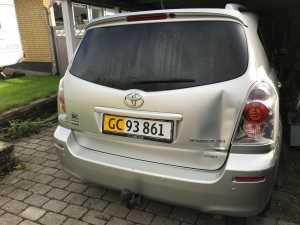 My usually faithful insurer has let me down. After an accident during reversing last week the company has informed me that the repair costs more than the car is worth. So no money from that source. I did not see it coming. Now I have to pay myyself. Maybe it also plays a role that it is my fourth reverse dent in 4 years.
I had to pay for couple of dents and a new tail light.
Now I must accept driving with a scratched and dented back door.
I already started grinding, priming and painting the most visible scratch (right picture). With my skills in painting it will probably (not) be a problem. As long as I do not get too much paint on my trousers. I usually do. This is a serious paint and not a paint you can thin in water.
Wednesday, October 11th 2017
Of all unpleasant places I was in IKEA today. I accompanied Matron.
It turned out to be a bit of an experience. Not in the shop, but in the front porch where a friendly IKEA lady would like Matron to have her IKEA card renewed. The old one could not be used anymore, and as it gives you a free cup of coffee in the cafeteria it was the impotant to my sweet wife to have a new card.
That became a bit of a turmoil. The sweet lady at the machine became pretty frustrated when in spite of many attempts, she could not get the machine to deliver a new card. The printer was out of order. Willingly, she continued her attempts customers lined behind me. She directed them to the 1st floor where another machine was. I also wentup to use it but it was for self-service and I should have nothing of that after what I just saw. I returned to the sweet assistant who was still working on her machine. Finally, the card came out. I bowed and thanked for her persistence. I had given up a long time ago.
Tuesday, October 10th 2017
Contrary to yesterday's many activities, today has been an inactive day with an experience with our TV, EDB and phone provider, though.
We visited the company's store in Aarhus with 3 purposes. 1) I had to deliver a replaced router. 2) I wanted to be instructed how to record a TV broadcast from my mobile phone and 3) Matron wanted another mobile.
Item 1) and 2) were free. You can not say that about 3).
Now the good lady has a brand new and strong phone. It was bought with all possible accesses as well as a costly insurance. It turned out to be unnecessary. When we got home, a call to our insurance company revealed that we were already insured against all accidents with electronics. Annoying. I have to try to get out of the new mobile insurance.
Monday, October 9th 2017
It is Monday again. Fortunately, for several reasons.
My Mondays are getting a regular pattern. At 8 o'clock training at Hornslet. At 9 o'clock picking up Annette's little westie at 10.30. Shower at 11.30. Mowing the lawn at 3 o'clock. Very tired at 4 o'clock. Annette arrives to pick up dog and have a meal with us (very nice) at 5 o'clock.
And then there was an extra point today. At 12 o'clock delivery of a car at the workshop. They shall try to change the look of the car after crash meeting a large van a week ago. Dents in back door and bumper and flashlight massacred.
My insurance company loves me - but certainly not for long.
Sunday, October 8th 2017
After a few months of frequent use of all kinds my workshop looked like a bomb crater. It was hard to get in and equally difficult to get out - not to mention the trouble of finding anything in there.
That's why I this morning decided that it should be cleaned up. Now was the time.
So after a quick effort of 5-6 hours it was over and I could recognizingly nod to the floor and the tabletop. And if wasn't for Matron's orders from her command tower in the bedroom window ordering me to change my trousers - by accident I had put on my best pair - I would have finished much quicker. She claimed that you do not clean up in your very best clothes. Hmppf.
Saturday. September 7th 2017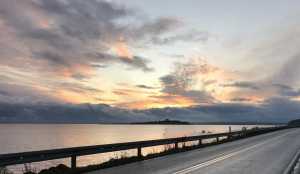 I do get some culinary experiences of the good kind.
Fortunately, it cannot be seen on me - except for some small random bumps here and there.
In the afternoon we had coffee with old friends, and here I really got an exceptionally good home-baked cake, just like a butter cake, only many times better.
I really enjoyed it.
On our way home we passed Kaloe Castle Ruin and saw a beautiful sunset.
A good end to a super cake day.
Friday, October 6th 2017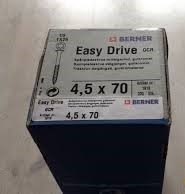 In a DIY that I have used a lot - only not for some time - something good has happened.
T

here used to be a slow service, one would often have to wait for a shop assistant to leave his computer. Now a more mature chap is employed there. So when you walk through the door he is already up.

It was good to experience today.

That the same clerk also took the time to find a packet of screws which was 120 kroners cheaper was another advantage.




It's worth getting up in good time if you want to sell.

I think I will resume using the DIY in question.
Thursday, October 5th 2017
Not long ago, I discovered to my surprise that on my iPhone I have a pedometer that counts my steps and indicates how far I walk every day.
Today, for example. I walked 3,564 steps and completed 2.4 kilometers. Not impressive.
A little more impressive is that on this date in 1974, American David Kunst finished a walk around the world. He crossed 3 continents and completed 23,250 kilometers. The trip started on 20th July 1970, thus lasting 4 years and 3½ months. He may have worn some shoes up.
Wednesday, October 4th 2017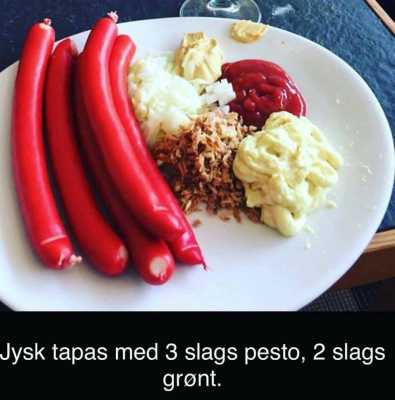 As a great lover and connoisseur of tapas I would like to point out that there are many different kinds. That's what is so interesting about tapas.
Over the years, I have enjoyed this blessed course, both in its home country Spain and in this country. However, I must admit that a Spanish tapas at a Spanish cafe is just a bit better than Danish tapas. Not much, though. Of course, that does not prevent me from eating the Danish sort.
Now, however, the course has also become a local course that we actually have known for many years and that I have enjoyed on many occasions - never in Spain, though. It is Jutland tapas. Exciting.
I can highly recommend it.
Tuesday, October 3rd 2017
I love watching the Danish TV show called "Shoot and eat" with Jørgen Skouboe (hunter) and Nikolaj Kirk (chef). I have seen most of them at least twice. I love their enthusiasm, their conversations which are sometimes very committed and occasionally very loud. Nikolaj's recipes are often unconventional but always sound exciting.
Therefore, it was with pleasure that we said thank you to an invitation to a "Shoot and eat meal" at Anette and Peter's in Hammel. We had the menu that Jørgen and Niklolaj made in their broadcast yesterday - for breakfast. It was cold-smoked salmon with spinach on buttered, fried white bread. It was an exquisite meal which, however, I could not have eaten as a breakfast.
How it tasted well. Nice.
Monday, September 2nd 2017
Again today a big helping hand from our family. What should we do without them?
As usual on a Monday daughter Annetes visited us and had a meal with us after which she performed miracles on my computer and iPhone. It's great to see an expert working. I'm sure I'd never figured out myself how to do it.
Now I can listen to various books on my iPhone. I shall enjoy it when I ride on my bike or drive a long tour in the car.
In addition, she updated my iPhone so I'm now up to date with the technical side. You should not go down on updates.
Sunday, October 1st 2017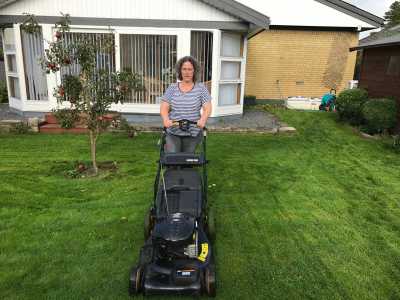 It is always nice to have a family visit. Today, Anette, Peter and Frederik (5 years) were here. They are - like the rest of our children, in-laws and grandchildren - so nice to have and good to talk with. And you can always speak English with Frederik. He has a huge vocabulary.
We were about to say goodbye when I, without any ulterior motives happened to say that I ought to mowe the lawn. Voila Anette started the mower and in less than half an hour she had finished. I usually take an hour. There is no more beautiful sound than the engine noise from my lawnmower - when someone else drives it.
Earlier in the day, we had - also without ulterior motives - mentioned that the shower had nearly stopped functioning du to a lot of lime and did not give much water. Voila Peter had fixed it.
However, how do I explain that I was pleased that they were here, lawn mowing and cleaning the shower regardless.
Saturday, September 30th 2017
That was the end of September. Weatherlike the worst September for years and years and for my part probably the fastest September ever. I think that month just slipped away almost before it began. It is true that the older you become the faster time seems to go by. I am 76 years old and time is running away. I dare not think what it will be like when I am 100. That's quite soon. I feel it's Christmas every two weeks. It's very expensive.
Friday, September 29th 2017
It was a lovely day.

We were visited by my old soldier friend Kruse and his sweet wife.




They came driving from the northern provinces with headquarter in Løgstør.


We talked

several hours about Løgstør and also about our hometown Silkeborg where the two also lived for a number of years, and in addition worked with sister-in-law Grethe and cousin Bjarne at the Silkeborg Newspaper.

And I actually worked there too, partly as an all round helping hand and partly as a driver.

So we have a lot of common background.




The older one becomes the more fun it is to talk about common past.

And we are good at it.
What one can not remember the other also has forgotten.
Thursday, September 28th 2017
Of course, many decisions are taken in our house.


Matron

takes care of the smaller ones while I manage the bigger ones that decide the future.




The good lady, for example, decides what to eat and when.

She decides where and when to clean.

She decides whether we need new furniture and which.

She decides whether to buy a new car and what type.

She decides whether to change bank and whether we have to restructure our mortgage.

She decides whether to sell the house and at what price.




I'll take care of the big decisions.

Should the United States attack Korea?

Should Mrs Clinton have been president instead of Trump?

Should our queen abdicate?

Can Prince Henrik keep his apanage?

Should we have a new government?

Should parliament decide on new rules for car taxes.




I think that it is a good distribution of decision making in this house.
Wednesday, September 27th 2017
It is extremely rare I reach a BAC above 0.2. I did today. I estimate about 2.5. It is with years apart I reach such astronomical numbers. Quite nice, though. We were together with good, old dog friends who lured me and almost forced snaps, beer and white wine into me at a lunch of fish dishes and a single piece of roast pork. All of it produced by the untiring Matron who again again surpassed herself with a lunch menu.
No surprise that one gets a little happy. And I didn't even have to drive home.
Tuesday, September 26th 2017
Late in the afternoon I was in our front yard to cut the edges of our unruly lawn. It was a hard but very necessary work. The grass had spread 15 to 20 centimeters over the tiles.
Just when I was about to finish and my batteries were getting flat a gentleman walked by. He stopped. and together we could quickly agree that such a wet summer was too kind to the grass which could grow quite unrestrained.
More interestingly, though, the gentlman man walked with his black labrador like my recently deceased Sydney. I had to pat and stroke the beautiful dog that seemed very well cared for. I was amazed that the dog was 11 years old, looked younger - especially when I think of what Sydney looked like on his last year. Sometimes I miss Sydney.
Monday, September 25th 2017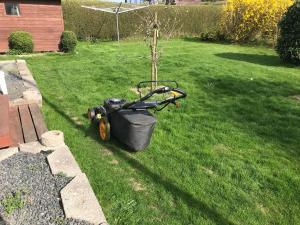 I mowed the lawn today.
During the performance of this Christian act I remembered that every time I have done it in 2017 the grass has been wet, sometimes very wet.
I can not remember even once when the grass was dry. That makes the whole operation very difficult.
Unfortunately, our self-propelled devil of a lawn mower is not able to collect the wet and very green grass. With no regrets it throws it away all over the place. And then I have trouble with Matron who strongly objects loose grass under the shoes. I have to listen to all that which has no positive effect on my desire to mow the lawn.
But it's good exercise.
Sunday, September 24th 2017
Today 11 years ago - also on a Sunday - I - among other things - wrote the following in my Danish diary,
"My last day alone. Else is in London. One of the advantages of being alone in the house is that you can decide yourself when to cook, clean up, wash floors, vacuum clean, dusting, feed dogs, walk them, collect the rest of their meals from the lawn, mow lawn (including edges), repair defective electrical plugs, sweep all tiles, clean caravan, and do the shopping".
Such were the words. As you can see, not many improvements are to bee seen here.
Saturday, September 23rd 2017
Several years ago Aarhus became known for its "Århus stories", in Egland I believe it was the Irish who were at the recieving end. These stories did not put Aarhus and its inhabitants in a positive light.

Wisdom was limited.




Now there is good reason to consider whether we really have to accept this claim.




Today the very expensive and well known light rail should start.

It did not.

A

few security approvals had been forgotten.

And that as late as

the day before start. Now all is delayed for 1-2 months.




And here they were with party tents, cold beer, sausages, stage and much more to celebrate the country's longest light rail.

My goodness. P

arty postponed.

Train delayed.
Friday, September 22nd 2017
In my workshop - among hundreds of other things - are four cans of paint, one white, one light gray, one dark gray and one black. The idea is that they should be used separately on our woodwork and sockets. They stand there as an order to get the job done. There's not much I'd rather do but all the time something turns up. The biggest problem is humidity. I have to wait till after lunch before the woodwork is dry enough to get painted. But I do not give up. During next week the forecast is extremely good for painting - and cycling. Paint will "wins. I am a work addict.
Thursday, September 21st 2017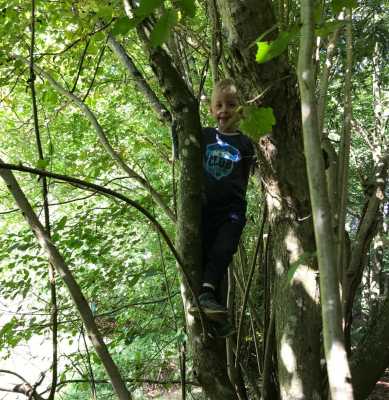 It was grandparent's day in Frederik's kindergarten today. We were there. So there were a number of peers present.
It was exciting to revisit Frederik's kindergarten which is also a socalle forest kindergarden.
This meant that granddad had to walk in the woods under Frederik's skillful management. He knew the names of the trails and hills out there. We stopped at the foot of the "Turtle Hill". I refused to climb it. It was long and steep. I had difficulty enough in reaching it. Since the climb could not be completed Frederik chose to climb a tree instead.
Nor did I participate in that. There was no space between the branches and they were too thin.
Wednesday, September 20th 2017
I was at the pharmacy today, strangely enough to buy medicine.
Every time I do this I'm excited about the price, which can differ quite a bit. I know it has something to do with CTR, something that raises or lowers medicine prices. I have never fully understood the system.
Today I bought three different kinds of medicine of which I know that some is quite expensive. That's why I was waiting for the price with great excitement. Measly 79 kroner in total. I was so confused that I twice pressed the wrong code number for my Visa card. In addition, I forgot to buy calcium tablets which I first discovered when I was in the car. I asked the sweet lady behind the counter if I could buy tablets against forgetfulness. She meant they were needed but unfortunately she had none.
Tuesday, September 19th 2017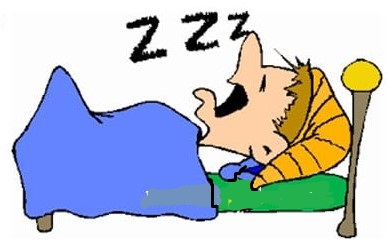 I was in my experimental mood today. I have I learned that you always have to try something new, develop, test new limits.
The weather was miserable, wind and rain, and it was impossible to do anything sensible like painting or mowing the lawn.
Therefore, for almost the very first time in my life, I decided to have a midday nap, a real sleep lying on my bed.
I should never have done that. I fell asleep and woke up an hour later - and was miserable. I was drowsy, tired and a little irritable without the desire to do anything.
I shall never again have a midday nap One should not try anything new.
Any change - even for the better - is a nuisance.
Monday, September 18th 2017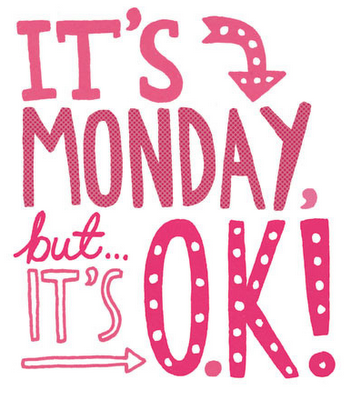 My Mondays are running in a solid pattern.
At 8 up. (My goodness).
9 o'clock training of the tough kind in the Hornslet Physical Therapy Center.
At 10.30 am picking up daughter Annette's dog in Hornslet. We are looking after the dog for the rest of the day.
10 o'clock painting fences etc.
1 o'clock p.m. lunch.
2 o'clock p.m. painting resumes.
5 o'clock p.m. end of the day's work.
6.30 p.m. dinner with Annette who then takes her dog home.
10 o'clock p.m. in bed, dead tired but pleased with myself.
Monday is a good day.
Sunday, September 17th 2017
It has not been a good day, not at all. It was the day all dog owners fear, the day when their old, faithful dog must be put down. There was no more to do.
We've lost Sydney, almost 13½ years old, sick and weak.
He has done well all his life and was one of the best dogs we have had. He has been with me on more than 100 shoots and he has enjoyed each and every one of them - just like me. He has retrieved hundreds, perhaps even thousands of pheasants and other wildlife. He has had the best possible retriever life. I shall miss him.
Saturday, September 16th 2017
I thought we were having guests for lunch today. Unfortunately, we should not after all.
Then I figured I could go to Århus or to Løgten to see bicycle racing, Tour of Denmark. Unfortunately, I did not do to that either. I was so busy finishing my hedge trimming that I forgot all about cycling. Fortunately, I had recorded it so I could watchsee it later - which I did. Among other things, I saw my friend Martin Mortensen in a nice breakaway in the last kilometers. Good to see him in front again.
I have no plans for tomorrow. But I've finished the hedge trimming. What a relief.
Friday, September 15th 2017
In this house there is employee democracy. The individual worker (yours truly) has an influence on what to do and when.
Let me exemplify with an experience this morning. I lay in my bed around 8 o'clock when Matron arrived and announced that I had to get up and trim the hedges. I asked if I might decide myself when to do it. I might - if only it was within the next half hour. That I call workers' influence.
As my favorite son said when I told him about the incident, "There must be a strong dictator to lead a democracy."
We have one, Matron.
Thursday, September 14th 2017
On 23rd of August I discovered a small piece of wood in our living room that was decaying (see diary). Not good.
We immediately reported the damage to our insurance company and today a very able carpenter carried out the repair. He was careful beyond the usual.
I always enjoy watching a skilled craftsman doing his job so I spent some time watching. Fortunately, the young man did not mind.
So, now I can start painting - if only the rain would stay away. It probably won't. The new piece of wood is only primed.
Wednesday, September 13th 2017
My good lady had a check with a doctor in Aarhus. That's why we were in the central city today. Everything was fine with her.
Wet, freezing and quite uncomfortable we came home. It rained cats and dogs and there was a strong wind, temperature 13 degrees, real autumn weather. Hate it.
And what's more beautiful than starting one of our many kitchen machines which has a user's guide at the size of the Bible. However it makes the most delicious cocoa. After some difficulty we succeeded. The hot cocoa was just suitable for the outside weather.
And I shall not paint today - or mow the lawn.
Tuesday, September 12th 2017
Several companies and institutions allocate employee benefits. Can be anything from tool loans, cheap or free parking, discount offers, various tickets etc.
Matron told her colleagues in a daycare institution where she worked for some time that a small slap in her behind by a young educator for her was an employee benefit. God bless her.
But now a mayor at the City of Copenhagen has given herself a benefit slightly above the ordinary. She used the impressive hall in the Copenhagen City Hall as a party room at her newly-held wedding. Normally, a rent of the hall would be 65,000-100,000 kroner. But she forgot to send herself an account. The taxpayers in Copenhagen have paid.
She should not be blessed by God.
Monday, September 11th 2017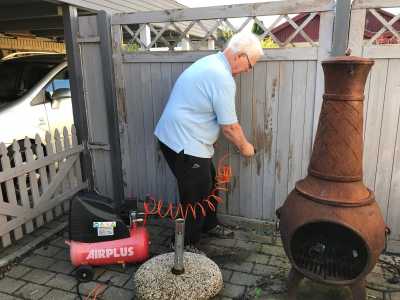 Big brains get good ideas. It can confirm that after a strenuous day.
First hard training at the fitness center. Then delivery of some chairs in Hammel.
And here it comes. The next task was taking off paint on the fence. It was very hard. I did it as well as I could and would end by removing dust and dirt with the compressed air cleaner.
To my happy surprise, it turned out that the compressor not only removed dust and dirt but also the loose paint. Eureka. Now I can skip the strenuous scraping and can use compressed air instead.
I'm almost embarrassed saying it. I'm brilliant.
Sunday, September 10th 2017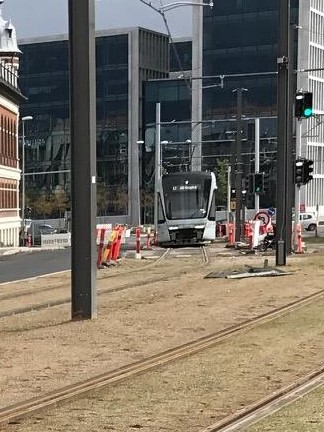 I drove into the center of Aarhus today to deliver granddaughter Katherine at her address.
This proved problematic.
I had accidentally heard that the new light rail was to be tested today. But I did not imagine it meant a nearly total closure of the central city.
One thing was there were endless quees but the worst was that a number of roads were blocked. I violated the traffic laws at least a couple of times to get through and had to drive many detours. I was glad I know the town. A non-resident had never found his way through.
One must hope it will be different when the rail is completely finished. Well, never mind. An ocean of delays have been announced. By the time it's finished I probably can not drive anyway.
Saturday, September 9th 2017
It was a wonderful day. With brother Kjeld I cycled the first 25 km. by the ancient army road ("Hærvejen" in Danish) from Viborg to Thorning.
After a short lunch break we rode back to Viborg by another way.
We were lucky with the weather, no rain, no wind and a tolerable temperature.
But above all it was a beautiful ride and I was delighted that my muscles worked well. I was not exhausted after the 56 kilometers. I was well and smiled at the world - that smiled back.
Friday, September 8th 2017
I've discovered something, something about pain, a good discovery.
As some people know, I have started training at a fitness center at least once a week. I work hard and I am totally exhausted when it's over. Hard and good.
I think that's why I can now go without pain in my hip, at least shorter walks. Have not tried any longer ones. It's a good start for me - and good news.
Now I just wish that my pain in the rest of my body will disappear, too. I must take them one at a time.
Tomorrow, if weather permits, I'll go for a bike ride on our old army route in central Jutland and I'll find out if that hurts.
Thursday, September 7th 2017
The brightest minds have observed that my diary was not updated yesterday.
The reason is simple. Matron and I were in Copenhagen to celebrate grandchild Kristian's 20th birthday and we onlyt came home this afternoon.
We had 2 wonderful days with Annette, Katrine, Amalie and Kristian.
Wednesday morning we were in Elsinor to see the Technical Museum and Kronborg Castle.
There was also time for a lunch at a very good bar where I had the biggest burger I have ever eaten (see picture). I had to leave something, though. May it not happen again.
Also Kristian had something good to eat. He happily shared with us. He's a good lad.
Tuesday, September 5th 2017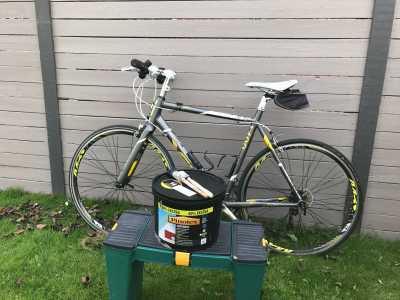 I do not claim I'm good at cycling and I do not do it.
I do not claim I'm good at painting. But I do it.
It was today's dilemma. The weather was for either. But as so often before I left the bike alone. 3 years ago it was different. Then the paint would have had to wait.
I am concerned about this development. I have even experienced staying at home from a bike ride to mow the lawn grass or to take waste to the dump.
Meanwhile my brother rides around on his bike and rides tours back to back. I wish it were me.
Monday, September 4th 2017
Since we are quite good at inviting ourselves for afternoon coffee and supper I have unfortunately not had the time to update my diary. Just got home a moment ago.
Afternoon coffee in Aebeltoft. Dinner in Hornslet.
May I on behalf of Matron and I express our gratitude for coffee and supper.
We will be back soon.
Sunday, September 3rd 2017
We had decided to have lunch at a fish restaurant in the area, a place we visit once a year because you usually eat well there. We were looking forward to it. We should not have done that.
Normally we order the restaurant's large fish plate with many kinds of fish, prawns, lobster etc.
A sweet young lady welcomed and nodded kindly to the order. It was the most expensive one on the menu.
When she had written it down, she mentioned that unfortunately she had run out of black bread but we could have white bread. I asked how many people she thought would like to have for example herring on white bread apart from the English. She shrugged. Next, I suggested that she quickly sent for some black bread at nearby supermarket. It could not be done, she said, because they did not have anybody to send. My goodness.
We changed the order to plaice with shrimos and kaviar which was no good. We will find somewhere else to eat next year.
I'm just showing a picture of what we should have had.
Friday, September 2nd 2017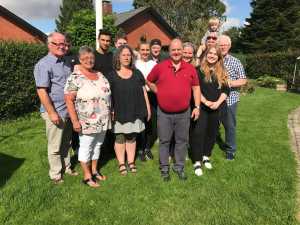 We were at a birthday brunch this morning. Daughter Annette's birthday. I do not think she minds my revealing her age because she's carrying it so well. She turns 50 and looks like 30.
We had plenty of good food, exactly as I like it.
Tonight there is a party for the young ones of 50. It will be cheerful - a good laugh. We would like to join but do not have the stamina for for late evening parties so we were more than happy with brunch and the nice company of young and old. See picture. Unfortunately, Annette "hides" behind others.
I will be looking forward to hearing about the party tomorrow.
Friday, September 1st 2017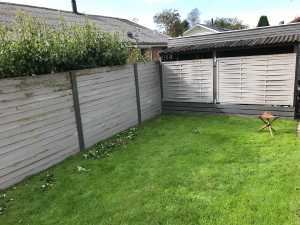 The next stage, the second one, in the painting season was today. The wooden fence was to be cleaned for loose paint and then sanded. I did my very best standing or sitting on my comfortable hunting stool. It was strenuous and I have had more fun on my hunting stool than what I had today.
But now the area on the picture is ready for painting as soon as possible. I hope it will be soon. Then my sweet wife and I will enjoy painting together. It's not the worst you can do. In fact, it's quite nice. Imagine me saying that about painting. What a change.
Thurday, August 31st 2017
It is unbelievable. Almost embarrassing. Here you sit quite tensely following a crucial and exciting stage in Vuelta a Espana. And what happens? You fall asleep. It was embarrasing. One had been looking forward to this particular stage and followed it up to 60 kilometersleft. Everything went as it should.
Suddenly you look up and there are only 10 kilometers left. Oh. A crash to woke me up. Favorite Froome crashed after having had another bike. Big disturbance. The commentators were paralyzed. Then I woke up and saw the last few minutes. I should not have been up so early this morning.
Wednesday, August 30th 2017
It
has been quiet here at the address all day.

We have enjoyed it.




Now silence is broken but in the very best way.

Frederik has come and will be with us until Friday afternoon.

He has already entertained us with music on his little piano.

It was very audible.

He has picked up all his cars and emptied them on the floor.

A

lso very audible.




But suddenly it all became quiet.

I looked around for him and found the explanation.

Our time's new "pacifier", the iPadd was found.

Then I could watch some bike race and grandma could watch her series.


P

eace is here again for as long as it lasts.

But how nice he is here?
Tuesday, August 29th 2017
We have finished - finished setting up vertical blinds in our beautiful conservatory. They look good.
It was a technical challenge. Lucky that I was not responsible. Then it would have gone completely wrong. I was used for the more manual work. I made only few mistakes.
But it's good to have friends who like to help and who know what to do.
It has taken a long time and necessary changes have been made. The instruction manual was quite confusing in some places.
Basically, I never use manuals, do not understand them, but luckily our helper did.
Monday, August 28th 2017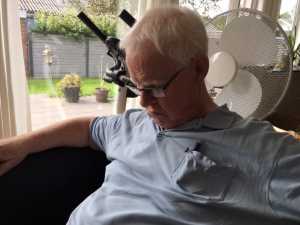 One thought that paparazzies would not come into your own home. But that's not so.
A lady dog friend through many years visited us today. Perhaps I did not appreciate her visit enough. Matron entertained the good lady in the kitchen. I fell asleep in my moulded sofa, a good and sound sleep with both corners of my mouth pointing downwards. That's the way I sleep.
Immediately the situation was abused by the intruding paparazzi. She ought to use her camera with greater care.
Normaly I'm not revengeful. Buuuuuuuuuut. Who knows?
Sunday, August 27th 2017
I often get so happy when I see pictures from old Silkeborg, my old hometown.
Here is the corner of Chr. 8th Road and Church Hill. It's a place I passed thousands of times on foot or by bicycle, for example to and from school and later for many other reasons. I remember the grocery store. Behind it was a smal factory where coffee was roasted and sent a very clear scent of roasted coffee out in open air. I remember it clearly. Everything is now gone.
Rear to the left is Silkeborg Museum and forward to the right up the hill lies the Silkeborg Church and the Silkeborg Town Square. We are exactly in the middle of my old town. Nostalgia is good.
Saturday, August 26th 2017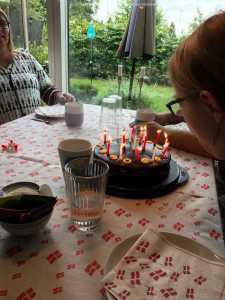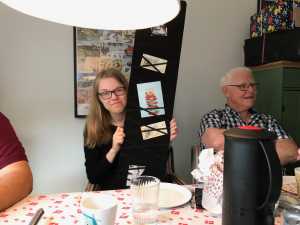 We celebrated granddaughter Cecilie's 19th birthday today, a very nice party with plenty of really good food and drinks and a lot of gifts. We all left happily.
Continuation will follow tomorrow morning with continued celebration at a brunch for the birthday girl here with us and together with our family from Hornslet.
Two day's celebration should be alright at a 19th birthday. I just wonder how many days to celebrate when I shall be 77 next November.
Friday, August 25th 2017
The painting season is here. Matron has ordered me to scrape off old paint.
I've done a fence already and I'm now almost through with our conservatory. And what did I discover?
In the lower part of a corner is quite som decay. The wood is soft, moist and weathered - despite the fact that we always were conscious with paint.
When I finished swearing over my discovery I realized that we are actually insured against this decay. So now, I shall report it to our insurance company which probably will be very happy to hear from us. Last time I contacted the company they asked me to have a reverse sensor installed at a smaller fortune. Just because I had a few reverse dents. It will not happen this time - I suppose.
Thursday, August 24th 2017
We were in Silkeborg today. At brother-in-law and sister-in-law's.
On our way home we visited the newly built Silkeborg Castle. Was built this summer in a couple of weeks. They know their stuff, the inhabitants of Silkeborg.
Well, the true story is that the neat, small castle is made of canvas on an inner iron tripod. It's a copy. We Silkeborgers think it is good fun.
The first castle is from the late 1300s. Nobody knows how it looked. The copy is of the castle, as it looked in the 17th century.
In fact, it was originally built as a defense with walls 2-2½ meters thick. But through history no one has dared attacking Silkeborg. We are too tough, we good people from that town.
Wednesday, August 23rd 2017
It was one of my good cycling experiences. I haven't had a lot during the recent 2 years.
I had decided to go for a ride but had no more desire than there's honey in an ant.
I had to stand up and really get hold of myself. Finally, I succeeded in persuading myself. It took time.
And what happened? I had an extremely good ride. I had diamond legs as we pros call it. I changed the ride a couple of times to make it harder. I almost floated along. I even caught myself in wanting another ride soon. It was a good ride.
Tuesday, August 22nd 2017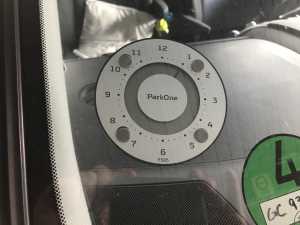 Today's good deed was changing the battery on my parking meter in the car. It sounds like an easy task. It isn't. Believe it or not.
To get the battery out, press firmly into a small hole located on the side facing the window post. See picture. An absolutely impossible task. There is simply no room. What does the inventive old man do then?
He grabs the whole disc hard and tears it off the window. It was well glued. Then replace the battery CR 2450 3v. Followed by resetting time, year, etc.
Finally, the parking meter is re-attached. The glue was still usable.
You're pretty smart, old man. Any wife would be proud of you. Only not mine. I had to force the praise out of her.
Monday, August 21st 2017
For the first time for 2 weeks I trained today. I went through all the machines I had to and that with full force. I was hard at myself, maybe a little too hard because afterwards I should help setting up louver curtains in the winter garden. Unfortunately my assistance was limited. Fortunately also dispensable. I was dead tired and shall sleep well tonight.
Now only one third of the curtains need to be put up. May it happen soon but not until I'm rested.
Sunday, August 20th 2017
It is a blessed day of relaxation.

No physical activity has taken away at my remaining power.

I have not been outside and I have no plans about it either.




However, I've just been out in the caravan to pick something up, had spaghetti for lunch and pastry and almond and marzipan cake for my afternoon tea.

In the evening it's going to be steak and a good salad.

It's an easy dy to get through

and favours tomorrow's excesses in the training center.

It's two weeks since I last was there.

Think of me.

That will make it hurt less.




Life is great.