Starting Thursday, July 21st 2016.
Wednesday, November 30th 2016:
I was at the pharmacy today. Medicine for Matron and I.
It has become very smart in there.
One reads one's health insurance card in a slot by the door, draws a number, goes to the counter and is asked which of the drugs one wants. After about 10 seconds the selected drugs come rolling down a slide. A label is pasted on each and you can pay and leave.
I am deeply impressed by the system and notice it every time to the sweet ladies in there. They are not quite as impressed as I am.
Next time I shall ask if I can come out the back and see the wonder at work.
Tuesday, November 29th 2016: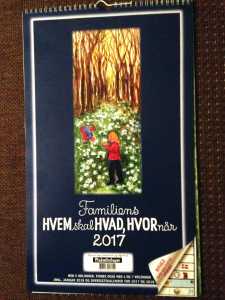 The calendar for 2017 was bought today. Now is the time to write coming activities into it. And already there are quiye a few. January is almost full up. January will be just as busy as December. My goodness.
I am looking forward to February. It will not be so busy since there are only 28 days. Pure relaxation.
I can also reveal that my birthday is on a Saturday and Christmas Eve is on a Sunday.
Matron has refused to hold more birthdays, thinks she's had enough but if she is forced to I can tell it will be on a Friday.
Monday, November 28th 2016:
I scarcely know what happened. It was as if an absence caused a astonishing action.
I walked as if in a haze on the way into the kitchen and suddenly I found myself out in the cold weather in our entrance wearing broom, shovel, and wheelbarrow. I began sweeping and shovelling and wheeliing away in a wheelbarrow.
Suddenly I saw Matron in the kitchen window, clapping her little hands in excitement and surprise at my work. Then I came to myself - but luckily the job was completed and I could go back to the couch with a good conscience, now fully conscious.
Something good may come out of an absence. Just look at the neat and clean entrance.
Sunday, November 27th 2016: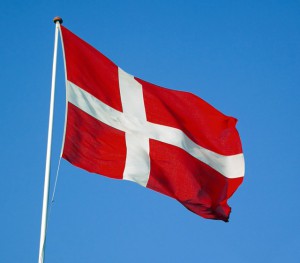 I have been celebrated today. My 76th birthday. The closest family was here.
How I love to have them around me. I can sit quietly looking around at each of them thinking how much I appreciate them. They all want to do a lot to please me - and they do it. Today the joy was that they were here.
Unfortunately, there were 4 who were not here. Grandson Kristian with girlfriend Amalie live in Copenhagen. It's just a little too far away.
Little Frederik did not come either since he vomited and had a fever. Mother Anette had to stay at home, too.
I know that they all wanted to be here.
Saturday, November 26th 2016: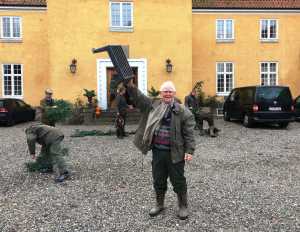 Retrieving again, again. Nice. Two highlights.
1) Peter's young dog Tjalfe retrieved his first woodcock. Peter's got it in his right hand.
Without even hesitating Tjalfe ran to the woodcock and picked it up immediately without having to sniff first. Most dogs would have done that. But not Tjalfe. Pick up - and home. Moreover Tjalfe retrieved several pheasants and a duck. It's going well.
2) My missing and indispensable step with which I am able to enter the dog- and game cart is recovered. To my great joy Mrs landowner herself brought it after searching diligently. Now I can enter the cart with confidence and without fear of breaking arms and legs. Moreover my good dog friends do not have to lift and pusj me up. That tires them out.
Friday, November 25th 2016:
It's Black Friday, God help us. Anyone who knows me will know that it is not an activity to my taste. Regardless of the number and size of a large number of discounts I could not dream of venturing into a store jam-packed with customers who are even fighting along in the crowd and who are argueing loudly about the right to the last product on the shelf.
No, let me have my quiet, peaceful sitting room where I do not have to fight for anything other than to get up when it is strictly necessary.
Thursday, November 24th 2016:

Pain is

common

for

we

aging people

.




A

good friend of mine

really suffers from pain

in his new

knees,

it

really hurts

.




Matron is

struggling with

her

knee

and

her feet

.




Another old

friend has

sore

feet

.




A fourth

friend has

back problems

.




I

myself have a

painful

low back and

left hip

.




There is

plenty to choose from

.

But we

oldtimers

bear our

pain

with

dignity and grandeur

.

No

whining

or undue

being

a trouble

because of it.

We fight

our way through

and

enjoy every

second when

pain

sometimes

disappears

.


We are the last

tough people as far as pain is concerned

.

Pain

is the last

part of a laziness that

leaves

you.


Wednesday, November 23rd 2016:
It was a long drive, 450 kilometers in all. 5 kilometers deep into our southern neighbouring country's territory. That's where the mother of all supermarkets is. We visited her + two of her kids.
It seems that everybody else in Jutland had the same idea. My goodness, what an inpenetrable crowd. I only survived because Matron allowed me to go and sit in the car. It was very cold but rather that than fighting your way through a wall of people who do not care about others. It was hell.
Tuesday, November 22nd 2016:
Final tour with my lawnmower in 2016. It was today. How wonderful. I've been looking forward to it for a long time.
Now I can walk past it in a clean conscience without feeling guilty because I did not mow the lawn last week.
Now it stands, thoroughly cleaned, in its solitude in the shed. Serves it well.
It will be April next year before it comes out again.
Until then I will spend time on sensible activities.
Monday, October 21st 2016:
It's a great day. I've been nervous since I woke up. Restlessly I have paced back and forth and have worn a pair of socks totally. If I had been the type who bites his nails there'd been none left. It has been much worse than when I even went on dog trials and that was bad.
But now it's over and all went well. I no longer breathe like in shock but at a quiet and almost normal pace. I can sit down for more than 3 minutes at the time.
In short: Grandson Kristian passed his driving test at 3 o'clock in the afternoon.
Congratulations, you little rascal.
Sunday, November 20th 2016:
I am sitting here at the keys thinking of what I have done today. I have thought quite long time and come to the conclusion that I have not done anything other than a visit to a supermarket (in flapped jogging pants that aroused no admiration). All in all not a lot.
A lazy day day. I constantly think that the remote control is too far away.
In return, I have been recovering after yesterday's efforts, reading, watching TV, drinking tea and eating Matron's excellent, homemade cake.
A wasted day?
Not at all. I've enjoyed it. Furthermore I read that you become happier if you are lazy.
Saturday, October 19th 2016:
In the picture a bunch of aging, tough guys. They were at today's shoot at the Moellerup Estate.
They are - from the left: Peter, I, Niels, Peter, Anders, Niels and Niels.
The special fact about these 7 cool guys is that they together have participated in hunts at the Moellerup Estate for 207 years, an average of 29.5 years. Yes, there is something special about coming to Moellerup. One just goes on and on.
The lowest seniority among the 7 is 25 years and the highest 41 years. Perhaps not surprisingly, it's I with the 41 years so no wonder I have trouble keeping up speed and that my walking style is somewhat slow and stiff not to mention my problems getting up on the flatbed truck.
When I fall - which happens every now and then - I have the happy advantage of being immediately surrounded by 5-10 friendly people who lift me up again. I go hunting with friendly, helpful people.
Friday, November 18th 2016: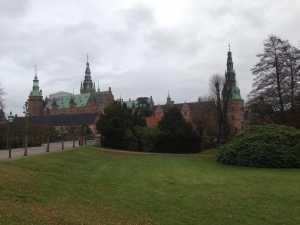 It's my birthday today - I have had many of them. It doesn't matter. The alternative is annoying.
I have been celebrated throughout the day, right from 6 o'clock in the morning !!! When I got up, Matron sang a birthday song for me. When I had recovered from that we were picked up by daughter Annette and took the ferry to Zealand. In carp to North Zealand. Annette had a meeting in there. Now we had two old ones had thecar for ourselves and drove to Hilleroed to see Frederiksborg Castle. Exciting.
Later in the day we visited grandson Kristian and his girlfriend in Copenhagen.
This is the first time in my life, I celebrated my birthday on Zealand. It was a good day.
And I haven't even mentioned the amounts of good food we had, both on the ferry and ashore.
Thursday, November 17th 2016: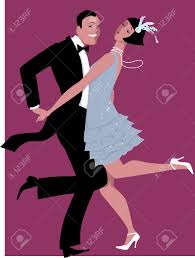 On this day in

1926

the Charleston

Dance

was banned in

Frederiksberg in Copenhagen.

Exactly

90 years ago

.




I think

it was a wise decision.

I've often thought that all dances skould be banned

.

Dancers

looks

foolish

and

most

of them are

intoxicated.

I

certainly was

I

when I

occasionally

danced

.




I was and am

not

good at dancing

and my

"kind

" family

claim

that I probably

never

shall be

.

They say

I look like a

stork

on

a broken leg.


I shall

certainly

never be

in

"

Strictly come dancing

" and it

does

n't

matter the slightest.

The p

articipants

look

stupid

.

So

better not

be

dancing at all

.

I've got no

problems

with that.







Wednesday, November 16th 2016:
It was a sudden impulse on the motorway north of Aarhus that made Matron and I having lunch at a good restaurant in Bruun's Gallery in the city center. There was a 50 % offer on the lunch buffet - and what a buffet it was.
Only rarely have I seen such a stunning buffet. There was everything - everything. I mean everything. And it was well cooked and very tasty.
These facts together meant that it was a time consuming lunch. But great. Unfortunately neither of us reached tasting it all, but we shall come back.
When sitting with excellent food and a cold Pepsi Diet one must exclaim, "Life is not the worst thing you have." So I said it. Picture shows part of the buffet. There was another table.
Tuesday, November 15th 2016: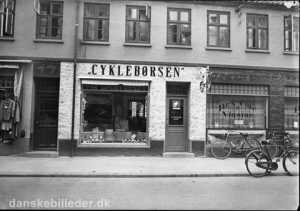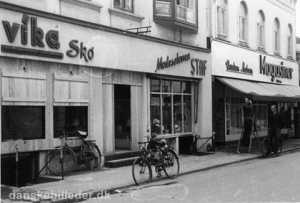 I remain nostalgic. For a long time I can rejoice over old pictures from my native town Silkeborg.
Today I was looking at the two pictures above which are a little indifferent except that they are from Silkeborg from around the year 1940. First picture shows a bicycle shop and a tavern on the second it's a shoe shop and a clothing store. Not wildly exciting.
However the pictures made me remember the way to park bicycles along the curb. The pedal was turned in the lowest position - and then turned a bit more so it fitted closely with the curb height. The front wheel was turned sufficiently to make it touch the the curb. And voila. The bike stood there - and remained standing. Everybody, big and small, could perform this art. It was necessary because almost all shop windows were equipped with a sign "Bikes are removed". I wonder why you do not see this art in practice anymore?
Monday, November 14th 2016: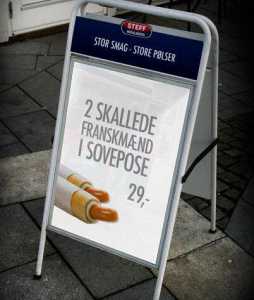 I waited in the cafeteria in BILKA today while Matron walked around in the shop and wildlytearing items off the shelves. It was around 11:30.
Since I had no breakfast I started studying the menu signs in the cafeteria and fell for one that said "Huge French hotdog". Normally I'm not crazy about French hot dogs but it was the only "course", I would go after. And I must tell that it was "huge", a sausage as a bent broomstick with a loaf of almost equal length. It was hard eating up. But I do not give up so easily so it disappeared along with the obligatory Coca Cola. All in all not a great experience which I did not expect, but I was full up.
The board is not from BILKA. It says "2 bald Frenchmen in a sleeping bag".
Sunday, November 13th 2016: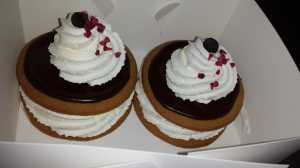 I have sinned today. Along with Matron, the sinful woman.
This morning she was at a Christmas fair at Rosenholm Castle along with daughter and granddaughter and most of East Jutland. It was nice enough, though. On the return, she visited a bakery. That is not unusual - but her purchase was. For the first time in countless years she bought cream cakes for our afternoon tea and even my favorites, medals. Tasted heavenly. Same as 25-30 years ago when we allowed ourselves the luxury of going to the fancy Brøndum's Hotel in Skagen for tea and medals. They cost a small fortune but who would not pay for having medals at Brøndum's Hotel in Skagen?
Saturday, November 12th 2016: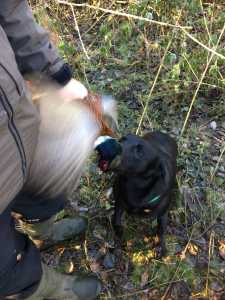 Another day of hunting - a cold, but very beautiful one.
The hunt was special, because son Peter's young dog Tjalfe was there for the first time. Tjalfe experienced more today than he has experienced throughout his life till now. A day full of impressions. Shots, pheasants falling down, things not to do and very few things you are allowed to do. These are the conditions for a dog on its first hunt. And it takes many before the dog has learned it all. Tjalfe learned a lot today.
My old she Sydney also was there. Not with a lot of speed. On the contrfary. In return, he does exactly what he wants to do. For him it is a principle that he does exactly as he pleases. I can whistle and shout as much as I like without any effect. And I do not even think he is deaf.
It is his last hunting season.
Pictured is Tjalfe meeting his first not quite dead pheasant.
November, Friday 11th 2016:

It's a good day.

Our problems

with

the defective

8-sided

connector for

Matron's

computer

is solved.

In

fact we had

given up on finding

it

.

But thanks to

a visit by

son-in-law

Kent

last night

we succeeded

.

He

simply Googled and

wrote "

8-sided

plug

"

.

And

voilà

.

A

company not far away had

6

of

them so

immediately

this morning

at 11.30

we

boarded

the Toyota and

went to buy

the

connector.

No problem at all

.




All this was

perfectly fine if

it wasn't

that

we

in the meantime

bought an

iPad as a replacement.

However

Matron is

overjoyed

by it.

She has

long wanted

an iPad

and

now

suddenly

she has

both

.

She is

happy

and

for that I don't mind

paying

a lot of money

.


Thursday, November 10th 2016:

Here we are

again.

Since I

shall soon turn

76 years old

I must have

my driving

license renewed

including the obligatory

medical checkup

.

It

is the 4th time

in

6 years.




I find it

quite in order

that the doctor

must check

we

senior citizens

so

that

old

,

trembling

,

half blind

and half deaf citizens,

and

confused

people

are let

out

on the roads

being a

danger to themselves

and most importantly to

others.

It's just

OK.




But

that one has to

pay

525

kroner

for

this doctor check

I do not understand

.

It's

just a small check

lasting

5-10 minutes.

All

other checks

are free.

However,

when it comes to

car owners

the

taxman

will be after you

.

I think we

pay enough

in

registration

taxes -

and

taxes as a whole.


Somebody should i

ntervene.

It looks like

what it is

,

an additional tax

.








Wednesday, November 9th 2016:
Ghastly things could be read in our newspapers today.
In the USA Donald Trump won the election. That's as it may be. God bless America.
What is much worse is that you could also read that Danish coins no longer will be made in Denmark but in Finland. In Finland. My foot !!!! In my school time we read in our geography books that Finns wore knives (it is not even a lie. It was in the books) and they might use them for other than peeling apples. What has the world come to? Can we trust the Finns to have put their knives away and will hand each and every coin to us?
Banknotes will be printed "somewhere in Europe". Where is not yet known. I would be uncomfortable with Italy with the Mafia in the backyard. And 15 years of bad experiences with the IC4 trains also scare.
I think that Danish money should to be made in Denmark. We have 1.000 years' of experience with the job.
Tuesday, November 8th 2016:
Alcohol combined with biking is not a good mix. I myself have only once cycled with alcohol above the permitted. I rode with Matron home from a very cheerful summer party with friends. See picture. It is 35 years ago - at 5 o'clock in the morning.
I managed the ride fine but the good Matron could not control her bike and had to use the whole width of the road + shoulder + ditch. In short, she crashed. Worried I ran to help. That was not necessary, however. Laughingly she crawled out of the ditch and we could continue the last bit home without further crashes.
I heard about a similar incident in which alcohol made a bike ride exciting. A friend tells,
"I was at the bingo last night and won a bottle of schnapps. When I was going home I feared to crash on my bike and smash the bottle. So I quickly drank it. That was most fortunate, I fell off 7 times. "
Monday, November 7th 2016:
On this day 45 years ago (in 1971) I gave daughter Annette (4 years old) and myself (31 years) a good experience for both of us.
It was the last day with trams in Aarhus. We jumped on the tram at the terminus Marienlund, drove to the terminus Filtenborg Square and back again. It was not so easy to "jump" on the tram, though. There was a several hundred meters long queue. We had the patience and Annette had her first and so far last tram ride. It was fun. Then buses took over - the big smonsters that still tumble around in the city. Next year trams will be back only now "Light Rail". Annette and I ought to go on the Premiere ride together.
The picture is from the 7th of November 1971. Perhaps Annette and I are sitting in the tram.
Sunday, November 6th 2016: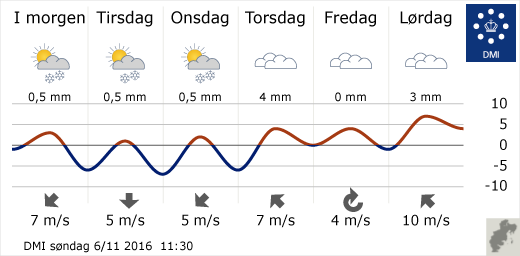 Sometimes it's good to be passive.
Neither Matron nor I have been out the door today. We have enjoyed ourselves in each other's company, watched a little TV, played Wordfeud, read a bit and eaten when we wanted. I wanted it often.
We think that the weather invited to a "relaxed" day. Rain and wind all day with the threat of snow. Sad, sad. You do not go into the garden or in the woods under these conditions. And it does not get better soon. But never mind. If only the fridge is available and Matron is happy it doesn't matter. Fortunately she is.
Saturday, November 5th 2016:
This will be a surprise for you.
I'll be starting in a fittness center next month. Yes, it is true.
I've always sworn that I sould never set a foot there. Never. However, I happened to see the photo to the left and it made me think it might be something for me. It looks exciting. Perhaps a lifelong interest.
Weeellll. I'd better tell the truth. Weight loss is required. Joint- and muscle pain should be worked away. I do not ride very much any more and certainly not in winter. So a friendly nurse recommended a fittness-center that will give me a personal trainer, dietician and physiotherapist without it costing anything. The latter pleases me too.
I shall make my debut December 13th.
Friday, November 4th 2016:

Tapas is good, tastes good, looks decorative, is nice to have with a cool white wine or a Pepsi Diet, sitting nipping to the food - and in good company.
That was what I experienced this afternoon at old dogs friends on Mols. I enjoyed the experience to the full and as often before I ate too much. But I enjoyed every moment and could - if I was offered - eat another round of tapas. Nobdy will ask me, though.
Tapas is also good for your soul.
Thursday, November 3rd 2016:
I read today about the blessings of ginger.
It helps against muscle- and joint pain, it stops nausea and much more.
Moreover, there is hardly the misery that ginger can not prevent. Reportedly it is the healthiest plant one can consume.
Of course ginger juice is of course also an option. You can also get the ginger pills. You will get healthy as hell.
This is so not me, though. I can not stand the taste. It is awful. There is an aftertaste which is quite unpleasant.
Apparently it is more effective than any other plant. On the other hand, it looks terrible, like gnarled, dead fingers. I'm never going to eat ginger. Final.
And good luck to those who do.
Wednesday, November 2nd 2016: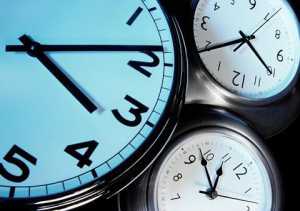 Like many other elderly people I find that time passes quickly - too quickly. One day stands ready on the shoulder of the next, ready to jump into our faces.
My feeling is that I get up and shortly after I go to bed. I already hear hundreds of voices shouting, "What about getting up earlier then?"
I have tried, as late as today. It makes no difference, not the slightest. Time just flies.
Today up early, shopping at a supermarket, brunch at family in Silkeborg (nice), visit to cemetery, pick up daughter's dog in Hornslet, home, dog to hair trimming - and home again. In a little while I am going to bed. That was the end of that day, more or less. Not that I did not enjoy it but it went damned fast. I think it's Christmas all the time, just about every 2 weeks.
Tuesday, November 1st 2016: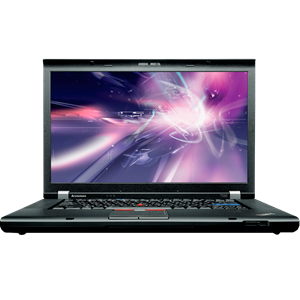 A bad morning. Besides a small check at the hospital and visits to a few supermarkets we visited 2 computer stores. Reason: Matron's laptop has died. Nothing works - absolutely nothing. RIP. And only because the power supply cord has broken. Typical. Neither online nor in the 2 shops could it be bought.
What do you do then? You buy a new computer that will typically cost 5-6000 kroner and all that because of a faulty wire that maximum costs a few hundred.
It made me a little angry. Therefore I tried to ask for a refurbished, used computer a store not far from here. For 2,499 kroner they can sell a flawless 15" computer with warranty and all. I think we are going buy it. But I would happily pay 350 kroner for another cord.
Monday, October 31st 2016: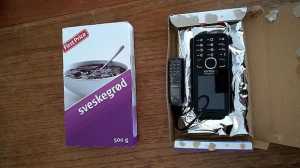 The other day Mrs.

Larsen

in

Hobro

was

at her

local grocery store

to buy

prune

mush.




When she

later unpacked the prunes

she got

a bit of

a surprise.

In addition to

the prunes there

were

two

mobile phones,

a very small

one and a

normal one.




"

I must say

,"

Mrs.

Larsen exclaimed after

which she

phoned the

police who

collected

phones

and prunes

.

Neither

shopkeeper nor

Mrs.

Larsen

nor police

want to

comment on

the mystery.

However,

the police told, t

his

is a well known method

if someone wants

to smuggle

goods

into the country.

But how

phones

and prunes

ended up

at the grocery store

and

at Mrs.

Larsen

nobody knows

- yet.




The consequence

must

be that next time you buy prunes

just

shake

the package

to feel

whether

a phone

or two are

hidden in

it.

Bon appetite.


Sunday, October 30th 2016:
I have a really good facebook friend on Zealand, a very nice and cheerful chap whom I greatly appreciate. And I think he also likes me. His name is Soeren.
You would not not believe in that friendship if you saw what we write to each other. Virtually there is no limit to how vicious we can be and what we call each other, stupid, ugly, nasty, empty brained, idiot, untrustworthy bastard, son of the devil, nutcase. I have mentioned only the nicer ones.
Soreen has also the habit of sending me unflattering pictures of me. Lately I received one because of the upcoming Halloween. I am - as seen - ready to go out on Monday. I am even a bit afraid of myself, but that's how he is, the stupid Zealander.
Should you meet him, punch him. He deserves it.
Saturday, October 29th 2016: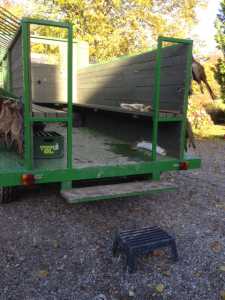 Look at the small "invention" that has made life easier for me. In any case at hunts.
5-6 times every hunting day I must up and down the hunting trailer and with a step height of just over half a meter, it has long been mountain climbing for me. In particular, I felt it difficult late in the day, when my strength has dried up.
With my great experience in camping life I got the idea of bringing a step for a caravan. Wonder why I haven't thought of that before. It helped blessedly.
The step caused excitement among my friends although I also had to listen to some "amusing remarks" about "old, stiff-legged men."
Now I just need a selfpropelled walker that can bring me around in the terrain.
Friday, October 28th 2016:

It's been a good day today. Nice lunch with friends and nice weather.
I am a bit sceptic about tomorrow. I'm going out for a retrieve on a shoot at "The Moellerup Estate". I still haven't forgotten last Saturday's wet, cold and windy experience. My goodness it was cold.
However, meteorologists have behaved well the last last few days and promised temperatures of 10-12 degrees, sunshine - and unfortunately some wind.
This, however, is not going to not frighten me, and I hope that I dare looking forward to it. I couldn't take another day like last Saturday again. That would send me to bed for a week or so.
Pray for me.


Thursday, October 27th 2016:
Matron thinks I'm mad, the reason being I love to sing and since I rarely have the opportunity to sing with others I sing to myself - when I feel like it.
Thus yesterday morning. We woke up at the same time and immediately I broke into song, all sorts of songs, starting with some old songs that only the eldest remember. I continued with a mixture old and new songs.
Also hymns mingled, including one that I love the most - about autumn. After that I took a break. I came to think of how beautiful this particular hymn is, perhaps the most beautiful one in our hymn book. I sang as many verses I could remember and enjoyed it. I stopped and looked at my sweet wife to get her confirmation that it is a beautiful hymn performed by a beautiful voice. She had fallen asleep. So much for my repertoire and my voice.
Wednesday, October 26th 2016:
When I was a child and young in Silkeborg not much was needed to impress me and my peers. A Christmas display with something that moved, a waving pixie, a Santa Claus who stirred the Christmas porridge with a wooden spoon aroused great interest.
Then came the time when motorcycles and cars were interesting, at the age of 15-16 year. Now Silkeborg has never been a pioneer city. But we were deeply impressed when the local Volkswagen dealer was smart enough to put a VW bubble up on a 4 pillars. Around 1955. That we had never seen before - not even in other cities. I remember that I quite often had to jump on my bike and ride over just to have a look at it.
Maybe this was why I 5-6 years later (1962) bought my first car in that shop, a VW bubble 1952. I paid 3500 kroner - with my father as guarantor.
Tuesday, October 25th 2016:
I was in my deepest sleep at 6:20 this morning when Matron woke me and sincerely asked me to take her to work. She had just heard on the radio that it was frost and fog and possibly icy roads.
Now, it is hard for me to say no to the sweet lady - and now and then I don't have the courage - so much against my desires I got up and we left. After only a short time I noticed that the outside temperature was +6 degrees, it was cloudless, and the road completely dry. I allowed myself to mention these facts.
I felt a certain hesitation and after a little she stammered that it probably was way up north in Jutland they had the above mentioned meteorological problems.
I promised that we would not need to be near there to get to Aarhus. No answer.
Monday, October 24th 2016: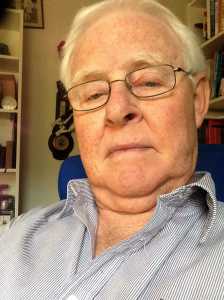 The last

days

experiences

have

put some thought

s

in

my mind

.

I must

admit I

have refused to believe that I'm old,

maybe

aging

, maybe

elderly but

not old

.




I am

not yet recovered

after Saturday's

cold, wet

and hard conditions

.




But eventually it's

dawned to me

.

I am old.

I'm

soon

76

and that is called

old.

My

physical condition

is no good.

Good enough

to bike

perhaps

but

without much

pleasure

.

I

walk badly

.

My body

works.

It hurts in

bones and muscles.

And here was I having

no hesitation in

believing

that I could

ask

my body

to perform as much

as

just 10 years

ago.

I can not.

I have to

get used to

the idea

.

I

do not find it

easy.

It is

as though

this thought

should be non-

existent.




It

is

paradoxical that we

all

want to

live long

but we do not want to

beomec old

(B.

Franklin

)

.




I've got

something to think about

.


Sunday, Octover 23rd 2016: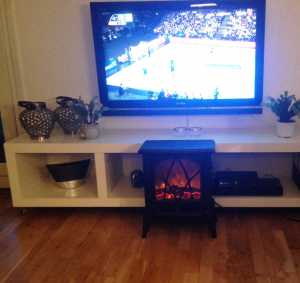 Just expect a lot of self-pity. After yesterday's excursions I can hardly walk. When I try it hurts from the shoulders and down. Therefore, I have only moved from my bed to the couch and a couple of times into the kitchen. It hurts. However, I had to accept that I was forcibly conscripted to vacuum clean the whole house. Then my world almost broke down.
I have a sore throat and cough. When I cough it also hurts. It is hard to find anything to be happy about. It might just just be that Matron yesterday bought an electric mini fireplace to create some coziness in the living room. I have a great need for a cozy atmosphere. I am unsuitable for anything else.
Saturday, October 22nd 2016:

Never in my now 40-year old career as a hunter and retriever have I felt so bad as on the hunt today.
I think I must realize that my hunting season is about to end.
I can not take it.

It rained and blew all day, the ENTIRE day.
Not even the slightest dry weather was seen.
The temperature was never above 7 degrees.
I was inhumanly tired and froze.
I was wet from top to toe quite literally.
Upper body, arms and legs.
I even have some sensible hunting clothing which has always saved me.
But today it was too much. On top of it all
I had a small cold when I left but during the day it developed into a regular laryngitis.
Shortly said.
I was totally miserable and must realize that another shoot with weather like today will be without me.
It is very sad but inevitable.
It is the first time ever I did not enjoy a hunt.
I shall soon settle for just walking around on hunts (in dry weather) and chat and let the young people do the wet and difficult work.

Do not be fooled by the picture.
I was soaked and froze.


Friday, October 21st 2016:
When I went to school we had homework to do every day. I never did.
When I became a teacher I often the first years homework to the pupils most days. Few did them.
When our own children came to school they were every day asked if they had homework to do. They never had.
I have always doubted the value of homework but it is so reassuring to parents. Then the kids must learn something. I doubt the value of homework and in my last years as a teacher it was limited how much homework I asked the children to do.
Homework is part of a certainf view on schools. It disciplines and makes students responsible it is claimed. I do not think so. I think it is a waste of time for a teacher needs too much time to find out who has done his homework and who hasn't. Scrap homework and get happier children.
Thursday, October 20th 2016:
Shamefully I must admit that I in certain situations I may swear quite a bit.
Beautiful weather, no wind, temperature 17 degrees. What could be any better than a good, long bike ride? Nothing.
Happily singing I left. Everything was bright and beautiful.
And what happens after six kilometers? Swear, swear, swear. Puncture on the rear wheel. Now changing the tube on a rear wheel not one of my core competencies. But I succeeded after 15-20 minutes of hassle and more ugly words. But alright. It worked.
On the bike again. Jubilation and joy. Singing resumed.
But then 4 kilometers later( swear, swear, swear) another puncture. That was too much - much too much. Matron was called to pick me up in the Toyota.
Damn my songs.
Wednesday, October 19th 2016:
When I was much younger, I dreamed of playing cricket for the Danish national team. I was close but unfortunately never made it.
It doesn't matter, however. I played last night. Finally, the dream came true and in a real dream. I even played in London. I did well, scoring a lot of runs and got applause.
It was strange that I was not any younger in the dream. I was the same stiff-legged, old me. But I was very good. Played like a dream (if you'll pardon the expression).
I might consider a comeback.
Tuesday, October 18th 2016:
My belt burst today. About that several reasons for this can be rumoured. I already hear them, "
Well, then it didn't hold any longer, then.
" "
The bow was stretched too far
". "
Has the circumference become too big
?"
I could easily imagine several other unfair comments. But I do not want to.
No, the fact is that the belt is of poor quality, cheap product from the Far East, which should never have been allowed imported to Denmark. Now I must endure all sorts of unfortunate comments just because a money-grubbing importer with his on dry land saw an easy shortcut to make a fortune importing poor quality. Shame on him and shame on those who think ill of the reason for the breach.
Monday, October 17th 2016:
Granddaughter Cecilie and I had a great afternoon. Together we went to The Todbjerg Tower and had its history repeated. The tower is under restoration and we were so lucky to meet the mason who works with it. Among others he put us on the track of the pentagram on the floor just inside the door, a sign placed there to keep evil spirits from the site. The pentagram is with one tip pointing upwards. If it had been reversed and had two tips upwards it would summon the evil spirits. So just remember that if you deal with a five-tipped star.
After that we visited the Todbjerg Church, an ancient church from the 12th century. Then we drove to the Memorial Place not far from our home to see the memorial stone there and commemorate the five resistance fighters who were executed there on 2nd December 1943.
It was a cold but instructive afternoon. We both enjoyed it.
Sunday, October 16th 2016:
That was a good one.. This morning I read a column by Jens Gaardbo (TV-commentator etc.). His wit and whimsy clearly can be felt. I enjoyed reading it.
He rightly argues that in his life time things have turned upside down.
For example he writes, "Once it was a healthy sign if you ate up because food kept us alive while today it kills us."
Furthermore, "Not long ago, we cheated with taxes. Now it is the tax suthorities that cheat us."
"We can decide that there are NOT too few beds in hospitals, but too many patients."
"We can decide that we do not want to play in the Football World Cup next time and voila, what our national team performs is completely by the book".
He is a good one, that Jens.
Saturday, October 15th 2016:
We have been "invaded" by 3 out of 4 grandchildren. Very nice. Missing only little Frederick who is busy with other things. Parents are also absent.
And they talk - in one long stream. We two old ones now and then in vain try to get a word in. But we had to give up.
Never in my life have I recieved so many pieces of good advice and never have I been taught so much.
I had of course expected that when I reached my present age I would sit quietly in my chair reading my newspaper and grandchildren would come to me to seek my advice. This is not so. They advice me - and a lot of it. No wonder one now and then wants to return to the good old days when an adult could talk when he/she wanted it and the younger ones were silent. As it is now we shaill never have the opportunity to speak.
Well, what the heck? They will experience it themselves some time.
Friday, October 14th 2016:
In about 2 weeks we are going to change to winter time. So it is time to move your garden furniture inside.
As said then done. And I did it all alone as the good Matron was busy with on her job. But fortunately I'm self-reliant in the highest potency so I toiled and got everything in place before the sweet lady came home. It was with a certain pride I showed the result. Believe it or not I was praised.
Later in the day I had the opportunity to praise her. She has created a "setup" at our front door, very nice and done by a creative lady. Just look at the picture.
We've been good today, but that's only to be expected.
Thursday, October 13th 2016: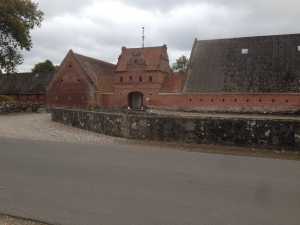 I took a chance today. Matron wanted a new coat, should be bought in Auning 35 kilometers away, . I used the opportunity for a seemingly reasonable easy bike ride. I went in the car with my good wife and then home from Auning on my bike The rather strong wind was in the east and I was the sure that I had to go west to get home. Wrong. It was mostly going east and southeast. It hurt. After returning I strongly blamed Matron that she did not ask me to look at a map before I set off. That would have been a good deed so I could have regretted taking the chance.
Well, never mind. I had a some headwind and still enjoyed the ride a bit, not least my break at the old estate Skarsoegaard (see picture).
Unfortunately the sweet lady did not regret purchasing her coat. That also hurt.
Wednesday, October 12th 2016:
Today we are visitted by eldest granddaughter, Katrine. We've talked a lot about several items, including her university studies, her future, and a bit about her financial circumstances. It's expensive to be a student even if the study itself is free.
Therefore, she also works at an insurance company.
She is also interested in a job as a Christmas assistance. Therefore, she has sent applications to several department stores and supermarkets. She has stated her full CV and written about her own (good) skills, ending with an assurance that it would mean a lot for her to get the job, and "Sincerely yours" and so on.
She has also written a small PS: "Unfortunately I can not work in December since I am going on a holiday abroad."
I'm sure she'll get the job. She's a good girl.
Tuesday, October 11th 2016: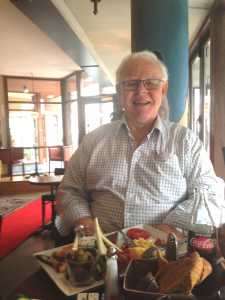 Oh yes, we are a little "mad about going out", Matron and I. Once again we set out for brunch at a restaurant. This time in central Aarhus. We had seats by the window so we could watch the world outside in the cold.
Once again we were pleased about the fine food and the very sweet service. One can get used to it. Everything was fully comparable with last Thursday's culinary experience in Aalborg.
There was one difference, though, in the noise level. No less than twice did the sweet waitress drop a plate. Large bang on the tiled floor and the good food scattered all over. More customers helped the unhappy waitress to pick up the food and wash the floor. There were smiles from all over. The helpfulness was commendable.
We would like to go there again.
Monday, October 10th 2016:
Throughout history anglers have been telling exagerating stories about how big the fish was that jumped off their hooks. I'm sure that even the caveman could not spread his arms out far enough when he told about his mishaps home at the settlement.
But there are of course well documented stories with photos.
Son Peter was out fishing today and could proudly prove his catch, a salmon of 78 centimeters and about 4 kilograms. I was foolish enough to ask him where he had caught it. But as an old angler myself I know very well that one will get get no answer to that so I got a confusing answer that it was "on river Gudenåen". It is 176 kilometers long so the answer made me none the wiser. That was also the intention.
But congratulations, son. It's going to taste well I'm sure.
Sunday, October 9th 2016:
Mid-morning Matron and I visited daughter and son in law - just for a small Sunday chat. Nice. Quickly came an invitation to stay for lunch. Lovely. I was really interested.
However, there was one condition. Before lunch was served I had to pick up a carpet at home in Studstrup, a small carpet which the two would like to have for their newly decorated living room and one which we had in excess. Such things I happily do for a lunch with family.
Then it was all open sandwiches and coziness. I love such occasions. I become so happy - and I still am. Super Sunday.
Saturday, October 8th 2016:
I've been busy today. Fortunately indoors. Early in the morning Matron outside in a small errand and came bhack and confided in me that it was windy cold outside.
Then I canceled my planned bike ride and instead sat in front of my computer for 7 hours, interrupted only by a 20-minute lunch break.
I was doing my brother a favour writing down a long interview from an audio file to a text file. It was about teaching plans in day care.
And since I many times previously have performed similar tasks I feel as a highly skilled educator, ready for employment in a daycare center. Only my problem is that I am unable to meet until 11 o'clock and go home around lunchtime. Of course without any reduction in my salary.
Friday, October 7th 2016:
Now the caravan is made ready for winter. It is cleaned and emptied of everything that cannot take freezing temperatures, for example, water, TV and recieverbox.
Everything is cleaned and ready for the first trip in spring. I got the prestigious job of lubricating all rubber strips with liquid silicone, a hard job that gave me sore arms why I did not quite finish. But there is still plenty of time. Matron's will keep reminding me of the task.
So today is a sad day that marks the beginning of autumn in earnest.
Never mind. Saturday, 22 this month I am on the first retrieve followed by 6-7 others. On December 24th is Christmas Eve. On 31st is New Year's Eve.
On January 17th, 2017 I have no idea what I'll do. I'll probably lubricate rubber strips with liquid silicone.
Thursday, October 6th 2016: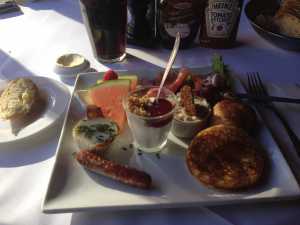 We were in Aalborg today. "Why?" I hear you ask.
Let me explain albeit an unusual explanation.
Last Monday we were at our garage, Toyota. Three instrument lamps that normally do not light lit up. With usual quickness a mechanic checked the car and could give the verdict: The particle filter was full up. A little foam was blown into it and we were ordered to take a long drive at high speed and low gear on the motorway so the ugly black stuff could be burned.
We found Aalborg and home appropriate, about 220 kilometers.
At the same time we found out that a brunch at a good restaurant in Aalborg would be equally appropriate. And I must lsay that it was good. The best brunch we ever had in a restaurant. Super.
Two birds with one stone, quiet and cozy with my life's light.
If it worked on the car? I do not know. But we had a lovely day.
Wednesday, October 5th 2016: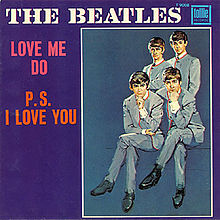 For many people - myself included - today is a special day.
On October 5th, 1962 the very first single by The Beatles was published. Thus it is exactly 54 years ago today.
It was "Love Me Do" that turned out to be a hit around the world and is still played on countless radio stations.
I remember the record being played on Radio Denmark. I remember the four long-haired boys who sung. I remember their very fast fame and the screaming teenagers when the band appeared.
I also remember my little indignation, four long-haired MEN. It was pathetic and girlish.
But as I listened to more and more of their songs I inevitably became one of the group's biggest fans and still enjoy listening to them. They delivered the best popular music that is made in my lifetime. I even used The Beatles in my English teaching.
Matron completely disagrees.
Tuesday, October 4th 2016:
I was at our medical center this morning. I was in for blood samples for the annual 100,000 kilometers' overhaul next week. My good doctor had said that I could just get in a random day between 8 and 9. What good medicus had forgotten was that I should have my heart checked (ECG). And then you have to book an appointment. There I was a little annoyed. But the sweet lady at the front desk said she would find out so I did not have to come back another day. It was I glad. The fewer visits to the doctor the better.
I sat in the waiting room. Shortly after I was called in. The blood samples were taken and I now expected the ECG device to be put into action. It wasn't. The nurse guiltily said that it could not be used. It was updating and no one knew how long that would take.
I shall be back on Friday. Damn.
Monday, October 3rd 2016:
I read good news today - long-awaited information that pleased me without surprising me.
New research shows that if you spend some time lying relaxed on your sofa and in general are not top-energetic you surely must be a person of high intelligence. There is a correlation between having a high IQ and being happy with relaxing days. Super reading.
However, scientists recommend that you do not physically go to a complete halt. I think they believe you have to ride a little on your bike.
Sunday, October 2nd 2016: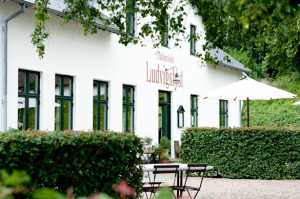 It was a good day. Along with brother Kjeld and his wife Dorthe we visited Silkeborg.
First we bought a rubber dinghy with electric motor. Then followed a visit to the art exhibition Silkeborg Bath, exciting exhibition on Mexican whores (yes, you read right) followed by the compulsory tour of the town to places from the "old days".
As a fine ending we had lunch at "Restaurant Ludvigslyst", previously a hotel, refugee camp after the war, a catering museum and now a splendid hotel with an emphasis on organic dishes.
And the location could not be more beautiful. View photos. The place is located in Svejbæk with views to the Himmelbjerget.
Saturday, October 1st 2016:
From today it is autumn - and it shows.
If I were at my right mind I would pack our caravan and Matron and I would go to Spain or Italy till some time in April next year.
But I may not be at my right mind nor rich. So we shall stay at home and face winter with all that it means, rain, wind, snow, and frost. Bravely we shall fight our way through the troubles and rejoice in the more pleasant parts that after all are there. Retrieving, cozy gatherings, Christmas, and especially all the good food that is waiting for us.
PS: Remember changing to winter tires.
September, Friday 30th 2016: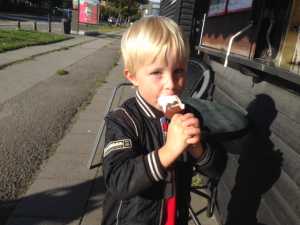 Frederik is staying with us overnight. It gave me the opportunity of resuming a very old tradition, an excursion that our own children as well as grandchildren have taken part in countless times.
For practical reasons, Frederik been cheated because he lives a little far away. But now my chance was there.
Tradition tells the following. A visit to the Natural History Museum, The playground at Marselisborg Castle, a ride on the little polar bear at Tangkrogen and finally an ice cream.
Everything was carried through with plenty of time and many good chats.
How wonderful it was. We did it all in 4 hours.
Thursday, September 29th 2016:
It is harvest time. I have long bent my neck in shame when thinking of this year's miserable potato harvest. It was less than modest. It was shameful.
So much more pleasing is the fact that apples, plums and tomatoes have given abundantly - and of good quality.
Today we picked seven apples, some ripe, sweet plums and half a bowl of tomatoes. And I have to say that there are more where they came from.
Now I must ask for some discretion from all of you. This harvest will be considered an income. We do not need to buy apples for four days, plums for a month and tomatoes for two. I dare not even calculate the taxable amount. But if you all keep quiet there is nothing to fear.
Harvest time is a good time, and now it is soon hunting time.
Wednesday, September 28th 2016:
I am appalled. It happened I today at a supermarket.
I quietly walked around looking for a particular spaghetti and certain cookies. Unfortunately, I never found either.
In return, I found a shelf with 30 centimeters long chocolate Santa Clauses. Yes, you saw right. Santas on 28th of September. There are 3 months till Christmas. It will be a looooooooong Christmas
It is absolutely foolish. Who is it, that wants us to celebrate Christmas from late September? Not me.
Tuesday, September 27th 2016:
At first 40 kilometers on my bike in very good speed. Somewhat tired on return. Rest was needed, but unfortunately not possible. Quick shower, in the car heading for Hammel to look after Frederik while mom and dad were at their choral singing. Maybe a little rest was possible there. But no. The menu was football. Frederik loves football. I was not the brightest goalkeeper. No contract waiting for me. Schmeichel is better after all. But my excuse for the 5-0 defeat was my overwhelming fatigue. My opponent did not suffer such things. In spite of a long day in kindergarten he ran uninterrupted and scored at will. I met my Waterloo on a bad day. I usually score at least one goal.
Monday, September 26th 2016:
I know that the October beer festival in Munich is about to start. It is said to be a joyful thing. I have never taken part, but might feel tempted to. Not because I'm a big beer drinker but would like to try to experience the festival. It is known to be a good "party" amongst happy people in one of Germany's most beautiful cities.
I read today that 6 million people will be there and that they will drink six million liters of beer, served in one-liter jars. There must be quite a few who do not drink beer. They "are just there". And that is what I wish to do.
Weeeelllll, a single glass or two might go down. And that wouldl be it.
PROST.
Sunday, September 25th 2016: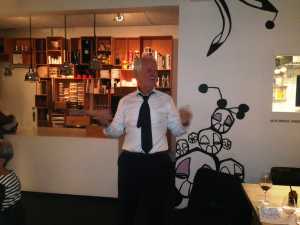 We were at a birthday last night. My brother's. He was 70 in July - the party last night.
That was a bit of a party - not wild and noisy, but quiet and cozy with probably the best food I've ever had at a festive occasion. There were about 10 different dishes in small portions. Plenty of time to enjoy each course, time to taste them all as well as the good wines that accompanied the excellent dishes. It was unique. If I were to to celebrate a birthday I'd like to do it with the same chef. I would also hope that the same cozy and cheerful atmosphere would be there. It was all just great, all guests felt comfortable.
Congratulations and thank you, dear brother.
Picture to the left the fine and talented chef. On the rigt my brother thanks for speeches and presents.
Saturday, September 24th 2016: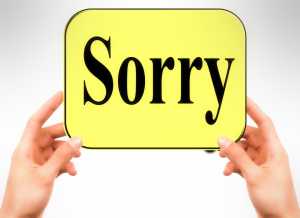 I regret I have not really had time to write my diary today. Space was reserved for it between 14:00 and 14:30. But I fell asleep. And the rest of the day is more than preoccupied.
Sorry! I'll be back tomorrow with a not-so-hard pumped calendar - hopefully.
Friday, September 23rd 2016:
It's nice to meet like-minded people. I met one today with some friends. He shares my passion for a certain pauper from Silkeborg, Martin Frederik Christian Jørgensen (1884-1976).
He obtained his interest through his childhood in Soenderborg where there now is a sculpture of Martin. It is not often that sculptures are made of former paupers.
I have previously described Martin and the enormous change that happened to him when he in 1933 for the last time left Silkeborg Poor House to settle in Sønderborg. From having been a hot-tempered brawler and vicious devil he now became gentle and docile, very popular in the city for his friendliness and helpfulness. I wonder what happened to him.
It was a very long talk about Martin. How interesting it is to meet someone who has the same narrow interests as I have. A good experience.
On the picture Martin - and I. Martin left.
Thursday, September 22nd 2016:
Today is autumnal equinox. Theoretically, day and night are now equally long. But they are not - not until in 2 days. I shall not tire you with the technical explanation only say that it has something to do with the diffracted rays of sunshine. What a disorder. Could they not syraighten the sun beams so there was order in the calendar? I hate disorder.
From today it's officially autumn. The days are still getting shorter, temperature drops.
However, we have not really noticed it here. The sun is shining from a cloudless sky all day long, and day temperatures are plus 20 degrees. A temperature that suits me. If this is autumn I want some more of it.
But my goodness, I am looking forward to the spring equinox.
PS: The picture has got absolutely nothing to do with the text to do. I just became hungry and Matron is at a fashion show. I'll have to cook my own meal. Bon appetite.
Wednesday, September 21st 2016:
Some of our friends are wicked. I talked to one of themon the phone this morning. She asked if Iwasn't going out for a ride today. I said yes and told I would be going out in the afternoon.
She immediately invited on tea and cakes. Then I could jump on my bike and ride over to them. Matron could take the car and pick me up - and of course she was also invited for tea and cakes.
It all seemed friendly and nice. But I'm not sure it was. Our good hostess knows quite well that a bike ride from here to their place is a bit of a trial. Many hills and a head wind. I think she enjoyed recieving me totally exhausted.
It was a great comfort, though, that the tea and cakes were excellent. I wasn't excellent at all.
Tuesday, September 20th 2016:
Sorry about the late update.
A good day is almost over. Matron and I were at "Grandparents Day" in Frederik's kindergarten. It was as before good to see him in the surroundings that are his everyday. It is a nature kindergarten which fits well to his active behavior. There could however be a little time to sit down and eat some fruit - but not for long. Otherwise we swung, slid, ran, looked at the compost and much more. We two oldies were very tired when we went away. Now we have time to rest for next year.
Monday, September 19th 2016:
I trained our two dogs today. I still do not understand they bother. An 11 year old bitch and a 12 year old dog rushing around on a football field retrieving old, sour skin-dummies. And they are virtually unstoppable, my two old, faithful friends. Their retrieving instinct is so strong that they forget all about age, arthritis and other ills.
Well, they are not go as fast as before and their obedience is not as sharp as it once was. But they retrieve it all for me. I sometimes manage to make them obey the whistle. Theno I am quite happy and remember the old days.
In just one month we shall go on the first shoot and by then shall a reasonable basic condition is expected. The dogs'll achieve it. But what about me? That will require more cycling days than there are calendar days left until the first day of hunting in late October.
Sunday, September 18th 2016:
This year's apple harvest is quite impressive. The small and very young tree carried over 20 large apples until little, naughty Frederik came by a few weeks ago. Then there were just 14. It does not matter. He came nicely in and handed the apples to grandmother with a message stating that it was Tjalfe (their dog) who had picked them. Of course it was Tjalfe. Who else?
Now we are looking forward to picking the remaining 14. We've got tastings. They are excellent and are Matron's favorite apple, Elstar.
From next year I shal forget my ambitions of becoming a potato farmer in favor of becoming an apple farmer. And I do like the idea. The potato harvest was a scandal ithis year. Then I am also rid of all the trouble with the EU and potato subsidies.
Saturday, September 17th 2016:
This year it is 50 years since I graduated my first 9th grade. It was Risskov School in 1966.
Since then we have met regularly. It started with the 10th anniversary in 1976.
It is wonderful that the young people I met as a new teacher still stick together and see each other and are happy to invite their old teacher as well.
To mark the anniversary, we met today in the "Old Town". We enjoyed ourselves for a few hours.
How wonderful to meet my "children" again. Unfortunately, 4 of them have died and some could not be there today.
After a few drinks Matron and I had to leave the party. They were going out to for a meal. Unfortunately we could not go with them. Hopefully we can in three years when we shall meet again.
It was a good experience today. Photos are 1966 and 2016.
Friday, September 16th 2016:
Good old Sydney had his claws cut today at the kindly veterinarian Soren. Everything went well.
On the way back Matron and I went on a small excusion so she could see one of my favorite bike routes. It goes past the "Todbjerg-Tower", a humble small tower. On small roads we could come up to the tower and see it closely. Located in 101 meters hight.
In 1852 a mill was built here. It burned down in 1918. Next, MP Eggert Jessen built a cairn so he could see his home when he arrived by ship to Aarhus from Copenhagen. However the cairn was overturned by a storm in 1926 after which local citizens collected money to erect the tower. They thought it ought to be there. Now it is a little shabby but a restoration has just begun.
Is it worth a visit? Go there yourself and find out.
.
Thursday, September 15th 2016:
Everything indicated that I stayed indoors today - the heat. But I could not control myself. I had to go out and cut the last little bit of the hedge and not at least picking it all up.
And just an idea. For many years, many preached to me that I should use the lawn mower to collect the hedge cuttings. But I have always thought that it could not be done with the many and long branches. But I was wrong. Everything disappeared into the bag, even bundles and then I just had to empty the bag a few times in the borrowed trailer. I got the idea with grass mower yesterday from an old dog even. Thanks for the tip, old friend.
And now that I was at it I decided to empty the compost which I only use for grass. It has been 2 years since it last happened. It was hard and what nasty smell of stale, sour liquid manure.
Hope you cannot sense the smell from the photo.
Wednesday, September 14th 2016:
Unfortunately, news has been dominated by fools who have thrown tiles and stones from bridges to hit drivers. Totally stupid.
Unfortunately, only a few were apprehended, and they are hopefully in for a sharp punishment.
Not everyone, however, have understood the dangers of their deeds and still throw things at drivers. But some are "unfortunate".
Thus three big boys from Esbjerg yesterday decided to throw water balloons after motorcyclists. May not sound bad but can be fatal. After several unsuccessful attempts one of them finally hit a motorcyclist but probably not the right one. He turned out to be a big chap with large labels on the back of his leathert jacket. The boys disappeared wildly running with the motorcycle after them.
A witness told they were terrified but he did not see the punishment. He thought, however, that it was the last time the three would throw anything after anybody.
Tuesday, September 13th 2016:
After the final meeting at our new bank to sign various electronic documents in connection with our switching of bank, and after I had trimmed a bit of our hedge it was time for a pleasant rest for both of us and a single selfie on our garden bench in 30 degrees heat.
Comfortably we sat in the shade and rejoiced in the latest days of good experiences. It's great to take the time to that sort. We should do it more often. It's like falling in love again.
Monday, September 12th 2016: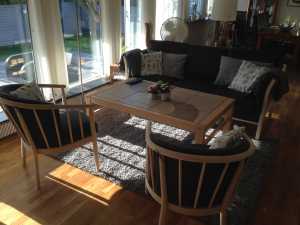 Then came the great day. 3 pieces good news. First from doctor and hospital. Both messages sent us flying with joy.
Then the long awaited new living room furniture arrived, a black leather sofa and two black leather chairs.
We are very excited about them. We think they are nice and that you sit well in them.
Despite an outrageous price it was probably just what our living-room needed. It looked a little "tired" before.
Oh well. Also a new carpet, new pillows and blankets and some other small items followed. It adds up. But Matron is very happy and that's good. Then I am happy too. And just now I'm sitting on the sofa admiring the new furniture.
Before long shall I admire a roast rump steak. Life is not bad at all.
Sunday, September 11th 2016: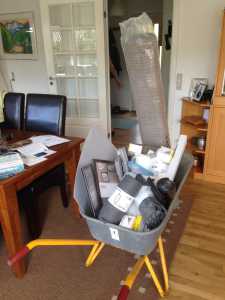 Yesterday in heaven. Today in hell. That is in IKEA. With daughter and Matron.
My two hopeless children forced me to join them to buy 1 carpet, 2 lamps, 5 bulbs, 7 picture frames, 1 toilet brush, 1 carpet protector, 3 plaids and some more that I do not remember.
Admittedly, I spent an hour in the cafeteria with a cup of tea and a couple of cakes but I did not avoid participating in the shopping raid the last half hour. I was wanted, they said. It was horrid.
May it never happen again.
On return the total purchase was placed in a wheelbarrow and wheeled into the livingroom from where it was distributed.
We were not amused.
Saturday, September 10th 2016: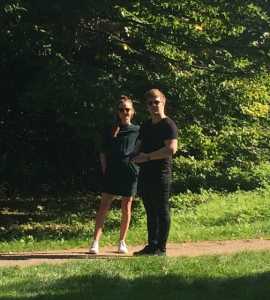 Oh, what a glorious day, I'm so glad .
We were in Copenhagen today, Annette, Kent, Katrine, Matron and I. We visited grandson Kristian and his girlfriend Amalie in their new apartment. Kristian celebrated his birthday.
How wonderful it was to see them in their fine surroundings and see the joy.
After a good lunch with them, we took a taxi to New Harbour, walked around a little among the thousands of people. We ate dinner at a place called "The Market Halls" - and we walked there. To the many ignorant I need to tell that it was a long walk. It was ver near that Matron and I gave up walking but all the time it was said that it was just around the next corner. After having heard that sentence 10-12 times we were finally there.
Before that we had gone for long walk in a nearby Park where the photo of the two was taken.
The primary aim of the trip was to visit and talk with the young couple and see their new surroundings. It was absolutely wonderful.
Friday, September 9th 2016:

I

am trimming our

hedges

these days

,

a good and

Christian

deed it is

claimed.




How

Christian

it is

may

be discussed but

how good it is

,

is quite

obvious

.




Those with the best

memories

will know that I

last year

bought a

telescope

trimmer

so I

(almost)

effortlessly

can

cut the top of

the

2

meter high

hedges.

It's a

huge relief

and I

think I

'm looking

tremendous

ly

professional

when I'm working

with

it.

One might even think

I'm

a pro landscape gardener.

A

quick look

around in our garden

will surely

reveal that

I am not

, though.


However I may still have a

little creativity in me

.

In one place

I cut

everything

away

except

a little bit.


Thursday, September 8th 2016;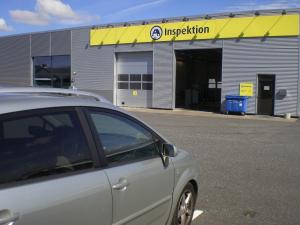 Our Toyota was at the 2-year NA inspection yesterday. It reminded me a little of old days when I went on trials with my dogs. I was very nervous, a little confused and felt quite faint.
In the inspection center I use you sit waiting inside the hall while the good mechanic is working right next to you. I would have preferred not to look but could not help it. I thought the good man looked little worried and I feared the worst. Nonchantly I tried reading a newspaper while I drank a cup of chocolate. My nerves were at a peak when the good man came and said that he would like a drive in the car. Wow, I thought it was a long drive. Finally he showed up again, entered the hall and waved us over to him. My knees shaked.
Fortunately for no reason. The car was approved with an instruction of changing a couple of bulbs. Then my shoulders fell. Furthermore, we were told that we had a very good and healthy car that we could have for many, many years. Phew. That was also a relief.
Wednesday, Seprember 7th: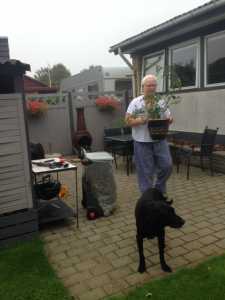 The time was 9:30 a.m. I lay comfortably in my bed playing Word Feud and checking Facebook and solving other useful problems.
Then a familiar voice sounded from the garden through the open window-It was Matron. "Gunnar, come out here." I nearly fainted. It was damn early. "Why though?" I shouted back. "Did someone pour hydrochloric acid in our garden or is the garden shed on fire?".
"No, a jar of roses has to be moved - NOW," came the reply. Last word was not to misunderstand. I jumped out of bed and moved the damn rose - still wearing pyjamas.
I do not understand why the rose had to be moved exactly at that time. I saw nothing to prevent it could have waited. I was silent, however. Such an argument would have been considered irrelevant.
Tuesday, September 6th 2016:
It is fall and finally it has become summer. High temperatures, no rain, and almost no wind. They even speak about a heat wave. Not that I care about this but frankly, when I think of the weather in our summer holiday in Lemvig in July with storm and torrential rain this indeed is a change for the better.
And just look at the weather forecast.
The sun will be shining virtually from dawn to dusk and I happily go around in my summer shorts, and I'm looking awfully well in shorts. Everybody says so.
And the good weather continues. So do I - with my shorts.
Monday, September 5th 2016: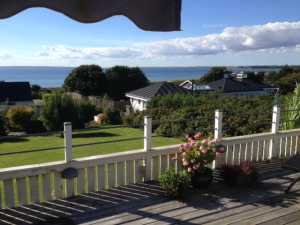 First an apology for the missing diary yesterday. The reason was server problems.
Next about today.
For once, I enjoyed the day's bike ride, only modest 37.5 kilometers. The weather perfect, the legs fairly good. Pretty hilly, 273 vertical meters, which is a lot for me in my current training condition. I was happy with the end result.
But first and foremost it was a ride to good friends on Mols with good food and drink for lunch. Sitting on their terrace overlooking the Bay of Århus, I could not help thinking that this was be the perfect end to a perfect bike ride. Just look at the view from our lunch table overlooking the Bay of Aarhus.
Saturday, September 3rd 2016:
Today is exactly 49 years ago (1967) since Sweden went from driving on the left to driving on the right. I remember it clearly. I also remember I was very curious as to how it would go. How many accidents would occur before old Pelle Petterson discovered the change at all? Did they have all signposts moved and changed? Would all traffic not just collapse?
I was worried.
But I quickly stopped worrying. I heard the transition would be made easier by starting with only trucks driving on the right. That was soothing and I did not hear about accidents.
Friday, September 2nd 2016: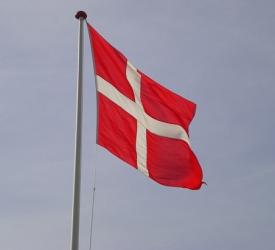 Our sweet daughter has her birthday today. She has every year on this date. We went over to congratulate and had a cozy, small lunch with a wonderful strawberry pie as a dessert. I only ate 2 pieces.
Then I went on textile hunting with Matron, in a large store not far away. Having learned from experience, I found myself a very comfortable armchair. It was soft and comfortable. And of course, the inevitable occured. I fell asleep.
I was awakened when the sweet lady wanted my opinion about purchasing a pair of pants. I gave my positive opinion. Then calmness was there again, I slept like a baby until I was abruptly awakened by a shout from the other end of the store: "Gunnar, we're going home now." I jumped up like a frightened flea and just had to find out where I was. Then we went home. Textiles are dull.
It suited my old miser heart that only pants were bought.
Thursday, September 1st 2016: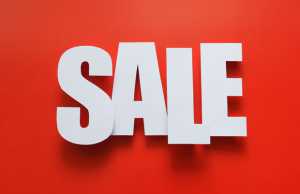 I was in Aarhus yesterday. It struck me and annoyed me how much the English language has materialized in Denmark. Even if I love England and the English language I do not see the beauty in the fact that almost all stores that have a SALE on (Danish word UDSALG). It said SALE in many shop windows. Booh.
The reason is undoubtedly the fact that the word signals something smart, it's trendy to remain in English.
One must admit that the English language influence in Danish is huge. Think of all the English words we use without thinking about it, for example in sports, in, out, score, offside, onside, keeper, tee and many more. Also in everyday language. Are you sad, you are "down". Are you happy, you are "over the moon". Finally, not forgetting FUCK or FUCKING. You hear it again and again. Unfortunately. It is much worse than SALE. I hate to hear the two words. Should be forbidden by law.
Wednesday, August 31th:
I was out on my bike today. It's a long time since I last was. On August 2nd to be precise.
It is not good there's been such a long time between. It destroys the joy of cycling and your backside hurts a lot more - like everywhere else. I was physically burnt out on my return and that despite the fact I only rode a mere 45 kilometers with a paltry 104 vertical meters. We are not amused.
But it was a bike ride, though.
The best thing was the weather.
Tuesday, August 30th 2016:
Rest hour after gardening. Sitting on the sofa Matron watched TV and I read and wrote on Facebook on my laptop.
Suddenly a loud sound, obviously from my computer was heard. There was loud music and a well known voice from a TV personality. Apparently it all came from my computer. I tried every trick I know to stop either by searching for the source. No luck. I turned the volume down to zero. Still no luck. I turned the computer completely off but still heard the voice and still heard the loud music. It all seemed mysterious - almost magic. My switched off computer talked and played music. I tried once again, still without success until the good Matron leaned over me and told that the sound came from my iPhone in my breast pocket. The good lady laughed a great deal - at me.
Monday, August 29th 2016:
Mypotato harvest has was poor this year. It started off so well. But suddenly weeds came up and the entire field was covered in just a few hours. I could not find the potato plants. They had withered under the weeds. For a long time it looked ugly but last night - just after my evening prayers - I decided that tomorrow (today) it had to be rectified. I cut the hedge and burned myself on a myriad of nettles. I dug through the field and found half a bucket of potatoes.
Now it looks decent but the icing on the cake will be a thorough cultivation.
Best regards from the old gardener.
Sunday, August 28th 2018: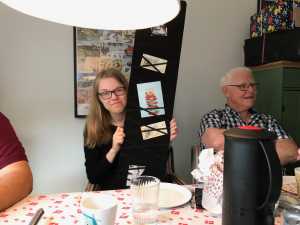 As unclearly described in my diary yesterday we celebrated granddaughter Cecilie's 18th birthday. It was an adventurously good evening. Happy people, good food, good speeches and a large and good selection of drinks.
But above all it was a good night for Cecilie who must have enjoyed the many praises and great gifts she received. She deserves every one of them.
And I enjoyed every second and later in the night also most of the beverages. So the evening also had a joyful ending. I hope I did not disgrace myself too much.
As expected, I got up at 12 o'clock today. That was not bad either.
Saturday, August 27th 2016:
No diary today. We have celebraated grandddaughter Cecilie's 18-year birthday, and alcohol levels are not below 4. I are only able to write a few words wit_ many disruurbances.
It is noot eeasy to hit that correkt keyyys. They seem to escappe one by the one.
Cheeers. It was a good party. <Goood foord, ad and godty driknke. In the morggen I shall get op up klokkkken 12.
Skriv overskrift her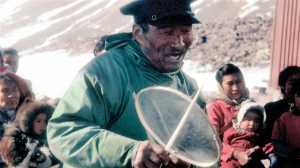 I have become a little interested in Greenlandic drum dance and drum songs.
I think I sense a primordial force in them and have listened intently to a few, but of course without understanding a word.
I know the songs can be a kind of fight between two men trying to ridicule each other. They may also be narrative songs.
I've even tested myself as a Greenlandic drum singer but only in the presence of Matron and last week at a campsite at Lemvig. For unknown reasons she is not at all excited, nor was the campsite. They probably thought I was raving mad. Who knows? Maybe I am.
But the songs are alright.
Thursday, August 25th 2016:
My evaluation of myself as a cyclists is no good. My self-confidence is at the bottom. I still do not ride as much as I want. I am easy to persuade to stay at home. It is I who persuade. Today I used the heat as an excuse. And that is miserable nonsense. The heat has never bothered me on my bike. Well, there was the wind. Also a lousy excuse. The wind is just a pleasant cooling. So I mowed our lawn. Thatt was extremely hot - and no wind.
But then I happened to find a picture on Facebook that might put a little humor in back me. I must not think badly about myself. I know I can do it. Cheer up, old man.
Text on picture, "Never underestimate an old man with a bike".
Wednesday, August 24th 2016:
I am often reminded that I am messy. I find it an incorrect claim put forward by a certain Matron.
However, I must admit that in my small office where only I come there may be temporary disarray. Thus, for some months - since Christmas - a messy stack of photos laid right in front of my computer screen. At the top a picture of my grandfather. His name was Christian Theodor Hansen (born August 31st 1888 dead December 27th 1918 from the "Spanish Flu"). Reportedly, he was a highly intelligent man with good skills for among others music, especially the violin.
Since I through quite a long time have had the opportunity of looking at the photo of him I have tried to find physical similarities between him and I. From the nose and upwards it is me.
As for skills I must be like him. I am also highly intelligent and good on the violin and I still have his hanging on the wall.
Are you unsure about my skills on the violin ask me to play for you next time we meet.
Tuesday, August 23rd 2016: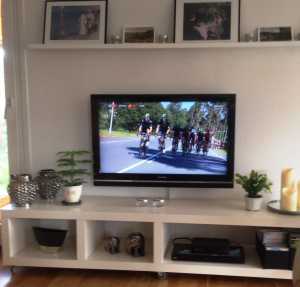 I'm ready again. TV is on. After having finished the Giro, Tour de France and a host of spring classics and other races, it is now time for La Vuelta (around Spain). I think it is the best of the three major races.
It all started on Saturday and will last about 3 weeks.
Unfortunately I have not seen the first three days, have missed it, but right now I'm in position and enjoy the race. It is great.
The following 2½ weeks I can be contacted here on my couch.
Monday, August 22nd 2016:
The other day I met 15-20 avid moped riders. All were 60+ and shared the interest of refurbishing old mopeds and get them on the road again. I met them in their break on a longer ride. The pride of mopeds was obvious and they spoke very happily about their hobby. I could tell that I around 1960 I owned a NSU Quickly that looke so and so. "Oh, then it is a model ....." followed by numbers and letters.
The gentleman in the photo owns the green NSU next to him. He told that it is 60 years old, he bought it new in 1956. His father paid half of the 1,200 crowns it cost. He had just had it painted, so it was like new.
I spoke with other participants. How nice it was to meet them and sense their joy at the old mopeds. A good experience.
Sunday, August 21st 2016:
I am watching the handball final in Rio between Denmark and France on TV. It is up and down. Do not misunderstand me. I sincerely hope that we shall win but on the other hand it does not excite me too much. I take it as it comes and my inner pessiimist tells me that we are going to lose.
However, it excites me madly that "my" football team AGF today lost 7-0 to Brøndby - at home.
It is nothing less than appalling. How is it possible? Was it a 3rd reserve team that played? Had they forgotten to train last week? Was it too cold/hot? Had the players forgotten their teddy bears at home? Dear oh dear. I shall not be there next time either.
Saturday, August 20th 2016:
This morning Matron forced me out of bed annoying early. We were to go to a charity shop with some friends, not exactly my favorite hobby. I did not want to go. So my mood was not the best.
Therefore I had to tell my counterpart what I thought about it all and said, among other things, that it was hard to live with a slave driver and that she should never have been let into our family, a total misunderstanding that she did. In addition, I used terms like "old garden gate" and "old penguin."
And note the effect: None whatsoever.
I bought a book.
Friday, August 19th 2016:
I regret not having had time to write diary today. We have had befriended guests throughout the evening, and now that they have gone, I have inexplicably not the ability to write anything just a little bit sensible. Sorry. Hopefully it won't happen again.
Thursday, August 18th 2016:
Today I visited Frederiks Church in Central Jutland. The reason for my visit was that my family on my mother's side come from "potato Germans" who from 1759 moved to Denmark to grow potatoes. They were lured with promises which were never properly met.
In any case, they settled in a large area around the village Frederiks, and in 1768 the king built a church for them. Today it is an ordinary church.
I have driven past this church numerous times and often thought that I ought to go in there to see if there was a memorial for my ancestors. Today I did and there was a memorial stone. I was glad to see it. It is good to know from where one comes. My middle name Fosgerau is a typical name of the people from Germany who were so good at growing potatoes. So it's no coincidence that I'm good at it, too.
Wednesday, August 17th 2016:
Since my facial skin continues to suffer from the amount of sun I had in London I have had to cancel all outdoor activities today. The sun still shines from an almost cloudless sky and my delicate skin will crack and hurt diabolically if I went out. So I'll stay inside as much as possible.
It will please many that I have found a good remedy, udder ointment. You can even get it with beeswax and it works better than all the expensive ointments I bought. It is pleasantly inexpensive.
A bit strange that this ointment - as the name suggests - was originally used on cows' udders in case of wounds and infections.
I have no comment to make to that.
Picture: "Pattesalve" is "udder ointment".
Tuesday, August 16th 2016:
I'm not very well - fortunately that's rare.
Caused by the 2-day stay under a cloudless sky in London (see photo) I got a badly sunburnt face. It hurts and now my skin starts to tighten and fall off in small pieces. It is not at all well. I really suffer.
I have tried several remedies without any success. Shaving is one big pain but worst of all. I can not bear being out in the sun. And it's perfect bike weather.
Actually, I am awfully bad. But it is worth the trip.
Monday, August 15th 2016:
Yes, yes, yes. I know. I know. I know. I have not updated my diary since last Wednesday. It's regretable.
The reason. I have spent 4 days in London watching cricket at world level. England v Pakistan.
Let it be said clearly. It was a huge experience with brother Kjeld, son Peter and his English friend David.
Was it hot? Glad you asked. It was thundering hot so I'm badly burned in my face because I was too stingy to buy a wide-brimmed hat. Two full days we sat in the sun, wildly engaged in the game.
Unfortunately England lost. The match ended on the fourth day.
But a unique experience it was in the company of nice people. Cricket can be so beautiful.
In the photo to the right, I am along with a former English test captain, Michael Vaughan. Had it been football, this would equate to standing with Ronaldo. Great experience.
Wednesday, August 10th 2016:
I've always had an ingrown fear of banks - at least the one I am a customer at. Every time I'm there I have the feeling that someone from over there behind will rise and with purposeful strides come over to me to tell that now this or that account is overdrawn and it must necessarily be addressed which will empty all my other accounts.
Recently, I have become a little bit better handling the situation because we're about to switch banks. That has meant a few visits to our coming bank. I have found that in contrast to my current bank this one seems incredibly welcoming and far from scary.
And I who thought it was complicated to change bank. It is not and we even earn some money because of much lower interest rates. Maybe I even get to like visiting our bank.
August, Tuesday 9th 2016:
Washing a caravan is like washing an elephant. You'll need a lot of soap and water - and a ladder.
Bringing along all three parts I set off on Matron's "request" to wash our elephant0 caravan in the front yard. I'm not crazy about it, especially the part that requires entering a ladder which in my opinion was somewhat uncertain in the soft grass. One is no Tarzan.
When I finished, though, I could not help but admiring the result. It was super. I use a good wax shampoo - and amounts of elbow grease.
Fortunately there is a long time till next elephant-washing.
Monday, August 8th 2016:

Had just

now

been

only 15 years

ago I would

have spent

many hours a day

in front of the

TV watching

the Olympics.

I don't.

Only

on rare occasions

.

I

scarcely bother

turning on the screen

.

I

think everything

has become so

"

smart"

and

sent

in a

hotchpotch

from one

sport

to another.

And

I'm bored

with swimming

, rowing

, handball

, football and

most others

-

including

synchronized swimming

.




Now it is a

shame that I

feel this way

,

for

the

time

, I enjoyed

seeing

almost

all sports

.




I have

it as a

former

Danish

culture minister

who said that

with sport she had

as

with

sex.

It's more fun

to participate

than to watch

.




It is not always

easy to become

old.


Sunday, August 7th 2016:
I've never been at the Skanderborg Festival, one of the biggest festivals in Denmark. Have never felt attracted to it.
But after reading a description of Johnny Madsen's performance I regret that I have not been there (He's a well known Danish singer. Also known for his shabby appearance).
Not only am I excited about his music but also his announcements between songs are a hilarious experience in itself.
A few examples:
"In the band we only have 3 drinks a day. 2 pints of strong beer and a bottle of port."
"My family is so poor that we combined my father's funeral with my 50th birthday ."
"When I die I want my ashes spread out over BILKA. Then I know that my son will visit me at least twice a week."
Saturday, August 6th 2016:
Last night the Olympics came under way in Rio. And back to back, we have heard of problems, latest on polluted water which has a quality that makes it dangerous to have your head under water.
It will hardly be a problem for footballers, fencers, wrestlers, golfers etc.
But what about capsizing sailors and rowers, swimmers, water polo players and not forgetting my favorite sport, synchronized swimming. Participants must squeeze their nose clips even harder to make them look even more foolish. But what about the dives? Oh dear. And even simultaneously. Maybe diving should be prohibitted in general. It wouldn't bother me. I only watch it for a giggle.
Now of course you do not wish that one of the participants will stay down there. The synchronising will disappear. Well, that is if not the whole team choose to stay down there.
(Shut up, Gunnar. Not so perfidious, you bad boy).
Friday, August 5th 2016:
I might as well reveal it now.
In not long my brother, my son, and I will to London for a couple of days. We are going to see some cricket at one of the world's most famous cricket grounds, The Oval. It is a 5-day match and we shall see day 2 and 3.
The match is between England and Pakistan. All in all they play a total of 4 matches, and so far each team has won 1 match and currently a match is on. So we shall attend the fourth and perhaps decisive match.
I am looking very much forward to watching world cricket in good company.
Hopefully there will also be time for a pub crawl - and Fish'n Chips. There must be.
Thursday, August 4th 2016:
May it never happen again. An unpleasant experience.
The agreement was that Matron and today were to meet an insurance man in Hornslet at 10 am.
Our internal agreement was that we had to leave at 9.45 (in itself an early stage) and consequently I had to get up at 9:25, giving me time for a little morning toilette. Breakfast waiting till later.
I got up as agreed, went to the bathroom, got dressed and went into the living room where the sweet lady resided.
"I'm ready," I announced. "What'?" she said. "Where are you going?"
"Uh, Hornslet," I muttered. "Yes, in an hour," was the reply.
Alas and woe. I got up an hour early. I was devastated, distraught, almost desperate.
The devil take unclear digital clocks.
Wednesday, August 3rd 2016:
Matron had back pain today, really bad. It meant that a very rare thing happened. She stayed in bed all morning. Moreover, she did not sleep much last night.
I really felt with her. Back pain "beats" almost everything and she really suffered.
Nevertheless there are certain benefits with her back pain - for me.
I am usually all alone in there in the bedroom. Now I had good company even if the sweet lady slept occasionally. At 12:30 we were ready to get up and have lunch. Yet another advantage. And the back pain eased slowly but surely. This evening they are gone.
I'll have to get up early tomorrow.
Tuesday, August 2nd 2016: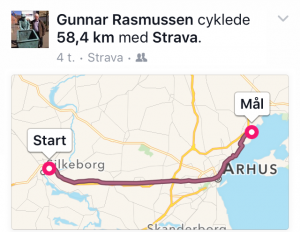 Only rarely have I been so happy to ride into our garage as today - on my bike.
Already several days ago I decided the ride I took. My goodness.
After having had brunch at a cafe in Silkeborg with sister in law and brother in law I wanted yo bike home, 58-59 km.
Right from the beginning I felt no wish to ride at all and slightly unwell. But I had decided my route and it would do nothing good to my pride if I gave up. So off I went. Out on the hilly route.
Forget that one can enjoy a ride. Nonsense - at least today. It was pure survival. I was completely exhausyed as I rode into the garage and I am still suffering. But........ I may take another ride some other day. I must be mad.
August, Monday 1st 2016: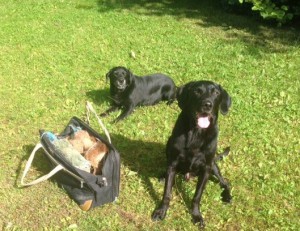 The shooting season will start in 2½ months. Today I started my dog training. Old Buffy and old Sydney came out of their summer rest and into the fresh air. They are 11 and 12 years old.
So far, it's physical training. The more technical training will have to wait until later, when their stamina is better.
Did they they liked it today? That is to put it too mildly. Two old and sedate labradors who would not move any more than necessary ran like mad. In fact, their condition was better than expected.
But what makes them race away after some old, sour animal skins and carpet bits might wonder somebody.
When the hunting season starts, it will soon be Christmas.
Sunday, July 31st 2016: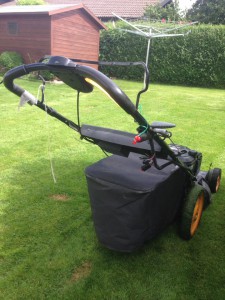 I mowed our lawn today - in great agony. The grass was high. Yet I found myself thinking it was quite nice. I had my breaks, played a little Word Feud and was delighted at the sight of our garden.
My joy was also great when I finished and had my well deserved lunch. It was great to look out at the newly mowed lawn.
My lawn mower is a big, noisy beast. Heavy as hell but fortunately self propelling.
For unknown reasons, I thought my facebook friends should see it. I took a picture and put it in. I got comments of less flattering kinds. Some thought it looked like an electric bike, maybe even a hybrid. Others called it a postman's bike. The top point was reached when one asked why I had a drying rack on my mower. What a fool.
Saturday, July 30th 2016:
Today I had one of my best days on my bike ever. For the first time I was out with grandson Frederik, 4 years old. He loves biking, can go on for a long time on his little bike with a very low gear. Today it was 6½ kilometers. I was only along on 4½. Next time we shall ride a little longer.
I see a wonderful future in which Frederick and I (and perhaps Dad Peter) set out on long expeditions in the high mountains. I would like to reach the stage when Frederik rrides away from his old granddad. Then granddad will be proud.
Picture: 3 generations and their bikes.
Friday, July 29th 2016:
When I first came to England in 1958 I did not know what Fish'n Chips was, except I could see it was fried cod or haddock with fries and some kind of vinegar to pour over.
The whole thing was wrapped in a cone of newspaper. Then we sat or walked and ate - with your fingers. Obviously it did take not long till the fat soaked through the paper and since paper tissues were not given one had to make do with handkerchief and/or trousers.
I came to love Fish'n Chips and I'm never in England without having it. However, the newspaper is now replaced with knife, fork and plate - and napkins.
You may well get Fish'n Chips in Denmark, only not as good as in England and without the newspaper.
So it was a happy reunion todeay when I found Fish'n Chips in newspaper in a fish trolley - or something very much like it. It tasted heavenly, almost as well as in England. Now I just miss the vinegar.
Thursday, July 28th 2016:
Matron and I were at our mechanic's today, Toyota not far from here. Just a small thing on the outside of the door, a small screen to be put on. Price 325 kroner for the screen.
Once again we had to rejoice in the incredible service we get there.
Not only a mechanic - at no charge - spent 20-30 minutes to mount the small screen, we paid only the 325 kroners for the spare part. He also gave an amount of good advice on other small problems we have with the car. Nothing major, but given with great interest and kindness.
Moreover, we came at a time that I called "First Ice Age" since all mechanics went around with an ice cream in their hands. We were immediately offered one. I have never experienced that at a workshop before.
A good workshop is good to have - especially in the middle of an ice age.
Wednesday, July 27th 2016:
Youngest grandson Frederik is visiting us overnight. What a pleasure it is to spend time with him. It is a bit hard but good. Would not be without it for anything in the world.
Today all three of us caught the train to Aarhus and back again after a couple of sausage rolls in "7eleven" and a visit to a toy shop for a small racing car.
The experience on the train was clearly the highlight. Unbelievable how Frederik loves it. Nothing remained unmentioned, surroundings, other trains, cars, tractors, buildings, the water. Fortunately, he omitted to mention other passengers. He does have good manners after all.
Tuesday, July 26th 2016: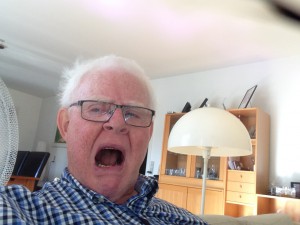 I understand it quite well. "
What do you understand quite well
?" I hear you ask.
I'll tell you.
I understand that I have been sleepy all day, you know real yawn-yawn and I'm still sleepy.
A strenuous bike ride yesterday. 5 hours of sleep last night. Lay awake for a long time and was forced out of bed before 8 o'clock. Matron is ruthless.
Right now I actually also sit yawning and nodding while I rewatch AGFs game against Viborg last week. We won.
Good night.
Monday, July 25th 2016: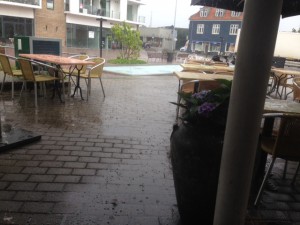 The most unusual bike ride of my life. My brother went along. I must be brief.
Original plan: Around the Mariager Bay. Start at Hobro. Warning from the weatherman: Thunder and torrential rain in the area. Change of plan:
Around the Silkeborg Lakes. Start in Silkeborg. No warning about bad weather. Result: Thunder and torrential rain. At that time we sat at a restaurant 15 miles from start. It poured down. In a small pause in the rain we ran to the station, jumped in a train towards Silkeborg. And then the sun came out. Arrived at Silkeborg we wanted to continue our ridearound the lakes, just from the other side. After 1½ kilometers another torrential rain. Again in shelter. This time under a bridge. After half a hour it cleared up and we rode a beautiful ride on a disused railway - in sunshine. Only it was in the woods. The trees dripped and we got soaking wet.
All in all, it was very hilly 48 kilometers.
The best part was that we had fun all day and laughed at our many mishaps with the weather. We went through all kinds of weather. Will never forget that bike ride.
PS: This nice pause picture is from a very old farmhouse we went to see.
Sunday, July 24th 2016:
I've dug up potatoes today. It's a good year with many potatoes - and good, firm and tasty potatoes.
There is but one snag. We have waited too long to dig and have not eaten many this year. The plants have withered and many of them are covered with weeds and hard to find.
Since I am still awaiting EU grants I have not been allowed use pesticides against those weeds. It must up with my bare hands which my back does not think is fun at all. But I fear nothing - except my creditors - so I weed for dear life.
Saturday, July 23rd 2016: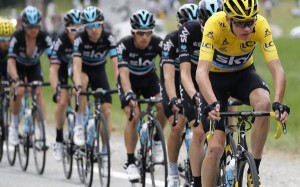 In reality, the Tour de France ended today. Formally not until tomorrow.
It's been boring, yawn boring. Most boring ever. No one has dared attacking the star of all, Chris Froome. He is simply classes above all others, and he has a team of riders, each of whom could win the race.
Nevertheless, it is disappointing that no one dared taking a chance and challenge the champion who just had to ride passively throughout. Boring.
Matron claims that riders take too little EPO. That could have sparked the race. But she is also very tough and has encouraged me to take as much as I can of the substance when on Monday I shall ride in Mid Northern Jutland.
Friday, March 3rd 2017
Matron has started working again after a well-deserved winter holiday. Today she drove off on her own. However I was still up early, before she left, took picture 1, waited a little and took picture 2 when she had gone. Personally, I think they are brilliant images, progressive and descriptive.
And I missed her even though she had a short day and was home by 1 o'clock. It is good to know when you miss somebody.
And there was no work sheet for me.
Thursday, March 30th 2017
Dramatic events are following me these days. Today Matron and I drove deep into the common market in order to fill up our low stocks.
After leaving the first supermarket and moving into the second I found out that I missed my wallet. We seasrched all possible places and even called our neighbor who found out that it was not in our house either.
We drove 10 km. back to first supermarket and I happened to remember I had used their toilet. And quite right. The stupid wallet had fallen fallen out of my pocket there. A kind and honest man had found it and given it to the supermarket office. I got it and happily we were drove away leaving many thanks and high fives.
Moral: When you've had your pants down at a toilet check where your wallet is.
In the picture I am eager participant in purchases along with my trusty hunting chair.
Thursday, July 21st 2016:
(See diary yesterday). It has now emerged that the reason why the Chinese have all my health information and my social security number is that a postman accidentally dropped two CD-ROMs l the Chinese Visa Application Centre in Copenhagen instead of at the Statistics of Denmark. Thus, I must assume that all of my health information now lies with the Chinese. Maybe it's not in China itself but in Chinatown in San Francisco. The reason for this assessment is that I throughout the past six days every morning had a phone call from California. I wonder if it could be that Mr. Fu Ching lives there and now wants to tell what I should do about my poor entirety. Unfortunately I have not answered any of the 5 calls. I might do tomorrow. Good service.
Friday, July 22nd 2016:
What a relief this morning. A big one.
Our good caravan is in for repair. Roof hatch could not be opened. Hopelessly stuck which can be uncomfortable in hot weather that we do have now and then.
When we delivered the caravan at the start of the week the otherwise friendly foreman predicted that it could easily cost 8-9,000 kroner, the price of a new hatch. Since I did not sleep well.
However the good man phoned this morning and joyfully told that the hatch could be repaired and the price therefore would be many times smaller.
I think it's great that the workshop could enjoy as much as I that a cheap repair - as opposed to an expensive replacement - can do the job. That I respect.