Diary from April 26th 2014.
If you want to see diaries of the previous period,
click here
Sunday, October 9th 2014:
I've done three things today, relaxed, relaxed, and relaxed. In between I relaxed a little not to exhaust myself. It all went fine. Then I had a small nap on the couch. Necessary after yesterday's hunt.
Oh dear, I nearly forgot that I helped Matron cleaning 6 pheasants and woodcock. They will all be consumed at my upcoming birthday party. After that I relaxed and had a small lunch with Matron and sweet granddaughter Katrine who has stayed with us since Friday.
There was time for a short stroll in the beautiful weather, though. 2 tired dogs came along.
After this nothing physical will be done. Absolutely nothing. One has to be rested for the next hunt on Saturday.
Saturday, September 27th 2014:
I just woke up. No, no. Now easy. I've been up since 9.30 a.m.
No, I just had a nap of an hour or so sitting in my molded couch while my TV showed English football.
A nap effects me in a strange way. I wake up and I am in a bad mood, angry and upset with everything. Why I do not know. But it happens quite often when I wake up having dozed off. It takes only a few minutes until everything is as it was when I fell asleep, and there is quite obviously no reason for my bad mood. And my normally good mood returns.
Perhaps this is why I so rarely have a nap. I prefer being in a good mood.
Friday, September 26th 2014:
I must note that the prayers I yesterday asked you to pray for bad weather today were not strong and well-intentioned enough. I had to work in the garden. The weather was excellent.
Never mind. I finished a stage in my project. Now the bed in our front yard is ready for me to sow grass. A heavy burden fell from my shoulders and I can rejoice that I no longer have to weed and prune there. I'm not happy about weeding and pruning.
From now on my Formula 1 lawnmower will do the job.
It is a good day.
Thursday, September 25th 2014:
Today visit to the Silkeborg Cemetery at my parents' and sister's graves.
Nice lunch with family in the same city.
Pick up dog in care at son's and daughter in law's (and Frederik's) house.
Yes, action we old people here in Studstrup. No peace for the wicket. There is always something to do.
Tomorrow, Matron will be on her job, and for me gardening is on the plan - if the weather gods are so stupid as to bring good weather. I'd rather see rain and wind.
Add it into your night prayers, please.
Wednesday, September 24th 2014: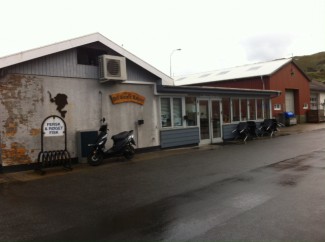 Should you happen to get to Hanstholm in the northern part of Jutland, do yourself a favor and find a small, humble restaurant in the port industrial area. An under no circumstances picturesque area. The restaurant is called "The Old Smokehouse" . It can be a bit tricky to find it. But just ask. Everyone knows it. Matron and I were there today.
The menu is rather large. But for me there is never any doubt. I want No. 1: "Shooting Star".
Not only is it big. It is fantasric with tasty fried and boiled plaice, salmon, shrimps. caviar, crisp lettuce and a lot more.
Nowhere else - at least that I've visited - does it tast better. But remember not to eat 5-6 hours before you go in. So, find an excuse to go to Hanstholm.
Monday, September 22nd 2014:
With almost a day's delay in Monday's diary I should explain that only now Tuesday morning at. 11:10 a.m I am connected to the Internet. It is unsatisfactory and regrettable, but I can not do anything about it. All connections here at the caravan site in Loegstoer broke down.
The warden was very sorry and fought a battle that he first won right now.
The experiences yesterday were many, but let me mention a good one at "Restaurant At Tetzlaff's". Good food and an excellent Coke.
I had to mention the restaurant host how sorry I was that he had shut down his hot dog stand on the harbor. He claimed that it sold too little. But it's hard to imagine a harbour without a hot dog stand.
I promised to consider whether I would take over the job with my old soldier comrade, Kruse, who as a resident in the city is even more sorry about the exit of the hot dog stand.
Sunday, September 21st 2014:
For 24 hours we have had the pleasure of looking after youngest grandchild Frederik (2 ½ years).
It's always such a great pleasure. You don't easily find a more loving, happier, sweeter, and livelier boy who is always keen on outdoor life, especially at the beach or in the woods, and preferably on a vehicle of some kind. Today, he also got a nice, long trip in our wheelbarrow.
He requires no great entertainment, likes playing alone, but is happy when someone cares to do something with him. And in this house we do very much with him.
Of course we do not spoil the lovely kid - at least not while he is asleep.
Saturday, September 20th 2014:
When it is too hard for the old man to mow the lawn because of a sore hip it is good that he has a worthy successor, Matron.
During the many years we have lived here, it can be counted on one hand how many times the sweet lady has mowed our lawn. Only reasonable, though. Within the past three weeks, she has done it three times. She is just so cool that I could not help photographing the event.
What would I have done without her?
In return, I could complete the work in the front yard removing a bed with a lot of plants and make it clear to have grass sown . My goodness, we are having a great time, the two of us.
Friday, September 19th 2014:
Project "
Around the Conservatory
" is finished. It has taken 3 months.
1½ tons of granite stone are laid. Mostly by daughter Annette yesterday. Matron and I did the rest today. We filled and emptied a trailer full, bought in our local DIY. It gave a sweat. Had "Old People's Association" been aware of it we would have been stopped.
But never mind. We are pleased with the result.
The pots in the picture are temporary. Just wait for the new, beautiful and more uniform ones to be put there in the spring. By then the granite stones will be black and shiny.
Best of all. Now there is a large bed less to keep with weeding and planting. That was the original reason for the change. Long live laziness.
Thursday, September 18th 2014: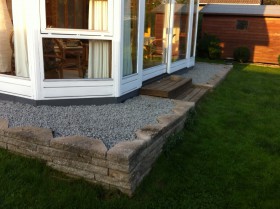 Another day, with words of thanks to one of our two children, Annette.
Look at the bag to the left. It contains 1 ton of granite chippings. The bag was still unbroken when I biked out just after lunch.
Look then at the bed around the conservatory, now covered with chippings. That's how it looked when I got home.
All this thanks to Annette, a wheelbarrow and a shovel.
She's just tough. She is similar to her father in terms of physical activities.
Wednesday, September 17th 2014:
I spent most of the day with son Peter. And that's both good and bad.
The good thing is that he painted for us, dug for us, repaired windows for us, moved 1½ tons of paving stones for us and on the whole was helpful with a lot of things. A few days ago it was daughter Annette who helped with a lot of gardening.
It's good to have helpful children. It warms and pleases elderly parents.
BUT. For there certainly is a 'but'.
Do I have to accept to be awakened in the most violent way by one of them? They use the same dirty tricks.
Today, it was Peter who sneaked into the bedroom at 9 o'clock and with shouts and screams and a shrill singing voice woke me up by - apart from the aural exploits - to shake me and push me around in my bed. It hurts, and it reverberates in my ears, an unpleasant way to 'come to life' after a good night's sleep. They call it 'playing with dad'.
I'm afraid we've got a couple of brats.
Tuesday, September 16th 2014:
It's a great day. The miracle has occurred. I've thrown away my crutches. Out with them.
My right foot now reacts almost as usual. It's a little sore, but does not need crutches.
Luckily I did not have to use them more than a few times.
But what about all my other sore spots. I must make them disappear, too.
But where to start?
There's something in my hip, my wrist, and my knee. Perhaps miracle water from the sacred springs at Lourdes could help. But first I might start with ordinary painkillers.
Monday, September 15th 2014:
A new reorganization in the garden is underway. The bed in the front yard is being abolished. Grass will be sown instead so that keeping the ngarden becomes easier.
Removing a bed with all its plant and flowersrequires strength which neither Matron nor I have too much of. So it was wonderful that yesterday we had help from family and today a longtime neighbour worked hard for us.
Now there is only the removal of 1 ½ tons of cobblestones left and getting the ground leveled. Then I can start spreading grass seed.
It's good to have something to do. At least that's what Matron claims.
Sunday, September 14th 2014:
Having had several requests, I have found it appropriate today to unveil yesterday's naughtiness. Those of you who expect something juicy I must disappoint.
No, I showed civil disobedience.
Matron and I drove to the recycling center with a packed car. One clear plastic bag on top of the other. When we arrived and started unloading a young upstart of a supervisor came up and said, "Youi might as well go home with that again" Reason: It had to be sorted into cardboard, paper, plastic and some more.
I uttered wild protests - but to no avail and we were both so mad that I said that we would drive on to another municipal recycling center which we did and unloaded all in the presence of another supervisor who did not say a word.
I know very well that things must be sorted at the recycling center. But why the h ...... are we not told to do it at home? There everything goes into the same waste bag. And I guarantee that everything ends up in the same inceneratir anyway.
Now weren't we naughty?
Saturday, September 13th 2014:
Unfortunately I haven't got time to write my diary today - except that I was very naughty yesterday.
I'll be back about it in a near future.
Friday, September 12th 2014:
I had to have a bike ride today despite my bad thigh and bad foot. Have not cycled since August 23rd due to injury and illness.
The pain was not so bad this morning, so I decided to take a test ride.
It went well (43 kilometers). I felt no pain neither in thigh nor in foot during tjhe ride. They were fine all the way. But when I got off the bike at home I felt plenty of pain in either plus a whole number of other places.
Shortly. I'm out of practice, and this needs to be changed.
Also Matron has been active today. Cycled from our medical center and home - and mowed both lawns afterwards. Cool.
Thursday, September 11th 2014:
No one imagines that one day he or she for some reason will need a set of crutches. Nor did I.
But now I have got them.
Pain in my right foot starting last Tuesday has made it necessary to relieve the poor foot.
Therefore for an appropriate amount of money I have rented a pair.
I hope that one week's rent will be sufficient. Firstly, it is difficult to walk with and secondly my walking style is indescribable. Should one move the right leg simoultaneously with the right crutch or vice versa?
I will take a few days to find out. Right now it's a mess and looks more than funny.
PS: I already feel better today than yesterday.
PPS: No bad jokes about about my walking, please.
Wednesday, September 10th 2014: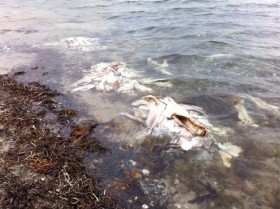 I got angry this morning, very angry.
Along with youngest grandson Frederik I was at the beach in Studstrup playing "throwing stones into the water," a game that amuses both of us a lot. We, but especially Frederik, are tireless.
After quite some time I noticed something white washing round in the waves at the edge. I thought it was a cover of some kind but a closer look revealed that it was remains of about 50 large fish. Only the fillets were cut off. The rest lay there in the water and will soon be releasing an unpleasant s
smell. Think it was cod, large cod.
What stupid, stupid people would leave a mess like that on a beach?
I wish I knew.
Tuesday, September 9th 2014:
I sat waiting in the hospital waiting room for a small hour or so. Usually you will not get any wiser from that. But today was an exception. I spent time by meticulously reading a newspaper.
In it I found an article by a well known Danish lady. It was about democracy and the lack of same.
Normally I do not agree with the lady in question but she ended her article with something 'interesting' that was said by a former state leader. He said,
"At an election it is not so important who votes., It is more important who counts the votes."
Allow me to ask the the following question to you: Who said that?
Monday, September 8th 2014:
I must hereby stop the initiated national collection to help paying my gold crown. The already received amount will be spent on charity - my charity.
My visit to the dentist was pure joyl.
1) It did not take long.
2) It cost a mere 412 kroners.
3) The dentist was new to me and very, very good.
I was moved to tears over the price. Had expected much, much more, and I will even have 60 kroners return from my insurance. More joy.
The new dentist, a very nice lady was a good experience. Clever, quiet, experienced and infinitely sweet. She is my dentist from now on.
I am a happy man - again.
Sunday, September 7th 2014: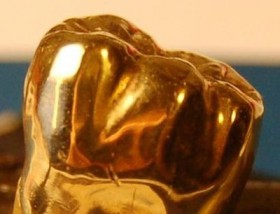 Bad luck haunts me. Yesterday it was discomfort that prevented me from mowing my lawn.
After getting better and having had my dinner I sat with a bag of soft licorice. I chewed very carefully and enjoyed the sweet licorice flavor.
But suddenly the enjoyment went. A gold crown released its grip on a tooth in the upper jaw. I heard it hit a tooth in the lower jaw. A crown on the loose which I luckily got hold of before it sank into the depths.
Now I'm waiting for a dentist visit. Let it be what it is. But the bill, dear friends. The bill.
May I modestly suggest a national collection like mine for earthquake victims on the island of Bornholm and flood victims in Copenhagen. Mobile Pay is OK.
Saturday, September 6th 2014:
I needed pity an hour ago.
Matron showed compassion and asked me - in the middle of lawn mowing - to go in and lie down on my bed. Real magnanimity.
The problem was that I was so very very unwell, pale, trembling hands, feeling sick (Fortunately nothing happened) and without any appetite. I was mostly concerned about the latter.
I tried to watch a little TV, but the picture blurred. I turned it off.
Oooh, misery.
But then after 20 minutes of additional hardship and suffering - almost like a sneeze - I got better. I do not know what happened. I sat down, turned on the TV again and started watching the bike race in Spain. That helped. Now I feel much better.
Long live the Vuelta. It gave me my life back.
Friday, August 5th 2014:
I am fortunate to have a good wife, known as "Matron".
But it is not in any evil or sarcastic sense. No, it is because she is, after all, the decission maker. Without having to appear as a wagging dog, I do not mind the slightest. She is caring in everything she does.
We have great fun simulating quarrels and laugh a lot at them afterwards. And we are good at telling each other how much we mutually appreciate each other.
Correct, however, is that in decisions on several matters she will often have the last word, after we've talked about it. Because she always makes right decisions.
Matron is a wonderful woman.
Thursday, September 4th 2014:
I had my shopping gene cultivated today. It was no fun.
4-5 hours in the northern German supermarkets did the evil to me. I was so tired that I could not even eat a hot dog afterwards, could not even drink a full Pepsi Light.
But fatigue despite I completed the trial and tried to smile both during and afterwards. However it was a few grimaces that with a little good will might be interpreted as smiles.
But I will not complain too strongly. We brought home good, cheap and healthy food and Pepsi Lights, and we got a good and healthy lunch.
And Matron does not mind a tour like this, she enjoys it.
And that makes me happy despite the hardships and boredom.
Wednesday, September 3rd
The sculpture in the picture is "Martin with his whistle." It is situated on a square in Railway Street in Soenderborg (South Jutland). That guy next to him is little me.
Martin (Jorgensen) was born in the workhouse in Silkeborg in 1884, he had a miserable childhood and developed into a violent, provocative and petty criminal guy who was in and out of prisons and workhouses across the country. Always he returned to Silkeborg.
This went on until 1933 when for the last time he escaped from the Silkeborg workhouse. He goes to Sønderborg where he totally changes behavior. He is now friendly, almost gentle and very helpful. People come to know him, because he often carts around the city streets with his wheelbarrow collecting metal and other waste that he can sell. At the same time he helps everybody who needs it. Around his neck he had a whistle that he used in order to be noticed. He was a well known and popular figure in the town, especially because of his helpfulness and friendliness.
That was not how he was remembered in Silkeborg.
Martin died in 1976, and in 2011 the town of Soenderborg decided to erect the sculpture of him.
Nice that also low class people can have sculptures erected of them.
Tuesday, September, 2nd 2014:
Our very nice daughter, Annette has her birthday today.
Unfortunately we have not been able to celebrate it with her, but as usual, Matron called the birthday child very early and with her gentle/sharp voice to sang the traditional birthday song for her, "Today is Anette's birthday, hurray, hurray, hurray ... etc etc ".
The same ritual is repeated every time at a family member's birthday, and I suspect that they all like it. Today I joined in and sang with full throat which probably did not make it any better.
But never mind. It is a good tradition.
Monday, September 1st 2014:
Certainly there is no excuse good enough, but I'll do my best.
Due to extensive bustle and quite a lot of transportation, I have only now (at. 10.45 p.m.) had time to sit and recount today's events,
I could use the explanation from the other day that because of joy I have had to close the diary. But it is only part of the explanation. My joy is great but I was also very busy.
So, dear readers, wait for tomorrow's hopefully more substantial diary.
Thanks for a good day to everybody I met and talked with today.
Sunday, August 31st 2014:

On August the 18th

I launched

a collection for the

earthquake

victims

on the island of Bornholm in the Baltic.




It

was a disaster

.

Not

even one

penny

was sent

which meant

that

the ice cream parlor

in

Gudhjem

Harbour

had to close

and

can not be

reinstated.

An

intolerable situation

even though it has

been closed for

9 years.




But

now I must

ask you to

come

to the keys

and

submit

hefty

amounts to

bank.reg

1922

account

234522456


This time it is

the

flood

victims

in

Copenhagen

who need support

.




I

'm going

to

spend the money

helping

the

taxi

driver who

now

for 2 days

has

been sitting

in

his taxi

,

which

is

totally

under water

- except for

taxi

sign

on the roof

.




He must

be wet

and

miserable

.

He obviously needs

help.




Do not be so

stingy

as

last time.

Show

that there is still

compassion in the world

.


Saturday, August 30th 2014:
I like to surprise family and friends. But I have to get up early to do it. This morning I managed.
to surprise to my old soldier friend from up north by sending him an email at 6.27 a.m.
He immediately wrote me: "Have you dropped bread crumbs in your bed, or has it become fun to get up?
As the truth is, I had to answer NO to the first question and YES to the second one but at the same time also point out that even though you are awake, you are not necessarily up - which I was not.
I just had a wonderful time in my warm bed contemplating life's many ups and downs.
Getting up at. 6.27? My goodness. It is unchristian.
It's bad enough that you are awake.
Friday, August 29th 2014:
On 5 May 1945 (end of German occupation), you could read the following on many shop doors "CLOSED DUE TO JOY" (Lukket på grund af glæde).
Today - for the same reason - I can say the same about my diary, "CLOSED DUE TO JOY".
Thursday, August 28th 2014:
So here I am again. Good bike race on TV, the Spanish Vuelta.
In my opinion, the Vuelta quite often gives better cycling than the Tour de France. So here I am, sitting well back in my couch and it is with great joy that I have Matron waiting on me. It has just been a lemon crescent cake. I am curious as to what comes next. A cup of chocolate would not be bad.
Well, back to the bike race.
There are more than 40 degrees in southern Spain, not enviable. I tasted a bit of it in July when I regularly climbed the Jutland mountains in temperatures of around 35 degrees.
I admire the riders for their great endurance and technical, tactical skills. I loooove bike races.
Wednesday, August 27th 2014:
Else had a check at her doctor the day before yesterday. It went fine. I had a check at the hospital yesterday. It also went fine.
Our car had its 2-year compulsary check today. It was also fine.
The latter check cost 490 kroners.
However, there was one small blemish on the vehicle inspection, one of the license plate lamps did not work. With the help of son-in-law Kent the error was quickly corrected. Replacing the lamp cost a total of 160 kr. Check at the doctor and at the hospital and the medicine I got there was free. So it is more expensive to keep one's car than keeping oneself.
So I must conclude that we do not live in a totally hopeless country.
Tuesday, August 26th 2014:
Today I have not experienced anything worth writing about. I'm not quite on my toes either so I will limit myself to sending greetings to all of you and expect to be back tomorrow.
Today's greatest experience was that I got up at. 10.15 only to find out about 2 good Danish words that you cannot use on Word Feud.
How the world can go on after that experience I do not know.
See you tomorrow.
Monday, August 25th 2014:
Am I proud of my son-in-law, Kent?
Yes, you can count on that. He has just completed a bike ride along the length of the Pyrenees from the Bay of Biscay to the Mediterranean and climbed many of the famous mountains from the Tour de France, including Tourmalet, Col d'Aubisque, Col d'Aspin and Peyresurde. In total, he rode over 700 kilometers and 12-13,000 vertical meters. All that within 5 days. It is an achievement of very high class.
He's just good. Congratulations, son-in-law. The old man is very proud.
(Picture from the top of the Col d'Aubisque).
Sunday, August 24th 2014: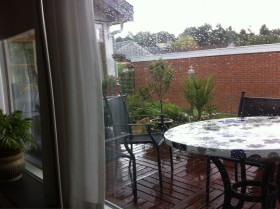 10 minutes between showers.
And it annoys me tremendously.
Here I sit in my comfortable couch and badly want to go out digging and putting down tiles in connection with my big project changing the bed around our conservatory.
It has been going on for 2 months by now.
But I do not want to go out there in the rain.
From my position in my molded couch I can see the small pile of sand which is to be foundation for the tiles. Damn. I'm not angry. I'm disappointed. How can one be missing a pile of sand?
Saturday, August 23rd 2014:
I have in recent months done bike rides of 70, 80, 90 and 100 km. and been fine with it.
Today I rode a measly 37 km. and nearly died of exhaustion. Rode with my brother.
My legs would not as I would even though I kept telling them to shut up and obey. Nothing helped, neither did the strong head wind and the cold rain.
The only thing that kept me going was my brother's promise of lunch when we came to his cottage at Fuglsø. The plan was that I would ride home on my own after lunch. Nothing came out that. I was completely done, it hurt everywhere. He drove me in his car.
It was a bonus of the ride that we were passed the Møllerup Estate where I have spent so many days of retrieving since 1976. We went for a walk in the beautiful park. Also could we seek shelter in the estate's stables when a very long and heavy shower passed.
Damn the bike ride - and bless the lunch.
Friday, August 22nd 2014: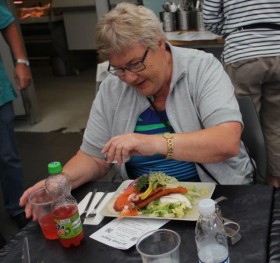 Just to show that I'm not the only one who enjoys eating "Shooting Stars".
See yesterday.
Matron likes them just as well.
Thursday, August 21st 2014:
In England it would be "Fish and Chips". I love it.
You may buy it in Denmark, but more likely you would get what we call a "Shooting Star".
Let me explain.
Your get 1 fried filet of plaice and 1 steamed, served on toast. On top caviar, shrimps, cewcumber, asparagus etc. Perhaps also remoulade.
You might also get a "Sparkler" which is the same as a "Shooting Star" only that you will get 2 fried filets of plaice.
No matter what they taste delightfully. On the photo it seems to be a "Sparkler", record big, at a restaurant on the harbour of Hanstholm up north.
Lovely place/plaice.
Wednesday, August 20th 2014:
Poor grandchild Kristian is still bedridden due to his broken spine.
His school started 1½ weeks ago, and it really annoys him that he cannot be there.
As a help his school has made one of their teachers come to him to teach especially mathematics and chemistry and physics. They started today and I was there to hear what it is about so that I can help even if it is 25 years ago since I last taught.
Fortunately the teacher was very nice and very competent.
But Kristian tires easily so a "lesson" is no more than 30-40 minutes.
He will not start school until some time in October. He's a good boy.
Tuesday, August 19th 2014: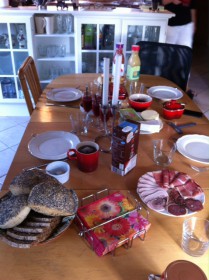 I have on several occasions expressed my enthusiasm for brunch, this glorious mid-morning meal. And of course, I have not had breakfast first. That would be like eating a big meal before sitting down at a beautifully set dinner table.
This morning our sweet daughter invited for brunch. And was it good. Just look at the photo. When I had finished, my appetite was completely destroyed.
At the table were also Matron, grandchildren Katrine and Kristian, daughter Annette, whereas son-in-law Kent is biking around in the Pyrenees. He could certainly have done with a solid brunch to stem the loss of energy in the mountains.
Lovely meal - and good company.
Monday, August 18th 2014:
There were earthquakes on Danish island Bornholm early Saturday, 2.6 on the Richter scale.
The damage was limited or almost non-existent, apart that a few people were awakened from their sleep. The worst part was almost that some floors shook.
Still, I think that we can not let the problems be ignored.
I have therefore organized a national collection for earthquake victims on the island.
Therefore, please insert an appropriate amount of no less than 500 kroners on Bank.reg 1922, account number 234522456
I will then make sure that every penny is spent in the best way possible.
Thanks in advance. I am looking forward to making the money useful.
Sunday, August 17th 2014:
I was lucky today. My big project filling the bed around our conservatoru with granite stones is developing. I'm almost finished removing soil and plants. I still miss the last small piece which only needs smoothing.
After having worked very hard with the exhumation of heavy soil and moving roses this morning - I had to stop, completely exhausted and sore. No more diging today. My old body simply stopped functioning.
And here's my luck. I went in and sat down on my couch, looked out at my work - and saw it was pouring down. Two minutes ago I was out there.
It was nice having lunch in the living room while looking out into the heavy rain, knowing that the heavy task is about to be resolved, at least as far as digging is concerned. Loooovelyyy.
Saturday, August 16th 2014:
Yesterday I biked through Mejlgade in Aarhus. Those who know it know that it is a narrow and very busy street. Therefore, it is uncomfortable to be overtaken by a car as I was yesterday and near ended up lying on the pavement.
It made ​​me think of a sign I saw in central London in April this year. Just off Big Ben.
Aarhus, who like to call themselves "Cyclists' city" could learn something here.
Friday, August 15th 2014:
I'm an unfortunate man. A certain TV series keeps persuing me. It has been on for 10-15 years, and it is now the 10th time in succession the series can be seen.
Matron has watched the previous 9
times round and is right now busy watching episode 124 for the 10th time. She claims she enjoys it even if she knows everything by heart, even the lines.
I suppose you have guessed I am talking about "Heartbeat".
Please. Could somebody help me sabotage the TV channel that brings this intolerable series?
Thursday, August 14th 2014: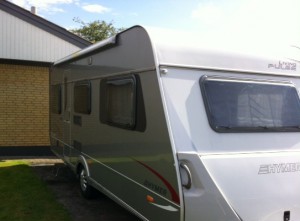 There are wise considerations behind the purchase of "the thingy" at the top of our caravan, called a bag awning.
On our latest trip with the caravan, 14 days in Lemvig in July, Matron and I agreed that this was the very final setup of an ordinary awning, with hundreds of bars, pegs and strings.
We're too old for that nonsense. It took us almost 4 hours to put it up.
So from now is just to roll a "roof" out with bars built in, put one side up, banging a few pegs in, and "our hall" is ready. On a bad day, it will take us 15 minutes.
I'm looking forward to our next trip.
Wednesday, August 13th 2014:
I had a good morning with grandson Kristian who is still bedridden after his back operation. He likes to have some company while mom and dad are at work.
Today I was with Kristian.
Kristian is a computer games enthusiast. For many years I have seen him play and always wondered what the Games are all about. Now the opportunity was there. I asked Kristian to explain to me the simplest game he knows, and that he had to go slowly. He chose "Minecraft".
In very best pedagogical manner and with great patiencehe he went through the game with me and I became wiser and wiser and began understanding why one can become "addicted" to this hobby.
Everything is in English, so I now understand why young people are so good at English, although I have stopped teaching it.
Tuesday, August 12th 2014:

I am a

happy man

and a

relieved

ditto

.




For 3

nights

I've had to

sleep

without

my beloved

bike

on

his usual

place in

the workshop.

It has been

dragging

a sad

life

with my

bike

doctor.




The best

memories

will know that

I

broke

my chain

last

Friday.

And of course it

had to

be fixed.

I took

the full consequence and

had

everything changed,

chain

,

rear

gear wheels, and

gear shifter

.




The very friendly

bike

doctor

gave me

a quote

that I

could not possibly

say no to

.




So

now I am looking forward

to my next

bike ride

.

I particularly welcome

to the hills

since

the new

gear

is

lower

than what I

had

.

So the

Alp

d'

Huez

once again

is an option.


Monday, August 11th 2014:
I am appalled.
Matron walked into a supermarket to buy half a kilo of minced meat.
She came out quickly and said with trembling voice that the price was 40 kroners for ½ kilo, and that amount she did not intend to pay.
For that very reason we went to another supermarket, and found better prices.
35 kroners for 1 KILO. Guess where the purchase was done.
Yes, we two old people experience something every day. It keeps us alive.
Sunday, August 10th 2014:
I am in the process of a big excavation work.
Around our conservatory 6-7 centimeter of concrete hard clay soil must be dug up + plants. A total of 16 meters. After that the hole will be filled upl with small granite stones.
Unfortunately my aching thigh prevents me from digging more than 2-3 wheelbarrows full at the time. Then I needs a break - which I reluctantly take. Just as well I don't work on performance basis.
I am looking very much forward to filling up the hole with the granite stones. I am sure it will be nice - and then I'm done. Shall we say about September 1st?
Or so.
By then all is left is having all the excavated soil taken away. But I figure one of you will come and do it. Right?
Saturday, August 9th 2014:

There are so

many things we

want.

I'll just mention a few.




Bag

awning

for caravan

,

new

tiles for

terrace

,

garden bed

in front yard

removed

and

grass

sown,

electric bike

(

for

Matron

)

,

winter

garden

painted,

tiles in

driveway changed,

holiday

in

England

,

new chain

and

new

gearbox

for my bike

, new vacuum cleaner.


I reckon

it

all

together

in

hard cash

will be

around

45,000

kroners

. (5.000 pounds).




Someone who

wants to

give a loan

?


Friday, August 8th 2014:
My knowledgeable and friendly bike mechanic in Hornslet yesterday adjusted the gear shift on my bike.
It was therefore with great pleasure that on today's trip I felt that it worked perfectly. I smiled while I biked along. Everything was nice, the bike, the weather, my mood.
But then Nemesis struck. On a steep hill southwest of Aarhus my chain broke. No more singing but my goodness I used some really nasty words.
There I was, 33 kilometers. from my humble home.
There was only one way out. Call Matron who - though not with enthusiasm - picked poor me up. Luckily, the sweet lady was one big smile when we met.
Thursday, August 7th 2014:

I

'm not crazy about

wasps

.

Wonder if anyone

is

?




I think they

are ugly

and vicious

and

nearly impossible

to

get rid of.




And they are

vengeful

.




In early summer

I sprayed

under

our roof

with insecticide

on

a

wasp nest

.

And

right away

a particularly

vicious

one of

the breed

whizzed

over and

stung me

on my neck.




I

only wanted to

kill it

.

So why

all the fuss.




The wasps

' nest was abandonned

.




But

now, here they are

again

-

in their millions

.

At any

outdoor table

with

some people

around

you will see

everyone

sitting

waving their arms

.

If you did not

know the cause

,

one would think

they had

spasms.




It

seems

that

wasps

love to

be chased

away,

they

keep coming

back

.




My goodness

,

it

's ugly

,

the one

in the picture.


Wednesday, August 6th 2014:
I dug potatoes out today. It is nothing new - and it is also untrue.
Granddaughter Cecilie dug for me.
In my miserable opinion it is a piece of art to dig potatoes. The spade must be put into the ground at the right place. The soil should be turned correctly so no potato is forgotten in the soil, potatoes must be picked up, and the ground nicely flattened.
This art form I learned from my father. Unfortunately, I have not taught it to my own children since their IQ is nothing to desire. But now Cecilie has learned the art. Further advantage is that my sore back was relieved.
The potatoes will be eaten in the evening for a guaranteed well cooked meal made by Matron.
I'd better be hungry - but that should be no problem.
Tuesday, August 5th 2014: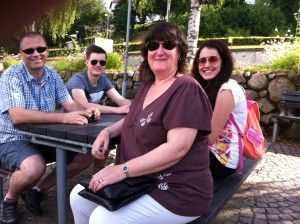 Son and daughter in law, Peter and Annette are these days hosts to Toni, David, Emma, and Matthew from Surrey, England.
Toni and David are daughter-in-law and son to our old English friends from 1958.
Else and I find it beautiful that the next generation has taken the friendship up like we did years ago.
Today we were all on a cruise on river Gudenåen - ½ hour up and half an hour home.
But was it necessary that the long-awaited rain would come in the latter half of the cruise? Well, it did not matter. The trip is beautiful in any case.
Picture shows the four English friends waiting to board at the port of Silkeborg.
Monday, August 4th 2014:

Now and then I can help

other

people

translating from

Danish

to

English or

vice versa (

funnily enough

nobody

asked me

the same

in German)

.




I

love

these

jobs

as long as

they are not too big

.




I received

one

yesterday

.

"

Please translate the

3

pages attached

."

It was

mangeable

so I

threw myself into

the job

this afternoon.




Now the

fact is

that

even though

I'm fairly good

in English,

academic

writings

,

as it was

today

,

can

be difficult to

translate

correctly

.




I was therefore

pleased that

son

and

daughter-in

-law of our old English friends

right now

are visiting our

son

and daughter-in-law

.




And what was

better

than

asking

one of

them to

read and

correct

?




So

this time I will

be

assured that

the translation result will be good

.


Sometimes you can be

lucky

. I was.


Sunday, August 3rd 2014: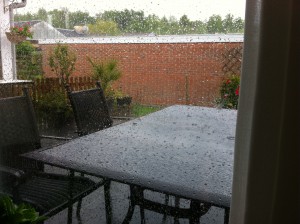 The world benefits are unevenly distributed.
I have just read, that in Vejle, 80 kilometers away they had 20 mm. rain in 10 minutes. Equivalent to 4-fold cloudburst. In Rodby i esast Denmark they had the equivalent of double cloudburst.
Lucky asses. Here in Studstrup we had a measly 2 mm. We feel bypassed, cheated, and deprived of the benefits that are given to other parts of the country.
But we could easily do without the giant hails that fell in Roskilde on Sealand.
Saturday, August 2nd 2014:
This is no good.
Having now for several weeks struggled against towering temperatures and constantly hoped that now it must come to an end, I am now totally dispaired by hearing that temperatures tomorrow will reach well over 30 degrees.
Where should I hide to find a shady and cool place, for example a big indoor fridge? Proposals wanted. No more than 15 degrees are accepted. Hasn't anyone got other a cold room where I can sit quietly with my iPhone and computer so that I am not totally excluded from the outside world.
Come on. give me an idea. I am anxiously waiting.
Heat waves are a nuisance.
Friday, August 1st 2014: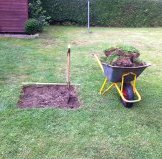 Who
said it would
be
cooler
today
?
OK
,
we got
10 minutes'
rain
-
that was it.
Therefore,
I almost
scrapped
my plans to
put
Matron's
apple tree
in the ground.
I
mentioned
it
on
Sugust 23rd
.
However, if
the tree
was to be saved
,
it had
to be
now
.
Therefore,
I dug
a
half a meter
deep hole.
It took
about an hour
.
Cause
: Concrete
-
clay
under the
grass.
In the end I had
to last
pour water
into the hole
and
let
it
stand for a few
hours.

Then

it was bearable

.

But

it cost

power

of which I

fortunately

have

plenty

.

Only

I'm not much

for using it




But now

the tree

is where it should be

.

View photostream

.




The project is not finished - stil

missing

the

tile

edges

around the hole

and

the

small, dark granite

stones as

a cover

.

It

will

come when

I have

rested

after a day of

strenuous efforts and

have

saved up money for

them


Thursday, July 31st 2014: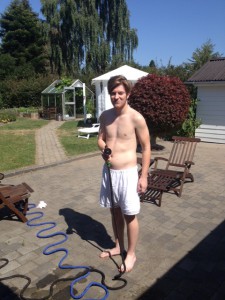 I am

happy today

.

Fortunately I'm

happy most days

.




The reason for

today's

joy

is that

grandson

Kristian is progessing with

his

fractured

spine.




Of course

he

still

hampered

.

It will take

5-6

months

before

his back

is in order.

And

of course

it takes time to

recover from

a 4-5 hour

long

operation

.

It took place

today

a week ago

.




But

he

feels good

although he

for a long period

must not

sit

(except when

he eats

)

,

but only

walk, stand

and

lie

.

It is difficult for

an otherwise

physically active

young man,

17 years old

.




I'm still

wildly

impressed by his

ability to handle

his

situation

,

and I'm

really happy

that

his accident wasn't

any

worse

.

Only a bit more bad luck would have been catastrophical

.




Also my

praise

shall

indeed

go

to Annette

, his

mother who

has

been there

for him

around the clock

for 2 weeks

and remains so

.




We are having

a good

daughter

.
Picture: Kristian back home the day before yesterday.


Wednesday, July 30th 2014: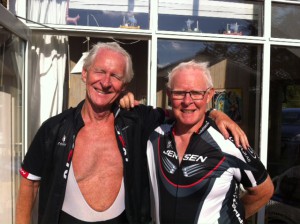 I did not upload my diary yesterday because I was on a bike ride.
I met with brother Kjeld In Randers. I arrived in car (Matron did the driving) and he on his bicycle from Roende. By then he had ridden 40 kilometers
.
Then we went along together for the next approx. 100 kilometers till we reached the goal at a common good friend's cottage north of Fjerritslev.
It was hard, hot and long, and I was totally roasted - but very proud and happy when I parked my bike.
Do I need to say that we had a headwind the whole way?
Do I need to say that we had a lovely evening with good food and beer - and good conversation?
Picture shows brother and I immediately after arrival.
Monday, July 28th 2014:
A question:
What is just about the stupidest thing one can do these days between the hours 13 and 15?
Think about it
The answers may be several. Let me give the correct one: Mowing your lawn.
Therefore I started at 13.30 and ended at 14.30. By then everything was ship shape including edging.
So was I. Nearly totally evaporated.
I rushed into the shower and had my sweat washed off. I got out of the shower, nice and fresh, only to discover that the sweating immediately materialized again.
From this, you can learn that you should not mow your lawn between the hours. 13 and 15 during a heat wave.
I am flexible enough, if necessary, to say between the hours 8 and 22.
Sunday, July 27th 2014: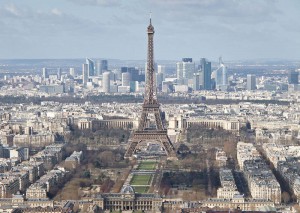 Today the Tour de France ends in Paris. I have followed the race every day since it started 3 weeks ago and it's been a good race, more entertaining than usual.
The reason for that is that (unfortunately) two of the biggest favorites, Contador and Froome abandonned the race due to crashes.
So their respective teams had no one to ride for to, and the riders were free to ride as they liked.
Especially It was good for the Danish-Russian team, Tinkoff/Saxo.
I have gladly watched 3 of their strong riders doing well and win a total of 3 stages and the polka dot mountain jersey.
I have enjoyed it all (dozed a bit in between, though) and am looking forward to next year's Tour, when I shall try to get into the Danish/Russian team. It was close to this year.
Never before have I been so fit. Vive L'Tour.
Saturday, July 26th 2014:
After a good day with good food and drink with friends, I have as a result of taking in too much/many of either, only one word to say:
CHEERS. And then to bed.
Friday, July 25th 2014:
Since it all ended well, I now want to tell about an accident for grandson Kristian.
A week ago he broke his spine in an accident on a trampoline in an amusement park
A vertebra was badly damaged.
After a lot of pain and orders to lie totally quiet around the clock Kristian had surgery the day before yesterday, a long operation of between 4 and 5 hours.
For a start it gave even stronger pain, but now there is a slow decrease.
The doctor who operated is very pleased with the result.
Kristian has already begun rehabilitation and today he walked around helped by a walker - not a lot. The pain is still bad.
Throughout, he has been incredibly brave and strong - helped by his mother, who has been with him every second since the accident, day and night.
Grandfather bows in deep admiration for the two.
(The picture is 1 year old. It is clear that Kristian is a strong boy. It has helped him in his current situation).
Thursday, July 24th 2014: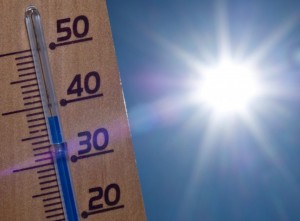 The official Danish definition of a 1st degree heat wave is that the average of the highest temperatures over 3 days must exceed 28 degrees.
The official Danish definition of a 2nd degree heat wave is that the average of the highest temperatures over 3 days must exceed 25 degrees.
What do we call the current situation in which temperatures are well above 30 degrees?
I have a suggestion: Shit Wave.
Wednesday, July 23rd 2014:
Matron has bought an apple tree, about 2 meters high - Elstar, her favorite apple.
It is my duty to dig it down in our concrete-hard lawn and fearlessly I started this morning.
I had the shovel stuck into the ground 6 times when I had to give up. Sweat ran down me in torrents and I felt great discomfort in the heat.
So I had to contact my employer who with great understanding forgave that I stopped.
Maybe one should try some time during the night when temperatures have dropped to 23-24 degrees.
The present humid heat is disgusting.
Tuesday, July 22nd 2014: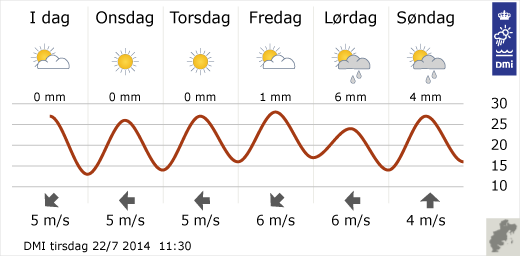 It is with great regrets I must tell that the promised rain on Friday is postponed till Saturday.
I am going to take the met office to court for the very same reason. It is unbearable that they don't do anything about the heat.
Normally rain is their main competence. Sack them and hire some meteorologists from Greenland instead.
Monday, July 21st 2014:
Boy, do I look forward to Friday, quite unspeakably much.
My joy is due to a look at the weather forecast for the next 5 days. It is abundantly clear that on Friday temperatures are to drop to 23-24 degrees and - best of all - we shall have 4 mm. rain.
Rain is something wet falling from above, in case you have forgotten.
I shall celebrate the arrival of rain dancing the rain dance only in my knickers in the garden. It will be a sight for gods and none others will be invited.
Sunday, July 20th 2014:
The Danish Superleague (soccer) started yesterday. You have to look in vain for a team named AGF, my former team.
Although football is no longer my biggest interest I think it is unfortunate that the country's second largest city is not represented, but must pursue a modest life in first division.
5 years ago I was a regular guest at Aarhus Stadium for all AGF's home games. It was an exciting time but 2 relegations removed any excitement.
Having signed this year with Morten Wieghorst as a coach I feel, however, there is a certain excitement so I might consider once again making my entry on the ground.
I will no doubt be heartily greeted by everybody. They must have missed me.
Saturday, July 19th 2014:
Today was a rotten day for Matron and I.
Must be a bit more careful with what people are around me.
Friday, July 18th 2014: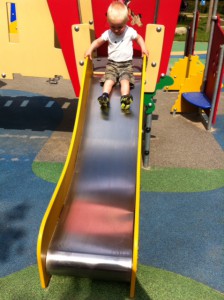 If someone asked me what I was doing at 7.15 this morning, 100% of the responses would be, "
You slept
".
But the 100% are wrong.
At 7.15 a.m. I was playing football with youngest grandchild Frederik on the lawn. Admittedly it was a little wet, but the young man did not mind. It was a bit different with the old man.
We played to the end of 1st half, ate breakfast whereafter we resumed play for another 45 minutes.
Then we went to feed the ducks in the University Park, visited the small polar bear at the other end of town, one hour's play on the playground at Marselisborg Castle and finally inspection of guardsmen outside the palace. An eventful morning.
All this because Matron and I for 3 days are looking after little Frederik while Mom and Dad are on a short holiday. As far as I am concerned it should be longer although it's a hard job.
Thursday, July 17th 2014: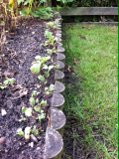 There is a sad story in our garden.
It's about radishes.
They were planted about a month ago and now they are looking like something that will never materialize.
The size of them is like a thread, and it will take more than regular growth hormones to get a radish the size of a small marble. I'm going to complain to the supplier of this lousy product.
Here I am, having carefully planted and thinned and placed the poor creatures in the garden's top soil as neighbors to the potatoes.
And what comes out of it?
Nothing but a bunch of social outcasts. Sad, sad.
Wednesday, July 16th 2014: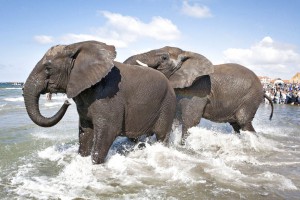 Dogs are not allowed swim at beaches that have acquired the "Blue flag", a reward for clean water and beach.
Admittedly, I have a little trouble seeing the logic of the law, but well. Now it is there and we dog owners will abide by it.
But the law says nothing about the many other animals' right to swim at beaches with blue flags.
Among others elephants are not mentioned. So a circus went to the beach at North Zealand near Copenhagen and carried through their "Great swimming day".
Does anyone have any objections?
I am curious as to whether anybody will report the incident to the police. Would not surprise me.
Tuesday, July 15th 2014:

I

was

impressed

today when

I met

an elderly

lady

of

about 65 years

come walking

beside her

bicycle on the road not far from here.

What

impressed

was that

the bike

was packed

with

numerous

bags,

and that after

the bike she 'towed'

a bike trailer

loaded with

a tent and

much more.




She

seemed to

be in doubt

what way

to go

so I stopped

and offered

my help

.




The lady

turned out to be

German, and

had

cycled

from the border

.

T

he goal

today

was

about 50 kilometers away

.

She was

happy when

I could tell

the

route to her destination.




Unfortunately, I was not told

know

how long she

had

been underway

.

In any case,

she must have

been riding

250-300

km

.

till now

when I met her

.




Impressive

. Biking keeps you young.


Monday, July 14th 2014:
It is a sad day.
I was sitting quietly in my molded sofa, enjoying the great bike race in France. Everything peaceful and idyllic, I was eating a late lunch, having an ice cream, drinking some Pepsi Diet - and overall enjoying life.
And then suddenly, out of the blue, without any warning: Contador (my favourit) withdrawn from the Tour de France, he crashed, tried to ride on but it did not work.
I wanted to curse loudly - and I'm afraid that I also did. I used some ugly words of which "Blast and hell" were the mildest.
And now there's an emptiness in the Tour. I have no solution to the problem. Only that I myself have to ride some more. I'll show them.
Sunday, July 13th 2014:
Today is rest day after our 14-day holiday and yesterday's unpacking and subsequent clearing up.
The rest day comes very suitably also for other reasons.
In a moment the 9th stage of the Tour de France on TV will be on TV, a mountain stage that I shall follow closely and with great excitement, that's great.
Cycling, cakes, tea and Pepsi Max. What more could you ask for?
And tonight the World Cup final in football between Germany and Argentina. Puts my money on Germany.
On top of it all it is pouring down with rain so there is no way that I could do anything in the garden. It does need some tender care after 2 weeks of absence.
It is a blessed day. And children and grandchildren are all well.
Saturday, July 12th 2014:
My renowned ability to endure great pain has once again been put to the test.
On a bike ride I suddenly got a biff in my forehead, a powerful Bumblebee bumped into me. It hurt, but it's nothing compared to the pain when it chose to attach itself between my glasses and my temple. And now stinging was on, and I tell you it was. Man, did it hurt.
I pulled and pushed on the frame until the creature fell off and landed on the bike path with a heavy thud.
But in spite of the pain I continued my ride until Matron could comfort me on return. She praised me much for my braveness in a difficult moment. It helped my almost unbearable pain.
And I who as a child was always taught that bumble bees can not sting. It is untrue. They can.
Friday, July 11th 2014:
Enough is enough. Turn off the heat before we all melt down.
It's hot - much too hot. Many of family and friends love high temperatures and can not get enough. I have had nough when the temperature is above 22 degrees. Right now it is 29 - very tropical.
I will not claim that the high temperatures could spoil my holiday but 7 degrees less would be a blessing.
And down in France the Tour is troubled by rain and wind. I'd like to change. Anyway I ride almost as much as the riders down there do.
Thursday, July, 10th 2014:
When God created holidays he must very much have thought very much about a caravan tour to tiny Lemvig in North Jutland.
We have been here for 12 days, and the day after tomorrow it will be all over. Pity.
Never mind. We can still enjoy the beautiful view through our caravan on to the sea.
It is very hot. Our fan is on from morning till night.
Fortunately the showers are only few steps away.
If next year's holiday is just as good you will not hear me complaining.
Wednesday, July 9th 2014:
It should have been 7-0, but ended at 7-1.
The Brazilian team was played so far out of the pitch that players had to pay admission fee to get in again. A total meltdown.
I think it is impossible for we rather down to earth northerners to understand how the general Brazilian feels today. In some case you might say that the whole livelihood ihas been taken away from them. There is talking about national mourning. Some newspapers are published without a front page. Others use words as shame, humiliation, destruction, etc.
And in Brazil, it is not enough to say, "Well, never mind, it is just a football match." A football match in Brazil is more than a football match. It is a part of your life.
Tuesday, July 8th 2014:
I am happy today, you know happy all over. Jubilantly happy.
It might be tiring to read about. But my joy is more often than not associated with cycling.
My endorphins take control of body and soul - and I get that feeling of happiness.
Long live my endorphins.
(I cycled 65 km today. Lemvig to Søndervig).
Picture shows a suitable sculpture by Søndervig.
Monday, July 7th 2014:
In these football days when professionals compete against each other in Brazil, trades are still goingon between variuos clubs.
The most controversial player of them all, Chilean Luis Suarez, is rumored sold to Barcelona for the princely sum of just about 75,5 million pounds.
My goodness, I say. 75,5 million pounds for the biting footballer is a bit of an expense. One might be offended by that price. I certainly can not afford it.
The coming medical will no doubt reveal that his teeth are strong and healthy.
Sunday, July 6th 2014: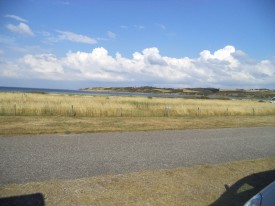 I do not like to waking up and getting up in the morning. It is an unpleasant experience, and I have to constantly ask myself, "
How can a day become a good day when you have to start it by getting up
?"
Right now the situation has eased considerably since I'm here in Lemvig and will every morining be getting up to a view as shown in the picture, the fresh waters of the Limfjord, beautiful, beautiful. And I can even almost lie in bed and see all the beauty out the window. One almost enjoys getting up early.
May it not happen, though.
Friday, July 4th & Saturday, July 5th 2014:
I did not update my diary yesterday.
There are two reasons:
1 I was at a student party from late afternoon with my beloved eldest granddaughter.
2 I was lured into the mists of alcohol that dazzled my memory.
(Can you say that? Do not know).
In any case, it was a glorious evening. So nice being together with young people also.
Today I am preoccupied with my TV. To help the few ignorants, I can tell that the Tour de France has started today and that I'm currently enjoying the race through the beautiful landscape of Yourkshire, England.
Vive L 'Tour.
Thursday, July 3rd 2014:
I can not with justification claim that the enormous Roskilde Music Festival is within my interests. I would pay a lot of money not to go if I were forced to even if 'The Rolling Stones' will be there this year.
Well, now it's not my age group that will be most strongly represented there. That's as it shouild be.
Still there is something that impresses me about the event. I read today that at least 1 million liters of draught beer will be sold to the guests. Furthermore ordinary beer is sold in an equal amount and beer is brought by the guests.
120,000 guests will be there which means that each person alone as an average will consume 8.33 liters of draught beer - plus of course all the other beer​​. Cheers, mate.
I am therefore in no doubt that the brewers are the big winners.
But still: Beer is good - and leaves nu crumbs in your bed.
Wednesday, July 2nd 2014:
Insurance reports can cause great amusement.
I enjoyed an Australian one.
An elderly man writes the following about his wife's accident:
"She drove the car right through the garage, through our living room and out the other side of the house. Here she hit a camper which crashed into the building's septic tank which again fell on top of the garage which collapsed."
Domino effect at its worst.
The funny thing is that the elderly man did not discover anything even if he was in the house watching TV. It must have been an exciting program. Probably cricket.
Only when neighbors alerted him he was aware of the accident.
I am not hinting anything about women and driving.
Tuesday, July 1st 2014:
I have a great weakness for soft ice cream, and can only with great difficulty walk past an ice cream parlor without having to enter and buy one.
Because of my perpetual dieting I always decide to buy a small one but always leaves with a large one.
Thus, also today.
It was good. Not too watery that makes it melt immediately after having left the machine, but it was just right in texture and with a touch of a nice and sweet, creamy taste. Do not apply sprinkles on a soft ice cream. It is sacrilege.
I gave it 4 stars out of 5. It is extremely difficult to score a 5. In fact I have only seen it once, and with regret, I must tell you that it was in Flensburg on a holiday 20 years ago.
I hope to soon have the same experience in this country.
Soft ice cream is good for your soul.
Monday, June 30th 2014:
Do you know where the village Vinderup is?
I know, and Matron claimed that she also knew.
Therefore, we agreed that I went there by bike and the sweet lady would follow in the car. Then we were going to lunch together at an appropriate place.
I arrived as scheduled to Vinderup and waited - and waited and waited.
Finally I called Matron on the mobil. She told that she indeed had arrived and stood by supermaket REMA 1000.
It was a bit cryptic because I actually stood by REMA in Vinderup and could not see her.
I asked gently if the sweet lady knew where she was because she certainly was not in Vinderup.
She asked a random passerby who could tell that she stood by REMA in Struer, 5-6 miles away, a much bigger town.
Well, one may be mistaken about Danish towns and villages.
After the eventual reunification in Vinderup we had an excellent lunch - near REMA in Struer.
Sunday, June 29th 2014:
Definition: "Pain is an unpleasant physical and emotional experience that indicates to you that your body is threatened with or exposed to injury."
That was what I experienced yesterday.
Luckily today - with great pleasure - I realized that my pain had gone. I found out when for the second time I got out of bed after a midday nap, an, activity I usually do not use. But I sensed that today it might help me. And I was right. In fact, I slept for 1½ hours and dreamt that I was on holiday. Yesterday did not at all feel like holiday.
Now it is the more 'interesting' efforts, bike rides that are on my schedule even if they also are causing pain, but of a better kind.
Happy holidays to all.
Saturday, June 28th 2014:
No one can bear pain as I can. Bravely I bite my teeth when my old back is crying for help. And it has done almost all day. Not a blink with my eyes not even a tiny little pain-groan escaped my lips.
My walk is similar to a pinguin, you know leaning slightly forward with both hands on my back.
Now, a good night's sleep will hopefully correct the misery.
I would like to be active tomorrow.
Friday, June 27th 2014:
Today we wrote the last chapter of Katrine's high school 2014 graduation at The Aarhus Cathedral School.
It was suitably solemn, but also with small twinkles in the eyes of the speakers in the form of small amusing comments.
And believe me. We sang a song in Latin, "In vernal temporis". I've never tried that before and may doubt that I will ever do it again.
Now my nerves can relax after 3 grandchildren's exams during the past 3-4 weeks. It has taken its toll on me.
In the picture the headmaster gets a huge hug from Katrine after having recieved her diploma.
Unfortunately in my days we did not hug when we recieved our diplomas at college. We settled the case with a formal handshake.
Thursday, June 26th 2014: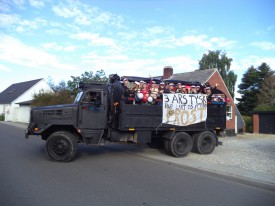 When I see how the young people are enjoying their ended exam with partying and having fun I can only regret that I never graduated. With my social background it was then simply unthinkable. Fortunately this has changed.
Today I was lucky enough to see eldest granddaughter Katrine's class by well-over Baccalaureate take on the traditional drive around in Aarhus and surrounding areas. It will be a noisy affair. Alone the lorry's horns could be heard all over Hornslet.
And it will not just be orange juice that is drunk.
Have a nice trip sweet, young people. Have a good time.
On the poster it reads, "3 years of German taught us the word PROST (cheers)".
Wednesday, June 25th 2014:
Trimming a hedge is an art that only few people master. It aquires abilities and eyesight to make the hedge perfectly straight, both on sides and top. All the time you have to take some steps to the side or away from the hedge to make sure that everything is straight and level. And with careful strokes with the trimmer you correct what is wrong without new holes or dents occur.
It is possible using a string stretched between two points to make sides straight. A bubble level in a string is a good tool to get the top level.
With all this theoretical knowledge I went out this morning to get started.
I did exactly as I usually do, so now the hedge is exactly as bad as it always was.
One thing is knowing a sea map - another to stear the ship.
Tuesday, June 24th 2014:
Grandfather and grandmother are proud again. They like to be proud.
Eldest granddaughter, Katrin today finished her exams (baccalaureate) and recieved her "student cap" for a good exam. A very old symbol for having passed this important exam.
Grandpa was pretty nervous up to this final exam all of which turned out not to be unnecessary. Everything went well.
Now the novice student can embark on countless parties, drive through the town, translocation, etc.
And grandpa will sit quietly and relax because now is the exam period is over for the 3 grandchildren. I hope to be ready for next year's ditto. It takes a lot when 3 grandchildren are taking their exams at the same time.
But what a glorious day it has been. Brunch for all 'participants' immediately after.
Skriv overskrift her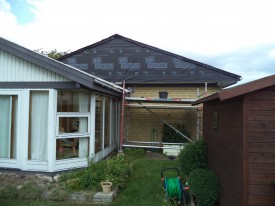 Craftsmen arrived this morning. A carpentry firm has undertaken to replace our south gable paid by our friendly insurance company that without asking any questions accepted that the gable was rotten and had to be replaced.
It's rare that we have anything done at our house that I do not do perhaps with the help of friendly family.
How nice it is to sit in the garden watching a skilled professional handling his tools and noticing progress being done without having to sweat for it.
Look at the 4 photos and see the day's developments. Tol be continued tomorrow.
Sunday, June 22nd 2014:
This morning Matron and I visited eldest grandchild in her new apartment in the most central Aarhus. She moved in a week ago.
It was great to see her joy in everything, a lovely 72 sqm. large 1st floor apartment. It naturally has everything and has 3 rooms + bathroom and kitchen.
In my mind I could not help but comparing with our first apartment, which was a basement room of 12 sqm. with a very small kitchen with only cold water and a mini-toilet without a shower.
Fortunately, all conditions have improved since 1962, and we very pleased with her glorious flat.
But best of all is that she is always happy to see us.
Saturday, June 21st 2014:
Shame on the grandfather who is not proud when a grandchild graduates from school.
Today it was Kristian who was awarded his diploma after a good exam.
My heart beat went up when he received the paper and gave his teacher a big hug.
Now a lond and well deserved summer vacation lies in front of him, with summer jobs, though.
Yes, grandpa is happy.
(Sorry about the blurry photo).
Friday, June 20th 2014:
This is local history from Silkeborg that makes memories from around 1950-55 come back. I found the picture on FB.
The elegant gentleman named Sausage-Karl had this hot dog stand near the harbour in the town.
He was well known and well liked - and a little bit ridiculed because he was not good at mental arithmetic. So caused problems when someone ordered more than one of anything.
He therefore had a note in which all options were listed.
1 sausage = 50 øre. 2 sausages = 1 krone.
1 sausage with one roll: 60 øre. 2 sausages with two rolls 1 krone 20 etc
1 hot dog: 1.50 krone. 2 hot dogs: 3 kroners etc.
We children had a small income from the sausage stand. Often - on the way home from school - I climbed under the stand which stood on a small scaffold on the slope behind. Here were often coins that customers had dropped under the stand, and with little trouble I could haul the coins out. It was a good day if I found 10 øre.
And as you may know I never became a millionaire.
Thursday, June 19th 2014:
I'm disappointed, disappointed with the opening of my potato harvest.
I dug up two plants today, and the pitiful result was 4 small potatoes and 8 even smaller ones.
I invested in proper potatoes and let them have a beneficial starft in an egg carton in our bedroom, as prescribed in all scholarly articles on potato cultivation.
What a start.
Now I just hope that all the misery is due to me being a little early so it will last at least 2-3 weeks till the next excavation.
I dread the final result. We potato farmers easily meet disappointments.
Wednesday, June 18th 2o14: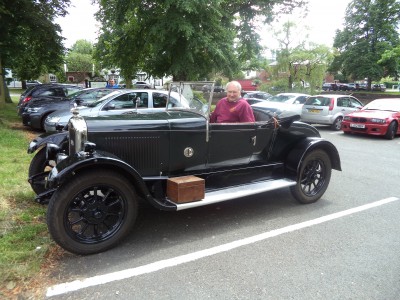 I had a great experience during our visit to England last week.
In the small town of Godstone, I met this gentleman, in his model 1927 Singer, a well-known car brand in the UK since 1905. The factory also used to make ​​bicycles and motorcycles.
The owner of the car was definitely not sorry to tell about it all the others he has at home. This one was obviously well maintained to perfection.
All the nice gentleman's cars are vintage cars. He has restored most of them himself but not this one.
Tuesday, June 17th 2014: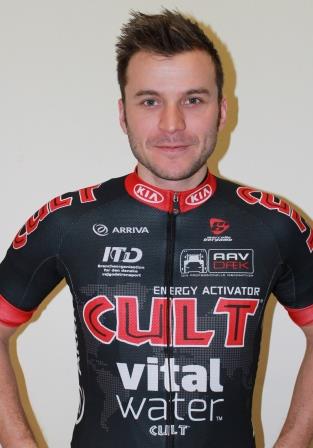 I am a proud bike rider.
On today's ride, a bit more than 82 kilometers, I was overtaken by 3 clearly professional riders. It happened very deep in the countryside, right at the middle of nowhere.
Suddenly one of them shouted, "Hey, Gunnar." Surprised I looked up and immediately saw it was Martin Mortensen, pro rider at 'Team Cult'. I know Martin well from shoots and have seen him and talked with him at several races. He is an exceptionally pleasant guy.
I picked up his pace and could follow him over a few kilometers by 40-45 kilometers per hour while we chatted about cycling and family. He had to make an effort to follow me!
Well, did he?. After a few kilometers, when my heart rate increased a good deal, he left me to join his two companions.
But I am proud to have followed a real pro over a distance that for me is impressive.
July 12th, 13th, 14th, 15th and 16th 2014: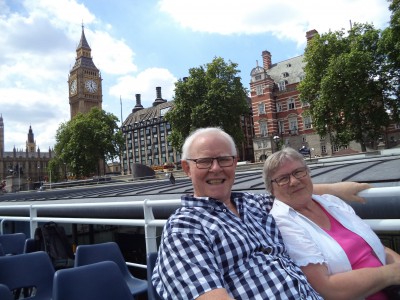 Only the brightest have observed that I have not updated my diary since Wednesday 11th.
It has certainly not happened earlier that no less than 5 days are without experiences.
But let me tell you that there certainly were experiences.
Matron and I have been in England to visit old friends. We enjoyed that.
We've both been to London countless times. But never before have we tried a 3-hour cruise down the Thames and back, starting right at the Parliament and Big Ben. Now we have. The weather was outstanding.
But it's the first time ever, I have been in England visiting pubs without buying just a single beer.
But once has got to be the first time. Still, I enjoyed the trip.
Wednesday, June 11th 2014
Our prince consort, Henrik, is 80 years old today. And he is obviously not pleased. He has not failed to tell how badly he has been treated by the people of Denmark.
To one newspaper has said that he feels humiliated.
"You did not give me a chance," he said to another when he turned 60
It is a pity we all have disappointed the good prince.
I would have been happy to get the chance he got.
Then Matron would have been the queen.
She would undoubtedly have done great. Anyway she is my queen.
Tuesday, June 10th 2014:
I had a bad experience this morning.
I woke up at. 6.30 - and could not get back to sleep.
It was an unusual experience that made me quite bewildered. Again and again I looked at the clock. The digits moved only slowly, very slowly, from 6.30 and up.
I pure confusion I started playing Word Feud even if I could barely see the letters. Neither could I think clearly.
I threw the iPhone from me and tried again to fall asleep. But still no luck.
Then I saw only one option: Get up.
I did, but I find it tough that it should come to that. May it never happen again.
Monday, June 9th 2014:
A well-known young man is 80 today. And he has not aged one day since we saw him the first time in an animated film in 1934, Donald Duck.
In Denmark, he wasn't known till March 1st, 1949 when the first Donald Duck magazine was published.
In Sweden, it was released the year before. They had trees and paper enough.
I remember the very first Donald Duck magazine in Denmark. My grandmother bought it for me. I read it with great pleasure. Unfortunately, I did not keep it. It would have been valuable today.
One of my many uncles, Svend, read it and from that day he became a keen Donald Duck fan. I still remember how he with lots of laughter quoted from it. In particular, he could reproduce the many sounds that in writing could be "WRRAAUUUUGH.
Although Donald Duck has always been read by many adults, I am not one of them, but I have often carried out the difficult art of reading it aloud for our own children. That is difficult. You have to change your pitch all the time.
Many happy returns.
Sunday, June 8th 2014:
I've had a good weekend on Fuenen with 3 bike enthusiasts and their families. One of the families was daughter Annette and her husband Kent.
The 3 crazy bikers had signed up for the Tour "Melfar 24", extending over 24 hours. "Ride as far as you can.". In total, around 550 riders took part.
Kent managed to ride not less than 515 kilometers. The last couple of hours in heavy rain. The 2 other riders from our small group reached approximately the same result.
There must be motivation to go without sleep for 24 hours and spend it on a bike in the hilly northern Funen. The will must be there.
I am deeply impressed by their stamina.
My job was to serve Kent together with Annette who did the most, though. We shared the morning, afternoon and evening. I took the early night hours as Kent's "waiter" while Annette took the late hours.
Image 1: Kent finishes after 515 kilometers. He looks good.
Image 2: Group after the race.
I get so happy when I am involved in events like this.
Friday, June 6th 2014:

Once again

it's a day

you can not just

let

stand idly

uncommented

.




Tuesday, June 6, 1944

the Allies

invaded

the beaches of Normandy

and created the

basis

for

World War 2

to end

11 months later

.




All of us who

live today

owe

the soldiers who

died

,

were injured

, or

survived

this day

gratitude for

their

heroic efforts

.




I wonder what

the world would look

like today if

no one had

done anything

.




We

should, therefore,

on this

70th

anniversary of

the invasion

of Normandy respectfully

think of

the many

sacrifices that

were brought

.



Thursday, June 5th 2014:
It will please you to know that we now in our little home can watch TV uninterrupted by picture- and sound dropouts. They have troubled us for nearly 6 months.
Now everything works fine.
I have very little reason to blame our TV supplier that it took so long. They have spared nothing in thoroughness and willingness. It was just a whimsical errorand a bit special. Do not ask me what exactly it was.
One of the TV company's efforts was to dig up part of our front yard. A new cable was put down, and everything was nicely covered and sown with grass. We needed that.
Now I rejoice. New lawn and clear TV. The Tour de France is up in a month.
Wednesday, June 4th 2014:
Today again I had to ask myself the following question, "
What is it that makes you completely voluntarily ride the worst hill around here
"? (See photo).
In response to my question to myself, I shall answer as Sir Edmond Hillary did when he as the first person who climbed the Mount Everest, said when asked why he did it, "Because it is there."
The hill that I climbed is 3½ kilometers of pain in my then already sore legs. My goodness it hurt, not least at the part with an ascent of 11-13%.
But I made it. I set off to test if my form is as good as I think it is. It is. I rode a total of 61 kilometers.
Will I will ride up that hill again? Who knows?
Tuesday, June 3rd 2014: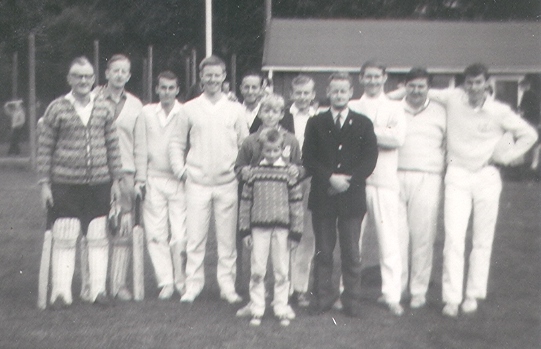 I

am

in

my nostalgic

mood

today

.




Therefore, I would

like to

tell you about

a very special

cricket team

from

Silkeborg years ago.




Take a good look

at this

admittedly

slightly

blurred

image, a

group of young

and old

cricketers

who all have

in common that

their family name is

'Rasmussen'.




E

very year then
(1970-1980)

, at the

end of the season,

a match was played,

the family team

against

the rest

of the club.

It was always

an entertaining game

without much

seriousness

- except

that a

win gave the right to

brag

for a year.




Let me give you the names

:




From the left

: Aage

(my father

)

,

Svend

(uncle

)

,

Joern

(

cousin)

, myself,

Henry

(uncle

)

,

Henrik

and

Leif

(

cousins

​​)

,

Preben

(cousin

)

,

Boerge

(uncle

)

,

Kjeld

(

brother)

,

Niels

Joergen

(cousin

)

and Poul

(cousin

)

.




Lovely

people

all

of them

-

and good

cricketers

.


Monday, June 2nd 2014:

Football World Cup

will start

soon.

Not that it

will keep

me awake

, but I

know that a lot of people

are looking forward to

watching it on TV

,

and I

will

no doubt

see

some

games

.




It is going to take place in

Brazil

regretted by

many

because of high

crime and

poor social conditions

.


I

n 2020

the World Cup

will be

in

Qatar

.

And here are

also

problems but

of a different kind

.




The country's

leadership

has decided

that

shorts and T

-shirts are

banned

, at least

for spectators.

It will be

about 50

degrees celcius.




"

When you are in

Qatar

, you are

one of us.

Help us

preserve

our culture and values

​​,

and

dress suitably

restrained

in public places

,"

the authorities say.




Now

only remains

that

also players

must play

in long pants

and

long sleeved shirts

.
My goodness.


Sunday, Jine 1st 2014:
Once again, I had to attend an exhibition of poverty in the otherwise rich Denmark.
One must recognize that there are people in our country who can not afford buying clothes.
I noticed it on my bike at the beach by Risskov.
Obviously all the poor people, especially young ladies were there in the tiniest of clothes that you can imagine. In particular, there was a clear lack of brassieres. And the panties could hardly be seen.
Such a poverty should be tackled. Local authorities should intervene. There is a need for for money support for clothes for these poor people.
Through the coming summer I shall continuosly check if there is an improvement.
Saturday, May 31st 2014:
I have 3 grandchildren who are currently taking their exams, respectively A-level and primary school level. I have known for many years that it would come, so I have had time to get used to the idea. Yet my nerves are upset. I have had to ask all 3 of them not to tell what days they are at their respective exams. For if so my night's sleep the day before will be "stay awake" and shaking voice and hands.
I have told that after each exam is over they must call me and tell the result. Then I'm ready to praise - and possibly comfort.
This id how is it to be a little cowardly.
Friday, May 30th 2014:
For once, a little football.
The day brought 2 good pieces of news.
1. AGF gets new coach, former FCN and youth national coach, Morten Wieghorst. If he cannot bring the club success, no one can. He is the right choice.
2. My very old club Silkeborg has advanced into the super league in a funny way. The team lost not long ago a game with 1-0. Now it turns out that the opposing team used an ineligible player and were set to lose the match 3-0. Congratulations Silkeborg. The team would no doubt safely have promoted without this desktop decision.
So maybe I should start considering going to football again after 4 years without.
But it won't take a lot to make me stop again.
Thursday, May 29th 2014:
I've had a bad day with my bike computer.
In principle, I have 3 options, Endomondo, Strava and the good old odometer.
All 3 failed me today at some time so I at my return I had to do a larger calculation to find out just how far I had cycled.
It turned out to be 111 kilometers.
So far so good. But it should be added that one of my options, Strava somehow was set to measure a run. That would have been impressing, 102.4 kilometers.
But never mind. I had a wonderful experience with my 111 kilometers around in Djurslands "lovely" hills. Mountains I call them.
Wednesday, May 28th 2014:
This morning my car was at the car hospital for acute treatment in Hornslet.
The reason for the hospitalization being - as previously reported - that a clogged artery needed cleaning.
The patient was received by the head consultant who with comforting words explained that everything would be all right. He claimed to know exactly what treatment should be initiated.
Slightly worried, I left the hospital, as I know from experience that no health insurance will cover the costs.
At 2 pm. the patient was discharged, and I collected my now healed, four-wheeled friend, who seemed to feel comfortable. The reunion was moving.
The subsequent drive with another patient, eldest son who had dislocated his right foot and was going to his doctor revealed that the four wheeler was quite well and spun like a cat.
Now I am nervously awaiting the bill - for the car that is.
Tuesday, May 27th 2014:
I was up early today, before 7 o'clock. I took Matron to work which always makes her happy.
It also made me happy that she forgot to leave a work sheet for me.
Consequently I have spent some time in front of my computer and in my good sofa.
The latter location is a bit risky. More than once my head nodded either forwards or backwards. Sometimes so hard that it felt like a bad snap in my and neck muscles. It really hurt. It is dangerous. My health is at risk.
Therefore, it will be a necessity that I from now get up at a more human time. Anything else would be living too dangerously.
Monday, May 26th 2014:

On my

work sheet

for today it r

ead,

"

Vacuum clean the whole house

, do beds

and

empty the

washing machine

."


For a man

in

my form

that was

easy

.
So

I

added a

couple more

.




1

Sowing

radishes




2

Digging out

along the

conservatory

, for a

new socket

to

be

fixed

. See photo.




This latter task

was

by far the hardest

.

It

was

a very hot job

right

in the

sun.




That's why

I prefer

radishes

.





Sunday, May, 25th 2014:
I have to regret and apologize for the late update.
The reason being that in the afternoon I rode 101 km. Immediately upon returning home, it was a quick shower and then off to a lovely evening at a restaurant with daughter, son-in-law and 2 grandchildren
Wonderful company and good food.
Have just returned home after this lovely experience and good food and the very nice and long bike ride, the year's longest.
It's been a good day. I love good days.
Saturday, May 24th 2014: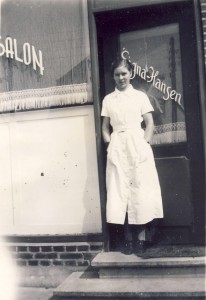 I would like to walk a bit more down Memory Lane today.
This is a photo of my mother outside her hairdresser's saloon which she sold when she expected me.
The saloon was in the northern part of Silkeborg just by one of the many lakes.
The picture is taken 1938 or 1939.
What a lovely Mummy I had.
Friday, May 23rd 2014:
In my life
I have had three magnificent uncles, now sadly all dead, Svend, Borge and Henry.
Common to them all was that they, like my father, all played cricket. I have even played with all of them.
But they also resembled each other by having great sense of humor and were all able to come up with good stories and a quick remark at the right time.
I could tell of many small incidents on all of them but today it's Uncle Henry, who is in focus.
One day he rode on his bike down Soendergade in Silkeborg. His pedal hit the curb, and he tumbled right in front of two elderly ladies, who laughed loudly when they saw him rolling down the sidewalk.
A little upset Henry stood up and said to them, "What the hell are you laughing at? That's how I always get off my bike." The two ladies laughed even more.
Thursday, May 22nd 2014:
It is unfair.
On the first shorts-day this year I have to realize that at least 2 pairs of my shorts have shrunk since last summer. I wonder what the heck is going on inside that wardrobe during autumn, winter and spring. There is something bewitched about it. Next autumn I will let the wardrobe be monitored by video. Then I am sure to reveal the culprit which costs me a lot of money for new shorts every summer. And I have even lost almost 7 kilograms.
Wednesday, May 21st 2014:
It will annoy my enemies and joy my friends that today I have found some very different prices on cleaning and possible replacement of particle particle filter in our car.
The cleaning which yesterday cost 2,500 kroners, now costs only 800 kroners, and the possible replacement that yesterday was 17,000 kroners will now cost around 8,000 kroners. Therefore, I can with some justification claim that I in one day have earned nearly 10,000 kroners, and that is a reasonable amount. in such short time
What have I learned from all this? Well, you must look for the right mechanic and it doesn't matter if the floors in the workshop are not absolutely sterile.
Tuesday, May 20th 2014:

The other day

a series of

lights

on the dashboard of

our car

lit up

.

A visit to

the mechanic's

today

revealed

the reason

being

a gadget

called

"

particle

filter"

is blocked.

I think

it

's a useful

thing that

helps

keeping the environment cleaner

.




It did not sound

such

a

great

expense.

After all,

I have had several filters

changed

earlier

at a cost of

2-500 kroners.

So it

was just OK.

Therefore, I was

about to fall

off my chair

as the

undoubtedly

kind

foreman

stated that

it would cost

17.000 kroners

to have

the filter

changed

.

I could

not get up

and said

that

it was not

a new car

I wanted

.

I would

just like my

particle filter

changed

.




I think

the kind man understood

what I meant, but that

did not change the

price

.




My goodness

.

It must

be

possible to find a

cheaper garage

.

I am looking

very intensely for that.


Saturday May 17th, Sunday 18th and Monday 19th 2014:
3-day's diaries in one go.
Cause: The old man has been on Funen and been cycling all the way around the island with brother Kjeld.
We started in Middelfart and ended the same place.
My childhood rhyme with Funen towns were all visited: Odense, Bogense, Middelfart, Assens, Faaborg, Svendborg, Nyborg and Kerteminde.
Overnight in Faaborg and Kerteminde. A total of about 240 kilometers in very nice company with brother Kjeld.
Am I proud?
YES. Have never been in better shape than right now. No physical problems at all.
Friday, May 16th 2014:
I think that the Municipality of Aarhus owes to tell what the word "SINGLE GARBAGE" really means. It is seen on bins placed at The Beach Road. I have seen several of them.
Are the bins to be used only by singles? Is it a criminal offense if married couples use them? Is it the end station for worn out singles?
There could be many other questions, but the municipality has till now decided to let the questions be unanswered.
I think, like the local newspaper, that it is an effort to try to be smart in the hope that more people will remember to use the bins.
That effect will fail to appear I'm sure.
Saturday, April 26th 2014:
What a nice Saturday. Not a cloud in the sky. Bright sunshine and a pleasant temperature, not too warm.
I enjoy days like that. And when furthermore I am given time to look after my bike, cleaning it, oiling it, checking air pressure and the chain, I cannot be happier.
I had a long ride last Sunday, 73 kilometers and 61 kilometers yesterday, and hopefully another long ride tomorrow and or day after.
It's all part of my good life plus preparation for a 3 stage ride around Fuenen in May.
My God, I'm looking forward to that.
Biking is living.
Sunday, April 27th 2014: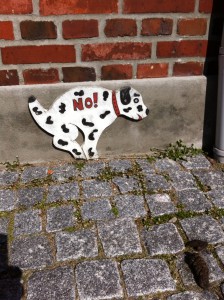 We dog owners are quite rightly blamed when we, along with our dog sneek away from a newly produced dog shit. It remains our duty to bring a plastic bag and dispose of the product.
Not everybody does it, unfortunately. We are time and again reminded to remember picking up, but these reminders are obviously futile.
Many homeowners try to make dog walkers aware that they need to pick up or find another place for dogs toilet.
Last Easter in Thyborøn I became aware of an effort which also clearly failed. Look at the bottom right corner.
Monday, April 28th 2014:
I am flying in an unclouded, high bike sky. Today I set a new record for 2014 of 75.5 kilometers with an average speed of 19.46 km. per hour. Considering that the record was set on a trip to Æbeltoft and return with the long and steep "mountains" my admiration for myself grows quite a bit.
Modestlly I should also add that the wind turned meaning that I had a headwind both out and back.
Records are made to be beaten so you might as well quietly wait for more bravado from me.
Biking is living.
Tuesday, April 29th 2014: (Eldest grandchild is 20 today).
Latest news from the garden.
The old gardener would like to inform yiu that a new tree has found its new home in our garden. It was planted this morning and seems to thrive well even if it looks a bit skinny just now.
The tree is a "pillar apple tree" (wonder what the correct English word is). It will be approx. 1 meter in diameter and about 2 meters high.
To be honest, until yesterday when we got it as a gift from old friends I had no idea that there was a tree of that name. It should be particularly suitable for being planted in a pot. So there it is now.
We have been promised glorious apples in October. I can hardly wait.
Wednesday, April 30th 2014:

Wonder what

has gone wrong

.




Matron and

I

today

went to war

against weeds

in the front yard

.

It

wa

s long overdue

.




And there

we stood

,

lay

, sat, and crawled

,

both

complaining

of

aching

backs and

other

myseries

.




But look

here:

The job was

done

in the

best style

,

and

I

caught myself

thinking that this was

jolly good and

quite cozy.

Perhaps

the reason was that

Matron and I were

in this together

,

I

do not know,

but I

was also pleased to

see the progress

that was made

,

and

we

ended up

with

quite a nice result

in relation

to what it

was before

.




I wonder

what's happened to

me

.

Gardening is

making

me quite happy.

But do

not tell it to anyone.

I used to curse

gardening

.




Should I

consult my doctor

?


Thursday, May 1st 2014:
Most parking lots are boring. Often I shall just sit looking into a wall or a bush. For inscrutable reasons Matron does not want me inside the stores. I have to wait outside.
Today was better. I was parked in Bilka's cafeteria. The parking fee 22 kroners, equivalent of a small glass of Diet Coke.
On my left a young family sat with their six months old and very cute son. I could not help but saying what an unusually lovely boy he was, and that the parents surely would not disagree. They didn't, and mom said it was just nice to hear it from others.
In front of me sat an elderly couple. They were eating an ice cream. At first quietly, but then a disagreement about what the ice had really cost came up. It was never agreed upon.
To the right sat a grandmother with her ​​4 -year-old granddaughter. She had got a big helping of french fries. I'm sure it was in the best meaning but the little one refused to eat them. Grandmother apparently could not understand this and in vain tried to persuade the girl to eat. But no.
All that I had not experienced hadI sat at the parking lot outside.
Friday, May 2nd 2014:

Early up, quick breakfast, quick check of iPhone - and then out in the garden. There's always something I can do. And I like it.
I weeded a bit, I dug a bit, I cultivated a bit but not until having looked at my potatoe field. I am rather anxious about seeing the first green, little dots in the soil. Nothing yet, though.
I'll go and have another look later in the afternoon.
I've stopped gardening now since I am going for a bike ride with my brother this afternoon, and I shouldn't tire myself out. I shall expect 50-80 kilometers. Hopefully the latter.
What a nice day.


Saturday, May 3rd 2014:
I refer to my diary of 25th of April this year in which I mentioned Matron's impulse purchases. Back then it was a "gutter-cleaning- spray-machine". It was OK and useful. I praised the purchase.
I'm a little more skeptical of her shopping today at a market in Hornslet.
The good lady bought a small gadget, which according to the surely reliable salesman is a glass cutter. It should be able to cut through even the thickest glass, even wall tiles.
And there is hardly a day when we do not need cutting glass and tiles.
It can also sharpen knives, it is claimed - only not steel knives, and we have nothing else.
So on a scale from 1-10 get this "thingy" does not score more than 1. Ans that may be 1 too much.
Sunday, May 4th 2014: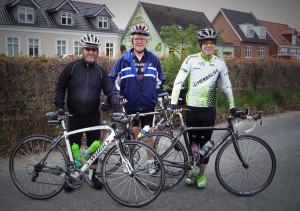 Luckily I have many days that make me happy.
But today certainly is among the very best. Along with son-in-law Kent and grandson Kristian I rode from Silkeborg to our humble home in Studstrup.
Photo is from the start in Silkeborg.
I enjoyed every meter of the ride in good company. And even though I rode faster than usual (20.62 kilometers per hour in average on a distance of almost 59 km.), there was still time to talk.
Arriving in Studstrup - after a stop at Kent's parents - grandmother Else, daughter Annette and eldest grandchild Katrine were waiting with a nice lunch making the day an even better day, the kind that I love more and more.
Give me my family and give me that we can do something together, that makes me enjoying my lifel to the full.
I am blessed with a lovely family.
Monday, May 5th 2014:





















It

's a

little sad

.

T

he old

North Sea connection

between Esbjerg and

Harwich

will close

from September 29th.

It

hurt

s.




Since

1959

, I have

fairly

regularly

crossed

the North Sea

on it

.

I

must however confess that

the last time was

5-6 years

ago

.




How many times

I have crossed

I don't know,

15-20

times

.




At first it was

the

"

M/S Crown Prince

Frederik" and "M/S Crown

Princess

Ingrid

"

,

the two "

slave ships

" as we

called them,

because conditions

were not

luxurious.




After that it was - among others -

"M/S

England

" and "M/S

Winston Churchill

"

, ending with

"M/S

Sirena

"

.

For each new

boat

you got bet

ter comfort.




The biggest improvement

was almost

when it was made possible to

drive your car

on board.

In the beginning

they had to

be hoisted.

See

picture

from

1959.




From now on

, we

are forced to take

the long distance

route

through Germany, Holland, Belgium, and France

if

we want

to bring the caravan

. Shame.


Tuesday, April 6th 2014:

I have completed

planning

this year's lo

ng-distance

bike ride for 2014, Tour de Fuenen.

It will be

in the middle of

this month with

support car

, nice hotels,

and

all

.




Last year

we rode

on

the old army road from

Viborg

to Padborg

in 5

stages

,

290 kilometers

.

They were ridden

within 2 weeks.




This year will be

tougher

conditions

.

We

shall be riding

around Fuenen

in

3 consecutive

days.

It will be

about 260

hilly

kilometers.

That is

86 kilometers

per

day as an average

.




I have not yet

ridden

86 kilometers in

1

day this

year so

I shall have to

train

more.


But I will

make the ride

even if

the going gets tough

and it does.

I

MUST make it.
It's a question of honour.


Wednesday, May 7th 2014:
I wanted to write something really spirited today. I have a great desire to spread my best and deepest thoughts around the world so that everyone could enjoy them and afterwards be thinking deep and good thoughts.
But that will not be the case. I am so tired that it can only be a single sentence, "I shall soon go to bed."
So goodnight all. Sleep well. See you again tomorrow.
Thursday, May 8th 2014:

My bike
knowledgeable
and very nice
son in law
taught me
a phrase
that I should
say
when
today I
visited my
bicycle dealer
to buy
a new tire
.
I
should say,
"
Schwalbe
Durano
Plus
700 x
25".
To me
it sounded like
a code
in the
best
James Bond
style
so I
was anxiously awaiting
the young man's
reaction when I
leaned
over the counter
and
whispered
it to him.
He did not
look
astonished at all
.
To
him, it was
clearly plain terms
, and he
announced
without hesitation
that
it was not
in stock.
Had I
just
said
"23"
,
I would have
got
it immediately.
I tried
to read
this code
but without success.
It was obviously
no
code
.
It
turned out that
"
25
" is not a
standard tire.
"23" is
.
Now I must
wait
.


Friday, May 9th 2014:
Today's bike ride took me past a church, Borum Church west of Aarhus. I often make stops at churches to see them inside and out. And today there was a particular reason since I knew a priest who was employed by that particular church 1942-46. His name Orla Moeller and he was my aunt's brother in law. I knew him and his family quite well. I visited them with my parents. It's a bit peculiar that Orla Moeller's eldest son, Helge, was born exactly same day as I.
Orla Moeller was very active in the resistance movement during the occupation years 1940-45.
Orla Møller was elected to the Danish parliament in 1964 and had a few ministerial posts 1966-1977. He was church-, justice-, and defense minister.
Inside the church I met an elderly lady verger. When I asked her if she knew OM she sent me a big smile and told that the first child OM baptized in this church was her. She remembered him only slightly but had followed his career. She could also tell that he was a very popular priest in the parish.
Biking gives you a lot of good experiences.
Saturday, May 10th 2014: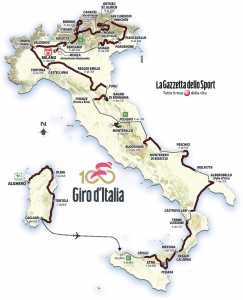 Here we go again. Right now I'm sitting here watching the very first kilometers of this year's bike race, the Giro d'Italia which has just started in Belfast. It's a bit far from Italy but on Monday they are going to start in the city of Bari in Italy.
I hear that the riders are nervous before the start today. I would be if I was facing around 3,000 kilometers in 3 weeks. I think that my 275 kmilometers around Fuenen in 3 days next week is quite enough. In the Giro 275 kilometers is not unusual for a single day's stage. My goodness.
Now I'm curious as to what will be most difficult for me. 1) to maintain the momentum in Italy or 2) on Funen. Both require a lot of strength. Especially having to watch TV 3-4 hours a day.
Sunday, May 11th 2014:
Who created this beautiful bed in the middle of the lawn in our back garden?
You'll never guess it.
I did and no one else.
Actually I should have biked Hammel-Thorsø-Silkeborg with son Peter (45 kilometers). But "rain stopped play".
Then it was decided that I should mow the lawn. That was also hindered by the weather.
Left was to freshen up aforementioned bed. It looked most of all like a weed field.
But now - caused by bad weather - it's become very nice (if I dare say so myself).
But after all I would rather have biked.
Monday, May 12th 2014:


It's

a strange feeling

.




Yesterday

my

old

football team

,

AGF were relegated

to

first

division after

a pitiful

effort

throughout the season.




A few years ago

, such a

fact

would have sent me

deep into

a mental

hole

,

and I would have

been sick with

annoyance

.




Not

so

now.

I

hardly

follow the league

.

I'm never at

the ground.

Do not watch

the team

on TV.

Do not read

about it in

newspapers.

In short

, I have

reached a stage

of

indifference to

the club.




Had

someone

4-5 years ago

asked me if

this could happen

, I would

angrily

have rejected

such a

ridiculous

claim.

But alas

.

I really do not care

.

All in all,

football is not

at all a passion for me any more

.

Perhaps unbelievable,

but true.

Even so the club

has

a nice and colourful

logo.




Let me

have some

bicycle races - and cricket.


Tuesday, May 13th 2014:
When biking I have plenty of time to think. And I think good thoughts because I'm happy.
Today my thoughts were on whether in my life
I would have done
something differently.
The answer is obviously 'yes'. There's something I did not have done. I am no different from everyone else.
Today I came today to think of one thing that I should have done many years ago but which was realized only 10 years ago. I started cycling.
Had I started at least when I was 30-40 years old I would have had another 25 years' enjoyment.
But this fact only makes me appreciate the rides I do now all the more and the rides I'll hopefully have through the following many years.
I'll carry on till I'm lifted off my bike.
Wednesday, May 14th 2014:

An
almost
existential question
:
"
Are you
getting old
when you
fall
asleep
on toilet
?
"
With some

astonishment

I have

realized

that

I do.

Not

every time, but

occasionally

,

as recently as

this morning.




I must

refer to

general knowledge

about sleep

:

"

Sleep is

a physiological

necessity

for all

living beings.

Sleep

is vital for

body

reconstruction,

and lack of sleep

can affect both

immune

and cognitive

functions such as

memory and learning

."


Therefore

I quite happily have

a s

mall

nap at toilet.


Thursday, May 15th 2014:

Yes,

yes

.

I

know.

I write

too much

about cycling

and bikerides.




The thing is,

I can not

help it.

I'm

always thinking about

new

biking trails

,

good places to

stop

and look

,

eat a little

EPO

and drink

a

little/

much.




Before sleeping

I p

lan

the next day's

route

,

now and then

even

in detail.




When

I get home,

I ride

the tour once

again

in my mind and

look at

any pictures

.




I am pleased

if

like today

after a tough ride

with

many hills

I

still have some strength left in my legs

.




There is so much

to be pleased about

- especially having a rest

at

the village pond

in

Grundfør

.

More

idyllic

Danish

it

can

hardly be

.




I

can not believe that

not everyone

likes

cycling.


Sunday, November 9th 2014:
I've done three things today, relaxed, relaxed, and relaxed. In between I relaxed a little not to exhaust myself. It all went fine. Then I had a small nap on the couch.
Oh dear, I nearly forgot that I helped Matron cleaning 6 pheasants and woodcock. They will all be consumed at my upcoming birthday party. After that I relaxed and had a small lunch with Matron and sweet granddaughter Katrine who has stayed with us since Friday.
There was time for a short stroll in the beautiful weather, though. 2 tired dogs came along.
After this nothing physical will be done. Absolutely nothing. One has to be rested for the next hunt on Saturday.