ENGLISH DIARY, Part 18, starting Monday 2nd November 2015.
Monday, March 7th 2016: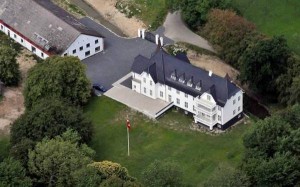 Today I saw an offer that I cannot say no to - in a newspaper
Groengroeft Castle in South Jutland is for sale for 15 million kroner. It was completely renovated in 2009.
The right price is actually 22.5 milion but nobody at all has shown any interest. Even after the price was lowered by 7.5 million, so the price is now a trifle of what it should be and it could probably be lower yet. Could be a bargain.
I have a suggestion:
I shall buy the castle. You will organize a nationwide fundraising for my project. Whoever collects the most money will get a week's fully paid stay at the castle towards helping keep the park and vacuum cleaning inside. Both are activities I like being rid of.
So just get started. I shall gladly send you the account number to use.
Thanks in advance.
Sunday, March 6th 2016:
I just want to tell that Matron bakes a very good black bread, a loaf which is widely praised among family and friends. I am not the one to contradict for it is really good.
At the same time I am a little proud og being involved in the process. It is I who stir.
It's hard work. We do not have a machine that is nearly strong enough to do the job.
So with raw muscle power I do it. It hurts in my shoulder. It takes some time, but bravely I soldier on because I know what I shall have for my lunch tomorrow. I'm looking forward.
I can only recommend the bread.
Saturday, March 5th 2016:
What is better? What's nicer?
Outside the rain is pouring down and a chilly wind is blowing. It's cold and very unpleasant. I know. I've been out in it. It was no joke. Hated it
Here comes the better and more pleasant.
On TV, I am watching a great cycling race from Italy, with many of the big names. I follow it while I am eating a biscuit and drinking some tea or Pepsi Diet. I sink deep down in the sofa and feel warm and dry. And it's Saturday. What more could one ask for? I do not know. I am very well.
Friday, March 4th 2016: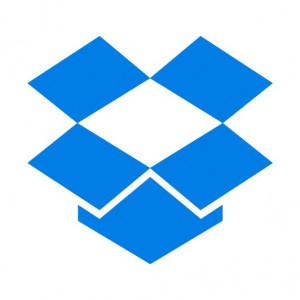 I then will not deny that I have heard the word "Dropbox" before. But it has never interested me to find out what it is.
Today I had to.
From Silkeborg Archive, I was sent 15-20 images for my book on precisely Dropbox. And there I sat with my lack of talent and could not do much.
Man, I was fed up with it.
I had to experiment. I searched here, I searched there , I clicked here and I clicked there. No luck. I could not download the damn thing.
Two hours later I finally succeeded. I dare hardly mention that it was even more difficult to copy the images into my book. But now I told it anyway. After 4½ hours, I was happy. It's good to be happy.
Thursday, February 3rd 2016:
I heard my dad's voice today. Well, well. Do not worry. There is neither any occult nor any other sorceries about it. Not at all.
I went for a walk and suddenly remembered my father saying, "Lift your feet".
"The voice" was recognizable and I remember it clearly from when, as a child, I walked with him, and I happened to drag my feet on the ground.
And that's what I did today. Suddenly I noticed it. I have my own slightly stooping walking style which easily causes my feet to drag. I have not thought about it until today.
When I tried - and successfully so - to lift my feet as I walked along I most definitely could increase speed and my back hurt less.
Thanks Dad.
Wednesday, March 2nd 2016:
Today, exactly 59 years ago - a Saturday - I got a girlfriend.
I knew her a bit in advance. But now I know her a lot better. Her name is Else.
It all started at a dance in Silkeborg Sports Club. It was Saturday, March 2nd, 1957.
I was and am very shy but I nevertheless walked her home when she left the party. I believe she asked me. Otherwise I would not have done it. It was great. I thought it would never happen to me that I should take a girl home. And I got a kiss for it - or was it two?
Since we have been together. She's a good girl.
Tuesday, March 1st 2016:
Somehow I managed to catch a cold. It is not of recent date. In fact, it has ravaged my muscular body for just over a week. It is not satisfactory but worst of all is the incurable. Any doctor would tell you that.
Therefore, I am considering the following: A hot bath, really hot, boiling hot. Duration: fifteen minutes.
Next - wearing only a pair of thin nickers - I shall stand in the biting frost on our fine terrace for half an hour.
No doubt I shall I get pneumonia. That can be cured. A cold can't.
How difficult can it be?
Monday, February 29th 2016:
It's quite stressful that you can not go into your bank and deposit money, you know real money, round and square. It is only in a very few banks you can do it. I laugh at the paradox of a "cashless bank".
The actual cause of my frustration: Matron has for the last year made a point of checking all receipts from all supermarkets. Any overpayment she has obviously been paid back and has put all of the money 743 kroners, in a little box. It was that money we wanted to put in the bank. Therefore, we had to drive to Aarhus. A long way.
Well, never mind. Then I could buy can of ointment for my somewhat battered buttocks after yesterday's bike ride. You can only buy that in Aarhus as well.
On our way home we visited 3 supermarkets, a second hand shop and a furniture shop.
Sunday, February 28th 2016: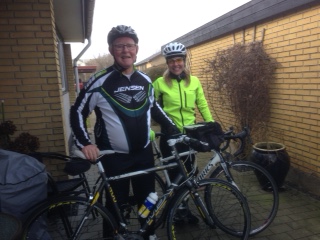 Finally it came. The first ride on my bike this year. It was made extra nice by the fact that it was with daughter Annette who called and asked if we shouldn't ride together. And we certainly should.
It's always good to ride with her, also because she is kind to wait for me and she is happy to give a push up a hill. But first of all I like the idea that I am riding with my sweet daughter.
We started out in nice, almost warm, sunny weather. But then came the fog and it became bitterly cold. It felt like a drop in temperature of 10-12 degrees. We froze deep down into our bones when we got home. However - a nice ride that I would very much like to have repeated.
Saturday, February 27th 2016: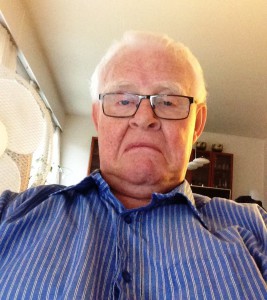 It has started. The first major bike race in Europe this year was today - in Belgium - and I have followed it closely on TV, apart from a single "drop out" or two, when my chin fell down on my chest.
It's great to see the big names again and my friend Martin Mortensen also was there albeit he was not seen a lot. Only one little glimpse. But the season has started.
Meanwhile, my daughter and son-in-law were out and rode a good distance on their racers.
And also my brother was out.
And here I sit not having done even 1 meter - have not been on my bike since Nov. 7th, the longest pause I've ever had. It is not good.
One can say it did not make me smile.
Friday, February 26th 2016: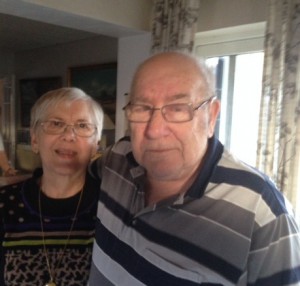 We were in Silkeborg today. Partly to visit the cemetery where everything breathed peace and tranquility. No one was up.
But primarily we were there to see family, sister in law Grethe and brother in law Finn.
They are very nice people of whom a lot of good can be told.
This time I will concentrate on their common interest Silkeborg Sportsclub (SIF). They have both been involved in many, many years.
I think that Finn is the one person in Denmark with the longest career as a manager, department chairman, board member, coach and much more in a sports club. Just about 70 years and he is still deeply involved in the club. It must be Denmark record, and of course, he is an honorary member.
I bow in deep respect for everything he has done. Next year the club will be 100 years and also in that Finn is deeply engaged. He is fantastic.
Thursday, February 25th 2016:
Well well. Once again one was on national TV, it was last night at DR1, prime time. Last time was in 1998. So viewers must have got used to me.
Matron and I were seen in a cut of yesterday's broadcast "Landlords" in conversation with Anne Sophie Gamborg owner of Moellerup Estate together with her husband Stig. We were there to see and hear a Christmas concert. It was some time in November. A very good concert.
I have known Anne Sophie since she was 12 years old from the many hunts I have been on at the estate. She is a very active woman.
Watch carefully next summer, on July 15th. Then oldest granddaughter Katrine and I will attend the "World Ballet", also at Moellerup - also with TV coverage. I ought to have a fee soon.
.
Wednesday, February 24th 2016:
At a distance I have followed the later days' excitement about which restaurants in Denmark would be awarded Michelin stars. It has gone quite well, the press tells. Many stars were awarded today. One restaurant has even got three of them. I'm sure it's to the delight in that particular restaurant. Respect for it.
If I can feel happy about it, is another matter.
I'm afraid that I care more for some "solid" meals. I am not able to rejoice in what is called "Haute Cuisine", and in particular I am not satisfied that I am still hungry after the meal. I've tried a few times.
No, may I ask for Matron's cooking. She makes good and tasty food and you are not afraid to ask for an extra helping.
Bon appetite.
Tuesday, February 23rd 2016:
A zero day, a non-day, a stupid day. I have not been on my toes today. In other words, a bad day. And I even walked six kilometers out into the great outdoors. Can it get much worse? Do not think so.
Hello and joy, we live with grief in mind.
Well, never mind. I have high hopes that tomorrow will be a better day. The highlight of today will be that tonight we shall go out and take care of little Frederik. It makes a sad day brighter.
I am looking forward for tomorrow.
Monday, February 22nd 2016:
In case you want a new job I want to draw your attention to a job advertisement from NASA. They want new astronauts. I assume the ad can be seen at the employment office.
However you should not wait too long since 18,300 men and women have already applied. Between 8 and 14 will be hired.
Of course I'm going to send an application myself because I have not found anything about age restrictions.
However, I would make the condition that I will not go in the hunting season and that there must be an exercise bike on board. They are modest conditions. I promise to send postcards when I am hangimg out there.
Sunday, February 21st 2016:
It was a good bargain - and I bought Matron's birthday present at the same time although there are a few months till the big event.
For a long time my good wife has wished another side piece for our sun shade on the caravan. I have pulled the breaks a bit because it is a bit expensive and because it's I who must put it up.
But when the good lady found out that a caravan store in the south west of Aarhus had a sale on such items I had to surrender and go off with her to get hold of a side piece.
We got it for half price and Matron promised that she would put it up.
It's probably naive to believe it. But she was so happy.
Saturday, February 20th 2016:
It was my exercise bike which today was the victim of my physical activities. But they were not many.
I was so bad that I shall not humiliate myself by telling about time and length. It was embaaaaaarising.
Only so much I shall tell. It was with the utmost difficulty I got my pulse over 100. 101 to be exact. There has to be changes if I want to get a decent start to the cycling season. And a poor start will rub off on the rest of the year. It was clearly seen last year which was a great disappointment.
What a lot of miseries.
Instead I shall rejoice over the fact that the length of the day has increased by just about three hours. It is going forward towards brighter times. I need that.
Friday, February 19th 2016: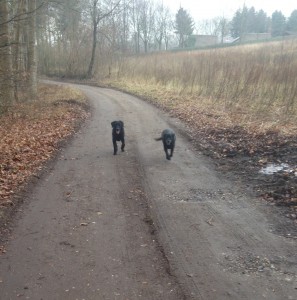 To walk is to hold doomsday upon oneself. There is time to curse and swear over one's own folly to venture out on a walk of more than 4 kilometers as I did today.
If it was not because someone has made me believe that it is healthy and a good way to lose weight I should never have started on the long string of walks I now has achieved. I approximately walk every second day. The walks are from 1½ to 5 km.
Well yes. At least the dogs seem to like it. The are apparently not so bored as I am. On the contrary. And they do not get sore hips.
Thursday, February 18th 2016:
Matron had an appointment at her physiotherapist in Hornslet today. Her back hurts, and it is very painful.
With usual generosity, I offered to drive her. That's just how I am.
We had to be there at 2.30 p.m.
When we were about 200 meters from the clinic the sweet lady got a call. It was the therapist who just wanted to tell that unfortunately it could only be at 5 p.m. Unfortunately she had made a double-booking. And there we sat looking at the clinic. That made me angry and I remembered the last time - it was last week - the physiotherapist had completely forgotten that we should. So we sat idly in the waiting room for half an hour till we found her in the building.
I do not like physiotherapists who forget their appointments.
.
Wednesday, February 17th 2016:

Late in the afternoon

my brother called

and told that

he

was enormously

busy at

work.

He

sounded quite

overwhelmed.

Therefore,

he asked if

I could

translate

an article

from Norwegian to

Danish

for

him

,

about

language learning

,

five

A-4

pages.

Quite

a lot.

Preferably at once

.




I have

reluctantly

realized that

I am becoming

worse and worse

to handle

sudden changes

in my daily

pattern

so I

was concerned

if I could

reach it.

Moreover,

my

Norwegian

is

pretty

rusty

.




But then

I

decided

to

myself that

it can not

be true that

a young

man like me

has

so negatively

.

So I

hastened to

say "Come on

"

.

He

sent

the article

and

immediately I started

.

It took

2½

-3

hours and it

was not nearly as

difficult

as I feared

.




From all that

I learned

that I can

pull myself together

.




It

is good to know

but

never

tell

Matron

.


Tuesday, February 16th 2016: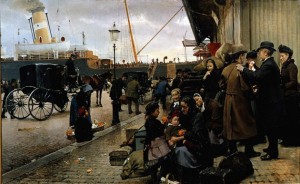 One of my favorite pastimes is going to a museum with grandchildren. Today Cecilie and I went to AROS, the big art gallery, and had some good experiences, in particular two.
Cecilie studies Chinese at school and could therefore tell me much about the Chinese exhibition "A New Dynasty - Created in China". In particular, we enjoyed a video collage by a Chinese artist. I learned a lot from Cecilie when we saw it.
The next good experience was the classic painting from 1890, "Emigrants at Larsens Square". We never go past that painting without stopping to talk about the time then, about reasons for emigration and about the people in the painting. It's moving.
It was a good day, and I walked almost as much as yesterday when I walked five kilometers.
Monday, February 15th 2016: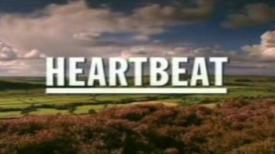 Try to understand my sufferings. Today "Channel TV2 Charlie" completed "Heartbeat".
372 episodes are once again over - and that for the 11th time. I could not escape watching episode 372 and a small "Thank God" came over my lips when it was all over and a quiet joy spread.
Matron usually watches 2 episodes per day, approximately 2 hours. It is bad. Now it was all over.
I rejoiced too early. It was announced that the series will start again tomorrow, with the modification though that from now on only 1 episode per day. Consequence. The next year + 6 days, I shall be watching "Heartbeat" - if I want to be in the living room. And that for the 12th time.
Comfort me.
Sunday, February 14th 2016:
Within a very short time they shall come - all of them, children, in-laws and grandchildren - with one exception who is visiting his girlfriend in Odense. Then there will be talking, playing and maybe a walk to the beach which all of them love. And then something to eat.
Very little makes me more happy than when they are all here. It gives pleasant little bubbles in my stomach and a relaxed feeling in other parts of my body. And there are plenty of them.
Saturday, February 13th 2016:
Our once so beautifully decorated Christmas tree has, since Boxing Day spent its days in the garden.
You feel totally "H. C. Andersen-like," when you think about it and remember his fine fairytale "The Fir Tree", and remember its miserable fate after Christmas Eve
The last line reads: "The boys were playing in the yard, and the smallest had on his breast the golden star the tree had borne on its happiest evening; now it was over, and the tree was over and the story was over, over, over, like all stories will be!"
Quite the same fate, our tree nas not yet suffered. On the contrary, it has been around and see the whole garden. The severe storms gave the tree trip around. Now it is at rest, waiting for its last trip to the recycling center - without any hope of being used again, though.
Friday, February 12th 2016:
The first Christmas lunch is over. Not a moment too soon, if you want to reach all of them before it's too late in December.
We have just returned from the lavish party, I in an lightly irrigated condition, in a good mood but far from that it will give me a hangover tomorrow. And that I appreciate.
Neither have I eaten too much since I avoided any contact with bread. It gave the opportunity of tasting everything - some of it even twice. In particular, the extremely fine plaice, made on-site by an expert from Frederikshavn was good. Yummie yummie.
Thursday, February 11th 2016:
For some time, my sweet wife and I have been looking for another sofa bed for our guest room. I have even been in IKEA. That was bad.
But then Matron got the fine idea that we should pay a visit to a Church furniture recycling shop. And there was exactly what we wanted. A classic sofa bed with comfortable suspensions and many times easier to open and close.
The price? 900 kroner + 100 kroner for having it delivered by three elderly, strong men.
That 100 kroner is the best money I've spent for a long time. Not only the sofa was delivered but also the three of them helped getting the old sofa out and the new one in. This latter task looked insolvable. We're talking about a large and heavy piece of furniture - and narrow doors. The three toiled and toiled - and suddenly it was in place. We had never done it on our own, never.
Such a fine help had not been given by the well known, larger shops. So I gladly recommend the above mentioned furniture recycling shop.
Wednesday, February 10th 2016:
Completely on my own initiative I cleaned up up in my workshop today. I am still not quite sure what came over me but suddenly my steps were directed towards it and as if in a trance I started the quite big job.
I was not thinking about what I had started but as I gradually got the mess removed
it dawned on me. It was big. 1½ hours it took but then the place was immaculous.
Just look at the pictures then and now.
Should this urge come back again some other time I shall sit down in a corner until it goes away.
Tuesday, February 9th 2016:

I

was scolded

by

Matron

this morning

,

she really had words with me -

strong

words

.

And

that only

because I

refused to

get up early

and walk

with the dogs

. I told it to her

in

no uncertain terms

.


That

definitely

did

not suit

the good lady either

.




I then happened to remember

our guests

yesterday

had

told

us

that

now

you

can

be separated

via

the Internet.


J

ust a few

entries and it

was

done.




It reminded

the

good lady about it

and said

that

perhaps she sould be a

little careful

about what she said and how she said it. She might be in for a change in her life.




Half a minute after

she entered

the bedroom with

my

laptop

and asked me to

go ahead

.




I

walked

the dogs

right after.


Monday, February 8th 2016:
Occasionally, I make the right decision. Matron claims it is rare.
But this time I did.
For 10 years, the automatic sensor in our garage has not worked. The sensor was faulty.
I felt that I could easily change it and bought a new one.
For some reason I regretted and asked an electrician friend if he would change it. He would very much like to. And just as well. It was not a simple job, especially because there was so little space to put the many wires in. And one should also know a bit about where to fasten them.
I could not have managed either of the two. But my friend could and now it works fine and we can once again find our way out of our garage - also at night. The light turns on automatically.
It cost a good lunch - and it was well deserved.
Sunday, February 7th 2016:
Well well. I may forget things now and then.
Yesterday I wrote that we were going to have friends in for lunch today. We should not. It is tomorrow which Matron, after having read my diary from yesterday, informed me about with a sort of a reproachful smile and I also sensed a hint that my memory is not quite as good as it should be. She often mentions it but I quickly forget it.
However, I think it is a false claim. My memory is good. For example, I remember all the generals in the Boer War but I admit I have a little trouble remembering what I had for breakfast this morning.
I also remember being at home at the right time for all meals.
So it is not all that bad.
Saturday, February 6th 2016:
I confess. I have done nothing today. Absolutely nothing.
Well, I took Matron to a supermarket Skoedstrup, refueled diesel, and went home again. One can be totally out of breath thinking back on all that activity.
Tomorrow will be different. We are going to have friends for lunch and I know Matron's restless activity in such cases. There will be major tasks for me, such as table setting, vacuuming and especially cooking. I am going to cut the bread. Will be a busy day.
Friday, February 5th 2016: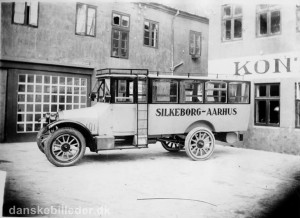 I am a member various facebook groups. A group of ancient Silkeborg. Another group, the purpose of which is to insult each other as mush as possible. A group in which everything you write will be deleted within 24 hours.
But then there's also one I entered without knowing anything about the theme. It's called "Bus Historic FB". I entered it because another FB friend was there. Unlike me, he knows all about the old busses. I know nothing.
But as time passed I realized that it was quite nice to see pictures of the old coaches. Mind you. I have run in some of them. The bus in the picture is too old, though. I have run in it. It is from the 1920s and very local to me.
One tends to be a bit nostalgic.
Thursday, February 4th 2016:
If I'd been subjected to the following experience I would have fainted several times.
A man from Svendborg received an electricity bill from his electricity company "Sydfyns Electrification Company" of no less than 26,202,820.91 kroners. Ouch.
The expenses covered even only a period of four months from October till January.
When the sweat had subsided to the astonished man he put the bill aside. He was rightly confident that it was a mistake from the company. And luckily it was.
His comment was simply, "Oops, my bank account will be overdrawn".
Full of self-blame the manager of the company acknowledged the error. There was nothing else to do. But 6 bottles of good red wine to the unfortunate recipient of the bill would help a little.
Wednesday, February 3rd 2016:
It has been a long and exhausting day. I'll take some time to get over it.
Twelve hours away from home. Of these, six were spent on shopping in our neighboring country, Germania. The rest on transportation back and forth.
The best consolation is that now the store with Pepsi Max is filled up. Likewise the store with various laundry and dishwashing detergents and salami - and several other items.
In any case, I was pleased that most of the day was inside. My goodness it was cold outside.
But please, please. Let it last a really long time until we shall be shopping in Northern Germany once again.
Tuesday, February 2nd 2016: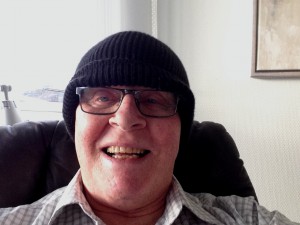 Today we went for lunch with old dog friends. And what a lunch it was The food was absolutely perfect, well cooked and tasty to the highest mark possible. It was just what I want. I enjoyed the food and the company and I even had a couple of snapses. Perhaps it shows on the photo.
There were also gifts. Again, see the picture. I was given a nice warm hat to protect granddad against frost and cold. It is particularly useful at my almost daily walks with the dogs in the cold and windy weather we're having. If only they recognize me.
But in any case I am a handsome chap. Everybody says so.
Monday, February 1st 2016:
Today I was with my sweet wife for her 6 months' check at her cardiac doctor.
It was a pure delight. Everything works as it should. Nothing to worry about. I even heard the doctor saying that she might exert herself if needed. So perhaps many of my duties now can change hands. I am particularly interested in getting rid of vacuuming, collection of dog poo, making beds and emptying the dishwasher.
Well. To be fair. The sweet lady already works hard with all sorts of activities. She is ubiquitous and very committed to her family's welfare. I married well.
I think she did too. Sort of.
Sunday, January 31st 2016:
The last day of January. Nice. Now there's only a month until spring begins. I also noticed that the day length has increased by 1 hour and 38 minutes (Sun up 8:21 and down 16:44). Yes, things are going the right way. And nothing is left to chance. It is the same year after year. Great.
We have booked our summer vacation. Just I do not tell where or when. Should be a surprise. And it's not the same place as last year - I think. I do not remember quite where we were .....
These are all the good signs of spring that I am looking forward to seeing unfold.
And best of all. European Handball Championships end today. It has been two grueling weeks. Now I can concentrate on "Heart Beat" and Danish handball. Everything goes well, right?
Saturday, January 30th 2016:
Another remarkable day. "
For whom
?" I hear you ask.
I'll tell you.
First and foremost for me because I had another good and quiet day together with granddaughter Cecilie and Matron.
Remarkable because the latter two were in BILKA without spending a lot of money.
But also remarkable for Swedish King Karl Gustav who on this day in 1658 walked over over the ice with an enormous army from Funen to Sealand and Lolland.
The've always been mad about ice, those Swedes.
Friday, January 29th 2015:
No matter how old you get you can not help following very closely what your children are doing - even if they are between 45 and 50 years old. Their concerns will easily be your concerns but fortunately it's the same with their joys.
Youngest daughter has just started a new study to obtain a master's degree in communication. It is quite a big thing that requires many resources as it is parallel with her full-time job.
Eldest son has just got a new job that
he is looking very much forward to in a kindergarten in Skanderborg. His present job is a temporary position that will expire soon. He was fond of it but knew it would stop now.
So therefore everything is joy and laughter here in Studstrup and the old man's nerves are at a minimum.
Thursday, January 28th 2016: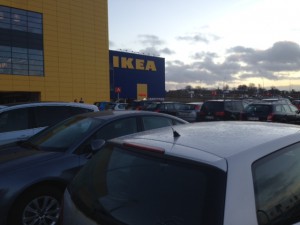 A couple of years ago when IKEA in Aarhus was expanded by more than 100% I swore that I would never ever enter that building. It has always been my horror scenario of a store. The expansion made it even worse, and often when we drove past I reminded my surroundings about the invocation.
But now it didn't go any longer. On the chase for a new sofa bed I had - under enormous pressure from Matron - agreed that we had to go there. However, I set the absolute condition that it was in, up to sofa beds and OUT. Nothing else.
It was a pleasant surprise. It was exactly the way it went. Never before have I done a visit to IKEA in under 20 minutes. It was only a little bad to be there. There's always something to be pleased about.
Wednesday, January 27th 2016: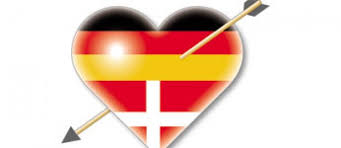 For many years English

has

had

great influence on

our everyday

language.




Just think of

the number

English

words are used

in the computer world

,

"download

", "

online

"

.


Furthermore

"

kitsch

", "

camp"

,

"

ome on

"

,

"get

a

room"

,

"

biker

" and so on

.

There are

thousands.




And also think

of TV.

We

are

anglicised

.

As a former

English teacher

and

Anglophile I don't mind too

much

.

But sometimes

it seems over the limit

when

"UDSALG" is

described as

"SALE

"

.

I could easily do without that

.




The same applies to

a notice

I saw

today.

Obviously a

real estate agent

was so

happy to have

sold

a house

,

that he not only

wrote "

SOLGT

"

across the

notice

as is usually

done.

No it said

"JUST

SOLD

"

.

I'm happy I

know a bit of English

.




However,

a new trend

is on its way

.

Ac

cording to a study

from Copenhagen

University it has become

smart to

use

German words

.

Now we must

say "

Geil

", "

Spitzenklasse

", "

Über

" and "

Radfahrer

"

.
I'm also happy I know a bit of German.


Tuesday, January 26th 2016:
It was cruel reading today.
I read that it is exactly 29 years since Coca-Cola was named the most popular soft drink in the United States and thus pushed Pepsi Cola into second place.
As a keen supporter of Pepsi Diet I do not understand that someone will switch from Pepsi Cola to Coca Cola. It is only simple deserters and renegates who can do that, traitors with a bad taste.
Unfortunately, I have to admit that Coca Cola is still the largest compay with an annual turnover of 186 billion dollars, while Pepsi "only" has a turnover of 147 billions (2014).
But that's not a quality assessment. Thank God.
Monday, January 25th 2016:
I have resumed my walks in fairly inaccessible terrain. Actually I have walked almost every day since New Year.
Still they are not long, today 1.97 km. in 27 minutes.
It is not impressive but worst of all. I'm bored. I will surely never be one who loves walking. But I am sure that our two dogs that always join me love it. And unlike me they have no objection to the fact that the walks getting longer and longer, albeit in a slow progress.
Of course the reason for my walks must be found in the fact that I don't want to bike in a weather like the present. It is both too cold and too dangerous. And I need the exercise.
But who knows? Maybe I can learn to accept walking, although I doubt it.
Sunday, January 24th 2016: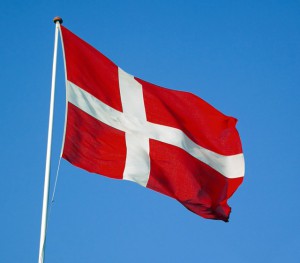 We were at a birthday brunch in Hammel today. Eldest son Peter becomes many years. He is catching up with me. When he was one year old, I was 32 times older than he. Now I'm not even twice as old. He jolly well may overtake me.
We had a very nice family-morning with nice food and a lot of good talk. Nice family. We all enjoyed it, I'm sure.
Congratulations son.
Saturday, January 23rd 2016: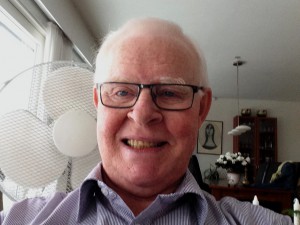 It does not take much to make me happy. Just look at the difference between the two photos.
Matron took scissors and electric trimmer out. I had my hair cut and immediately I was happy.
It's great when it's your wife who cuts your hair. My hairstyle is exactly as she wants it.
Friday, January 22nd 2016: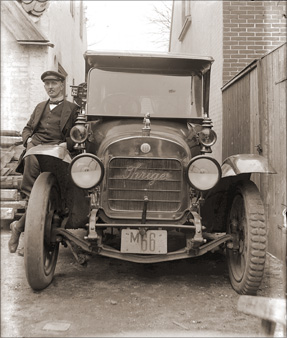 I was lucky today. I was allowed to pick up eldest daughter, Annette, on her job in Risskov and drive her home to Hornslet.
But my luck did not stop here. I was also allowed to drive her to the book shop, to the supermarket and to Matas.
I appreciate luck like that.
And it continued.
Later, I was lucky enough to have to pick up Matron from her job in Aarhus.
We went straight home. My luck couldn't continue.
Long live "Gunnar's Taxi".
Thursday, January 21st 2016:
It has been a quiet day.
I didn't get up till 12:30. Not because I slept. I actually woke up at 9 am but kept postponing getting up.
I watched a little TV, played a little Word Feud, checked a little on facebook, read a little and pondered a lot over life's small and big occurences, mostly the bigger ones.
I wasn't bored, but admittedlu it might have been better to have got up. It is not good for man to be alone.
Wednesday, January 20th 2016:
A good day.
This morning brunch at eldest granddaughter Katrine in Aarhus with grandma Else. Love brunch.
But probably I love more to talk to Katrine. She is knowledgeable, friendly and good to her old granddad.
We have a lot of common interests. Right now it is Ludvig Holberg, a Danish poet from about 1700, although we did not talk about him today. In her studies at university, she all the time gets new impressions, and we often talk about some of them.
What a
day, especially when it continues with watching "Tour Downunder" on TV, bike race from Australia (recorded during the night). Then the day can only be a good one. And that's what it was. Isn't life just wonderful?
Tuesday, January 19th 2016:

I am worried

and nervous

and have been so

all day.




This morning

I drove

Matron

to

Roende

where she met with

some

friends.

They are

right now on

power shopping

at

a shopping center

in

Randers

.




I

begged

her to leave her Visa card

at home

so I could

take care of it

.

For

what if

she lost

it

.

It did not work

.




Now I am sitting

waiting for

a phone call

that I

need to pick her up

in

Roende

.

I'd better

remember

the trailer

.




I'm really afraid

.

It is unreasonable to

expose

an old man

for

that sort of a thing.

And

it is even no use

I say to her that I

want a divorce

.

She

just says

"OK".


Monday, January 18th 2016:
As usual, I walked the dogs today and had an astonishing experience on the way home on the last, short bit of our small, modest street.
Have a look at the photo and see how quiet it is. Only rarely you'll meet a car.
And what did I experience today?
On this small piece, about 100 meters, I met no fewer than two cars. Not right after each other, but at short intervals. It reminded about the M25 at peak time.
Carefully and well out to the side of the street I walked the last few meters in the hope that such a shock would not recur. We might risk having traffic lights installed. God forbid.
Sunday, January 17th 2016: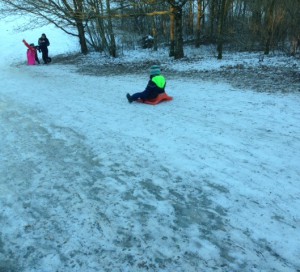 A good afternoon. Sledging with Frederik. He loves sledging and had several tours up and down.
The old man looked admiringly at the little boy who with great speed rushed downhill.
I remembered when I was the same age and like Frederik loved it. I became quite envious and would really have liked to have a ride. But I had to remind myself of my age and think that maybe I could get down on the sledge and maybe I could complete the ride - with a dizzying speed because of my weight - but I would never ever be able to get upstanding again.
So I remained where I was and took pictures. Well, someone must.
Saturday, January 16th 2016: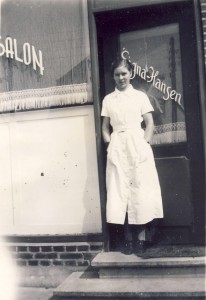 Another memorable photo showed up at my review of old photos for my book.
My mother posing in front of her woman hair dresser. The picture is from 1938 when she was 21 years old. It's quite well done to have your own business at the age of 21. The shop was on number 2, Borgergade in Silkeborg.
Unfortunately, she had it for only four years because she was cheated by her assistant who looked after the business while mom took some time off after my birth. And the economy was not yet safe. Well, maybe she would have sold it anyway to be at home with me. Day nurseries and kindergartens were not common then.
And frankly, it was not her dream job. She never wanted to become a hairdresser.
She was a pretty lass, though. No wonder my dad fell for her.
Thursday, January 15th 2016:
Here we go again - unfortunately. Have pity on me.
European Handball Championship for men will begin today and will end in about two weeks. It is a long time, it bores me.
I know that Matron will watch all that she can and unless I leave the room I'll have to watch it too, albeit with very little attention.
Handball will be on the screen from mid-afternoon till mid evening - every day. Phew.
Well, never mind. Not long time from now (27th February) the spring classics in cycling will start, and it's my turn to sit in the front row. I am looking forward to it.
Thursday, January 14th 2016: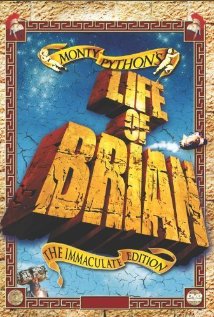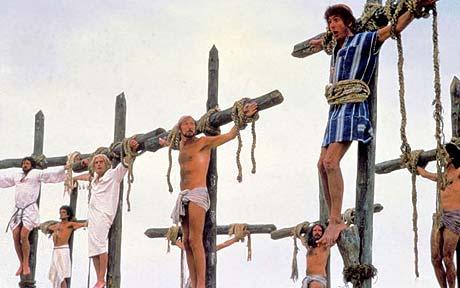 I've enjoyed myself very much during the recent days. By chance I discovered that DR2 rereleased Monty Python's "Life of Brian". I recorded it on video on Christmas Day and have now spent a couple of days rewatching it. The first time I ever saw it was in 1980. Later, I used it in my English teaching. Besides I watched it now and so it's not too much to say that I know it by heart.
It is for me the funniest movie ever made. When I first saw it I fell down the cinema chair laughing. Daughter Annette was there too and she found it very embarrassing that her dad was sitting/lying on the floor screaming with laughter - even when everyone else had stopped.
It is impossible to say what I think is the absolute funniest part of the film. All scenes make me laugh. Even today. I've just finished watching it, and it will not be erased.
Skriv overskrift her
Last night my sweet wife and I were the church in Tved on Mols to hear a lecture by former mayor Vilfred Friborg Hansen.
He has just published a book on Møllerup, the estate where I now for 40 years have taken part in nearly all hunts.
I got it as a Christmas present.
We were there with a couple of old retriever friends who also know the place.
It is a well written book with a content that deeply interests me for two reasons.
Firstly, I am generally happy all learn about our history and secondly I have known and know the owners and staff through 40 years.

And not only does the book tell about Møllerup's history.
It also tells of a troubled time in Denmark's Middle Ages with many rival kings and and nobility.
And it was here that Marsk Stig, one of the first owners of Møllerup, came seriously into the picture and was accused of murdering the king Erik Klipping in 1286. He was convicted and was an outlaw for the rest of his life. His guilt has never been proven though.

It was also interesting to read about the latest 40 years of the estate when I was a little close to what happened.


Tuesday, January 12th 2016:
Again I nervously had to have my Toyota hospitalized. She was smoking too much. At least that was what I and a junior doctor thought last week whenI was at the hospital for a preliminary survey.
Moreover the car had nearly stopped smoking during recent days.
Nevertheless the fear of another huge bill remained. I have still not recovered from the cost of the four valves a few weeks ago.
My heart was therefore in my throat when the Chief Physician called at 11 a.m. to give the results of today's thorough examination.
Fortunately it was yet another disappointment that did not come true - and an expense that definitely was bearable.
My sincere thanks to The Toyota Hospital and its staff. I shall send the money soon.
Monday, January 11th 2016:

I was at

the recycling center

today.

It happens

too often.

N

ever mind

.

People

with

big consumptions

can not

avoid it.



At

previous

visits

I noticed

that now one can

get rid of

beer- and

soda

cans

there

and get money

for

them

even if they

are

without a deposit

. At least I thought

so

.




I

followed

the somewhat

complicated

manual

on the machine

and

after some

difficulty I got

a special

bag

out of it and

filled

it with

all my

non deposit

cans

.

There were about

75

,

and I

was looking forward

to getting money

for

something

that usually

gives

no

thing.




Again,

I

studied the manual

-

and in went

the bag.

Big

trouble.

"We can not accept

your

cans

,"

it was said

on and on

.

So no

money

for

the old man.

Reason:

I

had

crushed

all cans.

I always do.

But we

hadn't got

a penny

anyway

.




Again

, after some

difficulty,

I got hold of

the bag and

emptied it

at the recycling

center,

as I always did.




It has been a

joyless

day

.

Forget all about

summer holidays, old man.




PS:

I do not know

the young lady on the picture

.


Sunday, January 10th 2016: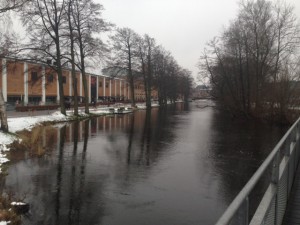 I love a good brunch. That's what we had this morning.
As a birthday present, I got a brunch voucher for "Cafe Kik" in Silkeborg. Today we used it.
The cafe is located right on the river. In fact, in the middle of the city.
Granted the weather was not impressive but perhaps you'd imagine the photo in summer colours. Then you'll see Silkeborg at its best. The cafe is located in the background on the left side of the photo.
The food was excellent - and there was enough of it. Exactly in my spirit. Not surprisingly, I ate too much. So we saved lunch.
Saturday, January 9th 2016:
It's becoming a habit. 4 days in a row I got up at 7 a.m. to take Matron to work. I am doing it because she is not fond of driving in the dark and on snowy and icy roads.
My performance is enhanced by the fact that 3 of the 4 days I have not gone to bed again when I got home.
This has led to surprising results.
I put two identical door handles on the door to the guest toilet. The pressure from Matron was too great (see Diary 29th Dec, 2015). It took unreasonably long time since it was more difficult than I thought. I had to use several self-invented tricks. I am famous for them.
My office is now tidy and has everything in place. Not a speck can be seen on the desks. Not since Christmas 2014 has it looked like now.
I have sorted photos, especially those to be included in my upcoming book. It is a slow process. But very interesting.
It is said to be healthy to get up early. It lacks evidence.
Friday, January 8th 2016: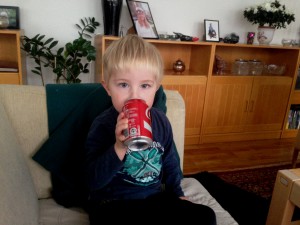 It was a good day. I have looked after Frederik most of the morning until around 2 pm - all on my own. We enjoyed ourselves with a lunch of Coca Cola, crisps, chocolates and a single lollipop, all from the top of the food pyramid. In addition, we watched a DVD, a crazy cartoon about a race car named McQuin. We watched it twice - and we've talked, talked a lot, and then a little more. Maybe I should correct it, Frederik talked. But I love his tirades, and fortunately he occasionally stops and listens.
The day ended completely on top as granddad managed to repair a small electric train that didn't work. That gives bonus points.
Thursday, January 7th 2016:
Just these days a lot happens in the professional cycling world. Riders change from one team to another. For some it is a "promotion" to others a step back .
My friend Martin Mortensen changes from Danish CULT to English ONE Procycling, a clear promotion for him to a stronger team. I am happy on his behalf. The move has been reported in the cycling press and was signed before it became clear that CULT would shut down.
But no one at all has taken note of my move. I have changed to the same team as Martin. Only nobody noticed it in the press. Well, I have not been particularly good this year. 1.907 kilometers I rode. Much too little. Martin is probably on 30,000 kilometers. But I shall come back.
One thing is for sure, though. I shall not be in the Tour de France this year. My basic form is too bad.
Wednesday, January 6th 2016:
I had to fight hard this morning - as so often before.
I had to get up out of bed, an activity that I do not care much about. It takes a stronger man than I and I have hard difficulties to persuade myself. But I succeeded, after all, after a good hour or - sort of.
I know it is not praiseworthy, but the advantage is that I can have lunch right away.
And sometimes I have a good laugh, anyway.
Tuesday, January 5th 2016:
I had my fresh cheek colour back today. I can not believe I dared.
I went for a walk with the dogs wearing winter jacket, cap, large scarf and gloves.
Still, I was freezing like a little dog in a thin cord.
I tried to increase the speed, no success. The old carcass has its own speed that it does not deviate from. I tried to beat my arms hard against my body. But still no success. The cold bit in my cheeks and ears. I decided that not until the day when the wind settles will anybody meet me walkiing. There are limits to what one can strain one's luxury body with.
Monday, January 4th 2016:
Obviously Christmas snow will come now, two weeks late. We can hardly avoid it. See weather forecast for the current week on picture. Snow, cold and not least arctic wind. I was not born to weather like that.
Now I have to get up devilishly early to run Matron at work. She hates driving alone in snow.
Now I have to shovel snow all the time,
Now I have to sprinkle salt on a regular basis.
Now I'll be wet and cold when I walk the dogs - or go outside at all.
The only good thing is that grandson Frederik loves the snow and sledge rides - and that last summer, we spent 25,000 kroners on extra insulation in the attic.
Sunday, January 3rd 2015: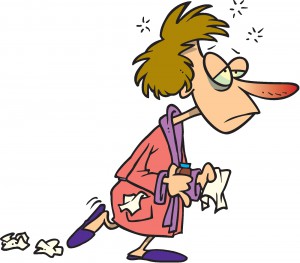 Weather is awful today. Temperatures are a few degrees below freezing and a minor hurricane is blowing. If you do not absolutely have to go out then do stay in. I went out and had a cold shock. I have read that with the wind we are having the temperature is like minus 21 degrees. And I am with a giant cold that really needs care. And I get none of it. All Matron says is: "
Stop that moaning
." It is difficult to put up with.
One will sit back with a feeling that one is a nuisance, in the way and preferably should disappear. But she can forget it. I will not do it. At least not until my cold has gone.
Saturday, January 2nd 2016:
It has hardly escaped anyone's attention that Prince Consort Henrik has retired. The Queen said it herself in her New Year speech. But apparently he will continue claiming his usual 8 million kroner per year without doing anything and apparently he keeps his title.
I'm mad.
When I retired in 2005 I lost more than one third of my salary - and my title. And Matron made sure that I did not have less work to do.
That's how the world is - not always fair and logical.
Friday, January 1st 2016:
I slept a little longer today and did not understand that Matron had not yelled at me a lot before. But she couldn't. She also slept - at least till about a little over 11 a.m.
Of course I immediately jkumped out of bed to perform the usual New Year day's commitment, reading the water meter. That should be an easy task but it is not. The meter is placed under a table in the utility room. (See picture). I had to get down on my knees and maneuver of my body in between the top and the shelf using a torch to read the meter which can only be done from a position vertically above it. Damned inconvenient. Next comes the hardest. I need to stand up. That's a struggle.
Do not say the first day of the New Year is a day of relaxation. Buuuut, it may well be a good year anyway.
Thursday, December 31st:

First

of all I would

like to wish everyone

a Happy New Year

with

thanks for your

interest in

my website

in

2015.




The year was

in many ways

a

special year

.


It was

the year when

we

had a lot done

around the

house

.

It was

quite

expensive but

very nice

.

I am particularly pleased

with

our

new

terrace which

I

daily look at with great pleasure

.




It was also

the year when

our car

cost us

a bit of

money

.

It was

quite

expensive but

appears to be well

spent.




It was also

the year in which

my

number of bike rides

was disappointing.

1.855 kilometer it

was

in all.

Last year

I rode

3.240 kilometers

.

It's no good

.

I'm

mad at

myself

with the result.




It was also

the year in which

my site

topped

one million

visitors.

In return I am

proud of that

.
HAPPY NEW YEAR.


Wednesday, December 30th 2015:
Son Peter got a fright today, a fright that I can easily recognize.
A lamp lit in the dashboard of his car. I have tried this several times in my car, often 3-4 lamps at one time. Every time I feel that the money was already pouring out of my bank account before I was even near a workshop.
Within the last year, my fear has been justified. The Toyota has cost quite a bit of money. It has not been any good. Many lamps lit much too often.
But fortunately there are disappointments that do not come true. Son Peter today experienced one of them. Only 300 kroner was the price of 'stopping' the light. After that you breathe a lot lighter.
It's like leaving the dentist without him drilling - maybe even better.
Tuesday, December 29th 2015:

I

have repaired

door handles

today

- 2 pcs.

One

to the guest toilet

and

one

to the living room

.




I am

no great

technical

genius but

I think it

went fine.

However

I might

receive

ironic

comments

concerning one

door, the toilet door.

But this

is not fair

,

it's

merely trifles

.

Who says that

two handles

on either side of

a door

must be identical

?

At least

I don't.

Do you see anything

basically wrong

in the picture?




Most important is

that it works

.

And

it does.




Matron

has

not yet discovered

it

and it may take

quite

some time before

she does

because

she rarely

uses

the guest

toilet.

So

please

do

not mention it to

her.

I do

not want to be

yelled at

today.

It is our

53rd

wedding anniversary

.

So today

should be

peaceful.




Monday, December 28th 2015: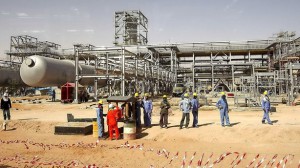 For a long time we have benefitted from falling petrol prices. In the entire world. Right now the official price in Denmark 10.69 kroner per liter, and falling.
But listen. In Saudi Arabia, the world's largest oil producer, prices are rising and are now expected to increase by 40%.
If it were in Denmark we would have to pay 14.97 kroner a liter, Denmark record.
But in Saudi it will mean an increase from 1.02 kroner per liter to 1.43 kroner per liter. It is probably also a national record.
My goodness.
Sunday, December 27th 2015: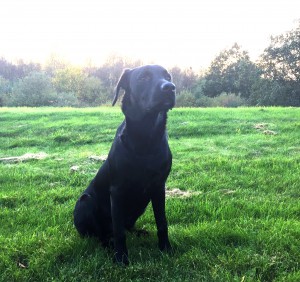 I had a good experience today.
It's a long time since I last appeared as a dog trainer in the training of a young dog. It was Peter's dog, Tjalfe that had to get used to shots.
Oddly enough one starts with a "dog stopper gun".
For some dogs it can be an unpleasant experience. They become frightened and try to run away. It is said that the dog is "gun-shy". The consequence being that it can not be used on a hunt.
Fortunately Tjalfe responded positively and just raised his ears when a shot went off. That's how it should be.
After that we concentrated on some technical details. Also successfully.
It was a good day with a good dog.
Staturday, December 26th 2015: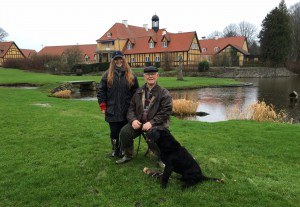 The irrevocable last hunt this year was today. It was wet - very wet. But it takes more to make me think that it was "annoying". As always I enjoyed it.
As shown, eldest granddaughter Katrine was with me among others to help mecarrying pheasants, carrying my chair and taking care of my faithful dog Sydney. She is good at.
Now there are 9 months and 3 weeks till we shall retrieve again. At my age one does not wish that time will go fast but I am looking forward anyway. There is a hopefully good summer between now and then.
Friday, December 25th 2015:
It can be hard to pinpoint one's most popular Christmas gift. But I have no doubt as to which of them will arouse the most attention. My Christmas sweater. Katrine bought it for me in London last week.
Therefore I wanted to test its efficacy in a supermarket. I gott the opportunity as matron asked me to buy one small thing on the way home from Hammel where I collected granddaughter Cecilie.
A supermaket in Skødstrup was chosen for the experiment.
As expected, there was interest. Never before have I seen so many people stop and look when I passed. Most people smiled, while others shook their heads.
Of course I didn't react. But what a nice Christmas present it is. Maybe I should put it on when I go on the hunt tomorrow. That will be the sight.
Thursday, December 24th 2015: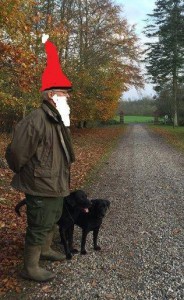 It's with great pleasure I wish all my readers a Merry Christmas
I hope that all of you will get a bunch of big and good Christmas presents and that you will have a beautiful Christmas Eve and day in good company.
I do not know myself about my gifts' size or quantity but I know that I shall be in good company. The entire closest family with children, in-laws and grandchildren will be here. I am looking forward to it all.
Here in the family, we have the habit of eating Christmas dinner at 1 pm. Then we go for a walk, come back, dance around the Christmas tree - and exchange gifts and then the candy department opens.
All this will be over about 7 pm. and there is time to rest and digest. For those interested there will be a "midnight snack". Open sandwiches or the like.
For us it gives a much calmer Christmas Eve. And the youngest can be involved throughout. It's all before their bedtime.
But whether you are celebrating your Christmas early or late, I wish you a really good one.
Wednesday, December 23rd 2015:
Like mother - so daughter. Only in a slightly higher degree.
I had promised daughter Annette to run an errand with her. She had to deliver something a little outside Hornslet and her car was not in - and it was pouring.
It became something more. Besides delivering the above mentioned outside the town we went to five supermarkets, a bank, and a flower shop. Not even matron has done that. Not a supermarket in Hornslet was unvisited. Righteously it should be mentioned that the visit to the bank was my errand.
Now I am at home and trying to recover. It's hard for me because in 10 minutes I also have to pick up eldest granddaughter Katrine in Aarhus.
Long live "Gunnar's Taxi Company".
Tuesday, December 22nd 2015:
It is the shortest day of the year, 6 hours and 54 minutes here with us. Sun up at 8:46 and down at 15:40.
At 5:48 this morning the sun turned at the Tropic of Capricorn and began its journey back towards us. Have a nice trip.
The fact that it is now going "the other way" is nice. Every morning when I wake up I shall with gratitude be looking at my "world clock" and note that days are getting longer again. It gives a good feeling. It makes one looking ahead to warmer days even if one can not claim that we are having a cold winter. But a day length of 6 hours and 54 minutes is not much. It will be more fun when it's over 17 hours in June.
Monday, December 21st 2015:
It was difficult to get up at 7 this morning. It was hard. But I had to.
I should tale Matron to work. When I got home, I carried out the orders given:
Emptying the dishwasher, which I did first, and then walk with the dogs. Not much, but think of the time.
On my return after the walk I felt an uncontrollable urge to lie down again. I lay on the bed and set the alarm clock to wake me up at 11:30. That should give me time enough to pick up Matron.
But when the alarm sounded I could hardly persuade myself to get up. I had to really use harsh words before I succeeded.
And what can you learn from it?
Second resurrection is harder than the first one.
Sunday, December 20th 2015:
Good teamwork in the kitchen today. 6 pheasants were cleaned.
I cut off heads and opened the skin into the breasts, and Matron cut them out, red and fresh. Altogether, it took just 20 minutes, and thus the menu for New Year's Eve is secured.
By that time the good lady will unfold her magic and prepare the pheasants after a good recipe she got from old friends many years ago. It never fails. The result is absolutely wonderful.
Now I just hope that I can take a single glass of red wine with this good meal without falling asleep.
Saturday, December 19th 2015:
Youngest grandson Frederik briefly joined us on the shoot today. I guess you can not start too early. I was 35 years old when I was on my first hunt. Frederik is 3½ years old. So there is a difference.
Arrived at home he could help grandpa carrying the pheasants in from the car. Unlike many other children, he has no objection to carrying a pheasant. And according to good hunting practice it must be carried head up.
Well done, Frederik. Next year you must come more often. And I have to take one more hunting season even if I have considered stopping. I shall be looking forward to the season of 2016 with Frederik by my side. Then I have been retrieving with all four grandchildren. That will be great.
Friday, December 18th 2015:
I have been messing around in my old photos again. I am looking for material for my book.
Today I came across a picture of my Dad taken in Silkeborg in 1921 - undoubtedly by a "street photographer". The family did not own a camera. It is 94 years since it was taken.
He was 10 years old and stands with a bike that's probably not his. It is far too big for him. And there was no money for it. Probably it's borrowed for the occasion.
I think that the clothes he is wearing are "Sunday best".
Notice that picture was taken three years after the first World War ended.
It was the year Albert Einstein received the Nobel Prize in physics.
It was four years after the Silkeborg Sporsts Club was founded. Many years later - around 1956 - my father became chairman.
For the sake of the locally known I can tell the picture is taken just at the harbour. At the top of the hill behind is and was the hospital, which in 1921 was 19 years old.
December, Thursday 17th 2015:
I was in Billund this morning. Not to visit Legoland but to take eldest granddaughter Katrine to a flight to London. She wants to do some Christmas shopping and visit selected sites.
Fortunately I am not envious. Oh no. But I would not have minded going with her. Nor am I envious that she will stay at a super nice 4-star hotel in central London. Oh no.
Am I envious that she will visit some of the places I love, for example, British Museum, Tate Gallery? Oh no.
Do I speak the truth? Yes - weeeeell, almost.
Wednesday, December 16th 2015:
Matron was up early this morning. She had to on the job. I was relaxing in my good bed.
I felt a little peckish and shouted to her that I wanted tea in bed. The answer was a clear NO.
So I shouted to her she was an old penguin that ought to be stuffed.
Then she yelled back I was an old fence that highly needed some paint.
That really tested my tolerance? So I pulled my trump card and shouted that I wanted a divorce - immediately.
And do you know what she allowed herself to shout back?
"Okay".
She is difficult to live with.
And that's how this morning went with its usual exchange of evils. It's not easy to be me.
Tuesday, December 15th 2015:

I drove

peacefully

along

Grenåvej

in

Risskov

this morning to

drop off

Matron

on her job.

She is

so sweet to

make sure that

we can get

butter

on the bread.




Suddenly

my eyes catch

a price tag

at a gas station

,

7.45

kroners

per

liter of

diesel.

My jaw dropped

.

I have

not previously

seen it so low.




Therefore

I hurried

to drop

off

the sweet

lady and

then

sprint

back

to get

refueled

before

the price

would

rise again.

I

succeeded

and my tank was

filled to

the brim.

Unfortunately,

it

was

only half

empty

.


Anyway

,

I

saved

an

entire

18.75

kroners.

Little is better than nothing

but it

does not

save

my finances

.


December, Monday 14th 2015:
Diet here and diet there. What good is it that you once a week decide to reduce the intake when you constantly are tempted into trouble?
Thus also today. 75-year birthday with old friends and as usual, a table laid with very nice dishes. It was hard to decide what was best. A shrimp cake with among other things caviare and a salmon and halibut salad on apples were nice. And then there were all the other delicious dishes.
What is one's promises of lower consumption worth then? Absolutely nothing.
Basically it is unfair that the hosts - when they know that my spine is like cooked spaghetti as soon as I sit down at a good table - to serve a meal like that.
December, Sunday 13th 2015: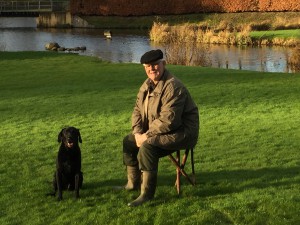 When my grandchildren join me on a hunt they are expected to work and among other things carry the pheasants my dog has retrieved. It is expected and Cecilie was not slow to take on the duty. I have enough trouble walking without pheasants. They can actually be quite heavy.
With Cicilie carrying I can sit peacefully thinking about the world's many ups and downs enjoying the surroundings and what is happening around me. Excellent division of labour.
Today's hunt was great in every way. It was worth getting up early for. Weather beautiful.
Saturday, December 12th 2015: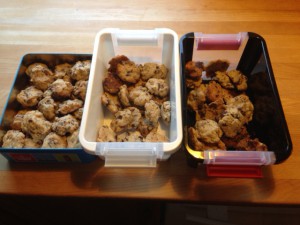 It has been the annual Great Baking day and Great Marzipan day today. Just the thing for me.
All morning Matron and granddaughter Cecilie have been in the kitchen baking "Chocolate Nuggets" and made marzipan in various forms. See pictures .
Unfortunately, the marzipan is not quite finished missing nuts and another layer of chocolate. This will come.
I am pleased to say that nothing is missing in taste. Graciously I have been allowed very few bits and pieces, much too little. The two women both get a fit of stinginess when this day arrives. And they do not leave the kitchen both at once. Wonder why.
Friday, December 11th 2015: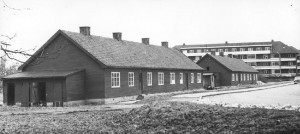 I was in Silkeborg today, partly to visit my sister in law who celebrates her birthday and partly to have some old photos scanned for my book at the Silkeborg Archive.
I have learned that digital images for books need high pixel figures which my own amateur scanner can not match. The archive scanner can.
As always it was great to come to the Silkeborg Archives and talk with the helpful people there. And there is always something new to pick up about the old days.
Besides the pictures I brought along I recieved a good deal from the archive. See an example here to the left of the two barracks which were part of the homeless institution (1960).
So now I should be well equipped wiith illustrations and just need to have them put in at the right when I receive them in January.
Thursday, December 10th 2015: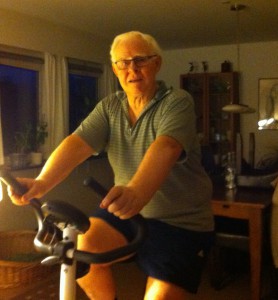 Today my indoor cycling season started with a modest ride of 25 minutes.
2015 has been a miserable year in terms of cycling.
I had even set this year's target down to 2,000 kilometers and I have not reached it.
1.855 kilometers is the meager result. 145 km missing. I am disgusted.
Last year I rode 3.115 kilometers.
Let's look at the excuses.
The most important is the weather. Too much rain and wind and a cool summer. These parts do not encourage a bike ride.
I missed the long rides with my Brother Kjeld. There have only been a few.
Reconstructions in the house and changes in the garden prevented me from getting out.
Continuous defects on the bike annoyed.
Just wait till 2016.
Wednesday, November 9th 2015:
What is the hardest?
1. Standing poised on an unsecure ladder pulling a wet and heavy canopy off a wet caravan and store it away for winter?
2. Climbing up on the garage roof on the same ladder changing batteries on the rain gauge?
3. Taking a walk of 20 minutes with Matron and the dogs?
I've done all three today and I am not the slightest in doubt. Number 3 is far the hardest. I suffered all sorts of pain in my hip.
So I must more seriously consider the damn diet. And that is harder than anything else.
Tuesday, December 8th 2015:

I was in

two

charity shops

today

in

search

for a cheap

, second hand

suit

jacket.

There

were plenty of

very

nice jackets

for sale

.

Practically

, it could not

be seen

,

they

had been in use

.




But why is it

that there were only

children's sizes

?

Is it only the

young boys

who submit

their

jackets to charity shops?

Are there

no

adults at all?

Apparently not.




Not even one of

the exhibited

jackets

fitted

my

well shaped

body.

That

forces

one to spend

an awful

lot of money

in a

clothing store

(or

tent

factory)

.

However I

shall not give up as yet. I shall keep looking

.

There must be a

second hand shop

for adults

somewhere

.




We did manage to buy

a Christmas tree. Not second hand, though.


Monday, December 7th 2015:
A bit more nostalgia. I love that picture.
It is taken at the old workhouse Frydensbjerggaard in Silkeborg in the summer of 1947 when it was no longer a workhouse but quarters for homeless people. Dad was the caretaker.
My family and I lived there from 1943 till 1954.
On the trolley is brother Kjeld at the rear and in front is cousin Joergen, both about 1½ years old. The tensile force is provided by me, 6 years old and wearing the indispensable wellies. We wore them all year round. The brace pants were also mandatory.
The building in the background is the old barn of the work house, an outstanding playground with many challenges both inside and out. Among them was runring along on top of the roof. It took courage. And we were courageous. Did it often. It took more courage to say that one did not dare.
Sunday, December 6th 2015:
I went to church this morning which I unfortunately do too rarely - but more than once a year. It was a good experience for mainly two reasons.
The first was I got clarity with the parable of the 10 virgins of which the five went out to meet the bridegroom with extra oil for the lamps while the five others just brought lamps. Their light burned out, and they could not get into the hall. The first 5 would not share their oil with the 5 others. And here my understanding has failed since my childhood. Why didn't they share? It got the answer. The oil should be compared with something you can not share, being present in your life, live committedly, be impathetic. Then you can come to the party, be admitted. Call it 'due diligence'.
The second reason was more "special".
At the start of communion the vicar hopelessly got stuck when giving the blessing of bread and wine. Something must have slipped her mind. Without any doubt she has recited the text hundreds of times. But she was calm, smiled to us, turned quietly around, took an open book, looked quickly and completed in fine style. Others might have paniced.
I was happy when I left the church.
Saturday, December 5th 2015: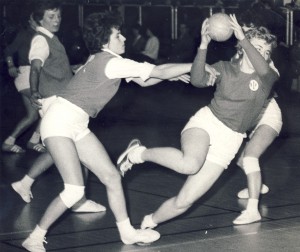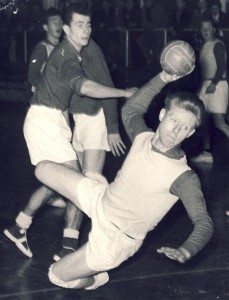 I've got a tough future ahead - at least for the next 2 weeks. World Championships in women's handball on TV.
Matron loves to watch it so it will be 3-5 hours each day.
She has a glorious past as a player herself. I have not, even though I played a lot in my younger days.
But handball bores me tremendously. Furthermore, it irritates me a lot that so many fouls are not detected by the referees, especially players standing on the floor three meters inside the box and shoot. An ordinary "stepping on the line," is very rarely detected by the referees.
But worst of all is that handball is one long running up and down the field, then bang and then down into the other end and another bang and then down into the other end and bang ........ and so on.
It's monotonous.
Friday, December 4th 2015:

I am in

the nostalgic

corner

today.




There is a

side of myself

that I

had almost forgotten

, at least

till

today when I

came across

the attached

photo from

1975.

I was once

mad about

fishing.




Since

I was a boy

, I

fished

when the opportunity

was given

.

I started

fishing

with my dad

in the river in Silkeborg and

later it was

on

the Bay of Aarhus

- without Dad.

I

also

spent

many

many

hours at

various

small and large

rivers

,

at various beaches and

the outer pier

in the

Port of Aarhus

.

It was

here

I gave

son

Peter

the very first

small ideas about

fishing.

Since then he has

overtaken

me

by

thousands of

kilometers

and

he fishes

a lot more

than I ever

did.




I stopped

fishing

around

1975 when

I started going

hunting.

And

actually

, I have

not

fished

just

one second

since.


Thursday, November 3rd 2015: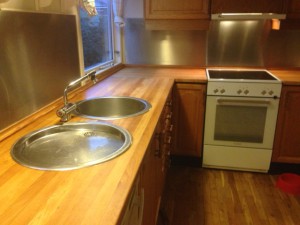 Today it is exactly a week since I started the enormous task of cleaning, sanding and oiling our kitchen tables. I worked on it every day since then - except Saturday though (hunting).
Now, they stand there. Finished. Glossy and shiningly clean. The surface is like velvet.
Am I proud? You can bet I am. It is extremely rare that a piece of craftsmanship is a success for me. That has not happened since I made a chopping board to my mother in a woodwork lesson in 1952
So now I want to rest on the success. Because I deserve it.
Wednesday, December 2nd 2015:

I took

Matron

to the

dentist

today.

Tooth extraction

.

I

had offered to

pull it for

her,

of course expecting

a modest fee

.

But

no,

no.

She insisted on spending

900

kroners

on

the pleasure

.




I sat

comfortable in

the waiting room

- see picture

-

and awaited

cries of pain

so that I

,

like

the

valiant knight

on the white

horse,

could

rush

to the rescue.

But no

screams

were heard

.

Everything went

well

.




Now I

have to

live with

the fact that the poor woman

can hardly

speak

because she

has to

bite

on a

cotton pad

.

Nor can

she

eat

so I probably must do the

kitchen job myself.

It won't be a big meal. Damned

dentists

.

They are expensive

as

hell

and

they destroy

much

of one's

pleasures.


Tuesday, December 1st 2015

I nearly cannot believe it. I do not care very much about my football team AGF.
Still it annoys me very much that the team plays miserably. 1 win in 15 games is not impressing. It's awful. It's alarming. Relegation is absolutely a possibiity. My goodness. Wonder why I'm so upset about it. I thought a long time ago that I didn't care any more. But.......
Monday, November 30th 2015:
After happily having waved goodbye to Gorm the Storm I found it in time to finish grinding our kitchen table. Surprisingly it was an exciting job. In fact, I have never tried it before, at least not as thoroughly as now. I estimate I spent 10 hours on it all in all. I even think I enjoyed it.
Now the table is ready for oiling and a clever paint store man instructed me how to do it. "It can hardly go wrong," he said. But he doesn't know me.
Sunday, November 29th 2015:
We are ready to receive Gorm, the name of the storm that is predicted to visit us.
According to our usually unqualified meteorologists Gorm will be with us between the hours 10 p.m. and midnight. He is utterly unwelcome, a storm with built-in-hurricane strength always is.
We have removed all loose parts from our garden and terrace and placed them in our conservatory which right now is storeroom for garden furniture, barbecue, flowers etc.
Stupid Gorm. Stay away.
Saturday, November 28th 2015: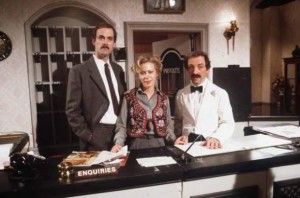 Oh dear. I am a keen fan of the TV series "Fawlty Towers" with the mad hotel owner Basil Fawlty (John Cleese). I've seen it countless times and I laugh nearly just as much as the first time I saw it some time in the 1970s.
The characters are unique, the mad owner Basil, the "stupid" waiter Manuel from Barcelona, the drunken chef, the snobbish Mrs. Fawlty, the cute receptionist Polly and a lot of guests who all get a lousy treatment not least from Basil.
And now they are going to tear down the hotel in Torquay. It should be "Fawlty Tower's Museum". A little respect, please.
Friday, November 28th 2015:

It's "Black Friday" today, an almost pagan custom. In Denmark we took it upon us in 2013. Bargains and late closing times are major parts.
No surprise that the custom originated in the USA, introduced first in Philidelphia in 1961 by business people. They wanted to celebrate the opening of Christmas trade.
Since then "Black Friday" has been the greatest shopping day in the United States - and it will soon be in Denmark as well.
The origin of the name. Business people felt that they earned nothing during the first 11 months of the year. But starting from "Black Friday" the revenue turned and the bottom line became black.
Well, never mind. Let's take it. We already have "Valentine's Day" and "Halloween". And "Thanksgiving" is on its way, too. Influence from the United States can not be denied. Only I do not want to participate.
Thursday, November 26th 2015:

I finally found

out

how to get a

for 30 years

linseed oil

saturated

,

greasy

, massive

kitchen

tabletop

made ready for

sanding

.




I'll

spare

all details

but simply

tell

that it

involves the use of

turpentine

, deterent

,

luke warm water

-

and

kerosene.

The latter

took care of

the

main problem

removing the

greasy

layer

.




Now I

"

just"

need

to

sand the table top

.

I

t will take

a few days

to

really

get to the bottom of the grease

.

Today

it took me 3 hours

to

sand

the plate

for the first time

.

A good deal

more times are to follow

.




My old

back

thinks it

's a

damn

bad idea

.

Matron is

thrilled

.


Wednesday, November 25th 2015: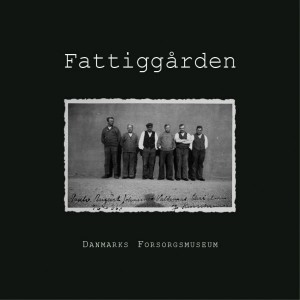 Workhouses still interest me. I like to read about them, even if it is five years since my own book about Silkeborg Workhouse was published.
Svendborg Workhouse Museum has published a book, "The Workhouse" which I bought today. It has been well recieved and I am looking forward to reading it. I have just managed to see that it is well illustrated with relevant photos.
I have visited the museum a few times and would recommend that if you're at Svendborg then go and see the museum. It is interesting and gives an excellent impression of the paupers' hard conditions. The workhouse at Svendborg was in function from 1872 to 1974. From 1961, however, it was voluntary to stay there. It was a so-called care center.
It is the only workhouse museum in the country.
Tuesday, November 24th 2015: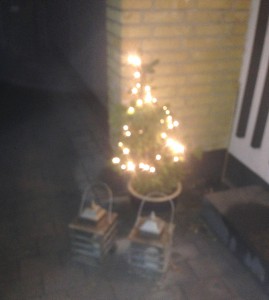 Christmas has started here at Stenvendervej. Today Matron ordered me to put lights on the Christmas tree at the front door. It was not a negotiating proposal. It was an order.
Therefore I had to bite the bullet and go outside in the freezing, cold wind and carry out the order.
I'm not much for lights on Christmas trees outside the door and, in particular, I am not much for cold winds. Moreover, I find it inappropriate to put lights on Christmas trees now. It is more than a month till the event. It seems to be Christmas all year round.
But who dares standing up against Matron's power? Not me.
Monday, November 23rd 2015:
A mixture of 1 liter of boiling water and 1 deciliter of turpentine does not smell very nice.
However, it is good for washing off a wooden, greasy kitchen table.
That's what I've been doing today. A sound scrubbing, really thorough, with the mixture mentioned hopefully removed all fat and old oil from the table.
I have now rubbed it off with a dry cloth to make it dry. After that washing with a detergent and some lukewarm water should remove the last remains.
This followed by grinding and smearing with oil will hopefully give a good result. I'm loking forward to that.
Sunday, November 22nd: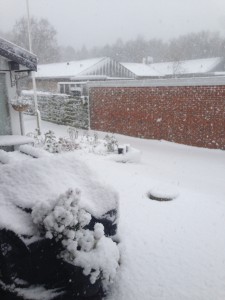 A Sunday in snow. A Sunday on the sofa.
Today's assignment was resting after yesterday's efforts on the hunt. I have not burned many calories today - if any at all. In reverse, I have taken a lot of them in. Cocoa, cake, fritters and so on. No wonder I do not lose weight. On the other hand, I have enjoyed myself tremendously and dozed off a couple of times. Amidst all the 'rush', I took time to run Matron to a Christmas market. So I was a bit useful. But that was all.
My view all day.
Saturday, November 21st 2015: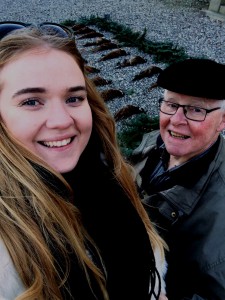 Look at the pictures. They show a satisfied man on today's hunt. Satisfied, because his dogs did a good job and found many birds. Satisfied, because eldest granddaughter Katrine was with him. We talked some small talk but also a bit more seriously about our common interest, a classical Danish author Ludvig Holberg. There is also time for that on a hunt. For the record, I would point out that Ludvig was not on the hunt. He died in 1754
I should also mention that my old dog Sydney, 11½ years old (right in the first picture), has got his second youth. He runs almost like in his younger days and finds many birds. Corticosteroids are good for an old dog. I also considered taking them. I have damned difficulty in dragging myself around in the terrain.
A good day yet again.
Friday, November 20th 2015:
Unlike yesterday, I have not been swearing today. There has been no reason for it - and then, still.
My mad son arrived before sunrise and made the hell of a noise, nudged me, and tickled me and I had not even left my warm bed. He calls it "playing with Dad." I might have said a few nasty swear words, but I didn't. You have to be careful what we say when your children are nearby. They easily learn to use ugly words. And I don't want be to blamed for teaching my children that.
The rest of the day has been a pleasure in a relaxed atmosphere and nice chats with Matron.
It has been a good day.
Thursday, November 19th 2015: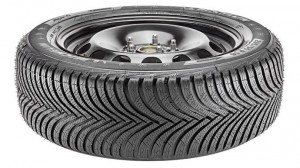 I am a bit ashamed to tell that

I know

a few

swear words

.

Not that I

use

them

every now and then but it happens

w

hen something

annoys

me too much

.




Today

my

swear-word-

vocabulaty was

too small.




Matron

and

I left to go to our

tyre supplier in order

to

change

to winter tires

that are stored there

.

The car

was taken

into

the garage.

I

chatted

a bit with

the mechanic

and

soon after

the boss himself came

with my

winter tires

.




I could see from

his attitude

that

something was wrong.

And

certainly

I was right.




"

Wouldn't you

like

to

buy

four

new

winter

tires

?

"

he asked.

"

Not in the least

," I answered

.

"They're

worn out

,"

he

carried on

.




Then

the swear words came

.

The entire

amount of them.

I had to stop

because

I could not remember

any more

.

Think of it. Matron and I had

gone

to

vhange

wheels

for

400

kroners

and suddenly

the

bill was

4,300

kroners.

My goodness. How I could swear

.

I even threatened

the otherwise

nice man

with a sound

beating.




Give

me just one

word of comfort

.


Wednesday, November 18th 2015:
One became 75 years today. Who would think it could be achieved? At least not I. But it is a fact.
It all started on November 18th 1940 at 05:00 a.m. at 52, Skolegade, 3rd floor in Silkeborg. I do not remember much from the event. But it was for me quite important.
After much deliberation my parents decided that I should be called Gunnar. God bless them. I have not always been excited about the name but gradually I got used to it. And now I will not bother changing.
I'm not the only one who celebrates a birthday today. Many other celebrities share the experience with me. Let me mention a few: 3 famous Danish authors - and Peter Schmeichel. What do you think about that?
I wonder if they've had as good a birthday as I have.
Tuesday, November 17th 2015:
It's over - completely over. I mowed our lawn for the last time. Hopefully not the last time for good but the last time this year.
It was a good experience to stop the engine and have the mower flushed underneath for old grass. Now it can enjoy the winter holiday with a clear conscience and await better times as far as weather is concerned.
I'll enjoy sitting indoors in a comfortable heat watching the grass not growing.
It will last until April - hopefully. Last year I mowed the lawn on 1st of January.
Monday, November 16th 2015:
After all it has not escaped my attention that Denmark tomorrow will play a crucial football game against Sweden. It is a qualifier for the European Championship in France next year. Denmark must win to qualify.
5-10 years ago a game like that would have been on my mind many days before and my nerves would have been nearly unbearable. I would have watched every second of it on TV.
Now I'm a more or less indifferent. It's fine if we qualify but if we don't then peace be with it. It's not that important. It's just football.
It is surprising that one's field of interest moves that much with age. For 45-50 years I watched as much football I could overcome. Now it is almost a rarity.
Sunday, November 15th 2015:
Youngest grandson Frederik has stayed overnight with us. That is popular.
It is a tradition that he and I go to the beach and throw stones into the water and do other maritime exercises.
It is also a tradition that I get seriously scolded when we get home.
Reason: Frederik has water in his wellies and wet pants.
As if it's my fault that his boots are too short. As if it's my fault that he loves running and jumping around in the water. "Let the child be happy", I say.
Prohibition-Denmark.
Saturday, November 14th 2015
Undoubtedly the big experience of today was being visited by nearest family. All were summoned to celebrate an upcoming event, my 75th birthday. I was also there even if I'm not on the picture. I took it.
I love it when they're all here and I can listen to their talking and laughing.
As usual lunch was excellent, everything made by Matron on a busy morning, assisted by granddaughter Katrine and myself.
I do not want to celebrate my birthday with a mighty party. I care more for the quiet and intimate. Then I am comfortable.
Friday, November 13th 2015:
Have you ever tried falling face first? Hopefully not. I have. Today.
I was on a shoot and was walking all alone on my own on my way back to the others. I walked in tall grass. It was late in the day. I was tired. Just as I walked looking at the dogs my right boot stuck and I fell forward like a log and hit the grass face first. First I felt the wet and soft grass. Next, the hard ground.
I was happy about two things. 1) There were no nettles. 2) No one saw it. I know all too well the consequences. Laughing stock the rest of the day.
When I somewhat later came back to the others, they said that they had been concerned about my absense and were about to collect for a coffin bouquet for me. They are cute.
Thursday, November 12th 2015:
As indicated yesterday today was the day of mega shopping. 4 supermarkets and two farm shops have made their terminal accept our credit cards.
You need a good health to cope with a day like that.
Luckily I only had to join Matron into half of the shops and could peacefully sit in the car concentrating on playing Word Feud on my iPhone. It turned out to be quite a lot of games - and also Facebook needed attention.
Now, our fridge and freezer are full to bursting. Barely space for a can of Pepsi.
Fortunately I am going to help eating it all. I choose to forget my diet. I have done that since February anyway.
Wednesday, November 11th 2015:

This was

my

view

most of the day

.




A look

out

on a wet and

grey day

,

at

our

garden furniture under cover

. Like

I

they are looking forward

to

being

unpacked

in the spring.

And

our

packaging

is

approximately of equal in size

.




But now

you should not think

I've been wasting

time.

Not at all.

I

had a nap two or three times

.

I

watched a bit of TV

.

I played

Word

Feud

.

I had

lunch which

I made in

good cooperation with

Matron

.

These are all

good and

Christian

deeds.




Therefore,

I feel good

about

a

lazy

day now and then.

I deserve

it and

almost

feel

rested.

Tomorrow will be

a different

kettle of fish.

There is shopping to do

.




Announcement

to all supermarkets

in the region

:

"

Roll

out the red carpet

.

She is coming

."


Tuesday, November 10th 2015: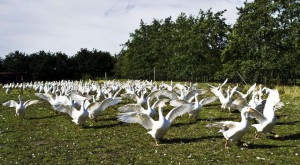 It is

St. Martin's

evening

today.

Thousands of

ducks and

geese

are killed

because

the good

Martin who

lived over

1,700 years ago

did not bother

becoming a bishop

.

He therefore

hid

among

the geese

that - unfortunately for him -

piped up

and

he was found

and

appointed

.




From then on

he did not like

geese.

Consequently he

decided that

all households

once a year

should kill

a goose

and

eat

it.

That would teach them

.




And here

I

thought that

bishops

were kind and

forgiving

humans.

But no.

H

eads

of

f

the poor

geese

that otherwise

were just walking around looking forward to

Christmas.




Later

ducks

also

had to pay

with their lives. It

is so

unfair.

They had

nothing

to do

with the unveiling

.

They are just

less fat

-

and cheaper.




I feel

sorry for

the poor poultry

to

be killed

due to

an unwilling

bishop.

So here

in the house

, we shall have a

good soup

made by Matron.


Monday, October 9th 2015:

Part of

my morning

was spent

pottering around

in my

cozy and

now

tidy

workshop.


C

leaning up

was made

even better

than it already was

.

Some

repairs on some

electric

cables that

needed it

were done.

I moved

around

cans, bottles,

and tools to make

it all

look really

nice

.

And finally

I cleaned

my bike

totally

after Saturday's

lovely

ride on

wet and dirty

roads.

At the same time

, the chain was

cleaned

and

oiled

.




Oh

man,

how

I

enjoyed myself

for a couple of hours

.




However,

it

was a little cool

out there.

I miss

a heater.

It would have made

the experience

complete

.


Lovely warm

tomato soup

for lunch quickly made me warm, though

.


Damn it. Tomorrow I may go

out

and

move

things around a bit

again

.


Sunday, October 8th 2015:
I do not remember the last time I was as tired as today.
I was and am tired all the way through my old body and out the other side. My legs weigh one ton each and my back is locked. I can barely move.
The reasons for this poverty and misery lies in my two favorite hobbies, cycling and hunting.
I have been so careless to think that I can do both disciplines on two consecutive days, Saturday and Sunday. Let me state in capital letters: I CAN NOT.
Yesterday I cycled 63 grueling kilometers and today I have been on a strenuous hunt. We walked a lot more than usual.
That mistake I shall never make again. There must be at least two days in between.
But it was great in the midst of all efforts to find a poppy in bloom. And we are in november.
Saturday, November 7th 2015: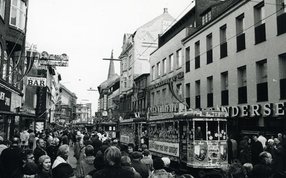 Today is a

memorable day

-

not least

for

our daughter

and Aarhus

Tramways

.




Sunday, November 7th

in 1971

,

44 years ago

, our street trams drove

their last

tours.




Daughter

Annette

and I

went

on a

"

farewell

tour

". We

entered

a tram

a

nd rode

all the way to

the end station

and back again.

Annette

was 4 years.

I

t was

great

for her -

and

little

for me, too.




Unfortunately I do not

have pictures

of my own

from the event

but

fortunately there are

many

who have.




One

would like to see

the trams back

again. Maybe

the future 'light rail'

can be

remove some of the thousands of

cars

from the city center

.


Friday, November 6th 2015:
On a dull, gray, and dark November day like today I have no great desire to do much outdoors. So I have abstained from it.
Nor have I had the urge to do anything indoors. So I have also abstained from that.
Today's activities consisted of visits to a couple of supermarkets, picking up dog food and a visit to the car hospital to pay the large bill for the latest treatment. They were pleased and surprised by the payment.
Today's activity has overall been manageable why I now sit fresh and rested looking forward to going out to eat with daughter Annette and son-in-law Kent tonight. It is a reward to the two for having sorted the garden while we were on summer holiday. So you can not say that it is premature wages. Perhaps it will be with interest.
Thursday, November 5th 2015:
In 2006 I was 66 years old. Now I am soon 75
In 2006 our car was brand new. Now it is 9 years old.
In 2006 I started my diary that you are reading just here. That is 9 years ago.
AND. In 2006 the cocktail sausages that Matron bought 3 weeks ago at ALDI were produced. They were 9 years old. They are a bit overdue. See picture.
Luckily, Matron noticed the error before we ate them.
An inquiry in the shop was not taken seriously. Unfortunately the sales slip is lost. The lady cashier believed the sausages maximum were 14 days old wherever she got that from. And only reluctantly she paid the money back.
A written request 8-10 days ago to the main office of the company is unanswered.
I think we shall limit our shopping at ALDI.
Wednesday, November 4th 2015:
There are three ways of making a dog a good dog, training, training and training.
I can not claim that I have used all three, at the highest one of them.
Today, however, I took the time for a proper handling of both dogs.
It is often the case that old dogs can not learn new tricks so I limited myself to training fitness and a little technique.
Both dogs were very interested and surprisingly obedient. I am sure they enjoyed running around finding old, worn dummies with old worn red deer skins. Pheasants are more fun. They must wait until Sunday.
Tuesday, November 3rd 2015: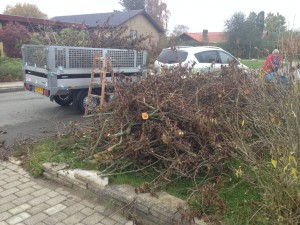 The first time was boring. The second time was more boring. The third time was deadly boring.
Three times we had to drive to the dump to dispose of the results of the powerful trimming of 1 pc. of plum tree and 1pc of red hawthorn. It took 3 ½ hours.
We had rented the trailer from a local trader, gas station attendant, for the incredible sum of 175 kroners. In return we got a brand new trailer which drove its maiden journey with our clippings. That's something to remember.
Matron, the tough woman, took her share of the job but now we are tired both of us. So I told her to have a small break while cooking. Not too long of course. I want her to feel feel that I am a kind man.
Monday, November 2nd 2015:
The big clean-up craze seized me today - for real.
My workshop which since last summer's many activities has resembled a bomb crater is now in good order. It took a couple of hours.
Now you can see the floor and table which has not been possible for a long time. And there is space to move around without having to move compressors, bike, folding work bench, bike and repair stand. Nor do I anymore have to worry about tripping over some tool on the floor.
The halo is hovering brightly over my beautiful head - and I was praised by Matron.
Now I await to get the same desire to clean up in my garden shed. May it come soon.