Wednesday, July 20th 2016:
It is not very good.
I read in newspapers today that 5.2 million Danes, must be all of us, have had their Social Security numbers and health information handed to the Chinese because of a computer error. It's a bad thing.
Now Mr. Fu Ching can sit on his behind over there in Beijing and read about my ailments big and small. I wonder what he has to say about my blood pressure and my aching back? Not to mention the flu I had in 1998.
On the other hand, I have heard so much about Chinese medicine, strange plants, acupuncture and much more. Maybe they'll send me proposals for treatments. That would be good and will shorten waiting time at doctor and hospital.
Tuesday, July 19th 2016:
It is rest day in the Tour de France today. Why I do not know. Pull yourselves together, sissies and bike through. I didn't think like them and completed a stage of 67 kilometers around and through Aarhus. I do not need to rest. (It a lie).
However, I'd better tell that if it were not for my friendly brother Kjeld I had just come so far. He was kind to help and wait and that encourages one. You feel you cannot give up and you owe to show your best. I did - even if it was not impressive.
I was tired when I returned home, very tired. But a shower helped a lot and the prospect of a lovely supper even more. Just now I am enjoying the smell from the kitchen.
Monday, July 18th 2016:
I have the feeling that Matron is being spoiled more than is good. Or maybe she know too many tricks.
A few months ago she saw two leather sofas in a furniture store not far away and mentioned that she might well like to have them. I said nothing. She has since then mentioned them a few times, in passing.
This morning I woke up to the following message, "Yoy know the sofas we agreed to buy. I want them now."
So, departure for the furniture store and now the sofas are purchased for delivery in a few weeks. They are beautiful, we think. They are expensive, I think.
Sunday, July 17th 2016:
It has been a busy day. Many things had to be looked after and synchronized. Shopping, Tour de France and AGFs first match of the new season, both on TV.
I wonder if others than I sense the importance of having a good garden waste cart when the old one after 25 years breaks down? Probably not. After some searching I found a good one. That was in the morning and then came the difficult part. Tour de France and football were simultaneous in the afternoon. That was difficult. As I expected AGF would lose, I chose to record the game and watch the Tour directly. It might well have been reversed. By Jove AGF won over my favorite hate club. So after the Tour the video was started even though I knew the good result.
Everybody is a little mad - I too.
Saturday, July 16th 2016:
Continued from yesterday:
My stomach ache is still gone. I drink water like never before.
Since my abdominal agony was gone I could fully enjoy last night at Moellerup Estate. Along with granddaughter Katrine, I attended the World Ballet. It was beautiful, impressively beautiful. Unfortunately a little cool but one forgot it. Luckily it was dry.
Since Moellerup is far from unknown to me - I've been on hunts there for 40 years - there were many people to say hello to, known and less known.
A good end to a day with stomach ache.
Friday, July 15th 2016:
I would like to ask if anyone happens know a barefoot doctor, or maybe one of those "Medicines sans Frontiers".
If this is the case, I would like to have a talk to that medicin man. For I have a night with major abdominal pain. It did hurt and I did not sleep a total of 2 hours. Even this morning I had to bravely suffer. At 12:03 the pain partially appeareared exactly and one hour later it returned.
Now however, it has completely gone which will save the evening for me, an evening I have been looking forward to since Christmas. According eldest granddaughter Katrine the pain disappeared, because she forced me to drink 1½ liters of water. Cheers.
I would still like to meet with the barefoot doctor or the frontierless ditto. I shall talk about the healing effect of water.
Thursday, July 14th 2016: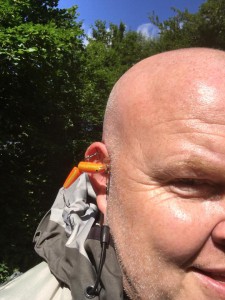 Our son Peter is very fond of fishing. Had he the time he would do it every day.
Yesterday he unconcerned took off, parked the car at the river, mounted the lure with hook and all, and started walking towards the stream. After only 5 steps, he had his first catch. A cod was hooked in the ear. It is said to hurt very badly, especially if you laugh. He did not. I did when I heard about it and saw the photos.
Then to the doctor who could do nothingk. Next the hospital that with a wire cutter and a bit of anesthetic removed the hook.
Moral: If you absolutely want a piercing you ought to go to a professional.
Wednesday, July 13th 2016:
Today I read a small article about the possibility that we all have a double somewhere in the world. According to an Australian scientist, Teghan Lucas, the chance is one in a trillion. But it is there. See picture. They are NOT twins.
I have met my own double, in 1959 at a cafeteria in London, just off St. Paul's Cathedral.
I sat looking out the window when a young man walked past, stopped, put his right hand over his eyes close to the glass, and looked inside. It was him. My own double. There was no doubt at all. Same features, same height and size - and same red hair as I had then.
I ran out into the street to talk to him, but unfortunately he was gone.
So out of a trillion possibilities I met my dou
ble.
Tuesday, July 12th 2016:
Question: When is a lawn too high to be mowed with a normal lawn mower?
Answer: With us almost always.
This time though, it was quite chaotic. It is more than 2 weeks since the mower last drove over it so we were talking about 10 centimeters height. In addition it was very wet after 14 days of almost continuous rain - and the rain is continuing. See picture.
So I took the courageous decision that regardless of wind and water it was to be today. So at a small break in the rain I rushed out and started with the heavy work. Only after having raised cutter to maximum height.
I became wet but I completed. Now the lawn very green and still quite long. And I am slowly becoming dry.
Monday, July 11th 2016:

That

was a close call.

Oh

dear, oh dear.


Matron and

I

ventured

this morning

to our

camping

retailer to

book a time for a

few minor repairs

.




While

I made

arrangements with

the foreman

in the workshop

the sweet

lady went

loose

in the store.

Something

that otherwise

at all costs must be

avoided.




Shortly after

she came running

.

There

was something I

absolutely

had to

see

.

I thought that

it was probably a

new chair

or

a coffee pot

or

that sort of a thing.

But no.

IT WAS

A NEW

CARAVAN

.




Cold

sweat broke

out on

my forehead and

in a

déjà vu

I remembered

when

once

some years ago we

went out to

look for a new

TV antenna

and drove

away

with a new

caravan and

thousands of

crowns

poorer.




Well,

fortunately,

it made an

impression that

I -

sitting

in the

perhaps the

new

caravan

clearly

expressed that

I

would

under no circumstances

have this one

.

And I

meant it.




It

was

reluctantly

accepted.

But

oh dear

.

It was too close for comfort

.


Sunday, July 10th 2016: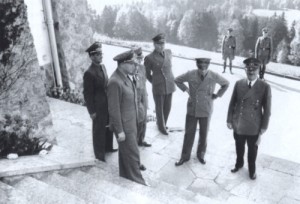 I could not help myself. I have gone way back in my own history, you know just after the Stone Age, to my birthday November 18th, 1940.
I tried to find one or more events that occurred that very day.
1) I was born at 56, School Street, 3rd floor in Silkeborg. It was a Monday. Thought so.
2) Hitler had a bad day. Not only because of my birth but also because he was visited by the Italian Foreign Minister, Count Ciano at the Berghof in Bavaria. The Italians had attacked Greece, which did not pleas the Führer .
3) Quabos bin Said Alin, later sultan of Oman, was born in Salalah in Oman. I never knew that he and I celebrated our birthdays on the same day.
Saturday, July 9th 2016:
Just home from 10 days' holiday in beautiful city Lemvig it is time for an evaluation.
Our awning was down a couple of times. Eventually we had to take it down for good. It was raining and blowing. And when it didn't it poured down and stormed. We were quite scared one day when the sun suddenly peeped out. It was not long. It would have been too disruptive.
It's the worst weather we have ever experienced in our 31 years with the caravan.
Nevertheless, we had one of the best holydays for many years. We relaxed, slept in, enjoyed ourselves, ate when it suited us, hardly experienced anything we have not seen or tried before.
It was just great. Only the two of us with time to talk undisturbed.
That was all from our visit number 15 in Lemvig.
PS: I did not take the photo. Al flights were cancelled.
Thursday, July 8th 2016:
The two of us were seen on nationwide TV yesterday.
In "TV2 on Tour" matron and I appeared no fewer than four times. We did have a terrible hassle of running around and make sure to get in front of the cameras along with host Michael Staerke. It requires a certain physical form running around after the cameras. But That was what we had. We also has a good idea of where to go afterwards. Unfortunately we are not seen on the displayed image. One of the few times we didn't.
Totally exhausted we went home to enjoy the sight of ourselves. However, we didn't reach it until this morning when I ruthlessly and reluctantly was forced out of bed to see it in a review. One shpuldn't appear too keen.
From now on please act a little more respectfully towards we famous TV stars.
Thursday, July 7th 2016:
I had not seen it coming. The Danish Football Association will ban smoking at international games, 77% of the seats (about 30,800). Then the smoking soccer enthusiasts must do with 23% (about 9,200 seats). Typically Danish - compromise.
Well. Now I'm curious as to whether they will further split smokers up in home team and away team, ie 11½% each for the latter. The same must be done oat non-smoking seats.
Next comes control. How do you surveyi respectively 30,800 seats and 9,200 seats.
Will smokers be expelled? Fined? Public whippings? The wheel? Running the gauntlet?
I'm anxiously awaiting the next international game.
Wednesday, July 6th 2016: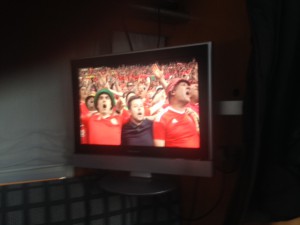 The evening is going to be football, like the afternoon was the Tour.
It's quite strenuous with all that TV-watching. It takes its man and its Pepsi Diet and assorted chocolates and cookies interrupted only by Matron's delicious dinner.
But bravely, I fought my way through the first half, the Tour and the dinner and right now they are making ready for the start of the football match Wales - Portugal. I will fight hard to hold out to the end. I failed a couple of times during the cycling. I dozed off a few times but only briefly, thankfully. It was after all a tough mountain stage.
Now it is football. I'm still awake, sort of. Sleep well.
Tuesday, July 5th 2016:
I think I am a patient man. I'm valiantly trying to forget life's disappoitments, big and small. For example, I have taken it quietly that Iceland had to leave the European Football Championship. Nor does it upset me that Matron only wins small amounts in Lotto or that you cannot get a decent Fish'n Chips in Denmark.
But I'm beginning to loose patience with our weather. What is going on?
Let is be that temperatures rarely exceed 17-18 degrees.
Let it be that we are getting a lot of rain.
BUT. The wind is unbearable. It annoys me like h.... It annoys me more and more to go out in it. I hate it that my bike remains in the shed. It is not even a consolation that a Danish poet, Storm P claims sthat headwind is fine if only you are going the other way.
I hate the wind. And you cannot even see it.
Monday, July 4th 2016:
Today I read about the British tycoon Richard Branson. He is believed to have assets of around 38.4 billion kroners. He's richer than I am.
Now he's in the press to ask his "colleagues", other big billionaires, it is really necessary for them to have six yachts.
Now, that's a good question. Obviously Branson's perception is that it is not, if I were asked I would also say no. I could easily manage with one. Branson believes, however, that a couple would be OK. One shouldn't suffer.
It is better to be rich and healthy than poor and sick.
Sunday, July 3rd 2016:
Over the past 20-25 years I have visited a great number of campsites in Denmark and abroad.
It is characteristic for almost all the sites that order prevails. No one leaves waste. Everybody cleans up after themselves and take their tents back home after use. When a space is vacated you can not see that anyone has been there.
But then there's just one campsite that stands out. There are no rules. All is a mess. The campers obviously expect their mother to come and clean up. To everybody's surpris she doesn't.
The campsite is only open 4 days a year. The Roskilde Festival Site.
A mess like that you cannot see anywhere else. Well, the old man is disgusted and shocked and can only welcome the fact that it is not he who must cope with the cleanup.
Saturday, July 2nd 2016: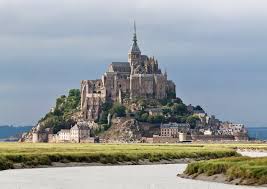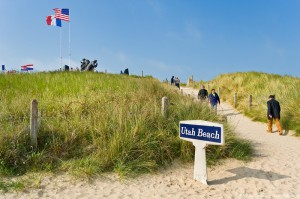 It has started, Tour de France. At 1 o'clock. I am greatly enjoying myself and follow the race intensively. Just once I surrendered to the arms of Morpheus. Only for a short time.
I can report that it is a medium fast race and the wind is quite strong - just as much as here. Contador crashed and hurt a shoulder but continues. The three commentators are in high spirits. I feel well entertained.
The tour began at Mont Saint Michel and will end at Utah Bech, one of the invasion beaches on 6/6 1944. I have visited both sites and I am very fascinated by the area.
Bike racing is great.
Friday, July 1st 2016:
We have for some time considered having our house painted but have not yet agreed on what colour we are going to choose. Then on a drive today we found it. We saw a house that had exactly what we were looking for. Now we just need to find the combination that gives the exact colour. It may not be difficult. To my knowledge, purple a mixture of red and blue.
Purple has historically always been associated with royality, nobility and prestige. That was vital for us in our decission making.
Thursday, June 30th 2016: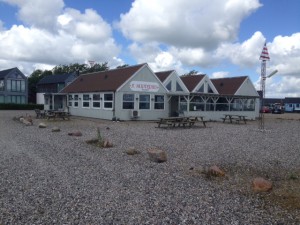 We know the island of Jegindø pretty well and visit it as often as possible. Thus also today.
It is a beautiful island with a beautiful, small harbor.
Here we sat for a while and chatted with other guests while we enjoyed the sun.
Then it was lunch time.
At the harbor is a small, humble restaurant that we entered with a bit of skepticism. What a surprise. Very good food - served with a nice smile. Surprisingly enough we had fish.
That saved our day.
Wednesday June 29th 2013: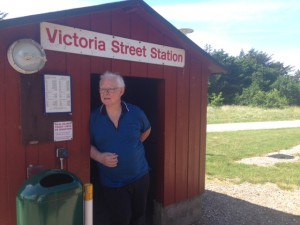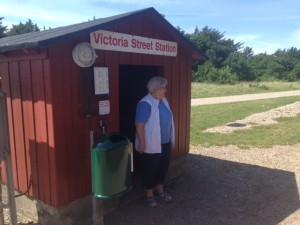 Matron and I travel quite a lot. Yesterday we drove through Paris in under 30 seconds. We barely detected it.
As can be seen, today we went to London and visited Victoria Street Station. Again it was easy to get in and out and the visit was over in 2 minutes. We saw the entire station.
Tomorrow we shall drive through Rome. It will take less than 30 seconds.
Yes, we see a lot in a short time and it is quite cheap.
Tuesday, June 28th 2016:
Again I broke a promise to myself. I watched the whole game England vs Iceland last night. You may remember I threatened to switch to a food programme if England came behind. Unfortunately I broke my promise and watched the game to the bitter end.
Often I have seen my own club AGF being humiliated and played off the field. Often they were laughed off the pitch.
However it was nothing compared to what England did last night. Only rarely do you see football of that poor caliber. The team was worse than AGF on a bad day. Suddenly I was an Iceland fan. At least they put up a fight. Congratulations, Iceland, I now imagine that you would give France the same treatment on Sunday.
HU HU HU. I'm supporting you.
Monday, June 27th 2016:

Now

it must be.

I have

plans to

watch an entire

football game

tonight

,

England

against Iceland

.




I know

that 80-90

per cent

of all Danes

are hoping for an

Iceland

victory

.

Underdogs

are always popular

.




I

shall, however,

support

England

to the last and

hope they will

win

clearly

.

I am

am not

an anglophile

for nothing.




My hope is

that all tension

leaves

the game

quickly

with 2-3

English

goals

.

If

the opposite happens

(which

all good

forces

forbid)

I shall not

watch

a full game.

I shall switch

channel

and

watch

some

stupid

food program

.



Sunday, June 26th 2016:
We had guests for brunch today in a rather special occasion. English David is visiting our son Peter and family.
And now read carefully. David is the son of May and Len, our English friends for almost 60 years. Matron and I are both very happy that our friendship has been passed down to our and their son and families.
David is in Denmark for a concert with "Dizzy Mizz Lizzy", whoever they are.
I heard, however that the group has a hit "Water Line". It is very appropriate since it poured down exactly from the concert start till the end. Everybody was soaking wet, and the beer somewhat thinned.
Saturday, June 25th 2016:
Frederik is on a weekend stay. Mum and dad are at a concert, "Dizzi Mizz Lizzy", with their English friend.
Like all children Frederik has three main interests, earth, water, and fire.
Today we made a fire. It is incredible how fire can catch a 4 year old. To turn on the fire, to watch it and talk about it. We sat quite some time and enjoyed it.
However, it was obvious that the young man from kindergartenhas has got some "habits", bread on a stick, marshmallows and sausages. Those I could not offer. Must remember it next time. It will bread on a stick, which I with great pleasure remember from my own childhood, lightly baked over the flames, with margarine on the surface and well dipped in sugar. Nearly as good as pancakes. I am looking forward till he will come on holiday in July.
Friday, June 24th 2016: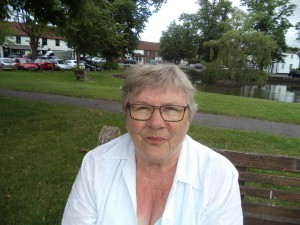 I read today in an online newspaper about the world's 10 most powerful women. Some strong examples. Let me just mention 3:
Angela Merkel, German chancellor, Hillary Clinton, US presidential candidate and former Foreign Minister, and Melinda Gates, founder of "Bill and Belinda Gates Foundation". There were 7 more.
Quite obviously I missed one, the woman who has more power over me than the ten together, Matron. She makes decisions that affect me around the clock.
But she is also very nice when she does not make decisions for me. May it become more often.
Thursday, June 23rd 2016:
I have always been fond of history. At the moment - and it has continued over the past 2 years - it is the war in 1864 between Prussia and Denmark that has had my interest.
That does not mean that I am not aware of other topics.
Thus today I encountered a historical description of the accident at the brewery "Meux and Company Brewery" in London October 17, 1814 (see picture).
Many Londoners' dream came true. Two huge beer tanks split apart and 1,470,000 liters of beer poured out on Tottenham Court Road. Paradoxically, also a pub, "The Horseshoe", was swept away by the beer flood.
There was also tragedy in the process. 8 people drowned. A few, however, with a smile on her faces. They were up and pee 3 times.
A terrible accident it was nevertheless.
Wednesday, June 22nd 2016: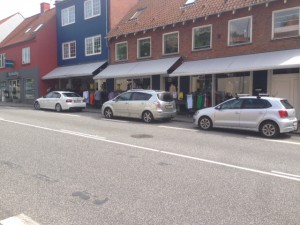 Matron claims that I need a summer jacket. I disagree. Therefore we drove to Rønde to purchase one at a cheerful haberdasher's whom we know quite well.
He is a happy man with a warm humour.
We came with the sole purpose of buying a jacket for me - and only that.
We left with 2 shirts, 2 T-shirts and 10 pairs of socks. Happens every time we are there. Matron argued that I lacked those items. I disagreed. Therefore we bought them.
There was no jacket in my size, only child sizes. So I did not get any.
Tuesday, June 21st 2016: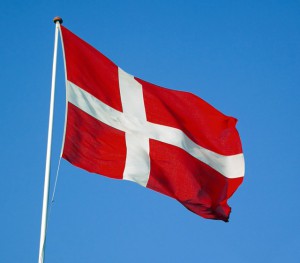 I was at a 75th birthday today. A very old dog friend. I've known him for 40 years, since 1976. What have we not seen together on trials, hunts and at festive gatherings - large and small. In a speech to him, I tried to mention a few of them. But it could just be a very small sample. The speech had come to an end.
The party was cozy with nice and talkative people super fine food and ditto drinks. I tried in vain to hold back on either. It was not easy. I have the problem that there is one thing I can not say no to. It's temptations.
And so it happened that my blood alcohol slowly but surely rose to heights I have not known for a long time.
It was a good birthday party.
Monday, June 20th 2016: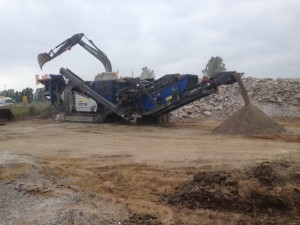 Finally, we got started. A slight modification of our garden required a slightly larger machine than what I have. I've waited some time for it. Now it's here.
It is not duer to any big changes but just a few minor things in the park. The potato field will not be touched. It is standing nice and full of green plants ready to be dug up in 2-3 weeks.
I presume the machine will work here for 3-4 days. By then everything should be all right and look right.
I can not stand coincedences. A garden loses its beauty through unprofessional work with lousy machinery.
Sunday, June 19th 2016: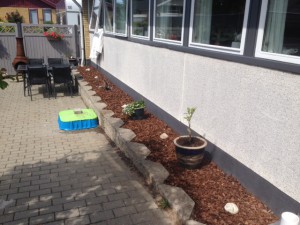 I cant help it. Just 5 years ago I could - and that without any problem at all. I think of gardening. Now I barely tolerate seeing anything that is not exactly as nice as it could be.
Therefore, I set off today to buy 4 bags of pinebark to decorate under our windows. I could not help myself. A craving drives me even if I knew it was home to hard work. But it turned out to be pure pleasure and after an hour I finished. Look at pictures before and after.
Do you think I need consulting a doctor to get rid of that urge? Perhaps a patch or acupuncture could work? But no. I enjoy giving in to the urge.
Saturday, June 18th 2016:
Today is my father's birthday. Had he lived he would have been 105 years old.
He was a proud man who spent most of his life for others, especially in Silkeborg Sports Club. He had many board positions. The last one was as main chairman of a rapidly growing club. Virtually all of his time went with it. Cricket was nearest to his heart.
For many years he was also chairman of the Danish Municipal Workers Federation branch in Silkeborg. Later also on the Danish main board of the union.
At the same time he had to look after his job as a janitor at two houses for older people just by the Gudenå River in Silkeborg. In addition to looking after the two buildings he spent much time talking with and helping the old who lived there. Only rarely he had some free time.
Everything he did was for others - and unpaid. I am proud of my father.
In the picture from 1921 he is 10 years old.
Friday, June 17th 2016:
During the latest approximately 2 weeks I have been up extremely early every day - except Sundays.
We're talking about 6.45 a.m.
Why? Because I've taken Matron to work. She like me to do that and I am put on earth only to satisfy her smallest desires. The big ones I repress.
Also today we set out at 7.15 and with usual precision the sweet lady got out of the car at the university at 7:45 and I drove home.
I had not even come home when I got a call from that same sweet lady who just wanted to tell that she was 1 hour early at work. My short sleep could have been 1 hour longer. Then my world broke down.
Thursday, June 16th 2016: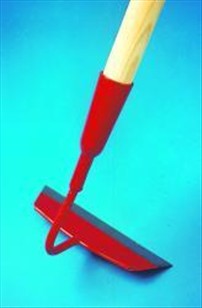 I sharpened my hoe today - on my fine sander. I'm not world champion in the art of sanding but I ought to be able to handle a hoe. So I sanded and sanded and it looked quite fine. I stopped for a moment to test if the hoe was sharp enough. It was, but worst of all, it was also hot enough burning hot, so seriously hot.
After that you could see and hear me dancing the fire dance around in my workshop, blowing on my fingers and cursing loudly. I ran in and held my overheated fingers under the cold tap, which removed the worst of the pain.
One should beware of burnied fingers.
PS: The hoe is now much better.
Wednesday, June 15th 2016:
I broke a promise today. Shame on you, old man. You failed.
Well. I was at the hospital yesterday for some tests and I happened to promise the sweet Matron and the sweet nurse that if the result was good as I'd put in my old and tight swimming trunks and jump into the Aarhus Bay and have a swim. I have not done that for over 20 years. The water is always damned cold and I only jump in whwn the temperature is so high that it seethes at the water's edge. It did not so I felt compelled to break my promise in spite of the good result that I got today. Both Matron and nurse were disappointed with my broken promise.
Next time with a good result I shall only promise to jump on my bike.
Tuesday, June 14th 2016: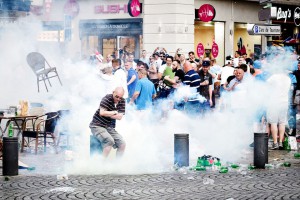 War is on in France - on several fronts.
One of them is the war between Russian and English football fans. The going is tough
The English fans are not known for softness but indications seem to show that they will only be number two to the Russians. So they must be bad.
Now, UEFA told the naughty children (Russians), that if they do not behave more nicely they must be ashamed of themselves and go home.
How the two punishments are controlled and executed I don't know. Firstly, I do not think they are able to be ashamed and also they have surely no plans of leaving France. They're having too much fun. There's vodka in the jar.
Note the flying chair in the picture.
Monday, June 13th 2016:
I read some horrible news today.
Daniel Craig stops as James Bond.
What now? Now one has just gotten used to him appearing in Bond films after Sean Connery, George Lazenby, Roger Moore, Timothy Dalton and Pierce Brosnan.
I fear that now it must go wrong. What nerve-racking situations have we not gone through with the six James Bonds. They all just escaped sure death. And now a new one. No guarentee the new one is just as good to handling the cruel criminals. I hope he will survive. The doubt is there, however.
Sunday, June 12th 2016:
For the first time this year, I enjoyed cycling
despite quite strong headwinds
. Therefore, I could ride this year's longest ride, 65.5 kilometers.
My nice and clever son-in-law told me the other day that headwind is not always headwind. Temperature plays a role. That was confirmed today. Of course, I could feel the head wind, but it was manageable in the pleasant temperatures in contrast to the cold days in spring. I've never thought about it that way before.
It's good to have a clever son-in-law (he is also nice).
I hope it will be easier to persuade myself for another ride soon.
Saturday, June 11th 2016:
We were at Løgstør today. Delicious lunch followed by an ice cream in the beautiful, sun-drenched Løgstør Harbour. Glorious combination. Lunch and ice cream.
We visited my old soldier comrade Kruse and his sweet wife.
We were also there to hand over two winter garden chairs that were leftovers in our frenzied cleanup madness up to the visits of the three real estate agents. The chairs could be used in our friends' courtyard. But primarily we were there to visit a couple of good friends whom we always enjoy being with. You must take good care of your good friends. Especially when you reach our age.
Friday, June 10th 2016:
Matron has been at work today - for a very long time. From 8 o'clock a.m. till 6:30 p.m.
She is cool. I could not do it.
I was up early to take her to her job and I picked her up in the evening. She deserved that.
I have, as usual, missed her. But partly she enjoys her job, and partly none of us aresorry that a little money rolls in to give us a bit of butter on the rolls and our camping tours throughout the year.
So today I have spent my loneliness to maneuver two large chairs into the car, test the new TV aireal in our caravan (it works) and moving a plant from the lawn to a jar - and watching a bike race on TV. Not a bad day at all.
Thursday, June 9th 2016:
In an uncontrollable fit of wanderlust I walked the dogs today. In itself there's nothing unusual about that. And still.
I had just hoed my potatoes, weeded and cut edges of the lawn.
This made my back dissatisfied. I thought though I could probably take a walk with the two black ones.
Again I was wrong. It was a special walk. I had to use in my painful penguin-style, leaning forward and with both arms behind my back. It must be a precious sight. Therefore I always stop whenever I meet others which I did. No fewer than twice. So I stop at the side of the path and bow politely when they pass me. It's said about me here in Studstrup that I am a polite man.
Wednesday, June 8th 2016:
Tension at last.
After more than a week's toiling to make garden and house look well we had a visit from two real estate agents. Both were pleased with the house but could not yet say a price.
I think for sure they noticed the order and cleanliness that prevailed everywhere. I certainly could not find the smallest place to put a finger on with anything disorderly. Even the potato field stood there fresh and green with straight rows of potato plants.
Now it's all over and we can begin living as usual. Now it is again possible to mess up and everything does not have to be put in place immediately. Oh, what a glorious life it will be. We started today and spent part of the day on the couch with small naps in between. First time for a week.
Tuesday, June 7th 2016: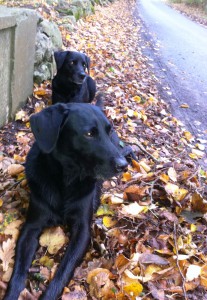 I got myself an involuntary bike ride yesterday. Not long, only 5-7 kilometers. Neither did I at any time leave our village. I rode on all residential streets - very slowly - and I looked in at all the driveways and in gardens that didn't have dense hedges. If anyone had seen me, they might have thought ugly things about me.
Shortly. My old, demented dog Sydney had seen his chance to sneak out through an open garden gate and was gone. I know he just sneaks around sniffing and pissing and there is no longer any speed over him.
So I found him not far from home, at the electicity work but as told only after having been all over the village.
Was he fond of seeing me? Not in the least. He hardly noticed me. Senile dementia.
I was glad to see him. Not yet dement.
Sydney is in front on the picture. Fron the time when dementia had not yet caught hold of him.
Monday, June 6th 2016 (72 years since D-day):
Another busy working day. I'm about getting into the rhythm. It's not nearly as painful as last week, although the work today was more strenuous. Painting, weeding, etc.
Do not think I want compassion. Not at all. I am sort of enjoying it now and have a break whenever I need it. The breaks are short. I am keen to get started again.
I am proud to show my job list, written down after Matron's orders.
Note the few non-crossed jobs that will be done with tomorrow. Another busy day awaits. Weeding and mowing. I am already looking forward to it.
Sunday, June 5th 2016:
Monday May 30th, I wrote that we are going to have our house valued in relation with a bank switch. Now it's time for it - on Wednesday.
Therefore, the past week has been full of bringing everything in order, both externally and internally.
We are almost finished with the exterior so our garden looks like an advertisement for an advanced landscape gardening company.
The hedge is trimmed, the grass and grass edges are trimmed, we have is weeded and swept everywhere, some smaller beds have been changed - and more.
It's all been done in the current heatwave which demanded sever breaks for drinks.
I shall soon release a new book, "10 tours in my garden." A sure bestseller.
Saturday, June 4th 2016:
I definitely do not want to blame a particular company . And certainly not Fakta where we often do our shopping. An excellent place to shop.
But I could not help wondering today when I saw the poster, as seen here on the left. It was right at the entrance of the supermarket.
What is it the young man is doing? Shouldn't he go somewhere else to do what he is doing? I mean right outside the main entrance. That's not appropriate. Anyway, today's youth. You never know what they may do.
On the poster it says, "Become part of Fakta"
Friday, June 3rd 2016:
What a nasty heat we're having. It prevents me from clear thinking.
Therefore, it also went very wrong when I decided to mow the lawn and paint our decorative garden bench. I should have waited for cooler times. I understand they are lurking some time next week. It will be great.
But now the lawn is as nice as almost ever. The reason being that I've had the lawn mower grinded and adjusted.
The bench is beautiful as ever in its light brown color. The reason being that it was I who painted it.
Usually Matron prohibits me to paint but as she was not at home I dared doing it. In fact I got credit for it. Life is full of surprises.
Thursday, June 2nd 2016:
I was at a bike race today. In Hammel, one of the country's leading cycling towns. Over 100 participants. None of them over 6 years old.
In other words, 4-5 kindergartens had prepared a race on a circular route of 700 meters in a system of pathways in the town.
Obviously grandson Frederik was there. Now, I definitely have to be careful with words of praise. But he was certainly not the slowest rider. He did 13 rounds, 9,1 kilometers in about 45 minutes. It is well done on a bike with so low gears on a route with an ascent just before the finish line.
And he would have liked continuing.
Granddad was proud and is looking very much forward till he and I shall ride our first tour together.
Picture left. Frederik in yellow jersey looking back.
Picture right. Frederik riding away from the peloton.
Wednesday, June 1st 2016:
I was twice in the DIY today - because I forgot something the first time.
First I bought a part of a door frame - then a sealant cartridge.
Neither of those are things that I normally associate with, at least only with great caution and even greater ignorance.
Fortunately, our daughter has a father in law who is a master in the use of the two parts. Therefore we shifted a slightly battered door frame with a whole new one and he also jointed around all door frames, a job that should have been done many years ago. So now we have fine frames in the house, apart from a few to be painted. I probably must do that if nobody else volunteers to do it.
Tuesday, May 31st 2016:
Finally, I picked myself up and did it. I have been suffering from a disease called "No desire to cycle" (non cupiditate cyclum). Healing is difficult and can only be done with the help of good friends who are fond of cycling and also have suffered from the same disease.
On Facebook I got so much good advice that I felt ready to cycle 31 kilometers today. Not far, but satisfying when I realize that I formally start from the beginning each time I venture out.
There was little cheating. My sweet wife drove me to Tirstrup from where I cycled home in a good tailwind and good temperature. Headwind has been my harshest opponent this year. I hope we can soon become better friends.
Monday, May 30th 2016:
Everyone says that it is easy to switch bank. One doesn't have to do anything. I disagree with the claim.
We've got a good reception in the perhaps new bank, friendly and welcoming adviser.
But of course he wants to see some papers, many papers, and of course there is always just one missing. I think we're through that stage. So we just need to have our house assessed.
As if this was not enough I was contacted by a company that would like to supply electricity to us - a shift from our current company. This possible new company claimed that they can supply power much cheaper. I asked for the offer in print. That was not possible. I did not undertand that.
It made me examine my latest electricity bills which I have never done before. They turned out to be so complicated that I would argue that only people in the trade will be able to understand them. So I can not make a comparison. So one dares scarcely change.
Switching bank is quite a trouble - switching power company is virtually hopeless.
Sunday, May 29th 2016:
We were at a silver anniversary last night, daughter Annette and son in law Kent - and what a party. Lovely and cheerful atmosphere, wonderful food, fine wines and cool draft beer. Right after my taste.
It's a long time since I've enjoyed a night like last night and even longer since I could enjoy ingesting as many alcoholic drinks. As the saying goes: "I got enough to make my hat fit". It did not fall off though. Maximum slightly tilted.
Today we had an improvised, lovely, small lunch with the silver wedding couple. We ate a little of the leftovers, tapas, which I love.
Thanks to all who helped making the party a super-party.
I shall come back to the golden wedding. However, I will not sing in the morning. It is far too early.
Saturday, May 28th 2016:
My detested lawn mower has returned from repair. It was pricey but hopefully a good repair.
I test drove it a little in the front yard and was scolded by Matron just because e grass was spread on the tiles. A bad combination, expensive repair and scolding.
And now I have no excuse not to mow.
We also got our caravan home yesterday after an even more expensive repair, nearly 4,500 kroner. Luckily I did not get scolded for that. New aireal alone cost 3,000 kroner.
It was a total of 6,000 kroner for repairs. May I suggest a collection to cover my expenses?
Friday, May 27th 2016:
Last night, after 5 years of absenceone, one was once again seen at a game of football at the Aarhus Stadium. Back then AGF won and they also did last night. It was 2-1 against OB. Obviously AGF wins every time I'm there. But then there are all the games in between. I am not going to be there every time even if it was good fun last night. I was very nervous, too nervous, during the long period when it was 1-1 and would rather have gone home. Fortunately I didn't. Bravely I withstood the temptation and persevered to see the players' happy jubilation after the game. I cheered with them. Yet I shall hardly be there next time which is late July. My highly strung nerves might suffer damage.
Thursday, May 26th 2016:

It is an anniversary. For the first time in 5 years I am going to watch a football game live at Aarhus Stadium. AGF play the season's last home game - against Odense.
I sincerely hope for a victory. I feel awful when I watch the team lose. I am miserable. It's bad enough when I watch them on TV. I can turn it off.
So I wish I could join the players in the locker room before the game and tell the them the state of affairs. I think it will encourage them to really go for a win when they hear about my situation.
Come on you whites (Kom så de hviiiiiiiii).
Wednesday, May 25th 2016:
Man, I was up early this morning, just around 6 o'clock. I was so sleepy that I felt quite sick to which Matron only said that I could have gone to bed earlier.
Thus comforted we left for a morning song and morning tea and coffee with daughter Annette and son in law Kent who are having their silver wedding anniversary today.
It was worth it, cozy and cheerful with family and many friends in a tent the size of a circus.
We were more than 50 people in the tent and had plenty of room.
There's a party later in the week. Am I looking forward to it? You can bet I am.
Tuesday, May 24th 2016:
I know. Delayed again. The reason is a good one.
Tomorrow, daughter and son in law celebrate silver anniversary. Imagine that one has become so old that one's children are having their silver anniversary.
Well, fine. Back to the delay. Matron and I have actively participated in the preparation of a an arch of honor. At 22:30 we finished. It was difficult because someone - probably me - had taken some wrong measures. But with the help of good friends of bride and groom we succeeded.
Good night. We must up early and sing tomorrow. Up 6 o'clock a.m. to be precise.
Monday, May 23rd 2016:
I was in IKEA today - only because I knew I could do daughter Annette a favour by doing it. She is very busy at the moment on her job. But her (and her husband's) upcoming silver anniversary the day after tomorrow must also be planned.
Therefore, I gathered courage and went with Matron into Court of Hell. I asked the same condition as last time we were there. Into the store, directly to what we were buying and directly off.
It was followed to the letter, and in less than fifteen minutes we stood on the parking lot again.
That's the way to do it. No fuzzing about, no browsing. Forget about all other products available in the store. And there are quite a lot.
Sunday, May 22nd 2016:
A wonderful day. Sun and warmth. The old man, yous truly, if anyone should be in doubt, was seen wearing respectable shorts in his well looked after garden.
With my own lawn mower in for repair, I had to borrow one at a friendly opposite neighbour.
The borrowed machine was a speed demon. It was self propelled with an acceleration like a Formula 1 racer. Several times it nearly tore off both my arms and just as many times I was seen running after the machine until speed was properly adjusted. And that sometimes took time.
Never before the lawn was mowed so quickly. Man, was I tired afterwards?
Saturday, May 21st 2016:
Again, I deeply regret that time went too quickly. Watching cycling meant that I have not had time to write my diary. I'm sorry and promise that it will be long till it happens again.
If it doesn't I'm ready for another regret. I'm good with regrets.
But I must complain that no one reminded me that time was running for suddenly I heard the order, "Now we must leave."
I've even been looking forward to it, barbecue with youngest daughter Annette.
Well, anyway I did write something. Actually, I'm quite good.
One can write much nonsense in 6 lines.
Friday, May 20th 2016:
It's quite peculiar.
Matron is an invigilator at Aarhus University and has been so for many years. Many hundreds of students - rather thousands - have been tested under her eagle eye.
Also today she was off to her job - and what happens?
Our eldest granddaughter Katrine was there as a student exactly where the sweet lady was an inviligator. It was a warm welcome. They knew, however, both that they would meet today. But none of them had told about it to me. I haven't not good enough nerves to know when Katrine has an exam. I become terribly nervous. So thanks to both of them for not having said anything to me. I prefer uncertainty.
Thursday, May 19th 2016:
Have a look at the two pictures. Those big grass edges do not come up by themselves. They only did thanks to my great efforts and under big protests from my back which constantly reminded me I ought to stop. I didn't till I had finished.
At the same time I had to help Matron to put soil in various flower pots and afterwards move them around from place to place.
Yes, we've been diligent today. Bike rides must wait. If you think you feel a bit of bitterness in my words - you are probably not entirely wrong.
Where our caravan is? Gas test and a bit of repair + new TV arial.
Wednesday, May 18th 2016: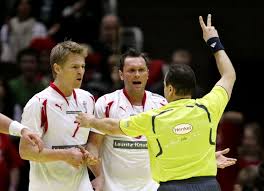 I am watching handball on TV - or rather, Matron is. I follow with half an eye and half an ear. I have not yet discovered who two teams are.
But I've discovered something else. The two referees are equipped with microphones so you can hear what they say to the players - even in hectic situations.
Handball referees have a varied vocabulary. How they swear when they talk to the players. The worst expression was very nasty, something like f..... .... However, there were several more. "God damn" and "hell" are in almost every sentence.
I do not like all that profanity. Therefore, I shall never become a handball referee. Many people are happy about that.
Tuesday, May 17th 2016:
I have been in my car today? I certainly have. Just look.
It all started when I took Matron to her podiatrist in Skødstrup.
Then home and load the car with a huge amout of waste to the recycling place in Lystrup.
After unloading I collected the sweet lady in Skødstrup.
Home for lunch. Today's highlight.
Next task. I loaded our large monstrosity of a lawnmower in the car for repair in Hornslet. Tt's heavy.
Now Matron had an appointment with her hairdresser in Lystrup. I took her there. Next I collected youngest daughter in Risskov and drove her to Hornslet. At the same time I could deliver the heavy lawn mower for repair. And I could continue in Hornslet to my cycle mechanics and pick up my bike after a repair of a defective gear. Next to Lystrup and pick up Matron and her new haircut.
Finally - finally I could go home and drop my passenger here at the address and crawl into my sofa in front of the TV where I now in a relaxed mode can watch the Giro d'Italia. My car will soon be worn out.
Monday, April 16th 2016:
I watched morning TV today. It does not happen often. But forced by circumstances (read "Frederik") I had to watch the whole repertoire of Disney channels and other similar - and it was about 7 o'clock a.m.
Thankfully, I did not need to get out of bed since it suited the young man fine to be in the elevating bed watching TV.
So now I know all about "Sheriff Calley" and a lot of other cartoon characters - that is, apart from the few I did not see because I dozed off. Not long, though. Frederik immediately gave me the elbow, "Wake up, Grandpa." So I did a dozen times.
Sunday, May 15th 2016:
We are visited by Frederik. He is going to sleep here until tomorrow. How nice.
As always the two "P's" are part of his visit, Pingu the Pinguin and Pancakes.
Pingu the Penguin got his hug down at the beach, and Frederik got his pancakes which he himself helped to make. Perhaps the two "P's" are among the reasons why the young man has already booked another weekend with us as soon as possible.
We are already looking forward to it.
Saturday, May 16th 2016:
Lunch with good old friends today. As always good food and good company.
The result is that I shall not eat anything this evening. I can not find room for it.
I had even decided that I was going to eat carefully today but placed in front of the good food I had to abandon that project and I had too much. Could not even have a taste of it all. It is a sign of weakness. Had I just eaten a little less of the previous dishes I could have tasted it all. But I let myself be tempted and there is is only one thing I can not say no to. It is precisely temptations.
Friday, May 13th 2016:
As so often I had a break on my bike ride today at a particular place in Risskov, a bench under shady trees on a busy street. Relaxed after some hard effort I drank some water and looked at the traffic, especially on the bikes, at the racers.
There were however none that I likes - and then, after all.
My own bike ride today was absolutely appalling, strong winds, lack of strength, heavy legs.
Therefore my eyes opened widely each time an electric bike at high speed and without trouble for the rider passed. When I get old, I shall also have one.
Thursday, May 12th 2016:
I was at my dentist today. I broke a piece off a tooth the day before yesterday. It was with my new dentist that I have only visited once previously.
It's hard to say but except for one thing that I shall return to, it was almost a good experience. Skilled dentist, Marianne, meticulous, professional, warm, sweet and accommodating. And it did not hurt. A well laid anesthetic prevented it.
So nothing but praise - until I paid. That was not a good experience. It was terribbly expensive and I to muttered something about that I just wanted to pay my bill, not buying the practice.
Wel. Then I thought that I had a professional and good treatment by a skilled dentist and that must be paid for. I shall certainly return.
Wednesday, May 11th 2016:
I have got myself a new staionary computer. It is exciting beyond all my limits for now everything from the old one must be moved into the new one. It requires a lot of knowledge, knowledge that I do not possess. Therefore, our sweet daughter promised to help me I shall bite nails the day she does it. I am a born pessimist. But about computers it's completely wild. They give me stomach pain and sleepless nights. What if I lose this or that. Suppose that the machine simply will not start. Well, there's enough to worry about besides the thought of my new potatoes. Will they come up at all? I have ben looking for it today. No indication of anything. I shall eat nerve pills the rest of the month. It's too much.
Tuesday, May 10th 2016:
There was a birthday brunch today at eldest granddaughter. She is very nice to visit in her cozy apartment in the most central Aarhus. She is sweet, natural and hospitable.
Although I was very up early we were late. I set Matron off the address and drove on in the vain hope to find a parking space. That was difficult. After approximately 20 minutes I managed and began the walk back.
Now, the fact is that I have lived in Aarhus for 52 years and should know all the streets well. My goodness. I managed to go wrong and arrive with fifteen minutes' extra delay. Not good. When I later picked up the car, it took 5 minutes to walk back to it. It was a good brunch, though.
Monday, May 9th 2016: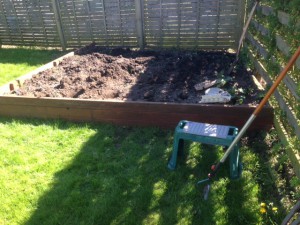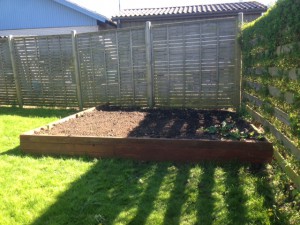 Potatoes now in the ground. See image before and after.
I sat on my knees and put the little brown things in their holes. As usual my back was not happy about it so I had to use the race biker Jens Vogts words on his legs when it was hard, "Shut up, legs". I simply said, "Shut up, back." And thus encouraged, I managed to put 25 potatoes down, a lot fewer than usual. I have given plenty of room for them. It is my experience that it gives the best result. And it is important as my countless applications for EU subsidies have never paid off. It is incomprehensible with all the work that is in it. Shame on EU.
Sunday, May 8th 2016:
Is it "Mother's Day" or not?
I had observed that it is. So I gallantly got up early, made coffee, boiled egg and cheese sandwiches and served it in bed for Matron to make her feel she is married to a true gentleman. Unfortunately there are not many left of us.
My gesture was appreciated and I scored many plus-points. Now, as the art is keeping the level up. It will be difficult, as the good lady has high expectations. But I shall do my very best.
Saturday, May 7th 2016:
That was interesting. I came across a book, "Danish Tax History" in 6 volumes.
Volume 6 is called "Autocracy and the tax-financed state from 1660 to 1818".
I have not read it but read bits of it. It is "interesting" reading.
I learned that from May 7th in 1660 there was a tax to get married, the so-called copulation money.
There were also a tax on oak coffins. Even wigs were taxed. Fields were taxed.
So nothing is new. Like now nearly everything was taxed.
However, one could not at the time tax, as we do now, the so-called "swelling tax" on soft ice. Yes, it is true. It is 10.50 kroner for 1.6 liter soft ice. It provides 300 million kroner per year. So help me Good.
Friday, May 6th 2016:
Here I am again, firmly glued to my body shaped sofa. I sit here happily for 3-5 hours while the just started cycling race, Giro d'Italia, is on TV. I enjoy it, although today it is a time trial. I can periodically get up and leave the room without losing much of the overall impression.
Among other things, I left my couch to make pop-corn. I like eating pop corn while watching the cycling.
I made them myself. That was a mistake. I should not have done it.
The pop corns nearly burned out and indeed it was close that they caught fire when I opened the bag. So, quickly down the sink. A burning smell spread all over the house and woke Matron who took a nap and worriedly asked if anything had caught fire. Fortunately not, just my pop corns.
Thursday, May 5th 2016:
Oh, what a physically active day. My back still hurts.
The first job was a good one. The gear shift on my beloved bicycle needed to be turned so tto make it sit properly. I found out about it yesterday. Everything went well. Is tested. Looking forward to my next ride.
Second task was half an hour on my back - under the caravan. Some threads to each of the four support legs was to be greased. I am glad there were no spectators. I must have looked pathetic when crawling under the caravan and even more when I had to stand up. 4 times in all. It just hurt.
Then came the worst. The grass had become 10 centimeters high. It took an hour with major complaint and whining to remove the green and wet stuff. But finally I finished and was onto my way to the couch. Calmness and rest. I want to ride again tomorrow. Alas no. Another busy hour driving round for a take-away. Also succeeded in the end.
You do not have to wish me a good night's sleep. It comes by itself.
Wednesday, May 4th 2016:
No May 4th without remembering that today is the day to commemorate the end of the German occupation of Denmark in 1945. German troops in north-west Germany, the Netherlands, and Denmark surrendered to Monty. This year it is 71 years ago.
Away with the blinds and in with the candles. I hope that people who aren't old enough to have experienced that evening will join the idea of lighting candles in the windows when darkness falls. We owe it to those who died and suffered to commemorate them with light.
Tuesday, May 3rd 2016:
I follow English football a bit. Yesterday a sensation that beats almost everything occured. Unnoticed Leicester became English champions. It was great and I love it when underdogs win.
I compare with Denmark becoming European champions in football in 1992. No one had ever expected that.
I also think about my old club Silkeborg becoming Danish champions in 1994. Nobody anticipated that.
When such events occur in sport the press goes crazy - and with good reason. Thorough reports of the decisive game, the good players and the good coach.
I am deeply impressed by all this. But after all I am immodestly enough impressed by myself when I ride on the road from Viborg to Padborg 290 kilometers) or around Fuenen (200 kilometers) - or any trip of over 100 kilometers. It makes me immensely happy and only a few years ago I did not at all expect myself to do that.
However, congratulations to Leicester. They desreve it. (And they have a good keeper).
Monday, May 2nd 2016:
I strongly regret that I only now (at 23.20) have written my diary.
And I do not write a lot. Busy throughout the day. Ended around 22:30.
And now I'm too tired and exhausted to write anything.
Hope to see you tomorrow.
Sunday, May 1st 2016:
For many years I have known what scientists have recently found out.
We redheads (or ex-redheads) look much younger than we are. A group of scientists have cracked the code on how some people continue to look young.
And there was no doubt after checking 2,693 Dutchmen and evaluated their appearance in relation with their real age. Redheads do best. They have a common gene, MC1R, the "redheaded gene" that makes all the difference.
Just look at the picture. Do I look like a 75-year-old?
I want to have words with those who dare saying 'yes'.
Saturday, April 30th 2016:
Our kind Løgstør friend who visited us on Tuesday brought gifts, including a rare one. Now I no longer need make do with Word Feud and Facebook in the toilet. I can also play football. I tried today and had a few nice scores. Extra time delayed me and I was missed in the living room. But one does not leave the pitch in the middle of an exciting game.
The end result was 11-0 to me. There's a rematch tomorrow.
Friday, April 29th 2016:
There is a birthday in the family today. Eldest grandchild, sweet Katrine's birthday. Her 22nd.
There's no party today since the young lady has chosen the day to drive to Hamburg and exchange a pair of shoes. You read correctly, swapping a pair of shoes.
There is a reasonable explanation for this madness-trip. I've heard it but have not fully grasped it. Something about a pair of expensive shoes that were not as they should be. And after all. It is only about 720 km back and forth. And what doesn't one do for a pair of new shoes?
I do not know, but I would not drive to Hamburg for it.
Congratulations, Katrine - and have a nice trip.
Wednesday, April 28th 2016:
Now the initial exercises for this year's potatoe harvest are done.
I have cultivated the field under much groaning and complaint. I completed though.
Later in the day I purchased potatoes from a local potato trader.
Now the potatoes must lie unprotected in order to sprout - in cold and light conditions, mind you. It is not difficult to find cold as it will be outside. The weather is awful. There's plenty of liight, about 15 hours a day. So everything looks fine.
As usual I'm expecting EU-support in the form of cool cash. All other potatoe farmers get it.
Wednesday, April 27th 2016: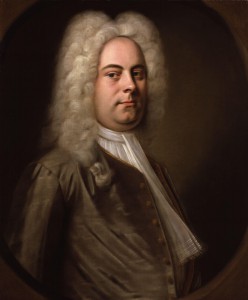 It's so curious that I want to report on it. Today is exactly 266 years since Handel's "Fireworks" had its world premiere in London.
And interestingly the performance was interrupted by a fire. That's curious.
The concert was public which was unheard of in those days. A crowd of 12,000 people found their way to "Vauxhall Pleasure Gardens".
The stage caught fire - despite the pouring rain.
A huge fireworks was part of the performance. It failed completely. The rain prevented rockets and other fire-breathing items from igniting. The stage ignited however - and burned, and the concert was canceled.
This corresponds to an army of Russian Cossacks storming the building, as Tchaikovsky's "1812 Overture" was first performed in Moscow in August 1882.
Tuesday, February 26th 2016:
It was a good day. Our friends from the far north, from Løgstør, my old soldier friend Kruse and his wife visited us for a small lunch. That was also good, produced by Matron with a little help from myself who looked after the more practical parts. Cooking is not yet entrusted to me. Wonder why. I'm pretty good at canned food.
It was still good to observe that when we four are together conversation is easy and nice to be part of. And we laugh well together. And Kruse and I avoid reports from our glorious past together in the Danish army in 1963-64. (My goodness, it is 52 years ago).
It was a lovely afternoon with a capital L.
Monday, April 25th 2016:
That's it. I've had it. My repressed fury of the weather that meteorologists offer us must out.
Do they at all understand that we are in late April and should not have cold, rain, snow, hail, and wind?
Do they understand that my goal for this year's cycling is in danger of being smashed and that my planned bike ride around two lakes on Zealand and around the Roskilde Inlet in May probably will be canceled?
Do they understand that my eagerness to plant potatoes is postponed all the time?
Do they understand that my walks are unbearable in the cold weather?
Do they understand anything at all? I very much doubt it. Sack them.
Take a look at next week's forecast and share my anger with meteorologists. They are rubbish.
Sunday, April 24th 2016:
I had garden plans today. I wanted to mow the lawn and prepare my potato field for a hopefully speedy 'holing' of this South African plant. I've been looking forward to the latter activity for some time. But not to mowing the grass.
Unfortunately, only the first job was completed. When I finished hails came down. Not just some small innocent ones but marble-sized hails.
Thus my plans for today were interrupted. Blast. At least the lawn looks good.
My potatoes must wait for better weather. But then I shall probably be out on my bike.
Saturday, April 23rd 2016: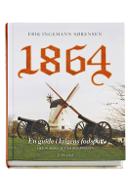 Home again after 4 sunshine rich but cool days in Southern Jutland. I am very fond of that region, its beautiful and varied scenery, its charming villages, and friendly people.
But perhaps most of all I like its history. I am constantly trying to increase my knowledge on it. Here the Denmark we know today was born after the uprising in 1848 and the defeats in the war 1864.
So it was good once again to visit Sønderborg Castle. This time I especially concentrated on 1864. I was also lucky enough to find and buy a book I didn't know, "1864" by Erik Ingemann Sørensen. It is a tour guide you can follow around in the region and visit places that were once so important in the wars. I look forward to reading it. I want to bring the book on my next visit there.
But at that time I will NOT cross the border to shop in various supermarkets. It's damned scary and a nuissance.
Friday, April 22nd 2016:
I was scolded today, not verbally but with deadly looks and a very angry voice from a dour lady on a classy hotel in northern Germany, at Kappeln.
I was needing a toilet very much so I sneaked into the hotel. Undiscovered. On the way out I met the lady mentioned, the concierge who sent me very sharp looks. She knew what had happened.
I tried to cope by asking if they took VISA. Fortunately, she replied no so I almost ran out of the hotel before she could ask more detailed questions.
When I came out, I saw a public toilet just opposite.
Thursday, April 21st 2016:
Once again it was a nuisance. It was hard. Once again I was lured with sweet words and promises of good meals across the border to the Promised Land of supermarkets, Germany.
Unfortunately, half of the Jutland population had decided to go, too.
My task on such visits is to make sure that beverages are purchased and loaded into the car. When it's over I theoretically can find a quiet place to sit before we drive on. It did not happen today. My load on the shopping cart - that constantly would turn to the right - was so heavy that I couldn't controll it. A very short cut rocker type offered his help. He escorted me all the way to the car. I have changed my view on rockers from today. He was the most helpful person you can imagine. Without him, I would still stand outside the supermarket and pull and push the shopping cart to no avail. Thank you, dear rocker.
Wednesday, April 20th 2016:
Here I am again. On a visit to my old friend and my old townsman, "Martin with the whistle".
I am currently in Soenderborg and I always sees Martin when I'm here.
I know him really well from my book about the Silkeborg Poor House. He was born there in 1886, grew up there and was a damn brawler who could go crazy over nothing.
In 1933 he left the poor house for the last time, moved to S
oenderborg and became a friendly and sociable man who lived by collecting metal and other materials he could sell at the scrap dealer's. Furthermore, he was a skilled glazier and could repair people's windows.
When he rolled through the streeets of Soenderborg with his wheelbarrow he blew a small whistle so people could find things they wanted to give to Martin.
He died in 1976 and was so revered in the city that it raised a bronze figure of him not many years ago. A welcome change to the many kings and other good people who otherwise are seen on various statues.
Tuesday, April 19th 2016:
If someone would suggest you to order "Sausage mix" in a takeaway I would suggest you to be cautious about it. I wasn't today. Neither was Matron.
Oh dear. It was not a great culinary experience, I had not expected it to be - but still. The first mouthfuls were reasonable but then it became difficult. The sausage pieces and the french fries filled more and more in my mouth even if they were followed by beer and Pepsi Diet.
Now, I am not the one who gives up. I had not eaten since 11 o'clock this morning. In short. I ate the whole lot and was quite full up.
Still I want to tell the whole world. Do not buy "Sausage Mix" if there is just a single alternative.
Bon appetite.
Monday, April 18th 2016:
As promised yesterday, a report from an eventful football trip to Manchester. There are three chapters.
Chapter 1 is about football. Man United won 1-0. And then there's nothing more to say about a boring game. But it does take your breath away when you step onto the fiels - and not least when the home team scores. One's tinnitus disappears for a moment. A great experience after all. Loved it.
Chapter 2 is about the intake of stimulants - in practice beers. I must tell that there are quite a few pubs in Manchester. Since beer is a necessary element before football - and after - we visited most of them. Among others we had English, Indian and Chinese beer. brands from the three countries. It was intoxicating.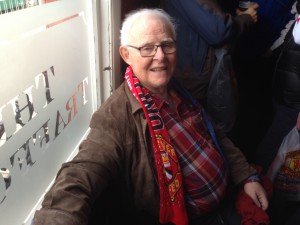 Chapter 2 is about the intake of stimulants - in practice beers. I must tell that there are quite a few pubs in Manchester. Since beer is a necessary element before - and after - we visited most of them. Among others we had English, Indian and Chinese beer. Various brands from the three countries. It was intoxicating.
Chapter 3 is about a nighttime fire at our hotel. Friday night - after having enjoyed the many stimulants - we all slept soundly at 3 am when the fire alarm went. I thought it was my iPhone alarm and tried several times to stop it when my nephew knocked on the door and said that I had to get out quickly. The hotel was on fire. Quickly a bit of clothing on and out of the hotel via the fire stairs. It was freezing cold outside and we had to stay there for 2 hours.. There were small children in their pyjamases and some women in their nightgowns without socks and footwear. All in all about 300 people.
Two large fire engines kept us company.
When the fire was extinguished - a minor one in some electrical installations - we could again go to bed. That was nice. We could have done without that experience, though.
Sunday, April 17th 2016:
Returned from football weekend in Manchester.
Too tired to write tonight. But read tomorrow about a very dramatic trip that besides football included a nightly fire at the hotel we stayed at.
Look forward to reading more.
Thursday, April 14th 2016:
Many times I have informed Matron that I am going to leave her. But I've never been permitted to.
Now it's a fact. I am leaving her in the morning. And I am looking forward to it. That will teach her
However, I have set my absence to a maximum of 3 days. So I'm back on Sunday.
To tell the truth I'm going to Manchester to watch football with my brother and his sons. Man. United vs. Aston Villa. But she does not know where I'm going and that I shall be back on Sunday. She will be pleasantly surprised when I show up again.
For the same reason I shall not be able to update my diary until Monday (maybe Sunday). But as said. I will be back soon. And don't tell her.
Wednesday, April 13th 2016: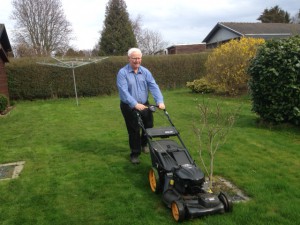 One of this year's "ugly" days. The first lawn mowing. I have long been looking forward to it - with horror. Now it's there. After six months of freedom from the blasted mower I had to set it going. The best part was that it started immediately when I turned the key.
The future doesn't look bright. I must expect about 40 "trips" behind the mower during summer and autumn. It is quite a few. Each "trip" lasts 1 hour, so it gives 40 hours trotting after the growling monster. So I can cut 1½ days out of my summer. I shall walk about 1½ kilometers each time. It will be a total of 60 kilometer. And I hate walking. It is hardly going to be a good summer.
Tuesday, April 12th 2016: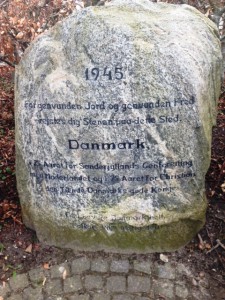 I was at my doctor's today, in Skoedstrup. The half yearly 10,000 kilometers' maintenance check. Luckily all blood samples were perfect. It was good to walk away from there.
Speaking of WALKING. I challenged myself by walking home. Exercise is good. Walking is bad. 3.3 kilometers.
Never mind.
Even if I have lived very near Skoedstrup for 47 years I have never walked through the village. I did today. To my surprise I saw a cenotaph right at the church between some bushes up to the road. I have never noticed it earlier. It is nothing special but has been there since 1945 as a commemoration of the end of the occupation in 1945, of the 25th anniversary of South Jutland's reunion with Denmark, and the 75th anniversary of King Christian X's birth. But what the heck. When you want to commemorate you might as well take it all in.
It was also the year I was 5.
Monday, April 11th 2016:
It felt weird. Matron and I visited a "foreign" bank today. We may change from the current one. And I who have always been terrified of going into a bank.
Our present bank is known to us. We have been customers since we were seven years old and got a savings book in school. Every Saturday we would buy stamps from our class teacher and stick them into the book. They cost 1 pence a piece. When the book was full we went to the bank and had the money credited to our account. Since then we have not felt any reason to switch bank. So today we felt almost as were we illoyal villains.
BUT. We are dissatisfied with the level of service in our bank. They are not "kind" enough. And that is difficult to deal with. We will be customers of the bank that offers the most.
Sunday, April 10th 2016: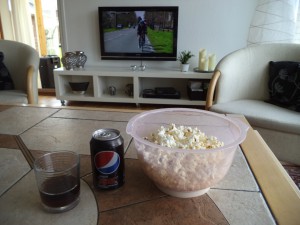 This was my day. Popcorn, Pepsi Diet and Paris-Roubaix on TV.
I've ridden right from the start, and plan to finish.
The race started at 10.30 a.m. and will finish around 5:15 p.m. It is about 7 hours watching television. I think that not many of you could do that. It takes perseverance. No complaining because it hurts here and there. No, down in the couch, turn on the TV, open Pepsi, get lunch served, set TV on stop using the toilet, do not be distracted by external events like a fire in the utility room, a burst water pipe, an overturned refrigerator or something worse . It must take its course as it can. Matron is here.
I learned a lot about bike racing today. Good knowledge to have.
Saturday, April 9th 2016:
An unfortunate day - with a couple of bright spots.
I was going out cycling. I could not make my bike computer work no matter what I did.
With a sour face I left anyway. Barely had I ridden 500 meters then Matron rang. Our old dog had walked off. Bike ride around in Studstrup to look, cursing badly about the damn mongrel. When I unsuccesfully returned home the sweet lady told the dog was lying in my workshop. Blast.
Once again I set off on my bike ride. Now I got the computer working. But my gear shift was quite bad. Blast blast.
After approximately 25 kilometers, I found out that I had lost my iPhone. I could not do much about it. Still sour faced I continued. Blast blast blast.
It was a miracle that two friendly ladies had picked my phone up not far from home and mysteriously found out where it belonged.
Percentage wise I was more sour than happy. 80 - 20.
Friday, April 8th 2016:
It is claimed that spring is here. I have a suspicion it is hearsay. At least I did not feel it when Matron and I went for a walk. It was whistling cold.
Some plants have - as seen in the picture - fallen for the rumors of spring and now have white flowers.
Matron claimed it was a blackthorn. I know too little about physics to neither contradict nor confirm the statement. So let it be a blackthorn, or as I would have said a "prunus spinosa". Had she only said it I would have understood. I am better at Latin than physics.
Thursday, April 7th 2016: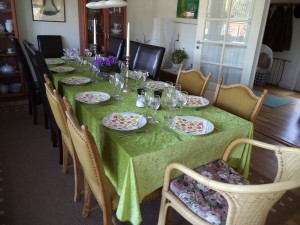 Matron was rightly celebrated today. 75th birthday.
Good food, good atmosphere, and good drinks made the party a good party. The speaches were clearly one long praise to the lovely lady. And she deserves it all.
The food was excellent. I dare say that since it was a restaurant in central Aarhus that supplied it.
I was in charge of the drinks. There were plenty of them and they were good. Therefore, I am now sitting and writing in a state yhat would not allow me to drive which I don't have any intensions of anyway. It's been years since this was last case. I've enjoyed laughing and being foolish.
Happy birthday, dear wife.
Wednesday, April 6th 2016:
I was at my tire man today. Winter tires to be switched to summer tires. A biannual event, just every second time the opposite shift. It can be a little hard to understand. But it's gone well till now.
There is no booking. You just come and express the desire to have your tires changed. Half an hour later it is usually done.
But not today. I did not have anything changed. The foreman regretted he had people off sick and they were a couple of men short. Waiting time would be unreasonably long. The Male flu struck again.
So I left without any result. Never mind. It is still far from summer. It's cold and rainy.
Tuesday, April 5th 2016:
I was at the health center this morning. Blood tests for my 10,000-kilometer check next week.
During the latest 8-9 years I have had a huge number of blood tests. So I know what it is all about. But today would turn out differently.
After the local vampire had got her blood I started walking towards my waiting car. When I was almost there I felt something wet running down my arm. I did not think about it before I sat in the car and discovered that the sleeve was red with blood. The Stockholm bloodbath in 1520 was nothing compared to this. I was lucky that Count Dracula was not in the area.
Monday, April 4th 2016:
We woke up at the same time today, Matron and I, and lay chattering. It was quite cozy.
I thought then that now was the hour to ask her something. I told her to list 20 reasons why I am such a good husband. Long silence. Not a sound. Longer silence. It made me apprehensive and I reduced the number to 10. Still not a word. My confidence oozed out from under my duvet. At last a crack in the silence, "You are kind to animals." That was that.
Heartbroken, I tried to fall asleep again but gave up and got up. It was 8 o'clock.
The answer made worried me. Some time in the morning I manned myself up and asked her to mention the disadvantages of being married to me. And she spoke uninterruptedly for 10 minutes.
If only one could just learn to shut up - with retroactive effect.
Sunday, April 3rd 2016:
We have been looking after Frederik since yesterday. Absolutely wonderful having him. Always easy and always happy.
Mum and dad came for him at noon today.
On the way out of the door they were stopped by Matron who cautiously asked if one of them might help her. For a long time it has been impossible to close our kitchen drawers completely. Something stopped them. Neither of we two oldies could in any way get down on our knees and have our arms folded and bent behind the drawers. Daughter in law Anette could, and just look what she pulled out. She just went on and on. It was absolutely crazy. A large plastic bag was filled with about 150 smaller bags. They must be worth a fortune.
Saturday, April 2nd 2016:
Now that part is finished. Yesterday, a kind man came and sanded and varnished floors in hall and kitchen. It took an hour. (See diary 31st of March).
Today I all on my own moved all and chests of drawers back in place. It took three hours.
The end was close to becoming a collapse. All morning I had worked hard to move furniture and also reassemble one that had split. Matron was at work.
When she came home I sat quietly with my lunch. The sweet lady sat next to me and asked a little absently, "What did you do today?" I nearly fell off my sofa. I had worked hard for three hours and she did not even discover it when she stepped into the middle of it all. I had even lit 4 candles. My foot.
.
Friday, April 1st 2016:
T
Today offered two challenges:
First I was April Fool - one of the biggest. It was so embarrassing that I would rather not talk about it. A grandchild caused the "accident".
The next challenge is seen in the pictures (before and after). The newly purchased couch which was otherwise doomed to be sent to a recycling shop found a new life in our conservatory. Before that furniture had to be moved round and some of it thrown out. Heavy work. And since Matron has a bad arm the old man himself had to do all the heavy work.
I am very pleased, though, that the sweet lady was happy with the result.
Thursday, March 31st 2016:
There was the note from Matron this morning. She went to work early. I got up a little later and read a lengthy message on what I should do.
Most items was manageable but then there was, "Empty kitchen and hall for cupboards and other furniture with content." That was a heavy message. Lots of porcelain and other items had to be lifted out and carried to other rooms. Three large pieces of furniture should be disposed with. And I was all alone. I simply ask, "Where are one's children when such accidents occur?" Not here for sure. Perhaps they are at work? And so what?
The reason for all the commotion is simply that tomorrow morning we shall be visited by a floor specialist who for a certain fee will sand and varnish the floors of the two rooms. And he will not remove the furniture.
Wednesday, March 30th 2016: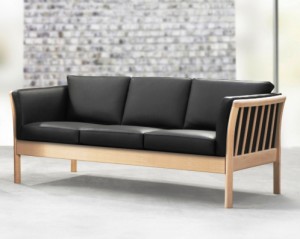 Matron wanted to be driven to the small and cozy village Auning today. She wanted to visit a clothing store. It had a sale on. The sweet lady wants a spring jacket.
Although it's probably not my favorite pastime to look at women's clothing, we had a nice trip but had to leave empty-handed. There was nothing that lived up to Matron's wishes.
But the trip was not in vain. Quite close by is a large furniture store and with the experience of the poor purchase of secondhand sofa in mind I suggested we ought to have a look inside.
And there it stood, the couch we both desire. Genuine Danish product. We Just had a little problem with the price. We shall have to save a little up. But we do want it.
Tuesday, March 29th 2016:
I watched some football the other day, Germany vs England.
When England were two down I stopped watching and thought that England football was business as usual. And since I'm not over keen on football it was easy to find something more interesting, for example "Antique Road Trip" or "Heartbeat". Had England been two up I certainly would not have changed channel.
Unknowing of the final result I went to bed only to find out the next morning that England won 3-2. I know a few swear words and used them. But hip hooray. I forgot I had recorded the game. So out of bed to switch on the TV set. Saved my day.
Monday, March 28th 2016:
I have done nothing today - absolutely nothing, except looking at old pictures. Pure nostalgia.
Among others I came across a picture of a lorry with a trailer. It's from 1964.
I have driven hundreds of kilometers in it, I have maintained it (as little as possible), I have slept in it, eaten and drunk, and not least telegraphed in it. The driver cabin was open, with the windscreen, though. Very cold in winter. On the back was a small cabin containing the radio station. In the trailer was a petrol driven generator delivering 380 volts.
The picture is of course from my glorious past in the Danish army 1963-64 in the fire-breathing Jutland Telegraph Regiment.
It was an old, American GMC, stiff to drive and very heavy. It participated in the 2nd World War. I did not, though.
Sunday, March 27th (Easter Day):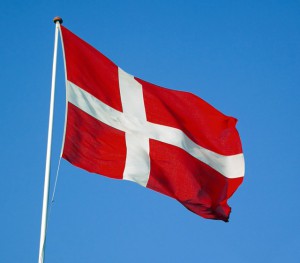 I shall be writing quite briefly today. Only one event has overshadowed all others.
We have celebrated Matron's 75th birthday. The actual birthday is in a week or so.
Today was a a family celebration with children, in-laws and grandchildren. I hardly need to tell that it was a day just to my taste. How wonderful it is when they're all here. Youngest of 4 years (Frederik). Oldest of 75½ (me).
It is difficult to tell how I enjoyed the day. May there be many more of them.
Saturday, March 26th 2016:
A small and amusing experience in the pedestrian area in the center of Aarhus this morning.
Matron and I had an errand in the department store Salling. We arrived 15 minutes before opening time and had to wait outside.
I happened to see a young man in a very tight, red dress with a basket filled with roses under "her" arm. Alongside stood a group of young men at about the same age and laughed. I did not have much trouble finding out that it was the start of a stag night. The future groom, dressed as flower seller, was told to sell roses to the many people. He had clearly difficulties in getting started so I asked him to go over to Matron and give her a bouquet which he did. When she told "her" that she has been married for 53 years she got a hug.
Unfortunately I did not get a picture of the young "lady". But you can see the roses.
Friday, March 25th 2016 (Good Friday):
As you know Christmas lasts until Easter. Now it's Easter. So out and away with Christmas.
A few days ago I took our Christmas tree to the dump after it had suffered a sad life around in our garden depending on how the wind blew.
Today I carried all Christmas decorations, two boxes and two large plastic bags, up into the attic. Heavy stuff I should add.
Since Matron the other day had a fall and hurt her knees and shoulders pretty hard she could not assist. So all alone I had to lift the heavy objects onto the ceiling, poised on the steep ladder on the picture. Four times up and down with the bag or a box in my arms.
After this well done heroic deed I am now resting and looking forward to the afternoon's bike race. "It must hurt before it gets well," my mother always said.
Thursday, March 24th 2016 (Maundy Thursday):
The day before yesterday we got ourselves another sofa. With great difficulty Matron and I picked it up, a tan leather sofa, bought second hand at an address some 40 kilometers from here. A nice sofa.
Arrived at home and cushions put in place the good lady had a quick look at it and exclaimed, "I do not want that".
I was flabbergasted. We had driven almost 100 kilometers, had looked carefully at it at the seller's and all in all spent quite some time to find it. And it is totally rejected. Now we have two sofas that matron does not want in her house.
The newest one is once again put on sale.
Wednesday, March 23rd 2016: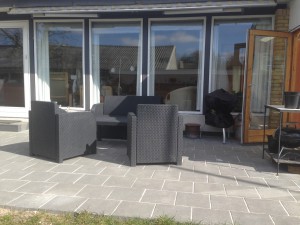 Saturday 26th night at 0200 clocks are put forward by 1 hour..
Wednesday 23rd at 13.50 our garden furniture were put forward.
I know I'm at the forefront with the furniture, about 4 days, but it is so typically me. Always one step ahead of the vulgar mob. Referring to my diary yesterday, it is a result of my genetic superiority. Everything is made in good time, preferably earlier.
Do not tell all this to Matron. You only get a scornful laughter and a lot of grimaces.
Tuesday, March 22nd 2016:
I knew it. I have always assumed that some day it would be uncovered.
Today I read that a Danish and a British-American study show that my original hair color, red, gives me benefits. I am genetically superior. Everyone knows that. I have more between my ears than most. Also everyone knows that. I have 4 times as great opportunity to get a top position. Well, I didn't. But anyway.
I respond better than the average person on certain mediciations. I have happily discovered that. So I knew that.
Unfortunately as a child and young man I realized that bullying because of hair colour is common. Luckily I was able both verbally and physically to hit back.
Finally the studies establish that a maximum of 2% of the world's population are redheads. We are of gifted minority.
Unfortunately, it's not me in the picture. But the hair color is the one I had when I was younger.
Monday, March 21st 2016:
Our home needs a new sofa, Matron claims, and I agree.
Certainly it is not long since we bought the current one. It was a bad purchase. It is too delicate. The same can be said about the two chairs that followed. None of them are nice now.
Therefore, we made round tour to a furniture store and (my goodness) 5 charity shops. That was quite a test but nowhere any sofa of the type we want. Well, the furniture store had some but I had to hold on to Matron not to faint when I saw the prices.
So the hunt continues unabated. Today we shall continue with an intense search on the Internet. Most likely, several other charity shops can await our visit. We do not give up. We are sofa-starving.
Warning: The grass is beginning to grow. Damn.
Sunday, March 20th 2016: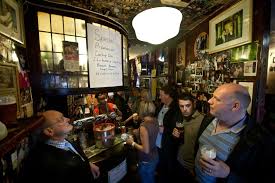 I am watching football. It happens only rarely. By chance I found out that Manchester City are playing Manchester United. Right now United are one up.
The reason for my interest is that in about four weeks I shall be going to Manchester to see United against Aston Villa at Old Trafford. It will be great. I shall be with my brother and two nephews.
To be there alive with 75,500 spectators is an out-of-body-experience. I've been there twice before and know that the sound is impressive. I shall not bring my hearing aid.
Other experiences are waiting for us. The first time I was there, we found the world's friendliest and smallest pub, "Circus Tavern." It is one of the best pubs I have been to and you always meet interesting people. Congestion is a charm.
The game has just ended. United won 1-0. Wish they will also win when we are there.
Saturday, March 19 2016:
Little Frederik is becoming big Frederik.
Today we celebrated his 4-year birthday and met a very happy boy who became happier and happier as gifts rolled in. And there were quite a few. A couple of birthday songs did not make him less happy.
A good brunch made the guests happy. So it was sheer jubilation. I love events like this together with nice people who were there with the sole purpose of making it good day for the nice little boy.
And we succeeded.
Friday, March 18th 2016: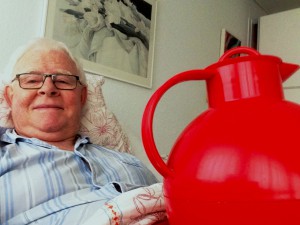 Eventually, it should happen to me. For the first time for many years I had morning tea in bed. I do not remember when the last time was.
In any case, I enjoyed sitting there warm and comfortable in bed with my bun and my hot tea, quietly and happy. On top of the bargain I turned on the TV and watched a recording I long have not had the time to watch. It was sheer coziness and good vibrations. There's nothing like tea in bed.
Now many would break out in cries of joy that I have a sweet wife. I have. But I should probably add that she was not at home this morning. I made it all myself.
Thursday, March 17th 2016: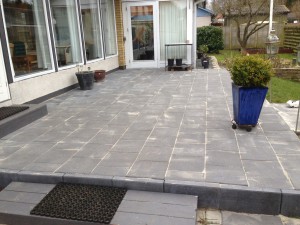 We who have big terraces are kept busy. Matron immediately spotted that the gaps between the tiles slowly have been soiled by the winter winds, snow and rain. It was not much but enough to put the good lady on alert.
Therefore, the old man had to cleanse the gaps despite an aching back. I bravely fought my way through. And the result was not bad.
That was the first actual gardening work this year. Much more will follow. And I'm not completely unhappy with that. Perhaps even looking forward to it. Five years ago I would have declared myself insane had I said so.
Onsdag 16/3 2016:
It has been a day of trouble. Oh dear.
It started when the TV signal disappeared at noon, you know black screen. My TV provider could tell that it was a nationwide problem. They worked hard to fix it.
After that I had to report miscellaneous deductions to the tax man. That was not easy either.
First, there was an internet queue, and next interruptions, and I met several cryptic references that I did not understand much of. It should be an easy task to report artisan deductions and transport ditto. But do not believe those who say so. They are untrustworthy.
Well,
after a few hours
my innate stubbornness succeeded getting the numbers correct and now we are well pleased to have a bit of money back. For that I would like to buy a new bike. But I'm afraid that it is far from enough.
Tirsdag 15/3 2016:
Today is an important date in world history. And for some reason I can not forget the incident although I forget so much else - at least according to Matron. She does not seem to accept my statement that I have a selective memory.
But back to the memorable event.
Today exactly 2060 years ago (44 b. c.) Julius Caesar, the Roman ruler, was murdered by 23 stab wounds in the Pompey Theatre in Rome. A large number of conspirators were behind the murder. They feared Caesar's power.
The correctness that he in his hour of death spoke the words, "You too, my son, Brutus," are questioned today. They are from Shakespeare. But in any case Brutus was among the conspirators.
Thus lectures everyone can relax and enjoy the rest of the day. Sleep well.
Sunday, March 26th 2017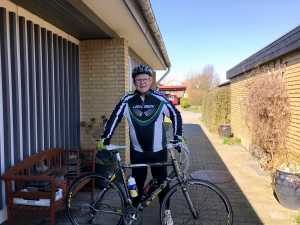 The first bike ride this year was today. It was a mixed bag.
The tride was alright even if my muscles are not fully as they should be.
The worst was I was thrown across a pavement and deep into a hedge by an enormously big, yellow bus. I hurt myself quite a bit on hip/buttock and elbow and my one calf was torn and bleeding.
This is what happened: I rode up on the side of the bus at a T-junction. The bus was turning to the left so I felt safe. What I didn't think of was that the bus swung so far out with its rear that I got the whole force on my handlebars and flew on ass and elbow across the pavement and into the hedge. The bus just drove on. A couple of rare people who witnessed the incident from their car came running and helped me up. They were pretty shocked - so I was I. I rode on, though.
In the picture I am quite calm because it was taken when I left home. There are no buses there.
Tuesday, March 8th 2016: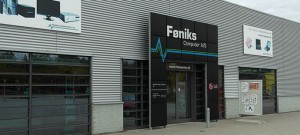 My age is 75 years and I am reasonably quick.
My stationary computer is 10 years and is unbearably slow.
I do not want to get rid of it but having it made quicker.
Therefore, I visited a computer shop today.
Not unexpectedly, young people stood behind the counter. None of them more than 25 years.
I was attended by one of them. What a super service. Smiling, knowledgeable, friendly, inquiring into the right things, and patient with my tentative answers.
Eventually the young man found out exactly what I needed. I felt sure to have understood what he meant.
The price sounded reasonable which made my decision easy. I'll take it out there in the hope that it can be fixed. It cannot be determined until the interior has been investigated. Exciting. I hope the best, it does have some sentimental value.
Wednesday, March 9th 2016:
Two activities today:
1) Preparing my computer for admission to the computer hospital. It needs more speed. An amount of files were backed up. It was a boring job but necessary for safety reasons.
2) Walk of 3.78 kilometers. It was a boring and painful job but necessary for health reasons.
I hope the rest of the day will bring more enjoyable activities. I deserve it on top of the two mentioned.
I think it will be the case since I heard Matron mention something about lobster tails for dinner. That's great. It's neither boring nor painful.
Thursday, March 10th 2016: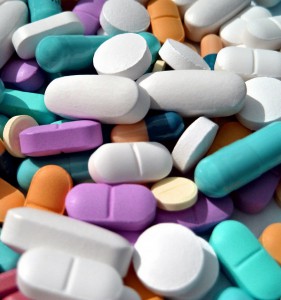 I can not stand taking pills and never did. And that in spite of the fact that I have taken quite a few every day during the latest 4-5 years. Right now it's 13 per day.
Still, I can not get used to it. I choke and cough because one or more pills stick in the throat or behind the tongue. As late as this morning it happened once again.
Some of the pills - particularly vitamin pills - have a disgusting taste and if it's stuck I'm close to throwing up. Can it be more disgusting?
I shall never learn to take pills. Still I'm glad they exist.
Friday, March 11th 2016:
The date March 11th is an anniversary of an event that I shall always remember. When I went to school, it was an annual holiday. So it is worth remembering.
The reason for the day off was King Frederik IX's date of birth. And at that time we always had a day off on the King's birthday. Not that we celebrated it but we enjoyed the day off.
Later we often called King Frederik "Fegge" as a kind of friendly nickname.
He was a special king with a taste for the sea and many of life's happier things. He did not turn away from being straight forward and part of his people.
Once he showed Dsnmark's Radio around the castle Amalienborg and became famous for saying, "We live like other people. And here is the tapestry hall".
He would today have been 117 years today.
Saturday, March 12th 2016:
It was a happy reunion when I collected my sick computer at the hospital today. It was hospitalized because like myself it is getting too old and had to have surgery for it.
The operation was partly a transplantation of a motherboard which was cloned and an implantation of a better memory.
I was told that everything had gone well and that the patient had behaved well.
I was nervous when I drove home because now all the wires had to be inserted into the computer again and as the photo shows there were lots of opportunities for error. I surpassed myself. Only one attempt and everything worked again and to my great joy with much greater speed. Good doctors at that hospital. It was a perfect day.
Sunday, March 13th 2016:
One can hardly say that I pay my taxes with joy but it is a given thing that taxes are necessary. For the time being I am benefitted by the fact that there is money on the national account. So I accept paying.
However I would like to know how I stand for the year 2015 in the annual account which can now be seen on the web.
It cannot, though. All the time I am told to come back tomorrow. Same yesterday. And here I sit with all my papers ready for mileage allowance and house work deductions and can so far not use them for anything. The queue is obviously too big and it is not easy to control neither Matron's nor my impatience.
I have difficult days.
I must confine myself to rejoice that the day length has increased by almost 5 hours.
Monday, March 14th 2016:
Today I was visited by senior curator Keld Dalsgaard Larsen from Silkeborg Museum. He has for many years been my great help in edition of my books (2 pcs.).
He has now taken upon him writing a book about Silkeborg Sports Club's history. The club will be 100 years old in 2017.
He wanted to interview me about cricket in Silkeborg. This should be in within my field since I started my cricket career in the club in 1951.
It was a good experience today. Firstly, Keld a knowledgeable and a nice man and secondly I "re-experienced" my many years as a cricketer in Silkeborg. It's interesting that during a conversation like this you happen to remember events that you have not given a thought through the past maybe 50-55 years.
Now I'm looking forward to seeing the interview on paper next year.
The picture is from my first game in 1951. I'm 10½ years old.