Diary from February 13th 2015.
Read and become wiser.

Wednesday, June 24th 2015:
Eventually it seems that summer is on its way, and not a minute too soon. We have been promised summer temperatures next week.
From my time in the Danish folk school - now more than 10 years ago - I always in my mind combined summer weather with planning, examination and graduation. All were time-consuming tasks but also exciting.
I was very fond of graduations. They were a festive end to school time for the eldest students.
That's also why I enjoy taking part in our grandchildren's graduations. Last year it was Katherine's secondary education (A-level). Today was the first of two this year, Cecilie. 10th grade. (Photo).
Tomorrow it will be Kristian. Also from the 10th grade.
In 3 years it is their A'level and then I just have to wait for Frederik who will leave primary school in 13 years and A-level in 16 years. I am looking forward to that.
I'll be 90 then.

Tuesday, June 23rd 2015: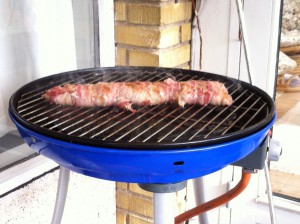 Midsummer night with all its traditions is here. Bonfire, singing, speaches etc.
As a foreplay it's a tradition to gather around the barbecue and have some good food and drink,
Matron and I have chosen to skip the bonfire, the singing and the speeches and concentrate on food and drink.
It gave reason to find our old gas barbecue. It has not been in use for 5 years. It switched on the first time I asked it to, so it is obviously a good one.
I have chosen to drink Christmas beer to the meal. It's a been 6 months since I got it.
I have started early. It tastes really good, so I recommend Herslev Brewery, organic Christmas beer. Cheers.
Monday, June 22nd 2015: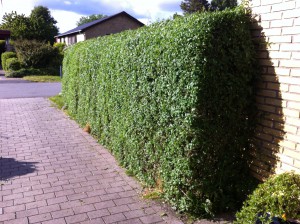 We have about 50 meters of hedge around our garden. Right now I wish we had only 9 then I would have finished trimming it.
Well, never mind. Matron is very kind to follow me and pick up the clippings and suddenly it becomes nice to trim the hedge walking around chatting away complaining about our sore backs.
However we are taking it very easy and are satisfied with just reaching 10-15 meters per day. Old age privilege.
I am allowed to take the breaks I want while the sweet lady just continues. She is pretty cool.
Who would think that it might be nice to trim the hedge? Not me anyway.
Sunday, June 21st 2015:
When Matron wants the lawn to be mowed, it's here and now. There is no way around it. No hesitation. No excuses accepted.
This morning when I lay in my sweet dreams I was brutally summoned. The lawn needed moving. Not even time for the bathroom, breakfast or getting dressed.
Therefore, anybody interested could see me walking around behind our lawnmower wearing a pyjamas. I'm sure it's never been seen in world history until now. It's tough. In fairness it must be said that, after some time I managed to persuade the cute lady to finish the job. But it was still a bit embarrassing.
Saturday, June 20th 2015:
Eldest granddaughter Katrine returned from London today. Fortunately she could tell about 3 wonderful days. She walked from museum to museum, from coffee bar to coffee bar. Also a couple of pubs were graced with her visit.
Her hotel was fantastic. So everything was just fine and I'm sure that London hasn't seen the last of her.
How I remember my first visits to London and how I enjoyed them. I also enjoyed walking around on my own.
Friday, June 19th 2015: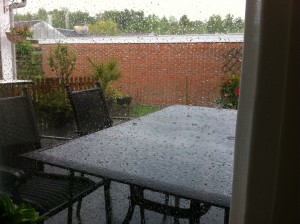 Rotten, rotten weather.
I got up at 10, immediately put on my work clothes and went out to dig. I was enthusiastic and cheerful.
I just managed to get 10-12 smaller tiles pulled out as it began to rain. "Never mind," I thought, "just a shower." Patiently and still cheerful I got inside.
After half an hour the rain stopped, I went out but did not even get around the house before it once again poured down.
Not quite so cheerful I went back in and watched a bit of a bike race (recorded). Another half hour passed. Out again. And immediately it rained. More bike race, and now the rain did not stop until around 2 p.m. then it really poured. Torrential rain. See photo. I gave up and went shopping with Matron. And what happened? The sun broke through and shone continuously for the 1½ hours it took.
On my return I managed to move one wheelbarrow of soil. That was my working day. Poor.
Thursday, June 18th 2015: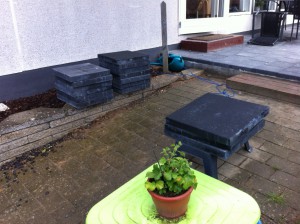 Now the very last tiles are bought for the completion of our terrace. They will be used to finish the end of the terrace as seen in the picture. It obviously needs to be completed.
I bought the tiles in a DIY market some 20 kilometers from here and luckily there was a very nice man who lifted most of the tiles into the car, a total of 375 kilos.
I asked if he wouldn't like to follow along and have a coffee and a beer in Studstrup. Then he could lift the tiles out of the car and take them into the garden. I told that I have an excellent wheelbarrow for the purpose.
He deeply regretted that he did not have time. That I did not understand because he went in to have his coffee as we drove off.
I lifted the tiles out of my car myself and wheelbarrowed them into the garden. Ouch, my back.
Wednesday, June 17th 2015:
I have spent a lot of my time in London and England as a whole. Innumerable visits with cricketteams, school children, and private holidays. I've been to most parts of the country, excepty Wales.
It all started i 1958 when I visited our old time friends for the first time. England, the English and their language have always been great interests of mine.
I am happy to tell that my interests have rubbed off on children and grandchildren. They seem to be there all the time.
Just these days eldest granddaughter Katrine is in London on a short holiday. For the first time she is quite on her own and has been looking very much forward to that. Her plan is to do what she likes whenever she likes.
And I have to learn that she is a grown girl.
Tuesday, June 16th 2015:
I have: Scratched and dented rear fender.
I want: Reverse camera.
For the 3rd or 4th time, I managed today to make another damage to my car while reversing.
A totally innocent fence in Risskov had to pay for my lack of attention.
If it was not because I 18 months ago received the yellow card from my insurance company for similar accidents, I would not think so much about it and just report the damage to my otherwise always trusty insurance company.
With the yellow card followed a letter ordering me to call in advance by yet another damage. I did and got the following options:
1) We 4 double your own risk at future damages to about 10,000 kroners for 3 years.
2) Install a rear view camera, and everything will continue as before.
What should I choose? What a lousy day.
Monday, June 15th 2015: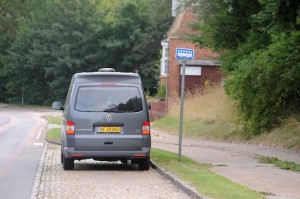 I read today in an Internet newspaper that police speed control cars should be coloured in shrill colours like in England so you can clearly see them. The proposers claim that it makes police work more open and is not felt as if police are lurking and use speed control cars as money machines.
I disagree. There is no need to spend millions of kroners to have the more than 100 Danish cash machines painted in shrill colors. They are easily seen from afar and are easily recognizable on the small "chimney" on the roof. Moreover, many of us have an app on our iPhone which in good time warns against the speed control.
Incidentally, all three cars in the photos are unlawfully parked, over the sidewalk/bike path or at a bus stop. Embarrassing.
Sunday, June 14th 2015:
What do you do when you need to get cleaned up in your garage and had soil taken away after several interior alterations and construction of a terrace but have not come araound to it yet?
I got up this morning, and deterrminately put on my working clothes - then I walked around in the garage looking at the mess. However I could not persuade myself to get started and thought that since much of it has now been lying there for about a year I would make no0 mistakes in waiting a day or two more.
Matron however has pointed out that I will soon be faced with an ultimatum: Clean up - or leave.
I wonder where I can stay.
Saturday, June 13th 2015: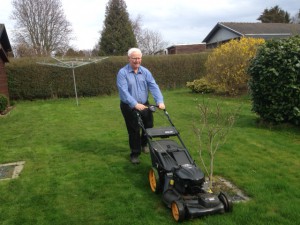 What does one do when Matron claims her right to our television because of someSwedish prince is getting married? And I'm not so royal that a Swedish wedding can make me sit down in front of the screen. On top of the bargain the bride has been a nude model. What about that?
Let me tell you what I did instead of watching TV.
I slaved away in the garden to get our terrace finished. I've wheelbarrowed soil, cultivated, stamped, sprinkled seeds, stamped and taken excess soil and stones away.
In short. I have made a new sloping lawn.
Unfortunately no green is yet visible. It is disappointing that despite watering one can not spot a single straw. Look at the photo.
Best regards from the old gardener.
Friday, June 12th 2015:
In a small break on my bike ride today I sat at the gas station in a small village between Aarhus and Silkeborg and drank some water and ate a banana.
A middle-aged man stopped and asked how far I'd ridden and how much longer I needed to ride .
When I said that I was to finish my ride in Studstrup he looked at me in astonishment and asked where I intended to stop for the night. I'm not sure if it was a joke or whether he really did not know Studstrup's location on the map.
But he was a nice man, and it turned out that he was just as interested in bike racing as I. He had no bike himself. But he was considering buying one, and I could give a few pieces of advice.
Good to meet nice people.
Thursday, June 11th 2015:
Dennis Okkerstrøm Nielsen, is practising for the upcoming final in the Danish competition of hot dog eating on Friday. There are 10 people running.
Lately he managed to consume 12 hot dogs in 15 minutes in the semis but expects to do a lot better in the final tomorrow. One of his competitors, Ruben, ate 19 in 15 minutes just the other day.
Dennis' chance is that Ruben may not turn up. Injury?
Anyway Dennis expects to consume 15-16 hot dogs in his 15 minutes.
1st prize is a gift card from a travel agency on 20.000 kroners. I am not sure he will have a hot dog on his possible journey.
Photo shows Dennis just before his practising. I wish him good luck and hope there's a toilet nearby.
Wednesday, June 10th 2015:
It's nice to have friends. It's great to have friends who invite you for a good lunch, we were lucky to be so today. Did I enjoy it? You can count on it. Wow, it was good.
The dessert was new for me, barbecued banana.
Let me go in detail.
Barbecue a banana (or more) cut up the skin on the inside of the curve. Then slide the peel aside and put in brown sugar followed by whipped cream. Finally, pour some whiskey on, and voila, you have something that resembles Irish coffee, only without coffee, but with banana. Best eaten with a spoon. I can strongly recommend this dessert.
Unfortunately, I did not take a picture of it until I had almost eaten up. I was too anxious.
Tuesday, June 9th 2015:
Today is "Great Nostalgia Day". I happened to find the attached picture in my library. It shows two long since scrapped radio stations from the fire-breathing Danish army in 1963-1964, the left one is an A-station and funnily enough the other one is a B-station. The difference between the two was range.
I "worked" at both of them for 16 months as a telegraph operator, most of the time on the A-station and must confess that even though my time in the army was waiting and waiting and horribly boring learning to telegraph was interesting.
And now it is time for tales from my time in the army. Lean back and enjoy.
And yet, no. These stories are funny only for one's own fellow soldiers and myself.
Fortunately, I am still in contact with one of them, 81 Kruse of Løgstør, and he can, if any, tell a good story, all the while cursing the 16 months we spent there. So when we are together it's laughing and cursing all over. Not boring.
PS: It was he who took the photo.
Monday, June 8th 2015:
We were visited by old friends today. We were only the four of us and had a nice lunch with good old-fashioned open sandwiches of a certain height. It is interesting that the old custom of open sandwiches is about to return. I certainly do not mind and remember my childhood when open sandwiches for guests were something special - and made by mother. Nowadays you simply buy them, and if you know the right places to buy it it's a good idea for a lunch.
So I was happy with today's lunch but I was also glad that my old friend could give me an idea to finish our terrace. I've been waiting for it for some time. But now I have got it. I will not explain. It is too technical, just say that it is a mixture of son's, friend's and my own ideas. So it can only be good. Clever people are behind the construction.
Sunday, June 7th 2015: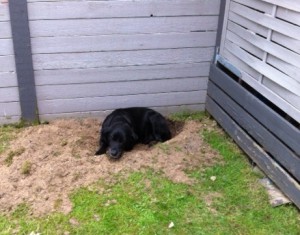 We have a dog who is to give birth. She thinks she is at least. She has been imaginary pregnant for some time and digs nests in two places in our garden. Initially I spent some time covering them, but they were dug up again the following day. Now I have given up and let her keep her two nests in the hope that she does not dig any more. So far it seems to be the right tactic.
She lies in one of her nests most of the day and dislikes going inside. Even in the evening she is difficult to persuade. Old girls and old women have their odd sides.
Saturday, June 6th 2015:
For the first time for 5 years I watched a football game at Aarhus Stadium. The reason was that promotion to the super league would be celebrated with the last game of the season. So I thought I ought to be there - and fortunately without being nervous since promotion was a reality regardless of the outcome.
It was a victory of 5-3. The second half was poor. 1st half we won 4-0. So the team has its limitations. If the club does not buy good players we are in the first division in 2016.
Well, never mind. We celebrated thoroughly along with 6,670 other spectators. It was festive, and I know that there still is partying in front of the stadium. I could not manage that. I'm geting too old for it. Also, I have tryed it before. Promotion and relegation are habits in AGF.
Friday, June 5th 2015:
Eventually on the bike again. Recent trip was May 2nd, so over a month has passed between the two rides. It's NEVER happened before. The reason is solely miserable weather. If it has not been blowing, it has been raining, and vice versa, or both.
But today the sun blessed us with its lovely beams, and along with brother Kjeld I rode just over 50 kilometers in the beautiful bur pretty hilly Djursland.
I was not worth a lot when I got home.
The wind was pretty tough.
But still it was nice once again to feel the scents, the pedals, the saddle - and the pain.
Masochist? Perhaps a little.
Thursday, June 4th 2016: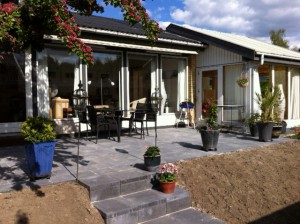 A big step in my patio construction was reached today. Furniture and flower pots were put in place and for the first time Matron and I could sit down at the table and enjoy a cold drink. A great moment.
The task today was to sweep cement desert sand into the tile gaps. It actually took us a couple of hours. It is the white stuff you can see the left picture. Looks a bit like snow. Then I had to do some digging and cleaning up. Many things have just been waiting to be put into place. But the worst was to move the six large pots of flowers, each weighing 30-35 kilos. That made the old man's back hurt. Many breaks were necessary. So he took them.
Now there is only grass to be sown and thinking out a nice finish to end at the patio door. I thought I had one the other day, even a brilliant one - but I have got second thoughts. I have to ask somebody.
Onsdag 3/6 2015:
We are having a general election coming up soon.
In some newspapers you can test yourself about what party you agreee with the most. When you have completed it you not only get to know what party you are closest to but also the name of the candidate who mostly shares your opinions.
I tested myself today and found out that I should vote for a different party than the one I intended to vote for, and that I should vote for a candidate whose existence I did not know the least about.
I also got to know which candidates are furthest from my views. Those I didn't know either. But that's probably not so surprising.
I think I shall stick to my initial intensions.
Tuesday, June 2nd 2015:
The miserable weather we're having meant that today I couldn't complete a brilliant idea I got during the night to finish the terrace.
Look at the picture with the tree and agree with me that something is missing there. I can not just sow grass, which was my original idea and I can not cut down the tree since it is a beautiful, old tree giving a pleasant shade in our living room.
My idea is to build a "box" round the tree with the cement blocks (see picture right) and fill the "box" with granite chippings. All in dark gray like the tiles. It's a good idea. May we soon have a change of weather, so that I can try it out.
The miserable weather is like in October. I hate it, but maybe tomorrow it will improve.
PS: I just turned on the gas heater in our living room. I am freezing. Winter is far from over.
Monday, June 1st 2015: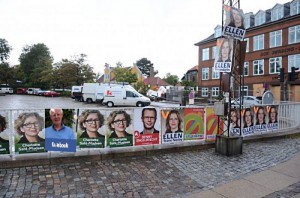 I am sick of election posters, very sick. I am fed up with seeing the same slightly silly smiling faces again and again. On a bridge over the motorway close hereby 10 posters with the same candidate hang side by side.
I refuse to believe that posters will move just a single vote. I certainly would like to see evidence of it. And under no circumstances are they decorative. And forget all about it being an old tradition. Some of the old traditions need to be replaced, at least this one.
Sunday, May 31st 2015:
We visited eldest son Peter and family today to drop off small items but first and foremost to see the new family member, the 8-9 week old labrador puppy, Tjalfe.
Tjalfe has from the outset been a popular member of the family. He is calm and happy and always wagging.
An exciting future awaits him with plenty of training and hopefully many great hunts. We all hope that it will come true.
But first and foremost he is very welcome in the family and has already settled in well.
Hello, Tjalfe.
Saturday, May 30th 2015: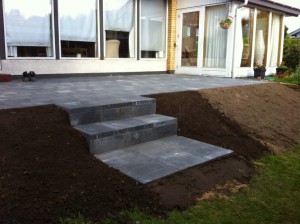 Eagerly assisted by yours truly son-in-law Kent today finished our new terrace by building steps up to it. It was hard work but, as usual, done with care. Kent is not satisfied with second best and he toiled to finish before evening. He succeeded but only because I with my built-in persistence (see picture) could do much of the hard work. And so I did.
Now I only need to have the slope sown with grass and having the fine plant pots, tables and chairs arranged.
All in alle it has been hard but I've learned a lot about survey and the importance of precision which is not my stronger side. In return I sing very well and look fantastic in shorts.
Friday, May 29th 2014: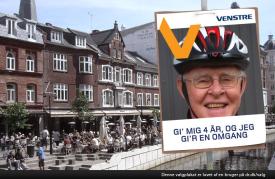 It has dawned on me that there is general election coming up soon. It has was a little sudden for me since I was away last weekend. For the same reason I have not decided which party I will run for. Several have an interest in getting hold of me and have already printed posters for me. I should probably soon decide. Regardless of which party it will be I shall become a great vote winner. I am damn popular at Parliament and out in our great motherland. But remember: Vote for me. I can be at the top of the electoral roll for at least two parties.
I have future as prime minister.
Thursday, May 28th 2015:
Visit from the northern provinces today. A pleasant visit.
The guests were friends from Løgstør, a former soldier friend and his wife.
Eftter having enjoyed Matron's lovely fish lunch we tokk a small drive to the big construction sites at the Port of Aarhus to see the many beautiful buildings and construction mess.
Then around to other places worth seeing, finishing with a splendid dessert at home, ice cream with chocolate covered strawberries and chocolate sprinkled on the icing.
Yes, it has in all respects been a good day, not least because our guests are wonderful people that we like very much to be together with.
We shall meet again some time in the summer.
Wednesday, May 27th 2015:
Danish TV2 allows themselves the arrogance of letting today's stage of the Giro d'Italia go out and in its place giving us an extremely boring and long transmission trying to make the forthcoming election an event. It is contempt for real values. It is playing with our feelings.
Fortunately, here in our house we are having Eurosport and can follow the race there. And they do not mention one word about the coming election.
But what about families who do not have Eurosport? I predict doctors and psychiatric clinics to have a busy time tomorrow. Shame on TV2.
Have a look at the two pictures and decide which one you prefer to look at.
Tuesday, May 26th 2015:
I can not keep myself awake just now. Not even one of the world's top cycling races, the Giro, is enough. I nod and nod and see less than half of the race. Not even a big bag of liquorice bears helps. The bag is open next to me, but I do not take any. I nod off.
My fatigue can only be due to the fact that I just mowed my lawn and before that I took a good pile of broken tiles and stones to the dump. It wears you out.
But now I have pulled myself together, sat up and follow the bike race intensively. Now it must be. I intend to see it all. A liquorice bear goes down. I insist on winning the battle against sleep. Then. NOD, NOD.
I have to give up and set the race on recording. It is unreasonably irritating that one does not have more control over oneself.
Monday, May 25th 2015:
I am mad, tired, and fed up with the weather we are having these weeks. It is enervating, depressing and destructive to anybody's good mood.
Take just one look at next week's forecast and follow me into the darkness of depression. Not a day without rain, not a day with temperatures above 14-15 degrees and not a day with wind below 7 m/s. I already feel tired thinking of it and swear heavily over the dark prospects that keep my bike in the shed.
PS: Today AGF advanced to the Super League without lifting a finger. They were carried into the advancement because nearest competitor lost. Well, never mind.
Sunday, May 24th 2015:
The Danish author and filmmaker Jørn Leth is a man after my taste. Admittedly, I have not read much of his writings and I've only seen one of his films, "A Spring day in hell." In return, I follow him with great pleasure in his comments during the Tour de France.
Now let all this be as it is. Today he gave me a good experience in an interview to an online newspaper. Immediately I quoted entire section of it for Matron.
The headline is a splendid phrase by the good man: "I'm very much against that everything must be done so quickly. I hate being pushed". He and I hate it. We both agree on that.
I do not know who pushes Jorgen Leth, but I know who pushes me. Bless her. But I mention no names.
Saturday, May 23rd 2015:
We are caravanning these days in the very southern part of Jutland, a very beautiful place just at the Flensburg Bay.
At the same time it is a very historic place since two wars were fought here in 1848-50 and 1864 against Prussia. Especially the latter war is been interesting for me and I have read a lot about it and been to a couple of lectures on the subject.
No doubt the most historic place is the mill. It's name is Dybboel Mill. Strategically it played a big role and was the place where the most bitter battles took place.
I very much enjoy coming here seeing the interesting places thinking how it looked in 1850 and 1864, and how the soldiers thought and behaved.
On aggregate the two wars ended in a draw. We beat the Germans in 1850 - only marginally though and were thoroughly thrashed in 1864.
Friday, May 22nd 2015:
A record was broken today. Matron broke it.
At 18:05 we entered North Germany's largest shopping center and at 18:35 we were on the parking lot again. And we were not told to leave, no, we had bought what we needed. It was carefully printed on a shopping list. It went fast.
Never before have I experienced anything similar - or even similar. How wonderful it was.
Well. Do not rejoice not too early, old man. Another day will come and several shopping malls are lurking in the background. I am, however, pleased that at least one of them was finished at lightning speed. Lovely.
Thursday, May 21st 2015:
I was at Djursland this morning. I visited a kennel that I know very well and that will look after our old dog Sydney during Whitsun. It is also the kennel where son Peter and family have ordered a puppy, a male black labrador. They will get it in about a week.
Of course I could not help having a look the little black fellow, and of course he is nice beyond all measures. But most importantly, I noticed that the moment he came up into my the hands he was completely calm and relaxed. It was good to note.
Obviously the family are looking forward to welcoming the little creature in Hammel.
Wednesday, May 20th 2015: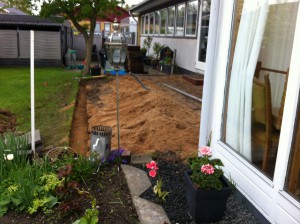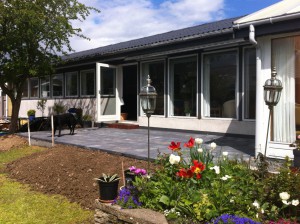 Tiling completed. Hip, hip, hooray. I am very pleased with the result. Look at the two images before and after.
Now I'm "only" missing the building of steps between the two white sticks on the right image and an extra layer of topsoil on the slopes. Grass will be sown - or should I be smart and buy ready made grass in rolls? I will consider during Whitsun. Nothing will be done done until after anyway. One must have a day or two off now and then.
I began on Tuesday, May 7th and I have worked every day since. So I spent 14 days in a row wearing my dirty work clothes. It's not a pretty sight but damned efficient.
Should I put up a small white picket fence? Aaaaaah. It requires additional considerations. Life is full of them.
Tuesday, May 19th 2015: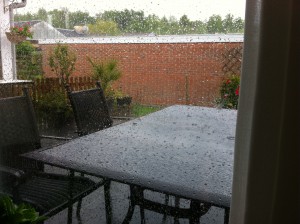 Now enough is enough. It is not spring weather, but a miserable weather. Rain and wind nearly all the time.
6 times I was out and in today because of rain and it's not just a few drops falling. It is serious showers. It slows down my work.
I have become aware that May of this year is the worst May for 15 years with an average temperature of only 9.5 degrees and with more rain and wind than normal.
Meteorologists apologize that it is due to lack of high pressures. And what are they going to do about that? Not a thing I imagine. Sack them and hire some Italians. They know how to provide high pressures.
How difficult can it be?
Monday, May 18th 2015: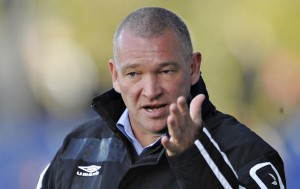 In my life I have been active i various sports. Cricket, handball, football, tennis, badminton, volleyball, ice hockey and cycling.
There is one sport that I always wanted to try too, golf but unfortunately I have never played golf.
I wonder if it's too late.
The desire surfaced today when I watched a broadcast with two football legends, John "Faxe" Jensen and Henrik "Great" Larsen whom we followed a few rounds on a golf course. They enjoyed themselves very much and I have the feeling that I could enjoy myself as well as them playing golf.
I am told that it is a difficult game - and frustrating - and expensive.
But I would like to try.
Sunday, May 17th 2015: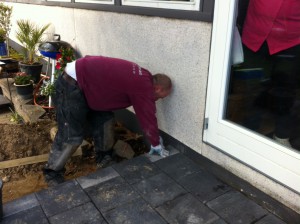 It is with great pleasure I can tell that today son in law Kent has finished laying tiles on our new terrace. The left picture shows the solemn moment when the last tile slid into place. The right picture shows a variety of users.
What is left now is "just" establishis a slope up to the terrace and some stairs.
Then there's the inauguration. Hip, hip, hooray.
Saturday, May 16th 2015: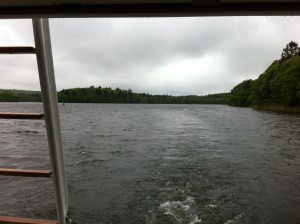 Sorry about the short and late update. I have been to family/cousin-party with 3 hour cruise up and down the Silkeborg River (Gudenå). Beautiful in spite some bad weather.
A good day.
Friday, May 15th 2015:
I love local history, especially from my native town Silkeborg. I am particularly fond of pictures of people from "back then".
Today I found a picture of the now closed down ​​Silkeborg Brickwork which was established in 1899 and which was quite close to my home as a child. The picture is from 1910
When I see pictures like this, I often think that all in the picture are now dead. Of course it is a little sad, but inevitable.
Next I study the pictures closely. Tn this case the manager is easy to recognize, at the front, at the far right. Just look at his cravat, finer jacket and watch chain. I found out that his name was Niebuhr and he was the manager from the start and till 1922.
I notice that 12 out of 18 are wearing hats and 9 carry a mustache. I also note that 9 are wearing a waistcoat. Overall the dress code looks a little miserable. No one thought about it then. It was the norm.
The footwear is clogs, except the boys who are barefooted.
I dare not guess the age of the people but know that they are younger than they look.
For me it's also exciting that I know exactly where the picture was taken.
Thursday, May 14th 2015:
If it is true that work ennobles, I am now noble.
But it's nothing compared to what son in law Kent is. He is double aristocratic. My God he has worked today.
I made the mistake to start a little early this morning (yes you read correctly) about 8.30 to dig a trench 3.60 meters long, 40 centimeters wide and half a meter deep - in clay soil. It destroyed the rest of the day for me, so I was not much use to Kent.
But how that man then can toil . He finished building the foundation all the way around the terrace (see photos)so that now we "only" need to pull off and put tiles down.
It will be a blessed day when we are finished.
Wednesday, May 13th 2015:
Activities in and around our house are plentiful. I went to the DIY store to pick up foundation blocks, sand, tile adhesive and a plate vibrator, a heavy devil.
Obviously everything had to be unloaded when I came home, and if it wasn't because of two strong men who were here to blow the loft full of insulation I would never had managed to lift the heavy devil down from the trailer. Luckily they were here.
But I had to cope with the heavy foundation blocks myself. Fortunately my back is better. Matron argues it is due to better form. I should never have mentioned it to her. Now you do not know what can happen.
While I unloaded the two helpful men finished insulating the loft. It was impressive. With a huge machine in a large van insulation paper was blown through a long hose out over the entire loft area. The whole thing did not last very long. In return it was expensive.
Tuesday, May 12th 2015:
I do not know what went wrong but I'm quite happy today.
There may be a few reasons. Here are two likely ones:
1) Peter, Matron, and I went out picking up Frederik in his forest kindergarten. It was a good experience to see him playing with the other children before he spotted us. We hid a bit. On the whole it was good to see how ALL children were activated. I looked in vain for a child who might sit alone. I saw none. Everybody was were active. There were smiles and laughing all over the place.
2) I finished wheelbarrowing sand in for the new terrace. It means that I've moved 3½ tons of sand. I've got gorilla arms.
Next step: Tiles to be put down. Come on, Kent. I'll help as mush as I can.
Monday, May 11th 2015:
I was up early today, 8 o'clock, to welcome Bo who came to make the initial preparations for his people who later in the week will come and insulate our attic. 20 centimeters of paper wool will be sprayed over the attic.
The poor Bo was to clean up the 46 years old Rockwool (glass fiber), a dustiy affair to make ready for the next stage. There is nothing like old Rockwool to penetrate into nose and mouth. And surely it is not healthy. He coughed and spluttered.
But he finished the job, and everybody was happy - especially him.
At the same time "Project Terrace" was runing. I am alone in charge of that now. I fetch tons of sand in the garage and wheel it in.
Yes, activities are plentiful here in the house. Money is pouring out.
Sunday, May 10th 2015:
I'm struggling in my molded couch. I wage war against sleep that continually entices me to close my eyes. And unfortunately it succeeds every now and then.
It's a shame because I am watching a good bike race, Giro d'Italia 2nd stage. Now I only follow it sporadically, and every time I wake up I'm mad with myself. It doesn't help a bit for shortly after I doze off again.
The reason can only be that I have worked hard in recent days, and today I was at the dump with daughter Annette with a car- and trailer full various waste. Certainly, she took it upon herself to do the major part of it all and carried the heaviest things. I must admit that I am no longer as strong and mobile as I would like to be and had to limit myself to handling the lightest items. Still, it was hard. Therefore, the fight against sleep now. Oops, I missed another 20 minutes. Must to bed early tonight. Good night.
Saturday, May 9th 2015: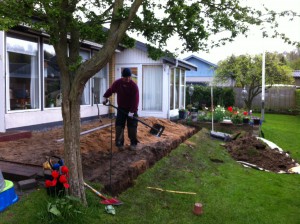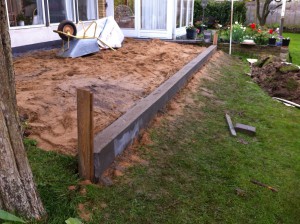 Thanks son in law Kent and his great endurance we reached a major step towards the completion of our new terrace. He was unstoppable.
It was stoppable. I had to pay the price for my heavy work yesterday but I was still a bit useful nevertheless. I could still fetch sand and plinth blocks - and pick up things that I had forgotten to buy.
I worked quietly at my own pace and took the necessary breaks.
I had never managed without Kent. Alone calculations of height of the base and the location of it was a mystery to me.
But now here it is, ready to be covered with tiles and earth.
It's nice work. Thank you, Kent. You will be mentioned in my words of thanks in my prayers tonight.
Friday, May 8th 2015:
I had several conversations with my back today and asked it every time to behave. I used the now retired cyclist Jens Voigt's method and spoke directly to my back, "
Shut up, back
." Only Jens Voigt spoke to his leg when they hurt.
I think it helped. At least I dug out, moved and stacked 88 tiles of 13.3 kilos each That gives a total of 1.170 kilos. In addition, I moved about 250 kilos of soil and 50 kilos of sand. A total of 1.470 kilos. So no wonder that my back had to be asked to shut up.
But now I am finished and can be relaxed and happy sitting enjoying the results through the window.
Tomorrow son-in-law Kent will come and help putting the tiles down.
Thursday, May 7th 2015: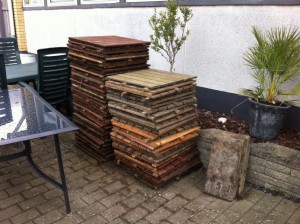 Operation "New Terrace" started today. My back tells it is a really bad idea, but I do not want to listen to its perpetual grumbles.
Today it was burdened by removing all wood tiles and 20-25 of the underlying cement tiles from the old terrace. There are 'only' 80 left of the latter. They are heavy.
In all fairness it should be said that son Peter helped removing the wood tiles.
New tiles, curbs, cement and sand will arrive tomorrow and Saturday son-in-law Kent will begin making ready for the tiles to be put down.
Everybody is looking forward to see the end of it all - not least I.
Wednesday, May 6th 2015: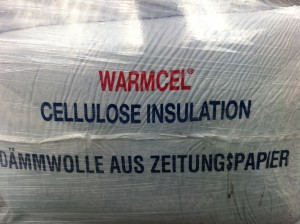 Do not say nothing happens here at our address.
Today insulation to the attic arrived. We are going to have an extra 20 centimeters' insulation laid on as well as having sealed the upper roof panels. Other small items should also be made.
As shown, the insulation is made from old newspapers, read and unread. Your old newspaper can be among.
But that's not all.
I just 5 minutes ago ordered tiles, sand and a lot more, so we can have a nicer and not least a larger terrace. Exactly when it is made, I do not know.
Certainly it's not I who will make the improvements but I guess that I shall go to bed tired, every day the work is being done.
It will be absolutely wonderful when it's all finished - and expensive.
Tuesday, May 5th 2015:
I have some memories of the occupation 1940-45. Not many, but still some, mostly because a German garrison was situated a few hundred meters from where we lived. We children inevitably met with the German soldiers.
I also remember that my very large sledge (2 meters long) was seized by the Germans to transport I do not know what in the winter of 1944. Also, I have other memories that I will not tell about just now.
Then came the 4th and 5th of May 1945, liberation days. Flags, singing, cheers and joy. And I remember absolutely nothing from the two days. My parents later told what we did but nothing has emerged. Completely blank. I would like to have remembered something from the two days.
Well, never mind. Denmark was liberated and that without my participation neither before nor after.
Monday, May 4th 2015: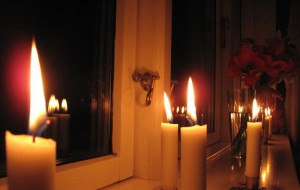 Day of Danish liberation in 1945 from German occupation.
My sweet

wife

and

I belong to

the

year group who

still

put

lights in our windows

on May 4th

in the evening

even if

it is only

ourselves

who can see

them

.




We do it

in

grateful

remembrance of

the

Danes who

gave their lives

to make the world

better.

W

e owe them

the lights.




It is also in

gratitude

that

from that day

the Nazis were

finished

in

Denmark

and never came

back

, except for few

clown

groups around the country

.

Nobody takes them

seriously.




So

my call to

all

must

be to

light a few candles

and

put them in

the windows.

We owe it to

our

deads.
Sunday, May 3rd 2015:
May you eat liquorice when you want to lose weight? NO
Can I help it? NO.
I love liquorice, soft and sweet. It is a tranquilizer and I need that right now.
I am watching football on TV, AGF against Brønshøj. Admittedly we are 1-0 up but right now under pressure. And I do not care much about that.
Wow. That was close to an equalizer. I'll take just another piece of licorice. If the game continues the way it goes right now I will have put on at least one kilo before the final whistle.
Saturday, May 2nd 2015:
I'm mad and angry - and disappointed - and other superlatives of equal meaning, ratty, angry, irritated and sour. But not with others, with myself. It is not enough to bike 1-2 times per fortnight. It's too little.
So my bike form is lousy. Last year at this time I was riding tours of 70-100 kilometers. Now I must settle with 40-45 kilometers like today and then even be happy about it. My shape is miserable. Then biking is no pleasure. And I would hate losing the desire of cycling.
My only excuse: The weather. Rain and/or wind and cold have been against me and I hate bad weather.s Spring must soon be here. Then I'll be happy again.
Friday, May 1st 2015:
A very active day with Matron:
Cleared totally up in the tool shed (that was hard). Air in caravan- and car tires. Removed weeds. Mounted gas barbecue. Sprinkled stone dust in spaces between tiles. Repaired hoist in elevation bed. And finally - as a today's highlight and with great expectations - mounted can crusher for beer and soft drink cans.
The latter was meant to be be today's main job. We got it home yesterday through the Internet and I've been looking forward to it, I love technical gadgets - and what happens?
After only 4 cans the darned thing broke down, was useless. It was hard to hold back my tears.
But luckily my great technical skills proved useful. With a hammer and a screwdriver I managed to make the wonder machine working again. But it cost thoughtfulness and skill. How fortunate that I possess either. So now we have to have some cans emptied.
Thursday, April 30th 2015:
Peter son got a new car today, brand new. Toyota Aygo. It is to be number 2 family car. They also have a Hyundai.
I took the expectant young man to pick up the vehicle in Silkeborg and had a small ride in it. It runs very well.
A big advantage is the fuel consumption, nicely on the other side of 20 kilometers to the liter.
I think he and his family will have much pleasure from it.
Congratulations to you in Hammel.
Wednesday, April 29th 2015:

We were at a birthday party this morning.
Eldest grandcild Katrine is 21 years old today.
For us it is inconceivable that the little girl is now that old.
It is 21 years since, we were called into the maternity hospital a late night to say hello to the new world citizen.
At that time, she was also very sweet.

We have followed her very closely through childhood and youth.
We have already thousands of memories and hopefully we shall have many more.

The reason for the birthday being celebrated in the morning is that she and her family flew to England at midday.
They are taking just a few days off in their (and our) favorite country.

With the background I have it is still strange that one can go to England for just 3-4 days even if I have done it several times.
A trip to England was for me almost like a world tour which was carefully planned well in advance.
Now you can decide on the Thursday, travel on the Friday, and come home on the Saturday.
"We just wanted to go to the theater/to football/do shopping/visiting friends".

But it's nice that it can be done.


Tuesday, April 28th 2015:
I am watching cartoons with Frederik. Disney cartoons.
The action is frantic with aeroplanes that can fly both forwards and backwards as well as cranes that without any problem get wings and join into at a frantic flight show.
There are several near-crashes, but strangely enough they ares rescued in the last second by one of the flying cranes.
Next movie and we are out on the prairie where the crane cars again play the lead role and help cars with problems. All vehicles are much speaking and shouting.
Now two cars get married to each other. So it was a happy ending.
A couple of dramatic films that Frederik enjoys very much, not least because he is very, very tired after a long hard day in the forest kindergarten.
Monday, April 27th 2015:
There is a good, old Danish course called "Biksemad". Our English friends love it.
I've known it since I was a kid and always eaten it with great joy.
Originally it was made to get somethingh out of leftovers from previous meals. Everyone knows that it consists of potatoes into small cubes, meat- and sausage cubes, a fried egg on top - and for my part, with ketchup.
Now it's not often that I get it. True to say it is not a part of any diet. So there may be full years, between I'm getting it.
I've now had it twice within a week, including today. It's been a good week.
Sunday, April 26th 2015:
I'm late today. I apologize, the reason being that we have had guests from mid afternoon till a few hours ago. Then I had to run a couple of grandchildren home.
But now (the time is around 11:00 p.m.) I am ready to tell that afternoon and evening were great. I think that also our English visitors enjoyed the time here like we did plus Matron's good food.
Now peace has settled over the house.
Thank you to the whole gang for giving we two old ones a good day to remember.
Saturday, April 25th 2015:
I have a guilty conscience. I have not done the slightest except visits to a few supermarkets. The rest of the time I have spent sorting out a little bit on my computer, watched a little bit of bike racing on TV and nodded and dozing in the couch. I am still sitting there, reading, watching football and cycling and - nodding. In short. I have done nothing and it gives me a bad conscience. One should be active all the time they say.
The reason for my lack of activity is that I am both sleepy and tired since I didn't get to bed until 1:30 a.m. Last night I was part of a babysitter-team of three that looked after little Frederik. And babysitters can not take time off until the parents are home
But how it nice it has been, both yesterday and today.
Friday, April 24th 2015:
We have old friends in England, since 1958. Let's call them May and Len for that's their names.
They have a son and daughter-in-law. Let's call them David and Toni, for that's their names.
We have a son and daughter-in-law. Let's call them Peter and Anette for that's their names.
Now it's so nice that David and Toni for many years have been close friends with Peter and Anette and they have often visited each other. That will happen again today when David and Toni come to visit Peter and Anette among other things to go to a long sold out concert with "Dizzy Mizz Lizzy", a Danish rock group, tonight.
It is so wonderful that our friendship through 58 years with May and Len is followed up by our respective children and in-laws. We oldies here in Studstrup appreciate that very much.
On Sunday our whole family + the two English visitors will come here for dinner. We shall enjoy that.
Thursday, April 23rd 2015:
We are having a bitch that is imaginary pregnant. It is a common occurrence approximately 2 months after maturity. Mammary gland grows, there may be milk in them, and the abdomen can grow.
Now let it be what it is. It does not bother others than the dog - and hardly much.
What bothers us is that the dog becomes a cave builder, she digs holes where she can. With us the only place is around our tool shed. And I tell you long and deep holes have been dug.
Today we covered the holes. They stretched almost all the way around the shed. The deepest place was about half a meter deep.
We must now seriously consider putting granite stones down instead of bark pieces. So now I have to dig. Woof.
Wednesday, April 22nd 2015:
I paused sitting on a sunny bench at the Aarhus Stadium today while drinking some water and eating a banana - and well, aaaah - for some reason I had some dark and sad thoughts. Everything can not be fine all the time, can it?
But the sun was lovely, right in my face, the warmth pleasant, clearly spring. But as I said. My mood was not at top.
Then a sweet young lady came walking by. She smiled very sweetly at me and said, "Now you surely cannot ask for any more." A bit confused I smiled back and muttered a "You are quite right".
For she was right. What more could one ask for. Wonderful, warm weather, clear skies, nice bike ride, soon summer and not least - a lovely family who will support you to the end of the world.
Shame on he who asks for more.
Unfortunately I did not have the presence of mind to ask the nice lady to take a happy photo of me there in the sunshine so you'll have to settle with a "Selfie".
I rode very happily on.
Tuesday, April 21st 2015:
Matron and I were in central Aarhus today. Perfect weather. It's a long time since we were there together. The purpose was to buy a birthday gift. We were successful although we had to go into three stores before we found it.
It meant a walk up and down the pedestrian street - or was it vice versa?
But best of all was that we paid a visit to the Salling Supermarket. "Why?" I hear you say. "Are you not fed up with supermarkets?".
The answer is YES, and the explanation to the visit is that our eldest granddaughter has a temporary job in Salling Super. We said hello to her, the sweet girl - and bought the most delicious crab salad which I enjoyed for lunch. Glad there is something left for tomorrow.
Nice day.
Monday, April 20th 2015:
During our recent trip to Lemvig we visited an old ancestral farm which our friend Sten has a connection to.
He received further information about his family, and I was presented with the image attached. It has hung on the old family farm for about 100 years and is well known.
I knew it in advance and have been preoccupied with the motive. The painter is Jean-Francois Millet and is called "l'Angelus". It was painted about 1858. My copy, as seen here, is of course a black/white reproduction. The original is colored.
The motive is of course Christian but surely more a picture of Christian people that Millet remembers from his childhood.
The couple has stopped in their work to pray. Maybe they thank the Lord for what they have unearthed, probably potatoes. Maybe it's a daily routine that at one time or another work stops and they praise the Lord in prayer.
In any case, I was happy with the gift and will find a suitable frame for it.
Sunday, April 19th 2015:
My sweet wife and I have got a nice habit.
We often wake up at the same time around 5 o'clock in the morning for a "necessary errand."
After that it may be difficult to fall asleep again and instead we quietly lie there chatting away undisturbed.
It is never about anything serious but may be on the previous day's or week's small incidents, about children and grandchildren - or about what we are having for dinner next evening. An interesting topic.
Now this is not something that happens every night, partly because we do not always wake up at the same time, and partly because it is allowed to say, "Sorry, I'd rather sleep." Then the chat must wait for another time.
However it is very nice . We both enjoy it.
Saturday, April 18th 2015:
I overestimated myself today. The bike ride was too long, 67 kilometers and a total experience of pain, especially in arms and hands, and fatigue on the verge of exhaustion. Already after 15 kilometers I was ready to give in and call Matron asking her to pick me up.
But as we all know the old guard may die, but it never surrenders. Therefore, I went on and finished the with the help of a few breaks and consumption of various EPO-like substances in the the form of energy bars and energy drinks. I've taken so much of it that I am luminescent.
On my return, I was so exhausted that I do not recall having been so before.
But on Monday, I am probably going for another ride. It's still nice to bike even if one can have an off-day in between.
Friday, April 17th 2015:

I

was tempted

today

.

I am

otherwise not

a big spender

but a

Facebook

friend

told me

that

she

had bought

a

small and handy video camera

to be fixed

on a bike

,

a

helmet

, in front of

the car,

on

a pram

,

on your stomach

or

elsewhere

.




I saw

a recording from it that

was totally

fine

in

quality

.




I

immediately

set

off

and bought

one

for

179

kroners.




It

is very small and

neat

,

say, 5

centimeters

long

and

with

various

mounting brackets

, cables

and more.

So from

now you can

expect

dramatic

films

from

my

bike rides on

Facebook.




If I

learn it

there will

also be

oral comments

.

It will be

great

.

TV2

go home

. You will be beaten.


Thursday, April 16th 2015:
Finally it came. The first day with a bit of work in the garden, a little more than just a few moments even if it was windy and a little cool.
The autumn's work of removing flowers and weeds from the bed in front of our conservatory and turn it into a bed of granite is going to be finished soon. So far, four pots are planted with flowers, and three more are coming. They will come soon.
Yes, spring is approaching, hopefully with bright and warm days.
The only snag of the day was that I charged the lawn mower to make it ready. I wish the devil would take that b..... machine and keep it - and come and mow my grass of course.
By the way. It's our Queen's birthday today, 75 years. There's nothing else on Danish TV.
Bugger it.
Wednesday, April 15th 2015:
I have with outside help done harm to a magpie family inour garden. The two magpies have spent their time building a large nest in the top of our red hawthorn.
And we do not like that since we have a few nesting boxes that will soon be filled with eggs. The lodgers have already moved in. And magpies love to eat other birds' eggs and chicks.
Therefore, I was yesterday given the assignment to remove the nest. I could not. It sat too high, and I dared not climb high enough up the ladder. Luckily our friend Steen did and it took just 10 minutes to cut the necessary branches off and get the big nest down. It was quite a lot bigger than a football and surprisingly very heavy, made of thin branches. In fact, it was an impressive structure.
Fortunately, there were neither eggs nor chicks in it.
It's hard to be a bird in Aarhus. Yesterday the hunt on gulls was released and today magpie couple became homeless.
Tuesday, April 14th 2015:
Well, you are not a seagull, and well you do not live in the center of Aarhus which has long been plagued by seagull screams and seagull shit.
2 housing societies have today been given permission to shoot the noisy and shitting birds in 57 housing units. However, only with air guns.
So now Aarhus offers hunting in the city center, a hobby that otherwise is seen in rural settings with fields, scrub and woodland.
I can see it for myself. A mixed crowd armed with air guns, dogs and hunting horn drive through the streets shooting at everything white in the air and on the roofs. I'm sure the fuss that will come when the first Aarhus citizen finds a dead seagull on the street, not to mention a wounded one.
Monday, April 13th 2015:
I am getting fed up with health centers. I was there last Tuesday to have blood tests taken, blood pressure measured, and heart rate checked.
Now I was there again today to talk to my doctor about the results that fortunately were admissible.
I need to go up there for the third time on Friday to have my ears flushed by the nurse. Matron claims that I need it since I do not listen. I think she should join me and have her own ears rinsed. She certainly only hears what she wants to hear.
When the Friday visit is over it fortunately will be 6 months till I have to go again. I wished my doctor a nice and warm summer when I left.
Sunday, April 12th 2015:
Son, daughter-in-law and children face the task of having to pick out a puppy of a litter of 9 labradors, now 10 days old. I joined when they went to see them today.
It is a difficult task. I have tried it several times. There are so many parameters. I went for the puppy that was fastest at the teats and later at the food bowl, and also the one that immediately came to me when I sat on the floor. I also noticed if it wagged its tail and seemed happy and satisfied.
I shall of course not interfere in their choice. And I don't They know what they are doing, they have also tried it before.
But one thing I know. I shall not again be having to pick out a puppy. Sydney is my last dog. It will be strange when there is no longer a dog in the house. We got the first one 45 years ago. And we have had an immense pleasure of them all 10. At a time we had 4 dogs in the house - and 2 children.
Woof.
Saturday, April 11th 2015:
After a nice day at the North Sea - but no swimming - and a good lunch at a fish restaurant, we arrived well fed and happy at the caravansite in Lemvig mid-afternoon. We immediately began to pack up. The plan was that we would be going home tomorrow. And it's nice to be ready to leave early in the morning.
Upon arrival at the campsite, we quickly realized that tomorrow's weather forecast was strong winds and rain. So we took the decision to pack everything down on the spot and go home immediately.
Therefore, I am now sitting in my molded sofa in our comfortable living room and write. A little sad to leave such a nice place ahead of time, but the wisest thing to do. A caravan in gailforce not a good experience.
Main advantage is that I shall get the opportunity of watching the bike race Paris-Roubaix tomorrow. A small consolation.
Friday, April 10th 2014:
The view from our window right now. Beautiful and sunny. The water in the background is the Limfjord, specifically Lem Creek. A mile to the right is Lemvig, one of our favorite holiday towns. We visit it at least once a year.
Unfortunately, it is bitterly cold right just now. The wind goes right through our clothes.
Nevertheless, we courageously set out every morning and see what we want to see, have lunch, see a little more - and then back to the caravan and get the heat turned on. Then feeet up. Relaxation time is here. Next we have some good food and relatively early we go to bed to be ready for the next day.
Wonderful programme.
Thursday, April 9th 2015:
Again a date that I can not simply let be just another date, 9 of April.
Today 75 years ago, Denmark was occupied by German troops. Apparently it was unexpected, but regardless of anything Denmark would have failed to do anything against superior forces.
Nevertheless, a group of soldiers in southern Jutland tried stopping the enemy, a hopeless attempt that resulted in 16 deaths and 18 wounded Danes. (See picture). The German casualties are unknown.
In any case, Denmark was from then occupied for five cold years.
We must not forget the 9 April. It is an important date for us.
As a small "extra" I can tell that my father who lived in Silkeborg mislead a small German troop department. He was asked the way to Viborg, and he sent them towardst Aarhus. The resistance movement was born.
Wednesday, April 8th 2014:
It will be short today. Matron and are on holiday, a well deserved one we think ourselves.
We are good at holidays, good to let everything else out and enjoy being together. And I do not have to vacuum clean and empty the dishwasher.
So I am also looking forward till tomorrow.
Tuesday, April 7th 2014:
I got as a shock today. I was with the nurse in the health center to give some blood tests and having my blood pressure measured - and to undergo a heart-check, ECG.
It's all standard, I have tried it so many times before and I have never had substantial problems,
Everything went fine until we came to the ECG. When it was completed the sweet nurse told that I had an "uneasy" heart with some small "blips" and that she wanted a doctor to look at it before I left. Holy Moses, that made me nervous and it felt like a century before the doctor came.
The good medicus looked only briefly on the screen and said it was nothing. He also told what it was. But in my big and dazed relief I did not grasp a word of what he said. It was rather technical, though.
I exchanged a happy "high-five" with the doctor and went home relieved from a huge burden on my nerve system. Hip, hip hooray.
Monday, April 6th 2015: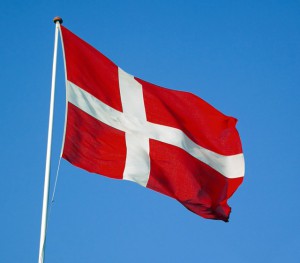 Today, the entire, closest family, children, in-laws and grandchildren gathered here in our house to celebrate Matron's upcoming birthday. I can not tell you strongly enoigh of my joy of having them all around me. I become so happy deep down in my stomach. Furthermore the days was blessed with good food and drink, a pleasant walk - and above all wonderful company.
They just left, the lovely people, and I am looking forward to the day when we once again are going to meet.
Sunday, April 5th 2015:
One gets new interests by being on Facebook.
I have now been on for 3-4 years and joined by chance under wild protest cries from Matron. She thought it was stupid. But I joined.
Then I joined one group, then another, then a third and so on. I am currently in 9 groups, in some I am more active than in others.
Among others I am on the "Bus History Association". I know nothing about buses, apart from having ridden in many. I had not seen that one coming. A guy I met in another group is a "bus-fanatic". I saw some pictures of old buses on the page, exciting pictures I thought. So I joined - just for fun.
I like to see pictures of the old buses, perhaps because of their age, but also because I have been in them. I still remember the particular stuffy smell, the loud noise level, the many bumps, the hard and uncomfortable seats etc.
But they are part of our history.
PS: Matron is now a very keen member of Facebook.
Saturday, April 4th 2015:
Matron and I are happy with our caravan. Today it was made totally ready for spring.
We love to go out into the wild and living like settlers, rough and simple, you could say tough. We live under nature's conditions out there. We are tough. We must be.
However, it is important that we remember a few items like electric oven, TV, computers, iPhones, barbecue and coal, good steaks, good drinks, filled gas cylinders for cooking and heating, electric cooler bag in addition to the refrigerator, tables, chairs, outdoor carpets, comfortable clothing and comfortable blankets. Just to name a few things.
From the beginning we also must find out where the nearest supermarket and the nearest butcher can be found.
Then we are ready to meet all challenges - and they are great. But we have managed since 1988.
Friday, April 3rd 2015:
Right now I am about to write something that I probably will regret.
I started on a diet today. It will be hard for a food-loving guy like me. But I shall try.
The first test was lunch with brother- and sister-in-law today. I think I passed, even drank water with the food.
Now the task is to hold on and suffer.
The intention is there - but the ability ??
If I could afford it I could buy a good result by eating at Michelin restaurants. The more toques, the better. And the more expensive the better. You are sure not to get much to eat, not even an ant could feel full up from it. I find it ridiculous. Just look at the picture, which is from one of the finest Danish restaurants in the Michelin-book.
I would feel cheated if I ate there. It's ridiculous. But weight loss is guaranteed. Bon appetite.
Thursday, April 2nd 2015:
April 2nd is a historic day. Just look:
1801: Battle of Copenhagen, when the British under the leadership of Admirals Hyde Parker and Hoaratio Nelson destroyed the Danish fleet outside the harbour of Copenhagen. They should be ashamed, they should, ie the English.
1805: Hans Christian Andersen is born in Odense. It was fortunate for Denmark - and the world.
1917: The first woman is elected to the US Congress. Oh yes.
1968: Social Security numbers introduced in Denmark. OK, that was a necessity.
1979: "Duvet Larsen" opens his first store, "Jysk Sengetøjslager" (bed linnen and more) in Aarhus. It has since grown a lot. Now there are 2,200 stores in 36 countries. Now called "JYSK". Yes, "Duvet" has become rich.
There are plenty of good reasons to remember 2nd of April.
Wednesday, April 1st 2015:
Our son's sister- and brother-in-law are building a new house these days. Not far from Hammel.
Today Matron and I were out to inspect a nearly finished house. Wow, it's great - and with the latest new of all things. They will be moving in late April.
I was impressed by the house, the bright, nice rooms, the open kitchen, the beautiful floors and walls.
And on top of it all is the central vacuum cleaner. It is very smart. No more dragging a heavy vacuum cleaner around. All you need is the hose that can be connected in all rooms. Furthermore there is a sensor that tells you when to empty the dirt tank. Central controlled air conditioning is available of course.
The more I saw, the more envious I became. But envy is an ugly thing. shame on you, old man. But still I wouldn't mind having a house just a little like what we saw today.
March, Tuesday 31st 2015:
My beloved bike fails me. It continues to tease and will not shift gears properly. I took a ride last week and it was absolutely crazy.
My mechanic has ordered a spare part from Holland. It might help me. It should have come yesterday, but thanks to the Easter holidays it will not be here till after Easter. Blast.
In my despair, I persuaded my bicycle mechanic to make another attempt with fine tuning so that at least I can ride a bit during Easter.
Therefore, the bike this morning was involuntarily committed to a further stay at the bike hospital, where it is currently is hospitalized. It will be discharged tomorrow and I hope it will be better.
It's not fun with an injured bicycle.
Monday, March 30th 2015: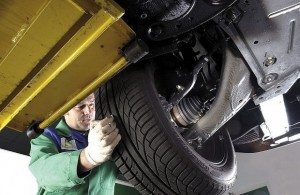 T

oday I had my winter tires

changed

to

summer tires

on our

trusty

Toyota.




I like that

because it

indicates

spring

is almost

there.

Now

it will be

7 months,

until I

switch back to

winter

tires.

I like that

less

.




If

I do it myself

?

No,

I do not.




I

gladly

pay

2 x

500

kroners to

have

the tires

stored

,

and

having

a mechanic

change

them

.




"

You

are

wasteful

,"

I

hear

someone say

.

"For God's sake, save

the 1,000

kroner

s per year

and change

the tires yourrself"

.




To

those who

come up with

a statement like that

I should simply

say that they

do not know

my back.

It

is

very reluctant to

changing wheels

.

I would

go

as far

to say that

it hates

it

.




Incidentally

, I

would find it difficult to

find

space for

the 4

wheels

at home

.

The only options

will

be

the living room

or the bedroom

and

M

atron

would

not want that

.


Sunday, March 29th 2015: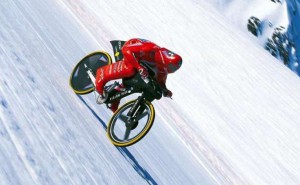 The

fastest

I've ever

ridden a bicycle

is

67,2

km/h

.

It

was

2nd of November

2014

down

a hill near

Horsens

.

I honestly thought

i

t was fast

and

clung

firmly to the

shaking

handle bars.

My legs

also began

shaking.

I

was

relieved when

I reached the bottom

and

speed

slowly

went

down

.




I

often hear and read

about

the professional

riders

who achieve

speeds

over 100

km/h

.

down

a mountain.

Whether they

are nervous or not

I do not know

but

at least

it doesn't show

.




I

looked twice when today

I

read about "

The Red Baron

"

, 52

year old

Eric

Barone

who yesterday

beat his

own world record

by riding

223,5

km/h

.

on his bike

down

a snowcovered

hillside in

France

.

His

previous record

was

222

km/h

.




My goodness

.

His bike must have been shaking

.

Can't understand he dares

.

I don't

.

I

nearly don't dare

even

riding

67,2

km/h

.

once more.




I am a bit of a

coward

you see.


Saturday, March 28th 2015:
Why is it that I often can not find what I'm looking for in a supermarket? In particular if it's something one does not buy every day.
Today it was a 9 volt battery. I assure you I was all over the shop, some places even 2-3 times. But apparently they had no batteries at all.
Then I began looking for an employee to make her/him help me.
It also took some time, but not nearly as much as I had spent on the batteries. Finally I succeeded and the friendly, young man asked me kindly to follow him and without detours, he went straight to the battery shelf which of course I had already passed a few times. I felt a little stupid and told him while I mumbled something about advanced age.
Ham smiled kindly and said it was his experience that young people are no better at finding goods than the elderly. I thanked him heartily.
Friday, March 27th 2015:
Once again in the news. Our closest southern neighbour may introduce motorway toll from 2016. Danish motorists will be annoyed - especially holidaymakers.
I am pretty indifferent. The deepest I shall come into Germany is Flensburg.
BUT. I do not like the consequences. Now little Denmark will almost be forced to do the same. That would mean that also I will have to pay to drive on Danish motorways. And that is absolutely insane.
I have for many, many years paid road taxes and of all sorts of other horific taxes. So I have amply paid to drive on our own highways already. Double taxation is a nuisance.
So dear Frau Merkel! Please bury that proposal and I shall vote for you if I move to Germany.
Thursday, March 26th 2015:
Here we go again.
After for a longer time having escaped worksheets on the kitchen table when Matron left for work I found one today. It was an eerie sight.
"Hello Gumse! I'd like you to vacuume," it said. My goodness, she calls me Gumse. I quickly wrote: "Who is going to do it?" although I knew the answer already.
After all, it was a modest command but I know from bitter experience that it quite easily will grow and become A4 size.
Never mind. Just today I can handle anything.
By the way - I vacuumed.
Thursday, March 25th 2015:
We drove past IKEA in northern Aarhus today. We have done that quite often but for the first time I noticed how eerily big it has become. It is scary.
Just as we passed, Matron exclaimed that she wanted to invite me into this mecca for people with an extended shopping gene.
I was terrified at the thought and rejected it immediately as absolutely insane. I am not going to accept the invitation. But the sweet Matron thought that I very well could join her and just sit in the cafeteria eating "Swedish Sausages" and drinking cola and time could pass with that.
I stood firm and turned the idea completely down. I WILL not go into this "hell", not even just in the cafeteria. I shall NEVER put my feet in there, no matter what the sweet lady beckons with.
I shall NEVER give in. NEVER.
Tuesday, March 24th 2014:
I often enjoy sitting quietly somewhere and ponder, going through own thoughts about life. It may sometimes be needed because it can bring peace in mind and give a push in the right direction when you are a little "down".
Today my bike ride brought me Grundfør, a village about 15 miles from here. I has a beautiful church with a very well-kept cemetery. It is good to sit there quietly letting your thoughts run.
I sat on the church steps, right in the sun, which warmed both me and my thoughts. I sat quite long and rode away a happier man.
Monday, March 23rd 2015:
A busy day is almost over. And thanks for that.
Busy days always start with getting up. I went straight to lunch, and then it all started.
I drove the matron to the dentist's, so that she could get a golden crown put back, she lost it last night. While this went on I was in the pharmacy to get some medicine. Then I picked up the sweet lady at the dentist and took her to the doctor where she passed the driving licens test with flying colours.
Then into the community service in Risskov to get the paperwork with the new license in order. Then into a DIY to buy calcium for the lawn, followed by a visit to a supermarket.
Finally, to the dismay of my poor back, I spread 40 out of 60 kilos of calcium on the lawn. The rest will have to wait. But what a day.
My God, I am a useful man.
Sunday, March 22nd 2015:
Motorists complain about cyclists' behavior in traffic - and funnily enough cyclists complain about motorists.
Now a study shows that shows that 1 out of 3 cyclists feel uneasy in traffic while 2 out of 3 drivers feel annoyed over cyclists.
Cyclists complain that they are being overtaken too closely with too much speed and that they are being harassed and subjected to road harassment.
Drivers will complain that cyclists take up too much space and can not easily be overtaken.
Yes, it is pretty nice out there on the roads.
My own experience is more positive than what the study shows. I am not particularly uncomfortable in traffic. I only very seldom experience a close overtaking at high speed. Maybe it is because I usually bike on my own.
And the reason is not that I'm anti-social but that I ride so slowly that nobody will bother to ride with me. "The loneliness of a long distance bike rider".
But my goodness, how I love cycling.
Saturday, March 21st 2015:
I have trouble with our lawn. Matron argues that there is too much moss in it. I am inclined to agree with her but do not have the desire and the strength to remove it.
Therefore it comforted me much to read on a garden site that you should make up your mind whether moss is such a big problem and rather rejoice in the beautiful tree that provides shade and therefore causes the moss to grow. That joy is far better than running around with a rake or trudge after a moss rake which must be emptied every 2 minutes. It's too hard.
Now that's a talk I appreciate. Let moss live and enjoy a relaxed way of life, for example In the shade of the lovely tree. Long live the moss.
Friday, March 20th 2013: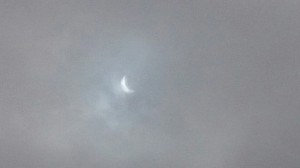 That was that. I'm thinking of the eclipse. It was not much fun. Solar eclipses are somewhat hyped.
Here at our place it was so cloudy that only for about 10 seconds we could see the covered sun through the clouds. See picture.
And believe me. It was no darker than on any other cloudy day. The cloud cover was so tight that glasses were unnecessary. I'm glad we had not invested in them. More unlucky were the hundreds of people who had dearly bought tickets and hotel rooms on the Faroe Islands to see the total eclipse. All they saw was clouds and darkness and after that clouds and light. A pity for them.
Matron and I watched the mentioned 10 seconds from our conservatory. After that we went to lunch with old friends. That was much more entertaining.
Thursday, March 19th 2015:
Frederik, youngest grandson, had his 3rd birthday today. And the wonderful, little toddler kindly had invited the family to a birthday party with buns and later in the day dinner - and the guests brought lots of birthday gifts.
Frederik was very busy and excited. The content of the "soft" packages, underwear, T-shirfts etc. went over his shoulder while the hard ones immediately were in use in various plays, not all quiet plays.
Since Frederik is a "car-addict" there were quite a lot of them, plus a couple of revolvers with inlaid sound. They were used a lot to the delight of everyone's eardrums. We were all shot 20-30 times during the afternoon. But we survived.
How wonderful it is to see a little boy so happy.
Wednesday, March 18th 2015:
My hands are shaking, my teeth chattering, my heart beat is approximately doubled, cold sweat is running down my spine, I feel a nervous and upset stomach, and I swing back and forth between YES and NO.
Should I do it or should I not?
My common sense says NO, Matron says YES. And she is often worth listening to.
Let me explain.
Our shopping trip to the shops in the afternoon brought us among others to "Jensen Bicycles", a big bike company to pick up a small can of "hind-cream". No big expence.
The sweet lady has long insisted that I should buy myself a new bike, a real racier, carbon frames and racing steer and the lot. I have been reluctant. It is expensive. But now I really felt the pressure on me, and I agreed that at least we could look around.
We did and found a dream of a bike, model H12. See picture.
But it is a little pricey. Wow, this is exciting. Will Matron get her will?
She normally does.
.
Tuesday, March 17th 2015:
Eventually the news that I have been waiting for for some years came. Morten Olsen stops as our national football coach. I do know it is not until about 18 months from now, but still.
How often have I not been cursing and swearing over his dispositions and his incessant use of players who are either injured or once were good.
I have often blamed him his dispositions and thought, "Olsen out".
Now he soon will be. And what happens? I feel a bit sorry for him because he once was good.
Well, old man, no crocodile tears. We need a new coach. And I shall probably curse him too, especially if it becomes Michael Laudrup or Staale Solbakken.
Now you know.
March, Monday 16th 2015:

Cleanup
has taken
an unexpected turn.
In
full agreement
Matron
and I
started
cleaning up
my workshop
.
As can be seen
in the two images
before
and after
it was
needed
.
I regret that
image 1
is blurry
but it
may be due to
the large amount of
dust and
dirt
hanging
in
the air before
we
started.
Suddenly now
there is room for
everything.
It's a
good feeling
.
Even
certain German supermarkets'
remote
depots was
tidy.
Within
this tough
round of cleaning up
my sweet
wife had
totally
cleaned
our
conservatory
and
had washed
floors
in the entire house
.
I meanwhile took
the last
garden furniture out
; and that
are now
where it should be.
So
house
and
immediate surroundings
look like
a million
-
or
two
.
It's spring
,
my friends. You'd better go out and do the same.


Sunday, March 15th 2015:
Here is an idea that I will take up soon - depending on weather.
Today I read in an Internet newspaper that in Sao Paulo in Brazil some people have organized a "naked-bike-ride" in protest against bad road conditions. It all happened the other day.
I very often ride through Aarhus via different routes. And there is nothing to brag about there. Cycle paths are bumpy, cracked and uneven while most roads are smooth and even.
So if one day you observe me riding naked through the streets of Aarhus you will know why, and I am sure that when authorities find the cause of my nakedness asphalt work will be done before the week is out. Nobody would risk such a sight once more. And I've gained what I wanted.
Saturday, March 14th 2015: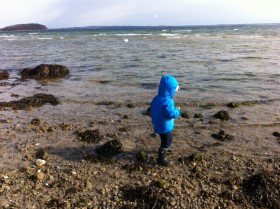 If you have

grandchildren

,

do not let

the slightest

opportunity pass

to

see them

.

I

use every possible chance

.




Today,

however, it was

not necessary to

move away from our house

to

be together with

one of them

, the youngest

,

Frederik

.

Mom and Dad

are

in

South Jutland

a few days,

and

then

Frederik is

here

.

And

that's good.




As always,

he and I went to

the beach

to throw

as many stones

as possible

into the water and

next say hello to

two

cement

-

penguins

that he

is very fond of

and

has named

Pingu

,

his favorite

cartoon character

.

They are standing

in

a garden

at the beach

and

he

and I have

more or less

carte

blanche

from

the owner to

go in and

give them

a hug

.

The owner was

in front of

the house anyway, so

we

asked politely

.




Right now

the little fella is aleep

,

but

will soon wake up

,

and then we shall have

a walk in

the woods.

He

is an

outdoor enthusiast

and

has just

started in a

nature kindergarten and is outside the whole day

.




Grandchildren are

wonderful.


Friday, March 13th 2015:
Yesterday it was the caravan that got the big overhaul and was cleaned. Today, the tiles in the entrance area were swept and swept and swept. Matron did most of that while I oiled the garden bench. Then some garden furniture was cleaned and put in place. Then the the garden shed was tidied and the same in my workshop - and then it was lunch. And eventually my old and worn out back could find rest.
Tomorrow grandson Frederik will come and stay overnight. That is also hard, but many times more fun.
On Monday the spring cleaning will continue. I can hardly wait.
Thursday, March 12th 2015: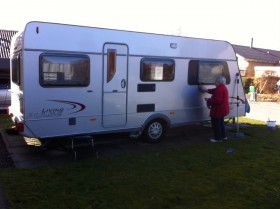 I have washed our caravan today, well, I was not alone. Matron was very helpful. She should be. It was she who wanted it done.
And when she decides somethin then .....
But one thing is certain. There will be no compromise on the quality of work. Not many small, dirty spots are allowed to survive. "Care in time" is her slogan, and I must suffer. I think very well that one could compromise a bit, cut corners. But she does not, then it's all over again.
But now it's done.
The caravan is now totally clean and ready for excursions.
Wednesday, March 11th 2015:
I was in the garden today. The big pile of branches that I cut of our lovely plum tree last wee had to be cut into small pieces to be taken to the dump in plastic bags.
I sat in the sun and branch by branch I had it sorted. It took an hour.
For the first time this year I felt the sun has got some effect. I could feel a nice warmth through my jacket sleeves and I nearly sweated. It was so wonderful that I was almost sorry that there were no morel branches to cut. But then again. I had to watch a bicycle race on TV. So despite the beautiful weather I went indoors. One must prioritize.
PS: Our former King Frederik the 9th would have been 116 years old today had he lived. That you didn't know.
Tuesday, March 10th 2015:
I think it's weird. I sleep pretty well at night. I go to bed early, around 10 o'clock. I have no trouble falling asleep. I usually get up a little late. I get my daily vitamin pill.
Nevertheless, I think it is damn hard to keep awake all day. Especially I find it difficult around midday. That's a hard time and I have to take a small nap or several small naps immediately after lunch.
I wonder really do not know why.
Am I not too physically active with the household jobs I'm ordered to do? Do I after all get up too soon? Isn't Matron a bit strict about the amount of food she serves me? Would it not help if I had a little more icecream?
I would answer YES to all of the questions. Matron would answer NO to all of them. So it becomes a NO.
Monday, March, 9th 2015:
This morning I followed Matron to a big truss company. She needs new support soles for her shoes.
On arrival I noticed that the company also made a variety of artificial limbs, legs, arms, hands, etc.
I inquired the sweet lady at the front desk if they could provide me with a hip replacement as the old one creaks somewhat. She said they could, only I had to wait until this afternoon because they were quite busy.
When we left, the nice lady and I agreed that she would put my hip on the counter and then I could pick it up whenever I wanted. Probably it will not be until tomorrow as I have biked 45.5 kilometers today and am somewhat worn out. I am looking look forward to getting rid of the sore hip I am having now.
Sunday, March 8th 2015:
It is spring. Not only temperature wise but also cycling wise.
Today the first, more famous bike race, Paris-Nice, started.
And I'm sitting here - in front of my TV.
Today is time trial so sometimes I have to bend my little head slightly forwards and see the world from the inside of my eyelids. But never mind. Now the good riders are going to start and then I'm wide awake. Oh, how I enjoy it.
Tomorrow I shall ride my own time trial. I imagine 30-50 kilometers. My form must be built up slowly. I am looking forward to it and my excess fat cells do not, for they are on their way out. May be they will make a congestion when they are going to leave, there are many of them.
Saturday, February 7th 2015:

Once again I am considering going to watch football live. It's been a long time since I last did, 6-7 years. "My" team was relegated and just now they are struggling in 1st didvision. Number 3 in the tables. They have not been very good. But the end was good. Last 4 games were won.
If this stream continues the next couple of rounds I shall go - providing the weather is pleasant.
First game will be in a week.
Friday, March 6th 2013:
Matron is always highly praised for her cooking - and deservedly so. Thus also today.
2 pairs of friends were visiting us for lunch, and they kept praising the food. And it was good. No doubt about that.
But did they praise me for having done the beds, vacuumed, washed the floors and picked up some last minute shopping at the supermarket?
Zero. Not a word about that. It is not fair. I feel ignored. We at the bottom who do the slave work are never mentioned. I would like that to be different. There is too little equity in this country. My efforts are not appreciated
Next time we are going to have visitors I shall put up a board on the front door telling about them.
Thursday, March 5th 2015: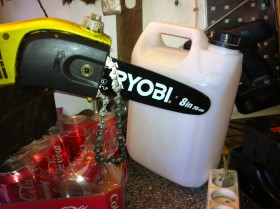 As many will testify I am no technical genius. Unfortunately far from it.
I am therefore pleased that today I managed to solve a mechanical problem relatively easily.
I have over 2 days cut the top of our plum tree with a chainsaw on a 3 meter long telescopic pole. It's been fairly easy although it is hard for arms and back.
But today came the 'accident'. I needed to cut down only two branches when the chain fell off. I went into a coma and cursed. How could I repair it? Me, the clumsiest of clumsy. But I had to try - and strangely I succeeded. After 3-4 attempts I disassembled, cleaned, and assembled. And it worked.
Was I was proud? You can bet I was. It gives confidence. Clumsy boy repaired his chain saw.
I had been expecting a visit to the mechanic and the subsequent robber-like bill.
Wednesday, March 4th 2015:
Today I found a picture that brought me far down memory lane.
From 1956 this humble, small house was our "Cricket Pavilion" at Silkeborg Stadion.
Originally it was a tool shed, but we players changed it to an acceptable pavillion with a changing room (the two windows to the left - only cold water), a very small kitchen (without water), and a 'sitting room' (behind the wide door and windows to the right ) with a huge corner sofa, various chairs and a large table.
I have spent many, many hours in and around this pavillion. I have celebrated victories in there with plenty of beer and comtemplated defeats - also with a beer. I have been to meetings there. I've been to parties there.
On the whole, I was so occupied by playing cricket that the house was almost my second home.
It does not exist any more, since the cricket pitch was moved to another location in the city around 1970. And by then I had not lived in Silkeborg for 6-7 years.
But dear me, memories come streaming down for both my sweet wife and I in this picture.
It was fun back then.
Tuesday, March 3rd 2015: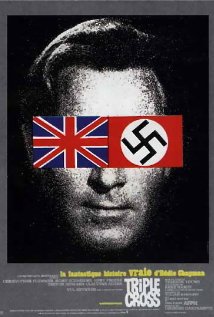 I was well entertained this afternoon when I pounded away on my exercise bike. I worked very hard for an hour while following the film "
Triple Cross "
from 1966, with Christopher Plummer in the lead role, a good old-fashioned war film with all the ingredients that should be there. Spies, double spies, evil Germans, good British and sometimes reversed. And of course, a love story.
It's been years since I last saw a war film. This one was quite entertaining - and it was not particularly bloody. But most importantly; it caused me to forget my hurting legs.
Monday, March 2nd 2015:
Today it is exactly 58 years since I had my first kiss. A very sweet girl who was so kind to care a little about me. I had walked her home after a carnival dance in our local sports club. We were both members. Just for the record I want to tell you that I was not dressed up.
It was a surprising experience. I was very shy with girls then. Nevertheless I had a few sweet kisses, and we met again a couple of days later. And we have done since.
It is probably no surprise that the girl's name was Else.
We would like to have yet another 58 years together but we must not be too greedy.
Sunday, March 1st 2015:

This is written
in
deep
gratitude for
our wonderful
family
.
Today we were visited by
three
of
them
, Annette
, Kent
and
Kristian
.
I love to sit
quietly
listening to them
and talking to them
.
They are lovely people
.
How I
enjoyed it.
When they
are all here
I am
boiling over
with joy
and pride.
May it
happen soon
.
It's
also a plus
that
Matron
always
serves
a delicious lunch
.
Today it was
tapas
with
all kinds of meat, cheese, pestoes, sauces, and more
, and a
cool
white wine
thereto
(and
Pepsi
Diet)
.
Isn't life just wonderful?


Saturday, February 28th 2015:
It has been a good day - and still is.
While Matron, daughter in law, and son were at a mega-sale in Hammel Frederik and I were alone together for 1-2 hours. How I enjoyed it. I am sure that the little man also did. We were outdoors playing with another boy from the area. Slides, big swings, sand, seesaws, jumps from a high ramp. - not to mention a mud hole which is Frederick's clear favorite. That was to be seen on his snowsuit afterwards. In particular, I was pleased to see Frederik playing together with the other boy. No longer you see the two of them playing separately. They were playing together
I was so excited about the experience with Frederik that I almost effortlessly managed an hour's shopping in BILKA.
And when that happens I do feel good.
And tomorrow daughter, son in law and grandson will come here for lunch. That's also really nice. I am looking very much forward to it.
Life is good to me.
Friday, February 27th 2015:
Today has been really lazy day. Besides taking Matron to and from work, doing the beds and emptying the dishwasher I have not done a thing.
Sometimes it's nice just hanging around. However I must confess that today I was a little bored. Rarely happens.
I could rejoice, though, that the length of the day now is 10 hours and 25 minutes, an increase of about 3½ hours since the shortest day in December when it was about 6 hours and 54 minutes.
I sat quietly and was pleased about that.
A good message from the hospital also helped.
Thursday, February 26th 2015:
Three restaurants in Aarhus have just had the great honor of being given a Michelin Star. Congratulations to them all. It's great, and no doubt deserved.
Not that I myself will get anything out of it because I shall never be able to afford eating at any of them, and in the very unlikely event that I would I will not be satisfied by the talented chefs' efforts (see picture). It's much too little. I know this from experience. Well, I have never eaten at a Michelin-star restaurant but a couple of times at some that were close (I was invited).
I had to go to the nearest hotdog stand afterwards which lead to some raised eyebrows from those I went with.
So congratulations to the new Michelin star inns. Enjoy your glory and let me eat at home with Matron and at my sausage stands.
Wednesday, February 25th 2015:
Today I made an exercise, I usually do not do.
I received a bill from my petrol company for 36.75 liters of diesel at a total of 293.27 kroner.
By sheer curiosity I went through the bill.
On the bill was stated:
VAT: 58.65 kr.
Energy tax: 97.76 kr.
CO2 tax: 15.44 kr.
Nitrogen tax: 1.73 kr.
Total in taxes: 173.58 kr.
Reel payment for diesel was thus 119.65 kroner.
Taxes in all 59.19% of the price. It's a damned lot of money and some politicians would even like them raised.
They are not going to get my vote. I'm almost disgusted.
And then I found out that on the bill was an extra charge of 10 kroner for postal etc.
That made me really disgusted.
Tuesday, February 24th 2015:

We are looking after

daughter's and

son-in-law's

little dog

for

the time,

a small terrier

, a

West

Highland

Terrier

, also called a

Westie

.




The breed

is known for its

playfulness,

pleasure in

being with

people

,

and

his

short fuse

.

It does not

take much for it

to

scold

.

And it

can be heard

.

In particular if

one's neighbor lets his own dog

out

in his garden

. For

a

westie that

is

a personal attack

which is loudly

rejected.

But

if the two of them

meet

in the street

, it is

all tail

wagging

.




In this house

we are used to

Labrador's

sluggish

and

lazy

trotting

back and forth

but we have

now

learned that it

can

be done

in a different and

much faster

way

.




A

Westie

is

a bed

dog

and likes to

spend the night

under a duvet

,

completely under

.

But luckily

it's no

mine.

With me

she lies

on top of

it.




She

is

a funny

and charming

little beast

with

an ego

the size of a

hot air balloon

. In fact our two rather big dogs are a bit scared of her.


Monday, February 23rd 2015:
It is peak season for skiing holidays. Thousands of Danes go south and north. The majority of them will return home unscathed - but unfortunately not all. Some come home in plaster. And we have to hear for it.
In particular, we Danes are being badly bullied by the Norwegians.
A statistic from Norwegian TV2 shows that Danes have 30 times as many injuries as Norwegians and Swedes. We are referred to as "The clowns of the ski slopes". Danes must take out their own "Clown assurances", a travel insurance is not enough. The bottom is reached.
But as long as we beat them in handball (we do not), football (we do not) and ice hockey (not here either), they may bully us. And so they do.
Sunday, February 22nd 2015:
Our grandson Frederik visited us today along with elder sister and Mum and Dad.
Frederik is an expert on tractors. He knows the difference between Massey-Ferguson, John Deere, Claas and several others. It's more than I do.
Today I sat with him showing him various tractor movies on the internet and he was deeply absorbed and talked and talked. There were tractors that jammed. There were tractors that stood in a couple meters of water while others drove around in low, muddy water and cut reeds. He was deeply impressed and was long concentrated on it.
Well, granddad also likes to see those films.
On the picture is the John Deere we use on our hunts. It also impressed.
Saturday, February 21st 2015:
Nostalgia sometimes hits me. Today I happened to find this memorable telephone in my picture archive. It's from the days of my childhood in the 40's and 50's. A big machine, weighing 3-4 kilos. It stood on my Dad's desk.
In a way it was smarter than today's push-button contraptions. All one had to do was turn the handle, lift the handset to one's ear and then
say
the number you wanted - and you got it.
To fix this a sweet lady connected the caller to the recipient. Smartly and quickly.
Well, there could be misunderstandings, such as asking for number 53 and getting 63. It did not happen that often, however. Nowadays, one also makes mistakes by pressing the wrong number, probably more often than the telephone lady misunderstood the numbers.
There was no forgetting the phone with friends or at the supermarket or dropping it in the street. You were not called in the midst of worship, theater, cinema film or a meeting. No problems setting volume and call tones. They were standard. No problem with discharged batteries and recharging them.
The world was simpler - but I wonder, however, if that might be enough to make me wish those times back? Hardly - just a curiousity.
Friday, February 20th 2015:
I am writing a little early today because this afternoon I am going to this year's first Christmas party and I know from years of experience that I may return home being a bit dizzy with subsequent difficulty in opening my computer not mentioning hitting the keys.
I promise, however, that I shall not start fights, burp, or drive the car.
Besides I do not know what might happen. But usually I am quite happy. I am also happy right now. So hopefully I can expect another cheerful day. I hope the same for you.
Thursday, February 19th 2015:
Our car had the undercoating done today and with the help of a friendly neighbor we picked it up at 14.30.
I will assess an undercoating to be a useful and Christian thing to have done - and eventually also money-saving. And there is another plus. I love the smell of fresh undercarriage oil. I can sit in the car enjoying it, and when after a few weeks the smell has gone I shall miss it.
Perhaps you can even speak of me needing a rehab.
I am considering sending the car to the new treatment in a few weeks just for the sake of the smell.
Friday, February 13th 2015:


I was at work
today
.
Yes
, it's true
, at work
.
Because of holidays
in
my brother's
company
, I had
promised to
"
take care of
shop
"
4-5 hours.
I have done this
often
before
and there's always
something to
do
and there are always
customers.
More often than not they are
students from
teacher's
training colleges
and
employees
from
day care and
after-school institutions
.
I am
always
happy to
have
a chat
with
them and hear
about their studies
and
jobs
.
Thus
also today
.
But there was
an unexpected
"
customer
"
.
Eldest
granddaughter
showed up
with
lunch
pie
and
cream buns
.
And that
surely
suited
me
well
.
I had had no
lunch
.
We had a quiet
hour
just
around midday
when the telephone only rang
once
so there was
plenty of time to
talk
and socialize
.
It's good to
go to work.


Saturday, February 14th 2015:
It's Saturday. The time is around 6:40 p.m. Outside it is dark and cold. I am sitting drousily while Matron is watching her favorite series on TV. I enjoy the silence and sit looking forward to dinner which will be on the table in an hour or so. We had a very good lunch with good friends earlier in the day. Good food, good schnapps, good coke that I did not know.
Perhaps you miss the word BEER in this context but it's just not me anymore.
About a week ago I found out that beer makes me sleepy, tired, and a little unwell - even in small quantities. Therefore I did not not drink a drop of the otherwise popular drops today.
My future will be without beer. But maybe a hot summer could entice me to drink a single one. Is it a little sad? Not at all. I get along fine without. I will much rather have Pepsi Diet.
Sunday, February 15th 2015:
Yesterday I happeded to find a picture from the past of my home town Silkeborg when school meals were common. Poor people's children could each day during the winter months have a warm meal.
In the beginning they were fed at Silkeborg Poorhouse but after 1½ years it was felt that children should be spared of seeing the misery there and meals were taken at the local school. The photo is from there in 1926.
I myself have been one of the children receiving meals at school but by then it had turned into open rye bread sandwiches.
My recollection from those is not positive. Only few were just a little bit tasty. I especially remember grated carrot as utterly horrible, wet and with rye bread that became a gooey affair. Nor was "apple bacon" for my taste, probably the worst of them all. But the food was there, and my parents saved money.
There is a long way till today's school cafeterias that serve delicious and healthy food, admittedly not for
free.
Monday, February 16th 2015: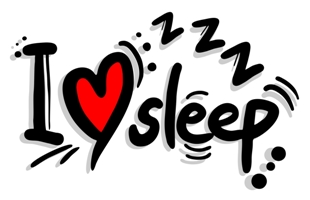 It was a new experience to me. Last night I went to bed as early as at 19.15. I have not done that since my mother put me to bed as a 2-year-old. So it is 72 years ago.
I was not sick or unwell, in fact I felt really good. But Matron did not. She felt cold and miserable with nausea. So when she at 19.15 o'clock announced that she wanted go to bed I thought, "Why not?" So I shuffled after her. It's never too late to try something new.
The sweet lady fell asleep after 2 minutes while I had to use 20.
And we both slept till 8.30 this morning.
Now I have tried that too and maybe I'll repeat it. One should not be afraid of something new.
Tuesday, February 17th 2015:
I was at a memorial service today a church not far from here. A dear, former colleague who died last week, was interred. A memorial service is different from a funeral in that there is no funeral sermon and certain other parts of the liturgy are left out.
On the other hand, there were obituaries from the deceased's daughter who spoke beautifully and warmly - and amusing - about her father. As did the mayor and priest. There was only one hymn Instead we sang songs from acknowledged Danish comtemporary poets.
I have never been to a "funeral" and laughed so much. It was quite the deceased's spirit. He was a wonderful and cheerful man whom I worked with for more than 30 years, among other things we did together school schedules for many years, and I have biked out to him and visited him several times since we retired to see his self-built and highly acclaimed observatory. He was incarnated astronomer with numerous lectures behind him.
He will be missed. Glory to Erik's memory.
Wednesday, February 18th 2015:
How wonderful, how absolutely wonderful. Here I sit in my molded couch watching the first bigger bike race in Europe this year, "The Tour of Andalusia" which will end on Sunday. How I have been looking forward for the season to start, and now the races will follow like pearls on a string.
So here I am, sitting inside, and outside the the rain is splashing down, and the wind is blowing. No outdoor activities are pleasant. And imagine. Bike race on TV in a pleasant temperature. My happiness is made.
I am furthermore bound to the residence since I this morning took our faithful car to a necessary undercoating. There's reunion tomorrow - and there are bike races each afternoon for rest of the week.
YES.