If you want to go back in time just click:
Diary 1
17th feb. 2006 - 5th Dec.
2006, or
Diary 2 6th Dec 2006 - 21st Jan 2008.
---
Please notice that this page is now full up. Continue to PART 4 by clicking here!


Monday October 6th 2008:

Last week when visiting Ebeltoft with our English friends I bought myself a belt. I did need one, and this one looked nice and strong. I very nearly bought 2 of them. Only 4 days later, however, I find out that this belt is no good. I know that any belt would be under a certain pressure on me, but not so much that it more or less "dissolves" after 4 days. So I jumped on my trusty bike, went over there and I had my money back without any fuss. I went 45 miles in all, and just now I am rather tired due to a fresh headwind on my way back. But now I need a belt again!
Sunday October 5th 2008:

I'll be d..... Having won the latest two games my club today lost an easy away game to the team at the very bottom of the league. 1-0. I am not amused. Just as one thought that the team seemed to blossom and are over the middle of the tables they play a "lousy" game and loose to a team that is nothing. I must repeat: I am not amused!
Saturday October 4th 2008:

I have just read that J.K.Rowling - a few years ago a single mother on the dole - is the best paid writer in the world. She earns £5 per second, says "BBC.com" That is £18.000 per hour or £432.000 per day or £12.960.000 per month or £155.520.000 per year. It is a bit more than I earn. I don't even think I would know how to spend all that money. But of course a few suggestions might pop up.
Friday October 3rd 2008:

Went biking today - quite a long "stage", 45 miles, but in bright sunshine. Very enjoyable. I always meet someone interesting on my bike rides. Just look to the left - a lonely goat. My well deserved rest after coming home was interrupted by "She Who Must Be Obeyed". She found it a good idea that all garden furniture should be put into the shed. That was hard considering that there are so many of them, and that one of the items is our metal oven that weighs 75-100 kilos. But no mercy!





Thursday October 2nd 2008:

Oh, dear. From today English judges when judging in civil cases are no longer to wear a wig. I always thought that if there was ever one thing that would be maintained, it was wigs in English courts as it has been since the 17th century. But no more.
"A judge without his wig is like a doctor witout his stethoscope",
says John Mortimer, author of the books about Rumpole, the lawyer. We must console ourselves with thought that in criminal cases judges must still wear a wig.
Wednesday October 1st 2008:

Until this moment today I have kept my promise to myself about diet. I have eaten only very little. But now my problem is that our daughter-in-law has invited us to dinner. And she is a great cook. So I may fall to temptation, especially if she makes the pizza that I have enjoyed so very much earlier. But I shall do my best!
Tuesday September 30th 2008:

Having said goodbye to our English friends at the airport early this morning I mounted my trusty bike when we got home and ventured out in heavy rain. 40 miles I went, and I did get wet. But I needed the ride after all the food I have consumed within the last week. From today "DIET" is my headline, like it has been so many times previously.
Monday September 29th 2008:

Last day with our friends. Will be sad to say goodbye tomorrow. As Ernest Hemingway says,
"Every time you say goodbye you die a little bit"!

Today's excursion was to Ebeltoft visiting some friends of ours for brunch. And as usual the food there was excellent, and as ususal I ate a bit too much. But don't tell it to anybody.
Sunday September 28th 2008:

During the last week we have seen quite a number of shops, supermarkets, and other places that would like to sell you something. Fortunately I have not seen as many as the others, but it is close. I am not too keen on shopping, so I have been permitted to sit down somewhere and have a cup of tea or chocolate, and I have enjoyed that. Today I sat down at a garden centre, had my chocolate, and watched people going by, until I was awaken by Else, and we went on to a new supermarket seen to the left. They are supposed to sell good beer there, anyway we bought some.
Saturday September 27th 2008: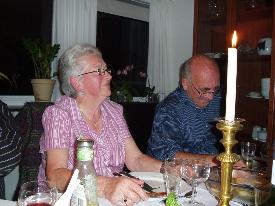 The three pictures illustrate last night's party to celebrate our 50th anniversary and today's visit to a big market at Aarhus.
And quite a party it was. The whole family was there to make it a very good evening, I hope, to our English friends. It was rather late - and at times rather noisy. But I am happy to tell that everybody behaved - including me!
Friday September 26th 2008:

Not a lot to tell about today. It has been rather relaxing - apart from a visit to the Ford dealer who very much wants me to buy another car. I also want to buy it, but there is a snag called money. I am afraid that he wants more than I am prepared to pay. My English friend could tell that a similar car in England would cost exactly half the price. Why is it so?
Thursday September 25th 2008: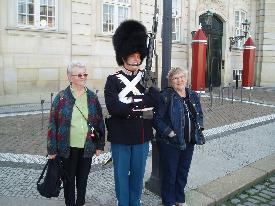 To me today has been very quiet. The others vented for a "Tour of IKEA". I don't know how they could persuade themselves to go to a terrible place like that. IKEA is my favourite "hate-store". I only go there at gun point. So I thought that I would rather have another look at the pictures I took yesterday in Copenhagen, and I fell for the one to the left of the Royal Guardsman being guarded by two birds. The guardsman was even so nice that he talked to us, a nice young man.
Wednesday September 24th 2008:

Going to Copenhagen for a one-day-trip is hard work. We walked all day and saw most of the town centre. Fortunately there was an opportunity to sit down during a lovely harbour- and canal trip. We enjoyed it very much, and the weather was kind to us.
Tuesday September 23rd 2008:

"Going back to the roots", you might call this picture. With our English friends we went to Silkeborg, where it all started, when we first met in 1958. So it is our 50th anniversary this year.
We spent a lovely day there. Sun out all day. You cannot go to Silkeborg without seeing the old steamboat, which we duly did.
Monday September 22nd 2008:

I know it is not a fantastic picture. It is blurred and all that. But you must recognize the time of the day. 10.30 p.m. I should have been to bed hours ago, and the same morning I was dragged out of bed at 9.30, and I was fatigued due to a certain football game that we won on a penalty in injury time. That was all pretty hard. So no wonder that I could not take a decent photo of our good friends arriving from London! But there they are.
Sunday September 21st 2008:

A great day. Just come home from football, we won 2-1. That saved my day, and to make it even better we are going to pick up our English friends at the airport tonight. Even the weather is great.
Saturday September 20th 2008:

In the faint hope of being in good time and relaxed up to Christmas we bought our first presents today. Of course I cannot say to whom and especially not what. But feel free to quote me for the following as often as you like: "We shall not be in good time, and we shall not be relaxed just before Christmas - no matter what!" It will be as hectic as always, but still nice.
Friday September 19th 2008:

Today I was allowed time to ride on my bike - to Aarhus and back, and till now I have not been asked to do anything (5 pm.). Where can I hide for the rest of the day?
Thursday September 18th 2008:

Our English friends, whom we have known for 50 years this year, are coming to see us on Sunday, staying for a week or so. That will be a great occasion. We are looking forward to having them and are preparing a dinner with family and friends. But - there is a but - Else wants our house to be "ship-shape" before their arrival, and that means a lot of clearing up and cleaning, and there is no way that I can avoid it. She is relentless. I must admit that I would rather have been out on my bike.
Wednesday September 17th 2008:

I was wrong twice yesterday, and it is rare that I am wrong even once. But let me confess. Firstly Liverpool didn't play against Sporting Lisbon but against Marseille. Secondly I did not fall asleep at all till I went to bed about 11 p.m. I have promised myself never to make a mistake again!
Tuesday September 16th 2008:

I was up very early this morning, 4 p.m., quick breakfast and off to Copenhagen with my brother helping him at a conference. It has been very interesting. I have just come home, and I am prepared to watch Ch. League, Liverpool vs. Sporting Lisbon in a moment. But the big question is if that match can keep my eyes open. I am nearly sure it can't!
Monday September 15th 2008:

I went to see my dentist today. He gave me a thorough check of my teeth and said that they looked fine, all they needed was a cleaning which they had. I love having my teeth cleaned at the dentist. They feel so smooth and pleasant afterwards, and the paste he uses is very nice. I could eat it as a sweet. I suggested this to him, but he advised me not to, and I left not having spent too much money, which is a good thing - especially when it comes to dentists.
Sunday September 14th 2008:

I used to be very keen angler - but not for many years. But our son was obviously infected by this "spreading disease". Anyway I taught him the first basics on angling, and at once he loved it, and he goes away with his rod as often as he can and has learned a lot more than I ever could do. Very good. But his angling also has its "unpleasant sides". For example this morning when he woke us up at 9.15 to show us two sea trouts that he had caught very early. Having woken up completely I realized that there was good reason for his pride. Just look at the picture. I do remember my own pride when I came home with fish like that.

Saturday September 13th 2008:

Once a friend of mine was asked whether he liked fish, and he answered,
"I don't like fish, I cannot stand fish, I hate fish. I hate them so much that I have got salami in my fish tank"!


Friday September 12th 2008:

A supermaket at Thessalonika, Greece was robbed the other day. I suppose there is nothing unusual in that. But the robbers, 20 of them, all with balaclavas were unarmed and did not take any money. They stole milk, rice and pasta. They left the supermarket and dumped the goods in the street for poor people to pick up. A gang of "Robin Hoods". I know you mustn't steel, and I don't approve of robbery - but.....
Thursday September 11th 2008:

Last night in a very dramatic football game Denmark beat Portugal 3-2 in Lisbon. It must be the surprise of the century that a team which hasn't played a good game for more than four years could beat the top favourites. Denmark equalized to 1-1, and Portugal scored on a very doubtful penalty only 30 seconds later. Up till 5 minutes before the final whistle we were 1-2 down, but 2 quick goals finished the game. The last one was scored 2 minutes into injury time. What a night! And for once I watched nearly the whole game.
Wednesday September 10th 2008:

Sign at our front gate!
Tuesday September 9th 2008:

There's no point in hiding it. I have strictly forbidden our grandchildren to eat and drink when they use my computer. No compromises! And what am I doing right now myself? Eating garlic and olives and drinking a diet coke with it. Don't you ever tell them!
Monday September 8th 2008:

Collecting stray golf balls is for some people an exciting pasttime. But a 5-year-old labrador somewhere in England seems to have been more keen than others. The dog's owner, Chris Morrison, thought that his dog's stomach made "funny noises", took him to the vet, who operated and found no less that 13 golf balls - a record. The dog-owner told that the dog often brought balls home, but he had no idea that it also ate them.
Sunday September 7th 2008:

A very active day. Started early - mini-birthday-party for grandchild, 11 years today. A bigger party will be next Sunday when Daddy is at home. He is on a bike ride in Hamburg today - lucky man, wish it were me. A lot of garden work was done later, cutting the hedges, mowing the lawn, weeding, cultivating etc. Very hard work, I only wish that my salary was higher. But then again it doesn't matter, because I know what would happen if I hadn't done it!
Saturday September 6th 2008:

Today I picked up 4 tickets for 4 elderly people who want to go to Copenhagen in about 3 weeks. It is only a one day trip, but since the four people are our good old English friends, May and Len, and Else and I, it is sure to be a day of nostalgia. The last time we went to Copenhagen together was 1964 - 44 years ago. By the way we are going to celebrate our 50th anniversary this year. It is 50 years since we first met.
Friday September 5th 2008:

We have just come home from a trip with our caravan visiting an old friend whom I met when I was in the army 44 years ago. Haven't seen him since. Fortunately we all seemed to enjoy being together - he and his wife and Else and I. But what I must tell is that today is a special day. At 1.42 p.m. it was exactly 3 years since I stopped smoking. To be honest I am rather proud of it and feel that I can no longer be tempted to smoke again. But mind you. Else and I have promised each other that when we are 75 we may start again. I wonder if we do!
Sunday August 31st 2008:

Normally to me 31st of August would mark the end of the summer and the beginning of the shooting season, and I would go out and retrieve with my trusty dog Sydney. Not so any more. First summers seem to slowly grow longer, and secondly for me the shooting season will not start till 25th October (pheasants), since duck-shooting is no more so "big" as it used to be - due to new legislation, that in fact is fair enough. But Sydney is not pleased with the state of affairs. Normally we would have been out next weekend - and he seems to know.
Saturday August 30th 2008:

On a long and very beautiful bike ride today in very nice and warm sunshine I nearly broke my own one day record of 75 miles. I went 70 miles and could easily have gone the last 5-6 miles, but I was expected home, so my record breaking ride must wait till another day. By the way the ride was with my brother around one of the biggest lakes in Denmark near Skanderborg. It was exceptionally beautiful, and I may take the same ride again.
Friday August 29th 2008:

Once again I have had the pleasure of translating from Danish to English for my brother. And even if it sometimes is rather difficult I enjoy working on my English. I learn something new every time. My trouble, however, is how I can remember what I have learned.
"The more I study, the more I know. The more I know, the more I forget. The more I forget, the less I know. So why study?"

Thursday August 28th 2008:

Spent the whole day at the library at Silkeborg searching information for my book. It was more than interesting. I have had an exciting and a very good day surrounded by a lot of archives - and not to forget, a very helpful lady, who helped me finding the stuff. It was even better than a win for my football team.
Wednesday August 27th 2008:

Soaking rain kept me home all day - no bike rides. This immediately prompted Else to remind me that we have this table that needs smoothing and later painting. There was no escape. So all day I toiled in my workshop, and it was a hard job. Time after time I told her that a wife who asks her husband to do a job like that doesn't love him. She thought a bit and told me to carry on.
Tuesday August 26th 2008:

A blind, French jounalist was recently jailed for one month (suspended) and fined 500 Euroes for driving a car rather intoxicated. The owner of the car, who sat next to him, got the same sentence and lost his driving license for 5 months. The two merrry gentlemen were stopped by a patrol car, when two policemen saw them swaying from side to side on the road while driving very slowly. According to himself the car owner fulfilled a dream for the blind man by letting him drive his car. One must hope that they had an interesting evening anyway!
Monday August 25th 2008:

My dog has been sick for a couple of days. Upset stomach and vomitting every now and then. Hasn't eaten, hasn't drunk, and last night he was totally groggy, couldn't nearly walk. I realized that he had dehydrated, and it was quite bad. I forced some water into him through an old ketchup bottle, and that did the trick. I could clearly see that for every time he got water he became better. Now he is on a strict diet - funny thing to do with a dog as slim as him. But he is a lot better.
I am glad that this did not happen to my first dog. Then I might have panicked. Nothing beats experience. And don't say anything negative about Heinz Ketchup.
Sunday August 24th 2008:

"Knowledge speaks, but wisdom listens."
How right it is, and well spoken. But who said it? I looked for an answer to this question for some time, and to my surprise I found out that it was Jimmi Hendrix. I wouldn't have thought it was him, but it was. Life is full of surprises.
Saturday August 23rd 2008:

You may or may not know that by now Denmark has got 7 medals in Beijing, 2 gold, 2 silver, and 3 bronze. But what is more interesting is that due to a Spanish protest in a boat race (49'er) we very nearly lost one of the gold medals. Fortunately the highest court in sports (CAS) this morning made it clear that we are going to keep our well deserved gold medals. And the protest from the Spaniards has not made Spain more popular in Denmark. They were not well liked before this since it seems that it is always Spain that knocks us out of football qualifiers.
Friday August 22nd 2008:

Last night Else and I joined an organized walk round in the part of Silkeborg where I used to live, when I was very young. About 125 people took part in the walk, and we were guided by two excellent guides who told us the history of what we saw. We walked and talked for 2½ hours, and part of the tour was the place where the old workhouse used to be. Here I was asked to tell a bit, and it was published that my book is on its way. I really enjoyed the evening, even though I got very tired. I had also been on my bike for a couple of hours earlier in the day.
Thursday August 21st 2008:
A couple of days ago "The Royal Norwegian Guard" knighted a penguin, and it is now the highest decorated penguin in the world. Obviously it is their mascot and it is said to come from Scotland. Only Norwegians would consider knighting a penguin, and how they have made it come from Scotland I don't know. Penguins normally only live in The Arctic. Maybe it was adopted. Norwegians!!
Wednesday August 20th 2008:

Today my doctor told me that my cholestorol is a bit high - not a lot, only 0,5 over. He also told me that he does not intend to prescribe any medicine since my lifestyle is rather healthy. He may think that I am out on my bike every day which unfortunately I am not. But now I have a very good reason to go out a lot more, and I certainly intend to, so that the figure can be under 5 again (which it has always been). SO:
"On yer bike"!

Tuesday August 19th 2008:

Petrol prices have gone down lately - and I do appreciate it very much. But who should be "honoured" for it? A prayer group in Washington DC are convinced that their prayers have made prices go down. For the latest 4 months the group has met at Shell stations and prayed for lower prices, and eventually they did come down from 4 $ per gallon til 3,80. May I suggest that several groups meet and pray at our revenue department and do it very intensely and for a long time. If need be I shall gladly take part.
Monday August 18th 2008:

All day long today I have had difficulties wiping off a big smile from my face. It comes up whenever I think of yesterday's match against Brondby. We won 2-1, and as hoped and expected our two new players made the world of a difference. Nando (or Ro-nando as the press calls him today) scored the opening goal and played a fantastic match. If he keeps on like this we won't keep him for long. Also Jacob Poulsen played a very good game. Now the smile came up again, and I shall allow it to remain.
Sunday August 17th 2008:

Well, here we go again! 1½ hours till kick off against Brondby on our home soil. I shall be there, perhaps more excited than ever, since we shall have no less than two debutants, both of them supposed to be very good, especially our new attacker Nando Rafael, who has been injured for the first four games. The other one is a Dane, Jacob Poulsen, who just left Herrenveen in Holland and played quite a few games for them. In 3-4 hours I shall know whether it was worth while buying them.
Saturday August 16th 2008:

Went for a bike ride on the new motorway just up the road. It hasn't even been opened, but the first burnt out car can already be seen. What do people think of when they do such things?
Whoever did it had a fair way to walk - unless of course they had a second car!
Friday August 15th 2008:

Just come home from a successful trip with our caravan to South Funen. The main point for me was to visit "The Workhouse Museum" at Svendborg, which I did. But it was a tour of contrasts since we also visited a nearby castle where I used to judge retrievers. Look at the pictures and spot the difference.
Friday August 8th 2008:

Two Scots of 46 and 51 have decided to row in their kayaks from Scotland (Stornoway) to the Faroe Islands. In fact they have already started. They think it will take them about 100 hours to cross the North Atlantic. They hope that wind will be helpful and not quite as strong as it is just now. So do I. My gooodness - what a stupid idea. It must be worse than my bike rides!
Thursday August 7th 2008:

I hear that the Olympic Games are going to start tomorrow. And so what? I am not going to bother. All I might see is bike riding and handball (men). Denmarks stands a chance of a gold medal they say.
Wednesday August 6th 2008:

Up early today, out on my bike, a quick ride of 30 miles. All seemed well. But there is a snag. I have got a very sore muscle in my left hip. How much pain can a man take? It seems that I can take a lot. It started hurting at 20 miles and got worse and worse. I am tough! And I do not intend to skip my bike rides.
Tuesday August 5th 2008:

Accompanied Else to her doctor today. A routine blood test was as fine as it could be - in fact as good as it has ever been. One will always leave with a big smile at such occasions. And we did!
6 weeks till the next test.
Monday August 4th 2008:

It has been a wonderfully rainy day - from morning til now (5.15 p.m.). Temperatures have fallen to a bearable level, and I have fully enjoyed being inside all day writing on my book and putting in some pictures that are now available due to my new scanner. What a good day it has been!
Sunday August 3rd 2008:

I have got myself a scanner for my computer. Fantastic what these "machines" can do. I am still impressed that I can now scan all my old photographs from my childhood and youth and put them into the computer. And even more, all the pictures that my parents left me. I have started but not nearly finished. Just as an example I would like to show you a picture of my dad and my uncle taken at a cricket match in 1935: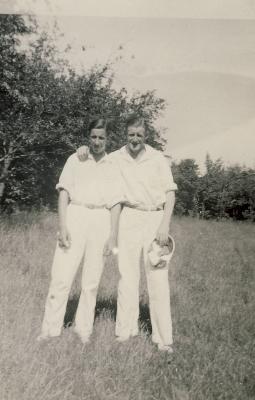 Saturday August 2nd 2008:

We haven't had hail or snow yet, but the temperature has fallen 3-4 degrees, so it is going the right way. We have been promised rain on Monday. Can't nearly wait. After that temperatures should go up again, so no matter what we are having a very nice summer. Quite good! Only I wish that it won't be as warm as it has been. My delicate skin can't take it.
Friday August 1st 2008:

In our present heat wave it is an interesting observation that only a few days ago Sydney had its first snow for 172 years, I wouldn't mind having been there. Experts, however, doubt it that it was snow and are inclined to say that it was more hail than snow. Never mind the experts - give us some frost and snow or even hail!
Thursday July 31st 2008:

I do realize that on 24th July I wrote in my diary that I was pleased on behalf of holiday makers that the weather was so nice and warm. But don't you think they have had enough by now? Anyway I wouldn't mind a bit of traditional Danish summer weather with a bit of wind and a lot of rain. It is blistering hot and has been so for quite a while. Can anybody dance the rain dance?
Wednesday July 30th 2008:

My nephew visited us today - very nice. And he is a clever boy (well, nearly 30), and he taught me how use my new scanner which I have had for over a month. I haven't dared install it. But now it works perfectly, and I can scan all the pictures and documents I need for my new book - and for a lot of other purposes. Good to know somebody who is not afraid of the computer like I am.
Tuesday July 29th 2008:

YES, we did it. A comprehensive win of 3-1. We were even 0-1 down most of first half. But we came back and dominated totally. I am glad that I was there. Good game. I want more!
Monday July 28th 2008:

Well, well. Here we go again. Football tonight. I have forced myself to be optimistic, but I am not sure how "deep" it is. But our coach is in a dilemma. Another defeat or two will probably mean that he is out - and another defeat or two, and I will be down.
Sunday July 27th 2008:

It is Sunday, it is late afternoon, I have been out on my bike for a couple of hours, I have climbed a vicious "mountain", I have come home, I have had a cold Coke, I have had a shower. I feel like a million! Life is good!
Saturday July 26th 2008:

A Russian football referee was suspended last week due to obvious drink problems. He refereed a game with 2,6 per mille alcohol in his blood - quite pissed off. In his own statement after the game he claimed that the reason why he staggered so much on the pitch was that he had some serious back problems that made it impossible for him to walk normally. He is a well known referee who has had several international games. He won't have any more.
Friday July 25th 2008:

Right now I was expected to watch "Tour de France", but it is so boring that I cannot bother. As a whole I haven't seen a lot this year - even less than last year, and that was only a little. About next year I don't know. If I can be convinced that EPO and all the rest is totally abandonned I might be a bit more enthusiastic.
Thursday July 24th 2008:

It is no wonder that Santas in Copenhagen complained over the weather yesterday. It is blistering hot here. I could do with a lot less, but I am pleased on behalf of all the people who are having their holiday just now. They must enjoy it. I celebrated the high temperatures by working hard in the garden. Won't I ever learn?
Wednesday July 23rd 2008:

Today an important conference has finished. Santas from all over the world have met in Copenhagen to discuss mutual items. On top of the agenda was of course planning the coming Christmas. Perhaps it is also time for us to start preparing. It always comes sooner than you think. The Head Santa declared that the conference was an outstanding success - only he complained about the warm weather.
Tuesday July 22nd 2008:

Today "Tour de Studstrup" was run. Being visited by our youngest grandchild I thought that I might have a chance since there were only the two of us competing.
But I was wrong. She won by a couple of lengths.
Monday July 21st 2008:

Else's memory is not so good as I thought it would be. For the latest two days she has forgotten to remind me about grinding off the old painting on our window frames, and I am not the one to tell her about it. But it must come soon. I am counting the hours!
Sunday July 20th 2008:

How bad can bad be? We lost last night 3-1 in our opening game, and after what I have heard it was more than bad play - It was awful. So my prediction just now is that the coming season will be like the previous one. A fight to avoid relegation. Oh Lord, give us some goals!
Saturday July 19th 2008:

I have been busy today scraping off old painting on our window frames. It is hard work, and I only managed 4 out of 19. I am hoping that Else will forget about till next year, but I admit it is far fetched. She has a very good memory, and I have a sore arm and wrist.
Friday July 18th 2008:

Today I bought this season's first football tickets (wonder why I bother). We shall be quite a group, 4 adults and 2 kids. But it is not until tomorrow week. I am already worried since our newly bought forward Nando Rafael was injured yesterday and is doubtful in tomorrow's away game. He should be very good with experience from some hundred games in the German Bundesliga.
Thursday July 17th 2008:

Again today a rider was suspended in the Tour of France. Nobody was surprised about that. But I think it was surprising to some people that after the suspension the whole team chose to withdraw. I wonder why. Could it be that some more positive tests were on their way?
I went 35 miles on my bike today and was happy that I wasn't tested.
Wednesday July 16th 2008:

The other day an Australian stood in front of a judge because of drunk driving - it was the 7th time. It was stated that for a long time he had bought 2500 bottles of beer per month - a price of about about £500. It was not known whether he himself drank all the bottles - but anyway! It all started when his wife left him 5 years ago. Now he is "on the waggon", and beacuse of that the judge did not suspend the man's driving license, since he needs contact with his 4 children.
2500 beers per month - oh dear! That's a bit much even for me - and the whole street where I live!
Tuesday July 15th 2008:

Else's brother and his wife visited us today. Vey nice. Naturally we talked about old days in Silkeborg. It is interesting how much memories mean to you the older you get. Or perhaps it is just the fact that the older you are the more memories you have. But I enjoy talking about people I once knew many years ago, and really completely have forgotten, till they are mentioned by somebody else. Today it happened to be a former schoolmate whose name came up and whom I haven't seen since 1956. But as soon as his name was mentioned he was quite clear in my memory.
Monday July 14th 2008:

As promised yesterday I was more active today. I only slept for 20 minutes during the "Tour de France". But you must remember that before that I had gone over 40 miles on my bike. So I am rather pleased with myself.
Sunday July 13th 2008:

The second day after coming home from your summer holiday you must see to that you don't do too much - like I did today. I might get used to this. A nap while watching The Tour was all, and I enjoyed it. Tomorrow I must be more active.
Saturday July 12th 2008:

The first day after coming home from your summer holiday you must see to that you don't do too much - like I did today. A bit of needed shopping was all. After that I decided to relax completely by watching Tour de France, but I didn't see a lot, since my eyes seemed to close all the time. I shall try again tomorrow!
Friday July 11th 2008:

I know too well that my site has not been updated for 11 days. But having just returned from a wonderful holiday I promise you that it will be a long time till the next time when I do not fulfill my duties. We have spent the latest 11 days at a wonderful place named Frederikshavn - very near to the very northern part of Jutland, and we have enjoyed every little bit of it.
Monday June 30th 2008:

Two gentlemen in a bar discussed whose dog was the stronger and wilder. They both had one under their tables. One was a big yellow "thing" - the other was a big black rottweiler. They agreed on settling the argument by letting the two dogs out in the backyard and close the door. The noises were terrible. Growling, whining, and barking, but suddenly all was quiet. They opened the door and in came the yellow "thing" with a bone in its mouth. The rottweiler-owner was terrified.
"My God, what kind of a dog is it?"
he asked.
"I don't know"
, said the proud owner,
"When I got it, it had a big dark mane, but I cut it off!"
Sunday June 29th 2008:

The day of the final of The European Championship in football at Vienna. Germany vs. Spain. I do not know who is the favourite, but I hope that Spain will win. But you must never forget the definition of football:
"Football is a very simple game - uncomplicated - and at the end the Germans always win!"

Saturday June 28th 2008:

I am relieved that a check by a Danish Research Institute has shown that even if you stuff yourself with EPO the chances are that a control at recognized laboratories will show nothing. A Danish researcher sent several blood samples from a number of students, who had taken the drug. He sent to 2 different laboratories. One of them found nothing - the other laboratory found a few, even if each and every one of the samples had EPO in it. So I shall go on taking my EPO. Nobody will ever find out!
Friday June 27th 2008:

A "Sat-Nav" (I believe it is called in English - in Danish "GPS") is a useful gadget. This afternoon I had to find some obscure place about 35 miles away - a place that I have never beeen to before and far out in the wilderness. I enjoyed switching on the "Sat-Nav" and just follow the instructions by a very patient lady who guided me straight to the address. I know that I shouldn't be impressed, but I am. I had never found this place on my own just following some oral instruction. Long live "Sat-Nav".
Thursday June 26th 2008:

You would expect a lot from a Volvo S70, but perhaps 31-year-old Abaham Gniwosch from Wales expected too much. He was stopped by police with no less than 13 persons in his car. Mr. Gniwosch blankly refused any charge saying that he drove very carefully with a speed of about 20 miles per hour.
"It may have been a bit stupid"
, he said,
"but I was in full control."
He lost his license for a year and was fined £ 500.
Wednesday June 25th 2008:

YES, I did it. On a bike ride with my brother I broke my old record of 72,3 miles with nearly 2 miles, so that now the record stands at 74,1 miles. I could have gone a lot further if it wasn't for some pain where body meets sadle. We started at Silkeborg, went north and toured a bit round. We parted just north of Aarhus when my brother had gone 57 miles - and I still had a bit of way till Studstrup. All in all he reached 59 miles, which is not bad at all since he has just had a concussion. You can see some "interesting" pictures from the tour at my Danish Diary.
Just Clich here!
Tuesday June 24th 2008:

For some reason our eldest grandchild wanted to see some of my very old records - you know LPs and EPs. And since she happened to forget to put them back they are now all over my desk, and I have just had a glimpse at some of them - and how memories come back. I bought my first record player in 1957, and just now I am holding in my hand my first record, Tommy Steele
"A Handful of Songs"
(a 45 single)
.
It is till played now and then on the radio, and each time I hear it I think of the day I bought it. Unfortunately I haven't got a record player any more.
Monday June 23rd 2008:

No sooner had our football team practised for 3 minutes for the first time this season than our best defence player Ole Budtz broke a leg. We probably won't see him till after Christmas. What a shame - our best player. Fortunately the transfer window is still open - so Mr. Scoles of Man. U., here is the opportunity of your life to play for AGF! We shall spoil you every day if you agree.
Sunday June 22nd 2008:

Bike ride today. Started out in what looked very much to be a wet ride - but it didn't. Fortunately it not only kept dry, but also the sun came out and made it very nice. My brother and I met at one end of the new motorway and together we rode to the other end - about 8 miles on motorway. On Wednesday we have planned a longer ride starting from Silkeborg. If all goes well it will be 60 miles.
Saturday June 21st 2008:

I know it is out of football season. As far as transfer is concerned there isn't much news. Of course we could have taken Cristiano Ronaldo under our wings. He wanted to play for us for nothing. But we won't have hime. Nobody here speakes Portugese. Instead we bought a very good German, Nando Rafael, who has played for Hertha Berlin and Borusia Mönchen Gladbach. A lot is expected from him. I have seen him on TV - he is good. But Ronaldo - no, not good enough.
Friday June 20th 2008:

Today I picked up our caravan. It has spent the latest 4 days at the shop. I haven't dared mentioning it before. I have dented it - our brand new caravan. A 2 yard long scratch, 1 inch deep and 1 inch wide. I took the caravan down there last Monday so the insurance people could look at it. Fortunately I have got "Green light" to have it repaired costless for me, but it won't be until some time in September/October. I hate dents, and I have never dented a caravan before, and then it should happen to a brand new one! Bad luck - and bad driving, but don't tell it to anybody!
Thursday June 19th 2008:

Garfield is 30 today. Many happy returns! I have known him for just as many years and always liked his dry sense of humour.
"I am not overweight, I am undertall!"
"There must be more to life than eating, drinking, and sleeping. But I hope not"!

I have noticed that also our grandchildren are fond of him, so he still has a future.
Wednesday June 18th 2008:

What a lovely bike ride I had today. Weather beautiful, just a few clouds, but nothing much, and a mild breeze. On top of the bargain I passed through some very nice villages and stopped at the pond in one of them. Just have a look at the picture. How wonderful can it be?
Tuesday June 17th 2008:

Some friends of ours visited us this afternoon to see our "new" sitting room. And rightly they were very impressed. It is a pleasure showing it to people.
All we need now is a bit of painting on two doors, and Peter has promised to do that soon!
Monday June 16th 2008:

I went to my dentist today. Although I hate spending money on it I had to have a filling fixed. It fell out during the weekend. Also a small piece of one of my front teeth had been "knocked out", and I had that fixed, too. So now I look like a million and not like a boxer overdue to stop his carreer.
Sunday June 15th 2008:

We have planned our summer holiday for 2008. It is going to be wild. We shall be off in our caravan. I am not going to tell you where we are going. But it will be wild - the destination. Anyway we are both looking very much forward to it. We love "The Wild".
Saturday June 14th 2008:

Cutting our hedge is not a pleasent job - in fact I hate it. I did finish it, though, but only to be threatened by my otherwise sweet wife. She said that if this couldn't be done any better she intended to call in a pro next time. God bless her for that!

Friday June 13th 2008:

Today my very good neighbour and I finished renovating our sitting-room. What a nice feeling. It is exactly 3 months since we started the project, and it was finished today when the lamp over our dining table was put up. A long time will pass until our next renovation - at least if I am physically involved!
Thursday June 12th 2008:

– It´s an old Dutch painter!
– Amazing, he looks just like a young girl!
(Storm P. - Danish writer, cartoonist, actor, and much more)
Wednesday June 11th 2008:

Today I visited a couple in Silkeborg, two very nice people that I happened to meet at the library some time ago, and when the husband saw that I was working on a book about the workhouse where I lived as a boy, he told me that he had also lived there. I asked if I might come and talk to them at their house. They immediately said yes, and today was the day. As it turned out we have in fact lived at the workhouse at the same time, and when I saw pictures of him when he was a boy, I easily recognized him. He helped me a lot today, because he could tell me things that I didn't know about. So, it has been a great day!
Tuesday June 10th 2008:

For the first time for 20 years a polar has been seen on Iceland, I read today. The poor creature had swum all the way from Greenland only to be shot where it was spotted first at North Iceland. Pretty bad luck since the people who saw it only wanted to shoot with a sedative, but couldn't find any. So for the safety of people who live in the area, they had to kill it.
Monday June 9th 2008:

I persuaded myself to mow our lawn this morning. I went out into the garden and har nearly opened the door to my shed where my mower is, when I realized that our neighbour's two year old boy was playing in their garden with his grandfather. I thought it was a pity to disturb them, so I postponed my mowing till some other day. How considerate - don't you think?
Sunday June 8th 2008:

Today we had our annual "Tour de Mols" - a bike ride of about 25 miles in glorious sunshine. We are 9 elderly gentlemen who venture out on this ride and we completed it in 2½ hours. We always give ourselves plenty of time with breaks for drinks and lunch.
You can see a picture of the participants on my Danish Diary.
Click here!
PS: Did you notice that some time today visitor no. 100.000 opened my website.
Saturday June 7th 2008:

In sweltering heat I jumped on my bike and went for a small ride of about 20 miles - very nice. On my way I happened to "bump into" a zoo that I didn't know existed, only 10 miles from where we live. The animals seemed to be struck by the heat and didn't move at all, while I was there.







Friday June 6th 2008:

It is hot here - a sweltering heat, about 30 degrees Celcius. And it will last at least till Monday - lovely. I certainly hope that this is not the last we shall see of Danish summer. Last year it rained from middle of June till late August. But I feel confident that 2008 will be a great summer with plenty of sunshine so that there is no reason to go south in our summer holiday. We won't. We shall go north.
Thursday June 5th 2008:

Today is our "constitution day" and consequently all shops are either closed or close at midday. When I was preparing to go home from work from my brother's company at 12 I was told to stay a bit. I wondered why but didn't think too much about it. After 15-20 minutes I said that I was on my way home, but again I was asked to stay and wait for a surprise. I waited and after 15 minutes Else stepped in, and as it turned out my brother had invited both of us and his wife for a smashing lunch at the yacht harbour. We sat outside in brillant weather and had a first class lunch. I like surprises.
Wednesday June 4th 2008:

Did you know that hanging up pictures is a very difficult art that should be taught at school or some other learned place? I do. Today I hung up 6 pictures in our renovated sitting room, and you cannot imagine how difficult it is to make the pictures hang at the same height and with the same gap between them. I know now, but I may fear that I have forgotten when next time I have to do it.
Tuesday June 3rd 2008:

It is very, very hot in Denmark these days - and has been so more or less since Whitsun. So all in all it is now 3-4 weeks. A lot of people enjoy it very much - even I who take advantage of it and do a lot of biking. But the Danish farmers hate every minute of it. Perhaps they don't care for biking. They need water, they say. And no wonder! It is their income for the whole year that is at stake.
Monday June 2nd 2008:

I am very happy to tell that today Else got the results of her final blood sample from the hospital. And it was perfect. This means that she is now totally "out of hospital" - discharged. From now on she must see her GP annually and have him check her metabolism. A great day. We are both one - or rather two - big smiles.
Sunday June 1st 2008:

Went to Ebeltoft on my bike today. Very warm, but lovely. I had a wonderful back wind on my way home, but 10-12 miles from home my chain broke. I know one or two "bad" words, and I could not help using them. Nobody heard me, though, and Else quickly picked me up in the car.
Saturday May 31st 2008:

My neighbour has just left. We have spent two hours and two beers in my workshop which has just been tidied up. There's nothing like a cool beer in warm weather in a tidy workshop. Must do that more often!
Friday May 30th 2008:

I've received my pension today. A letter told me that a bit of money has been sent to my bank account. Else also got hers. But she "shows off". She gets hers on the computer. She claims that she is more up-to-date than I am. I agree, but 45 years of pay slips have just got me used to it. I hate to be old fashioned, though, so I might consider to do as Else does. But don't tell her!
Thursday May 29th 2008:

Another day on my bike - the third in succession. This time only a short trip of 20 miles to Aarhus and back. But I must admit that there is a certain part of my body that hurts more than others!
Wednesday May 28th 2008:

Eventually I found time and weather to go on a longer ride on my bike (40 miles). I really enjoyed it. I went to the beach south of Aarhus and sat there eating my humble lunch, a thick open black bread sandwich and drinking a very small diet Coke. I sat for a while enjoying the view over the sea. Unfortunately it was a bit windy so nobody went for a dive.
Tuesday May 27th 2008:

My brother is a lucky man. Right now he is at his house in southern Spain. I know that he is there to write a book. But I still envy him a bit. I wouldn't mind writing my book in southern Spain. Only just now our weather is far better than theirs.
Monday May 26th 2008:

When yesterday I said that I wanted to be physically more active today I hadn't taken the weather into account. I had wild plans of long bikerides - plenty of miles. But unfortunately the weather prevented me. After 3 weeks with bright sunshine today has been rainy. The farmers are pleased. I am not. I hate biking when it rains.
Sunday May 25th 2008:

A very lazy day. I have done absolutely nothing but a small walk to the beach with our grandchildren. They seemed to enjoy it and caught quite a few crabs that they carefully put back into the water again. Tomorrow I must try to be more active.
Saturday May 24th 2008:

End of football season. Fortunately. What a misery - including today's defeat 1-2. I am sorry to say that I was there. I shouldn't have beeen, I should rather have done what I would have loved a lot more, taken a ride on my bike. That must wait till tomorrow. Luckily there are now more than 2 months until the seasaon will start again. If we don't have 5-6 new and good players next season will be as bad as this one.
Friday May 23rd 2008:

Today I volunteered to do a piece of extremely hard work in our garden, the reason mainly being that I had nothing else to do. Else was away with some friends. On my elbows and knees I weeded about 20 meters under a hedge - grass and funny plants that I haven't got the faintest idea existed at all. After that I covered the bare ground that suddenly was visible with grass that I have cut off my lawn. That will teach the weeds to grow under my hedge - and it is a biological way of doing it!
Thursday May 22nd 2008:

I watched The Champions League Final last night. And suddenly I realized that I was bored, although, as far as I understood from the commentators, it was a very good game. I only glimpsed now and then. I was bored because I don't give a damn who of those multi-billiardares can pocket another 1 million pounds or whatever. I try to concentrate as much as I care about my own local club - who are in no way millionares - not to mention billiardares.
Wednesday May 21st 2008:

I am not very good at keeping my things clean and in good order. For example I very rarely clean our car - in fact maximum twice a year, and it takes a good deal of persuation from myself (and Else) to start on it. I am not good in the garden. I find it boring to do gardening - including mowing the lawn. I only wash our caravan at gunpoint. My workshop needs a good tidying up.
BUT: My bike is in perfect order. I clean it regularly (also today), remove the old oil and put on some new, I wash and clean it, and in fact I enjoy it a bit. I wonder why? It takes longer time than cleaning the car - and caravan - and garden - and workshop.
Tuesday May 20th 2008:

I have been to work today - at my brother's company. And hard work it was. What bothered me, was that I had to stand up nearly all day - at least 4-5 hours. And a 67 year-old back does not appreciate that. It really hurt. But funnily enough. The ride on my bike back home (about 11 miles) made the pain go away. And what can you learn from that? Don't stand up! Have a ride on your bike.
Monday May 19th 2008:

Today I read about The Austrian national rugby team, who obviously have a somewhat special way of overcoming a defeat of 48-0 to Lithuania. At a website a video shows 20 young lads stripping in public in a street, while some people at a bar across the street were shouting and clapping.
"Well, it must be the chaps that we played against last saturday"
, says Aleksandras Makarenka, secretary of the Lithuanian Rugby Association.
The chief of police of Vilnius claims that stripping is considered hooliganism and consequently illegal. However the Austrian players were decently dressed and had left the country before being arrested.
Sunday May 18th 2008:

Today we visited our daughter and grandchild and received quite a few presents which are much appreciated. However they both still suffer from jetlag - or is it ordinary tiredness. As I understand it it has been a demanding trip with visits to most of London's shops and stores. But that was what they wanted, and now they pay the price.
Saturday May 17th 2008:

After having met our daughter and eldest grandchild at the airport (coming home from London), I decided to go back on my bike and let Else take the car. A good idea, I thought. But it wasn't. I had a severe headwind the whole way and swore and grumbled quite a bit. But then I happened to think that instead of all that swearing and grumbling I should rather appreciate the fact that at my age I can still do things like that. From then I thought of the headwind as my friend.



Friday May 16th 2008:

Yes, we did it. Last night my team comprehensively beat Esbjerg 1-0 and therebye succeeded in getting another season in The Super League. It was surprising that already by now they secured themselves with two games to come. I shall sit more quietly during the last two games.
Thursday May 15th 2008:

I spoke to a dear old friend today - a former colleague from my old school. He is English and a joyful soul with a hearty laughter. He once told me about how he made a few pence when he was a child and lived near Highbury. When Arsenal had a home game he walked around the streets and asked people if they wanted their car washed while they were at the game. If they said yes, he got his money, and the car was nice and clean after the game. Good idea. Very enterprising!
Wednesday May 14th 2008:

I think you ought to
click here
and see pictures of our renovated sitting-room. Today we started putting our furniture back to new positions. Everything is to be changed - including my good old place where I used to sit and do my cross words, read, and watch TV. But there you are. One must follow suit.
"The times they are a'changing!"
as Bob Bylan used to sing. It's a hard life.
Tuesday May 13th 2008:

This morning I took our daughter and eldest grandchild to the airport. They are going to London for a few days. Especially the younger of the two has looked forward for today. When having kissed goodbye I realized that my keys were missing. I looked around and asked at check-in and at the Information only to be told that they hadn't seen them. But they promised to call me if they found them. They didn't. They were in the keyhole of our front door when I came back. Any comments?
Monday May 12th 2008:

I know that I have neglected my diary since Tuesday. May it never happen again!. But the point is that we have been away with our new caravan with 8 old friends and had a wonderful stay in perfect weather at the north of Fuenen. My tan is fantastic just now, and I look absolutely marvellous in shorts.
Tuesday May 6th 2008:

I met an interesting young girl today. I met her at my brother's. She told that she is studying to become an archaeologist - just the job that I wanted. Only I came to think of it much too late - when I was about 60. So I am not sorry at all, I have had a wonderful job and regret nothing. But archaeology is very fascinating and goes very well along with my overall interest for history. Had I the opportunity today I would ????????
Monday May 5th 2008:

I went to the chemist's today to buy vitamin pills, anti flee capsules for the dog, and some solution for good ear hygiene. I did not ask for the individual prices, but suddenly the otherwise very nice lady told me that all in all it would be £50. I nearly fainted. So much for 3 little bottles. No wonder that the chemist is a very wealthy man - he must be.
Sunday May 4th 2008:

Today it is 63 years since the German occupation of Denmark ended. At about 8 p.m. the message was brought on BBC, and all over Denmark people celebrated.

Saturday May 3rd 2008:

Never, never ever shall I go and watch my team playing again. I was there today and saw a humiliating 0-2 defeat. During the whole match I think we had only one (1) opportunity of scoring a goal. They were so bad. I am not going again till next season, provided they are not relegated. I know I have said it before, but this time it's a fact!
(I think)
Friday May 2nd 2008:

We bought a carpet at Silkeborg last Monday. When buying we were a bit in doubt whether this was the carpet we wanted, but the man promised us, that if we changed our minds we could go to a shop within the same chain at Aarhus and have our money back or buy another one. We did change our mind and consequently Else went to the Aarhus shop today to have our money back. But that was not possible even if she argued for a long time and told what we were promised. Believe me or not. She had to go to Silkeborg once again to have it fixed - another 75 miles. We are not going to buy anything at that chain again. That will teach them!
Thursday May 1st 2008: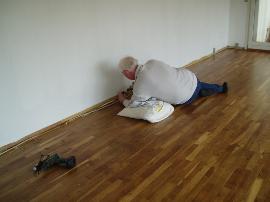 Again another hard working day putting up frames around our new door. I thought that the result was pretty good, so I am pleased with myself. You can see pictures of it on my Danish Diary
(click here)
. I thought that you might like to see me in function from yesterday's "show".
As you can see it was hard on my elbows and at other times my knees.
Wednesday April 30th 2008:

It has been a hard day - very hard. I have worked in our living room with hammer and wood chisel cutting off the lower 2-3 centimeters of the wall the whole way round. This meant lying on the floor on knees and elbows from morning till now when it is 3.30 p.m. Now it hurts all over my poor body. Pain seems to be part and parcel of my working day - and I am sure that it will still be there again when I get up tomorrow.
Tuesday April 29th:

Today I am going to another birthday party. This time it is our eldest grandchild, Katrine who is 14. As you may remember she has just had her confirmation so she is very much in the habit of getting presents. A habit that she doesn't want to get out of!
Monday April 28th 2008:

We went to Silkeborg today to celebrate my brother-in-law's birthday, of which he has had a few. He was a bit in doubt whether today was his 43rd or his 73rd. He eventually agreed with himself that it must be 43. If so he does look a bit old.
Sunday April 27th 2008:

I did enjoy last night's concert with "The Dubliners". Although their average age is about 65 they can still perform, and they seemed to enjoy a full concert hall with happy people. They said that they will come back next year, but even if I enjoyed myself I am not sure that I will go once more. They may loose their "magic", and I don't want to witness that having followed them for so many years.
Saturday April 26th 2008:

We are going out tonight - dinner and concert, "The Dubliners". I always loved Irish folkmusic, and I have known this particular group since 1967-68 and even used their music in my teaching. I have heard them live before, but I am still looking forward to hearing them once again. It may be the last time, since they are all well over 65 years of age.
Friday April 25th 2008:

Yes, we won last night. 1-1 against last year's champions FCK was a victory - no doubt about that. It was even an away game. I had expected the worst and had on beforehand happily settled for a draw, but didn't believe it possible. So 1-1 was a win! Relegation seems far away.
Thursday April 24th 2008:

We are without TV these days, due to the redecoration, new ceiling, new floor etc. in our livingroom.
I have often imagined to myself how life without TV would be. Now I know..........
Wednesday April 23rd 2008:

It is happy news that our nearest opponents in the league lost tonight - not a lot, but enough, 0-1. It is interesting how other people's bad luck can make you smile.
Tuesday April 22nd 2008:

There is nothing like a newly mowed lawn. I can sit for hours just watching it. I just did. But sometimes I also sit for hours before persuading myself to go out and start mowing. It is not my favourite hobby at all.
Monday April 21st 2008:

I visited my former school today in order to return something I borrowed. How nice it is to still be recognized when walking around. Teachers as well as students come up and say hello, give hugs, and want to know how I am. Perhaps I ought to come more frequently. But then again. I do not want to become part of the "furniture".
Sunday April 20th 2008:

YES, we did it. An emphatic win of 3-1 over the absolute bottom club did us a lot of good. And I was there! Our nearest opponents had a draw, so we advanced by 2 points, and are now 8 points clear of relegation with 8 games to come. It is still a cliffhanger. Especially since we cannot expect to get any points in the next two games.
Yesterday's quizzzzzzzz: Number 2 is correct.
Saturday April 19th 2008:

Which is right?
1. I got up early and worked hard in my garden till 3 o'clock p.m.
2. I jumped on my bike and went 23 miles.
3. I was so tired after yesterday's confirmation that I didn't get up till 11, and I haven't done a thing.
4. I was so pleased with the weather, that I took a long walk with my dog - about 2½ hours.

Write your answer in my "Letterbox".
Just click here.
Friday April 18th 2008:

Just come home from Katrine's confirmation. I think that she had a perfect day, but mostly I hope that she really felt that it was
"her day"
. To me that is very important, and I think she did. She had lots of presents and is now looking forward to her next and last confirmation present - a trip to London with her mum in May. She is really looking forward to that - can't wait, she says.
Thursday April 17th 2008:

I bought a book today. I do that frequently, so there is nothing to it. But then again. The book is special because it is a book like the one I am writing on right now, It is on a workhouse in a town on Fuenen, Svendborg. A quick look through the headlines of its chapters showed that my book is a bit like it, and since it is written by "professionals" I think that I am not far off with mine.
By the way. Today I opened "Google" and wrote "workhouses", and a lot of information on especially British workhouses came up. Very useful. Try it youselves.
Wednesday April 16th 2008:

Our eldest grandchild is having her confirmation on Friday - a big day which we are looking very much forward to. Preparations have been going on for quite some time, many guests, lots of food and drink, and practical arrangements. There is a lot to do. My contribution today was picking up some big tables for the party - from my old school. And they were more than heavy - eight of them in all. My back protested once again, but I told it to keep quiet - and it did.
Tuesday April 15th 2008:

I know I am a weakling. I know that last Tuesday I swore that I would not go and watch another fottball game until they had won one or two. They haven't. They lost again (3-1) last Sunday. But I got weak when my son phoned and said that he was standing just outside the ticket office, and "should he buy one for me?" I said NO, but after some seconds I agreed. I am an old "softy".
Monday April 14th 2008:

Today Peter taught me how to put in a new door. I couldn't have done it on my own. I haven't got the faintest idea of how to do it. But fortunately he has. And with a little practical assistance from me the door was up in no time, even if we had a bit of a problem on the way. But he solved it. Well done, son!
Sunday April 13th 2008:

I've got a suggestion for a new UN resolution:
"From this day on all carpet glue is forbidden. And those who produce it, and those who use it are liable to severe punishment - for example taking it off again".
That will teach them. The reason for my proposal is that I have spent the whole day removing the d..... glue from our sitting room floor. It is a very hard job, I tell you, and again my back spoke to me and promised me trouble tomorrow. And I know it is right!
Saturday April 12th 2008:

There is a risk of quite a number of strikes in our country. Negotiations on salaries are the reason. Among others nurses will stay at home from Monday, and only emergencies will be dealt with. The problem is, though, that there are so few nurses in Denmark that - if they do go on strike - perhaps nobody will notice it. The nurses claim that they are so few that in everyday treatment all they do is "dealing with emergencies". They may have a point.
Friday April 11th 2008:

Another hard day. I helped a former colleague who has bought our firewood to bring it to his house and stack it there. We worked very hard, but at the same time it was very nice talking to him again. I think that we both enjoyed the day. And then it doesn't matter so much that my back has threatened me again. I feel that the threats will be carried out. But who cares?
Thursday April 10th 2008:

In the beautiful weather we had today I had to work very hard. I carried hundreds of heavy books in heavy boxes down some stairs, up some stairs, out in a courtyard and loaded them into a car. Next stop I unloaded the books from the car, carried them down some more stairs, bent forward and put the heavy boxes on the floor. I tell you my back did not at all like what was going on. And afterwards it told me that it was going to make walking very difficult for me. It did! I hate soar backs!
Wednesday April 9th 2008:

Today is a day of remembrance. It is 68 years since the Germans occupied our country - a dreadful day, that nobody will forget. My father used to enjoy telling about his merits that day, when he sent German troops that asked for directions the wrong way. Was it the start of resistance?
Tuesday April 8th 2008:

My Goodness! What a dreadful game last night. 0-0. I know that I have said it before. But this was the worst I have ever seen. How can a team in front of 14.000 keen spectators in a decisive game against nearest rivals play so terribly bad? I really wonder. I am not going there again till they have shown some more enthusiasm and won a game or two! That will teach them!
Monday April 7th 2008:

Today is Else's birthday, 67 years. All morning her friends were here for brunch. I was not invited, wrong sex she said!. But I did taste a bit of the very nice things she had made.
I did not give her any present. She wanted this herself. She would rather wait till we have finished decorating our sitting room, and then have something nice for it.
PS: I am off for the decisive game in 1½ hours. Keep your fingers crossed!
Sunday April 6th 2008:

No football for me this weekend. Not until tomorrow - a highly decisive game against our nearest competitors. They are number 10, (relegation), and we are number nine. So tomorrow will be a game for 6 points. How shall I cope with the pressure? I may very well need a couple of sedatives.
Saturday April 5th 2008:

Today was a great "Family-Get-Together" at my brother's. We were all there for a big meal and a few beers. It was very nice. Think of it. The whole of my brother's family and the whole of mine together. We talked a lot, ate a lot and drank a little. It was great. I am already looking forward to next year.
Friday April 4th 2008:

I returned the door frame that I bought yesterday - heavy thing. It was too wide. And of course they couldn't supply me with the size that I needed. They had to order it since the measures were not "usual". I always knew that there was something special about our doors.
Thursday April 3rd 2008:

We bought a new door today, and picked it up ourselves from the shop. It was awfully heavy and there was only just space enough for it in the car. I had to move my seat so much forward that my nose nearly touched the front window screen, and my legs cramped by by the time we got home. I need a bigger car or some shorter legs!
Wednesday April 2nd 2008:

I feel like a saint. I volunteered to take Else, our daughter-in-law, and our grandchild to Germany to power shop. It's a kind of drug for them. I just followed suit, but still enjoyed being with them.
I had "lunch" at Burger King, if you can call a wet hamburger with dry beef and stale lettuce lunch - and the diet coke was 50% pure water. At least it was cheap.
I am having lunch at home tomorrow, and I am already looking forward to a decent meal.
Tuesday April 1st 2008:

April Fool's Day. I thought it was when 2 young men arrived this morning with 16 very heavy gypsum boards to be put up on the ceiling. But it wasn't. Together the boards must have weighed more than a ton. Later Peter and Kent came and helped putting them up. It took about 5 hours - and since I have been at it since early this morning - and it is now 9 p.m. I am very tired. But it has been a good day. See pictures at Danish Diary.
Click here
. You can read a lot more about it there as well.
Monday March 31st 2008:

This morning Else was visited by two of her friends - a traditional "meeting" every second Monday. They all enjoy shopping - so off they went, Else with my credit card. It has been a nerve wrecking morning. Worse than watching my football team (who lost 0-1 yesterday - silence!).
Sunday March 30th 2008:

I saved myself of the trouble of going to watch the football game today. It probably was a good idea. At halftime we are 0-1 down. I shall come back with more, if...... Otherwise let the rest be silence!
Saturday March 29th 2008:

I have been thinking today - doesn't happen too often. I have been considering whether it is worth while going to the football match tomorrow. Decision: I won't. With 7 players injured there isn't much hope. I also happened to remember that the few times I wasn't there - they won. So, why bother?
Friday March 28th 2008:

I am being used. I toiled hard this morning - very, very hard - to tear down the wooden lists between ceiling and wall in our sitting room. Having finished I thought to myself. "Lovely, no more work today", only to realize when visiting Peter in the afternoon that Else and he had just planned for me to go home at once and empty the whole room for everything that is in it (including contents of cupboards), so that a new ceiling can be put up on Tuesday. So on I toiled, I am still at it, and I shan't finish till some time late in the evening. No peace for the wicked!
I want another son and another wife!
Thursday March 27th 2008:

I got up early this morning to attend the demolition by explosion of a big silo in our local town, Løgten. It was very exciting and I certainly value all the entertainment authorities plan for us elderly people. I have a suggestion for the next bit - a football match at our local football ground here at Studstrup between Man. United and Barcelona. That would be appreciated.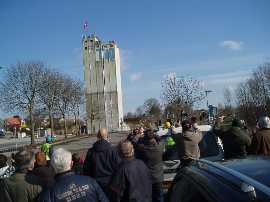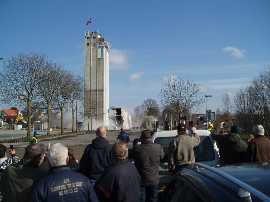 I thought you might like to see a few pictures, and if you want to see more -
just click here!
Wednesday March 26th 2008:

It has been a very good day. Together with our very helpful neighbour I have put down a new piece of floor - a piece missing where once a wall was. And it looks very nice now. In fact we were very good. So it has been a good day - also because I haven't been to a single supermarket!
Tuesday March 25th 2008:

Mobile phones are very useful. Going home in the car today - up on the main road - my mobile phone rang, '
Granddad, you just passed me in your car. I was hopping, waving, and dancing, but you didn't stop. I want you to take me home and avoid the dreaded bus, please.'

There is only one thing to do. Turn around, pick up the little lady and take her home, which I duely did and thereby won some cheap bonus points!
Monday March 24th 2008:

Being a writer is not always easy. You tend to look at your "coming book" as a child, who must be nursed all the time. I tend to do that, and I must be careful not to spoil my child. I may be doing that now, bur I cannot keep my thoughts off it, and I cannot help checking it every day and see how it is. Each time I seem to see something new - something that I haven't seen before. And that's nice.
Easter Sunday March 23rd 2008:

In today's paper I found a very optimistic article - an interview with a former consultant at one of our big local hospitals. Now 80 years old he had recently been hosptalized, and his fellow patients feared that he was seriously ill since so many other consultants came to see him. They were just his former registrars. But the old doctor's main message to us all was that we
must
laugh a lot more. He really meant it. Not only because laughing is nice, but also because when laughing the amount of globulin in your body goes up. And globulin is very important for your immunity.
So start laughing now! It's an order, or you'll end up in hospital.
Saturday March 22nd 2008:

Quite a surprise - waking up today to a weather like this. And furthermore a frezzingly cold wind. I want spring and not snow and frost. And we were even lucky where we live. In the western part of Jutland and on Zealand they have got a lot more snow. So in fact it is "Lucky Us"!
Good Friday March 21st 2008:

Well, my optimism yesterday nearly payed dividend. We didn't win - and we didn't loose. We had a draw and should quite clearly have won (says all the papers - and I - today).
However, I decided to look deeper into what other people say about pessimism and optimism. For example about pessimists:
"A pessimist is a person who out of two evils chooses both of them!"
(Victor De Kowa).
About both:
"The optimist explains that we live in the best of all worlds, and the pessimist fears that he is right!"
(James Branch Cabell)
About optimists:
"An optimist is a young man, who hurries off to a meeting, because he believes that his girlfriend is standing there waiting for him!"
(Unknown)
And finally the one that perhaps is "me":
"The pessimist is a man who worries when there is no longer anything to worry about!"
(Erich Maria Remarque)
Thursday March 20th 2008:

3 hours till kick-off. 2 hours till we shall leave. It shall be interesting, because I am not used to be optimistic when I go off for football. But I am today.
PS: I am not used to be optimistic at all.
Just to let you know, if you were in doubt.

Wednesday March 19th 2008:

We are going to spend Easter at home. That was not the original idea. We planned a trip with our caravan. But if you saw the forecasts for Easter you would fully appreciate our decision. It is going to become winter for the first time this year. And the football season - at least as far as home games are concerned - will start tomorrow. I am not pleased with winter - and especially when it starts at the middle of March.
Tuesday March 18th 2008:

The count down for Thursday's match against Randers has started. I can clearly feel it in my veins, and it is no good for my blood pressure. I shall be there to watch it with our son and a neighbour-friend from our street. We shall, however, come with all our optimism. What we saw last Sunday has made us feel a bit happy about it. Come on, you whites! Kom så de hviiiiii!
Monday March 17th 2008:

Well, well, well. I am quite pleased about yesterday. Not only did we have a very nice meal with Birgitte and Peter, but my club also had a very good result, drawing 0-0 with the number 3 in the league. I watched the whole game even if it was rather exciting. If the good play, we saw yesterday, continues, we shall have no problem in remaining in the Super League and perhaps even going up as number 6-7. Then we don't have to fear relegation. What a beautiful dream!
Sunday March 16th 2008:

Start of season today. Away game at Horsens. I am all nerves. Upset stomach, chins shivering, teeth "clapping". What more can you ask for? I have been forced to watch the game on TV with our son and daughter-in-law. Normally I enjoy visiting them. But I am not too sure about today. Wish me luck!
Game just ended. A draw 0-0. Could have been worse. We quite clearly should have won.
Saturday March 15th 2008:

Eventually a day with fair weather - sunshine, no rain and only a mild breeze. Just a day for a bike ride. 35 miles it was. I went to see an old colleague and found the house empty. I left and took a detour on my way back. If I hadn't done that, I would not have him. I met him halfway home. Very nice. He used to be a teacher at my school. On top of the bargain I also met our caretaker at the very same spot. Sometimes you are lucky. I enjoyed speaking to them both.
PS: I am all nerves. My club will play its first game tomorrow - an away game. Where can I hide? Am I going to watch it on TV or not?
Friday March 14th 2008:

You may probably not believe this. But today I went to my garage again. I had forgotten to ask for a price for four new tyres. I have to get them within the next month - and it is not a pleasant thought. More than £400 it will be. I asked him if he thought I was married to some English royalty. Such a price for new tyres. But I cannot help it. I must have them soon. Pray for me!
Thursday March 13th 2008:

I went to my garage today to book time for my yearly check. The car is getting older, and I am a bit apprehensive about it. It is my experience that surprises from a garage tend to be extremely expensive. But hopefully not this time. Keep your fingers crossed on 8th of April - a crucial day.
Wednesday March 12th 2008:

I went to the library at Silkeborg today to collect materials for my book. All went well, but I also happened to learn something about my father who died 20 years ago. In the annals of the work house they seem to have had the habit of writing down each little thing that was done agriculturally each day of the year - year in and year out.
With interest I looked for my father's birthday, June 18th 1911. It was a Sunday, it said. They had worked with this or that, and it was a rainy day. The next day it rained very heavily all day.
I never knew this about my father!
Tuesday March 11th 2008:

I like to remember March 11th as a very nice day. When I was a lot younger and went to school, it was always a day off, since our old King had his birthday. Somehow this made me feel that spring began on this very date. I hope that will be the case this year, too. But mind you. We haven't had any winter at all. No snow - no frost, but a lot of rain!
Monday March 10th 2008:

The weather today was good enough for my bike ride to Ebeltoft. I did feel a bit sorry for myself on the way. The headwind was horrendous. There was nothing else. The hills seemed miles longer than they used to. So all in all it was a very tired old man, who arrived at his destination 2 hours after departure. My average speed was nothing to talk about. But who cares? I must have lost about a stone. They keep saying that headwind is your best training partner! I agree.
Sunday March 9th 2008:

Last night Else and I went to a birthday-party. One of our good old "dog-friends" was 60. It was very nice to have something good to eat and drink - and plenty of it, but also we very much enjoyed talking to old friends from The Retriever Club, people that we have known since about 1980 and don't see so often any more, since only few of us are still active in the club.
Today I am suffering a bit from last night's hard work, but no more than I have enjoyed today, even if the weather has been miserable. Tomorrow must be good since I have planned to go to Ebeltoft on my good old bike.
Saturday March 8th 2008:

Guess who is on the picture. And I am not going to make it easy for you. It is a very pretty, wellbehaved, and nice little boy about 2½ yeard old with his beautiful mother, posing at some place in Silkeborg in 1943. He later grew up and became a handsome man and a very good cricketer. I still think that it won't be easy for you to guess his name! - Or is it?






Friday March 7th 2008:

It has been a very good day. I have eaten only very little and I rode about 24 miles on my bike. So hopefully I have left a few kiloes on the road. I am very pleased with myself. BUT. Tomorrow we are going to a 60-year birthday with lots to eat and drink. How about that? Can I contain myself? NO!
Thursday March 6th 2008:

Even if it sometimes happens that I sit in front of my computer for a long time, I think that somehow today is a record. I have been doing some work for my brother. I started at about 9 o'clock this morning, and now it is 4.30 pm., and I have just finished. I have only had a break of 15 minutes for lunch. It has been hard, but also interesting. But it hurts "you-know-where", when you sit in the same chair for such a long time.
Wednesday March 5th 2008:

Fortunately there seems to be a distinct sense of optimism in my football club. Players, manager and coaches tend to believe that the team as it is now can win quite a few games this spring. They say that we ought to have the right players for it now. Bless them! I sincerely hope they are right.
Tuesday March 4th 2008:

When we were in Dublin recently I happened to meet a taxi driver who didn't know W.C.Fields. I know him well and gave the driver a few quotations, which he liked. So I was happy today when I happened to find a book about this American drunkard. I would like you to read one of them,
"What a wonderful day! And what a blessed sunshine! Well, it was on a day like this that the Dillycally brothers killed their mother with an axe."

Monday March 3rd 2008:

Being envious is not nice. You shouldn't be.
But I am - at least a bit. I have just heard that our daughter and eldest grandchild are going to England in May visiting and staying with some friends. I must remind myself that I am going, too. Not exactly at the same time, but I think and hope that the cancelled football trip will soon be a reality. (See February 20th).
Sunday March 2nd 2008:

I haven't been outside at all today. Not even in our garden. I have done a lot of writing, not least on my book. During a small break I started pondering what would the situation have been like, if I didn't have a computer? I certainly would not have written my first book,and most certainly not the second, which I am working on now now. It is so easy to correct, it is so easy to move sentences, paragraphs, or even whole chapters from one place to another. What did earlier days' writers do? It must have been very hard to delete at one page and write it again on another. I am a lucky man that I do have a computer! And what about my website? No computer - no website, and the world would have been a lot poorer. Agree???? You'd better!
Saturday March 1st 2008:

I love my meals - and I love them to be big. But I mustn't. I must loose weight. My lunch today, however, was a bit too much, so I must compensate tonight and eat less. But I can't, because we are having dinner with some friends, and I know that it will be very difficult for me to resist. But I must. Fortunately there is only one thing I cannot resist. And that is a temptation"
Friday February 29th 2008:

February is a long month this year - 29 days, and today is the last one of them.
I like shorter months. That means a smaller number of days between receiving my pension. I hate months with 31 days. I would much prefer 21 days, 14 days, or even a week.
Thursday February 28th 2008:

I have been blamed and scolded again today, but for a different reason than the day before yesterday. Else insists that I keep forgetting a lot. It is not true. It is she who forgets. For example she spent quite some time today looking for our dog Sydney in the house. He was nowhere to be seen. I sat writing here at my computer and had done so for some hours. I suggested that the poor dog was in the garden, and she insisted that he wasn't. She hadn't let him out, she said. Neither had I, and that was totally "waterproof" - I was writing and hadn't been out of my room. Finally she opened the garden door - only to realize that Sydney came jumping in. I said nothing! Sometimes it is wisest not to!
PS: I am proud to tell that last night my website was visited by visitor number 80.000. Thank you!
Wednesday February 27th 2008:

Else thoroughly blamed me yesterday, because I went up to take photos of "The big Machine", you can see undrneath. She wasn't happy at all that my shoes and trousers looked terrible from mud and dirt, when I returned. Today she wanted to see "The Machine" herself, and I happily went with her to show her what it was like. She was quite impressed and understood why I was so dirty yesterday. All the paths are a mess due to "The Machine". Forgiveness is good!
Tuesday February 26th 2008: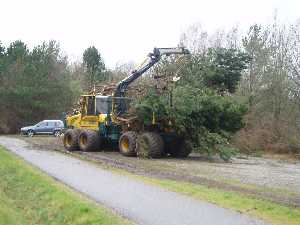 Today I went up to get a chance of taking a picture of the big "machine" I told you about yesterday - the one that cuts down a tree in less than 2o seconds. I did it only for your sake. I was sure that you are dieing to see a picture of it. What do you think of that?
Monday February 25th 2008:

I am impressed. Sometimes - every 10 years or so - I have to cut down a single tree in our garden, and it is a very hard job that easily takes half a day. And then just today I saw a great big "machine" cutting down trees at the forest very close to us. I stood there gazing for about 10 minutes, and during that time it cut down fifteen 20-25 ft. tall trees, lifted them up, and stacked them. I shall ask the owner to borrow that "machine" the next time I want a tree cut down. The only snag will be getting it into the garden.
Sunday February 24th 2008:

Walking along the beach with my dog and two grandchildren is good for both heart and soul. But I wonder how good it would be, if I did like Sydney - a quick swim in the cold water. But make no mistake, he really enjoyed it and could have gone on for much longer.
Saturday February 23rd:

Today my football team left for Cyprus. A week's training in nice and warm sunshine will hopefully give them the power to have a good second half season. We need it. On March 16th it gets serious with the first game, an away game at Horsens. We need no less than a draw to make it a good start. We haven't beaten them for a long time.
Friday February 22nd 2008:

I was pretty lucky today. I had parked my car in a courtyard at my job with my brother's, and I thought no more of it till a lady came in and said that she thought it might be a very good idea if the owner of the blue Mondeo moved it, because tiles were falling down from the roof because of the very stormy weather. I rushed out to get an idea of the damages. And believe it or not. Tiles had fallen on either side of my car, and only a very little piece had in fact hit the car and made a tiny scratch. That's how lucky you can be. I quickly moved the car away!
Thursday February 21st 2008:

There is no point in hidig it. I hate car mechanics. They seem to find something to do on my car at every little occasion. Today I went there to have an undersealing. That in itself is very expensive. But of course he just happened to find that a tiny bit of corrosion had done some damage, and now it will be twice the price of the undersealing.
I hope that all mechanics will end up "downstairs", while we carowners will go "upstairs".
Wednesday February 20th 2008:

I have been told that a scheduled trip to England (two football matches) early March has been cancelled due to my nephew's knee operation. I think he shoould have considered this before he injured his knee. But that's how youth behave these days. Consideration for themselves only!
Tuesday February 19th 2008:

Eventually today I ventured out on my bike. It was very nice - only little wind and a pleasant temperature of about 8 degrees. I only went for a small ride of 20 miles, but I enjoyed it. So did a young man who passed me, had a look at me, and said, "Well done, granddad!"
Monday February 18th 2008:

I have nearly finished my editing of my book for this time, I have worked very hard today, and I am getting more and more pleased with the result. I do hope that the people at the museum who some time are going to read it will be just as pleased. But probably not. They have their standards - an I have mine. I must admit, though, that they know more about it than I do.
Sunday February 17th 2008:

I have only left our house today for a 30 minutes' walk with Else and our dog, Sydney, the reason being that temperatures have not been incouraging at all. Cold, windy, and miserable.
But weather like this makes me work hard on my book - just now especially editing, which is very difficult work. But one must be careful that one doesn't edit so much that one cannot recognize it the next time. I have no idea when the book will be finished. But it will be, I am sure.
Saturday February 16th 2008:

Yes, we had a wonderful Christmas party yesterday. We ate and drank as we should do at a party like this. And we were very full up and a bit more, when we finished. We all thoroughly enjoyed it - which was only expected. It's a long time till November.
Friday February 15th 2008:

We are going to a party today - a Christmas party with all the food and drink that one can expect to have at such an occasion. We have to start early with these Christmas parties, if we want to have them all over and done with before Christmas. The next one will be in November!
Thursday February 14th 2008:

Went for a small picnic (!) today with all three grandchildren. We unpacked and sat down on a bench at the beach at Moesgaard - and in bright sunshine. We sat for only 5 minutes, then it became too cold and we sought shelter in the car and ate there.
Still quite nice, though.







Wednesday February 13th 2008:

How nice it is to watch people working, especially when they know what they are doing - and how to do it. Today I could sit quietly down at Peter's and Birgitte's new house and enjoy my good friend and neighbour putting up a cooker hood and an electric cooker for them. I really liked watching knowing that when it was finished it would be just perfect - which it was. I sometimes wish that I could do all this, but then I would be robbed the joy of watching the expert!
Tuesday February 12th 2008:

When I got up this morning, rather early at about 10, I was so determined that today should be a day for bike-riding. And I looked forward to it. Having finished the first preparations, washing, shaving etc. I just put my head out of the door - and immediately I changed my mind. It was bitterly cold, not at all
"a fit weather for man or beast",
and especially not for biking
.
So, no bike-ride today. I shall hope for some other day, hopefully soon.
Monday February 11th 2008: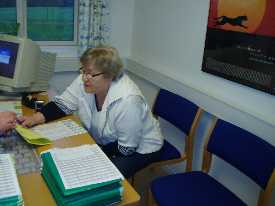 Another very good day at the hospital. Else was told that her metabolism is now absolutely perfect, and she is not going to take any more medicine for it.
Just last Wednesday she also had good news about her heart. Great!
On the picture on the left you can see her, when the doctor gave her the good news. And if you go to my Danish Diary
(Just click here)
you can see how happy she was just afterwards.




Sunday February 10th 2008: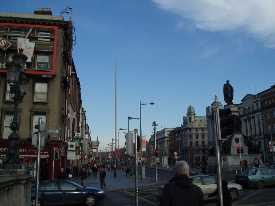 Yes, it's hard to keep a secret. We were in Dublin for the weekend - in fantastic weather, 16 degrees centigrades, felt like summer, and we could walk around in our shirtsleeves. The pubs were also warm, and we visited quite a few of them. Next time we shall cover the rest.
On the opening page of my website you can see the proof of a cultural visit to a cultural place, The Guiness Breweries. Not bad at all.
We certainly enjoyed our stay, and the best part is that I shall probably go again in exactly a month - this time to England, though.



Thursday February 7th 2008:

It has been rather an eventless day - and then again it hasn't. But I am not going to tell you why until Sunday or perhaps even Monday. You can start guessing now!
The picture to the left is no hint. I just thought you might like to see Peter's new house.








Wednesday February 6th 2008: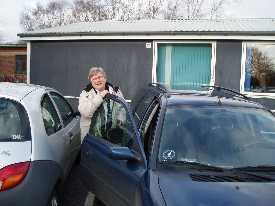 What a good day this is. Else and I left hospital very happily. Else was told that they do not want to see her again (heart ward), which of course means that she is well again. How nice!
Just to show you how happy she was when we left, I would like to show you the picture on the left. Isn't she wonderful!







Tuesday February 5th 2008:

I certainly hope that my football club hasn't blundered. All other other clubs in the league have bought new and impressive new names. But not AGF. They have bought only one on a six month's basis, and he is known for being injured most of the time. The only good thing may be that he is a good player and has played for us earlier before he played in Italy and latest for Brondby.
I hope he will become a success. We need it.
Monday February 4th 2008:

Fortunately the snow that we had two days ago was only so little that it disappeared overnight. We even slept in our caravan and it might have been nice to wake up with caravan and everything else completely covered. But it wasn't to be. About now we should expect snow to come, but obviously there are no signs at all that it will. And after all. That's quite alright! I am not a child any longer.
Sunday February 3rd 2008:

Last items moved to Peter's new house today. Me and my poor back had to load the trailer ourselves. It did hurt a bit. Isn't it a pity for me? Please, say it is!
Anyway, except for a chair, a mat and a TV-set which we forgot to take, we are now alone with our own stuff - as it used to be before Christmas Eve. How quiet it is here! One has to get used to it.
Saturday February 2nd 2008:'

First snow of the year. When I was very young I used to love the snow. But no more. I must admit though, that looking out from the top floor of Birgitte's and Peter's new house it looked very nice. I am sure that on a cold and sunny day with snow covering the ground it will be nice to sit up there with a cup of hot chocolate and a cake enjoying the view. And the hopefully the snow will be gone the next day!
Friday February 1st 2008:

I admit it. I parked illegally today - and that even with a big trailer on my hook.
Today we have moved some of Birgitte's and Peter's stuff to their new house, which is theirs from today.
And tonight Else and I will be totally on our own in our house. Strange - and quiet!
Tomorrow we shall move the rest, and we shall probably finish some time Sunday.
But just to show you that parking restrictions can be tough - just look at this picture:






Thursday January 31st 2008:

Tonight will be our last night in our caravan. Our family (Peter, Birgitte, and Cecilie) shall move to their new house tomorrow. It will be very quiet here, and we shall miss them, even if it has been a bit crowded now and then. But no doubt: We have really enjoyed having them.
Wednesday January 30th 2008:

Else and I went to Silkebrog today, but we only saw each other on the way to and from. She spent her day with her brother's, and I spent my day looking for source materials for my book at the local library. It was very, very exciting, and I didn't nearly get through it all. I shall have to back again soon. It is an interesting observation to make that events I witnessed in my youth and childhood now are history!
Tuesday January 29th 2008:
I do belive that Else has now fully recovered from Sunday's handball final. Anyway she got up early this morning and I took her to work - "happy as can be". Today is the last day of this semester, and she will not go to work again until next May/June. So no more "early ups" for now. I shall enjoy it!

Monday January 28th 2008:

Well, what can one say? I know. WE ARE EUROPEAN CHAMPIONS in men's handball. Our brave team won yesterday by 4 goals over Croatia, 24-20. A safe win - only the first 10-15 minutes were not good. The rest was "business as usual". Well done, lads. Today they are getting a great reception at the Town Hall in Copenhagen. They deserve it! But Else should be there, too. She has suffered a great deal during their games. She has been all nerves, and she didn't see yesterday's match until late in the evening - on video. She dared not till then, but found excuses for doing her laundry and a bit in the garden, now and then looking through windows, while the match was on!
Sunday January 27th 2008:

To especially Else's delight Denmark yesterday qualified for the final of The European Championships in handball. There is a thrill all over the country. The final will start in about 30 minutes. I am sure that the whole country will sit there in front of their TV watching the game against Croatia, whom we beat by 10 goals just the other day. I am sure, though, that this time it will not be so easy.
Saturday January 26th 2008:

Sometimes, when writing on my book on the workhouse where I lived when I was a child, I become very saddened from what I learn. Just today I happened to find out that if a single mother with a child could not support this child sufficiently, she had to become a pauper - no matter what. She then had to move into the workhouse and live there under very bad conditions. But that was the only alternative, if she did not want to loose her child completely. Must have been very tough.
Friday January 25th 2008:

For the first time in my life I had a meal at a Greek restaurant last night. We were all there, Peter, Birgitte, Cecilie, Else, and I. And what a fantastic meal we had! Everything was perfect. So I had no problems in forgetting my diet - which I certainly did. Neither was it a problem to celebrate that Denmark won a very important handball match in the European Championships and now are qualified for the semis. It was such a relief to hear this, because our sweet daughter Annette had "fed" us with false texts of the result during the final 15 minutes of the match, telling us that we lost. I shall come back to her. I have already disinherited her. She nearly made us loose our appetite!
Thursday January 24th 2008:

Today our son Peter has his 37th birthday. (I must be getting old). We are going to celebrate tonight at a Greek restaurant in Aarhus with some good food and wine. I am sure that we shall all enjoy it, and I intend to forget all about my diet - which all in all is going quite well, someone says. That's me!
Wednesday January 23rd 2008:

Else worked today - her usual job as an invigilator at the university. That in itself is normal. The interesting part is that for the last couple of days the exams (written) have taken place a big hall at the sports centre right at the football ground where we have watched so many games. Furthermore it is the sports centre where both she and I played a lot of handball matches in the past.
I thought you would like to know this!
Tuesday January 22nd 2008:

If you are reading this you have found out that I have had to create a new page, page 3, for my "English Diary" - of which I am rather proud.
This makes it easier for you to open the page and quicker for me to write it.
I think we should celebrate this new page:
"Hip Hip Hurrah, Hip Hip Hurrah, Hip Hip Hurrah!"

I liked that - thank you very much!