My English diary, part 6.
From March 27th 2010 to ????
___________________________________________________________________________

Friday, January 7th 2011:
Unfortunately I am having problems with my internet connection. So my updates may be somewhat irregular for the coming week or two. I will depend on visiting people who have a 'working' computer, which I haven't. But I promise you to do my utmost best to write every day.
But having to do without internet and to a certain degree also TV feels like a drug addict must feel it without his or her daily dosis.
May it soon be repaired. The problem of course is that since the fault is in a cable in the ground, it cannot be repaired since everything is deep frozen.


Thursday, January :
You probably wouldn't believe this. We have been promised temperatures over freezing point for the next couple of days. I shall be very angry if once again the meteorologists are wrong. The anger will be especially provoked if Sunday's forecast does not keep what it has promised, sunshine, only litte wind, and temperatures on the plus side. In other words my first bike day of 2011 may be on Sunday.
The above picture was taken on my first ride last year. Matron can be seen back in the crowd behind waving at me. Or perhaps she is trying to tell me to get off before I make a fool of myself.
Wednesday, January 5th 2011:
I knew it. And now there is proof.
'What are you on about?' I hear you asking. Let me tell you. It's about week end weather. In USA a research programme has made it absolutely clear that there is 22 % more rain on Saturdays and Sundays than on Mondays.
Well, we all knew, didn't we? And now we only need somebody to do something about it. It must be someone with a lot of influence. May I suggest Matron.


Tuesday, January 4th 2011: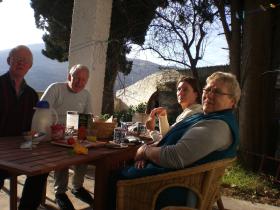 The brightest of you may have noticed an announcement on the opening page of my website that for a week or so I have been much too busy to update my diary. And this is true. An exhausting holiday with Matron, my brother and his Matron in the south of Spain with plenty of relaxation, sunbathing, eating, drinking, and temperatures between 20 and 25 degrees Celius made it impossible for me to find time to write anything apart from the above mentioned message on New Year's Day with its wishes for a Happy New Year.
But now I am ready again, and looking forward to writing my diary. And just to let you know I expect 2011 to become a good year.
Monday, December 27th 2010:
Unfortunately I must realize that I shall not break any bike record this year. As early as 1st November I had ridden 3.181 kilometers and needed only 68 more to beat my former year record. And what has happened since? Nothing, nothing at all. Not even one meter have I done. It is so annoying. Of course it is the bad and snowy and cold weather that has kept my bike in its shed. I shall have to wait till next year to beat my record. My aim for the year was 2.750 kilometers, and even if I did reach that I am not satisfied.I had two months to beat the record. I could easily have beaten it with 500 kilometers. So I am not pleased.


Sunday, December 25th 2010:
It very nearly became embarrassing. As always our eldest grandchild and I had agreed to go to church together this morning, this time at 10.30. And I forgot. At 10.05 she called me and asked where I was. Our agreement was to meet at her house at 10. For some unknown reason I was still in bed. So it was out. No shaving, no breakfast, no goodmorning-kiss from Matron, no nothing. Just out into the car and off. At 10.38 I arrived at the church, where Katrine was already seated, and together we enjoeyd a very good sermon by a young vicar (I more and more find that it's the young vicars that give the best sermons) about "foregiveness". And since I had to be forgiven for my forgetfulness it was very appropriate.
Anyway I was very happy that I made it.
How could I forget a very long and nice tradition? It will never happen again.
Saturday, December 25th 2010:
After a very nice and relaxing Christmas Evening we are now ready for a hopefully just as nice family lunch today. I am looking very much forward to that, the food, the drink, and the very nice company of our beloved daughter, son, in-laws, and grandchildren. You couldn't ask for a nicer family.
I have only got one wish. I hope that our daughter and son would stop 'playing' with me, you know, their most unpleasant way of getting me out of bed in the morning. I am afraid they will go on doing it, even if I have given them big Christmas presents.


Friday, December 24th 2020: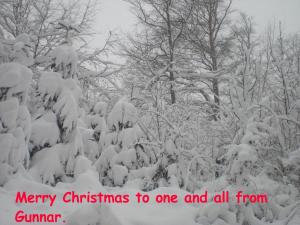 To all my too kind readers,
I send you my very best Yuletide greetings.
Hope that you will all have lots of big Christmas presents.
And don't eat and drink too much. It's more than enough that I may do it.
Thursday, December 23rd 2010:
We are lucky in our part of Denmark. Not far south from where we live everything is chaos. There's a record snowfall, and traffic has come to a stop, especially on motorways. Trains can still manage, but with the utmost difficulty. Airplanes cannot take off or land or are delayed.
A lot of people will not reach their destination neither today nor tomorrow. Some people will have to spend Christmas on a ferry with no cabins, just restaurants and cafeterias.
But recently we in our part of the country haven't got any more snow than we can bear. We have more than enough already, mind you.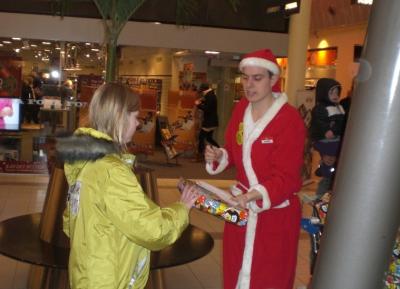 Today Cecilie won a 1st prize in a drawing competition at a toy shop in Randers, and we all went there to see her getting her prize. She - and we - were rather proud.
Wednesday, December 22nd 2010:
Driving to Ebeltoft this morning to visit old friends I couldn't help noticing that there is now ice on most of the Aarhus Bay. We haven't seen that for many years. And it is only the beginning, I fear. Soon all domestic waters will be frozen. Our three big icebreakers stationed in northern Jutland, might as well make ready for operation now. They haven't been out for many, many years, about 20. Wonder if they can still sail. They are 40-50 years old.
My point is that Denmark has become a big deep freezer, and tomorrow we are promised heaps of snow. The only consolation I can think of is that from today the days are getting longer. Just now it is 6 hours and 54 minutes.
Monday, December 21st 2010:
I wonder if you have ever heard of Charlotte 'Lottie' Dod, an English athlete who won The Wimbledon Ladies' Singles 5 times, was British champion in golf once, won silver at the Olympic games in archery in 1908, played for England twice at the world championships in field hockey, plus she was an excellent skater.
I have never heard of her till some time today when I happened to read about her.
She is considered the most versatile athlete of all time.
What a talent.
She was born in 1871 and died in 1960.
It would have been exciting to know what she could have done in sports had she been 21 years old today.
Monday, December 20th 2010:
I was up early today to take youngest grandchild to school. She has stayed with us for the weekend. On our way in the car through the deep snow of course we talked about the cold and how cold it can be in various countries. Of course Greenland being Danish was interesting. And I could tell her what I know about low termperatures there, snow sledges, icebergs etc.
She could tell me that the world record in low temperatures is -89 degrees centigrades (-128,2 F). It happened in Vostok, Russia in 1983.
We tried to imagine how she and I would feel temperatures so low, and we agreed that no matter what we wouldn't live to tell about it. Our -15 (5 F) this winter is more than enough.
By the way the lowest temperature ever in Denmark is -31,2 centigrades (-24 F) in 1982 in Northern Jutland. I fear that this record may be beaten this winter - and I hate the thought.


Sunday, December 19th 2010:
As perhaps you can see on the picture I made a speech yesterday at the end of our shoot. I thanked everybody for a very good season 2010 and especially the overall good results under often difficult weather conditions.
You may have noticed they hadn't improved when I made my speech.
And I had already put my trusty dog Sydney in the warm shelter of my car. There was no reason to let him suffer in the cold as well.
It was of course outdoors and the more observant of you will be quick to notice that there was no dress code.
However, what you cannot see on the picture, are all the people who were on the shoot and the shot pheasants that were put on the ground in two lines in front of me.
Saturday, December 18th 2010:
Last retrieve of the year on a shoot once again in heavy snow and cold weather. I shall never get used to temperatures like today. I disapprove of it. As you can see on the picture my good dog Sydney doesn't seem to mind at all. I hung 9 pheasants that he retrieved on one of the drives on my stick.
If he does look a bit proud it is no coincidence.
It is now more than 9 months till the next time, but I haven't dared telling him. He is quite happy with things as they are, a retrieve once every week or perhaps every second week. He prefers the former.
In weather conditions like now I don't mind the 'break'.
Friday, December 17th 2010:
I would like to tell you about the latest 3 mornings of this week and my prediction for tomorrow morning. Wednesday up at 7.00, Thursday at 6.30, today at 7.30, and tomorrow at 7 o'clock. This must come to a stop soon. I love my morning sleep. I disapprove strongly of getting up before 9. And I am supported by science. It has been clearly documented that sleep is as important as food. If you don't have enough of it there is no limit to the number of diseasies you will get. And I don't want that. Who does? There's even a hormone, melatonin, that your body will produce only when you sleep, and sleep in darkness. That hormone is "your inside clock" and keeps your body fit fight. And who would like to do without that? Certainly not me. Good night!


Thursday, December 16th 2010:
Matron is pleased these days. European Championships in women's handball is on TV every day from early afternoon til late evening. She enjoys it. I don't. I find it dull. But I accept that she who must be obeyed wants to watch her handball. At the end of the day I shall benefit from accepting this state of affairs. Or put in another way: I shall not benefit from even a silent protest.


Wednesday, December 16th 2010:
Since biking has been impossible for me since November 1st, I felt today that I ought to take a walk. I have had much too little exercise for 1½ months.
I am - as you know - not a keen walker. My dogs are. So to please them and to give myself the opportunity of at least a bit of action I set off on foot. I shouldn't have done it. It was bitterly cold. My cheeks and ears nearly fell off in the cold. But it was wonderful coming in again in a warm house.
After all I did benefit from it. I lost a bit in weight, and as you can see on the picture not everything is ugly and nasty in the cold winter.
Tuesday, December 14th 2010:
Perhaps you ought to consider buying a round tuit.

Now, what is a round tuit ?
I shall tell you.

It is an indispensable item which will help you become more efficient.
For years I have heard people say, "I'll do this or that when I get a round tuit".

Please buy one so that you have your own round tuit.

For example I shall send you my next letter when I get a round tuit !

Monday, December 13th 2010:
Unfortunately I have two very ill-mannered children of 39 and 43 years. They find it very amusing to "play with Dad", as they call it. And they did it again today.
It's like this:
One of them arrives before I am out of bed (which often means before 10 o'clock). A telephone connection to the other culprit is established with loudspeaker and all. And then they start singing - very loudly with just the one purpose of giving me a wake-up as unpleasant as possible. Their song is always the same. While singing I am pushed and beaten, sometimes even with a stick or whatever is within reach. During all this the culprit present starts my elevating bed, so that I end up as a piece of meat in a McDonald burger. Threats about pouring ketchup and other ingredients into the hamburger have fortunately never been carried through. But I know it is just a matter of time.
Please, somebody, deport those kids. I'll end up as a nervous wreck. I am willing to pay a handsome sum for the deportation.


Sunday, December 12th 2010:
We went to a toy shop today for Christmas present for a couple of our grandchildreb (don't tell them about it). In the shop we were met by a very keen and engaged young man, hardly over 21. He was so kind and forthcoming and told us exactly what he should know about the presents we wanted to buy. It was good and fair information. It is nice for once to meet kind and keen people in a shop. I think that one notices it, because in supermarkets, where you come nearly every day, you don't meet any shopassistent, and if you do, they always seem to be very busy so that you don't feel comfortable if you have to contact them.
I think that the young man we met today, must have a future in business. Anyway he deserves it.


Saturday, December 11th 2010:
Yet another day retrieving on a very windy but otherwise beautiful day. My good dog Sydney enjoyed it even if he sometimes shivered with cold (and excitement). I enjoyed it, too, except for the number of times when I fell in the deep snow and had great trouble getting up again. It must have looked ridiculous with a 70-year-old man tumbling around in the snow in his sometimes vain attempts to get back on his old feet. But he managed without any help. I'm tough.


Friday, December 10th 2010:
One may have some prejudice towards nuns' physical abilities and perhaps more so when they are in their fifties. At least I for one does not expect a 55 year-old Italian nun to chase a Roumanian burglar who was messing about in some cupboards at a hospital in Torino. The burglar claimed that he was a relative to one of the patients, but the nun did not believe him. Suddenly the burglar ran away, but he had not counted on the very fast nun. She easily caught up with the 38 year-old Roumanian and held him tight in his jacket till help came along. Well done, nun.


Thursday, December 9th 2010:
Sittting half asleep in my good sofa a message from Matron suddenly was heard loud and clear, 'Since you are so keen on going to our local supermaket (2½ miles away) I would like you to buy some syrup'. I wasn't aware that I was keen on going to the supermarket, so I dared a quiet protest.
I have now fetched what she wanted.
And perhaps it was not such a bad idea after all. The syrup is going to be used in some very nice Christmas cakes of which I tasted a few yesterday when we visited our youngest daughter.
May the cakes be baked very soon and in great numbers.


Wednesday, December 8th 2010:
So much has been said about my age and my lack of memory. Just to show that I am better off than a lot of other seniors I would like to tell the following:
A couple in their nineties is having problems remembering things. During a checkup, the doctor tells them that they're physically okay, but they might want to start writing things down to help them remember ..
Later that night, while watching TV, the old man gets up from his chair.
'Want anything while I'm in the kitchen?' he asks.
'Will you get me a bowl of ice cream?'
'Sure..'
'Don't you think you should write it down so you can remember it?' she asks.
'No, I can remember it.'
'Well, I'd like some strawberries on top, too. Maybe you should write it own, so as not to forget it?'
He says, 'I can remember that. You want a bowl of ice cream with strawberries.'
'I'd also like whipped cream. I'm certain you'll forget that, write it own?' she asks.
Irritated, he says, 'I don't need to write it down, I can remember it! Ice ream with strawberries and whipped cream - I got it, for goodness sake!'
Then he toddles into the kitchen. After about 20 minutes, The old man eturns from the kitchen and hands his wife a plate of bacon and eggs.

She stares at the plate for a moment. 'Where's my toast ?'

Tuesday, December 7th 2010:
Somewhere in Surrey lies a small place called South Godstone. Here's some inside information on it:
South Godstone - A strange village full of even stranger people. A group dedicated to people who currently live or at some point in their life have lived in the strange and bizarre village that is South Godstone. Lagham was the original name for the village now known as South Godstone which is about 3 miles south of Godstone in the County of Surrey in South East England. The manor of Lagham was not connected with Godstone, nor with Felbridge; though Godstone parish included these villages plus Blindley Heath and Newchape.

My comment: A small village with 6 advantages, the 6 Lancasters.
Monday, December 6th 2010:
It has been 'The Day After' today. I am not talking of any kind of hang-over caused by a night out, but just that I had an uneasy night, didn't sleep a lot. The adrenalin was still pumping in my body since yesterday's big event 'launching' my book at the museum. I kept waking up thinking of all the things that happened, and if all those people, who bought the book, will like it.
I dare not read the reviews. After all it is my 'baby' and noone should talk badly about it.
So today I am rather tired, but even so had to take Matron to our biggest supermarket, a terrible place called BILKA. Due to her bad foot she is not too keen on driving. Neither am I, but I wasn't asked.


Sunday, December 5th 2010: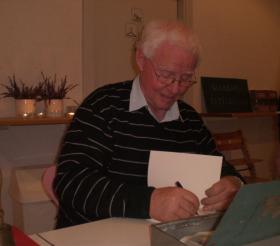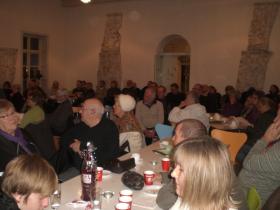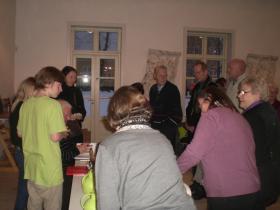 Today was one of the great days in my life. At a reception for my book on the Silkeborg Workhouse held at the Silkeborg Museum my book and I were introduced, and far more people than I had ever expected turned up.
I never imagined that one day I should sit signing a book that I had written myself. But that was exactly whar I did today. And quite a few books were sold - and duly signed.
Now the book is on the market, and must look after itself.
Saturday, December 4th 2010: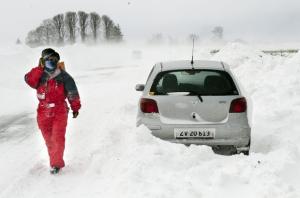 It may be a bit monotone that I am writing yet another chapter on our winterly conditions. However, nearly everybody in Denmarks is very much occupied by the rough and early winter we are having. It is bitterly cold, it snows quite often, and on top of it all a polar wind makes outdoor life unbearable.
I have had to give up any chance of bike rides and beating my distance record for one year. It is so annoying, I think..
The only good thing about it is that it is fully "legal" to just sit down in front of our TV or one of our two computers and see or do things that you find interesting - and doze off now and then. Just now I am writng on Matron's PC, which she graciously has lent me for a short while. She's being very kind.
But have a good look at the picture and see what we are up against. May it soon be over.
Friday, December 3rd 2010:
Obviously there is a new name in Danish football, Arkady Abramovich, son of Roman who owns Chelsea FC. Arkady is said to be interested in investing millions of Dad's money in the biggest football club in Denmark, Copenhagen FC. It will be interesting to see if it is true. I myself believe it's a hoax, a rumour sent out to make shares rise in value.
But let me give the good Arkady a piece of personal advice.
There's no profit in Danish football as long as my club plays 1st division. Send us a billion or two, and we will promise you that we shall be promoted and have a great time. And I shall once again be seen on our ground, having paid for my ticket. That's already an extra income for the club, and your investment is on its way to pay off.
So, it is an offer that you cannot say no to. You may send the money to me, and I shall probably pass it on to the club.


Thursday, December 2nd 2010:
Global warming? More like global cooling!
Early winter in Denmark, and it just seems to go on and on. It is only 7½ months since we had the last snow.
Don't talk to me about global warming. It's a fake.
Wednesday, December 1st 2010:
Imagine the following. The whole Chinese population will walk past you in one long line.
The question is: How long time will it take, till they have all passed you?
The answer may be a bit surprising. Due to births you will never see the end - even if a Chinese family is allowed to have only one child each.
Another question is: Where could we arrange this? I suppose it will be a good idea to choose somewhere in China, The Chinese Wall for example. What a picnic it could be.


Tuesday, November 30th 2010:
Rumours will tell that I snore. And I know who started them.
However these malicious allegations are not at all true. At the worst I may take a few deep breaths, perhaps even a sigh or two, and no more, and 'someone' mistakes it for snoring. I am absolutely sure of this, because I never hear a thing myself. And I have no problem in hearing when Matron turns on her 'sounds'.
By the way I compare snoring with hickup. It goes away by itself, at the latest when you wake up.


Monday, November 29th 2010:
Today another bitterly cold and windy day with frost and snow. And there is nothing else in sight till Sunday, and probably the same after that. How dare the meteorologists sending us such an early winter? We might even beat the world record in snowfall, 28,92 meters (about 90 ft.) on Mount Baker, Washington, USA. We shall reach that long before May.


Sunday, November 28th 2010:
Matron's bad foot has given me a new identity. I now look more and more like Mr. Bucket. Whenever we are going in the car Matron expects me to take the car out, meet her at the front door, support her in slow motion to the car, open the door, wait for her to get in, and close the door. When arriving at the supermarket or whereever she expects me to do the same in reverse order. And of course it is all repeated when we leave the place. Today we visited two supermarkets and a DIY. I have never walked so far so slowly and opened and shut a car door so often.
Fortunately her foot is getting better every day.


Saturday, November 27th 2010:
I have been on many wonderful and interesting retrieves during the 36 years it has been my hobby. But today's was the worst ever. It snowed the whole day, and a strong and cold wind made it very difficult for especially people over 70 years. But nobody heard a word of complaining from me. My younger colleagues must know that I lead from the front. But mind you, it was hard.
On the pictures you can see how beautiful it may look, but also how irritating.On the right picture I have just succeeded in clearing the left side of my car for snow. A big tractor pulled the car out.
Friday, November 27th 2010:
I don't know what to expect of tomorrow. I am going retrieving, and the weather forecast is terrible and promises snow and strong wind. That's all you need for a genuine blizzard, and that on top of the enormous amouints of snow that we have already had. And there I will be, out in the wilderness in severe frost, snow, and storm. It will be cold - so send me some warm thoughts to make me feel warmer. I shall need it.


Thursday, November 25th 2010:
I knew, I knew. In Denmark it is now snow, snow, and snow. I disapprove of it. I am already fed up with it, and theoretically winter hasn't even started. Yesterday I read that this coming winter, which as mentioned has already begun, will be the worst for 70 years. That's exactly as long as I have lived minus a few days. And I have often been told about the record cold and long winter starting only a few days after I was born. Funnily enough I do not remember anything about it.


Wednesday, November 24th 2010:
Today, finally, I persuaded myself to have my summer tyres changed with winter tyres, not a minute too early. That meant 1½ hours' waiting at a tyre center. I spent the time reading a book. And it was so interesting thatr time passed rather quickly.
But I am looking very much forward to changing back to summer tyres again.
May the snow disappear in a hurry. I hate it.


Tuesday, November 23rd 2010:
Here we go again. Snow. It reminds me too much of last year's blizzard winter. And then it only started on December 15th, nearly a month later than this year. I believe that a UN-declaration should forbid all inhabitance north of the Alps, at least in winter. I wouldn't like the Mediterranian summer.
And on top of it all Matron this morning had a nasty fall in the snow in the garden and now walks with a stick in a way reminding a lot of Herr Flick in "Allo Allo".
But don't tell her I said so.


Monday, November 22nd 2010:
I accompanied Matron to her doctor and her dentist today. She likes to have me with her, because I am such a good driver, she says. I suspect that I am only there to save herself from driving around looking for somewhere to park. But never mind. I like being with her. And I am sure that she appreciates it.
PS: The results of both visits were positive.


Sunday, November 21st 2010:
What a lot of celebrations there have been because of my 70th birthday. It all started Thursday with a brunch with friends from 10 a.m. till sunset. Then yesterday at the retrieve on the shoot where I had more speeches and presents from my retriever friends and from the estate. As a finish my nearest family were here last night for dinner, and my three grandchildren each of them made a speech for me. That was very moving and I felt immensely proud that they could do it.


Saturday, November 20th 2010:
Sorry, I haven't got time to write anything today. I have just come home from a full day's retrieve, and in 15 minutes my nearest family will come to celebrate my 70th birthday. I cannot wait. It will be so wonderful, I am sure.


Friday, November 19th 2010:
Because of my birthday yesterday I have nearly forgotten that I have become an author. My book was out 3 days ago, and I haven't had a lot of time to think of it since then. But now I shall have to concentrate a bit about it, since Silkeborg Museum is going to give a reception with a presentation of the book on 5th of December. That will be very exiting with sponsors, people from the museum, the press, and friends and family there. I hope it will be a good day.


Thursday, November 18th 2010: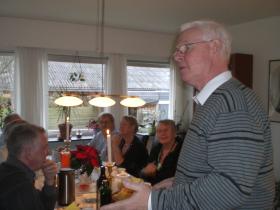 It's my birthday today. My 70th birthday. But as explained yesterday it doesn't show.
I was lucky enough that a lot of friends visited me this morning for brunch. And we have spent an absolutely wonderful day together with speeches and lots of presents - and plenty to eat and drink. I enjoyed every second of it.
Becoming 70 is said to be some kind of a milestone. It may be right, but as long as good friends can give you a day like I have had today I don't mind.
In a few days we shall have our family here to celebrate. I love celebrations - especiially when it's yours truly who is celebrated.
Wednesday, November 17th 2010:
Would you believe that this handsome, young man on the picture is soon 70 years old? Probably not.
If I was asked to guess his age I would not hesitate saying 35-40 years much rather than 70.
But of course we cannot all be as good looking as he.
(It would be nice, though, if others would agree with me.)
The stuff about him being 70 may only be rumours spread by evil people out of envy.
Tuesday, November 16th 2010:
Yet another good day for me. My book is out. I picked all of them up myself at the printer's and have been in Silkeborg to hand them to the museum. In a few days the book will be on the market. Exciting if any will be sold at all. I hope so. Not because I shall make any money of it. No matter how many are sold I shall get nothing. I have known that all the time. And it is OK. My pleasure was to write it.
Monday, November 15th 2010:
Our Toyota is for the very first time - apart from a single service check - at our mechanics. I had noticed a bit of oil dripping from somewhere under the engine. The mechanic quickly repaired it, he thought, and I reversed out only to be called back in immediately. Oil now simply poured out. Unfortunately he couldn't repair it straight away, so I have to pick it up later today or perhaps not until tomorrow. But how lucky it was that he noticed the oil on the floor, when I reversed. Otherwise it could have ended in total disaster with a totally collapsed engine.
And I hate collapsed engines.

Sunday, November 14th 2010:
On a wet Sunday like today there are not many challenges for a keen biker. Or rather, it is too much of a challenge to dare out and get soaking wet, especially after Friday's wet garden work. So I challenged myself to indoor activities like visiting daughter, son-in-law (who just came in from a 40 mile bike ride), and grandchildren of which only 50 % were at home. The other one was on her job in a supermarket filling up empty shelves. Having come home my next challenge was a nice lunch with leftovers from yesterday, watching TV, and playing and writing on Matron's computer. One can easily loose one's breath by thinking of all these challenges.


Saturday, November 13th 2010:
Yet another great day. We have been visited by one of my friends from my time in the army 1963-1964. Of course his wife was also there. Matron served a super lunch, and both before, during, and after we talked. And then we talked again. But we are also good listeners, so it was a perfect day. May it be repeated soon - including the perfect lunch.


Friday, November 12th 2010:
It has been raining cats and dogs today. So I suspect that it was with a certain joy that Matron ordered me to do some garden work. Tomorrow we are having a couple of very good friends visiting us for lunch. So everything, inside and outside must be absolutely perfect.
My garden job was to pull 4 plants out of their crocks and plant them 4 different places in the garden. And I got wet, soaking wet, but there was no mercy. I would have preferred an inside job. And that I got after my digging. I was told to thoroughly hoover the whole house.
If you don't think it is a pity for me, I do.
I wish I had some more courage to decide for myself what to do. This reminds me more and more about my time in the army, only this is worse.


Thursday, November 11th 2010:

A young Dane has decided to ride 3600 kilometers on his bike - a full Tour de France - in one week. That is the distance that I cover
in a full year - in my best years. And he is even going to do it on a circuit of one kilometer, which means that he will have to do 3600 rounds. A bit dull I expect.
But before riding all this distance he will have completed 844 kilometers of running and 76 kilometers of swimming. All in all an Iron Man 20 times over.
I am sure I could think of several more interesting and pleasant ways of spending my leisure.
Some people are just mad.
Tuesday, November 10th 2010:
Tonight is "Martin's Eve" which we celebrate by eating geese or ducks. The idea of eating this innocent poultry is very old. Tomorrow is "Martin's Day", the day when the now holy St. Martin about 1700 years ago was betrayed by some geese. He had hidden among them because he did not want to become a bishop. But they made a terrible noise so that he was found, and as a punishment geese are now eaten tonight. Or rather we more often eat ducks, because geese are so big and expensive.
As far as I know "Martin's Eve" is not celebrated in UK. It's a shame. It tastes very well.
I have to stop now. Matron is just finishing roasting a couple of very nice duck breasts.


Tuesday, November 9th 2010:
I think I have mentioned this before. Matron just loves "Heartbeat". Just this very moment she is watching the very last episode of the series. I did hope that this would be the end of it, but no. Only a moment ago, just before the episode began, I heard the announcer tell that they will be starting all over again from episode one - already tonight. And it's the fourth time. Imagination is obviously no burden to the TV company in question.


Monday, November 8th 2010:
Today I have given a lecture at a teachers' training college at Silkeborg. Of course the subject was my favourite, the work house in Silkeborg. And it was very opportune, since my book will be out next week. Fortunately my lecture went very well, a lot of people said some very nice things to me after it - and we had a splendid lunch which both Matron, who was with me, and I enjoyed a lot. Interestingly enough some of the audience were people I knew when I was very young and lived in Silkeborg. It was a bonus to talk to them afterwards.
It has been a great day. I love having great days!


Sunday, November 7th 2010:
Now, this may be good news to some people.I just read today that an English company (from what other country would it come?) has invented powdered beer. All you've got to do is add some water and a couple of weeks later you will have more than ten pints of freshly brewed beer. But it's a long time to wait.


Saturday, November 6th 2010:
What a beautiful day, nice sunshine, no rain at all and a very moderate wind, a perfect day for a good retrieve on a good hunting day. And that is exactly what it has been. There was only one snag. We had only walked a short distance this morning, when I fell, and I fell heavily, but fortunately I didn't hurt myself. I stumbled over a small stone, and there I was, tumbling around in the mud, a man of 69 years. The only good thing was that I obviously gave all others a good laugh, a laugh that they wouldn't have had, had one of the younger people fallen. For some reason it looks funnier when old people fall. (Let me admit it. It does).


Friday, November 5th 2010:
I like reminding myself and others of our trip to London last April/May.
What I remember best is the walking. It seems to me that we walked all over London. At a certain point it was enough for Matron. She declared that she was going to sit down at the foot of the Eros Statue at Piccadilly, and then the rest of us, Peter, Cecilie, Kristian and I could walk as much as we would and where we would. The only condition was that at some time we would come back and pick her up. We duly did. She had all the money.
Thursday, October 4th 2010:
As you may know we have two dogs now, having "inherited" our eldest son's bitch, Buffy. She is a very nice dog, and we enjoy having her. BUT! For a week or so she has been in heat, and still is for the next two weeks. If she were our only dog it would have been no problem. But our dog Sydney takes the fact very seriously and wants to keep Buffy company night and day. Being the safe guards of Buffy's virginity we cannot allow her being visited by male friends. So they don't see a lot of each other just now.


Wednesday, November 3rd 2010:
Matron and I have paid a visit to inner EU today, Germany to be exact. The purpose was simple. Buy as much as you can. The amount is only limited by the weight your car is allowed to carry.
So that was exactly what we did. Matron was in charge of the ordering and picking while I was given the job of paying and carrying all the goods. And they were heavy, you know. Alone 48 bottles of 1½ liters Pepsi had a weight of near to 75 kilos. Add to this 72 tins of beer, 72 tins of Coke plus all the sweets and ordinary, daily items like flour and this and that. Consequently we had a considerable number of tons in the back of the car going the 130 miles back to our home.


Tuesday, October 2nd 2010:
I took youngest grandchild to school this morning after she had slept with us for just the one night. Too little, if you ask me. Never mind. It takes about 25 minute to go to her school, and it gives us a chance of talking together. I always like our little conversations. Today the main subject was the colours of autumn, and we passed some absolutely beautiful trees in the morning light with the sun just having rised. She is a good observer, better than her granddad.


Monday, November 1st 2010:
I have suffered today - so much that I did not understand at all why I like biking so much.
There were a couple of reasons. 1) No matter what direction I took, I had a head wind. 2) My legs were tired and heavy from the beginning, and did not get any better. How I managed to get over the 36 miles I don't know. But I did come home.
Then after a shower and a look at the photoes I took I felt fine (have a look at one of them to the left), and I was ready for another ride soon.
Sunday, October 31st 2010:
October 2010 was an unusual month. Only once every 823 years an October will be like this one. There were 5 Fridays, 5 Saturdays, and 5 Sundays. Since it will be another 823 years till it happens again I do not expect that I shall live to see it once more.
But what I would like to see again is that my (former) football club has won 4-3 after having been 1-3 down. I don't know why. But this reminded me of own very first football game many years ago. I scored twice - and we lost 0-2.


Saturday, October 30th 2010:
I have studied wisdom of life today and learned the following:
Socialism: You have 2 cows. You give one of them to your neighbour.
Communism: You have 2 cows. The state takes both of them and gives you a little milk.
Facism: You have 2 cows. The state takes both of them and sells you a little milk.
Nazism: You have 2 cows. The states takes both of them and shoots you.
Surrealism: You have 2 girafs. The states urges you to learn playing the harmonium.
Bureaucracy: You have 2 cows. The state takes both of them, shoots one, milks the other...and throws the milk away.
A French company: You have 2 cows. You go on strike and block all roads, because you want 3 cows.
An Italian company: You have 2 cows. You don't know where they are and decide to have lunch.
An Indian company: You have 2 cows. You worship them.


Friday, October 29th 2010:
I have been watching a bit of tennis lately. It's a WTA tournament in Doha for the 8 best players in the world. The main reason for my interest is that a Danish girl, Caroline Wozniaci,i is playing a major part. She is now sure to end 2010 as number 1 in in the rankings. This has never happened to a player from Denmark before, female or male. She may not win in Doha, but I shall follow her with interest.
Thursday, October 28th 2010:
I had a shock today. I like most chocolate, so I was looking forward to tasting a piece that we have had for some time. I opened it and took a bite. At once I felt a burning sensation in my mouth and throat. The next bite was the same. It was really like hot chili. And as it turned out that was exactly what it was. It was dark chocolate with chili. I don't know what the world has come to. Chili in chocolate. Disgusting!


Wednesday, October 27th 2010:
I am a great fan of some of the English sitcoms. My favourite is without comparison 'Allo Allo'. I have watched it a couple times, all 85 episodes, and now they are here again. I have set my recorder on 'Record the whole series', and it duly does. And I duly watch every one of them, at least one per day - and enjoy myself. Only a grumpy person wouldn't.


Tuesday, October 26th 2010:
Fortunately I still feel happy from yesterday, but today I am able to concentrate and write - I hope. And I want very much to tell you that today the printers have received my book, and within the next couple of weeks I should hold the first copy in my hands. I can hardly wait. It will be on sale on the open market, but no matter how many are sold I shall nor be paid a penny. And I don't mind. I am just happy that it will be out for others to read.


Monday, October 25th 2010:
I am not able to write anything sensible today, so I won't even try. The reason is simple. I am so happy, just happy. I am not able to concentrate at all. I assure you that I am not on any funny drug or drunk. I am just happy. I wish that it could last for a long time. I like being happy.


Sunday, October 24th 2010:
That I didn't know, at least not till some time this afternoon. Well, I suppose it could be a lot, but what I am thinking of is something I read today.
Exactly today, 153 years ago (1847), the world's first football club was formed, Sheffield F. C.
Due to being the first football club in the world Sheffield F.C. has recieved the 'FIFA Centennial Order of Merit', an honour that has been given to only two clubs in the world, Real Madrid being the other.
My club (or rather former club) here in Aarhus was formed in 1880 which isn't bad either, but still 27 years younger than SFC - and on September 26th.
All very interesting, you must admit.


Saturday, October 23rd 2010:
I am tired, very tired. I have just come home from this year's first big shoot. I have been tired before after a shoot, but never, never as tired as I am today. Am I getting too old for it? No. I would hate to have missed a day like today. In spite of all my tiredness it has been absolutely great. So I want to give up playing chess before I give up retrieving.


Friday, October 22nd 2010:
I have been alone most of the day and have spent the time in front of my computer. I have been asked to give a lecture in Silkeborg about my book. And of course I want to be well prepared and have it all written down in good time. But alas. I did not have a lot done, since my computer broke down and totally denied any attempt to make it behave properly. I thought a lot about what I wrote in my diary on 13th October. So I was quite happy when it happened, expecting the joy when having solved the problem. But it was frightening. I despaired more and more, couldn't fix it. And then, hallelujah, suddenly it worked after having switched on and off several times and surfing round seeing things that I had never seen before.
I became so happy that I danced around in the whole house shouting and laughing. Since I was alone there was nobody to share my joy, probably except our neighbours, who must have wondered what was going on, so I phoned eldest son and told about my luck. He was happy on my behalf, but not impressed that I couldn't tell him exactly what I had done to fix the problem.


Thursday, October 21st 2010:
Good news about my book on the workhouse in Silkeborg. Just today I gave the "Go Ahead" to the printers. They will start on Monday, and I shall probably hold the first copy in my hand a fortnight from then. It will be a proud moment, a moment to remember.
I am still considering writing yet another book, but I am not quite sure. I have got couple of subjects that might be interesting, but are they interesting enough?


Wednesday, October 20th 2010:
'He looses everything I give him': Pensioneer from Coventry claims she's 113m Euro lotto winner, but sadly her husband has lost the winning coupon. She always gave the coupon to him to take care of after having bought it and written the numbers on a piece of paper she kept in her purse. She checked it last Saturday and found out that all the money was hers. But no. The coupon was not to be found. Her husband and she have now turned everything upside down, but without any luck. That's why Matron never lets me take care of her coupons.


Tuesday, October 19th 2010:
I have read a bit about football today, bits and pieces:
The earliest goal in the game was scorred by Marc Burrows in 2004 after only 2,5 seconds. He beat the former record which was 2,8 seconds, a goal by Argentine Ricardo Olivera in 1998.
A player from Trinidad will never beat this record. In 1923 he was banned from playing for 100 years. If he still lives he still cannot play.
But what is a lot worse is, that in Iceland the word for football is 'Kuattsprinyaleikur'. No wonder that Iceland never reached a lot in international games.


Monday, October 18th 2010:
It's a kind of a sad day. I have stoved our garden furniture away for the winter. It will be nearly 6 months till I shall take them out again. I am dreading the thought of snow and frost. And we are even promised sleet and snow on Wednesday. My goodness. Last year we had snow from 15th December til late March. Please, let it be shorter this coming winter.


Sunday, October 17th 2010:
It is nice to be fully rested after yesterday's celebrations. And even at this late hour of the afternoon I am still rested. I haven't done a lot today except for cutting a few branches off a tree, collecting some leaves from the lawn, and accompanying Matron to a supermarket. She likes me to be there, because she thinks that my VISA card is far better than hers. And furthermore my presence means that she has somebody to carry all her carrier bags to and from the car. She is a cunning devil, isn't she?


Saturday, October 16th 2010:
I am a bit worn out. Matron and I have attended a 70-year birthday with good food, wine, and company. I have enjoyed myself tremendously, and for some reason these components have the affect on me that I becom tired and a bit dizzy. May it happen soon again.


Friday, October 15th 2010:
I just read that in the whole world every day more than 3 billion e-mails are sent, quite a number. I also read that 72 % of these are spam. I hate spam on my own computer, but fortunately I am not at a level of 72 %. That would be totally intolerable. Most of the spam I recieve are lottery wins. I do not know how many billion pounds, dollars, and euroes that I have won according to e-mails recieved. Had I got all that money all my troubles would be over, and Matron could go shopping 5-6 times per day. But since all the money is fake she will have to do with her present 2-3 times.


Thursday, October 14th 2010:
We had a very nice lunch at Silkeborg today, visiting Matron's brother and his wife. I think that I may have eaten a bit too much, which does happen at some occasions, or even at quite a few occasions. I should have brought my bike and biked the 45 miles home. But since I didn't I must compensate tomorrow and go for a long ride. That would be a wonderful punishment. I am already looking forward to it.


Wednesday, October 13th 2010:
It makes me very happy when I am able to solve some problem with my computer myself. I am always rather sceptical when starting out and very nervous. But then when suddenly it works again I am one big smile. Sometimes I wish that something goes wrong, so that I can be happy after solving it. No, nonsense, but it reminds me of a story that one of my teachers told my class when I was very young. 'A big boy pinches his little brother with a pliers. Their mother comes running and asks big brother why he is being so wicked to his little brother. He answers, I am doing it to make him happy. He is always very glad when I stop pinching him'.


Tuesday, October 12th 2010:
Today, early morning, we took eldest son and girlfriend to the airport. They left for London and should by now be walking around in a small village by that name. I wouldn't mind having been there as well, but 4 things made me stay at home.
1. Perhaps I would be a bit in the way. Two is company, and three is perhaps one too many.
2. I was in London last April/May and found out that even if I have a lot of will, I do not have the strength to walk so much.
3. Too little money.
4. I cannot remember what that was.


Monday, October 11th 2010:
'Hippopotomonstrosesquippedelliofobia' is a very long word, maybe even one of the longest, 34 letters. I looked up the meaning of it, and I wasn't even surprised when I found out that it means 'Fear of long words'. Now I am wondering if there is a word for 'Fear of short words'.
But I do know that 'Alliumfobia' means 'Fear of Garlic'. As a matter of fact I know a lot.


Sunday, October 10th 2010:
I happened to find a book about the former American actor W. C. Fields, who was well known for several reasons, among others for the nearly unlimited amount of alcohol that he consumed every day. Also he was never fond of dogs and children. He is quoted for the following:
"Of course I don't drink all the time. I have to sleep now and then, haven't I?"
"I have only been drunk once in my life. It lasted 23 years."
"Somebody has removed the cork from my lunch".
"My grandma was a bit odd. She didn't like children to steal".
"Urine has been fould in my alcohol."
"Oh, the sound of little feet in my house. There is nothing like having a butler who is a dwarf."


Saturday, October 9th 2010:
You may know that eldest son Peter is a very keen angler. He has been out a couple of days lately and has had quite a success. Just look at the pictures. Two nice salmons. He was also out today, had even brought his girl friend, so that she could see him pulling big fish out of the water, but no, two small roaches was all, and I am afraid that doesn't impress anybody. But salmons do.
Friday, October 8th 2010:
What a day. 8 different shops and stores between 11 a.m. and 1 p.m. EIGHT. I think I did quite well, though, even if I did feel a bit worn out when we came home. During all the visits, not least at BILKA, I managed to put myself into a sort of an inner exile, while walking around. This made me survive all my ordeals. Matron was very pleased with my behaviour and pleased that it was
my
VISA card that found its way to the machines in the shops. Tomorrow no shops. I am going biking. Only I haven't told the authorities about it yet. I must persuade myself to do it some time this evening. If I am awake.
Thursday, October 7th 2010: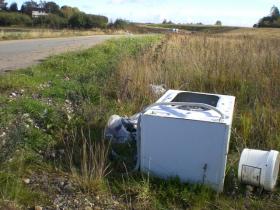 I had a very nice bike ride today in absolutely beautiful weather - and this time without falling off my bike, an interesting experience. I very nearly did, though, when passing a place I mentioned in my diary on 26th March this year, a place where some ignorant had left an old car, and somebody else an old washing machine, and a third party had left old wallpaper, painting, and used plasterboards. Not a pretty sight. Today I found out, that the car was no longer there, but the rest of it was. What makes people do this, using public streets as a dump? It must be somebody who is both stupid and not good looking. Perhaps they even smoke. Urrrggh.
Wednesday, October 6th 2010:
I have two children, both about 40 years old. I do wish that their behaviour could improve. Today they arrived here at the same time, about midday. I was busy sitting at my computer. They came in and told me that they wanted to play with me. I have heard this before and feared the worst, and that with good reason. They held my arms high up while tickling me, pinching my thighs and dancing around me while singing children's songs. I know that only few dads would be able to handle a situation like this without breaking down mentally. I also know that it is forbidden to hit your children, but isn't it allowed to hit those who are about 40? I wish it were - and then again. It would probably make things worse for me. They are rather hopeless.

Tuesday, October 5th 2010:
I had my yearly flue vaccination today - and so had Matron. Just before she had hers I happened to mention to the nurse how importeant it was that the surringe was well deep in and perhaps turned a few times and moved in and out, preferably touching the shoulder bone. This innocent comment made the two females unite in threats on me about the massacre my injection would be. So I had to withdraw my comment and tell that I didn't mean it, which is close enough to truth. Fortunately it helped, and I had a painless injection.

Monday, September 4th 2010:
Our English friends have left us today, gone back to Old Blighty, and Matron and I now have to get accustomed to being alone in the house. I am sure it will come soon. Already orders have been issued about various big and smaller jobs that I have to do. We are back to normal.

Sunday, September 3rd 2010:
Last night we held a party for our English friends, and all our family were here. The food was excellent, thanks to Matron, and so was the redwine. We all talked a lot, and then we talked a bit more. I think we had a great time. Of course I couldn't hear all that was said, but I did hear our eldest son Peter proclaim that he intended to go fishing today, and that he would catch a big salmon. He was absolutely sure.
As you can see, he was right.
70 centimeters and 3 kiloes.
Saturday, October 2nd 2010:
Today the Anglo-Danish party all visited the main entrance of hell, IKEA. For some reason I was not wanted, but was told to put them off outside the store, go back home, repair 6 dining room chairs and assemble two new ones. After that I could hoover the whole house and pick the three Ikeans up where I left them. I did all this with a broad, broad smile on my face. Anything but IKEA suits me mighty fine. I believe that at some time in my youth I had a vaccination against IKEA, and it still works, thank you God. The others did not get that vaccination and still have to suffer for it. They were two hours inside. How they could manage that I shall never know. And I am sure it is too late to vaccinate.
Friday, October 1st 2010: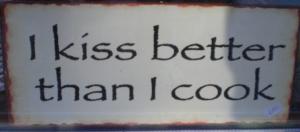 Many things have been said and written about me. Some true, and some untrue. But on one of our long shopping sprees I found a board that more than anything else gives a true statement about me.
But mind you, my cooking has always been miserable.
Thursday, September 30th 2010:
We went to Ebeltoft today with our English guests. A traditional visit for brunch at some of our friends' over there. We ate and ate, and then we had some more. After that Matron graciously had allowed me to bike home while the rest of them went browsing at Ikea, Bilka, and Bauhauss, not exactly my favourite way of spending my time.
On my ride I had a very rare experience. No matter what way I went and what direction I took the wind was from my back. So I shall never ever forget the 30th of September 2010. I am sure I shall not live to experience that once more, whereas the opposite is the norm. But God must have thought the world of me today.


Tuesday, September 29th 2010:
Today's trip with our English friends brought us to two smaller towns in northwest Jutland, Thyborøn and Lemvig. The keen reader will look them up on a map. Both towns are at the sea, so it was no wonder that we had our lunch at a fish restaurant. Later we visited a special house with sea shells all over it and painted in bright colours. At least it's good for a good laugh. Using my great technical knowledge I managed to take a photo of all the four of us in front of the house.
On our way home we all had a nice kip in the car. I was doing the driving so I didn't sleep quite as much as the others. But nearly.
Tuesday, September 28th 2010: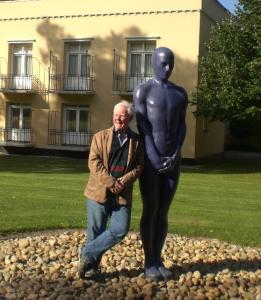 According to tradition we went to Silkeborg with our English friends. Among other places we visited the Sculpture Park which used to be a place for healing baths, later German Headquarter for all of Denmark during 2nd World War, then a sanatorium and now an art centre with plenty of sculptures. The one on the picture is brand new, made in honour of me. They knew I was coming. I do know that it looks as if it is I on the picture. But don't fool yourselves. It's a sculpture in bronze and other precious metals. But as opposed to the other half of the sculpture I kept my clothes on. Matron insisted that I did.
Monday, September 27th 2010: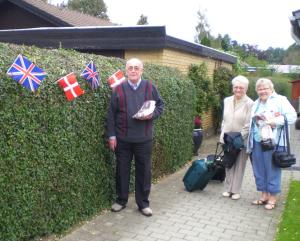 A yearly event happened today. Our English friends arrived to stay with us for a week. So what we may expect is a lot of talking, eating, drinking (in all modesty) and visiting places that we have visited many times before, in short a trip down Memory Lane - plus a new one. We have all reached the age when all changes - even for the better - are a nuisance.
Just in case, I can tell you that the flags with blue, red, and white are English flags, and the red and white ones are Danish flags.
Sunday, September 26th 2010:
Matron has been very strict today and kept me busy referring to what the blessed nurse said to her the other day about low physical activity. Our house is absolutely and totally clean. It seems that our English friends, who will visit us next week, will turn round on their heels and go back home if only there is a very small dust particle, not to mention a cobweb. I can assure you that neither can be found anywhere in our house. I thought we had finished cleaning yesterday, but I had another thought coming. So there hasn't been a quiet moment since I got out of bed this morning, and just now I am sitting totally exhausted in the sofa fearing the next command that may be hoovering our conservatory for the third time in two days.

Saturday, September 25th 2010:
Matron is a bit touchy these days. From Monday our English friends will come and stay with us for a week. And she believes that it is public demand that our house must be fully ship shape before their arrival. That means a lot of cleaning and hoovering, and since she keeps referring to what the nurse told her yesterday you will have no difficulties in guessing what that means for me. By tomorrow we shall have the cleanest house in Denmark.

Friday, September 24th 2010:
Matron has been at a plastic surgeon today. Not for a face lift, because that is not needed, since she more often than not raises her eyebrows towards me, and that small exercise makes wrinkles stay where they are and not sink to the lower parts of your face. No, she had to have a small sebaceous gland removed. All went well. However she brought back a piece of paper telling what she mustn't do the next couple of weeks. In the car she read it aloud to me. She ended by saying that besides lifting heavy obstacles, hoovering was out of the question. That made me want to see the paper. However that was not possible. Not till later in the day did she confess that hoovering was not on the list, but the nurse had said it. 'And then we don't talk more about that'.
So now it is I who will lift anything that is heavier that a pint of milk and do all the hoovering. And the scar is no bigger than a quarter of an inch.

Thursday, September 23rd 2010:
My dear wife and I had a very nice walk this morning with our two dogs in beautiful weather that indicated that it would be a pleasant day, which it did. On our way home I took the picture to the left. Normally I am no good taking photos that are supposed to show some kind of a sentiment or a feeling, but for once I think I was lucky. I like the picture myself, even if our power station is not the most beautiful sight in the world. But it has grown part of our landscape - a part, though, that we easily might have done without.
Wednesday, September 22nd 2010:
I had a fall on my bike today. Not a dramatic one, I more or less just keeled over and found myself lying on the asphalt - fortunately on a bicycle path. I did not injure myself, a small scratch on my knee and a smaller one on my elbow. But what was nice about it was that people at once came running to ask if I was alright. A nice, young lady smiled to me when I told her that I was alright. A kind gentleman jumped off his bike, threw it down, and came running to see if he could help. It is nice to know that there are people who care if you are in need. But I must have looked stupid rolling around with my bike on one of the most trafficed streets in Aarhus.
Tuesday, September 21st 2010: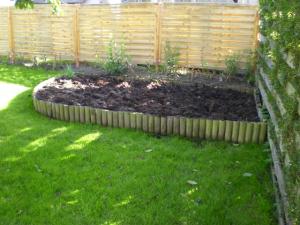 I have dug our potatoe field today, 4½ square meters, a hard job that requires muscle and stamina. Fortunately I have got both. This year the harvest was 30 potatoes, 7 per square meter, which is not quite enough for subsidies from the EU. That will come next year. Matron was pleased that I did it, and she hadn't even asked me to.
Life is full of surprises, isn't it?
Monday, September 20th 2010:
Of all the enormous amounts of information one gets through the years some of it is important and some is the opposite. Here's one of the important ones. A polar bear is left handed. And why is this important to know? Because you will be better prepared in case you have to fight one of them.
Sunday, September 19th 2010:

This morning Matron visited a local supermarket to buy various items that we couldn't possibly live without. I attended my duties at home painting our garden shed. My mobile rang. It was Matron who just wanted to tell me that together with our son and daughter-in-law she wanted to go to another supermarket a bit further away, in fact in Flensburg, Germany, and she would like to bring my Visa Card. What can one do and say in a situation like that? Nothing, as far as I know. So I have been completely on my own the whole day - and missed my Visa.
Saturday, September 18th 2010:

It's a funny old thing. Only a year ago at this time on a Saturday I would be trembling from nervousness about tomorrow's football game. Would they loose (which was most likely), or would they by any chance win? Today I don't even know if they are playing or not, not to mention against who - and where. Perhaps one day it will come back. Who knows? But right now my interest is no bigger than the amount of honey in a piss ant.
Friday, September 17th 2010:

You may remember that I recently was on holiday in former East Germany. So it was with interest the other day I listened to the radio when an older former East German gentleman was interviewed. When asked about how living in DDR was, he said (pardon the language),
'Everything in East Germany was shit, except for the beer. It was piss'
.
Thursday, September 16th 2010: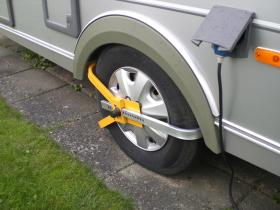 My goodness, it worked. After yesterday's many attempts to find a lock to secure our caravan, my 6th one succeeded. I managed to find a wheel clamp that could be used. After all the trouble yesterday I was exited when I put it on, and great was my surprise when realizing that it fitted. That saved my day - and yesterday.
Wednesday, September 15th 2010:

Two days ago our neighbour's motor boat standing on a trailer was stolen, probably in bright daylight. This made me look for some kind of a lock for our caravan. But that seems impossible to find. I have driven more than 225 miles in search for one - but in vain. Consequently I bought a wheel clamp. That will teach the stupid burglars.
Tuesday, September 14th 2010:

I went to have a check at my dentist's today. Fortunately no surprises, just a thorough cleaning. All was well, except the price. Nearly 60 pounds it cost me. One should have become a dentist, and one's fortune would have been secured.
I must remember to tell him that I do not accept sandals, because then he would also steel with his toes.
Monday, September 13th 2010:

I am proud of myself today. On this early date I reached my year target of 2.750 kilometers on my bike. Never before have I reached it so early, and that in spite of the fact that my season only started in March due to a long and cold winter. But do not think that I shall now park my bike in my shed. Not at all. There is a record to break. In 2008 I rode 3.249 kilometers, and I shall do my very best to pass that target before December 31st. That would make me extra proud. I like being proud.
Sunday, September 12th 2010:

How I love it. We had our whole family in for lunch today, all, except one grandchild. I shall sleep well tonight thinking of how much they all mean to me and how I appreciate what they tell me.
And tomorrow I shall hopefully be on my bike, weather permitting it.
Saturday, September 11th 2010:

This year's first shoot/retrieve is over. How nice it was to see old friends again, even if it meant listening to all the same old tales and stories as last year - and the year before, and the year before, etc. Some of us suffer from bad memory, due to age. We remember all the generals in the Boer War, but we do not remember what we had for breakfast.
Unfortunately it is now nearly 1½ months till next shoot.
Friday, September 10th 2010:

What importance is a pair of Wellies to a labrador retriever? Let me tell you.
I am going on my first retrieve this year tomorrow, a duck shoot. I have spent some time today making ready for it. Among other things I have put my Wellies into the car. This was immediately observed by our two dogs, and since then neither of them has left me. Whereever I go, they follow me. Just now - sitting by the computer - they are lying as close as they can to my chair looking forward till tomorrow. Well, I'm looking forward, too.
Thursday, September 9th 2010:

On our recent trip to Berlin I naturally brought my bike. We stayed at a place about 40 miles outside Berlin, an area that is very flat and really no challenge to a tough rider like myself. In fact I only found one hill, a bridge over a railway line. I got so pleased that after crossing it that I immediately went back and crossed it again looking cautiously around to see if anybody was watching me. I mean, it is former East Germany, and who knows if some STASI-informer was on the outlook for fools who crosses railway bridges twice in succession?
Wednesday, September 8th 2010:

Having just returned from a holiday in Berlin, I am once again ready. Since it is already rather late, and we have been on the road the whole day I will only write a small proverb that I saw in the German capitol,
'Working makes life sweet - only I don't like sugar'.

Sunday, August 29th 2010:

You will be very pleased to know that another big bike race started yesterday, La Vuelta in Spain. And again I shall be enjoying it. I am watching it right now, and I am impressed. They are racing in a sweltering heat, more than 40 degrees centigrades, in the mountains. I should have been out biking myself, but with only 15 degrees and some rain I preferred to watch the pros. I nod off in between. Great!
Saturday, August 28th 2010:

It's late, I'm a bit tired. It is near midnight. We have just come home from a very nice party among all our cousins. 22 of us met in Silkeborg and had a very nice meal and a lot of talking. We are going to meet next year again. But just now I am going to bed. Sleep well. Good night.
Friday, August 27th 2010:

I have hurt myself twice in two days by banging my head against a sharp corner of my shed roof. It really hurt and bled quite a bit. Matron kindly stopped the bleeding both times, but now I have two big wounds that surprisingly enough can easily be seen through my thick and curly hair. These two patches make a lot of people ask what happened. Among others our daughter and son. I told them that it was Matron who had hit me twice with a hammer. One of them told me to wear a crash helmet, the other suggested that we had a serious talk with Matron about it to stop her unnecessary violence.
Now. Who said what?
Thursday, August 26th 2010:

I should not deny that I chose it myself. I was not forced in any way. It was my own decission. I was at Bilka today, the second worst supermarket/store of them all (IKEA is worse). And Matron was not late in announcing that she wanted to come along, too. I had to buy another remote control for a TV-set that we bought there some years ago. And a purchase like that can only be dealt with buy a male. Never mind. To my horror the first thing I noticed was that the store had been extended. It is now quite a bit bigger, and I felt a shiver of impatience running down my spine right away. Buying the remote took 1½ minutes. We were in the shop nearly an hour. There were a few items (i.e. texstiles) that seemed to interest Matron a lot mor than the remote.
Wednesday, August 25th 2010:

I was up early to take youngest grandchild, who has slept with us, to school, I have mowed the lawn, I have painted a bit of our roof, I have helped our son-in-law putting up a door frame in our bedroom, and now I am sitting quietly next to Matron who for the third (or fourth) time is watching her favourite series 'Heart Beat'. She must know it by heart now - if you will pardon the expression. So it has been an eventful day that may end by me nodding of on the sofa in a not too far away future. And it is only 6.10 p.m.
Tuesday, August 24th 2010:

It's a good day. I have just been told by the editor that my book certainly will be sent out. Now it is just a question of time, when I can finish proof reading of the draft that I recieved the other day, and when the printers can get time to start printing. It will be great when I hold the first copy in my hands. More than 3½ years' work will come to an end.
Monday, August 23rd 2010:

Operation 'Painting' is over. In Matron's absence I finished the job, called our good neighbour and together we enjoyed a garden beer sitting comfortably in two chairs on the grass looking at the result of my work. To my horror I suddenly saw that I had missed something. The lowest part, right at the ground, hadn't had any painting. It will not be done today. My body and soul were set on being through with it. Nevertheless I hope for a couple of rest days, but I haven't asked the proper authorities yet.
Sunday, August 22nd 2010: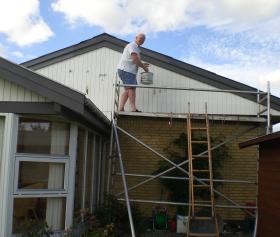 I have been forgiven, rehabilitated, and accepted. Unfortunately.
I have been allowed to paint again and forced to enter a 2-3 meter high scaffold to paint our house. I did stain quite a bit, but Matron did not comment on it. Perhaps she is even pleased with the result, even if I am sure that our son, the painter, might have a few words to say about it.
But I did my very best under very dangerous circumstances.
Saturday, August 21st 2010:

I read today that if you want to go to the planet Pluto by car it will take you 4.901 years in a Porsche and 8.600 years in a Skoda. That's deficient information. I need to know how long time it takes in a Toyota, since that is my car. It would be nice to know if you have to get up early if you want to reach your destination in good time.
Friday, August 20th 2010:

I have only rarely - if ever - been accused of being a dandy. I don't think of what clothes I am wearing, which means that Matrton quite often gets annoyed with me and asks me to change. I am telling you this because I happened to read that Daniel Craig (007) in "Casino Royale" wears a toxedo from "Brioni". Price: 100.000 $. That's a lot more money than I shall spend through my whole life on clothes. And that's why I never bought a toxedo.
Thursday, August 19th 2010:

For the first time for years and years we have grown potatoes in our garden. We expected a big harvest, so that even export could be an option. Today Matron took up the first 3 plants. She got 6 potatoes all in all. So unfortunately we cannot contribute to our country's currency balance in 2010. But we shall not give up. We shall be back next year - perhaps with another sort of potatoes. And maybe we can be subsidized by the EU. A lot of Danish farmers are.
Wednesday, August 18th 2010:

Unfortunately no garden work today either. It has rained more or less all day, and the weather has confined me to indoor activities. So I sat down and invented a TV aerial for our conservatory. And heureka. I succeeded. And it was made from various wires and gadgets that I already had. So it was costless. I may have a future as an inventor.
Tuesday, August 17th 2010:

We have had a terrible lot of rain in Denmark the latest couple of days, yesterday plenty of floodings in the eastern part of the country, and today it has been our turn. It has rained heavily since midday which has kept me away from doing interesting things like garden work, much to Matron's annoyance. But really she is a wonderful woman who loves me - and loves making me sweat for her.
Monday, August 16th 2010:

Recovering today from a tough bike ride yesterday I happened to find some kind of a slogan that I shall think of whenever climbing the many hills and mountains around here. I know the pain it costs, the sore muscles. It hurts all over. I can hardly walk afterwards. From now on - when pain shows its ugly face - I shall say to myself,
'Pain is temporary. Pride is forever'.

Sunday, August 15th 2010:

When I was a lot younger I once was given the opportunity of a teaching job just outside New York. I really thought about it, but in the end I did not take it. Later, though, I started reconsidering and began looking for another job over there, but never found it. Years passed, and I didn't think of it, till recently when I thought that an immigration to USA might be interesting. After some research, however, I have given it up. I found out that in Arizona you are not allowed to shoot camels, and that was exactly where I intended to live.
Saturday, August 14th 2010:

My dear wife has just been picked up by our youngest daughter. They are going to visit a big shopping centre in Aarhus. I am not totally convinced that this visit will do my nerves any good. I did hide my Visa Card before she left only to realize that not long ago she got her own. The next couple of hours will be very long hours, and on Monday we shall receive a letter from our bank that something is wrong. Their computer system broke down Saturday afternoon due to a heavy overdraught on an account belonging to a certain Else Rasmussen. They will also ask questions about what we intend to do about that. I shall have only one answer, 'Never heard of her'!
Friday, August 13th 2010:

Today it is exactly 5 years since my lovely wife stopped smoking. Even if it was some minor heart problems that persuaded her I remember being very proud of her. She really, really enjoyed smoking. As an extra bonus it also made me stop (23 days later) which also pleased me. Of course it meant saving some money on cigarettes, but at the same time also an increased amount of money was spent on food and sweets. But all in all being a non-smoker is nicer that being a smoker.
We have "allowed" each other that we may start again when we are 75, but I am not even sure that we will.
Thursday, August 12th 2010:

In Denmark - I believe like in many other countries - you must have a check at your GP when you are getting near your 70th birthday, and you want to keep your driver's license. I do think that the idea is fair enough. Too many elderly perople cause problems in their cars. But that I have to pay 60-65 pounds for the check is ridiculous. To me it is just an extra tax on old people. I was happy yesterday when my doctor had no objections to me having my license renewed, but I was not happy letting go of the money.
Wednesday, August 11th 2010:

I used to enjoy a glass of redwine with a good meal - not so much any more. I think it upsets my stomach and I feel a little unwell. So now it is rare that I drink redwine or wine at all. For that reason I was surprised today to read that Denmark is the country in the world where families most often will buy a bottle of wine. 93 % of all Danish families do it on a regular basis, the highest percentage of all.
France is number two with 85 %. Boozers, they are.
Tuesday, August 10th 2010:

There was as expected no bike ride today. I had to recover from yesterday. So I planned for a quiet day in the beautiful weather, sitting in the shade with a cold drink and perhaps - if need be -some very light garden work. I had another think coming. Matron ordered me to mow the lawn since we expected a short visit by my brother. I flatly refused - and mowed the lawn. And my brother wouldn't have noticed the beautifully mowed lawn, if we hadn't told him about it.
Monday, August 9th 2010:

Some rides on a bike may be tough, because there is a strong headwind, and the temperature isn't pleasant. Others because you ride in a very hilly area. Others again because it rains. But when all these 4 nuisances are combined like they were today, you really have asked for trouble. Under such hard circumstances I rode 55 miles to say hello to eldest son Peter in his new house at a village named Hammel. It was not only very hard, it was very, very hard, and the last 10-12 miles were pure survival. I have never ever felt so tired after a bike ride, like I did today. No bike rides tomorrow - rest day.
Sunday, August 8th 2010: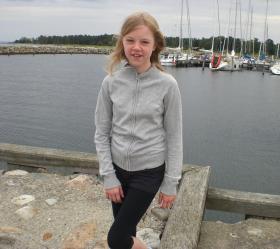 Nearly whenever youngest grandchild, Cecilie, is here it is a tradition that she and I bike to our local yacht harbour and buy ourselves the best and biggest icecream we can possibly get. After that we venture on to the lighthouse and to one of the quays to watch the boats and talk to whoever has the time to talk to us. Today an elderly gentleman told us about ships' names and registrations. Very interesting. After having looked at the yachts we bike back home and tell Grandma how nice an icecream we have had. I love traditions, especially when icecream is involved.
Saturday, August 7th 2010:

For the first time ever I have knowingly had chilli - even for lunch. I happened to see a tin of chilli beans at the supermarket and thought to myself that one cannot go through life without ever tasting chilli. So I bought a tin and had it with a bit of pasta. I liked the taste of it. But Ii did burn - quite a bit in fact, however not all that bad. It is no wonder that chilli burns, since it contains capsaicin, a spice that makes your brain think that you are on fire. This was exactly what my brain thought - on behalf of my tongue.
Friday, August 6th 2010:

Eldest grandchild went to a big and famous music festival last night. Her favourite band plus several more were on stage. The event was at Skanderborg, some 35 miles from her home. Mummy had promised to pick her up after the concerts and duly did so. Just she hadn't expected it to be at 3 o'clock in the morning - but it was. Today Mummy complained a bit of the late time that she went to bed, and I thought to myself,
'Well, darling. Do you remember the innumerous late nights when I picked you up at various adresses in Aarhus and elsewhere when you were younger? You never mentioned anything to me about me having to go to bed late in the night and rising early to go to work'.
Life just goes in circles.
Thursday, August 5th 2010:

Unfortunately technical problems have delayed my diary today. I know this is very disappointing, but I cannot help it. I am writing this at eldest daughter, but Matron has just announced that we are going home now, so I shall just briefly tell, that I haven't been out biking today. Somebody thought that garden work would be a lot better for me. So that is what I have done.
Wednesday, August 4th 2010:

It has been a testing day. With eldest son I conquered one of the toughest hills in Denmark on my trusty bike. This hill will be part of "Tour of Denmark", an international and professional bike race that in fact started today and lasts till Sunday. Friday one of the challenges for the riders will be the very hill (mountain) that we climbed today. It ascends with an average of 9,7 %, which even to a pro is quite a bit. My challenge was more one of survival and was made worse when my mobile rang right at the middle of the climb. Of course I answered it, which no Tour de France rider would have done. Having reached the peak I very much felt like dancing around, arms high, and all that. But for some reason I wasn't able to any of it. As you can see on the picture, all I was able to do was holding on to my bike.

Tuesday, August 3rd 2010:

Another day in Silkeborg. This time in car with two eldest grandchildren. We wanted them to see the river, and since we were very lucky with the weather it was a beautiful tour in one of the very nice little boats. I am also sure that the youngsters enjoyed listening to grandma's and grandpa's stories about events that they have had there. After the boat trip we had a walk round the town and ended with a late lunch at Sunset Boulevard, which is new to me, but highly recommended by our grandchildren. I expected it to be like McDonald's. But not at all. Not only were the burgers better but also healthier, even the chips. So McDonald's is out for me. From now it is Sunset Boulevard. You do learn a lot when you take your grandchildren for lunch.
Monday, August 2nd 2010:

I biked to Silkeborg today, most of the way with my brother. It's about 70 kilometers, about 45 miles. I went there for a meeting to plan a family-get-together later this month. After the very nice meeting we made ready to bike back, another 45 miles for me. Unfortunately we were told that the weather in Aarhus was very bad with lots of rain and wind, so we caught a train instead. Left for me then was only the 13 miles from the railwaystation to our house - in fact in nice weather. So all in all I biked 58 miles, but it should have been 90 miles. What a shame!
Sunday, August 1st 2010:

If your memory serves you well (otherwise have a quick look at July 3rd this year) you will remember that Matron and I had to break off our summer holiday early in July due to serious TV-problems, couldn't watch Tour de France. We have just come home from the continuation of this cancelled holiday. We spent a wonderful week in North Jutland. We couldn't watch the Tour de France there, either, mainly because it finished the day before we took off.
The two pictures above were taken at one of the innumerous occasions when I invited Matron for lunch.
Sunday, July 25th 2010:

Right now I am watching the last stage of the Tour de France. As you may have noticed I haven't taken part in the race myself due to some problems about the number I should wear on my shirt. I am a bit disappointed about that, but then again, had I been I could not have built my garden fence or cared about my potatoes. But next year I shall be in, and I shall persuade Matron to look after the garden.
Saturday, July 24th 2010:

Sometimes one starts wondering about the strangest things. My latest is 'left- and righthanded people'. I know that 10% of all men in the world are lefthanded and only 8% of all women. I would like to know why there is a difference at all. But statistics show this quite clearly. Plese, somebody, give the reason.
Furthermore I have my own theory that there are more lefthanded people in England than in Denmark. I have no statistic to substantiate this, it is just a private observation through many years. I suggest that one of you British lot counts all the lefthanded people in England, and I shall ask Matron to count the Danish counterparts - and then we shall compare.
Friday, July 23rd 2010:

One thing is mowing our lawn in sweltering heat (lasts one hour), another is riding 40 miles in sweltering heat (lasts three hours). I did both today, and which of the two do you think I prefer? Probably not too difficult to answer that question.
On my ride I saw this unfortunate parking of a car. As far as I could see the tyres were too flat, so it will be a very expensive parking.
Thursday, July 22nd 2010:

I accompanied my lovely wife to her heart specialist today. We were a bit apprehensive about it, but fortunately there was no reason for that. A few changes in medication was all. So no problems. There was a disappointment, though. A new pill that the doctor mentioned at our previous visit has turned out to be not at all as good as expected - and not only that - it would have been terribly expensive. As the doctor said to Else,
'These pills will help you less, but to a much higher price. So, let us forget them'.

PS: Right now I am watching the all decisive stage in th Tour. Very exciting. I only doze off very rarely.
Wednesday, July 21st 2010:

It is hot here, very hot. I remember my complaints last winter when it was bitterly cold, and I regret them. I wouldn't mind just a single day with frost and wind. That excepted I am an easy man, easy to satisfy and always ready to accept things as they come. But I hate temperatures over 23 centigrades, it makes me absolutely mad, and I hate cold winterdays. But apart from that I am an easy man. I also hate rain and snow and storms, and I don't like our prime minister and his government or our local town council. Apart from that I am an easy man, easy to please.
Tuesday, July 20th 2010:

Yesterday Santas from all over the world gathered in Copenhagen for their yearly congress. Also a number of reindeer were there. One of the main items was to decide from where Santa Claus really comes. Two countries were in question, Finland and Greenland. There was a clear majority for the latter, perhaps caused by he fact that Santas from Finland were not represented. It was also agreed that Christmas is 24th of December even if some voted for 25th, and the Russian representatives were adament that it should be 6th of January. In spite of disagrements it all ended in a good spirit, and a number of Christmas beers sealed decisions. Merry Christmas!


Monday, July 19th 2010:

As described on Friday 16th of this month Matron's ban on my using paint and brushes has been lifted, and already today she found it opportune to let me enjoy the pleasures of painting. I dared not tell her that perhaps I wouldn't enjoy it as much as she thought. So I bravely started and of course had to climb the tall ladder. (Un)fortunately I happened to stain a few places and that might help reinforcing the ban. I can only hope. After the end of today's work she forced me to bike to Ebeltoft. Lovely.
Sunday, July 18th 2010:

I was rather worried this morning when I entered a ladder and climbed up to correct the TV-aerial on our caravan. It had to be turned from vertical to horizontal. I had prepared myself with quite a bit of various tools not knowing the exact extend of the job, but I feared the worst. My experiences with technical jobs like this one are not positive. Having reached the top of the ladder I took a quick look at the "thing", grabbed it and turned it the 90 degrees needed. It all took under 5 seconds using no tools. My beforehand worries were quite unnecessesary - fortunately.
Saturday, July 17th 2010:

Today has been a day exactly to my taste. First about 50 miles on my own bike, my private stage in our local mountains and then 130 miles on TV watching "Le Tour" from the edge of some minor mountains, the Pyrenees on the border between Spain and France. I much prefer our own mountains since the temperature here is more human.
Friday, July 16th 2010:

I did keep out of Matron's sight yesterday and had a quiet and peaceful afternoon watching "Le Tour". Appreciating this and without being told I bravely started preparing our conservatory for paint. And in fact I finished the job in very warm weather and thought that that was it. It wasn't. Being sure that I was still banned using brush and paint I made ready for some relaxing hours in front of our TV. But out of the blue Matron announced that the ban was lifted, so now some more hard work is waiting for me. I may be allowed to wait, though, till temperatures are more down.
Thursday, July 15th 2010:

On this hot and humid day my plans for activities are zero. And since it rains in between Matron may have accepted, that the job of getting our conservatory ready for outside painting is postponed. That is very good news, and I can fully concentrate on Tour de France on TV. That will also be easy since it is a flat (and maybe dull) stage. I know that I am a bit early writing today (it is only about 1.45 p.m.), so Matron may think of something else for me, but I shall do my absolutely best to avoid her till supper. If she doesn't see me she may not think of various jobs for me.
Wednesday, July 14th 2010: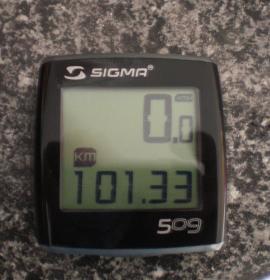 New year record on my bike, 101,33 kilometers = 63,3 miles in hilly and hot conditions. I have only got one comment: OUCH!
Tuesday, July 13th 2010:

I have been watching today's stage at the Tour de France on TV, a mountain stage that really tired me out. I climbed two high mountains and two very high mountains. I am totally exhausted and maybe too tired for another stage tomorrow. But I shall do my very best to be ready. Perhaps I have to contact my EPO dealer for new supplies. I'm a bit short just now.
Monday, July 12th 2010:

There is no point in hiding it. Just as much as I hate a cold winter I cannot stand a hot summer like we are having these days. You cannot move without sweat running down your body, and you need a shower every hour. I wasn't created for the temperatures we have now. If I were I would have had another colour of my skin.
Sunday, July 11th 2010:

Just for the ride I biked to a very popular beach this morning in high temperatures, but worst of all in high humidity. At the beach I could not help noticing how many poor people were gathered there. Only very few of them had been able to afford clothes. And what they had been able to buy was only very small. Quite a few of the young girls couldn't even afford a bra. With so many poor people at one place I am sure that it was some kind of arrangement established by our social welfare system. But I think that they should rather have bought some clothes for all those poor people.
Saturday, July 10th 2010:

Today under very hot conditions I have finished my garden fence, even if I have heard that you should not work in such temperatures, especially should elderly people take care. I must try and remember that when I get old.
Friday, July 9th 2010:

My sleep came to an abrubt end this morning thanks to Matron's clear command,
'If you intend to have the lawn mowed before it gets very hot, it is up now'
. The point was that I had no such intensions at all, no matter how hot it might be. But under Matron's discreet and silent pressure I quickly did have the intensions. And now our lawn is nice and short.
Thursday, July 8th 2010: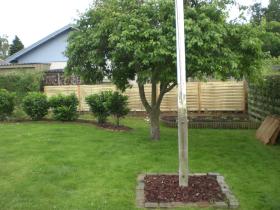 You will no doubt be just as pleased as I am that my garden project in our back garden that I mentioned two days ago now is finished. I have put up a new fence. Only a few details are missing, but since they are difficult to see I shall not set a date for completing the whole thing. But Matron might.
Wednesday, July 7th 2010:

In my first attempt I broke this year's distance record (bike) today. I rode 93 kilometers (57,8 miles) in beautiful sunshine, but in a fresh wind, head wind out and back wind home. Coming back I told Matron how much and where it hurt. And it really hurt, not least where saddle meets body. Her only comment was, 'Masochist'.
On my way I had a rest in a village, suitably just outside an old people's rest home. And I surely needed the rest, probably more than the old people inside.
Tuesday, July 6th 2010:

I went to the DIY-market today to buy 6 posts for a new fence. I was served by a tired young man. I wasn't even sure at all that he was awake. With a tired look he listened to what I wanted, and slowly he began operating his computer to find sizes and prices. Now I was convinced that he had fallen asleep. He didn't speak and didn't look up. I asked him a question about lengths, and slowly he raised his head. And then, very suddenly, he seemed to wake up and became quite alert - and very helpful. Within a moment he understood what I wanted. He rose from his comfortable chair and nearly ran into the shop to find the brackets that I needed, and very politely he wanted to make absolutely sure that I understood where to pick up the posts, and he talked and talked. I wonder what happened and what made him change so dramatically. I couldn't see his boss - whom I know - around. Perhaps his inner alarm clock had awakened the young man.
Monday, July 5th 2010:

I did not sleep well last night thinking of what might happen during the morning. As feared and expected Matron and I visited a couple of caravan dealers looking for another caravan. We did find one that seemed interesting, but for some unknown reason Matron changed her mind in the car on our way home and declared that after all she did not want to have another caravan - at least not now. So, now I may be able to sleep better for some nights.
Sunday, July 4th 2010:

Well, here I am, sitting comfortably in front of our TV watching the Tour. Even if it is a flat and rather eventless stage that will end with a mass finish, it is very nice being in the Tour again. I do take a small kip in between, but that's just part of the entertainment.
PS: This morning Matron announced that she wants another caravan, so my private tour stage on my own bike tomorrow will be exchanged with visits to 4-5 caravan dealers.
If Matron gets what she wants - which she normally does - it will be our 8th caravan in 20 years.
Saturday, July 3rd 2010:

I shouldn't write this. I should be on holiday in our caravan for nearly the next fortnight. But it was only two days. The reason? Our TV-aerial did not work and neither of us could live for two weeks without The Tour de France. So our holiday is cancelled till better aerial is fixed.
Wednesday, June 30th 2010:

The more observant of you will have noticed that today is the last day of June. When I was still at my school that was just about the day that I always started my 4 weeks' summer holiday. So it is a day to remember. Just for the sake of it I have decided that from tomorrow my holiday will start just like when I was active. I am excited to find out whether I shall feel any difference between today and tomorrow.
Tuesday, June 29th 2010:

Only 4 days to the start of Tour de France. I thought it was 11, so I panicked as bit when I reralized the facts this morning. I am not quite as fit as I would like to be. So I jumped on my trusty bike and rode a stage against the clock to Aarhus and back. And I did well. My average speed was the best this season, nearly 21 kilometers per hour (about 14 miles). So I should be ready. You can easily recognize me on TV. I shall be wearing a yellow safety vest.
Monday, June 28th 2010:

I sometimes read various statistics with a certain interest, even if they are without any relevans. I don't know how relevant the following is. According to a statistic, which I found today, I will as a 70-year-old (which I shall be quite soon) have eaten 50 different insects and 10 spiders - in my sleep. And since I sleep more than many others I may have eaten even more. No wonder I never eat a lot at breakfast.
Sunday, June 27th 2010:

Right now I am watching Germany vs. England, and it is not going England's way. They have just been robbed a goal. What does that linesman think of - and the referee? The whole world saw the ball in long time before the replay. But still England are one goal down, and I hope that Mr. Capello does not regrat that he hasn't contacted me about the "stuff" that I could have delivered, and that could have brought the English players right on top. I sincerely hope they will win.
Saturday, June 26th 2010:

One advantage about garden work is that you might get aquainted with one of the little birds living there. For the latest two days I have been visited by my little friend that you can see on the picture. It is not frightened at all, runs round between my feet, and yesterday it sat on my garden gate as I opened and shut it. I think it enjoyed its little ride. But it's a pretty little thing, some kind of a sparrow I believe. I know only little about birds, but sometimes I like watching them.
Friday, June 25th 2010:

This morning I was told that Denmark left of the World Cup last night. I was not surprised, but after all a bit disappointed. From now my full support (for what it is worth) will be with England. I hope they will go the whole way. But I am a little apprehensive about it. The players look tired. So I think that Capello (whom I know since he sat next to me on a flight from Manchester to London in 1996) should contact me, and I shall send him some of the "stuff" that I take on my long bike rides. It is sure to remove any tiredness they might have, and the world will see England prevail.
Thursday, June 24th 2010:

I rode about 40 miles on my trusty bike today. Perhaps that is not very interesting. What to me seems a bit strange, though, was that those 40 miles hurt a lot more than the record breaking 54 miles I rode some time ago on 14th June. Especially my right shoulder was bad, like somebody had hammered a nail into it. But I am not going to mention this to my family. They would not refrain from a multitude of comments of which "cry face" will be the mildest of them.
Wednesday, June 23rd 2010:

It seems that London, Redhill, and Sth. Godstone are becoming my family's back garden. More or less there are members of the family over there all the time. From tomorrow and till Monday our daughter and eldest grandchild will be powershopping in London and staying in Redhill at the same hotel that we always use. They must know us by now, but not well enough to ask us to find another hotel. And that's good.
Tuesday, June 22nd 2010:

It has been the shortest night of the year. After a night like that one jumps out of bed at sunrise, mounts one's bike and rides 45 miles in the surrounding landscape. Not me. No matter the length of the night I want my morning sleep. So I set out at 10.30.
Monday, June 21st 2010:

Matron was without mercy when today she left a note for me telling me what to do while she was at work. It was a revenge from yesterday when I dared a small protest against her notes. So she made me work hard, unnecessarily hard. My strength left me before I had finished all her orders, and I think she found that a bit suspicious. It all makes me think of a concentration camp. But mind you. I still love the commander.
Sunday, June 20th 2010:

Matron went to a market this morning in order to buy something absolutely indispensable. For a long time she thought what that might be and eventually decided on plates for our caravan. So she bought 12 of them. Now we have 48 and probably cannot do without just a single of them.
Saturday, June 19th 2010:

I sat down last night, fully intended on watching my first full game from SA, England vs. Algeria. I did watch it all, but I wish I hadn't. It is said that football was born in England, but it seems to have left the country again
Friday, June 18th 2010:

Sometimes I wish that it was I who wrote some of the clever sentences that have been written through history. One of them goes as follows: '
When you have eliminated the impossible, whatever remains, however improbable, must be the truth'.
I found the sentence without knowing who said it, and I started guessing. People like Stephen Hawking, James Joyce and others were in my mind. But wrong. It was Sir Arthus Conan Doyle. I wasn't even surprised when I eventually found out.
Thursday, June 17th 2010:

Vuvuzela-horns should be banned. I don't see a lot of football from the World Cup, but the little I see is ruined by the irritating noise of something like a billion wasps or bees. Where is the singing, the applause or the sound of 40.000 voices? They are gone. All is spoiled by the vuvuzuelas. It's a nuisance that makes me turn off the football. I am looking forward to the Tour de France.
Wednesday, June 16th 2010:

Another lucky day. Another couple of friends invited to lunch in their lovely house at Ebeltoft. I love these invitations. Whom will it be tomorrow? I shall patiently sit waiting at the telephone. Today's transport was for me on my bike. Matron came somewhat later in our car. She thinks it's a bit posh to be the last one to arrive.
Tuesday, June 15th 2010:

Today we were lucky enough to be invited to lunch in the most beautiful summer house with a fantastic view over the Aarhus Bay. Not only the view was great, also the food and drinks were top, nice and cold in the bright summer weather. It has been a great day.
Monday, June 14th 2010:

Yes, I did it. I broke this year's bike record by riding 87,14 kilometers, which equals 54,13 miles. I knew I could do it if only I didn't have a puncture - and I didn't. It may surprise you to know that I rode while Denmark played its first World Cup game against Holland, and I did not know the result till I came home at 6.45 p.m. I much prefer biking to football.
Documentation for my record can be seen on the picture even if it is a bit blurred.
Riding 54 miles is hard to an old man, and it hurts. But just now I feel very well indeed - besides of the pride of breaking the record. Long live long bike rides.
Sunday, June 13th 2010: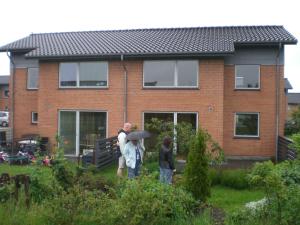 Some time this summer our eldest son and his girlfriend will move into a house some 20 miles from here. Matron, who can be vaguely seen under the umbrella, and I, were invited to see the new 'quarters', and we liked it. We are now looking very much forward to the house-warming-party.
PS: I did watch a bit more than expected of yesterday's game vs. USA, the first and last 15 minutes. I was not amused by the latter.
Saturday, June 12th 2010:

Till now I haven't seen any football from SA. But I have decided that tonight I am going to watch England vs. USA, at least the last 15 minutes or so. I am sure that England will win so there is no need to see the whole game. I am much more interested in bike races. Just now, this very moment, I am watching the
'Dauphine Libere'
, one of the mountain stages. It is very good, and I am afraid that I think it is a lot more interesting than football.
Friday, June 11th 2010:

You will be very interested to know that today is exactly 501 years since Henry VIII married for the first time out of six. The unlucky bride was Catahrine of Aragon. Five more followed. All in all he was later described as lustful, egotistical, deceitful, opinionated, and insecure. Interesting chap!
Thursday, June 10th 2010:

With the kind of weather we are having for the time being, rain, rain, and rain, there are no chances of outdoor activities. Therefor it was good that I had some writing to do, the final corrections on my book. I haven't worked on it for a very long time, so it was very nice to see and read it again. As far as I know just now I only need to talk to the printer about the pictures - and then........ The book will come out.
Wednesday, June 9th 2010:

Our son and son-in-law have been lecturing me about bringing the necessary tools to mend a puncture when I am out biking. I never did. In fact they both mocked me about it. Consequently it made me rather happy when eldest son today phoned and asked if I could pick him up and bring him home, since he had had a puncture and couldn't do anything about it because he had no tools. It saved my day.
Tuesday, June 8th 2010:

Another unlucky day, another puncture like last Saturday. Why is it that punctures that have been so rare to me suddenly strike twice within 4 days? I don't know. But to avoid further mishaps I immediately bought extra strong tyres. If you happen to think that it is my weight that provokes the punctures I must tell you that I have lost quite a few stone, also because having a puncture means walking quite a bit.
Monday, June 7th 2010:

The Scots will not be pleased with the Austrian archaeologists who claim that the kilt originally is Austrian. True or false it has meant that quite a few Austrians now wear a kilt. Perhaps we shall soon see Scots wearing 'lederhosen' and speaking a funny German.
Sunday, June 6th 2010:

Matron wanted one of our rhododrendrons moved today. And as usual I was the victim of her wishes. I dug an enormous hole in our front garden - pure clay. Consequently I can hardly move and will probably need a lot of help to get into my bed later tonight.
Probably I might as well stay up all night.
Saturday, June 5th 2010:

Look at a humiliating sight. My bike on a train. I had no option since I had a puncture and nobody could pick me up. It all happened in my efforts to break this year's record by riding 80 kilometers. The puncture came after 62. It has not been a good day, but I shall very soon try to break the record again.
Friday, June 4th 2010:

Matron was in a good mood today and joined me working in the garden. As usual she brought our wireless phone and put it on the roof of our car. She forgot it and did not remember it till I - on our way to the supermarket - noticed that something fell off the car. She was very quick to say that it was the telephone. It did not look too healthy when eventually we found it in the grass at the roadside. Matron was not pleased with her fault. I had to comfort her by reminding that it once happened to me. I forgot a pair of clocks on the roof. Only they were easier to find. I am size 11.
Thursday, June 3rd 2010:

Last night I spoke to my English friend, David, who is more than keen on football - to put it mildly. He told me how much he was looking forward to the football World Cup in South Africa later this month. It struck me how little that event will interest me. I don't even know when it will start and finish. I don't know what teams are in our group and even less about when they are going to play. Had this been only 4 years ago I would have known everything. No, football is not very interesting to me. I much prefer cricket.
Wednesday, June 2nd 2010;

This morning I helped eldest granddaughter prepare for her oral exam in English which took place at 1 p.m. And either I must be a d..... good teacher or she is a d..... clever student. I don't know. But she passed with the highest possible mark. We all felt great when we heard about it.
Tuesday, June 1st 2010:

For the first time this year I rode in shorts and T-shirt on my nearly daily bike ride. This was a good opportunity to have some sun on my very winter pale legs and arms. But never mind. I rode in an area where the chance of being recognized was only very small.
All in all it was a wonderful ride in bright sunshine and temperatures of more than 20 degrees. It felt like summer.
Monday, May 31st 2010:

Every morning when Matron leaves for work there is a list waiting for me on the kitchen table telling me of jobs that I must do during the day. I never had the courage to protest against it until today when I thought that there were a few items that would be too tough. Consequently I WROTE a protest note telling that if it pleased Matron she might perhaps agree that today's list was a bit on the hard side. So perhaps - if it wasn't too much to ask - she might consider leaving out a few points in the future. Exitedly I awaited a reaction when she came home, but nothing happened. When cautiously I asked what she thought about my note, she just gave me a wry smile and said that she would prefer to think that I hadn't written it.
Sunday, May 30th 2010:

I panicked yesterday morning when I woke up and found out, that my VISA card was removed from my wallet, and Matron had gone shopping. I feared that she had taken it for her spree but also hoped that somebody had stolen it from me. Even the worst burglar would spend less money than Matron.
Saturday, May 29th 2010:

I am sitting in front of our TV watching the bike race 'Tour of Italy'. Just now the riders are on their way up a high mountain, and I can see they are suffering. Since I have just come home from a hard day on my bike, I know exactly how they feel. If it is anything like the way I felt, it must be extremely hard. It hurts just watching them. But I shall not give up. I shall sit right here to the very end of today's stage, drinking my tea and eating my biscuits.
Friday, May 28th 2010:

As you may know I am not keen on garden jobs. Today Matron expected me to move 5 boxwoods from one bed to another. I was not pleased. Fortunately our youngest daughter happened to look in, and she did not hesitate She moved the 5 plants in no time, and so saved me from a lot of digging. I love being saved from digging. I know very little better than that. And look at the beautiful end result.
Thursday, May 27th 2010:

I have always wanted to know what happens inside an athlete who has a crisis during for example a bike race or a marathon. Today I found out. On my bike ride of about 50 miles I 'hit the wall' after about 40. And it was not nice at all. Not only did I have to fight fatigue, but also I became irritated over little things like small stones on the road, other people, or the colour of a house. I nearly gave up to call Matron and ask her to pick me up in our car. But pride (and a bit of will) prevented this and after another 3-4 miles I was OK again. It has been a great day.
Wednesday, May 26th 2010:

I was nearly run down by a car today on my bike ride (35 miles). The ugly bastard turned right just in front of me and nearly knocked me off my bike. I shouted some foul words at him so loudly that I am sure he heard it. The last two words especially were not nice. And here I rode in my yellow vest clearly for everyone to see and to no use. I was really mad. But I am glad he didn't stop. He looked like a body builder type.
Tuesday, May 25th 2010:

I went to the chemist's today for some tablets. When it was my turn I couldn't help lowering my voice and ask the lady behind the counter if I could buy some EPO from her, since I was very keen on biking. She shook her head, looked a bit angrily at me and was just going to say something, when she suddenly realized that I was just joking. Perhaps she was less convinced that it was a joke when my son, who stood behind me, said to me that this was not the place where I usually bought my EPO.
Monday, May 24th 2010:

We have been away for 5 days with some of our friends. We were 10 in all in 5 caravans, a traditional Whitsun meeting which has taken place for many years. Since this year's target was Silkeborg we naturally paid a visit to "Himmelbjerget", one of the highest spots in Denmark, 147 meters over sea level. Quite impressive, especially among people from Switzerland. We were all photographed there by a friendly fellow tourist.
It's me posing as 'The Little Mermaid' in front.
Wednesday, May 19th 2010:

Isn't it just wonderful? I am sitting in our garden in 25 degrees enjoying the sun giving my winterpale legs a bit of a tan. Just a few days ago the temperature was 7-9 degrees in the afternoon. But now it is nice and warm. I have just finished mowing our lawn and been permitted a small break untill Matron thinks of something else for me to do. I still love her.
Tuesday, May 18th 2010:

I had promised myself not to mention it. But since in the past I used to write quite a bit about it, I think I'd better tell that my football team was relegated last Sunday. Fortunately I haven seen one of their games since October, so I haven't been very keen anyway. But now they are 1st division, and it will probably be along, long time till I am going to watch a game again.
Monday, May 17th 2010:

After this morning having watched my recording of the 20-20 World Cup final between England and Australia with an emphatic win to my favourites England who really deserved to win, I happily jumped on my bike and broke this year's record by riding 47 miles in a strong wind but with nice sunshine. It's interesting what a win can do to you. Well done, England.
Sunday, May 16th 2010:

Now and then I happen to watch "The Office" on BBC. I am not too keen on it, but when there is nothing better - what can one do? Well. more often than not I turn it off. I find it boring. So it was a great surprise to read that in England more people can quote David Brent's lines than they can quote William Shakespeare's. And I am sure that "The Office" is not taught in schools.
Saturday, May 15th 2010:

Unfortunately - or fortunately, if you like - the weather kept dry all morning, so Matron's command og mowing the lawn was obeyed. What else? There were no alternatives. But no sooner had I finished than it started raining. How unlucky can one be?
Friday, May 14th 2010:

I had great plans for tomorrow, mowing the lawn and doing other odd jobs in the garden. Unfortunately weather will prvent me from any work outdoors. We have been promised rain the whole day. How unlucky can one be?
Thursday, May 13th 2010:

Fortunately and in spite of the bitterly cold weather I have been much more active today than I was yesterday. I biked 30 miles in a very hilly area. Some of the worst around here. Also Matron had some wishes (i.e. orders) about cleaning and sweeping our yard and entrance. Of course this was done before the bike ride. One must have one's priorities in order.
Wednesday, May 12th 2010:

Due to rain and a cold wind it has been my laziest day for a very long time. I have done nothing but watching 20-20 cricket and a bit of Giro d.Italia on TV. But tomorrow will be different, weather permitting. I do not like days with no activity. They don't even make me relax.
Tuesday May 11th 2010:

This morning our eldest grandchild arrived rather early because she wanted her granddad to help her prepare for a written exam (computer) in biology to take place at 11.30 today. I know that biology is not my strongest subject, but somehow I managed to answer all her questions even if I found some of them on Wikipedia. And either I was lucky or she is a clever student, but she scorred the second highest mark. So now it is all celebrations. I am sure she is clever. I mean, she is MY grandchild.
Monday May 10th 2010:

I hate garden tools, also the one to the left. Yet Matron has bought it for me so that I can cut the edges of our lawns. And she expects me to use it more than frequently - which I obligingly do. This morning I cut all edges which now are sharp as a razor blade. Why doesn't she buy something interesting?













Sunday May 9th 2010:

I am pleased with today's weather. Nice and sunny, although on the chilly side. But just the day for a long bike ride of 40 miles in a hilly area. I visited my private EPO-dealer, who had all kinds of stuff for me. Due to the enormous hills I had to take some of it at once to bring me home in a proper state. EPO is good for you, so I did not suffer all that. I seem to be quite fit - and full of EPO.
Saturday May 8th 2010:

I am getting fed up with our present weather, cold, rainy, and windy. And we can even expect a touch of frost between Monday and Tuesday. But then it should be better at least according to our otherwise untrustworthy meteorologists. I wonder, but I certainly hope that for once they are right, the reason being that I have great plans for garden work,,,,, says Matron.
Friday May 7th 2010:

It is very rare that I can sit in my living-room watching cricket - even live if I wanted to. Just now while writing I am watching a recording of England vs Pakistan in the 20-20 world cup. I recorded it yesterday. Right now Pakistan are batting and are 120 for 6 with 3 overs to come. So I predict a win for England. (Not a difficult one. I heard this morning that England won).
Thursday May 6th 2010:

It is an inevitable fact that once you have bought a pet of some kind you will have to say goodbye to it in a future perhaps not so far away. Having had 10-11 dogs I know what it feels like. Fortunately most of our dogs have been 10-12 years before we lost them. One of them even became 14 years old. But accordign to statistics cats live longer. 13-14 years is not unusual for a cat. The world record is 34 years. I have never heard of a dog being that old. But perhaps.
Wednesday May 5th 2010:

Eventually a day of recreation. I enjoyed my 30 mile ride on my bike. But I must admit that I have gained weight during my stay in England. The food was too good, and today I paid for it. It made my ride harder than I thought it would be. I must go back on my diet and skip the worst temptations foodwise. No problem. No more chocolate and hamburgers. Oh dear. I must stop here. Matron has just called that dinner is ready.
Tuesday May 4th 2010:

After 5 exhausting days in London I had hoped for a day of recreation. Matron had hinted that it might be a possibility, but in her world recreation means mowing the lawn, emptying the dish washer, hoovering, doing the beds, and shopping in 3 different shops. She finds these activities relaxing. So having done them I was supposed to be totally rested. I was not, and it went from bad to worse when she returned from an extended shopping day with 3 friends carrying I don't know how many pieces of texstiles. I think I'd better go to bed, which obviously is the opposite of recreation.
Monday May 3rd 2010:

Having just come home from London and still with a lot of impressions from the tour not yet sunk in I must tell how nice it has been. We were mainly there in order to give our two youngest grandchildren an experience. And since Matron, our eldest son, and I do not mind a trip to England we also went along. I must say, though, that London is not for people of our age age. There's too much walking to do. So just now - a couple of hours after returning home - we are still knackered. But this does not take away that we enjoyed it, not least visiting our friends. Some of them even went up to London one day with us.
Wednesday April 28th 2010:

Spring is here. We have temperatures of over 15 degrees centigrades. That's good news. Nevertheless I set out on a bike ride wearing my winter bike dress. That of course was much too warm and made me sweat much more than usual. In fact I do not remember when I last felt so warm. But I bravely soldiered on and was just happy that this made my attempted weight loss all the more effective.
Tuesday April 27th 2010:

Few things makes you happier than a doctor who after an examination says that everything is just fine. This was what my lovely wife experienced today. A heart specialist scanned and checked and was happy with what she found. So were we. You even seem to walk more lightly after a wonderful message like that.
Monday April 26th 2010:

I escorted Matron to the supermarket today. Walking around in the shop I suddenly realized that I must look a lot like Danish Price Henrik or The Duke of Edinburgh, when the two of them follow their respective good ladies at an official occasion, a couple of steps after and arms on the back. Coming to think of it I thought it must look a bit silly in a supermarket, so I quickly offered to push the trolley.
Sunday April 25th 2010:

On this very nice spring Sunday we have celebrated eldest grandchild's 16th birthday. We couldn't have asked for better weather, so she must have behaved well the latest year. I do not remember the weather on my own 16th birthday in 1956, but I am sure it was wet and windy. Of course this had nothing to do with my behaviour, but only due to the fact that it was in November.
Saturday April 24th 2010:

Not only has the Icelandic vulcanoe made life difficult for the last couple of weeks for people who wanted to fly, but also it has a nearly unpronounceable name.
"Eyjafjallajökull"
is the name. For a Dane it is a bit complicated to say it - but not impossible which I know it is for English speaking people. But as far as I am concerned I don't bother what its name is as long as it keeps quiet.
Friday April 23rd 2010:

I sometimes happen to find surprising (and often useless) information. Today I read that out of all women in the world 35 % of them have thrown a shoe after their husband. Matron has never done that to me, which is quite astonishing since she has got plenty to throw with.
Thursday April 22nd 2010:

I am not an early riser. And that costs me money. The point is that for some reason all our petrol companies are cheaper before 10 a.m. than after, about 1 krone (10-12 p.) per liter. I often wonder why. But the matter of the fact is, that I always have to pay more for my diesel than people who are able to get out of bed early. It is not fair. The only advantage is that I never have to queue up.
Wednesday April 21st 2010:

A few people have hinted that - as I wrote two days ago - I might be right that I am of Scottish origin. Not so much because of my previous hair colour, but more because of my meanness. This is totally unfair. I have just got some habits about switching off the light when I leave a room or saving water when I brush my teeth, or turning down the heat when it is warm outside, etc. But some people (i.e. family) think that it is because I am an old miser. But I am not. A look at my bank account will prove otherwise. But please, let me decide what account you want to see.
Tuesday April 20th 2010:

Due to a single Icelandic vulcano thousands of people cannot fly these days. Not a lot of praise can be given to Iceland or the Icelanders. They obviously cannot control neither their own economy nor their own vulcanoes.
Monday April 19th 2010:

Today it is hardly detectable. But in fact my original hair colour is red - genuine red. The colour has gone, I am afraid. Today I happened to read a little about people with red hair, and it made me wonder if I might have Scottish ancestors. I read that in Scotland 11 % of all people have red hair, more than any other country in the world.
Sunday April 18th 2010:

Judging from the sunshine spring is here. Judging from the wind and temperature it is not. Nevertheless I rode about 40 miles on my trusty bike enjoying the sunshine. I could not help noticing the enormous number of joggers. I am not a jogger. Running bores me. I have tried and fell asleep a couple of times hurting myself badly. I have never fallen asleep on my bike.
Saturday April 17th 2010:

Matron had forgotten to buy 'a few things' at the supermaket yesterday. Today she set off to purchase these 'few things' and returned with two enormous shopping bags that I had to pick up in the car and carry to the kitchen. They were heavy. I am happy that she didn't remember all of it yesterday. That would have been 'unbearable'.
Friday April 16th 2010:

Our queen is 70 today. And what an enormous pomp and circumstance. It must cost millions. I shall also be 70 this year, but I do not expect the same amount of celebrations as she gets. For example I could easily do without the gala at The Royal Theatre. I much prefer a small pub where everybody can join the singing.
Thursday April 15th 2010:

I am being bullied by my family. My wife tells me what to do. My son tells me what not to do and leaves me behind when we are out biking. My daughter tells me what pills I must take (Herbalife) and what I should and shouldn't eat, and my grandchildren tell me what to buy for them. I am not sure if all of this could be called "bullying", but it feels like it. I had an idea that as I grew older our children and grandchildren would come to me for all kinds of good advice, you know, nothing can beat experience. But no. It is the other way round. They are giving me advice and tell me what to do.
Wednesday April 14th 2010:

I have always hated cold water. Whenever I have been swimming in the sea or in a lake I have expected the water to be so warm that it sizzles at the edge. But now I have decided to be more like the vikings. And cold water shall be no obstacle. It is not "manly". So this morning I spent 10 minutes under the cold shower. Tomorrow I may turn the water on.
Tuesday April 13th 2010:

Beware, you Brits. Just today I read that within the latest 5 years 500.000 dogs and cats have been stolen from their owners in England. I don't know the figures for our own country, but I can assure you that I shall be very careful about my own dog, my trusty Sydney, especially when Englishmen are around. I would hate the thought of him being taken away from us. And I am sure he agrees.
Monday April 12th 2010:

What should have been a bike ride of about 40 miles became hard work in the garden. Matron had some plants for her birthday and naturally it was I who had to do the digging - which I duly did. After having finished, however, Matron regretted the place she had ordered me to put one of the plants - and guess what? I had to take it out and dig another hole. That's why I never will become a gardener.
Sunday April 11th 2010:

I have cleaned my bike today - very thoroughly. It needed it after having gone through water and dirt for some time. Now it is standing there in all its beauty waiting for the next ride which will hopefully be tomorrow. If I spent the same time on cleaning our car as on cleaning my bike our Toyota would have been perfect and not lost penny in value since we bought it.
Saturday April 10th 2010:

In retrospect my bike ride today was not for amateurs, especially not the first half of it. Before start I hadn't noticed the wind. But I very soon did. Fortunately I had planned a tour with head wind out and back wind home. That saved me. But I shall never forget the first 12-14 miles in what felt like a hurricane. But - bless it - the ride back was a joy that made it worth while and I could rest my old and aching body.
Friday April 9th 2010:

I took my beloved wife to the town centre today. She was going to meet her colleagues for a historic walk in Aarhus. I think they all enjoyed themselves, but it was no fun for me driving there. The traffic jammed like it was London or Paris. I do wish that "Park & Ride" could be introduced in our town. What a relief it would be - and a lot healthier to everybody.
Thursday April 8th 2010:

I saw my dentist today. I have broken a 'corner' off one of my otherwise trusty teeth. The plan was that I should have been there next Monday, but a cancellation made it possible for him to see me today. I didn't mind. The sooner the better. After the enourmous restoration of the tooth I dared not ask how much it cost. I do not like two unpleasant events in one day.
Wednesday April 7th 2010:

Matron's birthday was celebrated today. She refuses to tell how old she's become. But I have an idea. Quite a few of her friends were here. I don't quite know how many, but estimating from the sound level they must have been about 100. Brother-in-law, son, and I were gracefully allowed to sit in the other end of the room, isolated from the "guests of honour". We were just the mob. But we can live with that, even if we couldn't hear what we said to each other. So we went for a long walk at the beach and in the woods. That helped. Now we could talk.
Tuesday April 6th 2010:

Matron went shopping today. It's her birthday tomorrow, and she has invited some of her friends for brunch, so she needed to buy all the ingredients for that. She left home at 9.30 a.m., and I talked to her on the mobile at 12.30 when she told me that she hadn't bought anything yet. She had just been browsing all other shops with a friend. She came home at 2.30 p.m. only to tell me that she still hadn't bought anything - except for 2 pairs of shoes, and she now intended to go off again to buy the stuff for tomorrow. What is it that I do not understand? Why is it so wonderful to walk from shop to shop and just look? I shall never know.
Monday April 5th 2010:

On my bike ride today I made it a point to visit my old school - it's a bank holiday, so no children were there. I rode around it and into one of the five yards and up to the main entrance. Of course a lot of memories came up, but I cannot any longer say that I miss "my" school. I am also sure that it doesn't miss me, so everything is as it should be.
Sunday April 4th 2010:

On a grey, dull, and rainy day like today it is nice to stay indoors, for example watching TV. Right now I am sitting, feet up, looking at a bike race classic, "Tour of Flanders". Very good. I had planned my own "Tour of Aarhus", but all my competitors refused going out in a weather like today's. So reluctantly I accepted staying at home.
Saturday April 3rd 2010:

The other day Finnish airline, Finnair, told that on its overseas flights a sauna will be available. The only difference from a sauna on terra firma is that fastened seat belts is a must. I think it is progressive thinking and wouldn't hesitate booking with Finnair if it wasn't because it was announced on April 1st.
Friday April 2nd 2010 (Good Friday):

2nd April is a dark day in Anglo-Danish relations. At 10 a.m. on this very day in 1801 a British fleet under Admiral Sir Hyde Parker and his viceadmiral Horatio Nelson attacked the Danish fleet in Copenhagen, because Denmark was supposed to have the biggest number of 'Men of war' in The Baltic and because of our sympathy for Russia and France. The two Brits had the audacity of attacking and destoying a lot of our ships before we had to surrender. But remember, We shall be back. We know where you live.
Thursday Aprtil 1st 2010:

Some friends invited us for lunch today at 1 p.m. I love these invitations for lunch, and since I am generally a good eater I feel that I am rather popular with the people who invite me. And I don't think that I lost any popularity today. Mind you, I am 1½ stone lighter today than I was 3 weeks ago. But that's not because I eat less - I bike more!
Wednesday March 31st 2010:

Is there anything as depressing as a cricket pavillion in March? Hardly. I went to our local ground as part of a longer bike ride. And it was not a pretty sight. Youngsters had painted it with their various tags, and it looked dreadful. But what is more unfortunate is that it is yet another expression of a dieing sport in Denmark. And I must admit that I myself do not do a lot to keep it alive. But next summer I must go and watch a bit more - and not only in England.
Tuesday March 30th 2010:

The family group that in 30 days will travel to London had a 'trial tour' today, but only about 125 miles away. Eldest son, Matron, two grandchildren, and the old man himself went in car to see a very interesting museum from the last war. It's a museum of the German occupation 1940-1945, and as you can see, they also had some big guns then.
I think we all enjoyed the trip and talked a bit about the somewhat longer journey late in April. I know a couple of kids who nearly cannot wait.
Monday March 29th 2010:

I dared watching my football team on TV playing last night against the number one, FCK. I did it because I was so sure they would loose that I nearly felt indifferent about it. But to my great astonishment it ended with a 0-0 draw, the first point since the winter break. It nearly felt like a win - a rare feeling these days. But I must admit that my team since New Year has had so many injuries that on 4-5 positions reserves are plaiyng. They did well last night, but have dropped from number 6 to number 9. I shall not go and watch them till they have won a couple of games. Well, by then it will also be a lot warmer.
Sunday March 28th 2010:

As you may know working in our garden never used to be one of my hobbies. So I was quite astonished when today I found myself voluntarily cleaning our lawn for old leaves and moss. I don't quite know what happened but like in a trance I went to the shed, took the cultivator and started. Not till I had finished the job did I realize what I had done. I must see my doctor tomorrow.
Saturday March 27th 2010:

Today another bike ride with eldest son, Peter. This time we chose to go to our club's football ground, not for any special reason, but just to have a goal for the ride (not a football goal, if you know what I mean). The gate was open, so we rode onto the ground and watched the 22.000 empty seats and imagined that this is how it is going to look next Sunday at the next game. For with the results till now, 4 games, 4 defeats, 2 goals scored, there will not be many people there. At any case I won't. I hate to see them loose, I am a terribly bad looser.