---
Earlier Diaries:
If you want to go back in time just click below:
Diary 1
:
17th feb. 2006 - 5th Dec
. 2006,
Diary 2: 6th Dec 2006 - 21st Jan 2008.,

Diary 3 21st Jan 2008 - 7th Oct. 2008.
Diary 4 8th Oct. 2008 - 26th May 2009.
Diary 5, 27th May 2009 to 26th March 2010, now full.
From 27th March 2010:
Go to part 6. Click here.


Friday March 26th 2010:

I am outraged. On today's bike ride I happened to pass by a small street, and to my shock I saw that some ignorant had left his old car there for the public to look at and for some local authority to remove. As you can see it was not at pretty sight, and I do hope that somehow it can be found out whom the car belonged to. He deserves a huge fine - or for that matter a prison sentence. (I am sure it's a he - a woman wouldn't do a thing like that).
But how can anybody be so stupid?
Thursday March 25th 2010:

Today I have had "the pleasure" of going to one enourmous supermarket (BILKA), one chemistry, one DIY, and one store with beds, curtains, linnen, etc. I cannot possibly tell you how happy I am that it is now all over. Besides I have fixed our garden hose, cleaned two bikes compeletely including the chain, and put up some fences to prevent out dog from "watering" some bushes. What a busy day. And there is no guarantee that Matron doesn't come up with some extra jobs for me to do later today. She finds it important that I am busy all the time. Wonder why!
Wednesday March 24th 2010:

New tyres and new rims on our nearly new Toyota today. Cost me a fortune. But then on the other hand expensive habits are expensive, and hopefully now it will be a few years till next time.
After having recovered from the bill I jumped on my bike to forget all about it, and it was a good cure in the nice, but windy weather.
Tuesday March 23rd 2010:

I am afraid that I have become a 'bike addict'. I haven't been out today, and I surely miss it. Must do something about it tomorrow. It is interesting that one can miss something that in between hurts as much as biking. I am not in a very good form, so every bone and muscle hurts when I come back. But just now I don't think very much about that. I just want to go out again. Funny people, those bikers!
Monday March 22nd 2010:

Before setting out on today's bike ride of 25 miles I had to swear a solemn oath that after that I would clean our lawn for moss, a hard job trotting along after a stupid machine. It took me 1½ hours, but Matron claimed that this was far the best way of relaxing my muscles after a hard bike ride in record speed. Having finished the job I must say that I do not agree. But I haven't told her.
Sunday March 21st 2010:

Today is Spring Equinox
, a word I didn't know till a few momenst ago. Anyway it should mean that day and night are equally long. This is not how I feel it, however. I still feel the night is far the longest. It may be because I find it extremely difficult to get out of bed in the morning. I often ask myself the classic question, 'How can a day become a good day when you have to start it by getting out of bed?'

Saturday March 20th 2010:

Today I was seen with a paint brush in my hand - a rare sight - so rare that my family thought that it was worth a picture. Normally I am forbidden any access to brushes and paint, but for some reason I was commanded to paint a long and narrow list for our new wardrobe. I never found out why.
Friday March 19th 2010: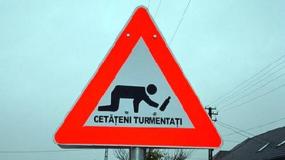 And here I was thinking that I knew more or less all traffic signposts. But obviously I don't. Just look at the one to the left. It is from Romania and warns against drunkards crawling around in the streets. I suppose it's a fair warning to give. We haven't got it in Denmark - as far as I know.
Thursday March 18th 2010:

Yesterday's plan became a fact. We jumped our bikes and rode about 25 miles. But again I was hopelessly lost. I really tried to follow suit, and I fought and fought. But in vain. I must admit, though, that my son was very considerate and patient. But I must stop trying to follow him. It is so naive. He is much more fit than I am, I just don't like to admit it. We went to a fishing gear shop, and one of the assistants was kind enough to come out at take a photo of us.
Wednesday March 17th 2010:

Still suffering from yesterday's ordeal I have courageously planned a new bike ride for our son and I tomorrow, 25-30 miles. And I have made it a clear condition, that I am going to set the speed. No more shall I be humiliated by being left behind on the smallest hill. I know that I am going to suffer anyway, but only rain can keep me away. Dare one hope for a rainy day? No, of course not!

Tuesday March 16th 2010:

Our son and I have been to Aarhus today. This may not be unusual, if it wasn't because we were on our bikes. And to tell you the truth, my lack of form and his advantage of being 30 years younger made the difference. I could not follow him. If it wasn't for his kind waiting for me now and then, we wouldn't have talked together at all. Well, my lack of breath made it difficult anyway. But we completed, and I suppose that I shall recover some time later this week - or month.
Monday March 15th 2010:

Our football team will be playing its first home game this year tonight against Silkeborg. And we (my son Peter and I) shall not be there - for two reasons. Firstly the forecast promises temperatures far below freezing point, and secondly the previous game in Copenhagen was a humiliation of af defeat, 5-0. So we shall be watching the game on TV, if we dare.
Sunday March 14th 2010:

If for some reason you want to use all the letters on your keyboard all you have to is writing 'The quick brown fox jumps over the lazy dog'. Just don't do it if you don't really feel for it. But now you know.
Saturday March 13th 2010:

First time on my bike today. The bright sunshine tempted me. But I hadn't noticed the sharp and rather cold wind that made life on the road hard. But remembering all the sufferings of the famous bikeriders in the Tour de France I thought that when they can suffer, so can I, even if I do know that my sufferings were far greater than theirs. So I bravely carried on and completed a ride of 10 miles. Aren't you impressed? But I am tired, very tired. It's the first time since 29th December that I am out. So no wonder. My problem right now is how to get up from my chair. Matron must help, or perhaps she prefers to let me stay where I am - out of sight.
Friday March 12th 2010:

Believe it or not. Today I can see small, bare patches of something green - it might be grass - in few parts of our lawn. It hasn't been visible since some time in December. Dare one hope that spring will soon be here? One cannot believe it, since it is still bitterly cold outside due to an irritating wind. And my bike still hasn't been out of its shed in 2010. It is awful. I hate winter. May spring show its beautiful face very soon.
Thursday March 11th 2010:

As previously slightly hinted I do not enjoy shopping in supermarkets or any other shop for that matter. Today Matron announced that she wanted me to accompany her to TWO supermarkets in succession. I felt panic spread all over my body and quietly suggested that perhaps one would do. I expected a clear NO, but she accepted. It has been a great day.
Wednesday March 10th 2010:

I have had my book back from the publishers with some very kind comments. I now have to make a few changes and read it thoroughly through for probably the last time, and then it should be ready. It is exactly 3 years and 1 month since I started the project. I nearly know the book by heart.
Tuesday March 9th 2010:

Hopefully my technical problems are over. Just 3-4 hours ago I changed to a new supplier on TV, Internet, and telephone. And it was much needed. The one I used to have was awful, filled with problems and errors. Long live my new supplier, whom to begin with has enabled me to edit my website. I haven't done it for several days. You must have missed me.
Friday March 5th 2010:

It has been an exciting day. I went to Silkeborg to hand my publisher the second draft of my book. It is now up to competent people to decide whether it is worth editing. I am very excited. I may have to make a 3rd draft.
Thursday March 4th 2010:

Just a short note to tell you that today visitor no. 215.000 has entered my website since it started on January 28th 2005. I am a bit proud of that after all. And I suppose that it is not 215.000 different people who had a "look". Thanks for your interest.
Wednesday March 3rd 2010:

The football season is only a few days away, an away game in Copenhagen. And it is still bitterly cold with frost and snow, and more is to be expected during the weekend. The first home game is not until the week after, but in those weather conditions - if they don't change drastically - I certainly shall not be there. I shall sit in front of my television, watching something totally different. I haven't got the courage to watch it live.
Tuesday March 2nd 2010:

Eventually a visible indication that spring is here after an intolerable winter with more than 2 months' snow, wind, and frost, the first snowdrops seen in our garden.
As it happens today is exactly 53 years since I first met my lovely wife. She's one more reason to feel 'spring-optimism'.
Monday March 1st 2010: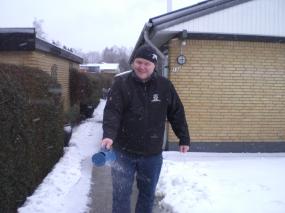 Yet another day assembling furniture. This morning Matron was absolutely sure that we couldn't possibly live without a shoe cupboard, a tall slim "thing" (like me), that contains most of our footwear, one fifth of it is mine. I did not agree of the necessity of buying it, but of course we got it, and fortunately eldest son was here and did the assembling. I could never have done it on my own.
Before all this - as you see on the picture - he kindly offered to remove some snow and salt our entrance, so that the two seniors could safely walk to the car. Thank God for our family.
Sunday February 28th 2010:

As nearly promised yesterday I can now show you our new wardrobe. After all I am a bit proud that I took just a lttle part in assembling it. Unfortunately the picture isn't very good. I cannot get a proper distance to "the object" We don't live in a castle, you know. But we've got a very nice wardrobe.
Saturday February 27th 2010:

I do not find it difficult to find an excuse for writing my diary so late today. In fact it is about 9.40 p.m. The reason of course is that our new wardrobe was assembled today with great help and enthusiasm from family members. They were just great, and we have nearly just finished. I could never ever have done it myself. It was much too complicated. Just now I am very tired, even if my contribution was limited. But I quite easily get tired from watching people work - especially when they work as hard as they did today. I am even too tired to bring a picture of the wardrobe. I shall consider doing it tomorrow, when my strength has returned.
Friday February 26th 2010:

I am quite overwhelmed. I have just had a glimpse at my thermometer, and it showed an outdoor temperature of +7 degrees. This has not been seen since some time in November, perhaps even October. Under these tropical conditions one might expect the snow to disappear soon. Unfortunately, though, I think to remember from yesterday's forecast the the frost will return later next week. I don't like it.
Thursday February 25th 2010:

When shopping with Matron I have found out that what nearly takes the longest time is getting out of the shop. When I think that we have finished buying whatever it is, I slowly approach the exit only to find out outside the shop that I am totally alone. Matron has spotted something on her way out that might be interesting to her, and that takes time - while I stand there outside looking impatiently for her. But apart from that she is a wonderful woman.
Wednesday February 24th 2010:

It may be hard to understand that out of these cardboard boxes a brand new wardrobe will emerge, Matron's latest good idea. Hopefully when son and son-in-law have unpacked and assembled we can all enjoy looking at a 2 meter high and 2,50 meter wide wardrobe - all white. That will be the day. My next wish is that Matron will get no more good ideas.
Tuesday February 23rd 2010:

I have no idea how old a snail can get. But if what I read today is true, I certainly hope that it can get very old. I happened read that a snail would take 637 years to "walk" from where we live to Spain. It's a very long time, but I cannot imagine what a snail would do in Spain. It is too hot there, and they speak a difficult language. I wouldn't mind, though, if some of them left - especially the brown, slimy ones.
Monday February 22nd 2010:

Unfortunately our meteorologists have changed their minds about 5 degrees on Wednesday and have promised lower temperatures. I cannot say that I am surprised, because weather men and -women cannot be trusted. Consequently I have asked Matron to keep my shorts and T-shirts in the drawer. I probably won't need them this time round. But let it happen soon!
Sunday February 21st 2010:

This is good news. I have just heard that on Wednesday it will be 5 degrees centigrades, plus 5, mind you. We haven't had that since some time in November. I have already asked Matron to find my shorts and T-shirts. It is going to be a genuine heat wave.
Saturday February 20th 2010:

Eldest grandchild and I had a very interesting morning visiting our local art museum. She is very keen on seeing art in all its dimensions. So we saw a lot and talked a lot. A modern Danish artist was on exhibition, and we enjoyed his untraditional pictures and sculptures not least the one, you can see on the picture to the left. A jet of water comes out of one wall and precisely hits a small hole in the opposite wall. And you don't get wet when walking or standing under it. An interesting "sculpture".
Mind you, it is not the artist, you see on the picture. I wish it were.

Friday February 19th 2010:

Let me assure you that being Danish these days is no laughing matter. Not only do all our athletes at the Winter Olympics loose in whatever they take part in, the weather over there is poor for nearly all winter sports - no snow or frost. Let me humbly suggest that the games are immediately moved to Denmark. We have got more than enough snow all over the country, and it is freezing cold. And believe it or not, it has snowed all day today - and still does. I am not pleased at all!
Thursday February 18th 2010:

It is common knowledge that a writer can only express his deep and big thoughts and ideas when living in poor conditions in a cold and drafty room with only one chair, an uncomfortable bed, and next to nothing to eat. I am the living proof that this is not true. Just you have a look at the picture to the left and notice the conditions under which I write my intelligent diary, sitting comfortably in a sofa with Matron's lap top. What you cannot see is the food on the table and my cup of tea. I never starve, and yet I write all these clever things.
Wednesday February 17th 2010:

What a mistaka to maka! The great big bedroom wardrobe that both Matron and I expected to arrive today did not come. Well, we knew on beforehand. Matron woke up at 3 am. suddenly remembering that we hadn't ordered it til 24th. Exactly a week from today. And there we were, having asked the whole family to come next weekend and put it up and help restoring the room. Fortunately they all will come a week later. Getting old is no easy matter.
Tuesday February 16th 2010:

Matron has been good today. No obligations for me at all - except for a small ride to our local supermarket for a bit of shopping. And since I was on my own and with with a shopping list, it only took 4 minutes till I was out again. That's how it should be. Accompanying Matron it always takes at least half an hour.
Monday February 15th 2010:

There is a very small chance that later this week we may reach temperatures over zero. That will be a great day. We haven't had one of them since some time in the middle of December. I must start finding my shorts right now, so there's no panic when it happens. We have had - and still have - the coldest winter for many years. I'm afraid that spring is thousands of miles away.
Sunday February 14th 2010:

I have just stumbled over important knowledge. It is claimed that if all bacterias in a piece of cheese decided to move in the same direction the cheese would actually move. So if one day you see a piece of cheese walking across your table you now know why.
Saturday February 13th 2010:

Matron's new lap top has been an advantage to me. Earlier I had to leave our sitting room and go to my little den to write my daily diary. Now I can stay, sit with legs up on the table, comfortably seated in the sofa, and write. I won't make a secret of the fact, that that's exactly what I am doing right now. I am not going to attach a picture of it, though, You must imagine what it looks like when a handsome man sits in a relaxed position with Matron's lap top on his lap. It's a pretty sight.
Friday February 12th 2010:

In these cold days it is a comforting thought that in 4½ months we are going on summer holiday in our caravan. Of course it will be nice and warm - and sunshine the whole day. We already have a rough idea of where we are going. All I can tell is that it will be domestic - we think.
Thursday February 11th 2010:

I sometimes envy people in the UK their fish'n chips shops. I have always found it nice to stop for a quick meal at one of them or a take away. It may not be the healthiest of foods, but still I enjoyed it. Unfortunately they do not exist in Denmark, I wish they did. We have to do with our sausage stands that used to be quite nice till the turned to big grill bars. Most of them are pretty bad. But if somebody would establish a fish'n chips shop in Denmark it may be a success. I would be one of its best customers.
Wednesday February 10th 2010:

It has been a lazy day. Except for a short visit at our eldest son's all I have done is complaining over the weather. And there is a good reason for that. Frost and wind, bitterly cold. Fortunately we didn't get any snow this time like they did in so many other districts in the country. I have decided not to moan tomorrow, but take it with a big smile, even if it may look a bit like a grimace.
Tuesday February 9th 2010:

In 13 days our new wardrobe will arrive. Plenty of time, you think. But Matron doesn't. So already today our eldest son and I were told to get rid of the old one. That was quite a job, but of course we obeyed, and now it is gone. Our bedroom has no longer a wardrobe. But it will come - when the room is painted, the floor varnished and a lot of other changes. Matron is looking forward to ordering me and a substantial part of the family around when it all starts. I am not sure how much I am looking forward to it.
Monday February 8th 2010:

The observant reader may have noticed that for some hours you could read on the front page of my website that technical problems for a time would stop updates. As you can see that is no longer the case, and happily I carry on hoping that you have some joy by reading it. I myself was very happy to find out that I could go on, and that marks the end of a very nice afternoon spent with old retriever friends in a very nice house on the other side of the bay - with a smashing view over the water. And as usual I must mention that the food was even better. So all in all a great day. Hope to see you again tomorrow, providing that another tecnical problem doesn't stop me. Keep you fingers crossed.
Sunday February 7th 2010:

Have you ever heard of the IKEA-test? Probably not. But I passed it today by assembling an enormous hanger stand. It is no easy matter to do that. I have previous experiences with various items from IKEA when tools were flying around in the room in anger. I lack the patience needed. But fortunately Matron gave a helping hand, and in 2½ hours it just stood there. As usual we had to assemble it twice since we after the first attempt found out, that the two vertical bars were with the wrong side out. But that's just as it always is. You assemble, you take apart, and you assemble once again. That's the time when you show what your patience can take - and you pass or you don't pass.
Saturday February 6th 2010:

A day of contrasts. In the morning we celebrated a friend's 70th birtday at a nice brunch (my favourite meal), and in the afternoon we went to a burial. My father's cousin, who has given me so much information for my book, died a week ago, and was buried today. Unfortunately I have only known him for a bit more than a year. He was a very nice man, and I shall surely miss him.
Friday February 5th 2010:

I must apologize for the late update, due to technical problems, May it never happen again. I was more than very angry when first I tried to write this afternoon. I was mad with the company that is supposed to give us our telephone, TV, and Internet. Today all three broke down at the same time, two at the time and one at the time. I think that at no time did they all three function. And that makes me absolutely mad. And we still have to pay for it. I suggest the nobody mentions the word PROFIBER to me, my useless hate company. You must appreciate that it does not operate outside Denmark.
Thursday February 4th 2010:

For probably the last time I went to Silkeborg to collect information for my book on workhouses. I was sorry to say goodbye to the people at the local library, who have helped me through the latest 3 years. I should have brought redwine and other presents for them. I hope that I shall get the opportunity some time later. They deserve it.
Wednesday February 3rd 2010: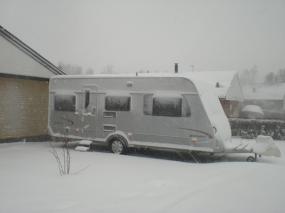 No trips in the caravan this week - and I believe neither in next. We shall be lucky to get away at Easter. The forecasts predict that winter will go on till late March. And I do not feel good about that, and it will please very few people, except of course salt producers.
It may have dawned to you that I hate winter.
Tuesday February 2nd 2010:

I confess. Today I was seen working hard with a snow scraper in our small street. I am not a dedicated snow scraper. In fact I hate it. I find it a waste of time. The snow will be gone latest in the second half of March, anyway. So, why bother? But today was different. Quite a few neighbours were there, so it was rather nice, an opportunity to talk and among others items blame the company that provides us with Internet, TV, and telephone. That company certainly needs to up it a bit. So we scraped and talked, and scraping was getting close to being a pleasure. Under the same circumstances I would happily scrape again.
Monday February 1st 2010:

There is no consolation weatherwise. Just today I heard that the cold and snow and wind will continue for quite some time. I hate it. We've had it since middle of December. What has happened to global warming?
Sunday January 31st 2010:

January 2010 is my absolutely worst month for 6 years. Not since 2004 has there been a month in which I haven't ridden on my bike at all - not a single mile, or even yard. But this January my bike has just stood there, new and shining and well rested. And it is all due to the flippin' weather we have had, all snow and frost, and wind. And it seems to go on and on. There is no relief in sight for the next full week. I am fed up with it, really fed up to my back teeth. There is only one good thing, and that is, that I am looking all the more forward to spring. May it come soon!
Saturday January 30th 2010:

I am a bit early today. It is only about 11.35 a.m. The reason is that in 1½ hours our house will be full of people - old friends - who come here for a Christmas lunch. And I am sure that when they leave some time tonight I shall not be able to sit in front of my computer writing anything sensible - or even switching it on. I will be much too tired.
Whether this Christmas lunch is the last of the season or the first of the year is difficult to say. But I don't care as long as the food is good - and I am sure it will be. Merry Christmas!
Friday January 29th 2010:

I predicted it already on the 26th of this month. Matron wanted a new wardrobe, I knew she would get it - and now she has got it. Her tricks worked again. Well, the 'thing' won't be delivered til February 25th, and thanks God for that, because it will mean a total renovation of our bedrooom, including honing the floor and varnishing. And don't forget that this also means all furniture out and in - plus every little bit from the old wardrobe also out and in.
I shall not be looking forward to the 25th.
Thursday January 28th 2010:

Matron has a soft spot for "Heartbeat". I haven't . I cannot wait till it is over. Two hours every day it is on. Not long ago it was three. And Matron watches every second of it. And she talks of the characters as were they members of our family, Gina, Oscar, David, Bernie, Greengrass, Bellamy, and the rest of them. They might as well live next door. They are on TV right now, so I shall give myself plenty of time writing my diary. Then again I might as well face the music and have it over and done with.
Wednedsay January 27th 2010:

Did you know that I have found out that since I was born I have spent 50 days brushing my teeth? No, of course you didn't. Nobody has told you till now. I certainly hope that the time is well spent. I happened to think about it this morning when brushing what is left. It's quite a long time standing there with a brush in your hand - and what I am going to do with this calculation I haven't got the slightest idea. But funny thoughts do pop up when you brush your teeth.
Tuesday January 26th 2010:

Matron has a smart way of getting what she wants. About a month ago she just hinted that within the next couple of years or so we might want a new wardrobe for our bedroom - one with 4 parts in it. I did not comment - I knew what was coming. The subject was not mentioned for 4 weeks until yesterday, when she stated:
"The wardrobe that we agreed to buy a month ago is now for sale in shop XX".
So today we have visited shop XX, and be sure that the wardrobe will be in our bedroom before long.
Monday January 25th 2010:

"Elvis has left the building", was a famous sentence many years ago. You cannot say that about me today, because I did not leave the building at all. Not for a second. Nobody could possibly persuade me to go out in that cold and miserable weather. I think it is on time that the UN sent out a convention forbidding any habitation north of the Alps. We have no fit weather for man or beast.
Sunday January 24th 2010:

We have celebrated our eldest son's 39th birthday today at a very nice brunch. I love brunches. They are later than ordinary breakfasts, you may eat a bit more, it is light outside, and you have more time. So we had a very good morning, and since the day continued in a great way as I met with my brother to watch the DVD from last year's Ashes Clashes, you may appreciate that to me it has been another perfect day. I love perfect days.
Saturday January 23rd 2010:

We are having a very cold period just now. Temperatures below freezing point and a hard, sharp, and bitterly cold wind. To be honest I haven't left our house for 5 days due to this, except for a small drive to and from the supermarket. So I shouldn't moan about the cold. But I keep feeling that had I been a polar bear I would have been far better off and been far more out in the open. Today I happened to read that with its 2-3 inches thick fur it can survive temperatures down to minus 70 degrees centigrades. And it doesn't even have to wear a pair of gloaves.
Friday January 22nd 2010:

I had a terrible chock at 7 o'clock this morning. Quietly shaving and with foam nearly all over my face I suddenly heard an awful bang in our coridor just outside the bathroom. With fright all over her face Matron came running from her kitchen, and happily surprised we could see that the noise was only due to a picture that had fallen from the wall. The string had broken on a picture of Matron, 4 years old. Things ain't what they used to be. I mean, the string is only 65 years old.
Thursday January 21st 2010:

Today I sat wondering why I don't miss the weekly football games that my team normally play. The reason may be that I am no longer as keen as I used to be. But hopefully it will come back as days grow longer and temperatures rise. We are having the coldest winter that we have had for I don't know how many years. So perhaps that is the reason for my lacking interest in football. I should not be surprised if I am there at the first kick-off in March.
Wednesday January 20th 2010:

In April Matron, our eldest son, two grandchildren, and I have planned a trip to London in order to show the younger ones this metropole - and to see old friends at South Godstone. Of course we are looking forward to that. Plane tickets were booked a month ago, and today it was the hotel - not an easy thing to do, even if the Internet should make it just a game. But it only told that the hotel in question had no rooms available. After lengthy waiting I got through on the good, old telephone to the reservation office, and a nice lady, who was greatly surprised of what the Internet had shown, told me that there were plenty of vacant rooms. I booked right away. This taught me that you cannot trust the Internet - it's full of hoaxes.
Tuesday January 19th 2010:

The Aussies may seem a funny people now and then. Just the other day a 60-year old woman was leaving a multy-storey carpark in Sydney, but for some reason she chose to go right through the wall on 1st floor. Fortunately the car stuck half way through the wall, so that she did not kill herself by falling to the ground. It took rescuers nearly an hour to pull the car back and help her out. Perhaps she did it, because she did not want to pay for her parking. Or perhaps she has seen too many 007-films in which cars frequently leave tall buildings into thin air.
Monday January 18th 2010:

Just to let you know.
It's the door to my room.
So, don't say I didn't warn you!
Sunday January 17th 2010:

It has been a lazy Sunday, a day when your thoughts can wander from one subject to another. I happened to think about Jurij Gagarin who is supposed to be the first human being in space. But was he? Perhaps not. I read about a Chinese philosopher Wan Hu, who about 1500 built his own "spacecraft", an ordinary basket chair with 47 rockets mounted. He wanted to go to the moon. When his assistant ignited the rockets there was a thundering bang and a lot of fire - and when the smoke had vanished both man and "spacecraft" were gone, and all that was left was a pile of ashes. So Wan Hu may have been in space before tovarich Gagarin.
Saturday January 16th 2010:

I have a dream - a holiday dream, and I hope that some day it will come true. I would love a boat holiday on English rivers and canals. I can just imagine sailing up and down shallow waters in nice sunshine, and in the evenings, when you have moored, go to the nearest pub and have a meal and a beer - and talk to the locals. I would love all that, and I hope that I shall try some day. Matron has provided us with some brochures, and I have studied them carefully today. They were very tempting, except the boats were far too big. I could easily do with less than 50-75 ft. And hopefully that would also bring prices down.
Friday January 15th 2010:

I have been busy today - but I haven't moved an inch all day apart from making my lunch (Matron was at work). I have sat in front of my computer editing and writing - mostly the former. Some people might claim that being so stationary must mean that I haven't experienced anything. That is totally wrong. When looking at a description of the Silkebrog Workhouse from the past I tend to see things for me. I feel that I am there, not least when it is about poor people in their poverty in an obsolete workhouse that is more or less falling to pieces above their poor heads. I feel with them and try to see what they saw and think what they thought. That is an exciting experience.
Thursday January 14th 2010:

I have been rather cross today. In October we changed to another telephone company, same compay that also provides us with Internet and cable TV. And since that day this company has done all it can to ruin my life. There has been so much trouble, and I have sent so many e-mails (about 50) and made so many phone calls, that I could have written a book about it - a big, fat one. Today's problem was irritating noises on the phone. Not until a few moments ago - and I started this morning - did they succeed in repairing the damage. I think that I wrote 10 e-mails just on that subject. And do I get a deduction on the price? What do you think?
Wednesday January 13th 2010:

Our eldest son-in-law has been here today to put up new door frames, a job that nobody at his right mind would leave to me. But fortunately he is a true handyman and in no time he had put up 7 of them, while I did the rough job of taking down the old ones and prepared lunch. However he is a very healthy eater, so he brought his own carrots. Unfortunately I had none. Consequently his lunch break was rather short which again allowed him to work more. I like healthy eaters!

Tuesday January 12th 2010:

I went to put on diesel today at our local Q8-tank. In front of me a woman had finished getting her fuel, and she went into the shop, to what I thought was to pay for her petrol. But I was wrong. She went in to shop and bought quite a few things. Obviously she had plenty of time. And there I sat waiting (not patiently) for her to come back. When she did I told her a few things, which she did not appreciate. But it made me feel better. Stupid woman! The least thing you can do is removing your car from the pump, so that the next customer can fill his tank. Stupid, stupid woman.
Monday January 11th 2010:

We all need a good laugh now and then. I got a very good one today as I read the following, sent to me by a friend in the UK. Here's some of it:
"The English are feeling the pinch in relation to recent terrorist threats and have raised their security level from "Miffed" to "Peeved." Soon, though, security levels may be raised yet again to "Irritated" or even "A Bit Cross." The English have not been "A Bit Cross" since the blitz in 1940 when tea supplies all but ran out. Terrorists have been re-categorized from "Tiresome" to a "Bloody Nuisance." The last time the British issued a "Bloody Nuisance" warning level was during the great fire of 1666.
The Scots raised their threat level from "Pissed Off" to "Let's get the Bastards" They don't have any other levels. This is the reason they have been used on the frontline in the British army for the last 300 years."
And that wasn't even all. I could also read about reactions in countries all over the world. For example the New Zealand version:
"New Zealand has also raised its security levels - from "baaa" to "BAAAA!". Due to continuing defense cutbacks (the airforce being a squadron of spotty teenagers flying paper aeroplanes and the navy some toy boats in the Prime Minister's bath), New Zealand only has one more level of escalation, which is "Shit, I hope Australia will come to rescue us". In the event of invasion, New Zealanders will be asked to gather together in a strategic defensive position called "Bondi".
Great fun. I wonder what Denmark's version would look like. Probably only one level:
"Let's all sit down on the floor in a nice circle and discuss it".

Sunday January 10th 2010:

If anybody just a few years ago had told me that some day I was going to teach somebody how to use a computer I would have told him to pack it in. I have always felt that it was I who needed being taught. But now Matron insists that I must give her lessons on how to use her new laptop. We started today - from the very beginning. But as it appeared we could quickly go to more advanced things. She is now able to receive and send an e-mail and find her way (more or less) on the Internet via Google. So beware, those of you who have an e-mail address. But what I fear the most is when she has learned to buy things on the Internet. I shall try to delay lessons on that - or loose all my money.
Saturday January 9th 2010: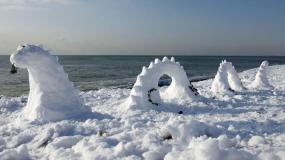 I am sorry to tell you. But it is a well documented fact that Nessie has died. She froze to death in the cold winter weather at Loch Ness. She will be missed by a mourning group of fans.
But from now we know for sure, that if anybody claims to have seen Nessie, it is untrue.
Friday January 8th 2010:

Matron has been lucky today. She has got her 500 kroners back - due to a call last night to the supermarket. They found out that at the end of the day there was exactly that amount too much in the cash. They were kind enough to phone us already last night. I picked up the money today and hoped that I could keep it for my trouble and for giving the idea of calling the supermarket at all. But no. Matron insisted that she wanted back what she claims is hers, and in spite of my efforts to tell her about sharing income and expenses, awarding good ideas, and about my trouble fetching the money, there was no chance, that I could keep it. She even took it out of my vallet without asking. Well, at least I tried.
Thursday January 7th 2010:

Matron has been unlucky today. She has lost 500 kroners - only she doesn't quite know how. There are a few options. She believes that when she paid at the supermarket, an extra 500 kr.-note stuck with another one, and she paid double. But so what. Matron earns a lot of money. She can bear it. But can I?
Wednesday January 6th 2010:

Believe you me. It has snowed last night and today, so much that part of the country is completely shut down. Fortunately this is not the case around where we live - even if we have had a lot. I must try and find my winter sport equipment. But then again. The snow will be long gone by the time I have found it. No, I'll forget about that and quietly stay indoor, glued to my chair (and computer).
Tuesday January 5th 2010:

Matron's new laptop is ready for use. One of the family computer freaks, our eldest son, came this morning and installed all that was needed, and it works perfectly, But Matron doesn't. She has had to stay all day in bed due to some flue and hasn't at all been interested in her new possession. And that's not done. I mean, if I would get a new computer I wouldn't hesitate, but get out of bed right away, flue or no flue. She must learn to pull herself together. But don't tell her what I wrote! Oooops. She has just got her own computer and can read it herself - but not until I have taught her how, and that may last some time.
Monday January 4th 2010: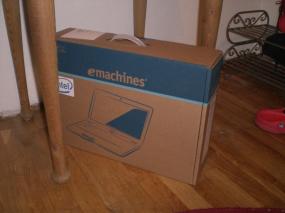 Matron has got her own laptop today. After days' and weeks' contemplation she struck and bought it. Now she is going to learn how to use it. I shall be her teacher (!). As far as I know the little beauty has got all the technical things that a computer must have, and I know only very little about it. I know that it has 4 GB-ram, 32 bits, whatever that means. And Matron knows even less than I do. But it doesn't matter, because she thinks it looks nice, and that's all that matters. Untll one of the family computer freaks turns up to install the various programmes it will remain in the box. Look at picture and agree that it is a pretty computer.
Sunday January 3rd 2010:

Sometimes I think it is alright to write about what I didn't do. It is bitterly cold, so I did not go out on my bike. The TV-programmes were bad, so I didn't watch TV. Sydney has been out walking with our neighbour for more than an hour, so I didn't walk him. There was too little snow, so I didn't go skiing. My skates are too old and too small, so I didn't go skating.
Now it seems fair to ask, what I did. Here it is: On Matron's order I hoovered, and that was about all - except for writing on my book for 5-6 hours and visiting our daughter and son-in-law for a cup of coffee and visiting a stupid supermarket. So in spite of all the things I didn't do it has been a busy day. And Matron has just called that dinner is ready, so bye-bye. No peace for the wicked.
Saturday January 2nd 2010:

This is interesting. Did you know that "FOUR" is the only numeral in English that has the same numer of letters as its numerical value?
In Danish it is different, since we have 2 ("to"), 3 ("tre"), and 4 ("fire"). Danish is a more complete language.
You do learn a lot on my website, don't you?
Friday January 1st 2010:

Welcome to the new decade. Now you must get yourself used to write '2010', which I feel is a bit more akward than 2009 - at least on the computer.
About last night: I didn't eat too much. I didn't handle fireworks in a careless way. I didn't stay out too long in the freezing temperatures. I didn't break anything. But even in spite of those good and healthy manners I'm having a hangover today, a good, oldfashioned one. Fortunately not with a headache, but with all the rest of it. I wonder why. I never thought of it last night, only thought that I was so amusing and made everybody laugh. But obviously that gives a hangover the following day. It is not fair.
Thursday December 31st 2009:

I wish you all a Happy New year.
May 2010 be the best year ever for everybody.
I am looking forward to hearing from and seeing you - but not until next year.
Thanks for 2009. I hope it was a good year for you.
Wednesday December 30th 2009:

Today has been rest day after 3 days' biking. And as much as I enjoy my biking I also appreciate a quiet day when - among other things - I had time to help our eldest granddaughter with some school work. It is very encouraging to talk to one's grandchildren about things that matter. She has decided to write her final and decisive paper at school on the subject
"Christianity in Denmark".
Not a small thing. She has now got 2-3 months to finish it. We had a very interesting debate on the subject and agreed on the synopsis which her teacher now must approve on. I am looking forward to seeing her next step.
PS: Within the next 5 minutes (time now is 4.55 p.m.) visitor number 200.000 will be on my website.
Tuesday December 29th 2009:

I did it. On this day - our 47th wedding anniversary - I reached my target of 1.712 miles (2.750 kilometers) on my bike. But it was an exciting finish. I had to go 16 miles today to reach it, which I did in very cold circumstances. But we vikings fear nothing. And just to be on the safe side I rode 17 miles. But still I am disappointed. Last year all in all I went 310 miles more than this year. The bad result in 2009 is all due to miserable weather in October and November. I only rode 183 miles in that period. Last year it was 445 miles.
I have considered lowering my target for next year with 155 miles, but in the light of this year's bad performance I have decided to punish myself by setting the same norm in 2010. So 1.712 miles it is! (Does anybody know where I can buy some EPO?)
Monday December 28th 2009:

I am a bit late today updating my website. It's nearly 8.30 p.m. And it is Matron's fault. If she hadn't made me such a deliciuous supper I would have remembered in time. But I didn't. A very nice salad kept me away. And it is a shame because I had such an interesting story to tell. Unfortunately I have forgotten that, too. One must hope that one's memory will be back tomorrow, but for some reason one has one's doubts. (That was 4 'ones' in one sentence - and here was another one - no two).
Sunday December 27th 209: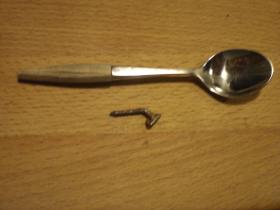 I had a puncture today - on my new bike. When first it happened I thought to myself that the tyres obviously were no good. I have only ridden 100 miles on them - and then already a puncture. But if you look at what caused it you must admit that you cannot blame the tyre. A nail went through and made me stop and phone Matron who picked me up and took me to our son-in-law who immediately repaired the damage. He also tried to teach me how to do it, but I am afraid that I did not pay a lot of attention. But have a good look at the little devil that shortened my ride by more than 15 miles. Forget about the tea spoon. It is just there to give you an idea of the size.
Saturday December 26th 2009:

I have always been impressed by intelligent people and sometimes wished that I myself could be just as clever - like for example Einstein. Today I just read that when his brain was preserved (after his death, fortunately) it appeared that his parietal lobe was 15 % bigger than other men of his age. The parietal lobe is the part of your brain that is in function when dealing with mathematics and viso-spatal reading (whatever that is). But the main point is that the more you use your brain the bigger it will be. So, start thinking. You can still make it.

Friday December 25th 2009:

We had a great Christmas Eve with plenty of food and plenty of presents. And I did like I told you, very modest portions and not very many of them. So my stomach is OK today and not like the poor blokes I heard of in the radio who had to go to hospital because of too much to eat. It seems that last night there were two major problems in Denmark: Hundreds of thefts from empty houses where people had gone to family and friends to celebrate Christmas - and at the hospitals that had to deal with several pumping outs. Don't you say that we don't have problems in our country - plus the government, we have to live with. Certainly some of them should be "pumped out"......
Thursady December 24th 2009:

Finally it is here, Christmas Eve. I hope that you will all have A Merry Christmas with lots and lots of presents. You deserve it. And do like I do. Don't eat and drink too much. You will be sorry afterwards.
To the English: What a shame that you have to wait till tomorrow with your presents. I shall get mine tonight.









Wednesday December 23rd 2009:

When I was a child the 23rd of December was "The Longest Day". As you may know we celebrate Christmas on the eve of 24th - and not on the 25th. It saves us from getting up early on Christmas Day. But that is not what I want to tell. I would like to let you know about my feelings on 23rd of December at that time. It was a looooooong wait for tomorrow's festivities, presents and all, and I always felt that the 23rd was just as long as all the rest of the days during the year together. I couldn't make time pass. It was so exciting. I am sure that today's children feel the same. Anyway our youngest grandchild today told me that she was going to make her day shorter by going to bed early. One must hope that she can fall asleep. I couldn't when I was her age.
I shall not go to bed early today. It will be about midnight. I shall wake up at 5, get up, switch the light on on our Christmas tree, read, do my crosswords, watch a bit of morning-TV, and go to bed at 7 and sleep till 9. Haven't I learned to plan my lfe?
Tuesday December 22nd 2009:

I am in dire straits. I still need to ride 80 kilometers, just about 50 miles, on my bike to reach my target for 2009. And as it is right now with a heavy snowfall, it seems that I shall have trouble reaching it. I must hope and pray for some good days between Christmas and New Year. It is important for my self esteem to ride the 2.750 kilometers set for the year, 1.712 miles - and for my health, since I am a bit overweight - not much only about 3 stone - perhaps 4 or... NO, only 4.
Monday December 21st 2009:

Shortest day of the year. With us it was from 8.46 a.m. till 3.40 p.m. In all 6 hours and 54 minutes. I hardly noticed the daylight. But from tomorrow days will lengthen and before you know it, spring is here. And I gladly think of it after a cold and miserable day like today.
To cheer you up, if you feel the same, you should try the following test called "WHO IS YOUR REAL FRIEND"?
Do as follows: Put your dog and your spouse into the trunk of your car for an hour. When you open the trunk, which one is really happy to see you"
Sunday December 20th 2009:

I thought it would be difficult to guess what made the trace in the snow on the underneath picture. You may be surprised to learn that it was the wagging of my dog's tail that caused it. He sat eagerly waiting for a pheasant to be shot for him to retrieve. This - to him - is very exciting, and he cannot help wagging all the time, waiting to be sent for the pick up. His wagging tail took the snow away. That's the probably unexpected explanation. You can also clearly see the marks from his hind legs in front of the "crescent", and if you look more closely you may also notice his "vital parts" shaped in the snow between them. We do see a lot on our days out!
Saturday December 19th 209:

Last shoot of the year. And it was cold, no, it was very cold with snow and all. And we left our tracks in the snow, some easier to detect than others. For example something or somebody left the track on the picture to the left. Please write and tell me what it is. No human made it, but what did?. It is about 25 inches wide. You can send your answer in my letter box.
Click here
. Or you can send me an e-mail.
Click her
. Good luck!
Friday December 18th 2009:

There are several things that I enjoy at Christmas time - of course the parties, "the family-get-togethers", the food, and the drink. But sometimes I think that listening to John Lennon's "Happy Xmas (War is Over)" is top of it all. Not only is it fantastic music, but also the text is brillant. So when it is on the radio - which fortunately happens frequently - I stop whatever I am doing and listen. You should do the same.
Thursday December 17th 2009:

Did you know that Empress Elisabeth the 1st of Russia (1741 - 1762) had more than 15.000 dresses (never ever wore the same dress twice) and 2 huge trunks filled with silk stockings, when she died? Of course you didn't, and neither did I, till some time this afternoon. But please, don't let Matron know about it. She has more than enough - says my bank account.
Wednesday December 16th 2009:

I did spend a lot of time writing today. But I also took the liberty of a 1½ hours' walk to our local yacht harbour, where I noticed two things: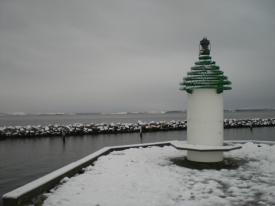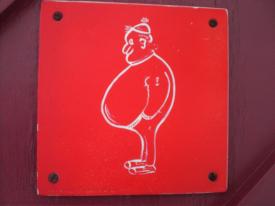 Have a look at spectacular "Snow Tree", picture taken today by our eldest son.
Click here!
Tuesday December 15th 2009:

I have sat here all day glued to my computer writing on my book. New information had to be put on print. It is now done. I feel happily tired. Hopefully I shall do the same tomorrow - and the day after, and the..... I love it.
Monday December 14th 2009:

Today our eldest son Peter and I went on a bike ride on our nearly identical bikes, CUBE. The CUBE team is our present employer, but we haven't quite finished negotiating our pay. In fact we haven't started. We intend to open discussions with this huge German company very soon. They are so rich that it should be no problem for them paying us a decent salary and having us in the team for the Tour de France this coming summer. Especially we should be good in the mountains.
Alp dHuez, here we come!
Sunday December 13th 2009:

Today was the last retrieve but one this year. It was extra nice because grandchild Kristian (13) was there too as a beater. I don't know where these youngsters get their strength from, but in spite of rising yesterday after 2 weeks' tough influenza he walked the whole day through mud and water in the wood and on the fields. But he managed very well. Obviously he is a strong boy who is keen on going with me watching the shoot. I am sure that I am a lot more tired now than he is, and I haven't walked half the distance he did. It's surprising how much 56 years' age difference means.
We planned that next year he will join me more than once. He really enjoyed his day.
Saturday December 12th 2009:

Our Christmas tree is now at its destined place in our living room. But don't you think it was easy getting it there. First I had to cut off some twigs and then fix the tree into its stand, a very difficult job. I always have a lot of trouble making it stand in a vertical position, it tends to lean first to one side, and the when corrected to the other. Christmas is a hard time. Decorating the tree is taken out of my hands and given to our youngest grandchild who did a great job. No wonder that nobody wants me to do it.
PS: I totally forgot to tell that my pessimism last Monday concerning my football team was only half right. They drew 1-1.
Friday December 11th 2009:

Did you know that today exactly 115 years ago the first automobile exhibition opened - in Paris. There were 9 cars to look at, but I suppose that it took just as long time for people at that time to look at those 9 cars as it takes a modern man to run through an exhibition with 250 cars. I wonder what the entrance fee was in 1894. I know what it is today, and that's the main reason why I wouldn't dream of going to see one.
Thursday December 10th 2009:

How can a day become an exciting day sitting down for 6 hours with an old workhouse account book from 1872 to 1935? Let me tell you. There is nothing as interesting as finding new information that nobody has cared to find for more than 125 years. When I sit there reading and taking notes from these old books I keep imagining a lot of things for example about the person who wrote all this 125 years ago. I know his name, and I have read about him and know a bit of him, but not a lot. What was he thinking of when writing? How were the physical surroundings where he sat? Did one of the inmates pop in and said hello or complained over something? What was his wife, Matron, doing while he sat there? - and hundreds of other questions that I would like to know the answer to, but never will get. It is fascinating, and I love doing research work like this. I am a lucky man who gets the opportunity of doing work like this!
Wednesday December 9th 2009:

As Matron had planned she finished varnishing hall and kitchen last night just before bedtime. And as planned we spent the night in the caravan because we couldn't walk on the newly varnished floors. And also as planned up today at 6 a.m. I had to take 'She Who Must Be Obeyed' to work and after that do a lot of tidying in the house and outside followed by taking a lot of stuff to the dump. Not a very interesting start to the day. The remainder of the day was a lot better, Christmas party with old friends - and plenty of nice food and drink. A lot better than the first bit.
Tuesday December 8th 2009:

Oh dear, oh dear. Matron has announced that today is "Varnishing Day", which means that hall and kitchen are going to have floors done with new varnish. Luckily enough I long time ago was forbidden any use of paint brushes, but still I have been given work enough. I have emptied the two rooms for all furniture and vacum cleaned. In a few minutes I am going to take part in washing the floors. After that Matron will do the varnishing, and we shall sleep in our caravan. Tomorrow will be a much better day!
Monday December 7th 2009:

There is a problem with my new bike. I tend to go too fast - cannot help it. And that costs. I use more energy. But that's good. I need the excercise since I intend to become at least 100 years old before I quit. Just a warning.
PS: I went 35 miles today.
PPS: My football team is going to play tonight, and surely they will loose.
Sunday December 6th 2009:

We have cut our Christmas tree today, way out in the woods after lots of looking around for the perfect one. But nobody is perfect - and that goes for our Christmas tree, too. But as we all know, a child doesn't have to be pretty to be loved - and that goes for our Christmas, too.
Saturday December 5th 2009:

Another day retrieving at the estate where now I have retrieved for 33 years. This time a wet one, at least till lunch. And I really felt bad, carrying my cold around in wet and cold woods and fields. But then rescue came. During the lunch break I was given two pills, and the miracle was there. I immediately felt well and nice and warm. Long live 'Kodymagnyl', as we call them in Danish - don't know the English word for them, they are painkillers of some sort and very good, a bit like EPO, I believe.
Friday December 4th 2009:

Continuing from the last sentence of yesterday: NO, I shall not go to the Christmas party that I have been looking forward to for so long time. I am poorly - the annoying cold has made me stay at home. 'We are not pleased', as Queen Victoria used to say. I hate colds, especially those that keep me away from good food and drink - and good company.
Thursday December 3rd 2009:

I have caught a bad cold - for the first time for years and years. And then just today when I had arranged to meet with some people in Silkebrog about my book. But I did go, and I did get some vital information. So all in all it has been a good day, only spoiled a bit by som coughing and headache. But never mind, back on the horse. Tomorrow I am going to a Christmas party at my brother's company - cold or no cold.
Wednesday December 2nd 2009:

I rarely carry cash in my pockets or wallet. Credit cards are better - not so heavy. I think that a gentleman from Taiwan wishes that he had done the same. The other day he was robbed in open street after having drawn 1.3 million pounds from his account. The 50-year-old man was held up by 3 masked men in the town of Tainan, and of course it is a record street robbery.
And what can we learn from that? Avoid men i balaclavas, when you carry cash!
Tuesday December 1st 2009:

I was born a pessimist - and has been so ever since. But it is difficult to remain pessimistic when my football team comprehensively beats Brondby 1-0, like we did last night. That was a blow to my pessimism. But never mind. There's another game next weekend, and we shall surely loose. I am an optimist on behalf of pessimism. It will exist forever.
Monday November 30th 2009:

Today I had my first ride on my new bike, 24 miles, and let me tell you right away: It was just wonderful, a perfect bike for me. Of course I was a bit excited about it, because changing from a bike that has served one so well for 9.792 miles to a brand new and different type is an important matter. Like changing your wife you'll never know on beforehand how you are going feel about the new one. But this was just great. If getting another wife could be just as nice and easy, I might consider...... No, no, what nonsense to say. She couldn't live without me.
Sunday November 29th 2009: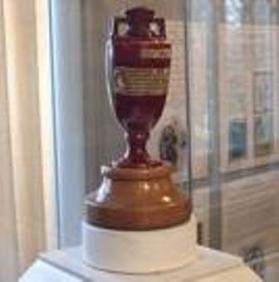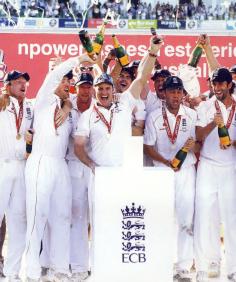 The above pictures indicate what Peter, Kent and I have done today. We met at 10 a.m. and watched DVDs with extracts from the Ashes Series 2009. We stopped at 3 p.m. And it was great, not only the cricket but also the company and the food kindly provided by Matron - and the beers. I really enjoyed every minute of it, and I am sure that so did the two "youngsters". A great day.
Saturday November 28th 2009:

Unfortunately I didn't have time to try my new bike today, because of a very nice lunch with relatives in Silkeborg. And neither can I ride tomorrow since it is a special day with an acticity that I shall reveal in due time. So it will have to wait till Monday with my first real ride. I did go for a very small one today, only 1-1½ miles around our village. Monday, come soon, please!
Friday November 27th 2009:

I have got my new bike today. I have waited for it for nearly 2 months. Now I can only hope for better weather. I am looking forward to many rides on it. I will "fly". Have a good look at it. Tough, right?
Thursday November 26th 2009:

We are having our entrance painted these days. Earlier it was one of my innumerable jobs to do that. But no more so. I have been denied any access to any paint and any paintbrush, due to false accusations of stains all over the place - including my clothes. I think this ban is unfair, but I must admit that I love my family for it.
Wednesday November 25th 2009:

Ryanair is one of my favourite hate objects, a company that is supposed to be a low price airline. But I doubt that it is with all the extra fees that you have to pay when flying Ryan. Their latest 'invention' is an idea of a fee for using the toilet. The compay claims that they loose money on empty toilets. Instead there could be 6 passenger seats. Yesterday Michael O'Leary, one of the top-people told that the company intends to work on the idea. 'We have to think differently, if we want to maintain low prices', he said. May I humbly suggest that the company lives up to its fundamental idea of being a low fare company, instead of getting funny ideas such as asking their customers to pay for visits to the toilet. What is next? A fee for sitting down - it wears on the seats, or for breathing - it takes oxygen. Stupid people!
Tuesday November 24th 2009:

Today I have tested a bike like the one I am going to get within a week or so, Peter's bike. And it was a very successful ride, especially uphill. I overtook a young chap, who had overtaken me shortly before a long hill. When I overtook him halfway up the hill, my speed made him think he had stopped, and he climbed off his bike while riding. Must have hurt himself.
I am now looking even more forward to getting my own bike - and injuring more young and overconfident bikeriders. Beware, Lance Armstrong II is on his way!
Monday November 23rd 2009:

We celebrated my birthday yesterday - only family. And eventually I had my presents. One of them (from children and grandchildren) was a fancy, new monitor for my computer, 22", and suddenly I could clearly read each and every letter, and now I don't have to lean forward in order to read what I have written. Today I have sat in front of the new screen the whole day, and I am absolutely sure, that I am not nearly as 'tired' in my eyes as I used to be. Birtday presents are good.
Sunday November 22nd 2009:

I sometimes become a little angry with myself when I don't take the time needed for a bikeride. I have set a target of 1715 miles (2750 kilometres) per year. Just now I am 148 miles (237 kilometres) short of that target, and I am rather confident that I shall reach it. I think that 1715 miles is a fair distance, but not if you compare with Lance Armstrong. In his 20-year long carreer he went 298.880 miles (480.000 kilometres), equals 14.944 miles per year (24.000 kilometres). So there is still something for me to strive for. I shall try next year.
Saturday November 21st 2009:

Bright sunshine, 11-12 degrees centigrades, very little wind, 12 guns, 12 retrievers. All was set for yet another perfect day retrieving. Couldn't be any better. And my trusty dog Sydney was very good and picked up quite a few pheasants while I chatted with our defence minister, who is a very good shot, by the way - and a very nice person.
Friday November 19th 2009:

Eventually weather for a bike ride - 35 miles in bright sunshine, but a bit windy. It has been exactly 3 weeks since my latest ride, so it was quite hard. But all that is forgotten when I arrive at our house, park the bike, have a hot shower, and sit down afterwards with a cup of tea and a biscuit telling all about the ride - nearly all. I do not dare mentioning to Matron how much it hurts in all my muscles and bones. For some reason she pays no attention and has even been seen smiling at an occasion like that.
Thursday November 19th 2009:

Last night in a terrible hurricane one of the plates on our roof blew to Kingdom come. It was not nice. About 10 p.m. we got help from a savings company. A man put up a temporary piece of plastic to cover the hole. But he wasn't very good at it, so today I had to climb the stupid roof twice to fasten the thing. And it is not good for a 69-year old man to keep on climbing roofs.
Wednesday November 18th 2009:

Today, exactly 69 years ago a major event took place in Silkeborg. I was born. Due to the German occupation big crowds were not allowed, so all the people who had intended to come and celebrate the occasion in the streets around where we lived had to stay at home, including the three wise men.
Tuesday November 17th 2009:

I don't know what has happened, but I now take daily walks of 1-1½ hours. Today it was 1½. I realize that afterwards it hurts everywhere in my poor old body, but since biking is too unpleasant with the kind of weather we are having, and since I find excercise important, I have to walk and accept all the pain that it gives. But it does help a bit when I see a beautiful sunset like the picture to the left. I took the picture today.
By the way I always walk with my good neighbour and friend Carl, and together we can agree on a lot of things that should be a lot better, than they are. You know the "Grumpier-Old-Men-Fashion". But we enjoy beeing grumpy. There are plenty of items to be grumpy about. And having your system cleared is good for you.
Monday November 16th 2009: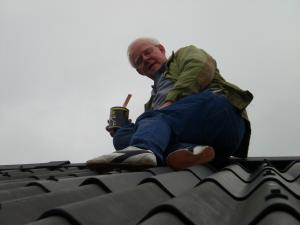 Once again on my roof. This time to repair some cracks and tiny holes with a black substance of I don't know what. Very black and very sticky - and nearly impossible to get off you hands (not to mention your clothes) afterwards. Courageously I climbed the wobbly ladder, did what I had to do and climbed down again. The latter being nearly the worst part of it. But I tell you. Climbing a roof, working on your elbows and knees in very uncomfortable positions, climbing down again makes your body hurt all over - at least when you are nearly 69.
Sunday November 15tj 2009:

Another great day. Not only did I have the 'pleasure' of climbing around on our roof to change one of the plates - together with our helpful son-in-law, mind you, but also it was great to have a phone call from our youngest grandchild who had caught her first seatrout, 57 centimeters and 2,1 kilos. Not bad for such a young girl. You can see a picture of it
by clicking here.
Saturday November 14th 2009:

What is better on a Saturday in November than retrieving on a good shoot? I do not know a lot of things better than that. And as a bonus you get wonderfully tired - just like I am right now. I can hardly lift my fingers to write. And as another bonus the rain started the minute the shoot was over. Lucky us. Now I have to stop. My last strength has left me.
Friday November 13th 2009:

"Friday 13th" - a date that makes superstitious people shiver. I am not superstitious, but - just to be on the safe side - I haven't done a lot today. I have read that there is a theory about the unlucky "Friday 13th" stating that it is a modern amalgamation of two older superstitions that thirteen is an unlucky number and that Friday is an unlucky day. So why take the chance? Especially when sometimes you enjoy doing nothing.
Thursday November 12th 2009:

I believe that we have all learned what H1N1 is - an irritating flue. Especially the Norwegians have learned it. There are nearly one million people (about 18% of the whole population) infected up there. I wonder why, and they don't even have half the number of pigs that we have in Denmark. I always thought that Norwegians were such a healthy people, skiing, fresh mountain air and all that.
But perhaps they forgot to wash their hands.
Wednesday´November 11th 2009:

Matron visited IKEA today, bless her. Fortunately she did not ask me to join her since she went with one of her friends. I was pleased about that. BUT. Having returned she suddenly came to think of two very important items that she had forgotten to buy, items that we couldn't possibly live without. Consequently I was ordered in the car to take her to her second visit to this nasty place called IKEA, and she bought the two important things, two small doormats and some batteries. Now we can live!
Tuesday November 10th 2009:

I cannot claim to be a keen walker, in fact the opposite. Nevertheless I dared out on 1 hour and 15 minute walk this afternoon. It all went well till I was 15 minutes from home. Then the penguin struck (see yesterday's description of it), and again I walked like somebody from "Ministry of Silly Walks", stooping a bit and arms slightly behind my body. I know it looks silly so even if it hurt like h... I didn't forget to straighten fully up just before going through our front door. Matron should not be given the opportunity of a laugh on my account.
Monday November 9th 2009:

Sometimes I walk like a penguin. For example today. It happens when my left hip hurts after a long bike ride or a full day on a shoot, and all muscles connected to my hip become as stiff as an iron bar. When walking I look like a member of "Ministry of Silly Walks", and I get a lot of 'funny' comments. That is not nice considering that I'm an old man with sore muscles.
Sunday November 8th 2009:

Well, well. What a pleasant surprise. A 59 year old Brasilian turned up to his own funeral. After a traffic accident his relatives had identified a body whom they thought was Ademir Jorge Goncalves - but obviously it wasn't. Mr. Goncalves had just been on the drink for 2-3 days and didn't know about "his" funeral until the day it was going to take place. He chose to come. 'A relief after all', a local policeman announced.
Saturday November 7th 2009:

I am tired, very tired. I have been retrieving all day and walked much more than my poor old body really allows me to. And when on top of the bargain the shoot wasn't very good, and that on my way home in the car I heard that my football team drew against the absolute bottom club who equalized 1 minute before the whistle, is it then so strange that I feel it has been a lousy day? But fortunately I can compensate by thinking of yesterday, which was a great day!
Friday November 6th 2009:

I am a very, very happy man today. My lecture last night was far beyond what I had hoped and expected. It went very well, indeed. After the lecture I got so many positive reactions to what I said, that I blushed the rest of the evening. What a great experience it was to me. I even think that my lecture "sold" quite a few books. The best evening for a long, long time. And tomorrow I am going retrieving with my trusty dog, Sydney. Isn't life just wonderful?
Thursday November 5th 2009:

I am a bit excited. Tonight I am going to give my lecture at Silkeborg Museum on my book about the local workhouse. I am excited because I have chosen a form that is a bit untraditional. I am also excited if I shall have an understanding and tolerant audience, and also how many people there will be - if any at all. Keep you fingers crossed for me!
Wednesday November 4th 2009:

We have had our first snow today, not a lot, not even a thin white cover on the ground. But it was definately snow. I take it as a warning that winter is on its way, and with today's early start we may be in for a long one. When I was a boy I loved long winters - not so any more.
Tuesday November 3rd 2009:

This afternoon with the rain and wind and dark weather outside I spent a couple of hours watching a film that I have come to like very much. I must have seen it 5-6 times during the last 10-12 years, "Hope and Glory" on DVD. It is a wonderful film about a London family during the 2nd world war - and it is really not a war film, but a very positive and in fact quite funny film from 1987 - no war horrors. Get hold of it and see it. I'm sure you will like it.
Monday November 2nd 2009:

Can you plead guilty to one or more of the following?
1) I sometimes speak on my mobile when shopping, eating at a restaurant or cafeteria, or sitting in a bus or a train.
2) I test my call signal in public.
3) I drive a car when speaking on my mobile.
4) I text while talking to other people.
5) I do not leave the room when recieveing a call with other people present.
If you can admit that you tend to do one or even more of the above mentioned you are not my friend. I hate it when people do it.
Sunday November 1st 2009:

Once every year my brother, son, son-in-law, and myself meet on a Saturday or Sunday to watch some good cricket on DVD. We will start at 10.30 a.m. and continue till about 4.30 p.m.
This year of course it will be last summer's "Ashes Clashes". We shall meet here at our house on Sunday November 29th, and just these days (and partly nights) I am preparing what to see, which means watching all 5 games to find out which 2 games will be shown, including Matron's very good lunch and tea. I am nearly sure it will be 2nd and 5th test.
Saturday October 31st 2009:
I believe that we are the only family in Denmark that have a cricket bat as a door knocker on our front entrance.
We got it from our English friends, and eventually I had the time to put it up today. Very nice and unusual, I think. I like it.
Friday October 30th 2009:

I have observed that the older I get the worse I handle busyness. The great advantage then, is that there are fewer and fewer occasions when in fact I am busy. Thanks for that! Today wasn't busy either. Went 40 miles on my old and trusty bike and mowed my lawn for the last time in 2009.
Thursday October 29th 2009:

I went to my bank today to cash a cheque, all in all a peaceful occupation. But Why is it wthat every time I enter a bank my nerves start twisting and turning my stomach? I have nothing to fear - I keep telling myself - but nevertheless the nerves are there. My fear is, that somebody will rise from a chair in the background and slowly come up to me saying someting about overdraughts or reminding me of money I haven't paid, or any other unpleasant item. I dislike banks. I don't feel I'm a customer, I'm a victim.
Wednesday October 28th 2009:

It's Halloween in a couple of days - an America tradition, you would probably think. But let me tell you, that you are wrong. It is European, and even several thousand years old. It does not derive from a single tradition, but from a mixture of different ones and various celebrations and religions. So we started it, and the Americans copied us. Think of that on October 31st.
Tuesday October 27th 2009:

The picture above was taken last Thursday in a bus at the busstop a few hundred yards from where we live. A bike rider was very upset because the bus had overtaken him in a dangerous way, he thought. He followed the bus till it stopped nearly just outside our house, entered it and started punching the 61-year old driver in his head. He hit him several times, and the poor man had blood all over his face. It was on radio the same day. Police are looking for the culprit.
As you can see, it wasn't me, even if a few of my friends, who haven't seen the picture, are a bit suspicious about it. But I know that true friends will not suspect me of entering a bus.
Monday October 26th 2009:

On 5th of November I am going to give a lecture at the Silkeborg Museum on my
book about work houses. I started preparing it last week, and also today I have worked the whole day, and since I very much would like to leave my audience with a good impression of the book I am trying to make it as interesting as possible, but also "entertaining" enough to persuade people to read it. It's a difficult job, because there are so many things that I would like to tell, and I have only got a limited time for the lecture, 30 minutes.
Sunday October 25th 2009:

I like to have my lunch sharpish - but not so today. Or rather, it was sharpish. At 12 o'clock I dared remind Matron that it was lunchtime, and that I hadn't noticed any preparations for the meal. She just asked me to have another look at my watch, which I did. It was 12. Well, eeh, it would have been, if it wasn't for the fact that I had forgotten to adjust the time before going to bed last night - no more summertime. I had my lunch an hour later.
Saturday October 24th 2009:

An English meteorologist, Andy Russell from Manchester, has given us all new and interesting facts. Tuesday is the wettest day of the week. A long study has proven this to him. Originally he wanted to find out if the old saying that it rains more at weekends than weekdays is true. Obviously it isn't. Tuesday is the worst. So don't make cricket fixtures or picnics on a Tuesday. Weekends are a lot safer.
Friday October 23rd 2009:

A young German student was very unlucky the other day. He was asked to leave a train because he had no ticket. He got mad, and on the platform he pulled down his trousers and 'mooned' the Bundesbahn-staff. Unfortunately his trouser-pocket caught something when the train started moving, and he was dragged several hundred yards after it, until some passenger saw him and pulled the emergency stop. Fortunately he wasn't badly hurt - only some bruises, but afterwards he told police that he had no plans of 'mooning' again - or go by train without a ticket.
Thursday October 22nd 2009:

I have recieved my first invitation to a Christmas party today. Yes, it's a bit early, and the party will be on December 4th, but then again, there may be so many of them that thorough planning will be necessary. And it is only 63 days til Christmas.
PS: I am looking very much forward to Friday, tomorrow. Sydney and I will be retrieving at a shoot on our well known estate. Great!
Wednesday October 21st 2009:

I have not been on my bike today. And even if I was a bit stiff from yesterday's ride of about 40 miles I wish I could have gone to Ebeltoft today by bike. But the wind was too cold and strong, even for a viking like me, so it had to be in the car. But just look at what we saw on our way home!
Tuesday October 20th 2009:

I am fed up with my football team. Last night they lost 0-1 to one of the bottom clubs, a side that you must beat if you want to impress just a little bit. Before the game our coach said that we are playing for a medal. But I have never heard of teams ending as number 7-9 getting any medal. Once again I shall not be there at our next home match next Monday. Rubbish!
Monday October 19th 2009:

For once my dear wife did not make dinner for us today. Instead we agreed to go to the nearest "Fish'n chips shop", of which we have none in Denmark. But we have something similar, fast food out of the house, a place at the mainroad only 2 miles from where we live. And what a terrible meal we got. I doubt it that it could get any worse. So, next time we shall be more careful in selecting where to buy dinners that we don't bother to make ourselves.
Sunday October 18th 2009: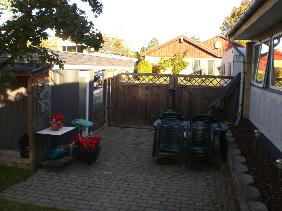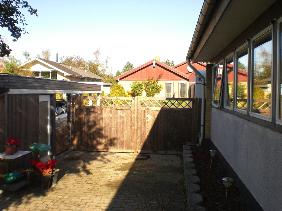 Garden furniture stowed away today. It's a bit sad when you do that. But then again there is something else to look forward to, the retrieves, Christmas, New year - and spring when the furniture comes out again.
Saturday October 17th 2009:

First shoot and retrieve this year was today - in beautiful and a bit windy weather. We really enjoyed it. And fortunately there will be more - already next Friday.
But I must admit that I need some excersise. I was very tired and stiff when we finished. I really felt my nearly 69 years.
Friday October 16th 2009:

We are having the family in for dinner tonight. So yesterday was shopping day. However I was not the least surprised when this afternoon Matron told me, '
One of us
has to go to the supermarket. There's something we have forgotten'. I bought dressing and garlic. I am always
'One of us'.
Thursday October 15th 2009: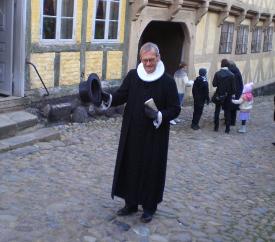 This week is a school holiday. Traditionally we have our grandchildren staying with us for 4-5 days, and traditionally we always go to 'The Old Town' in Aarhus, like we did today. We happened to meet the vicar who told us that he was on his way to the local school to check that the teacher does not tie knots on the rope that he uses to punish the children with. Because that is not allowed - the knots, of course.
Wednesday October 14th 2009:

The above picture (only 12 x 8 inches) of a young woman, which has till now been thought was painted by some unknown German painter, is now recognized as a genuine Leonardi da Vinci. The owner, a Swiss art collector paid 20.000 dollars for it. Now it has an estimated value of 150.000.000 dollars. Nice little profit. I shall have a thorough look in all our cupboards for forgotten paintings.
Tuesday October 13th 2009:

I have nearly finished reading an interesting book - at least for the second time -
'The Last Days of Hitler'
by H. R. Trevor-Roper. The first time I read it was many years ago. It's an interesting book that seems to be very authentic, and it made me think of a film I saw a couple of years ago,
'Der Untergang'
with the same theme, Hitler's last days in the bunker in Berlin. I am not even sure that the film has an English title. I remember it as just as authentic as the book so I immediately bought it on the Internet, and in a couple of days, when hopefully I have finished the book, I can see the film once again and compare. That will be interesting.
Monday October 12th 2009:

Matron and I went to our doctor today. We had our yearly flue-vaccination. A nurse gave it, and at the same time told us that this year the vaccination is especially aimed at preventing an Australian influenza to hit us. I thought that perhaps it wasn't necessary to be injected then, since we have no plans of going there. But now we've got it, so we might as well go and watch some cricket.
Sunday October 11th 2009:

Last night Denmark qualified for the World Championships by beating our "good friends" Sweden 1-0. And nearly best of all. The goal scorer is from my club. Are we proud? Only one game remains, on Wednesday against Hungary. The result is totally indifferent - like England's defeat yesterday to the Ukraine. See you in South Africa!
Saturday October 10th 2009:

Matron took me shopping today. Not that I wanted to, but she did. And I followed suit. Two supermarkets, two garden centers, one ironmonger, one bank, and one car part shop were visited. To me that was more than enough. It was boring. But Matron kept smiling - also to me. That was not so boring.
Friday October 9th 2009:

I went biking today, to Ebeltoft and back, 43 miles. The last 7-8 of them were bad, very bad and painful. I have my age, my weight and my lack of fitness against me. I don't know which of the three causes me the greatest problem. I took the picture to the left myself after 37 miles, while I still had the power to do it. Coming home - after 43 miles - there was not enough energy to take another picture so Matron was called to take it. I shall not repeat her comments to what she saw.
Thursday October 8th 2009:

In these times with a lot of talk about lack of ressources and the importance of inventing alternative solutions I find it interesting that in fact your body can generate energy itself, for example in order to warm a cup of coffee. If only you scream constantly for 8 years, 7 months, and 6 days it should be enough for the purpose mentioned. I am not interested. I never drink coffee.
Wednesday October 7th 2009:

I shall save you from all the details from my visit to my dentist today. But for nearly 40 minutes I sat with my mouth opened, because a filling had to be changed. 40 minutes. That's a long time and gave me a cramp in my old jaw-muscles. Afterwards I could hardly shut my mouth, and I would have looked pretty silly walking the streets of Aarhus with an open mouth. So I waited till the stiffness had died away and with a shivering voice contacted Matron on my mobile. The shiver, though, was due to the fact that she had taken the opportunity and had a stroll down the shopping street to buy a pair of new shoes, which she did - in fat she bought two pairs - on my credit card. That made my voice shiver even more.
Tuesday October 6th 2009:

Still suffering from yesterday's hard labour I haven't done a lot today, except from visiting an old aunt who was hospitalized the other day. She lives in Silkeborg, and when visiting her at the hospiltal she told us that her allotment garden was full of apples, carrots, celeries, and other vegetables, and she was only too happy if we would go there and pick all the vegetables that we wanted. How nice it was to see a garden where you could pick fresh 'stuff' for the soup that Matron is going to make us tomorrow. Tomorrow cannot come too soon.
Monday October 5th 2009:

I have moved one ton of mould today, Matron's order. Half a ton was picked up in a trailer from our local dump, and half a ton we had already, it only had to be moved. I have now finished, have had a shower and could theoretically relax if it wasn't for the pain all over my old body and bones. It is not good to shift one ton of mould, it gives all kinds of pains. There is only a little spot on top of one of my toes that doesn't hurt. And I dare not tell Matron about it. She would only say that I am weepy.
Sunday October 4th 2009:

There are a couple of excuses why I did not train my trusty dog Sydney today, as I had planned. First of all I had to go with our youngest grandchild to collect chessnuts that are falling down in great numbers these days. Secondly the wind in the open was too strong for me. I hate gale forces over 3. Thirdly he gets so much excercise from walking with our neighbour, who takes him out one hour every morning. I hadn't told him about my plans, so he was not disappointed.
Saturday October 3rd 2009:

An advertisment on 'eBay' was removed the other day. A 10-year-old girl had put her granny (61) on auction. The young girl described her as "iiritating", but also a little nice and fond of crossword puzzles. In spite of an entertaining advertisment 'eBay' thought it better to remove it, since it was unlawful. Quite a few bids on grandmum had already come in. Don't tell this to our grandchildren!
Friday October 2nd 2009:

Yes, yes. Matron did not interfere in my plans for the day. All she asked me to do was to go to the bank and get her some money - quite a lot, though - and after that take our new car back to the dealer to have a copy of the electronic key made. All in all it took me about 40 minutes, and the rest of the day I have sat right here in front of my computer working on my book. What a great day!
Thursday October 1st 2009:

I have not left our house the whole day. I have even only left my room when having lunch and when our lovely daughter called. And I shall be here for yet another while. No garden work today, no domestic job of any kind, no biking - no nothing, but writing. What a great day it has been. I hope tomorrow will be the same, but Matron may think otherwise.
Wednesday September 30th 2009: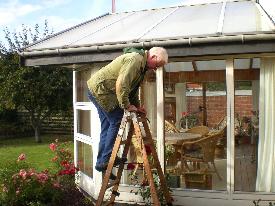 On demand from matron, risking my life, I climbed a ladder to clean our gutters. Little did she know that yesterday I nearly fell off another ladder exactly the same place. I could have broken every bone in my old body and have been hospitalized for weeks and months. I begged for mercy and patience till one of the younger members of the family could come and do the job. But NO.
So - as you can see -
"she-who-must-be-obeyed"
spoke, and I did what I was told.
Tuesday September 29th 2009:

My football team lost last night - again and again and ..... We are now where we always were, number 6-7-8 after having been number one for 7-8 weeks. Of course that means that I shall not be there for next Saturday's home game. I do not want to pay good money for bad football. And to me it is bad football when "the enemy" plays an excellent game and beats us. Good football is when we win, no matter the quality - and nothing else. Save me from other hypocritical explanations!
Monday September 28th 2009:

Our English friends, who will go home tomorrow, brought the picture on the left for me. Being a great cricket fan I thought that I ought to display it.
And it is a bonus that our Danish flag, "The Dannebrog", is there, too.
I just thought it was a cute little picture even though the cap is Australian.
Sunday September 27th 2009:

Sunday lunch at our son's and daughter-in-law's house with family and English friends. Not a bad combination. And there was plenty of food and drink much appreciated not least by me. And very nice it was. All of us seem to be quite talkative, so there were no dull moments. We "oldies" left first, since Matron had a 5.30-appointment with her TV-set. "Heart Beat" was on. And you cannot miss that, can you?

Saturday September 26th 2009:

You may have found out that I am not very keen on shopping, but it is no problem for me to wait outside supplied with a newspaper or at a place where I can watch people going by, thinking of whom they are, where they are going, and what sort of a person some of them may be. Today, however, we visited a big outdoor market with vegetables, fruit, flowers, cheese, and fish. I didn't mind going there. That was in fact rather interesting. Also I don't mind going to the fishmonger, which we did afterwards - even two of them - at the Aarhus Harbour.
So if you send or take me shopping, please let it be at the fishmonger's.
Friday September 25th 2009: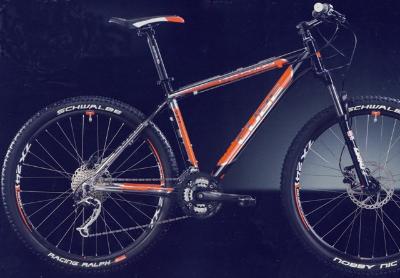 Today I have had the great pleasure of buying a new bike - see to the left - in the company of our English friends. Matron obviously thought that since I am going to get a new bike she'd better go and look for another caravan - which we duly did. She managed to find one that interested her, but fortunately she changed her mind when we came home. So no new caravan this time. How lucky can one be?
Now you only need to imagine a 68-year-old bike rider riding the bike on the picture in next year's Tour de France.
Thursday September 24th 2009:

Of course we do a lot of driving these days with our English friends, today to Ebeltoft. To my surprise we met 2 policecars, that's a lot in one day. What may be even more unusual is that all four policemen in the two cars were fully dressed in their correct uniforms. This was not the case last Sunday in Brisbane when two men were arrested for jumping naked out of a van. Somebody reported the incident and when two policemen arrived - in full uniform - they checked the license number only to find out that the van belonged to an elite police unit that deals with terror threats. The two naked men were police officers taking part in a stag night for a friend of theirs. But nevertheless they were arrested. The two bashful members of the force are said to be "most shameful". No wonder.
Wednesday September 23rd 2009:

Besides of taking our English friends to central Aarhus for a walk and after that a very long visit to IKEA (my favourite hate store), I also had the time to train my trusty dog Sydney. The shooting season has already started, but we won't be going till 17th October. Fortunately I started training him a couple of weeks ago and I shall intensify our work in the weeks to come. If only all people were as keen on their job as Sydney is when training, I am sure that a lot of companies would be a lot happier - and make a lot more money.
Tuesday September 22nd 2009:

Going to Silkeborg - which we did today - is a "must" when we are visited by our friends from England, because that is the place where we first met when we were a lot younger, 51 years ago. Between ourselves the four of us easily agree that we don't look as old as that might indicate. We do look a lot younger.
But as a matter of fact the senior member of our English-Danish group is 79, and the youngest is 69.
Unfortunately you cannot see me on the picture, but just like the three of us that you can see, I am also good looking.
Monday September 21st 2009:

Our English friends have arrived today. So we were up rather early to pick them up at the airport around 10 a.m. But "early" isn't the word that you should use about us considering that they had been up since 1 a.m. to drive to Stansted. That is early - and was just about the time that we went to bed. Based on the fact that our friends got up at 1 a.m. I allow myself to conclude that they are at least a little bit keen on visisting us. That's nice.
So we haven't done a lot today - just a small trip to the beach south of Aarhus, where we couldn't even get an icecream. Shop closed for the winter! What a disappointment. Must make up for it tomorrow.
Sunday September 20th 2009:

My cricket team 1905. I'm standing front to the left with the very nice cap, leaning onto my bat. I am the only one with just the slightest hint of a smile. Cricket is a serious game. The gentlemen in black had forgotten their proper cricket trousers and shirts - or perhaps they came straight from a funeral. Cricket is also a dangerous game.
Saturday September 19th 2009:

Due to matron's bad shoulder and other ailments I was trusted to paint our hoarding today. Normally I am not allowed to because it is claimed that I stain too much. So I was quite proud of the trust that was given to me and it raised my self-estime. It didn't last, though. After a few moments I was asked to remove our car, since I might stain on it. It stood several yards away, but close enough for matron to fear paint all over it. So much for trust and estime.
Friday September 18th 2009:

I am letting my bike down these days. In August I only rode 118 miles, and in September till now it has only been 69. Last year I rode 277 miles in August and 199 in September. I should ride at least 200 miles per month. Why is it then? Holiday is one explanation. Matron's ordering me around is another and perhaps more valid reason. But tommorow I shall defy her joblist and go for a ride in the lovely weather we are having.
Thursday September 17th 2009:

We went to Ebeltoft today to have a very nice lunch with old friends - and a long one it was. We didn't leave till 6.30 p.m. Very nice. I did miss having a beer or two, though, but I had promised to do the driving since matron didn't feel well. The poor soul woke up this morning feeling dizzy and weak. And she hasn't quite recovered yet. Or perhaps she has. She just called from the kitchen to tell me that tea is ready, so I shall stop here. See you tomorrow!
Wednesday September 16th 2009:

I went to see my doctor today. Just a routine visit because I have stepped down some pills over er period of time. He seemed very happy with me and we agrred that I shall no longer take the pills in question at all. Not only does this please me because I hate taking tablets, but it also saves me quite a bit of money since they were rather expensive. Now, perhaps, we can have money for an extra holiday.
Tuesday September 15th 2009:

Matron is up to her worst these days. We are expecting our friends from England to visit us next week, and obviously it is very important that everything is perfect when they arrive. This means a lot of ordering around with me from the garden to the house and back again. And everywhere hard work. My poor back protests but to no avail. Matron thinks I am playing truant. If only I dared, I would go on strike, even if it would cost me a meal or two!
Monday September 14th 2009:

Having had our new car for a week we are now getting used to all its advantages. Fortunately we haven't found any disadvantages. It runs beautifully and tows a caravan like a dream. There is so much power in the engine that you can hardly feel the extra 1.350 kilos on the hook. And it accellerates with ease up a hill in 5th gear. Lovely. It runs on diesel which is 20 p. cheaper per liter than petrol. Everyone should have a car like that.
Sunday September 13th 2009:

It has beeen a family weekend. We have met with nearly all my cousins and their respective "better halves" on a beautiful and small island in northern Jutland. We talked, and then we talked, and shortly after we talked again. All sorts of memories came up, the happier ones and the sadder ones. Some PowerPoint slides helped people remembering. It has been two great days. Do I need to tell that we shall meet again next year?
Friday September 11th 2009:

Eventually. I've waited for it for years and years. A Danish football fan - even from my own club - has invented a "machine" that can pour 6 pints of beer at the time in 6 seconds. The inventor (like me) got fed up waiting for his beer when there was a long queue. In cooperation with a brewery he consequently invented his "beer machine". It was launched last week. In fact it can pour 1.500 pints per hour. An ordinary tap can at its best produce 250. Modern times have their benefits.
I must add that this beer tap is expected to be sold world wide and has an estimated market-value of 7-12 million pounds.
Thursday September 10th 2009:

Not a word about football. I hate the game. Watching Denmark drawing 1-1 against Albania (and not Bulgaria as I suggested yesterday) was pure torment. What a load of rubbish. The team we saw last night has absolutely nothing to do at the championships next year. Let them stay at home and practise some more. They need it. They were awful.
Having said that I am looking forward to next weekend's games!
Wednesday September 9th 2009:

Tonight is a decisive night for Denmark. We are playing Bulgaria in a qualifier. If we win (which we should) we only need one more point in two matches to be sure. If Portugal beats Hungary it helps, not to mention if Malta by some devine luck gets but one point against Sweden. Those two results will settle the whole business, and we are "there". I shall sit on the edge of my sofa watching - if I don't fall asleep early. Matron made me work hard hard in the garden this afternoon. Everything must be "ship shape", since our friends from England will visit us soon.
Tuesday September 8th 2009:

Unfortunately the first dog that had a ride in our new car was poor old Gipsy, Peter's dog. I (Peter is in Sweden on a fishing trip) had to take her to the vet to have her put away. She was 14 years old and has done well, but she was weak and couldn't live any more, said the vet. That's a comfort.
She was a lovely dog.
Monday September 7th 2009: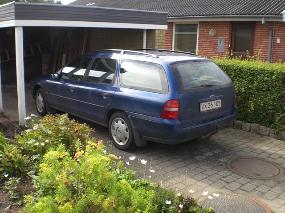 Two pictures taken with an interval of 2 hours. Our new car has arrived in all its beauty. On the road again!
Sunday September 6th 2009:

It's nearly too good to be true. My own football team is top of the tables and has been so for the latest 6 weeks. Last night Denmark drew 1-1 with Portugal and are now more or less certain to play in South Africa next year. And even more. The Danish team includes two players from Aarhus. How much more can you ask for?
Saturday September 5th 2009:

Today is an important day. At 1.42 p.m. it was exactly 4 years since I put out my last cigarette. I know that have gained about 4 stone since then, but still I don't regret my decission. Now I must decide to loose 3-4 stone, but I am not sure sure that I shall succeed. I love a good meal!
Friday September 4th 2009:

I read today that there are no words that rhyme on
"month", "orange", "silver",
and
"purple".

I have to ask you "British lot", if this is true. I myself cannot think of any, but then, I am not a "native". Can you tell me if it is true?
Thursday September 3rd 2009:

Today is a special day. I have sent my book to the publisher, Silkeborg Museum, and I shall for the next fortnight anxiously wait for a response. I hope it will be a good one. But no matter the result I am proud of it myself.
Wednesday September 2nd 2009:

From our garden-party yesterday. I am easily recognizable with my bike, and Else sits at the table with her dark apron. It was a lovely party - and quiet, only one or two incidents with indifferent brawls between various members of the family. Only one was taken to hospital. A nice day!
Tuesday September 1st 2009:
At a football game in Copenhagen between Brondby and FCK last Sunday the FCK-keeper was unlucky enough to injure his arm. We all thought it was broken. He had to be carried off the pitch, but unfortunately a young lady who was one of three to carry him did not have the strength, so she staggered and fell and the poor keeper nearly fell off the stretcher and might as well have broken his leg, too. My theory is that the young lady is a Brondby-fan.
Monday August 31st 2009:

Today is the last day of summer 2009 - and tomorrow the first day of autumn 2009. I am already looking forward to next summer, cannot wait. But on the other hand I mustn't forget that with autumn comes the shooting season, which is a lovely (and exciting) time of the year, and my good dog Sydney cannot wait for that.
Sunday August 30th 2009:

We spent the whole morning at a wonderful "Birthday-Brunch". Our daughter and second eldest grandchild celebrated their coming birthdays, which are next week. I know I shouldn't mention our daughter's age, and I daren't, but I am a bit surprised to find out that I have a daughter so old. Please, don't tell her I said this. If you do, you should first - perhaps as a birthday present - give her a T-shirt that I have seen. On it is printed:
'Here comes trouble'.

PS: We won 2-0 yesterday in an away game. We are number one in the tables!!!!!!!!!
Saturday August 29th 2009:

When I woke up this morning I was dry in my mouth and throat, a clear indication that I had snorred - probably rather loudly and probably for a long time. I am not happy about this because I have heard that it is not good for you, your brain gets too little oxygen. But unfortunately no cure is yet found that can help me. My only "comfort" is that 45% of all adults snore now and then and 25% do it nearly all nights. I am not included in this statistics since I do it every night.
Friday August 28th 2009:

Today I receieved an e-mail from our daughter and son-in-law. It was little sentences by very young children about God. Here are some of them:
Kate, 7 years old,
'God is a soft man . He is almost transparent'.
J
ulie, 6 years old,
'It is typical God to be good'.

Nicoline, 5 years old,
'God owns the sun. He switches it off during the night so save electricity'.
Ida, 5 years old,
'I've got a dog who believes in God'.
Thursday August 27th 2009:

Why does one laugh when one hears about a 58-year-old Australian, who the other day was glued to a toilet seat by two young men, who wanted some fun? There is really nothing to laugh about. I mean, had the man been glued to an ordinary chair one wouldn't laugh, but just have thought 'Stupid boys. How dare they?' Obviously it's the toilet seat that makes it funny. I wonder why.
As it turned out nobody could help the poor man, since the glue was very strong, and not until he was taken to hospital could he be freed by some doctors helped by an effective industrial solvent.
Wednesday August 26th 2009: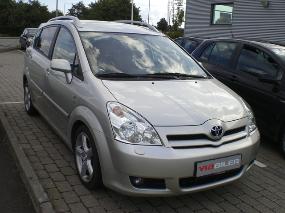 YES, YES, we succeeded. We found our dream-car and bought it straight away this morning about 9.30, so we were up early.
It's a 'Toyota Corolla Sportsvan', 2,2 liter turbo-diesel with intercooler (whatever that is), a lot og HP and all the electronical gadgets that you can think of, even blue tooth (whatever that is).
It will be delivered in 8-10 days.
Have a good look at the picture.
Tuesday August 25th 2009:

After yesterday's most important information on the King of Hearts anything that I write today may seem totally indifferent. But I shall carry on and do my very best.
These days I am finishing my book about the work-houses in Silkeborg, and just now I am "polishing" the text. It is a slow process, but an essentiel one. Because what does it help, if you have got some highly interesting things to tell, but nobody cares to read them due to bad or wrong language and mistakes, be they spelling mistakes or fact mistakes? I had hoped to work the whole day, but was comprehensively disturbed by 3 men who for 3-4 hours prepared our coming cable-TV putting up wires all over the house. So it left me with only 4 hours' working time on the book. I intend to go on during the evening - and perhaps also the night.
Monday August 24th 2009:

I am not a keen card-player, far from. Nevertheless I have spent quite a few hours playing, especially in my younger years at college. After that we had regular evenings with friends and family playing 'whist'. Now it is mainly the odd game with our grandchildren. However, just today I read something about cards that really surprised me. Why haven't I noticed this years and years ago?
The King of hearts is the only king in the deck of cards that has no beard
. My goodness! What an important piece of information - and how astonishing. I never stop learning!

Sunday August 23rd 2009:

Three items on the agenda today.
1) Celebrating youngest granchild's 11th birthday the whole morning.
2) Visiting a car-dealer to look for new car. No luck, shop closed, which wasn't mentioned on their website, God bless them.
3) Mowing the lawn which hasn't been mowed for a bit more than two weeks due to holiday.
1)
was better than
2)
which again was better than
3)
. I am happy that there wasn't a
4)
and
5)
!
Saturday August 22nd 2009:

Having enjoyed 10 days' wonderful holiday in Germany I am now back and ready to continue my diary. But not in a happy mood. Let me give you the reason for that. Very optimistically I went to watch my football team which has been number one for some weeks playying one of the bottom teams, Silkeborg, on home soil in front of nearly 18.000 spectators. And what happened? A dreadful draw (2-2) that could quite easily have been a defeat. I hate it when my team plays like a bunch of beginners like they did today. Shame on them! May their socks shrink in their next wash!
Tuesday August 11th 2009:

What a shame! Unfortunately we cannot buy the car that we planned to buy. According to some stupid decission from Nissan their models are not allowed to tow as many kilos as we need. Nearly any other car would have been alright including our present Ford Mondeo which is smaller. But never mind. Fortunately there are plenty of cars on the market, but only not a two-year-old car with only 4.000 miles on the clock.
Monday August 10th 2009:

I now and the had disagreements with our own children when they were a lot younger. And probably they sometimes felt that I was the most unjust dad in the whole world. And they may have rushed into their room slamming the door after them. But a few minutes later they would come out, and everything was back to normal. No hard feelings.
Not so yesterday in a Danish family near Copenhagen. A father and his 15-year-old boy argued. It became very heated and bad words were exchanged. Suddenly the boy stopped, grabbed his mobile and called his friends, a group of "gorillas", who arrived with their baseball bats - one of them even with a gun. Police was called, and the four "gorillas" were arrested. I do wonder what happens when dad meets son the next time.
Sunday August 9th 2009:

It is Monday morning. It is 6.30. I have just woken up realizing that I forgot to write my diary yesterday. I simply forgot. The reason may very well be the dreadful game we went to see Sunday afternoon. Playing against a bottom team we just managed to get a narrow win of 2-1. It was awful. This fact combined with the nightmare that I forgot to write my diary woke me up in an unpleasant way and with a start. It shall never forget again! (Have I said that before?)
Saturday August 8th 2009:

I know, I know. It's a bit sentimental, but so what? I love doing that sort of a thing with "our" children.
I went on a bike ride today. Nothing unusual about that. But what was unusual, and what made it a unique ride was that I went with all our three grandchildren. I have never tried that before (Then of course it wouldn't have been unique, would it?).
Did they enjoy it + the icecream I bought them ? Yes.
Did I enjoy riding and talking with them? YES-YES-YES-YES-YES.
All in all we went nearly 10 miles.
Just have a look at the picture from the yeacht harbour near where we live. I am second from the right.
Friday August 7th 2009:

We bought tomatoes today. And I started wondering whether a tomato is a fruit or a vegetable. I had to look it up when I came home, and I learned that a tomato is a berry, and a berry is a fruit. Consequently a tomatoe is a fruit. Tell it to everybody you know, because they don't know! Don't you always prosper from reading my diaries?
PS: Picked up tickets for Sunday's game. I already feel nervous!
Thursday August 6th 2009:

Two of our grandchildren are staying with us these days. Having the high temperatures that we have right now, to them it is a "must" to go to the nearby beach for a swim. And that is what they did and what they love nearly more than anything else. They went a couple of times. I myself do not take part in cold-water-swimming, even if everybody claimed that the water temperature was just perfect, very warm. But I am too familiar with their lies. I only take part when the water sizzles and fizzes at the water's edge. Only then will I jump in.
Wednesday August 5th 2009:

It's always a good idea to look after your health. Russian football fans, who intend to go to Wales next month to watch their team playing a qualifier, have been advised to drink plenty of Welsh whisky by their own organization as a protection against the fluevirus
'H1N1'
. Mr. Aleksandr Sjprygin, president of the Russian fan-organization has given that splendid piece of advice for everyone to follow. He claims that whisky is the best disinfection against the disease.
I bet you that he is going on the trip himself.
Tuesday August 4th 2009:

I have to mention this: Last night we drew with one of the favourite teams, Odense. Result 2-2.
We are still number one and we intend to stay there. Next game is against the absolute worst team, the bottom of the tables, and we all expect a safe win, and even a big one. It's on home soil. It's on Sunday. Will I worry? YES!
Monday August 3rd 2009:

Decission made. We have bought the car, but we will not get it till late in August. So there is plenty of time to save up the money. On the picture you can see Matron persuading the salesman to sell us the car. He accepted.
Sunday August 2nd 2009:

I have cut down an old tree today - and dug it out of the ground with roots and all. Well, my aging and trusty car did most of the "digging". All I had to do was to make a narrow "ditch" around it, put a strong rope to one of the branches it, attach the other end to the car - and there you are. I think that all garden work should be done sitting in your car or elsewhere, but
sitting
.
Saturday August 1st 2009:

Matron seemed to be pleased with me today. Not only did I mow a "long-haired" lawn, but I also - on my own initiative - cut one of our hedges. I think I saw her nodding and smiling when she realized what had happened. It may be an indication of a good dinner tonight.
Friday July 31st 2009:

Unless you read Danish - which you probably don't - you wouldn't know that we are considering buying another car. I wrote about it yesterday in my Danish diary. So I suggest that you take a quick look at that
(click here)
and find out that it is a Nissan Tino Star van, 2,2 litres turbodiesel. There is a picture of it. It is only two years old, from September 2007, with only 4.000 miles on the clock. The price is fair. Final decission will probably be made on Monday.
Thursday July 30th 2009:

There is some knowledge that you cannot live without. For example this: An American magician, Ricky J. Smith Jr., has beaten the world record by throwing an ordinary playing card 65,96 meters (71,08 yards). He used to be pitcher at his college baseball team. That may be the reason why or perhaps he had a healthy backwind - or both. Don't you feel a lot happier, now that you know this?
Wednesday July 29th 2009:

I made a long ride on my bike today, 40 miles, to the beach south of Aarhus. The weather was nice, but not brilliant, so only few people were there. But it struck me that those who were, must be very poor - at least the females. Obviously they can only afford to buy very little pieces of clothing. I think that our social services should step in and do something about it. I mean, those poor girls must suffer somehow. What will they do when winter comes?
Tuesday July 28th 2009:

I can hardly wait writing this. We won an away game 2-3 and are now - after two games - number one in the tables. That is the first time for ten years. As expected I didn't dare watch the game, only that last couple of minutes. We were up 3-1 till deep into extra time. But we won. Halleluja! May we repeat it next Monday!
Monday July 27th 2009:

My football teams plays at Randers today - a drive of 30 minutes or so from here. I was asked if I would join my son and daughter-in-law for the game. I said no. I hate away games. I cannot stand watching MY team loosing to another team on their ground listening to their fans rejoicing and perhaps mocking us. It's even enough to watch it on TV. So I am not yet sure if I shall. I may use the "coward method" and switch the telly on every 15 minutes and see how it goes. And if we are on a safe winning course I may leave it on.
Sunday July 26th 2009:

Biking on the "remains" of a closed down railway line is one of the beauties of life. My brother and I did just that today. It is so wonderful not to have to think of other traffic apart from the odd pedestrian or biker, and it gives you the opportunity of enjoying the landscape fully. We went 45 miles all in all, but unfortunately not all of them on the old railway. I suggest that we close down 50% of all railway lines and open them for bikers.
Saturday July 25th 2009:

Matron has a sore knee, bless her. But still it was a surprise that I was ordered to paint four of our windows because of that. Normally she wouldn't tell me to do so, due to my lack of skills as a painter. 'Well', I thought, 'I'd better do it'. But then something dawned to me. This morning our son, who is a painter, called us and when I talked to him I "happened" to mention Matron's plans. And immediately counterorders were issued by him. In so many words he told me to stay far away from any paintbrush, and especially not going near to any window with it in my hand. He would come and do the job. When asked if he really thought that I was so bad, his answer was clear, 'YES'.
I pretended to be disappointed, but his decision could not be altered. (Why wasn't I sorry?).
Friday July 24th 2009:

Today Matron forgot all about an old principle of hers. The one that forbids me to use paint and brush anywhere on our house. She found it more than acceptable that I painted our tool shed. I hate painting and leave staines all over the place (that's why I have been forbidden to paint) and would much rather have been out on my bike. But something (or somebody) made me change my mind as you can see it on the picture. I find it wrong to skip principles.
Thursday July 23rd 2009:

Today I visited Silkeborg in the company of a distant member of my family (my father's cousin). The purpose of the visit was to visit places of interest for my book on the previous three workhouses in Silkeborg. It turned out to be very interesting, and we finished with a very nice lunch at a very nice place just by one of the many lakes. What a lovely days it has been - even if it rained quite a bit.
Wednesday July 22nd 2009:

Eventually an eventful day at the Tour de France, and with a favourable result for Danish Team Saxo Bank. 1st and 3rd on the stage and now 2nd in the "overall". But I am disappointed that we had to wait 17 stages till good biking was shown. This one stage does not take away the feeling of a very dull Tour. Today's stage kept me awake most of the afternoon, and that is unusual.
Tuesday July 21st 2009:

I woke up quite happy this morning - only to be met by orders from Matron. Go and rent a trailer. Fill it up with all the garden rubbish, that lies at the garage (a tree that I sweatingly cut down yesterday). Take it to the dump. But first go to Hornslet and do this and after that to Moerke and do that. And don't forget to buy a newspaper on your way home. Eventually Matron joined me on my Odyssey - except for the dump with the hard labour that is always connected with that place. I went there on my own. She's a cunning lady! Happiness never lasts!
Monday July 20th 2009:

Todays I shajl be a man of fuw words. In 15 minuteses I am off for the forst gam of a brand niw season - nervos as alwas. That maj bi whaj I mike so many speling mistukes.
EXTRA: We beat them comprehensively 1-0. Great! Consequently my spelling has improved.

Sunday July 19th 2009:

For some reason I managed to keep awake during the Tour de France this afternoon watching it on TV. And it wasn't even necessary since action only started 15 minutes before finish. The rest was nearly as dull as all the other days have been. But I saw it. Tomorrow afternoon I can sleep as much as I like. It's a rest day, and I intend to rest as well.
Saturday July 18th 2009:

A very drunk and very happy Englishman was arrested in Mallorca Airport the other day for disturbing public peace. In his hands he had lots of bank notes that he smilingly threw up into the air and let anybody pick up. It turned out that he had just inherited a big sum of money, around £40.000, and in his drunkenness he enjoyed spreading happiness around him. After his arrest he was sent back to England and offered counselling of how to spend his money. Why wasn't I at Mallorca that day? Probably because I was away on a caravan trip to the north of Jutland.
Friday July 17th 2009:

My day was carefully planned. Up rather early, on my bike, and a ride the length of which (40 miles) was worked out exactly to give me time for a shower, a short lunch - and then Tour de France on the telly. It all went well. I sat there exactly when the transmission started. But then it all went wrong. Obviously the ride had tired me too much, so that I slept during most of today's stage. Yes, biking is hard.
Thursday July 16th 2009:

Coming home from a holiday often means hard work. Not only unpacking, but also going through two weeks' mail. A sad thing to do considering the number of bills that seem to just to have waited for you to go away, lie waiting and then attacking you the minute you walk in through the door. I hate mail with little windows in them. And to make things worse your lawn seems to have exploded, while you were away, and quietly lies there waiting for you to walk all over it pushing your too heavy mower, that must be emptied every two minutes. But it won't make me stay at home next time.
Wednesday July 15th 2009:

2 weeks' lovely holiday over. We enjoyed yet another very nice stay i northern Jutland. Now it is back to work. Matron will think of something. I myself will think of next Monday when the football season starts. And it is hard work getting through the nervous days till kick-off.
Nice to see you again!
Tuesday 30th June 2009:

I must realize that on Saturday "Tour de France" begins. Due to some misunderstanding in the Tour Management's planning I will not ride. It's a shame because I am fully fit, especially for the time trials. My average speed - when it is best - is about 13,12 miles per hour. It should be enough.
The mountain stages are just me. I would have had at least two stage wins there.
In the overall classification I would have been at least top three.
But, alas. Something went wrong, and all I can do is watching on TV from my best chair.
Monday June 29th 2009:

Today I wanted to buy a couple of T-shirts. Summer is here. Consequently I made my way into a shop to do so. But would you believe it? All they had were "children's sizes". Not even one for an adult like me. I wonder why that is. All I want is XXXL or perhaps even XXL. And the shop could only provide me with XL. I left contemptuously.
Sunday June 28th 2009:

Matron has been shopping all day - ever since 9 a.m., and she hasn't returned yet (2.50 p.m.), and the chance is that it will be another couple of hours till she comes back. She is shopping in Germany. She claims that she enjoys it, and that she will save a lot of money, even if it means 300 miles in the car, and petrol prices are ridiculously high.
Funnily enough she didn't ask me if I wanted to go. And I even speak German fluently.
Perhaps she knew the answer already.
Saturday June 27th 2009:

I made a long bike ride today, 44 miles. Since I have done 132 miles within the latest 5 days it was very hard. I really suffered. It hurt all over. But then, just as it hurt the most and the headwind nearly had the better of me, exactly in the middle of nowhere in a tiny village, I saw something that cheered me up tremendously. Look at the two pictures below, and you will understand (Season starts in three weeks):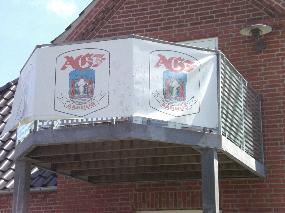 Friday June 26th 2009:

In 1851 Denmark wanted to sell certain forts and other "belongings" in Africa to England. We asked for £285.000 for it all. But as usual the Danish state was a bad "salesman", and we had to make due with £10.000, about 3,5% of the original price. So, I think that England owes us something. What about letting Liverpool and Manchester play a couple of their home games here at Aarhus?
Thursday June 25th 2009:

My football team started the first rounds of practise today. Quite a few of them are away playing for their countries. As far as I know all of them should be fit for fight. But I fear the worst. It has just been published that a new team doctor has been engaged. And it is a "SHE". Of course - seen from an "equal" point of view - that is alright, but perhaps I am a bit apprehensive that too many players will turn up with too many injuries in order to be "nursed" by a female doctor. I hope that she will send them packing if they try and fake her.
Wednesday June 24th 2009:

It is hot today, blazing hot, so hot that I didn't even dare a bike ride. But that was quite good, since I haven't had the time for it. I have been busy writing - yes, it is true. My little den happens to be the coolest place in our house. It has been yet another good day.
Tuesday June 23rd 2009:

Today is Midsummer Eve, and as usual this is celebrated with bonfires all over the country and, according to old folklore thus sending all witches to their mountain, "The Brocken", in Germany - and barbecues. The latter is what interests me most of all. I may go and watch the bonfire on the beach, but I certainly will be more keen on the food. We are group of people from our road who traditionally meet and eat and drink well on Midsummer Eve. That will also be the case tonight.
Monday June 22nd 2009:

A long bike ride with a lot of detours (50 miles in all) took me to a very interesting exhibition "Sculpture By the Sea" put up on the beach in the south of Aarhus. The exhibition is Australian and has toured in its homeland for 12 years. I am happy that it is now in Aarhus, and I really enjoyed looking at the great number of sculptures. On the pictures just two of them.
Sunday June 21st 2009:

I have just received the happy news that a picture of my father's father, whom I have never met, since he died 3 years before I was born, has been found. I have never seen a picture of him. I have looked for it for many years, but eventually a family member succeeded in finding one which he will give me on Tuesday. That will be a great day.
Saturday June 20th 2009:

Well, well. I never thought this was correct, but it is. Do you realize that the parachute was invented a hundred years before the areoplane? I wonder for what purpose, there were not even big buildings that you could jump from. Proably the inventor was just provident enough and thought that one day the areoplane would be invented, and then we'd better be prepared.
Friday June 19th 2009:

Today I helped our eldest granddaughter writing an English excersise on "Trafficking", a somewhat sinister subject. But what struck me most of all was her vocabulary, her spelling and her ability to write in a sensible and sometimes even very clever way, describing the problem in just the way that it should be done. If she keeps working on it, she may have a future in journalism - even in England. And it is not only 'A Grandfather's Boasting'. Of course it isn't. It is very objective. I used to be an English-teacher, you know!
Thursday June 18th 2009:

I like cheese very much and have always done. I know quite a few people who don't share my fondness of it. But they are just unlucky. One thing, though, has made me think an extra time. Just the other day I read that if all bacteria in a cheese simultaneously decided to walk in exactly the same direction the cheese would actually move that way. A bit creepy, isn't it? But fortunately bacteria have more difficulties agreeing upon anything than most humans.
Wednesday June 17th 2009:

Besides of showing a handsome young man, this picture is historical. It shows my very last few minutes at the library at Silkeborg, where I have spent inumerous hours collecting material for my book. To the best of my knowledge I have now been through it all and can start writing the last few chapters. All I need are a couple of interviews - and then of course the very important editing. I will be a proud man when I send the book to the editors - and very excited of knowing what they are going to say about it. At the same time I shall be sorry to "say goodbye" to it, since writing it has meant so much to me. I started in February 2007.
Tuesday June 16th 2009:

I am sure you will be very interested in knowing that the last epsiode of M*A*S*H* was watched by 125 million Americans.
I wonder what the rest did.
Monday June 15th 2009:

Fortunately nobody has translated - and nobody dares translate - what a good colleague of mine and my own brother in the flesh wrote in my "Letter Box" today about the picture showing me wearing boxer shorts with the English flag all over and "St. George" on my shirt. The two ignorants had sarcastic comments and talked about breaking the law by humiliating especially "The Union Jack". I totally disagree. I am convinced that any Englishman will approve of my dress code and appearance as a whole. I was paying homage to the flag and the nation. Well, perhaps the flag and shirt were a bit bigger than normal, but that's irrellevant. What counts is the thought behind the gesture of presenting "The St. George" and "The Union Jack" in an honourable way. Shame on the two writers! May their socks shrink when washed the next time!
Sunday June 14th 2009:

Some people might think that it is a bet that I am bringing the picture to the left. It isn't. It's a promise made by my sweet daughter-in-law to our English friends. She bought the shorts for me in England as a present (the shirt is older. I put it on to make the picture "complete") , and on my behalf promised our friends that I would bring it on my website.
I don't know why I always do what women ask me to.
Saturday June 13th 2009:

Our milkman was a bit late this morning. He had had a puncture.
Friday June 12th 2009:

Bad luck, indeed. An Israelian woman has according to "Danish TV2" just thrown away £500.000. The money was - without her knowledge - hidden in her old mother's mattres. She bought her mummy a new one and gave the old one to the garbage collectors who took it to the local dump. In spite of efforts with big machines and a lot of digging and checking of old mattresses it hasn't yet been found.
Thursday June 11th 2009:

Much information does sometimes surprise me. Just today I happened to read somewhere that waiting at red light costs you quite some time. I always thought so, but I didn't know that as an average a driver through his or her life spends 6 months sitting there staring at the traffic lights. I certainly think that those 6 months could have been spent doing something more interesting.
Wednesday June 10th 2009:

Here are a few sentences that you will
NEVER
hear your boss say,
1)
Yes, I know that by accident I payed you double last month. Forget it. Keep the money. You deserved it".

2)
"Do you only want one week's holiday? I'll give you an extra to make it two."

3)
"It's alright for you to take a nap in your office".

4)
"Take three hour's lunch break today."

5)
"Do you feel a little sick? Oh, dear. Stay at home till some time next week."

Tuesday June 9th 2009:

Mowed the lawn, written the rest of the day. Nice sunshine while mowing, rain while writing. What more can one ask for? (I know. Make somebody mow the lawn for you).
Monday June 8th 2009:

What parents say to their teenage son just before leaving on their holiday,
'No wild parties, while we are away."
What the young man hears,
'The booze is in the cupboard, and the beers are in the cellar"!

Sunday June 7th 2009:

For some reason Denmark is so lucky in football games these days. We played very badly in Stockholm last night - and won 1-0. That's how it goes now and then, but normally it is the other way round. We play rather well - and loose. I know what I prefer. And I don't mind that one of the players plays for my side here in Aarhus. By the way: Daniel Agger played after all.
It will be a long time now till my next football game - more than a month.
Saturday June 6th 2009:

Tonight a very decisive football match will be played at Stockholm, Sweden vs Denmark, a qualifier for next year's World Championships. Well, the game is more decisive for the Swedes than for us, but we hate loosing to Sweden, our old neighbour and enemy.
Unfortunately our team has had so many injuries (one among others is Daniel Agger, Liverpool) that the result may not be in our favour. But I shall be there, glued to my seat and with a few tins of beer ready to celebrate a win.
Friday June 5th 2009:

Today is our national "Constitution Day". On this date in 1849 our country got its first constitution, and since then the 5th of June has been some kind of a "Bank Holiday". Schools are not open, workers are getting the day or half of it off, many shops will be closed, at least from midday, and we are all supposed to go out and listen to various speeches by various politicians. I haven't been, though. I know on beforehand what they will all say, so I can do with the reports on TV tonight - perhaps if there is no football or an exciting film. Constituion Day is normally known for its good weather, but not this year. It has been quite cold - even too cold for working in the garden. How unlucky can one be!
Thursday June 4th 2009:

I was up very early this morning - about 7.30. And to me that is extremely early and not done unless something very urgent is going to happen or has happened - or perhaps a wager. But today it was quite voluntarily. 'Matron' was already up and ready to go to work. But not even that was the reason for my early rise. No, I simply had an irressistable urge to go out on my bike, which I duly did. It was a bit chilly, but alright for my 34 miles.
Wednesday June 3rd 2009:

It was Pat Boone who in the 50's sang, '
On a day like today we passed the time away, writing love letters in the sand!'
That's exactly what I have done today, except for the following:
a
) I am not Pat Boone or his girlfriend,
b
) I cannot sing like him,
c
) I didn't write love letters, I wrote on my book,
d
) I did not write in the sand. I wrote on my computer. But apart from those little details my day was precisely like the song.
Tuesday June 2nd 2009:

Tonight our son, daughter-in-law and youngest grandchild will return from short visit to Redhill, Surrey, England. Of course they have visited London, but also seen our friends at Sth. Godstone, their family and some of their own family who live at Ashford. I know that they have had a great stay, seen a lot - and (bless them) done a lot of shopping.
I do envy anybody who goes to England - but not the shopping part of it.
Monday June 1st 2009:

Having spent some lovely days in fantastic weather in the northern part of Jutland I am now back home ready to take up the challenge again of writing my diary. And I do it with pleasure. I have to tell you a small event from our tour that occured to us on the motorway up there. Everybody in this country knows that the amount of traffic on that particular motorway is limited. But even then we were somewhat surprised when overtaking a cyclist riding happily on the shoulder. I have never seen that before. What do those northerners think of?
day May 29th 2009:

Just a small piece of good advice:
"Never wrestle with a pig. You will both get filthy, and the pig loves it!"

Thursday May 28th 2009: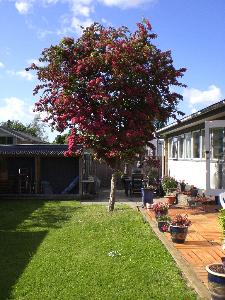 That's how nice even the garden that I am responsible for, can look. Perhaps I should have been a gardener after all.
I love this time of the year - isn't it just nice?
Wednesday May 27th 2009:

For once I am looking very much forward to watching a full football game on TV, tonight's CL Final between Manchester United and Barcelona. I am afraid that I have slowly become a United fan. I like their way of playing. But - admittedly - I am also looking forward to seeing my first football game on our new overdimensioned 37" Sony Bravia TV. It will surely be great!