ENGLISH DIARY, Part 17, starting Thursday 25th June 2015.
Sunday, November 1st 2015:
It was a good experience.
Last night I sat down and read/heard news on my lap top. Out of one eye I noticed that Matron was keenly watching a concert with 'Kim Larsen and Kjukken' on TV, a concert admittedly a few years old. But good.
Immediately I put the ear phones down and followed. Kim was/is one of our old favorites right from our younger days. He was the one we listened to on the tape recorder at parties, very loud, it was he we drove to Silkeborg to hear at a concert, he was the one who always made Matron jump to the radio and turn up to full volume when he was played.
We have a number of good and festive experiences with Kim Larsen. And just think. I once met him at a gas station in Risskov. It was great.
Saturday, October 31st 2015: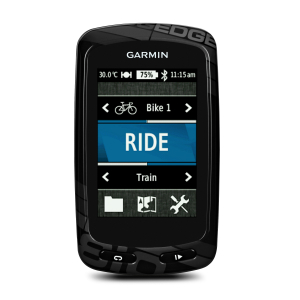 I met a kind and honest bike mechanic today.
A few weeks ago I bought an advanced bike computer that measures everything. Distance, speed, average speed, ascent percent, heart rate, maximum heart rate, average heart rate, altitude meters, temperature, time, and cadence (number of pedal rounds per minute ). Furthermore it draws a map of my route with every possible detail. All this is good to know for a bike-fanatic. None of it can be dispensed with.
Therefore, it has irritated me that the cadence sensor has failed. And not until now had I time to visit the store. A bike mechanic who met me immediately declared that he had no idea about it. He even asked if I had brought the manual. But he at once began experimenting and tried a lot until he said with a big smile said, "It's the damned battery that has a defect." In with a new one and everything worked.
Now I can go on my next ride knowing that no information will be missing. Very reassuring. I can sleep well again.
Friday, October 30th 2015:
There are three good things to say about today.
1) Brother Kjeld and I had a real pleasure trip on bicycle to Silkeborg. We cycled around in the city until the nostalgia could not take any more. Almost all the old recollections were visited, and we ended with a visit to the cemetery, where our mother, father and sister are buried. It was a good and suitable end of a good day.
In order not to strain our weary limbs we caught the train back to Aarhus and Matron was so sweet to pick me up at the railway station in our now well-running car.
2) We have received pension payments today.
3) I had one of my favourite dishes tonight, stewed curly kale with smoked, roasted pork.
Thursday, October 29th 2015:
The reunion was moving. After 4 days of hospitalization our trusty Toyota today was dismissed from the Toyota Hospital with words of praise from the chief surgeon himself. The patient has, according to him been well during the whole process and is now healthier and stronger than in a long time. The cough is terminated and the strength has returned.
And think of it. It was very close we had got rid of our good friend which would have meant deportation to a former east country with everything that would bring with it - not to mention Iraq and Iran.
But now our good friend again is safe in his warm garage and can nod recognizimgly to the surroundings.
May it have its comfortable home there for a long time.
Wednesday, October 28th 2015:
I can now note that all plans for exterior work in our garden are completed. It is nice and fine, our new terrace is good looking and everything is in good order. It all looks damn good if I may say so myself. It has been some years since this last was the case. Perhaps it is even the first time.
Well, there is a snag. In the front yard twigs of two relatively large trees are waiting to be shifted. Unfortunately, it can not be done until we shall have our car back from the garage. It's a shame I have to wait. I am highly motivated for the task but our replacement vehicle, an excellent Toyota Yaris can not do the job.
And now I shall soon on another hunt. Is that relevant to the above mentioned? Not a bit.
Tuesday, October 27th 2015: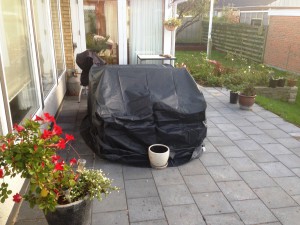 Come on you severe winter, with your storms, snow, rain and hail. Our garden furniture and other goods is ensured under strong plastic covers.
We fear no longer your rampage in the area but we wouldn't mind your quick disappearance from here if you come. You will not be missed. You're not popular. On the contrary. No one in this house likes you.
But since you now have only little chance of damaging our garden furniture we think you should stay away completely. Instead, use your strength in Norway and Sweden. They are more fond of you.
Monday, October 26th 2015:
Like all real men, I have a workshop. I use it frequently and feel quite happy about it.
Only I'm not good at clearing up out there. There are too many things in too little space.
In particular, it was difficult to find a suitetable place for my telescopic chainsaw and teleskopic hedge trimmer in places where you do not fall over them and have to move them around.
The problem is now solved brilliantly. They both hang from the ceiling. See picture.
And with a clever, self-invented cable system, they are easy to take down and hang up. I got the idea while the matron amused herself at the community center.
It only took a few hours to make it.
Where do you get it from, Gunnar?
Sunday, October 25th 2015:
Well, well. You can change a decision and we did so after many considerations. And we were relieved when we had done it. "You have a point of view until you take a new one", like our late prime minister Krag said.
The plan was that next week we were going to buy another, slightly newer car for a whole lot of money since the old one did not behave properly. Normally you will be looking forward to switching car. But we found out that we did not, almost the contrary.
So now, our otherwise loyal Toyota will be repaired for a not so great 'whole lot of money' and then we shall fold our little hands and pray that it is a good decision. We believe it is. The alternative was the hell of a lot of money.
Saturday, October 24th 2015: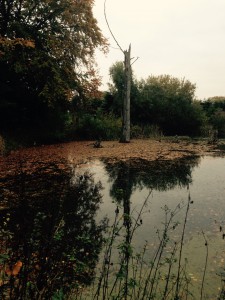 When you go hunting you cannot help looking around at the surrounding nature. There is plenty to look at. Today my eyes fell on a dead tree in a small lake in which the tree reflected. I enjoyed the sight for a long time, took the picture, and fell backwards off my hunting chair because a leg sank into the soft ground. I did not hurt myself, everything was soft but I could not get up again.
Discretely I called son Peter who stood just arong the corner at the tree. With his help and with great difficulty, I came up again. I must have looked like a stranded whale.
Not unexpectedly, I had to hear a lot of jokes about my fall the rest of the day. There was no mercy. I can take it.
Incidentally, it was a great hunt in nice and warm weather. Except for my fall I really enjoyed it.
Friday, October 23rd 2015:
We have rushed from pillar to post today to find out what we ought to do with our so far loyal Toyota. From dealer to bank and back, phone calls, talking back and forth, and now the decision is taken. We are buying another. Unfortunately, not a new one but an 8 year old car, similar to our current car only a passenger car and a slightly smaller engine - and petrol not diesel. It has been exhilarating and really not that funny, because we would rather have kept the old one, but it needed an expensive repair .
So, some time next week we will be a loy of money poorer. There's nothing to laugh at.
Thursday, October 22nd 2015:
I had a couple o good experiences today. We visited the little family in Hammel, Anette, Peter and Frederik. I got a wonderful reception from grandson Frederik, one that will make a heart melt. I am sure that also Anette and Peter were happy to see me even if they did not directly jump around my neck.
Just before we went home I accompanied Peter out to see him train his Labrador youngster, Tjalfe. Also that was a good experience. The dog is simply talented and completed his tasks perfectly. I was very impressed and I am looking forward to seeing Tjalfe growing older and improve even more. It looks promising. Skilful handler.
Wednesday, October 21st 2015:
Unfortunately it was not the cat that dragged something in last night. It was the little family here in our humble dwelling who today dragged something out, a big pile of branches - out into the front yard. They were the result of previous days' cuts. Plum tree and hawthorne.
Now there are three possibilities.
1) They will be lying and will be next year's Midsummer eve fire
2) You will come and and take them away.
3) Matron and I will take them away, helped by a mega trailer rented from the local Q8.
I have a premonition that it will be 3). Never mind. We old people need the exercise.
Tuesday, October 20th 2015:
The bonsai man struck again. This time it was the family's red hawthorn that had to suffer his wild bonsai lusts. It had grown too big. Only a few branches were left on the tree which now must meet winter as bald as Mont Ventoux. Hopefully it will survive. If not - well. Then the rest disappears too.
Now there is more wood for free pickup. But call before you come. There will be many people interested in having it.
The uncollected will be taken away to the dump as soon as possible - by you.
Monday, October 19th 2015:

For once, I followed followed Matron into a supermarket today.
That I should not regret.

As I stood at the counter and placed the goods in bags an elderly lady who was standing right next to me said that she woild like to give me a good recipe.
I'm always open for that.

She pointed at my glass with spiced herring (also called "red herring") and said that I should cut the fillets into appropriate pieces.
See picture.
Then make a mixture of brown sugar and ketchup (1-2 teaspoons brown sugar to about 1 cup of ketchup).
Next put the herring pieces into the mixture.
They woukd be ready for eating immediately.
She claimed
tasted wonderfully.

I stared at her almost in disbelief but she maintained they tasted well.
I asked her from where she had the recipe and she told she was a former cook had "invented" it herself.

That convinced me.
Immediately home and try.
It was lunchtime anyway.

And believe me.
The elderly lady was absolutely right.
The herrings were heavenly.

Try yourself.
But remember, it MUST be the red herring.


Sunday, October 18th 2015:
A day of surprises and a shock.
The surprises were of a football nature.
1) Denmark will meet Sweden in two play off games to qualify for the European Championship. I was sure we were going to meet some East European country. Oh, never mind. My inherent pessimism tells me we will lose both games anyway.
2) AGF won for the first time in 8-9 matches. I wonder what went wrong. I am appalled.
The shock: Returning from a really cold bike ride I was seated to watch TV. Cosy hour could begin, and there was a lot, I was looking forward to watch. And then BOOM. No TV signal. That shook too. In fact, I lost my appetite. I could not fix the error myrself so I predicted an evening without TV - including football. I swore and made several unsuccessful attempts. But then Matron gave me an idea - and voila, the picture was back again. She is good, Matron. Now I could eat. Great.
Saturday, October 17th 2015:
Nostalgia is one of my "weaknesses". I like to read about and see pictures from the old Silkeborg, my hometown.
So I was happy when I found a website called "Find your school pictures".
I typed everything necessary, school name, city, year, etc. and pressed "Enter".
To my surprise I discovered that I apparently went to a special class with students with a retarded IQ.
I do not recognize many of my classmates, myself and certainly not my teacher. But it was nice to see them all again. The photo proves that one's memory is not what it has been.
Friday, October 16th 2015: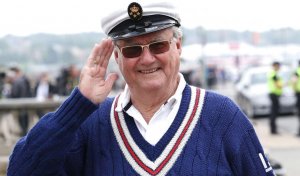 Headline from today's newspaper:
"Prince Henry wants to be King Henry".
Now again. He just keeps on.
We do not want a "King Henry". Should the British also have a "King Phillip" then?
It is even said that our Henry will never give up his efforts to become "His Majesty" and not just "Prince" and "His Highness".
Frankly. Shouldn't he instead welcome the royal life he has with great pay and very few working hours?
Thursday, October 15th 2015:
Bonsai. I did it.
For many years, I have cut our plum tree, a branch here and a branch there. But now it was all growing too big for me and with my newly purchased telescopic chainsaw and a ladder I unaffected by the operation hazards started this morning and finished at 4 p.m.
So now there's just a bonsai tree left.
The branches are for free pickup. The calorific value is minimal but they may be used for decorative purposes. But quickly. The leaves will fall off. So come soon or I'll have to take them away myself and some of them are heavy.
Wednesday, October 14th 2015:
I cycled to Silkeborg this morning. For lunch with brother- and and sister-in-law. Nice.
I chose to ride through Aarhus and right on to the road to Silkeborg. Just when I reached this, right by the old Ceres brewery, another bike fanatic rode up beside me. It was Rene, I know Rene from "Jensen Bicycles". I know him well and know him as a kind man. But you know what he said to me? No, how should you know? He said, "It is no-parking for bikes right here."
That was cheeky. What a naughty, young guy. I may not ride fast, but I ride.
Well, he was more praising when I told him that I was on my way to Silkeborg.
For good measure I ought to say that Matron drove me home in the car after lunch. Not because I was drunk, having only had Coke but because I was a little sleepy. She's a good woman.
Tuesday, October 13th 2015:
One of our son's family members has newly got a job in Australia and has had the pleasure of experiencing a very easrly start of Christmas exhibitions. She has sent this photo home. Damned good, one is not there. It's more than 2 months early.
I have not yet seen Christmas trees or santas in Danish stores, but they may be imminent. It's too much of a good thing.
On the other hand, newspapers here are already starting predicting whether we shall have a white Christmas or not. I read today that the chances of a white Christmas are very minimal, good knowledge to have, especially when you consider how difficult it is for our meteorologists to predict the weather only one day ahead.
Monday, October 12th 2015:
Poor, old Buffy. Four days ago she had her big bandage removed after the surgery after having her uterus removed. All was well, the wound clean and dry. But a few days ago she began licking it - fairly often, and a closer look at the vet's showed that part of the stitching had ruptured, and a two-kroner large piece had not grown together.
Ointment was applied and a new, large dressing put on. So now Buffy resembles herself like a few weeks ago. Picture from returning home today.
She has not been grumbling and behaved very well at the vet's even if it hurt having the stitches removed. She is a brave old dog. A bit like me, only I'm not a dog.
Sunday, October 11th 2015:
It is rare I change a decision taken. But I did today - unfortunately.
I had decided for a bike ride in Mols Mountains and I was looking forward to testing myself after the success of my latest rides with good legs.
But then clouds came up and the wind grew stronger. It was then I decided that I'd better mow the lawn instead. It needed it.
So I changed the bike with the lawnmower and marched around for 3 quarters of an hour in the wet and tall grass.
And right now it is perfect weather for biking.
Morale: Do not change your mind.
Saturday, October 10th 2015: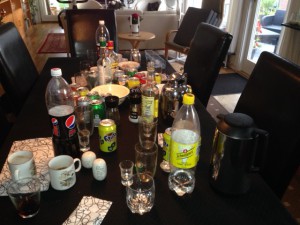 Our guests have left after a good and pleasant lunch - old dog friends. There was eating, drinking and laughing in rich quantity. We have so many memories in common of funny situations. We have all had good dogs, and we have all participated in numerous trials and hunts. But we have all made a fool of ourselves in many situations and it was not least those we talked about. Like when I myself used 40 cartridges to shoot one pheasant. It was not the same pheasant I shot at. it was 40 different ones. After that I put the gun on the shelf where it has been ever since.
Matron is good with lunches. Lovely food. That also made time just fly away.
Friday, October 9th 2015: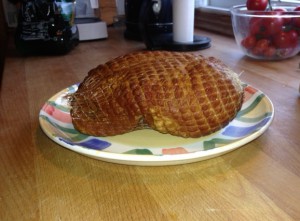 We are expecting guests for lunch tomorrow. As usual Matron's menu is extensive.
I should not be surprised if there is too much. But never mind, she means well.
One of the parts will be ham why a lump was purchased from a local trader.
On the package of ham was stated, "This ham should cook 1 hour per kilo".
Of course this is useful knowledge. But then it also said, "The web should be removed before serving."
That was even more useful knowledge. For who would like having to chew through yards of string. Good consumer information never goes amiss.
Thursday, October 8th 2015:
I thought it. Today Matas shares fell by 3%. At the same time the company downgraded expectations for the annual revenue to 3.45 billion. 3.5 billion was expected.
Now, that's news. Good thing one does not have shares in Matas - or Coloplast and TDC which also had a thorough beating. My share purchases are over after I lost a pile of money on the shares of Arab sandcastles that blew away and Greenland icebergs that melted.
And just now I have my car in for repair which may cost an awful lot of money. It's hard to be a poor stock speculator.
Wednesday, October 7th 2015:
Matron and I together have taken at least 10 wrong decisions today.
All were about a road trip to Odder, a small town 30 kilometers away.
It all started because we had to pick up some items for our daughter in the town mentioned. It was during rush hour, so we changed our minds a couple of times to find the fastest way through Aarhus. We found the slowest.
Now we put the sat nav on and found the address in Odder with no trouble.
On the return journey everything went completely wrong. I meant to just drive back the way we had come, but in a residential neighborhood all roads look the samet. We decided one way and then the other, so it was more or less driving back and forth. We changed our minds again but we were lost. Out with the sat navn again. It turned out that we had landed near Solbjerg, pretty far off course. But then at least we knew where we were and could drive home.
Never before have I taken 1½ hours to drive 30 kilometers.
Tuesday, October 6th 2015: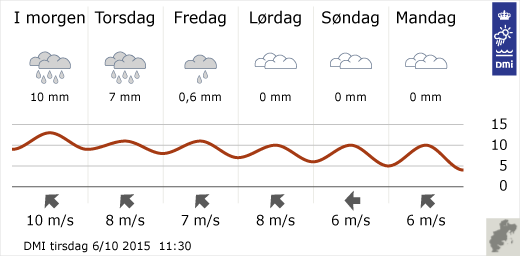 Then it happened. It has become fall. After glorious weather yesterday (and a lovely bike ride) the image reveals what is in store for us the rest of the week. It should not be trifled with. On with your scarf and autumn clothes and marvel that after staying in the outdoors you can go inside and enjoy yourself in a more suitable temperature.
For us outdoor people it will soon be the shooting season that will stand out as the best pastime. Each year I am looking forward to all that. I am only annoyed that the season is over all too soon.
The dogs welcome the start just as much although the elder one (Sydney) is entering his last season.
Monday, October 5th 2015:
It is no good with our Toyota. After a valve transplant last Friday I thought everything was OK. But oh no, what a disappointment. The error is still there. The operation was unsuccessful. The chief physician promised that the bill should not be paid.
Now the hospital wants the poor hospitalized, Thursday to Friday. As always I asked about care during the stay and was promised that all staff members, doctors and nurses will be on their toes.
The good doctor guessed that it could be nozzles that were to be transplanted. But perhaps a curettage would do.
See the difference between a dirty and clean nozzle on photo.
I did not dare ask about the price. It sounds expensive anyhow.
Sunday, October 4th 2015:
A working lunch was held today. The meeting was attended by brother Kjeld, son Peter and myself.
As an applauding audience daughter-in-law Anette, grandson Frederik and my lovely wife Else also were there.
The topic of the meeting was initial planning a possible tour to England next year to see some of the world's best cricket teams playing each other on some of the world's best grounds. We made three priorities. It can be an experience far beyond the ordinary.
There are seven matches to choose among, England against respectively Sri Lanka and Pakistan.
Our major prayer is that it will be possible to get tickets. Some of the games may be sold out already. We hope we shall succeed.
Saturday, October 3rd 2015:
Our lovely house through 46 years, ie since 1st of Nov. 1969.
We let the house build ourselves so no one else has ever lived there.
The extension came in 1996.
In this house Else and I have experienced many great joys, had many celebrations and countless small, cozy gatherings. Herein, our two children grew up to be sensible adults whom we love more than anything else. Herein our grandchildren visited us and spent their holidays and weekends. Herein, we have had many famile gatherings and been visited by friends for longer and shorter time.
Herein, we also experienced sorrows and disappointments that are so unavoidable.
The house has for 46 years been the basis for our lives, and we have been happy about it.
But time passes, and we must realize that within a foreseeable future we must move from here.
Nothing is planned though. It will be difficult.
Friday, October 2nd 2015:
It could hardly wait any longer. After some time watching different lamps light up on the dashboard of our otherwise tireless Toyota we found it time to follow up on the diagnosis made on September 26th. Today was the day. Some valves were transplanted because the old ones were worn. Perhaps it does not correspond to a heart transplant but it was almost just as expensive.
On the other hand it was quick, one hour so hospitalization was not necessary. I waited in the waiting room at the car hospital and enjoyed reading a couple of newspapers. It's a long time since I read only one.
Now the patient is resting in the carport recuperating.
What an expensive day.
Thursday, October 1st 2015:
The difficult thing about being 74 years old is that many of us visit medical centers and hospitals more and more often. I have a check every 4 weeks in the hospital, blood tests and interviews.
Only this week, I was at the health center to give some other blood tests for my 10,000 kilometer ordinary maintenance check next week with my doctor, diabetes check, kidney ditto, Cholesterol and so on. This is done every six months.
Next week I shall also go for a hospital check.
I must truly say that I get something for my tax money, and I am very pleased with my doctor and hospital. I've met entirely sympathetic and talented people. So it's not from me you will hear complaints about the Danish healthcare system. I have had only good treatment.
But anyway, a small doctor joke:
Patient, "Doctor, I find it so hard to make friends. Is thay something you can help me, you big, fat swine?"
Wednesday, September 30th 2015: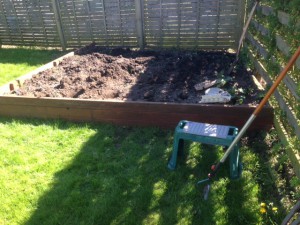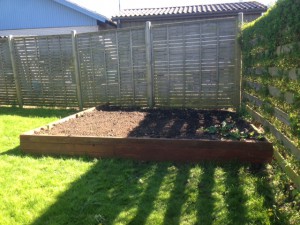 "
A farmer is always busy on his farm.
Every time he wants a rest there are 1,000 things to do '." (Danish children's song)
That's how I feel right now. I am about to prepare my potato field for spring planting. The field, however, slipped away from me and has become a weed field. The weeds are now removed. It was hard work, but even worse will it be when I have to dig the field. I will try to get it over and done with soon.
What doesn't one do to get the damned EU subsidies for potatoes?
The picture shows before and after weeds.
The bucket is there to collect the not found potatoes from this summer and the chair because my union "Aging Potato Growers' demands and has succeeded in arranging a 15-minute break every half hour.
Tuesday, September 29th 2015:
Information from the ward:
Buffy is doing well after surgery yesterday and is wagging around as usual. She is apparently not hampered by the big bandage around her belly. She does not eat much but a little - and preferably any "fallout" from kitchen- and dining table. Then her appetite is good.
She seems happy and has not complained over the hospital stay, neither over the doctor nor the nurses.
I am not complaining either - not even about the price.
Monday, September 28th 2015:
Our good boarder, Buffy (Bau wau ), had an operation today, a double operation.
Partly she had a very inflamed uterus removed and partly a cancerous tumor in her teats. As an additional service the good veterinarian also cleaned her teeth. The operation was entirely satisfactory. So now we have a dog without a uterus and without a tumor, but still with her teeth.
The inflammation was discovered yesterday and 9 o'clock this morning, she was operated on. Nice and fast. Compassionate veterinarian.
Now is the time to rest after the rather large operation with a big gauze bandage on the stomach. We need to cut it off in about 5 days and in about four weeks there's the first hunt. She should be ready for that.
Sunday, September 27th 2015:
Nice family visit in the afternoon with the obligatory stroll along the beach, especially for Frederik's sake. To everyone's surprise he got water in his rubber boots. But five minutes went before they were filled.
Our new patio furniture came into their own. I am in the picture, too although as a shadow (see bottom of picture). I've lost weight and I'm just a shadow of myself.
That was a good one. Where do I get it come from?
Saturday, September 26th 2015:
There are two places I do not like to come. Both for the same reason. They are expensive to visit. It is my dentist and my mechanic.
Currently it is the latter that concerns me. Some lights lit up in the dashboard. I had no idea what they meant. I drove to the Toyota man who investigated the case and diagnosed it for 500 kroners. I did not quite understand what was wrong, but never mind. The lights went out and I forgot all about it.
This morning they came back again. Damned.
On Monday I shall book a time for the repair, and before long I shall pay 3-4000 Danish kroners for it.
It's a theft.
Friay, September 25th 2015:
Hedge trimming 2015 is over and it went fast, faster than usual even if we took it in stages.
Matron is good at picking up and I'm self-proclaimed Studstrup Champion of trimming.
A major reason for the quick work is that I can now stand on the ground and trim the top. I am rid of the many stretch exercises to reach up and the malignant ladder climbing. I have acquired a battery-powered telescope trimmer. Just look at the pictures how easy it is. It is even quite amusing. Every home should have one. And it was cheap, less than 200 kroners.
So now I am looking forward to next year's hedge trimming (Might be a lie).
Thursday, September 24th 2015: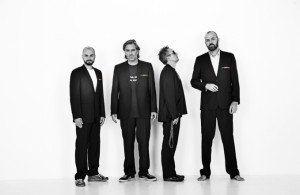 "
When I get old,
I shall sit on a bench
Where the sea washes over the pier
And feel dewligt pearl splashes on my skin
From the sea when it sparkles in the sun".
All day I have been singing this song quietly to myself. It's composed by a very good Danish group. I think it is beautiful and moving.
So if in some years you see an elderly gentleman sitting on a bench on the pier it's probably me. However, it will not be soon. First, I shall have to grow old.
Wednesday, September 23rd: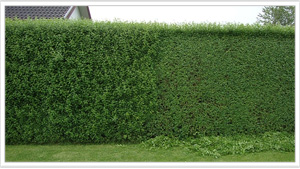 Today I practiced the noble art of hedge trimming. My training mode is as always lousy so it will cost pain in arms and back. However, it will not stop me, the pain must be worked away.
It was with some anxiety I started. This morning I read about a man in Hammel who was accused of vandalism because he cut a hedge 10 cm. down without consulting his neighbor. "You can not just cut the hedge down without agreement about it. That kind of change must be agreed upon," says Jesper Poulsen from Hammel police.
The accused cut the hedge 10 cm. down while his neighboujr filmed it.
There is a war on in Hammel.
Tuesday, September 22nd 2015:
Matron and I very much like to drive to Løgstør in the north of Jutland and there are many good reasons fot it.
The best be mentioned here:
Our good friends, Birthe and Niels-Jørgen, live there.
They are very nice people that we really like to talk to and be with.
With them you'll get the best lunch imaginable. Frequently fish in different "disguises". Thus also today. My God it tasted well. I think it was almost embarrassing that I ate so much.
They live in a small, cozy town with beautiful surroundings and a beautiful little harbor.
Niels-Jørgen and I were ik the army together in 1964 but we have never forgotten the harm we suffered. And we remind ourselves about it on a regular basis. Therefore, we call our gatherings "Hero Rallies".
Monday, September 21st 2015: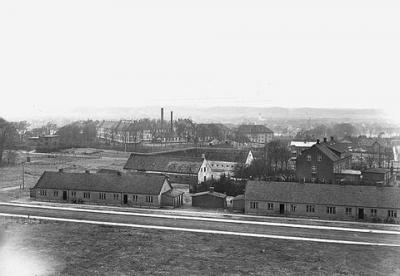 I received the final "GO" for my latest book about the homeless habitation Frydensbjerggaard in Silkeborg. The book is ready for publishing. Now I am simply curious to see whether it is online or in a book you can hold in your hand. I would naturally prefer the latter, but it depends on what it will cost to publish it. Unfortunately, the readership a little narrow, local history buffs in Silkeborg and people who lived there in the period 1943-1962 and probably few others.
Now I just have to find the right photos. Hopefully I can find them at the Silkeborg Archive and the local newspaper. I need paper copies. I'm excited, very excited about what it will be, net or book.
Sunday, September 20th 2015:
I am a happy man. Daughter Annette has taken an interest in cycling and has been entrusted with one of the racing bikes in the family.
This has made it possible for her and I to ride together and nothing is dearer to me.
Today we set off for the first time, around couple of lakes west of Aarhus. A ride just over 60 kilometers. Annette has not cycled so long before but she managed in style, more stylish than I.
It was nice. I enjoyed it. Imagine being alone with your daughter for 3-4 hours. It was good. I hope for several more rides with Annette.
Photo to the right taken by Katrine whom we met in central Aarhus on our return.
Saturday, September 19th 2015:
My sweet wife and I went to a lecture in Randers last night. It was for us a very special lecture as our granddaughter Cecilie (17 years) was the lecturer. The subject was autism.
Cicilie is an autistist herself and told - after a short introduction by a consultant - within 1½ hours about her experiences with autism, about the past, present and future.
Not only does she feel her disease. She has also studied its course, and she knows all the terminology of the disease.
And there she was then in front of a sold-out hall talking. For the first time in her life. Responsiveness was 100%. She had the audience in the palm of her hand. They were parents of children with autism, and Cecilie's big insight impressed. At the same time she was able to raise awareness with humorous observations. Despite the grave and serious subject we laughed a lot.
Is there any wonder that her grandparents were proud. What a night.
Friday, September 18th 2015:
There was Grandparents' day in grandson Frederik's forest kindergarten today. So 2 grandmas, and 1 grandpa, I, were interested participants. And they were kept busy.
The little man took part in most, including football, twistbread, railways, swing rides, jumping off the top runner, cushion games, lunch. Everything happened in running speed though perhaps not for lunch.
There is nothing strange in the fact that a 3-year-old comes home tired from work after such a day. And it was even a short day.
But it was good to see how Frederik played with other children. It was good to see the many grandparents join into the games. It was also clear that the teachers had a good day and talked with many grandparents.
Who was the most tired? I was.
Thursday, September 17th 2015:
My sleep was abruptly interrupted this morning when Matron came home at 9:35 after running youngest daughter to work. In no uncertain terms I was asked for an instant resurrection. There was diesel at 7.70 kroners a liter at a tank on the main road, and as experience shows this price would increase at 10 o'clock a.m. so I was ordered to get going here and now.
A quick morning toilette, no breakfast and off.
Because of traffic problems, I did not arrive till 9:59 and quickly got the diesel-trunk into the tank and started. At that moment the price changed to 8.48 kr. a liter so I just made it.
Hereby I saved a total of 31.20 kroners. On the other hand, I spent about 9 kroners picking up the diesel so my profit was 22.20 kroners.
Is it worth getting up so early for that? I would rather have slept a little longer. But I did not get the opportunity.
Wednesday, September 16th 2015: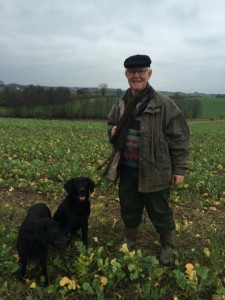 I have trained dogs today. It is the second time within a week.
The hunting season is coming up. In late October we head out for the first time to retrieve ducks and pheasants and then the dogs'd rather be in good shape.
But they are getting old, 10 and 11 years so they do not have many hunting seasons left in them, at least not Sydney, the oldest. It is certainly his last shooting season. He's old and stiff legged. He knows his stuff but it's slow. I will spare him as much as possible.
Youngest dog Buffy is more agile. She'll be fine. However she is totally disobedient although it was slightly better today.
Regardless of all problems all three of us are looking forward to get started.
The photo is from season 2014.
Tuesday, September 15th 2015: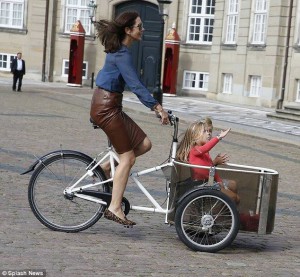 Now I've never ....
What a disorder? It's too bad, too outrageous, too much for we politically correct people.
Crown Princess Mary has been seen cycling on a three-wheel bike with two kids in the load across the palace square at Amalienborg. That in itself is hardly any sensation. But imagine, she and the children had no bike helmets on.
I certainly will not encourage people to cycle without a helmet. But honestly. A small ride without a helmet on a three-wheeler which can hardly turn over can not bring me in the red. One should not be too religious.
And I'm not even particularly royal.
Monday, September 14th 2015:
I have hung a tennis ball on a string the garage today. Not to practise my ground strokes. My glorious tennis career ended 7-8 years ago when heel spurs put an abrupt end to it. It was lamented by many - not least by the press.
No, the tennis ball is hanging there to stop my hitting the of the end wall breaking with my front bumper. I can no longer afford to replace wall and bumper. So when the ball touches the windshield I must stop. Simple and brilliant. You would think the idea is mine.
Sunday, September 13th 2015:
What a night yesterday. Number 2 grandson, Kristian, celebrated his 18th birthday with a great party with good food and drink, speeches and conversations. I enjoyed every second.
Present were family, family friends and not least Kristian's same age friends, 7 splendid, young people whom I really enjoyed talking to. I was fortunate to sit right next to and opposite them. They were cheerful, clever in their reply and tolerant with the old man. A good experience. I am not worried about the future of the country since we have such magnificent young people to carry it all on.
It was also pleasing to me that I could enjoy a few glasses of good rose wine and some drinks without being drowsy. It was a pleasant surprise.
Thanks for a good evening. I will be there next time.
Picture. Kristian is testing 12 non alcoholic drinks.
Not all drinks apart from those were non alcoholic.
Saturday, September 12th 2015:
Complaint: I am tired, very tired. And I have not done anything physical.
The reason can only be that I've got cystitis which is said to cause tiredness (see diary for last Tuesday). I'm getting penicillin. Previously, I thought that this was the reason for my tiredness but that is not the case the wise people claim.
It is centuries since I last had cystitis and from that time I do not remember anything about fatigue. I was only about 35 years at the time.
But in 2½ days is the cure will be over and then both fatigue and infection should be gone. I do not like to be tired. I wlike to bike and work - preferably the former.
If it hasn't gone on Tuesday week I shall immediately complain to my doctor. It was he who prescribed the tablets and he must be held accountable. I'll hit him with my cricket bat.
Friday, September 11th 2015:
I have been watching a bit of bike race the past 2½ weeks - Vuelta a Espana - and I was bored. Every day was roughly the same recipe, a break away of 10-25 riders riding so far ahead that they stay there till the finish. None of them have a chance of winning the overall race.
When they have crossed the line the top riders arrive 10-15 minutes later and ride a little faster to maintain their positions. They are in and status quo from the day before is roughly maintained.
The advantage of course is that I get some rest. I easily drop off. So either I'm more tired than usual, or the race is more boring than usual.
I think the latter. I'm surprised. I love watching bike races. Only not this one.
Thursday, September 10th 2015:
If you like I have an electronic rain measurer you can sit inside in your dry room and measure the rainfall. It is such a great a pleasure that you want more rain (that's a lie)
In any case, you can watch and measure. But no longer than till the time the batteries need changing. It is approximately every 3 years. By then you have forgotten how to do it, the whole shebang resets and must be upgraded. The instructions are found after a long search. I turn the pages looking for something just a little recognizable. Now and then something pops up and I can go a little further. Right now I have reached the first step, how to install date and year, I think that's what it is but I know I still need much to install. That will keep me occupied the rest of the evening - and probably tomorrow too. God bless it.
Tuesday, September 9th 2015: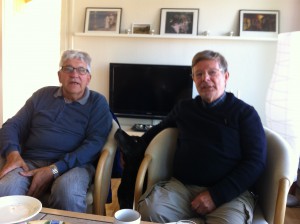 I was caught in bed this morning. Not that it is difficult. The doorbell rang, and outside were two good, old colleagues from my old school, Hugo and Mogens. And there I was in my ancient pyjamas. Matron was not at home. It was about 9 a.m.
How nice it was that they came so unexpectedly. I like that very much. I was pleased.
The next hour or so went exchanging memories, and there was a lot of laughing over a cup of coffee.
Unfortunately, I must say that the standard of the culinary was lousy. I found a semi-dry loaf and a half-dry piece of cheese. And then I forgot to get butter on it. Couldn't be worse. It was embarrassing. However, it was better when Matron came home with cakes.
I hope that the two - despite the miserable serving - will come back another time. I think so. It was really nice having them.
Tuesday, September 8th 2015:
Think that this should happen to me. I've got cystitis - at my age.
It is quite uncomfortable. In fact, it hurts a little and stings.
Should you, dear reader, get it which I do not wish for you I would strongly recommend you not to move too far away from the loo. You have to urinate all the time although the outcome is minimal, very minimal. And then it gets annoying.
When yesterday I got the suspicion I forthwith set off for our medical center and delivered a urine sample. This morning I got the answer. It was a positive test. At 9:30 I got the medicine. 7 day's cure and control after an additional 7 days. Shit happens.
Monday, September 8th 2015:
I should never have done it. I regret bitterly. I wish I could undo my decision. But there was no turning back I felt.
For the first time ever I regret a bike ride. It was too long, 75 kilometers. I thought I could get through without problems. I couldn't.
Headwinds were severe - and felt cold
There was no power in the old thigh muscles. They howled and screamed and I felt like doing the same. But I had even more desire to give up and be picked up by Matron.
. It was stupid of me not to call for the pick up.
Sunday, September 6th 2015: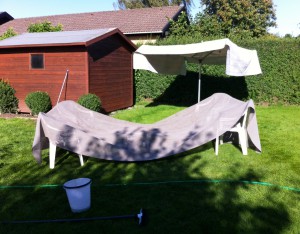 Morning: Brunch at a double birthday, two very nice people, daughter Annette and grandson Kristian. Good food. Love brunches.
Afternoon: Cleaning after last week's caravan trip to Møgeltønder where we were unfortunate enough to have our awning carpets full of mud due to the heavy rain. It is Matron's will that something like that should be thoroughly cleaned in a hurry - and she always gets her way. It was hard work.
Now both carpets are hanging to dry in the slightly harsh wind and nice sun. Drying time: 15 minutes.
Glad it's over.
Saturday, September 5th 2015: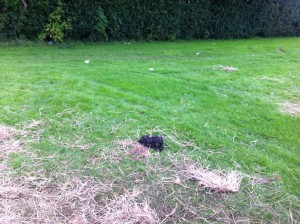 I was at Hammel Horse Fair today, a traditional event. We were six in total, including two grandchildren.
It was a noisy affair. The music pounded through everywhere. It pressed the eardrums and chest. I really wonder whom among the many, many guests who cared about the music.
Well, it's probably not for an old man to decide that.
The grass was boggy after the many showers. Clear water could be seen in some places.
The market is otherwise a wonderful mixture of funfair and stalls with all kinds of stuff for sale.
But one thing puzzled me greatly. There was not just one horse. It would seem that at least one has been there but it must have gone home sick of the music.
I suggest that the event next year should be called "The Hammel Mud Bath With no Horses".
Friday, September 4th 2015:
Guess where I've been the last few days. I was pretty close to a boarder to one of our neighboring countries and crossed it no less than four times. I shall not say which country. In it are some shops that have problems with storage space for their many products and I offered to relieve them which they accepted with open arms. So I loaded the car up to the breaking point and can show a bit of the goods, which is now remote storage of all the supermarkets. It's here on this address.
Is it any wonder that my back did not think it was funny?
Thursday, September 3rd 2015: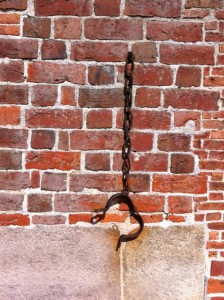 All I said was that the vicar had tampered with the church collection box and the parish clerk's wife.
I went straight into the pillory. It did not help when I said he was a blissful whore.
I am no longer welcome in Hojer Church.
Wednesday, September 2nd 2015: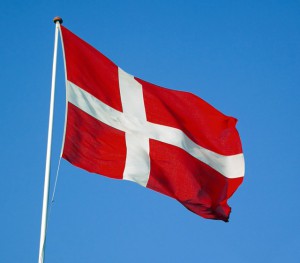 Happy birthday, dear. I hope you have a good day. At least we had when you were born, even if you were a little too busy two show up. But it was great - and waugh, it is still great. You are the perfect daughter, whom we are proud of.
And now you've started riding a bike so I am looking forward to you and i
I ride out together. I will be able to follow you at first but if I know you right it's only a matter of time. You are devilishly tough.
Congratulations from the gray ones at Studstrup.
Monday, September 1st 2015:
I ordered a maxi nachos at a cafe for lunch today. Experience over the years has shown me that a standard size of whatever it is is too small for me and forces me to leave the table in a strong state of hunger. An unpleasant experience.
I was sure when I saw the menu that there were two sizes. I should have the greatest. I regretted. Already when I saw nacho mountain come to the table I could see that it was even my abilities. But I know how to fight and win ib any such situation and I got it all down.
Result: Now I sit and it is about time to have dinner and I can hardly get a bite down. The hour of vengeance has come. It is sometimes difficult to cope with life's ups and downs.
Monday, August 31st:
These days you have competitions in everything on TV, antiques, baking, knitting, cooking and as an offshoot of the latter is also a competition in open sandwiches, the Danish type.
For me it is new. The winners were nominated by a qualified panel of judges whose votes weighted 70%, and a panel of guests with 30%.
Now I ask, "How can you become a member of this panel of guests?"
I love sandwiches and have through a long life ate countless pieces of it. I have great knowledge. But surely it is the usual copenhagenry rather than connoisseurs.
Sunday, August 30th 2015:
Tomorrow it's 32 years ago, Visa pay cards were introduced. It was not without trouble, among others the country's retailers strongly opposed the idea and urged the population to boycott the card. It must be said that the call was not followed. Today there are 4 million Visa cards in this country.
However, I could find it a good idea that one of these was boycotted by the issuers. Guess who. It is not me.
Saturday, August 29th 2015: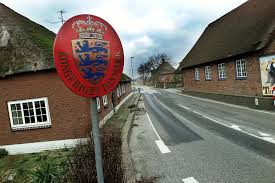 I'm extra late today with my diary and I'm pretty tired. I have travelled a long distance by car - over the line, literally. But for once, it was at a very humble place, Rudbøl. It is in that city the boundary runs down through the middle of the main street. Germany on one side and Denmark on the other.
Nowadays limits mean nothing. However there was a time they did. But it's kind of funny that you can drive on the street with a pair of wheels in each country.
Well, never mind. We did not think so much about it, a few kilometers ahead in Germany Calle lives. Calle is an enterprising man with a chain of supermarkets, and we had run out of Pepsi Max. We had to do something about it - and we did. Fortunately.
Friday, August 28th 2015:
It has been a good day. And I am proud.
As a prelude to the hunting season the Møllerup Estate invited to clay pigeon shooting for dog handlers and helpers. I was happy to join in, not because I was going to shoot, I have no shooting license or gun but just to be with the nice people.
During his welcoming speech the landowner thanked me for 40 years of participation in shoots on the estate and for my hunting horn play. I was handed a Holmegaard bowl (Claus Dalby). It is incredibly beautiful, and I am very happy for it. It was totally unexpected.
At the bottom of the bowl is written "Møllerup Estatew 1975 - 2015. Thanks for 40 years of good dog handling and good tones." "Good Tones" relates to my hunting horn.
I hope the bowl can remain in our family for many years after, I am no more.
Thursday, August 27th 2015:
Grandson Frederik is staying with us overnight. How nice. He is always happy and in a good mood and talks more than average. I love when he is here, as I also do when our other grandchildren are here.
Frederik has - just like the others - great joy in going to the beach, mostly for throwing stones into the water. But also just to lie looking down into the water is exciting.
He and I spent much time down there, so much to Matron phoned and asked what we were doing for so long. The answer was easy, "We are throwing stones into the water." What else?
Wednesday, August 26th 2015: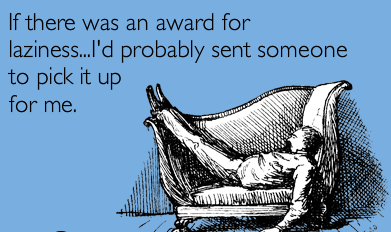 The more you work the more errors you make - and vice versa.
I have not made a single mistake today and I am pleased about that.
I have not been out of the door and have no intensions to do so.
Matron has been out most of the day and my work was confined to writing a bit and making my own lunch. Right now I am watching bike race, the Vuelta of Spain, so what more can one ask for?
Summary: I have not done anything and I have completed it - and after that I am watching the bike race. Fantastic. Laziness should be rewarded.
Tuesday, August 25th 2015: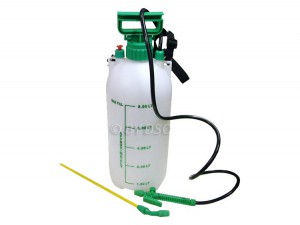 I have to admit that I do not always think think politiucaly correct when it comes to my dealings with various toxins in the garden. I have used "Lawn Cleaner", which removes weeds from the lawn. And I have even used "Round up", also to remove weeds.
But perhaps these times are over.
From daughter Annette I've got the recipe for a herbicide which is guaranteed not to do anything bad for nature and it works. I have seen the results. All green plants wither.
Here's the recipe:
1 liter of vinegar, ½ kilo salt, and 2 liters of water.
Mix it together, stir and let stand till all the salt is dissolved. Spray it on the weeds with a spray pump - 5 liter pump is best. It goes quicker and you do not have to bend forward at all time.
Monday, August 24th 2015:
Recently I was in an amazing supermarket - in our own town.
It was fresh and nice, goods stood neatly on the shelves, and it was clean all over. It was easy to find a shop assistant if you needed help. Fortunately this can be seen in some supermarkets. But this was extreme. I actually enjoyed walking around.
Then I began to look at the prices. Oh boy. They were well below half of normal. Some cost only one-third. Others were even cheaper. For example a 1½ liter Pepsi Max cost only 2 kroners. Regular price 21. It was impressive.
The trolley was filled up to the edge. I paid the ridiculous low figure and started to walk out.
Gladly I rolled away, almost dancing and BANG. I happened to run into the revolving door - and woke up abruptly.
Sunday, August 23rd 2015: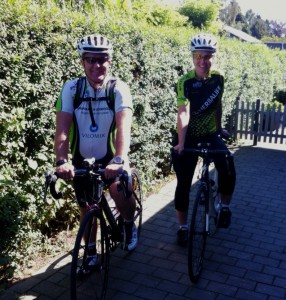 Oh, What a marvelous day. Two good reasons.
1) Daughter Annette and son in law Kent came past on their bike ride and had a snack. That gave me the opportunity to talk about my painful bike ride last Friday which was planned by Kent. I did not hit him with my Cricket bat which I promised him because I could not find it.
2) Matron and I have now completely finished painting. The last strokes were taken today. It has been going on for 1½ months so it is with great satisfaction that brushes were cleaned and packed away.
Surely a good day.
Saturday, August 22nd 2015:

I have been fortunate enough to gain possession of the family book for my mother's family.
It is interesting reading.

About my grandmother, I can read that she was born on 29th of January 1893 in Hinge, just north of Silkeborg.
She was married twice, the first time to Kristian Th.
Hansen in 1914. He was a lessee.
Unfortunately, he died from the Spanish flu in 1918. Then my mother was one year old.

The second time grandmother married carpenter Peter Viktor Riberholdt.
They had no children.

She was a trained dairy worker and was after her first husband's death she had various jobs, including having
her own sewing parlour.
She had to stop when she got tuberculosis and was admitted to the sanatorium in Silkeborg.
When she recovered she again had various jobs. But one was lasting. For many years she was employed at the Silkeborg Textile Factory as a seamstress.

My grandmother was an unusually likeable person who was always generous with small and larger donations for we children.
She had never much money herself.

Later, she had a kiosk, and then there was chocolate and icecream galor for us.


Friday, August 21st 2015:
I have a very nice and helpful son in law who always is very kind to me.
But today, the kindness was somewhat limited. I asked him if he would plan a bike ride for me over 110 kilometers. He would very much like to and I started out in the morning,
It was a very beautiful ride in very diverse landscape of Mols and Djursland. That I gave him top marks for.
The length also fitted, 115 km. Also top marks. I cycled along roads, I have not previously ridden on - also top marks.
However - there is a but. 662 vertical meters. So many I have never ridden in one day before. It was upwards all the way. Therefore, he receives no thanks. On the contrary. Next time I see him I shall bring my cricket bat and give him a good hiding. You have to be kind to your father-in-law and not send him out on tough missions.
Thursday, August 20th 2015: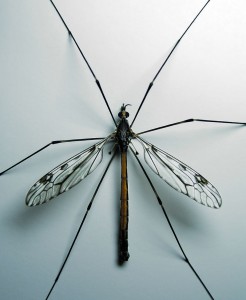 War is being waged in our bedroom - every night. A necessary war.
The battles are between crane flies (tipulidae) on one side and Matron and myself (homo sapiens) on the other. The battles can be lengthy, and there is no sleep until the last one of the long-legged creatures is killed. Nothing is as annoying as a crane fly disturbing your sleep, especially when they land on your face and start crawling around on their long, overgrown legs.
In fact a crane fly is no more than a mosquito that has got megalomania.
Wednesday, August 19th 2015:
The famous couple, Mrs. and Mr. van Gogh are having a break on their nice patio. And they certainly deserve that break. They reached a lot of painting today so now the only things missing are 3 small fences and 3 gates. After that the two of them will settle down and relax till next summers new jobs.
Fortunately none of them will be painting. Apart from that they can be anything.
Tuesday, August 18th:
Something tells me - but I am speaking with all sorts of reservations in such cases - the final stage of spring and summer improvements in the house and garden was opened today.
We started painting. Admittedly, Matron already painted windows and eldest daughter the conservatory, but now we both have grabbed a brush and have wooden fence and outdoor walls covered in an appropriate layer good paint.
We have agreed to take it in small bits, so we do not strain ourselves. In fact, it is quite nice to paint together. (And that should come from someone who all his life has hated painting).
When it is all over, we shall relax ourselves on the patio and in the couch and half of us will watch bike race, the Vuelta. Try to ask if I am looking forward to that. The answer is YES.
Monday, August 17th 2015:
I have been concerned today, but fortunately unfounded.
At 10:30 Matron set off with a couple of friends with the intent to roam in Grenaa pedestrian street.
The thing that worried me was obviously the Visa card endurance.
At 17.30 the sweet lady returned so I had plenty of time to worry.
But as I said. I had not needed to. She spent to 5 pounds altogether for two neat candle holders for tea lights, bought in a charity shop.
So now I will relax and put my tranquilisers away again. It has been a good day.
Sunday, August 16th 2015: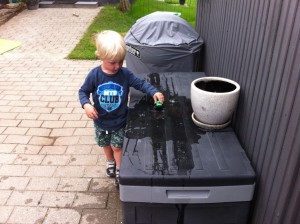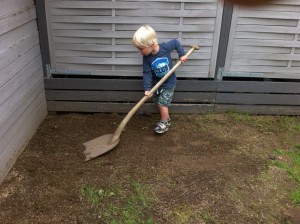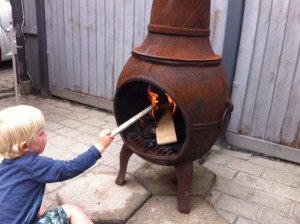 It is true that in spite of all modern electronic toys there's nothing that can beat the three most basic ones, water, earth and fire.
Frederik was visiting us this morning while mom and dad had left for dog training. And he and I played with just the three items mentioned. He enjoyed all three parts intensely.
He could run his small cars through water. He could help granddad covering dog holes and then sow grass on top, and together we made a fire in the fireplace and sat and talked sensible talk while we looked into the flames. Before that we had played fire fighters and been to the beach throwing stones into the water.
So, water, earth and fire filled all morning. It was just great.
Saturday, August 15th 2015:
Dear Sir,
I write to you in great despair. One of our retrievers, the bitch, has become a dachshund. She digs holes in several places in our garden but mostly in the corner just opposite our fine terrace. 2 large holes now characterize the landscape. I cover. She digs up. Now I've thrown some dog shit into one hole. Then she does not dig there. But then she digs right next to it. What does the editor propose I can do? I can not keep on providing dog shit.
Can anyone else give suggestions. I'm fed up with dog holes - and dachshunds.
I hope for a quick answer.
Friday, August 14th 2015:
I have tried to pass the time in the best way today.
I had to rest after yesterday's biking efforts so it was important for me that the time would pass with nothing - or, at worst, almost nothing.
I was looking forward to it already yesterday. And I succeeded. I woke up at. 8, got up at 10, had breakfast till 10:15 (melon pieces and a banana), mowed a bit of the lawn ttill 11:30, had lunch till 13.30 (herring, etc.) took a nap till 14:30, wrote a little till 16.30, visitors came in till 17:00, and now I am writing my diary .
All in all it has been a relaxed day that I have enjoyed. It has been nice.
May tomorrow be just as good.
Thursday, August 13th 2015:
We cycling stars have a problem called paparazzies. We are persecuted whenever we venture out on our long rides and must constantly be aware of intrusive photographers.
Thus, also today. I had set out at this year's longest ride, 105 kilometers around Djursland with a bunch of tough hills.
I had shaken off several paparazzies but in Roende I was caught by one of the more aggressive ones. Several pictures and a video were taken.
I feel obliged to follow up on the case and ask for royalties for photos and video.
Well, never mind. Since it was son-in-law Kent, who happened to come by I'll let him go free.
Thanks for the pictures, son-in-law.
PS: I have never been so worn out before in my life on a bike ride. Long time since I last rode over 100 kilometers.
Wednesday, July 12th 2015:
Another chapter in the restauration of house/garden is completed. The courtyard is finished - minus paint on the fence. That is next item.
Tiles are cleaned and jointed, garden furniture in place, barbecue ditto, flower pots ditto. Damned nice. One would think it is I who did it. It is.
I really feel that I worked hard today as I hinted to Matron who simply replied that after all it was only from 11 o'clock. I did not deny but would have preferred a few words of praise. For those you must get up early. I shall tomorrow - maybe.
Tuesday, August 11th 2015:
Our crown princess Mary has been in ther media recently. Well, she nearly always is.
This time, however, I think she could have done without it.
When she Friday appeared at 'Designers' Nest' she was asked whether she would continue to keep her Birkin bag.
Recently the animal rights organization Peta revealed that Hermès that produces the bag would skin crocodiles and alligators live after which the skin is used for the extremely expensive bag. 221.000 kroners, equalling 22.100 pounds. A bit steep I thought.
It also annoys me a lot that I have payed my part og the stupid bag.
Monday, August 10th 2015:
Today's task was wet and dirty. Tiles in the courtyard have long needed a cleansing with my new pressure washer And they got it today. Soil, weeds, mud and water splashed all around me. A machine like that really has some power.
The result on the tiles was fine but Matron was not pleased with the results on my shirt and shorts.
Nearby furniture and walls also got their part so I subsequently had to cleanse those, too. The worst was that the windows got their share of mud.
But now everything is cleaned and the tiles ready for me to strew sand on them. It will be great.
Sunday, August 9th 2015:
There are many advantages in having friends. You enjoy being together, you talk the hind leg off a donkey, you laugh and smile - and you can also be serious. And we invite each other for lunches. Thus today. Good people, super fine food, glorious surroundings, refreshingly cold Pepsi Diet, good weather. What more could one ask for? Hardly much.
I must still live with the fact that alcohol and I are not good friends. Therefore, my only alcoholic beverage today was one G & T. The rest was Pepsi Diet and I had a wonderful time without being sleepy and lethargic.
The old man has become a teetotaler - at least a closet teetotaler.
Saturday, August 8th 2015:
Fortunately, it is rare that we can not watch TV in our house. But we have not been able to today and still aren't. The time now is over 8 pm.
Our TV provider, TDC, has a nationwide breakdown which apparently can not be repaired. It has been going on since half past seven this morning.
Fortunately, we haven't needed to watch TV today since we were at lunch the whole afternoon with friends where we ate and drank too much. But now we are at home and would really like to watch a bit. But all we can see is shown in the picture. And that is not much fun.
Early to bed is probably the solution - and that isn't the worst that can happen.
Friday, August 7th 2015:
My goodness. There's progress. The last piece of grass around our new terrace has grown up. The terrace is thus finally finished. I have completed work on the raised bed for the potato field. Matron (and I a little bit) has almost finished painting the exterior, our tool shed is painted, the conservatory is painted, the roof of the house is cleaned, the tiles in the courtyard are cleaned, waste has been taken away in large quantities (incl. soil).
It's been a busy summer, and believe it or not. I have enjoyed it. And I'm not a masochist
Thank you to the family who have helped us so much. Without that help the projects would never have got as far as they are.
Thursday, August 6th 2015: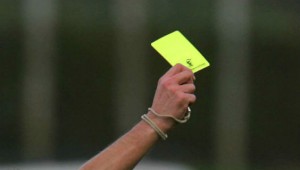 I've got the yellow card. From my insurance company. On the car. No joking.
Unfortunately I have had 4 damages to the bumpers within the latest 4 years. 1 on the front and 3 on the rear. It is not good, the company claims. It is above average. But not over my average, fools. So now I have got two options:
1) Accept a new deductible of 8,000 kr. (Increase 5,200 kr.)
2) Get reverse sensors installed. (4,800 kr.).
I chose the latter. So at least the rear bumper is secured and I shall hardly get self-inflicted damage on that.
Therefore, our car is at the garage today and tomorrow.
I hope I shall not also have a red card.
Wednesday, August 5th 2015: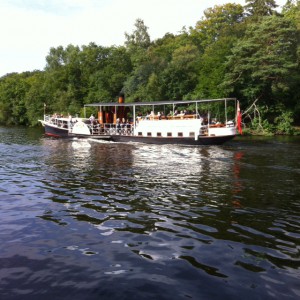 I was at brother in law Finn's birthday today, this very nice man.
He turned 80 in April, but chose to hold his party today.
It was nice with songs, speeches, good food and a lot of talk. You cannot expect anything else with 70 people nearly all the same age.
The party was held in a room in the traditional "Indelukket" in Silkeborg, a park-like setting. Here I used to play for countless hours when I was a child. One reason was that "Indelukket" is right down to the beautiful river Gudenåen, an exciting place to play. And all the time the tourist boats sail by. Today I was lucky enough to see the oldest, "Hjejlen", which was built in 1861.
The stately boat sailed past and did not look very old even if it is 154 years.
Tuesday, August 4th 2015:
I drove Matron at work this morning, awfully early.
Then I drove down to eldest grandchild to pick up some clothes.
Then I drove to a tank and got cheap diesel.
Then I drove home and had breakfast.
Then I drove to Ebeltoft with a borrowed ladder.
Then I drove up and returned the rented trailer.
Then I drove to the DIY market to fetch a latch I had ordered.
Then I drove home.
Then I drove to fetch Matron from her job.
Then I drove home and dug holes.
Then I drove no more. It has been more than enough driving in one day.
Monday, August 3rd 2015: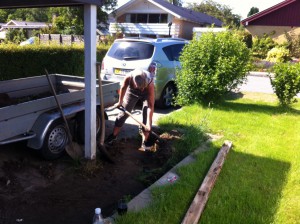 Thank God for for our daughter.
For a couple of months, two tons of soil have been waiting to be taken away (see diary 14/6). The pile has grown week by week, but now the digging should be over.
Annette arrived in the afternoon with a lot of rough strength and helped. Or rather, did most of the work. Then I could concentrate on complaining about my sore back.
After four hours the soil was gone and so all the waste from the terrace-building. What a relief.
Is it any wonder we are happy about our children?
Photos showing Annette loading and unloading. Unloading was at some of Annettes friends.
Sunday, August 2nd 2015: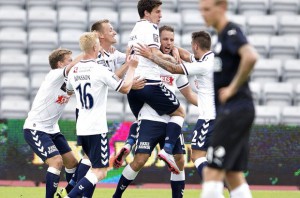 I must admit it. I am a coward.
I am always asked to go along to the AGF home games. I always refuse.
The reason is that I have seen the team lose too many times, and I hate standing in the stadium watching them lose. It's more than enough on TV. I do not dare taking the chance and go out there.
I was also asked to go today. Again I could not bring myself to say yes. If only I had.
Instead I went had a good ride on my bike which incidentally went close by the stadium. I could not hear anything from the ground so I assumed as a given thing that AGF were behind. When I got home I was told that it was a 3-2 win after being 0-2 down. Cowards are punished now and then.
Saturday, August 1st 2015:
Matron and I celebrated the arrival of the good weather by driving to Grenaa for lunch at a small, humble fish restaurant on the harbor. We know it very well and visit it once every summer. Since we have a few habits we always order the same from year to year. It is also the best, a fish dish with well prepared seafood - there's enough of everything - and they sell Pepsi Diet.
We were both very happy when we left and are looking forward to next summer's visit.
Friday, July 31st 2015:
It is our daughter-in-law Anette's birthday today. Same goes for nephew Michael. They are both very nice persons.
During today's birthday brunch at Anette's somebody told that it is also Harry Potter's birthday. When I said that he surely was fictional I felt puzzled glances. And when I furthermore told that I have never read a Harry Potter book, let alone seen a Harry Potter film I could sense that I fell out of the community. I had ended up in Harry Potter's central Jutland fan club.
Well, never mind. It was a nice morning with wonderful people who just know more about Harry Potter than I do.
Thursday, July 30th 2015:
Things are moving forward with setting up the new and raised potato field - albeit slowly.
It's heavy work and if it were not for grandchild Cecilie's presence I had hardly been able to carry the two boards from the garage where they were assembled and painted to the potato field. Wow, they are heavy.
Now I "only" have to have them moved into place and screwed together. This includes a bit of digging and technical craftsmanship which I do not possess. Well, it must appear as it best can. In any case I've put a lot of power and heart into it.
And it will become solid. A Centurion tank will not easily be able to run through it.
Wednesday, July 29th 2015:
We had guests today, cozy family get-together with nice people.
And as always Matron provided a super lunch, this time a fish lunch which was much appreciated by all, except by the fish.
We two residents could be pleased to note the many words of praise for our new terrace and new patio furniture. It does look great.
Unfortunately, my new potato field is not ready for viewing. But it soon will be - hopefully.
Tuesday, July 28th 2015:
Like the rest of this country's population I am more than fed up with the weather we are having
. Not that I am missing a heat wave. On the contrary. If only I could get rid of the incessant rain.
I have so many jobs that await me outside. I am even jumping to get going.
And every time I go out to start I can be sure to be interrupted by rain - and not just a small shower but good, honest rain.
The last time I was busy scraping old paint off the fence. Again I had to stop. What an autumn holiday we are having.
Rotten meteorologists.
Monday, July 27th 2015: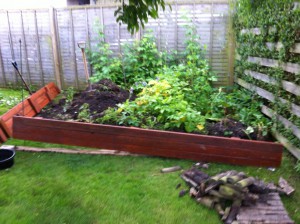 I'm

sparkling

with

ideas.

They mostly come

to me

just

when I wake

up

.




Yesterday morning

I got the

idea to

remove the old

, rotten

"

fence

" around the

potato

field and

replace it with

some of the

planks

I got

left over

when

the

new terrace

was made.

A

brilliant idea

which was immediately

translated into reality

.

Is it

any wonder

that I

a

m in demand

as a carpenter

? I'm good.




Now

the planks are

screwed

together

and painted

and tomorrow they will

be

put into

place.




The construction is perhaps not

stylish

but

a suiting expression of what

I can manage

with

wood

, saw,

drill, and

screws.

I am

sure that

at least

Matron

will

praise

me

-

but

probably not

many more

.


Sunday, July 26th 2015:
The observant reader will have noted that this year I have not referred to my potato field.
It has its good reasons. I have heard that a potato field should be brackish or planted with leeks now and then. The latter I didn't like why the brackish field was the solution. And I must as tell you that weeds took off. Various weeds, raspberries from the neighbor's garden - and potatoes are popping up.
The latter is a result of the forgotten ones from last year. And they're good, maybe the best yet. I have already dug some up, and there are many more. One can say that the production rests in itself. Shortly said. It's free. I love free potatoes and ditto raspberries.
Saturday, July 25th 2015:
It has been a wonderful day. Without any nonsense I was allowed to lie in my lovely bed till 11:58 am. Matron did not call me just once. Outside it was raining cats and dogs. Then, without hesitation a visit to a couple of supermarkets (without breakfast) and next - Tour de France (with lunch).
For me it was the last stage. Although there is one missing, the one to Paris which is just celebration and champagne. I can do without that.
Today's stage ended on Alp d'Huez, my favorite stage, which I once had a dream of riding myself. I have given up on that. But I enjoyed watching it today.
It was a good day even if I forgot the huge piece of Danish I bought for my afternoon tea.
I shall kill it tonight.
Friday, July 24th 2015:
I am very law-abiding. I have not always been. I must admit to have exceeded speed limits a few times.
But that was long ago. After having paid 2,500 kroners for three speeding tickets I've had enough. My stinginess and care for others and my own safety have convinced me that I should pay more attention to my speed in the car. And I do.
Then I shall not be as badly off as the driver in South Jutland who was caught by a speed control for driving 182 km/h in a place where he could only drive a maximum of 70. So it was 112 km/h more than he was allowed to. After all I have never done that.
The driver's fine was 11,550 kroners and unconditional loss of his license. That will teach him.
Thursday, July 23rd 2018:
Again and again the help of daughter and son in law. This time to paint the new fascia board, which since last year has been missing paint. Neither Matron nor yours truly have dared up on a ladder on a sloping roof and paint. But our daring son in law Kent did, and now the entire gable is very nice and freshly painted.
How wonderful it is with a good family. Thank you.
Wednesday, July 22nd 2015: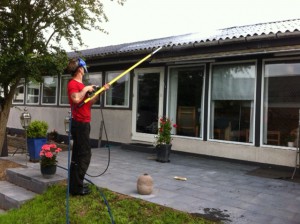 If I was a little algae and lived on our roof I would have fled head over heels this morning. Now mobility obviously is not great with algae but I would have tried.
The reason is that today we had a visit from an anti-algal-man whose job with us was to spray and thereby killing off all algae on the roof.
I foolishly thought he had to get up on the roof and offered him a big ladder. I could have saved my care because he stood on the ground with a long pole with a nozzle at the end and sprayed and in no time he had finished. It did not take 10 minutes for the whole roof - both sides.
Now we eagerly await the next few days to see if "mass murder" is a success.
Tuesday, July 21st 2015:
If one has a duty one must carry it through - regardless of what it is.
One of mine called the Tour de France. I must follow every day, regardless of anything else.
Today I have been released from this obligation because the riders have a day of rest.
Therefore I could relax with painting my tool shed, mowing the lawn, and cleaning up.
But tomorrow I am again obliged to sit in front of the screen from 14:10 o'clock till about 18:00. That's just how it is. Then leisure amusements must wait.
Beautiful shed, don't you think?. The dog is called Buffy, she wanted badly to be in the picture.
Monday, July 20th 2015: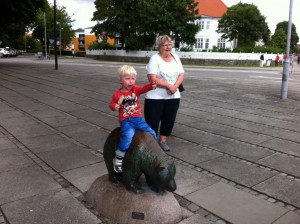 What can one use a sculpture for?
For our children and grandchildren there is no doubt when it comes to "Bear" on Filtenborgs Square in southern Aarhus. We dutifully took them there so they could sit on and play on the small bronze bear. The first time was around 1970, when eldest child Annette sat on it.
Also today we were there, this time with grandson Frederik, who enjoyed his mandatory ice cream, bought in the old kiosk behind him while he sat on the bear commenting on everything around him.
Then an interesting thing happened. An elderly lady came up to us and said she had done exactly the same with her children and still does it with her grandchildren. Moreover, she could tell that she once knew the artist, Carl Lobedanz who was her art teacher at a school in 1955. The sculpture was set up in 1956.
Sunday, July 19th 2015:
We are having a holiday visitor for the time being, only for a short time, little Frederik.
He is lovely to have with his many comments and his always happy smiles. We enjoy every minute of it.
But of course it is a transformation of our normally quiet day. There is not much quietness about it anymore, and still we are very keen to make the little guy happy.
One of the changes of course is that the coffee table is filled with toys of all kinds, and Matron and I play with him when we are not out with him on his balance bike or at the beach.
One change I do not care much about, though. Behind the toys and Matron The Tour de France is on. So I did not see it all today. But never mind as long as Frederik is happy.
Saturday, July 18th 2015: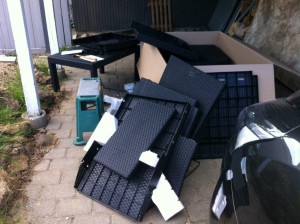 I had to spend some time persuading myself to get started with assembling the newly bought patio furniture. See left picture with a little bit of the parts. I hate the always incomprehensible assembly instructions and excite myself more and more as it dawns on me that I can not figure it out. My eyes wander from paper to furniture parts and back, "Trial and error" has started, I understand nothing and throw around with things in anger.
Matron reacted quickly and called our rescue woman from the other day, daughter Annette. By then I had fought against one of the chairs and the table for 2½ hours without success. Just as it looked hopeless our sweet daughter arrived and after another 20 minutes two chaird, a table and a soga everything was assembled and put into place.
I wonder from where she has the abilities to do it. She sees through the most frenzied assembly instructions in no time. She has certainly not inherited this property from me.
Friday, July 17th 2015: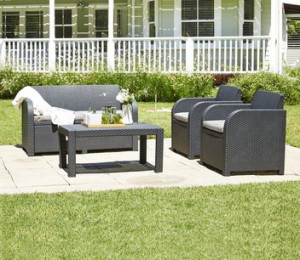 As described a few days ago it can be extremely difficult - if not impossible - to swap goods purchased from an internet company.
Through the latest few days we have been through a sea of unsuccesful e-mails and phone calls. As described, we had received some wrong coloured furniture. No one in the company would tell us what we should do until Matron went straight to the top of the company and got through to an enormously sweet lady who in under 30 seconds told us what to do.
We did, and within a quarter of an hour the furniture was returned and the money promised back into my account latest on Tuesday.
We wanted no more irritations so we went into another company, a real " shop with doors and windows" and bought another set. We took it home and now we know for sure that it is the right set. Just look at the picture of the furniture in our new garden.
Thursday, July 16th 2015: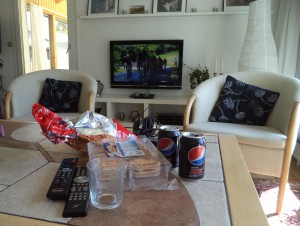 The table is laid with a light Tour de France menu in front of the TV, maybe not just a fiber diet but still good and nutritious food.
It is a fact that you have to eat plenty of sweet stuff and drink cold drinks to endure the tour. I know this from my own "excursions" in eastern Jutland and across most of Funen and Jutland.
So far today has been a very lazy day. A little shopping with Matron followed by of a heavy immersion into my body cast couch and a good lunch. The entire stage is transmitted today and apart from a few small dropouts in the form of a nap or two I shall see it all.
Actually I should have painted but have been granted an exemption until tomorrow. Nice employer.
Thursday, July 15th 2015:
All is going jolly well for me. There is not much that goes against me for the time being. I have been lucky for some time. And that should be remembered and welcomed. And I do. Such great moments do not grow on trees.
So now it's time to forget that yesterday we got the wrong patio furniture, that I have dented the rear wing on the car, that I have a back pain, that I have 3 tons of earth to be taken away, that Contador has lost positions in the Tour de France, and that Matron ceaselessly puts me to work.
Never mind all that. I'm happy as a young horse for the first time unleashed on the green meadow.
Life is good to me.
Tuesday, July 14th 2015:
Now I've never. One was "lured" into buying garden furniture and ordered it online. Fine. (See diary Sunday, July 7th).
And still. I thought I ordered in charcoal gray, but we have received a brown set - smartly enough called "Capucino". In any event, it is a color that neither of us like at all.
Where the fault lies is debatable. I think it lies with the company but the company will probably argue it lies with me. How dare they?
Now I do not know if you've tried complaing about something bought online. I have not. It is not easy. Forget phone calls and personal service. No, no. Also that is via e-mail with an attached photo. And I had the greatest difficulty finding the address.
It must not be easy to complain. And it isn't.
Monday, July 13th 2015:
We have had a painter in today, a pretty and clever one, youngest daughter.
In no time she painted the whole of our conservatory, a project we two old people have postponed because we were not sure we could manage it.
We no longer have to think about it. Our lovely daughter did it in a couple of hours. Matron and I would have taken most of a day to fix it. We are not longer fast on a ladder. But we are quick to tire.
Nothing is so beautiful as sitting on the garden bench looking at a fully painted conservatory. I can spend hours on it.
Sunday, July 12th 2015:
This morning I accidentally mentioned to Matron that we might consider a Lounge Set for our fine, new terrace, a set in dark gray with a sofa, two chairs and a small table. The sweet lady agreed.
I thought nothing more about it until at lunch when she said that we should go out and buy the Lounge Set now, the one we had agreed to buy. I have earlier been caught with my pants down in a situation like this, so I did not even bother to protest.
So now the set is bought. We'll get it on Tuesday.
Saturday, July 11th 2015:
After yesterday's great experience at "World Ballet" at the Moellerup Estate I got up early today. Already at 10 am. I was going to bike. However, I sensed that Matron found it better for me to paint. Furthermore she hinted that the weather forecast promised rain. Our youngest daughter agreed. A conspiracy.
Although I was convinced that it would be dry I canceled the ride and painted.
Shortly after the sweet matron obviously felt a little sorry for me and told me that it would be dry weather in eastern Jutland so she thought I should go out for the ride.
So I did, and it was good. I had good legs and rode the longest ride this year, 78 kilometers.
Was there any rain? Yes and no. It ripped a bit almost the entire ride - nothing serious but for a log time It did not bother me, was just a bit of pleasant cooling.
So we were all right in our respective weather predictions, and tomorrow I shall paint.
PS: Yesterday's repair of my bike seemed fine. Everything worked. Thank you.
Friday, July 10th 2015:
My trusty bicycle is in for repair today. An old problem with the chainring shift has returned so that I can only ride on the big chainring. And I'm not that professional. It makes the ride extra hard which I clearly felt on my my ride between Frederikshavn and Hjørring with its many hills. I cursed a lot, but was very happy with myself, when I rode into Hjørring to meet Matron.
From tomorrow the bike should be in order. I am going for a ride, preferably over 60 km and even better above 73 km. which is my current year performance. I am somewhat behind in mileage compared to last year. And it is not due to laziness but to the weather.
Thursday, July 9th 2015: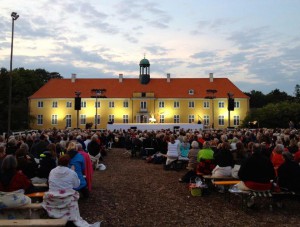 The only useful thing I did today was to get up and to visit daughter and son in law.
Oh yes, of course I also watched the Tour on TV even if I had a proper nap in the middle of the race.
Tomorrow will be another matter. Eldest grandchild Katrine and I are going to see "The World Ballet" on Møllerup Estate. She has invited. I am looking very much forward to it and furthermore it is at Møllerup which I know so well and where I have been retrieving for 40 years.
It will be great.
Onsdag 8/7 2015:
I could not just let this information go untold past.
I found out that today's name is "Kjeld" - as my brother. I did not know such a day existed. Anyway, he deserves it. Even better would have been if it were on the second of July, his birthday.
Never mind.
The day is named after St. Kjeld, a Danish saint from the 1100s, he was a generous and compassionate man who gave all he could to the needy. That is also how my brother is.
In Viborg Cathedral you can see his statue and outside is St. Kjeld's Well.
Yes, I have a good brother.
Tuesday, July 7th 2015:
Just returned from a lovely holiday, I have now emptied the car (Matron emptied the caravan), put things in their right place, cleaned up, picked up the dog from the kennels and had supper.
Matron has also worked hard.
Now it's time to watch the recording of this afternoon's stage in the Tour. Therefore, my well shaped sofa is the basis for my shouting and comments on the race. No one at all pays any attention to what I say. I am afraid that Matron has become immune to my shouting and talking.
Buuuuuut. I detect small traces that she eventually has become a little interested in this major sporting event. Nothing over and nothing next to the Tour de France.
Monday, June 6th 2015:
Last day of this year's summer holiday. 10 glorious days with Matron. We've enjoyed every minute of it at a caravan sight in the nearly very northern part of Jutland, a town called Frederikshavn.
Tomorrow it's back to home, and I'm looking forward to that too.
We are going to do some painting and finish our terrace. It will all be in a very moderate tempo. I hate being busy.
And Tour de France will be on for the coming 2½ weeks. Not bad at all.
Sunday, July 5th 2015: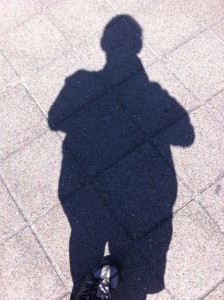 It is hard to be on holiday. I am just a shadow of myself - a big one, though. I have too much good food.
But my goodness, I enjoy it.
I have a good wife.
Saturday, July 4th 2015:
Some time ago I announced to Matron that I absolutely did not wish to go Mallorca on holiday. I do not care about the place and especially about the heat.
I would rather stay somewhere i North Jutland.
But I am not allowed to decide anything. Mallorca it was.
Friday, June 3rd 2015:
I am sitting here in the summer heat, full up, satisfied and happy, waiting for tomorrow's opening of the Tour de France. It is great and I am looking forward.
Today I opened my own tour by cycling from Frederikshavn to Hjorring, corresponding roughly to a tour across the Alps - at least very hilly. Matron was so sweet to pick me up at the finish line. After a few visits to a recycling market and a supermarket we drove home to the caravan for a good lunch. Among other things, that's the resaon why I am full up, satisfied and happy.
All those who also feel this way, please raise your hands. I hope to see a sea of hands.
Thursday, July 2nd 2015:
I am preparing for the promised heat wave which will culminate on Saturday.
Let me say it quite frankly. Just as little as I do not like the rain and wind, I do not care about heat waves. I think they are awful. I am most pleased with 20-22 degrees.
Well, I'll have to find shady spots and cool drinks.
But. I WILL out on my bike tomorrow even if it's a qiite a rough ride with many hills. The funny thing is that one does not feel the heat when cycling. I will take advantage of that. I hope that no one will object.
Wednesday, July 1st 2015: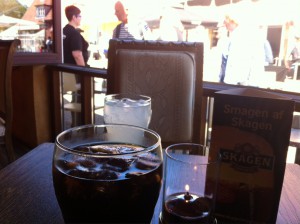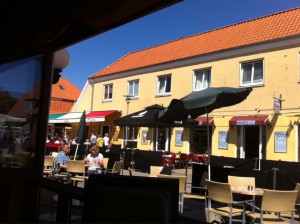 I cycled from Frederikshavn to the very northern town in Denmark, Skagen, today. Beautiful weather, beautiful surroundings - hot.
Matron came in the car and we met up there.
We had long planned to have lunch in the Restaurant Casablanca that we know from the past and which has a fine lunch buffet and cold Cokes and lemons. See pictures.
After lunch the mandatory walk up and down the pedestrian street. It is one big fashion shop. I almost became happy when I saw a store that did not sell women's clothing. I began liking toy stores.
Tirsdag 30/6 2015:
In Hirtshals they have a pedestrian street, all in all a good idea.
I was there today, followed Matron who with her usual care looked at everything outside the shops and also went into several.
I sat looking on one of the many benches outside. Suddenly I observed a policeman stopping a car almost where I was sitting. I heard the word "penalty" mentioned. The presumptuous motorists had breached the rule that one should not drive a car in a pedestrian zone. The unlucky driver continued after the necessary formalities were done - and soon after the policeman had to stop another car. Same procedure was repeated. Unfortunately I had to go, but I just saw another car drive into the end of the pedestrian zone. He did not know what awaited him. I did.
More money in the till. The policeman certainly must have earned his wages for more than one day.
Monday, June 29th 2015:
Matron and I are currently on holiday
in our new caravan. It took a long time to get here , but we have the time for it. And one gets a good workout.
Inexplicably, we are not allowed to drive on motorways with this vehicle.
Bedroom is on the first floor and dining kitchen on the ground floor.
It is very important to lie very still on the first floor. The cart is narrow and has a tendency to turn over, which is quite uncomfortable. However, you sleep well, although it is with your knees under your chin.
Thursday, June 25th 2015: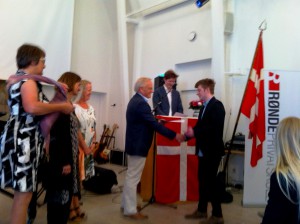 I've had a really, really good day.
First graduation with grandson Kristian at Roende Private School. Congratulations to him for a very good fight. He's such a nice boy.
The graduation was fine with a good graduation speech and suitable solemnity. I enjoyed being there and I am proud of Kristian.
As if that was not enough Danish Championships in road cycling was just outside the door, time trial. I photographed all the big names, not least my great idol Martin Mortensen, whom I know very well.
I said hello to him at the starting line and he gave me his water bottle. It was great - not the bottle - but that he did it.
Icing on the cake was a visit to my garage today. I feared a very expensive repair. But hurray, nothing was wrong.
What a day it has been.
Friday, June 26th 2015:
When yesterday I sent our car in for repair and and it fortunately turned out that there was nothing wrong with it I rented the small Toyota Aygo in the picture at the garage.
In fact it was a good experience. Granted - it is not big, yet amazingly easy for myself with my big body to get in and out of it. It drives well, quick acceleration - like me - and it has a rear view camera Waugh. That's smart, especially considering the my latest 3 damages were during reverse maneuvers why my insurance company has given me the yellow card.
And what a petrol economy. 20 kilometers per liter and that purely on city driving. It was brand new. Had driven four kilometers, when I got it. Nice little car.
Friday, June 27th 2015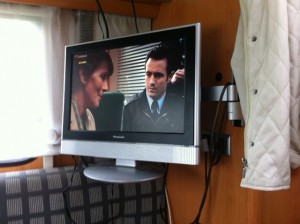 I was in the red zone today - even the red-hot zone.
Arriving at a caravan site up the very north in our faithful caravan I was going to connect the TV. Normally a piece of cake. But not this time. Nothing worked. Not one channel was to find. I toiled with it for 1½ hours and saw for me a holiday with no TV - and worst of all, without the Tour de France. Damn.
My mood sank and sank, and my irritation rose and rose. It's amazing how many swear words I know.
I gave up and prepared for a very quick return home. In my anger I gave the aireal a proper shake. And the miracle happened. Pictures appeared on the screen. I did not believe my eyes or ears. I was close to falling on my knees and thank the Lord for my luck. But I know how hard it is for me getting up again. So it was a quiet but well-intentioned thanks.
Now Matron can see her favorite show "Heartbeat" and she appreciates that. And I can see my Tour.
Sunday, June 28th 2015:
Again today I used very foul language. I shall not write any of it.
I watched bike race on TV, Danish Championship with the best Danish riders on a circular route by Roende. They are roads I have used on several occasions.
My bad words came out because my friend Martin Mortensen was only number 2, beaten on the line. Martin rode a great race, and it was he who made the attacks on the last 25-30 kilometers. He should have won.
And how annoyed he was afterwards. He was five centimeters from winning. It helped nothing that I shouted and screamed as the two best riders climbed the last hill.
My God, it was a shame. Annoyance beamed out from Martin, as he stood on the podium - and from me. It is Martin left on the picture.